Let's Get This Party Started!
Find event inspiration, themes, and unique party vendors here on The Bash. We'll share customized ideas, personalized tips, and recommended vendors to help bring your celebration to life!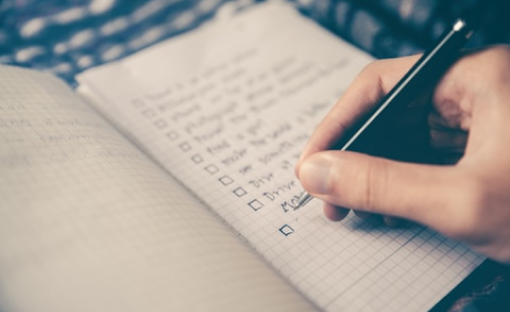 Party Planning Checklist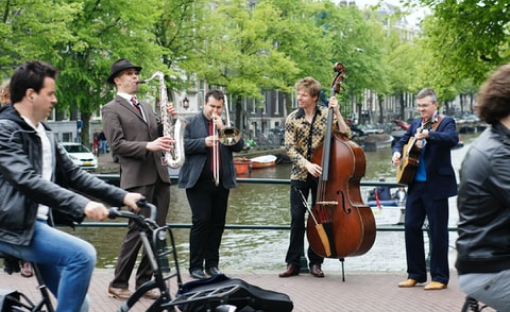 Recommended Vendors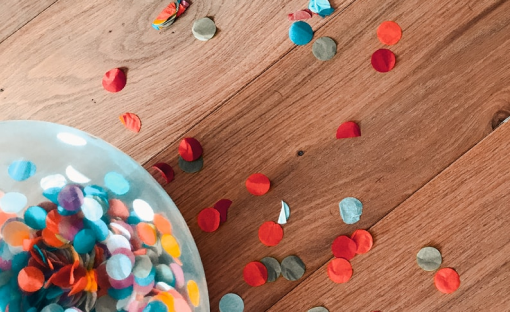 Party Trends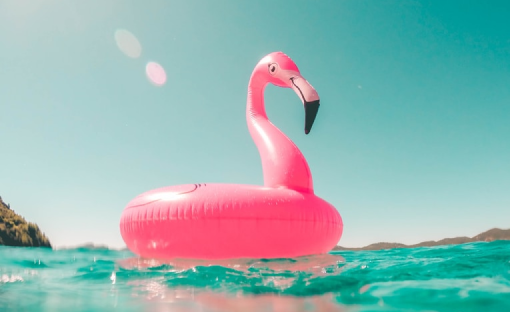 Party Themes
15 Epic Wedding Pranks and Surprises
From a fake first look to a surprise wedding, we've got non-stress-inducing ideas.
Wedding pranks are risky business. Tension is high, nerves are strained and you never know what hornet's nest you might be stepping into. On the other hand, a really great joke or surprise can help calm tensions, spark laughter and make for a memorable moment.
There's a fine line between creating suspense that turns to laughter and causing a meltdown with an insensitive action. We've scoured the interweb to come up with some non-stress-inducing ideas to include a fun wedding surprise without going overboard. And good news, we can even help you pull some of them off with the assistance of some pros.
Pro tip: One of the keys to a successful wedding day prank is to have the help of a wedding planner or other professional, so that they ensure you pull it off (or have you rethink it if your prank is a little too OTT). And don't forget to let your wedding photographer and videographer in on your plan so you're sure to capture it on film. 
READ MORE:
Here are some epic wedding day pranks and surprises.
Wedding Pranks on Grooms
The First Look Surprise
Staging a first look before the wedding ceremony is a modern tradition that many couples are embracing. It's a great way to get rid of some wedding jitters, take in each other's wedding look and get some great emotionally charged wedding photos and video footage.
Take a cue from this bride who decided to put her sense of humor on full display too. Unlike the typical first look in her bridal ensemble, she wore a T-Rex costume much to the groom's surprise (and appreciation!).
The Best Man First Look
Want to take this funny wedding prank on the groom a little further? Dress the best man in a bridal outfit and have him show up for the first look instead. Be sure to catch it all on camera including lots of photos of the groom's reaction and some portraits with his bestie.
The Garter Removal
There are a few ways to make the garter moment a little more surprising for the blindfolded groom. The first is to have the best man put on stockings and the garter to stand in for the bride. Everyone will be in stitches as the groom attempts to find and grab the garter with his mouth. Another idea is to tuck a little surprise into the bride's garter—something that's trendy or an item representing an inside joke.
Grand Entrance
If the wedding is outdoors, plan and rehearse the typical ceremony format with the groom waiting at the altar for his bride to walk down the aisle to greet him. Create a little suspense, by delaying the proceedings by a few minutes… just long enough to create some suspense, but not so long that anyone gets worried. Then the bride can make a grand entrance by helicopter (as pictured here), boat, dogsled, snowboard, horseback or whatever will wow the groom, making it like a scene out of The Bachelorette.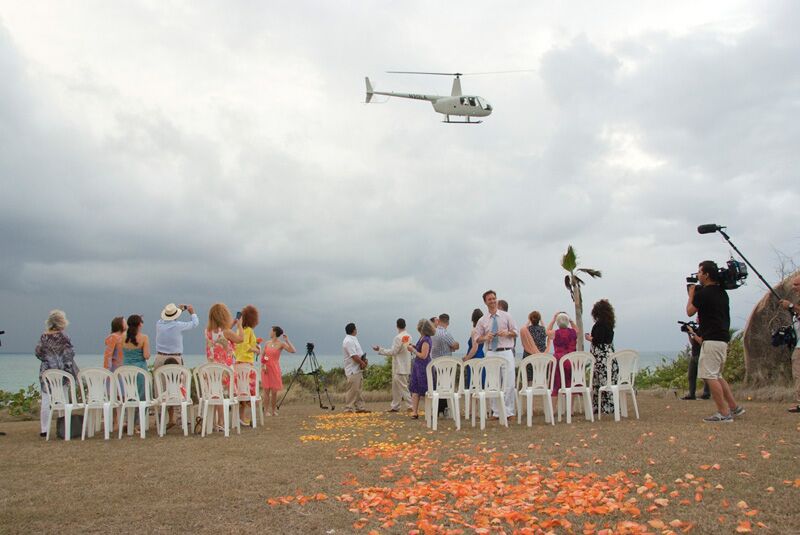 Photo: Weddings in Vieques
Wedding Pranks on Brides
Flash Mob Proposal
Let's kick off wedding pranks on the bride with a romantic surprise proposal idea. Take your partner to a public place for a flash mob style proposal with a twist. Hire a dance group to stage a flash mob and then surprise your partner by suddenly joining in the dance routine before dropping to one knee to propose.
Surprise Proposal
This groom planned a slightly less public version of the flash mob proposal. He took his partner onto the London Eye along with a group of singers that posed as tourists. As they ascended above the city, a guitarist starts to play a song and the other "passengers" and even the soon-to-be bride start singing too. Watch the video to see how the romantic moment unfolds.
First Dance Glitch
The first dance is a much anticipated moment for the couple. This wedding prank on the bride had the desired result of suspense and elation. We won't spoil it for you though—watch the video to see what happens for yourself.
Lost Ring Prank
If your best man is tasked with carrying the rings, then you can add a bit of drama to this moment in your wedding ceremony with some physical humor. Have your best man search all his pockets with a look of panic, accidentally toss a fake ring over a balcony or present the ring box with a missing ring (like in this video), to get the bride's heart beating a little faster.
Wedding Pranks on Guests
Surprise Wedding
For the ultimate wedding prank on guests, plan a surprise wedding! You could invite your loved ones to an engagement party, backyard BBQ or a nice restaurant venue and ask a wedding officiant to show up to turn it into a wedding. 
Funny Wedding Officiant
For the couple that would prefer that their legal wedding ceremony be held in private prior to the reception, this wedding prank on guests featuring a comedian as the officiant as the kick-off to the festivities will ensure your family and friends LOL.
Elvis Officiant
Perhaps you considered eloping in Las Vegas but decided to have a wedding with friends and family instead. Your Vegas fantasy doesn't have to be all lost. Another funny wedding prank on guests would be to hire an Elvis impersonator/officiant to marry you.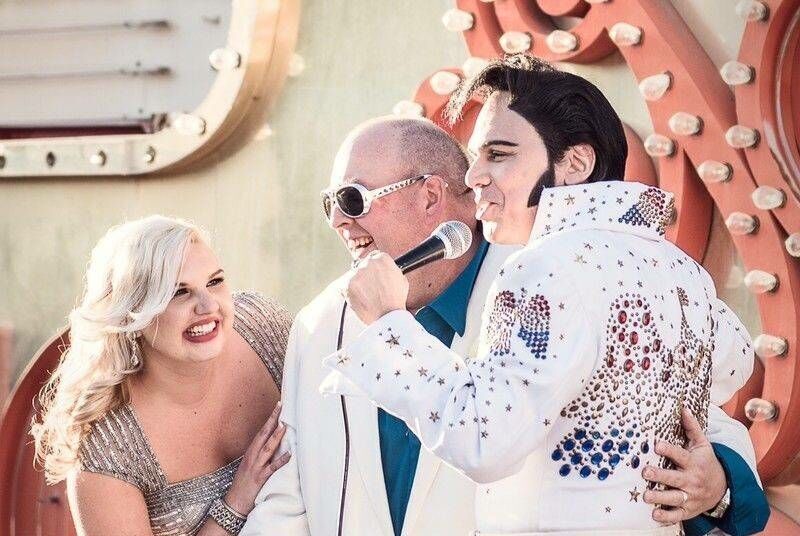 Photo: Elvis Impersonator, Frankie Castro
Celebrity Appearance
You don't have to have a celebrity like Taylor Swift or Ed Sheeran crash your wedding in order to make an appearance. Get the room buzzing and hire an impersonator to attend as a wedding guest (or a wedding crasher!). 
The Huddle
This wedding prank idea with the participation of your entire wedding party will definitely add some levity to your wedding vows. After the officiant asks for your commitment, turn to your wedding party and huddle to discuss the matter before saying "I do" to your partner. This couple chose to both do the huddle, but this could also be done as a wedding prank on the bride or the groom.
Magical First Dance
Couples often hire a choreographer or take dance lessons to treat their guests to a special first dance, but what about hiring a magician to help you give a spellbinding performance. In this video, the groom is a magician and collaborates with the bride to perform a first dance routine. But that doesn't mean you can't add a little magic to your own first spin around the dance floor. Hire a magician to work with you to create a special act with the two of you in the spotlight.
Bouquet Toss Interception
The bouquet toss lends itself to a wedding prank. A search on YouTube will show you groomsmen flying through the air to intercept the bouquet or the lucky recipient's partner running away, but it's this bouquet toss surprise that gives us all the feels. The bride sets up for the toss but instead turns to the group and hands the bouquet to one guest whose partner in turn gets down on one knee to propose.
Questions About Wedding Entertainment Booking?
That's where we come in. At The Bash we're here to help you find the perfect wedding entertainment and easily book it too! From the start of your search through online payments, the entire booking process can be done right here.
Looking for more great wedding entertainment ideas? Check out our wedding resource guide.
Find more  wedding inspiration  here on The Bash.