Back to profile
Seattle's Bagpiper Neil Hubbard Reviews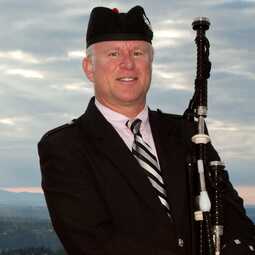 Avg 5.0 | 120 Reviews

Bagpiper from Bellevue, WA

213 Verified Bookings
Starting at $200 per event
---
120 Reviews for Seattle's Bagpiper Neil Hubbard
Birthday Party (Adult)•Reviewed on September 12, 2020•From Monroe, WA
I want to start by saying Mr. Hubbard was GREAT! When I saw the tears in both my parents eyes when he started playing his bagpipe for my mom's 80th bday party, it was a special moment. He played the songs ppl had requested. It was awesome! Really a special time. I was honored that he would still come during Covd and all the smoke!! Very kind.
Memorial Service•Reviewed on February 1, 2020•From Bremerton, WA
Wonderful player, we had discussed the volume of the bagpipes prior to the service. I have heard bagpipes that were really too loud, but Neil somehow modified the bagpipe sound so that it was really pleasing level of volume. Highly recommend
Funeral•Reviewed on October 26, 2019•From Camano Island, WA
Best thing I did for my cousin's funeral & everyone loved his piping. 100% high-class professional & very adaptable to our changing requirements on the fly. My only wish is to hear more of his repertoire! Highly recommended!
Seattle's Bagpiper Neil Hubbard:
Thank you so much for your kind words, Tom. It was a pleasure to be able to provide some music for you and your family. Take care.
Memorial Service•Reviewed on November 10, 2019•From Maple Valley, WA
More than I expected. Neil's experience and professionalism brought a true honor to the memorial for my Dad.
Funeral•Reviewed on March 7, 2019•From Poulsbo, WA
He was amazing. Gorgeous music, an instinct for mood, consummate professional
Birthday Party (Adult)•Reviewed on October 20, 2018•From Lacey, WA
Neil was a delight to work with in planning his surprise appearance at my mother's 90th birthday party. He made great suggestions, responded to my input, was friendly and concise in email communication---and gave us all a wonderful performance on the big day (which was actually his own birthday as well!). He went out of his way to make my mother feel special and thrilled all our guests too.
Wedding Ceremony•Reviewed on July 1, 2019•From Lakewood, WA
Neil did a fantastic job at our wedding! He was very professional, from initial conversations about music to the actual day of the event. I highly recommend Neil, he is exceptional.
Wedding•Reviewed on August 4, 2018•From Everson, WA
He was honest up front accommodating and professional to work with! Greatful for his dedication and his background in outreach and genuine love of his profession
Wedding•Reviewed on August 5, 2018•From Greenbank, WA
Neil was amazing! Super friendly and definitely made our wedding amazing! I highly recommend him!
Funeral•Reviewed on September 20, 2017•From Seattle, WA
Five stars in each category are not enough for Neil Hubbard. He is exceptional in all aspects of his work.
Funeral•Reviewed on June 16, 2018•From Seattle, WA
Immediately responded to my request. Knowledgeable, familiar with the venue, kind, clear and timely communication, excellent musician. A+++
Retirement Party•Reviewed on December 29, 2017•From Seattle, WA
Neil did a great job at the retirement party for our colleague. He was engaged in the event and very personable. He played the songs we had requested in advance, and took several requests during his performance. Our Scottish colleague had tears in his eyes during Neil's performance!
Celebration•Reviewed on March 24, 2018•From Des Moines, WA
Neil was so kind and accommodating for our Celebration of Life. We received so many compliments of his performance and his professionalism. Thank you so much Neil, Dave was surely pleased as well as he loved the bagpipes.
Funeral•Reviewed on August 23, 2017•From Kent, WA
Neil was wonderful to deal with. His contribution to our father's memorial service at Tahoma National Cemetery was wonderful. He was well versed in traditions of military funerals. We are grateful for his contribution to the farewell. Not being a musician, I cannot comment on Neil's musical talent, but everything went very well.
Club Event•Reviewed on November 11, 2017•From Seattle, WA
Neil was professional, prompt, informative, great music choice, and everyone was super impressed with Neil.
Christmas Party•Reviewed on December 17, 2016•From Snohomish, WA
Neil was exceptional. He contacted me before the event to ensure all the details were in order. He was prompt, delighted our guests and was such a gracious performer. I would hire him again in a second. Bravo!
Wedding Reception•Reviewed on April 15, 2017•From Tacoma, WA
Neil played for our wedding and was perfect tion. Having a dress malfunction right before walking down the aisle, my wedding planner asked "what do you need?" I replyed," please ask the piper to play, so I will calm down". The moment the notes hit the air I was calm, happy and ready to go! My groom felt the same way...and our family and guests were thrilled! Thank you so much Neil for bringing a little magic to our day. Hugs and smiles, Deborah and Herbie
Saint Patrick's Day Party•Reviewed on March 17, 2018•From Everett, WA
Thoroughly enjoyable and a great performance! Marcy Neil was AWESOME!!! He was generous with his time and was great with the crowd. It totally made our St Pat's Party memorable, our guest loved him as well
Birthday Party (Adult)•Reviewed on December 8, 2018•From Kenmore, WA
Neil added such a grand finishing touch to my dad and uncle's 90th birthday celebration. His playing is first class, and he was sensitive to the volume requests: big and inspiring for his entrance, and quieter for the dinner hour. He sincerely appreciated how special it was to celebrate these twin 90 year olds' birthday, twins with Scottish roots!
Funeral•Reviewed on July 25, 2017•From Spanaway, WA
Mr. Hubbard was a true professional. It was my fathers funeral and his wishes to have a piper play for his final journey. Mr. Hubbard made this happen, with his knowledge and his amazing talent. Thank you Neil Hubbard for sending a Scotsman home (my Father) with the sounds of your amazing bagpipes.
Funeral•Reviewed on April 14, 2017•From Kent, WA
I am so grateful I found Neil to play at my Dads Funeral. I know he loved it. He was so thoughtful and asked if we wanted him to walk with us to the crematorium. I was worried his time was up but he wasn't, he just wanted to keep playing and honor him prior to cremation. Love his heart and dedication.
Memorial Service•Reviewed on September 9, 2016•From Redmond, WA
Neil was tremendous. He had the difficult task of playing over disturbing traffic close by and managed to set a tone that was beautiful and soothing. He was prompt and his rendition of Amazing Grace was eloquent. Very much a gentleman at such a sorrowful time. Thank you so much Neil. The Kaumans family.
Funeral•Reviewed on July 8, 2017•From Edmonds, WA
My Dad loved bagpipe music so Neil played for my Dad's gravesite memorial. Neil was professional and warm on the phone and very accommodating with music, even made suggestions when we didnt have ideas. Was also very gracious with our lack of specific schedule until morning of the event.
Funeral•Reviewed on June 5, 2016•From Seattle, WA
Neil did an excellent job. He accommodated my requests, offered suggestions, and remained flexible the day of. He was timely, respectful and courteous. Could not have asked any more of him. I highly recommend Neil as a bagpiper -- it's a live performance that everyone will remember.
Wedding Ceremony•Reviewed on May 31, 2016•From Olympia, WA
Neil was an amazing addition to our wedding day! He was very prompt when I first had the initial questions about bringing in a bag piper performer into the wedding, and answered all of the questions that my husband and I had. He was VERY professional the day of the wedding, looking both sharp, clean, and friendly! He was incredibly talented being the highlight performer of our wedding ceremony, and I will cherish the memories of the pipes for years and decades to come. I recommend Neil's performances for anyone who is looking for a really special touch to any occasion. The way he handles everything is so incredibly great. Thanks NEIL! Love, Meaghan and Thomas.