Back to profile
Seattle's Bagpiper Neil Hubbard Reviews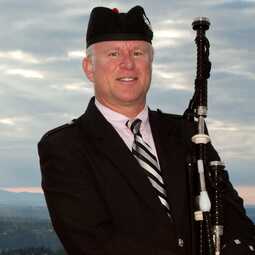 Avg 5.0 | 121 Reviews

Bagpiper from Bellevue, WA

216 Verified Bookings
Starting at $200 per event
---
121 Reviews for Seattle's Bagpiper Neil Hubbard
Funeral•Reviewed on August 14, 2015•From Bellevue, WA
Neil played for my mother's burial. It was pouring rain. He assisted arriving mourners with an umbrella. He stood in the rain and played flawless renditions of "Danny Boy" and other Irish tunes, carefully judging his distance from the assembly to produce the perfect volume. There was not a dry eye to be found. It was perfect. Neil was warm and professional. I highly recommend his services.
Wedding•Reviewed on September 14, 2014•From Arlington, WA
Neil made our wedding so special. He is not only a gifted musician, but very professional in every way. Such a nice gentleman. Everyone thought he was excellent and we feel very honored that we got to have him play the bagpipes at our wedding. Sincerely, Richard & Adele
Memorial Service•Reviewed on March 2, 2014•From Seattle, WA
We felt like we had known Neil all of our lives and he was one of the family. He was so attentive to the little ones, answered everyone's questions. He sat down and was part of the service! His piping was excellant! We were sorry to see him go, and hope we meet again in the future. Neil was spot on time, hit all his marks which were made up at the time and was a huge hit with all of our guests! Thank you so much, I know Mom was smiling in heaven. Perhaps our 4 year old grandson Landon will be inspired to play bagpipes some day, I know his Dad wants to get a cool tat on his leg like Neils! God Bless you and thank you again. Eric & Jana Youngberg
Funeral•Reviewed on March 28, 2017•From Seattle, WA
Neil was an outstanding addition to the funeral of an amateur piper. I did not have as much time as I like to prepare for a requiem Mass, but Neil was flexible, prompt and had perfect suggestions. I highly recommend him and will definitely be calling on him again. Fr. John Forman
Memorial Service•Reviewed on July 24, 2015•From Anacortes, WA
Neil was excellent! He was very accommodating and checked in prior to the memorial service. He arrived early and performed just as discussed. My mom was definitely smiling from above as her final wish was made possible with his help. It was a truly moving afternoon and we are so very thankful that Neil was available (even though the Highland Games were going on). With our heartfelt thanks and gratitude, the family of Kathleen McKinnon Stewart. :)
Birthday Party (Adult)•Reviewed on October 31, 2014•From Bellevue, WA
Neil was the highlight of my husband's 50th birthday bash! He was dressed in the full piper garb and his piping was amazing. He went with the flow and helped us pull off the surprise and posed for pictures with our guests who where tickled to have their picture taken with him. I highly recommend him to anyone looking for the best piper out there!
Funeral•Reviewed on June 20, 2015•From Seattle, WA
Neil was the consummate professional from beginning to end! His part in my father's funeral was flawless. Musically, he was spot on, and he was especially good at modulating his volume when we were inside the church. He was careful, quick and courteous with his communication. I would hire him again at the first opportunity!
Funeral•Reviewed on June 20, 2015•From Kirkland, WA
Neil played at my fathers celebration of life, and knocked it right out of the park for a grand slam. Talented individual, and very professional. I highly recommend his service. Thanks Neil..... Greg Jensen
Wedding Ceremony•Reviewed on August 13, 2011•From Seattle, WA
Neil was truly fantastic to work with. He arrived early, met with our officiant and worked out any last minute ceremony changes, and was the ultimate professional for the wedding. He was so calm and put together, it set the mood as we all got ready before the ceremony. The pipes sounded fantastic; even in the large warehouse, which is terrible for acoustics, it sounded great. Walking down the aisle to Irish Eyes are Smiling is a memory I will always treasure. Highly, highly recommend!
Wedding Ceremony•Reviewed on October 4, 2014•From Suquamish, WA
We had Neil play at our wedding on 10/4/14 and had an amazing experience!! We wanted him to be a surprise and enter quietly at the end of ceremony and play for the recessional and he did so and was awesome! No one knew that he was there until he started to play! Neil was very professional and kind we are so happy that we found him through gigmasters! Thank you so much Neil for all of your time and the beautiful music that we will remember always! You're the best!
Funeral•Reviewed on October 24, 2014•From Seattle, WA
Fabulous from beginning to end. Neil even picked up cues from our eulogy to add an additional favorite song graveside that lifted our hearts. Thanks, Neil for making our goodbye to our Mom so special.
Seattle's Bagpiper Neil Hubbard:
Barbara, Thank you so much for your kind words. It was a pleasure to meet the other folks from you family and hear all their stories of your mom and dad. Take care, Neil
Wedding Ceremony•Reviewed on September 29, 2013•From Quincy, WA
Neil was totally awesome and we thoroughly enjoyed having him play at our wedding! From the moment we reached out to Neil, he really took an interest in what we were wanting to do, and listened to our requests with patience and professionalism. We even asked Neil if he could play the theme music from Indiana Jones and he was able to do that for us, even though no one had done it before, and he had to substitute some notes. It sounded great! Neil became a part of our wedding and we felt like he was really a friend attending, posing for pictures with us all and really helped make the day as special as we'd hoped. He even wore his boots to match the groomsmen!
Birthday Party (Adult)•Reviewed on October 25, 2014•From Bellevue, WA
Our experience with Neil exceeded our expectations! He was very professional yer personable. He played a variety of selections and everyone of all ages loved his bagpipes; from my 90 year old father to my 2 year old granddaughter! I would highly recommend him!
Memorial Service•Reviewed on July 26, 2014•From Des Moines, WA
Neil was great, he was very professional, showed up right on time. He ended the performance with the song I had requested. My guests were so impressed and loved hearing him play. I would definitely recommend him. Thank you.
Event•Reviewed on December 19, 2013•From Monroe, WA
Not only play the pipes, he was well versed and answered a lot of questions from our audience,a lot of them were intrigued with the bagpiper it was an awesome time, recommend Neil to everybody that would need a piper. thanks for making my selection that easy.
Memorial Service•Reviewed on May 10, 2014•From Burley, WA
Neil was very easy to communicate with. He was very professional,was at the memorial early and played exquisitely. I will hire him in the future. Thank you Neil!
Review by Jeff And Barbara B.
Wedding Reception•Reviewed on October 13, 2012•From Seattle, WA
Very nice guy. Not only very talented and wonderful musician but also great with people. He added a fantastic dimension to the wedding!
Funeral•Reviewed on October 15, 2012•From Kent, WA
Thanks Neil. You did a great job. Your playing of Amazing Grace was so touching for our father's farewell service. Many Blessings.....444 an angel indeed. Thanks again, Fred Westford's family
Celebration•Reviewed on March 16, 2013•From Bellevue, WA
Neil was amazing and was the hit of our St Pat's party. We're going to have him play at our Club house for special events and our second annual party St Pats party Next year!
Funeral•Reviewed on January 27, 2012•From Tacoma, WA
Neil is the best! He made our mother's memorial mass incredibly beautiful with his excellent, talented playing of the pipes. His compassion and comfortable demeanor are traits that put our family at ease. To top it off, our family name is Murray. Neil wore the Murray tartan at the memorial! His thoroughness in all he helped us with is something we will long remember.
Celebration•Reviewed on January 23, 2010•From Sammamish, WA
Nel was an absolute asset to the overall success of our event. He was very professional and accommodating for requests. We asked Neil to be photographed with everyone as they arrived at the party, which he was happy to do - he played all the requests for songs which were asked of him, and generally minled well with our guests. I would highly recommend Neil for future events
Funeral•Reviewed on June 15, 2012•From Maple Valley, WA
Neil was a great performer and had a very professional attitude. I would highly recomend his services and will definately use his services again when needed. Thanks!!!!
Birthday Party (Adult)•Reviewed on September 6, 2008•From Bellevue, WA
We only had short notice but even so Neil showed up on time and did a great job with our planned B-Day celebration. I would highly recommend Neil for any future entertainment or party celebration. He did a GREAT Job! Pete Perkins
Funeral•Reviewed on May 11, 2012•From Kent, WA
Neil went above and beyond what we expected and he did it with grace, compassion and professionalism. He is an exceptional piper. His music and performance was outstanding and gave our father's memorial service the perfect setting of our Scottish heritage. I highly recommend Neil's services for any event. Neil was very accommodating, prompt, and a very kind person. Thank you, Neil, for making our service one to truly remember.
Wedding•Reviewed on August 30, 2008•From Seattle, WA
Neil helped make my wedding ceremony perfect! He was professional, friendly and right on time. He had a very relaxed and competent manner and his outfit complemented my groom and groomsmen, who were all in kilts as well. His playing really lent the perfect atmosphere to my ceremony, and we couldn't be happier with him! I would recommend him to anyone who wants an authentic Scottish/Celtic feel to their event. Thanks Neil!!