Back to profile
Yuliya Bellydancer FireDancer SnakeDancer Showgirl Reviews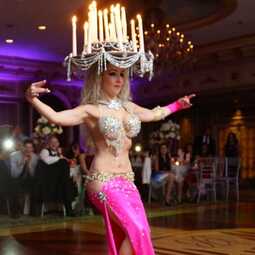 Avg 5.0 | 199 Reviews

Belly Dancer from New Milford, NJ

351 Verified Bookings
Starting at $250 per event
---
199 Reviews for Yuliya Bellydancer FireDancer SnakeDancer Showgirl
Celebration•Reviewed on August 11, 2012•From White Plains, NY
Bridal Shower•Reviewed on August 4, 2012•From Linden, NJ
Yuliya was very easy to work with!
Wedding Reception•Reviewed on July 31, 2012•From East Hanover, NJ
Yuliya totally engage our guests from the opening sounds of her intro music. Everyone flipped when they saw her as her performance was totally a surprise! We couldn't have made a better choice and she put the Party on a whole Different level from then on. It was more fun than anyone had ever had at A wedding before and Yuliya was a big part of it. She's the best. Professional, sweet and beautiful!!!
Wedding Reception•Reviewed on July 15, 2012•From Flushing, NY
Love her...she is beautiful & amazing..ummwaah
Birthday Party (Adult)•Reviewed on August 4, 2012•From Astoria, NY
she was fluent, excellent and very much entertaining, loved by all of us especially the birthday boy, will alway hire her for cultural occassions and recommend her anytime
Dinner Dance•Reviewed on October 19, 2012•From Parsippany, NJ
Beautiful performance. Very reliable and accommodating.
Anniversary Party•Reviewed on October 7, 2012•From Hawthorne, NJ
She just showed up on time and was very friendly and outgoing. She engaged the audience by taking them out to dance on the dance floor. Afterwards she also stayed around to take pictures with the family. I would definitely recommend her!
Birthday Party (Adult)•Reviewed on October 6, 2012•From Piscataway, NJ
Yuliya exceeded all our expectations...Everyone at the party, big & small, adored her talent & loved her performance. It was a true surprise for my husband on his surprise birthday party. My guests are still asking about her even after 4 days. One of the best performances by far that i have seen. Yuliya you are hired for all my future parties....LOVE YOU and thanks for accomodating all my requests. YOU ARE THE BEST!! A true professional and a wonderful person.
Celebration•Reviewed on September 30, 2012•From Cranbury, NJ
Yulia is a beautiful dancer. She constantly communicated with us right from the time we booked her till her performance to make sure we were all on the same page and nothing was a miss. I would highly recommend her as she not only is a lovely person, but a very entertaining dancer and gears her dances and acts per the audience. Our guests loved her dances. In short she was simply wonderful!!
Wedding Reception•Reviewed on September 9, 2012•From East Windsor, NJ
I am glad that I had a wonderful dancer in my wedding. She did a great job I loved her performance. My guests loved her. She was very nice and she is so talented. Thank you Yuliya for such a great performance. I would definitely recommend anyone to hire Youliya for any event. And do not worry about any details because she will take care of everything and definitely you can depend on her with out any doubt!!!!
Birthday Party (Adult)•Reviewed on August 18, 2012•From Bronx, NY
Oh my gosh, WHERE DO I BEGIN?! Yuliya is more than AWESOME! I had her dance for my best friend's surprise birthday party and not only did she LOVE it but EVERYONE else did! She was such a beautiful person and so professional. She asked about the space to see what props she can bring to the event. She Danced for the birthday girl, pulled her out to dance as well as the audience. I LOVED IT! And I recommend her and definitely would have her and NO one else to dance at any future event!
Christening•Reviewed on January 13, 2013•From Brookhaven, NY
Yulia was fabulous! She put on a family friendly show that delighted young and old. She really took the party over the top! I must say she was so sweet and so beautiful. Her pictures and videos don't do her justice. I would recommend her in a heart beat. I'm still getting phone calls commenting on how great the party was. Is a belly dancer at a Christening the norm? Probably not! I will garentee everyone of my guest thought it was the best idea ever. Again she was great, engaging, entertaining and a overall delight. Her performance was beautiful...men, woman and children were mesmerized by her. Her costume and props were stunning. Thanks Yulia...all the best!
Celebration•Reviewed on December 31, 2012•From Parsippany, NJ
Yuliya Yuliya Yuliya She perform in Pakwaan fine Indian Restaurant parsippany NJ on New year Eve The show was Breath taking she was so good; all of my guest enjoy the new years party...authentic. The real thing. Talent beyond belief. I would highly recommend her to all my friends.and my custumers .she was the most beautiful, professional Belly dancer we hire in our Restaurant since we open.we highly recommed Yuliya for any kind of funtion
Christmas Party•Reviewed on December 13, 2012•From White Plains, NY
Yuliya was great from beginning to end. Her performance was breathtaking and she was loved by all of our guests ! The crowd of 120 lawyers and professional people were captivated by her. She is beautiful, talented and highly professional. It was my great pleasure to meet her, see her dance and do business with her !!! As someone who has planned many other parties I can truly say she was the easiest to work with and highly recommended in every respect ! We will positively hire her again for our next party.
Christmas Party•Reviewed on December 1, 2012•From Wayne, NJ
Yuliya, was fantastic. Our party was a big success and everyone enjoyed her performance.
Banquet•Reviewed on March 7, 2013•From Livingston, NJ
One of the best I have seen to say the least! Thank you , you made it unforgettable ! The dancer is breathtaking to watch as she entertained with her skillful art ! Loved loved loved her ! Thank you a hundred times !
Birthday Party (Adult)•Reviewed on February 9, 2013•From Princeton, NJ
Yuliya was throughouly professional and she is a wonderful dancer. More than a dancer she is a very good entertainter who kept the entire crowd mesmerized by her belly dance moves. I liked how she actually danced with a sword on her belly - truly remarkable ! She is really good - highly recommended.
Wedding Reception•Reviewed on April 27, 2013•From Staten Island, NY
Yuliya was amazing at our wedding 04/27/13. She looked gorgeous in her costume, and had wonderful props. She danced with all my guest and also myself. All my guest loved her performance. I cant wait for the next party so I can book her again, she was really fantastaic. She is bery friendly and did a special song I requested. Thank you xoxox suzanne itkin
Birthday Party (Adult)•Reviewed on April 7, 2013•From Lyndhurst, NJ
YULIYA is a very taleted dancer she turned my husbands 50th surprise party a big success adults and children both enjoyed her besides her talent she is very sweet put on a wonderful performance interacted with my guests I got many phone calls from my guests raving about her performance yes I would recommend her for any party or event also very professional and beautiful
Review by Batsheva Hodes H.
Bar Mitzvah•Reviewed on May 11, 2013•From East Hanover, NJ
She was very talented and a real class act. Definitely the highlight of the party
Wedding Reception•Reviewed on May 4, 2013•From Fair Lawn, NJ
Fantastic , elegant , beautiful dancer !
Birthday Party (Adult)•Reviewed on May 3, 2013•From Haledon, NJ
Overall, Yuliya was wonderful. She is a beautiful girl, very talented, and so accommodating to our needs for the birthday party. All who attended the "surprise" birthday party were surprised themselves when Yuliya started to perform. She engaged everyone to dance, and of course, the gentlemen were very willing. They truly enjoyed Yulia's performance. We all would highly recommend Yuliya to perform at your next party.
Yuliya Bellydancer FireDancer SnakeDancer Showgirl:
Thank you, I loved dancing for your friends and meeting you !
Birthday Party (Adult)•Reviewed on September 28, 2013•From Norwalk, CT
Wedding Reception•Reviewed on September 14, 2013•From Montville, NJ
Yuliya was absolutely amazing ! She was very flexible with what we were looking for at our wedding . She showed up looking stunning in her outfit and delivered everything she promised . She is an incredible talent !
Birthday Party (Adult)•Reviewed on June 22, 2013•From Englewood, NJ
Yuliya was amazing. She entertained the crowd while performing an amazing show. This was a birthday party and she definitely did her thing including the birthday boy in the performance. It was a very fun time and I would be glad to even do it again... I recommend Yuliya. She was very down to earth! Took pictures with us and took time after the show to just hang out a bit! It was really chill and comfortable. Very good time and well worth the $$! Would gladly hire Yuliya again =] Thanks Yuliya!