Back to profile
Yuliya Bellydancer FireDancer SnakeDancer Showgirl Reviews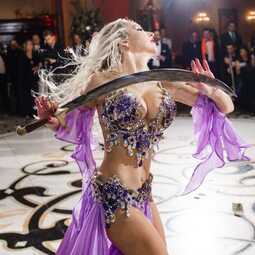 Avg 5.0 | 203 Reviews

Belly Dancer from New Milford, NJ

357 Verified Bookings
Starting at $300 per event
---
203 Reviews for Yuliya Bellydancer FireDancer SnakeDancer Showgirl
Sort:
Anniversary Party•Reviewed on September 16, 2023•From Princeton, NJ
I got in touch with Yulia by WhatsApp anout s week before the event and shared some music that I wanted her to consider and she immediately replied back. She selected 4/6 numbers that I shared, she's very interactive and sweetheart. Her performance was a hug hit and she is an incredible artist. I'm so glad she was available for our special celebration and her performance was the cherry on top of the cake! Highly recommend her performance.
Wedding•Reviewed on September 2, 2017•From Easton, PA
Wedding Reception•Reviewed on February 22, 2022•From Mount Pocono, PA
Belly dancer was a great addition to my wedding. Her costume and props were amazing.
Wedding Reception•Reviewed on August 12, 2017•From Allentown, PA
What a beautiful personality Yuliya has. I contacted her literally 2 days before my wedding and she made it happen. She was able to adjust her schedule in a short period of time. She even personalized the songs for me and played/danced with some Turkish music. She is beautiful and very talented. Everybody loved her and thought she did an excellent job. I got a lot of compliments on her. If Yuliya is available, book her! Tugce
Wedding Reception•Reviewed on May 10, 2013•From Freehold, NJ
WOW WOW WOW!!!!! AMAZING DOES NOT BEGIN TO DESCRIBE THE BEAUTIFUL YULIYA!! SHE WAS THE HIGHLIGHT OF OUR WEDDING NIGHT. HER BEAUTY RADIATES THE ROOM THE MINUTE SHE WALKS IN. HER PICTURES ARE BEAUTIFUL BUT THEY CERTAINLY DO NOT DO JUSTICE, FOR HER BEAUTY IS MULTIPLIED TEN TIMES IN PERSON. YULIYA MADE OUR SPECIAL DAY AN UNFORGETTABLE ONE. EVERYONE WAS AMAZED AT HER TALENT AND SHE WAS SO SWEET TO TAKE PICTURES AND DANCE WITH EVERYONE. I RECOMMEND HER TO EVERYONE I KNOW, AS I'M SURE MANY PEOPLE WILL WANT A BELLY DANCER AT THEIR FUTURE EVENTS. WE WILL ALSO BE USING HER FOR FUTURE EVENTS. BEAUTIFUL, ELOQUENT, SWEET, SOFT, AMAZING!!! LOVE HER SO MUCH!!!!!!!!!
Birthday Party (Adult)•Reviewed on August 16, 2017•From Edgewater, NJ
Yulia is an angel! From my initial conversation to the completion of her performance, she was accommodating and more willing to make our event a memorable one. She is a soft spoken, professional and by far one of the best belly dancers I have had the pleasure of meeting. I will be booking her again for another party very soon. Don't bother with the rest, stick with the best.
Engagement Party•Reviewed on February 14, 2015•From Wappingers Falls, NY
I would like to say how amazing yuliya is as a performer. She came to our house for an engagement party and shocked all the guests, she is so beautiful and talented, her outfits are so pretty. She did 5 belly dance routines amazingly. I Am going to hire yuliya again for the wedding coming up also. She is so accommodating to every thing we asked, when we wanted high paced dancing she did it all. We love her. I never had a better belly dancer than yuliya. We are very happy with everything she did. She is friendly and laughed and talked with all the guests and made them enjoy the party even more. She also stayed to take pictures with my guests Which they loved. Amazing
Wedding•Reviewed on February 16, 2013•From Garfield, NJ
Yuliya did an AMAZING job at my wedding. She got the crowd pumping and excited. Her dancing was amazing! She has a fantastic and super friendly personality. She did the candle dance, veil dance, sword dance and they were all AMAZING!. Highly recommended. Everyone at my wedding were asking where I found her. I just said "She is the number 1 belly dancer in the area!!" From the day I made the request on Gigmaster she contacted me immediately. I hired her last minute and I was SO lucky she was available! She let me pick the music for her to dance to and she did a great job dancing to Greek music! Thank you Yuliya for everything!
Wedding Reception•Reviewed on March 20, 2015•From Township of Washington, NJ
Yuliya was absolutely amazing!! Her outfit was stunning and her props were a great addition to her dances. I just got married on March 20th, 2015 at seasons catering in New Jersey. Yuliya entered the room with such a high level of energy and enthusiasm. All of my guests, both Turkish and American, were highly impressed with her, her dancing and her props. She had the crowd up and dancing as she is very interactive. I would absolutely recommend Yuliya to others!!! He is simply fabulous.
Wedding Reception•Reviewed on June 25, 2011•From Edison, NJ
Yuliya is authentic. The real thing. Talent beyond belief!. What an honor it was to see her dance at our wedding. Fun , exciting, beautiful, sweet personality, a true artist. It was glorious!!!
Corporate Function•Reviewed on June 22, 2010•From Stamford, CT
Yuliya, you were fantastic! The client loved you, the attendees loved you -- loved the way you shared your "passion" with everyone. Thank you for being so professional and sweet, and most of all, so talented and engaging for our audience. A++++, thanks again!
Private Party•Reviewed on November 5, 2010•From Short Hills, NJ
Yulia was stunning. her performance , her charm blew away my guests. adults as well as kids enjoyed her performance.she was punctual and she performed longer than the time we agreed. Since it was a special even for being Diwali, she even swayed to Bollywood music. I would give here a perfect 10 in all aspects and you can never go wrong having some one like Yulia for any event. FANTASTIC FANTASTIC FANTASTIC !
Wedding Reception•Reviewed on September 18, 2011•From Weehawken, NJ
Yuliya was the most beautiful, professional dancer I have ever met. Her show was spectacular and I would highly recommend her. I am grateful to have had her perform at my wedding and every guest thought she danced so beautifully.
Birthday Party (Adult)•Reviewed on August 6, 2011•From Sayreville, NJ
She exceeded our expectations and we had very high expectations. She was very professional, elgant, punctual(timing), and very beautiful!! Her show was spectacular for both the adults and children. She really knows how to read the crowd being that it was a family and sensual event for my husband and my guest Also her outfitt was very elegant and impeccable. We would recommend Yuliya to EVERYONE, all my guest were calling us to tell us how amazing she was. From our first phone call she was very professional and polite to all our needs to her show and to the very last picture she took she was absolutley fantastic. Martha Murcia Ricardo Murcia 50th Birthday Party
Christmas Party•Reviewed on December 7, 2010•From New York City, NY
Hi! I hired YULIYA to perform at our L'Oreal Christmas Party and she was fantastic. Not only is she extremely professional, she is a wonderful and gorgeous dancer. Furthemore, I asked her to do a "customized" performance for the first two minutes, and she was very accomodating and open to it! Everyone enjoyed her performance, and I was very pleased! I would definitely recommend her. :)
Wedding Reception•Reviewed on October 9, 2010•From Wrightsville, PA
Yuliya danced at my son's wedding and was one of the best belly dancers I have ever seen. She is so nice and pleasant to work with from the start. She is so talented, beautiful, professional and with a very sweet personality. My guest loved her and I am so glad I picked her... Best choice ever!!! I highly recommend yuliya for any type party...she is a 10 star. Thank you so much for the wonderful time. You are magnificent !!! Haifa M, Lansdale, Pa, 10/09/2010.
Birthday Party (Adult)•Reviewed on November 19, 2011•From New York City, NY
Yuliya has to be one of the most dearest talented people you will come across... Her level of professionalism is beyond the scale before the event,during AND after. Her performance is WONDERFUL,INTRIGUING and SOOOOOOOOO entertaining!!!! She will keep you fascinated with her dance and makes sure to keep the audience intrigued and entertained,not to mention interacts with the audience in a such a fun way that she will have you dancing without even knowing how did you end up on the dance floor. I am so grateful to her for making my Birthday Party Extra Special!!! I would HIGHLY recommend Yuliya!!!! All the very best Success to her!!
Sweet 16 Party•Reviewed on November 5, 2010•From Union, NJ
their's no words to describe her performance.she was fantastic.am still speechless along with everyone that was there.i would highly recomend her.my daughter the birthday girl was very pleased.thank you so much yuliya.
Birthday Party (Adult)•Reviewed on January 29, 2011•From Tenafly, NJ
Yuliya was amazing! She was professional in all the details of our transaction as well her performance. She arrived early, communicated with me about the details and was very personable with my quests. A talented dancer who danced beautifully, and awed the guests with her charm and her beauty. She was just the right touch to making my best friend's 50th b'day party a success. I have already recommended her and I would invite her to my home again. Truly entertaining! A class act.
Birthday Party (Adult)•Reviewed on August 7, 2010•From Little Falls, NJ
Yuliya was amazing! I cannot say enough about her. She is exceptionally professional; she called me to discuss the details of the event and her show well in advance of the day, she arrived early, helped with the staging of the show. The performance itself was fantastic-Yuliya is very beautiful and her dancing is truly intoxicating. She has a very charming personality and was able to get all of ours guests to dance! Everyone is still talking about it and thanks to Yuliya-my husband's 40th birthday party has become legendary.
Baby Shower•Reviewed on July 24, 2010•From Bronx, NY
Yuliya is amazing! She is not only stunning but a true professional. From day 1 up until the event, she kept in touch. Her dancing skills are top notch and the best we have ever seen. There is absolutely no hesitation in considering her for future events. Yuliya, you are the best. Thank you, thank you, thank you! xoxoxxoxxo Gaitri
Birthday Party (Adult)•Reviewed on September 29, 2012•From New York City, NY
She is so beautiful...and did a great job. She is an expert dancer and entertainer, she involved the guests and really made the party bright!! We would love to have her again for another event.
Birthday Party (Adult)•Reviewed on June 12, 2010•From Floral Park, NY
Yuliya was an extreme professional, from my first contact with her right through the completion of her performance. She lived up to every expectation and wowed the party with her talent. She is a beautiful and talented performer whose love of her art is demonstrated in her dance. We were totally satisfied and would definitely recommend her to anyone looking for one of the most talented belly dancers out there.
Birthday Party (Adult)•Reviewed on July 10, 2010•From New York City, NY
She was great, fantastic, pleasant, and beautifull, her performace was very profesional. she meets all my guest expectations, they were very excited. I will give my best recomendations about her. I was really happy because my guest enjoyed the show. All my fiends were calling me the next day to tell me my party was woderfull because of Yuliya performance.
Birthday Party (Adult)•Reviewed on June 5, 2010•From Bethlehem, PA
Very professional, came in earlier just to have everything ready.all the guest had so much fun.highly recommended.thank you Yuliya.