Back to profile
J.V. Hudson Reviews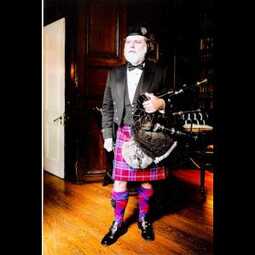 Avg 5.0 | 138 Reviews

Bagpiper from Durham, NC

238 Verified Bookings
Starting at $150 per event
---
138 Reviews for J.V. Hudson
Funeral•Reviewed on May 5, 2018•From North Wilkesboro, NC
The family and I, as were those in attendance became so taken by the hymns selection, his timing was uncanny perfect, and the bagpipes were in perfect tune. The memorial service could not have been more perfect than it was due to Mr. Hudson and his pipes. I have already recommended him to two other family members for his services later as members of their family pass. This was also a military flag presentation to the daughter of the deceased with Mr. Hudson leading the military while playing Amazing Grace. Mr. J V Hudson is a "class act" and a professional.
Wedding•Reviewed on April 28, 2018•From Gastonia, NC
JV was a total professional, and an absolute joy to have at our wedding! "Amazing Grace" started our wedding off beautifully and dramatically. He was a sincere, kind, gentleman. We were blessed to have him hang out for awhile afterwards for lunch and mingling with our family and friends. Hope to have him play again in the future, and would highly recommend him to anyone. Thanks JV!!!
Celebration•Reviewed on March 19, 2018•From Durham, NC
On time--Professional and authentic. He did a great job:)
Birthday Party (Adult)•Reviewed on February 10, 2018•From High Point, NC
Professional, job well done
Memorial Service•Reviewed on February 4, 2018•From Chapel Hill, NC
Jerry was GREAT! He played "Amazing Grace" at my Mom's Memorial Service, and it could not have been played better. His timing was perfect. He was on time, extremely professional and focused on what we needed. Most of all, he was very kind and sociable with my family. He conveyed very heartfelt condolences to me and my family. I told him that I will be back in touch in the future for other occasions. Chris McIver Chapel Hill, NC
Wedding•Reviewed on December 30, 2017•From Pinehurst, NC
Excellent!!!
Memorial Service•Reviewed on December 5, 2017•From Raleigh, NC
JV did an excellent job. He was easy to work with and more reasonably priced than most.
Wedding•Reviewed on November 4, 2017•From Yadkinville, NC
This man came to our wedding on short notice, stood in a field, and played beautifully in the rain without a single complaint...all while dressed to the nines. He played exactly what we requested in the manner we wanted. His only request was a cup of coffee. He was also kind enough to express that rain on your wedding day is good luck, sharing that it rained on his many years ago. We would recommend him to anyone and would hire him again in a heartbeat. Thank you SO much Jerry!!
Funeral•Reviewed on November 19, 2017•From Salemburg, NC
I can't recommend highly enough. He was very professional. Showed up ahead of time to get a feel for the venue and to make sure everything was right. Was a very nice guy who cared about the fact that my father had died and even asked about him. This was very kind. He played very well and received several compliments. He was willing to play everything we asked. I had interactions with other bagpipers making bids and they were much less friendly and less accommodating. I highly recommend JV Hudson. We even paid him more than he requested because we were so pleased.
Wedding•Reviewed on August 26, 2017•From Winston Salem, NC
Spectacular performance for my wedding. A consummate professional from the planning to the execution. Highly recommended.
Funeral•Reviewed on July 22, 2017•From Fayetteville, NC
Mr. Hudson was excellent in all aspects! Many people came up to us after the service telling how great he played. We appreciate him playing in the sweltering heat. We will definitely recommend him and gig masters to everyone! Thank you all so much - Anita and Michael Williams
Funeral•Reviewed on July 8, 2017•From Advance, NC
Amazing!!!!
Family Reunion•Reviewed on June 17, 2017•From Raleigh, NC
Jerry is a fantastic bagpiper! He is very easy to work with. He gave us a very reasonable bid. He arrived promptly on time and was dressed sharp in his kilt. He did a good bit of research ahead of time on our particular Scottish clan and found some tunes of our clan that were delightful. We also enjoyed a number of familiar tunes. He also provided us with some history of our clan, both live and through an online link. He played longer than expected, and generously posed for photos and lingered in the hall to talk with our guests. Well done! Everybody was very pleased! No doubt, one of the highlights of our family reunion.
Church Service•Reviewed on May 4, 2017•From Raleigh, NC
J.V. Hudson was dependable and a wonderful musician. We were very glad to have him and hope to hear his wonderful pipes again.
Wedding Ceremony•Reviewed on July 16, 2016•From Wilmington, NC
J.V. (Jerry) drove all the way from Durham and played during the processional and recessional sections of our wedding in Wilmington last month. Jerry is so talented and offered us a number of musical selections from which to choose. He played indoors at our wedding venue and the volume level was perfect. He was also very accessible and helpful during the months prior to the wedding as we planned out our timeline and ceremony. If you are looking to hire a bagpiper in North Carolina, look no further than J.V. Hudson!
Birthday Party (Adult)•Reviewed on June 11, 2016•From Bremo Bluff, VA
I was very pleased with Mr. Hudson, he did a wonderful job. I would recommend him and would use him again.
Club Event•Reviewed on April 30, 2016•From Charlotte, NC
We had a special ceremony and a request to march up a slight hill followed by 75 Cub Scouts. JV Hudson did fantastic job adding a moment the Cubs will never forget. Great job Mr Hudson! Thank you!
Wedding Ceremony•Reviewed on December 26, 2015•From Charlotte, NC
Mr. Hudson played absolutely outstanding. He was very professional arriving early to coordinate last minute details before the ceromony and when things got messed up with the flow of our ceromony he adjusted so smoothly that no guest ever knew the plan had changed. I will not only use Mr. Hudson for all my future big events but strongly encourage anyone who reads this to do the same. Erin Go Braug !!!
Wedding•Reviewed on November 14, 2015•From Chapel Hill, NC
jv hudson was experienced, professional and accomadating great day
Celebration•Reviewed on September 26, 2015•From Oxford, NC
Wedding Ceremony•Reviewed on October 3, 2015•From Clayton, NC
Birthday Party (Adult)•Reviewed on August 26, 2015•From Charlotte, NC
I hired J.V. For my mom's 90th birthday! He was just perfect! He looked the part and played requests, and he got in some pictures too! He was just great and my mom can't stop talking about it! I would hire him again!
Memorial Service•Reviewed on June 29, 2015•From New Bern, NC
Mr.Hudson played exceptionally well in the finest tradition of the Scottish Highlands. Despite insufferable heat and humidity, Mr. Hudson arrived an hour before the service dressed in traditional highland dress. He was cordial and even posed for photos with our family. I will highly recommend Mr. Hudson to perform at a future event! Thank you Mr. Hudson for giving us a beautiful memory with your performance. Please accept our heartfelt thanks.
Memorial Service•Reviewed on May 16, 2015•From Biscoe, NC
Wow! Jerry was a gentleman and very accomodating. Highly recommended for your event and his playing was spot on. We will have Jerry back for more events.
Family Reunion•Reviewed on June 13, 2015•From Wake Forest, NC
Jv Hudson did a fantastic all around ,we would have him performer anytime. Thanks again jv Hudson.