Back to profile
J.V. Hudson Reviews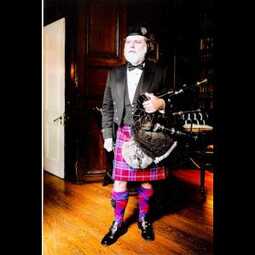 Avg 5.0 | 138 Reviews

Bagpiper from Durham, NC

238 Verified Bookings
Starting at $150 per event
---
138 Reviews for J.V. Hudson
Birthday Party (Adult)•Reviewed on April 12, 2015•From Charlotte, NC
Everything went completely smoothly and JV performed beautifully! He was extremely accommodating and easy to work with and I would definitely re commend him.
Funeral•Reviewed on February 14, 2015•From Edenton, NC
J.V. Hudson did a beautiful job performing at my father's funeral. He was there early to discuss song selections and offered his condolences to my entire family. His heart shined through as he played the bagpipe and for that I will be forever grateful.
Funeral•Reviewed on December 27, 2014•From Mount Airy, NC
He was cooperative and flexible when plans changed at the last second. He did an excellent job with his playing and overall presentation. The timing of the performance was absolutely critical and at exactly 82 seconds hit his entrance cue dead on. With one cue from the Usher he came from outside to inside the sanctuary. as asked. He played and then escorted the family out of the church with dignity and respect. Thank you for honoring my mother's memory in such a memorable way. I would recommend J.V. Hudson for any situation you made need a bagpipe player.
Wedding Ceremony•Reviewed on October 4, 2014•From Charlotte, NC
JV was very professional and the guests enjoyed his performance of prelude music. I would highly recommend JV to my future clients.
Private Party•Reviewed on September 20, 2014•From West End, NC
We met Jerry Saturday for the first time at our party for 65 at our lakeside home near Pinehurst. Not only did we find his performance first class, we enjoyed getting to know such a warm, colorful, talented and entertaining individual. I recommend him highly!
Funeral•Reviewed on July 13, 2014•From Weldon, NC
Mr. Hudson was on time and professionally attired, and he played beautifully. I had asked him to pipe the mourners into the family plot at the cemetery, and he began playing as the first cars arrived. After the ceremony, he played "Amazing Grace", and after a few verses, turned and walked away, still playing; it had the effect of having the song fade away and it was lovely. The family loved the performance and it made a sad occasion so much sweeter, because it was meaningful to us in many ways. I heartily recommend him.
Wedding•Reviewed on June 14, 2014•From Columbia, NC
J.V. was very kind, professional, and played beautifully!
Country Club Event•Reviewed on May 31, 2014•From Apex, NC
J.V. was awesome! Absolutely perfect for our golf outing, capable of playing all the bagpipe classics and improvising when necessary. There were 20 of us playing, and nobody had anything but great feedback for him. Highly recommended!
Memorial Service•Reviewed on March 30, 2014•From Durham, NC
great asset to the memorial service. would hire him in a flash for any holiday party or other party venue a portnoy
Wedding Ceremony•Reviewed on March 22, 2014•From Pinehurst, NC
What a delight to deal with and so talented. JV made a special event even more so!
Event•Reviewed on December 4, 2013•From Matthews, NC
Amazing
Memorial Service•Reviewed on October 19, 2013•From Cary, NC
Excellent
Wedding Ceremony•Reviewed on October 19, 2013•From Cary, NC
He was such a highlight at our wedding and was WONDERFUL! Thank you Mr. Hudson! Dawn and Sam Sharpe
Commitment Ceremony•Reviewed on September 25, 2013•From Siler City, NC
A talented piper and excels in appearance and musical delivery. Was the most pleasant individual and connected with those around him, everyone enjoyed his music and I have the highest respect and compliments for Mr.J.V. Hudson and would engage him for any future events. He captures the feel of all things Scottish !! I've seen hundreds of pipers perform and he is in the top fifth in my observations.
Wedding Ceremony•Reviewed on September 14, 2013•From Raleigh, NC
Excellent!! Very professional, looked great, sounded great!! Would definitely recommend or use for future events.
Funeral•Reviewed on August 24, 2013•From Garland, NC
Our family hired JV to play for an elderly relative who loved bagpipes and her Scottish Heritage almost a year ago for her birthday. She thought it was the most wonderful birthday present. She passed away a few weeks ago and we knew she would have wanted JV to play for her memorial. He played beautifully, was incredibly professional and kind. He is a very special person, and I cannot recommend him highly enough.
Celebration•Reviewed on June 30, 2013•From Boonville, NC
He did such an amazing job! I would highly highly highly recommend him to anyone! He made a special day even more special. He was very professional, And when things ran a little bit long, he was very flexible in helping us!! I am extremely picky about using vendors for events, and I would book him again anytime. He was absolutely a delight!
Anniversary Party•Reviewed on June 27, 2013•From Raleigh, NC
on time, patient, worked seamlessly into our plans! My parents were thrilled!! JV did a great job for us and he very professional and extremely friendly!!
Birthday Party (Adult)•Reviewed on May 18, 2013•From Wake Forest, NC
We thoroughly enjoyed J.V. for our surprise 60th birthday party. Not only was the Scottish guest of honor bowled over by a true blue bagpiping Scot in his backyard but so were all the other guests. J.V. arrived promptly and unobtrusively with a round of "Happy Birthday" followed by a host of other wonderful sounds and songs. The guests were spellbound. With a rainy mist in the night air, ale in the mugs and J.V. on the bagpipes we felt we were in Scotland. Thank you J.V. for making Mac's special night truly a memorable one.
Private Party•Reviewed on May 2, 2013•From Pinehurst, NC
He was great to work with, and very flexible. His performance was spot on, and very appreciated. Our guests were from Scotland visiting, and were very complementary of his talent. They even invited him to join them for a beverage after performing. We are very pleased!
Corporate Function•Reviewed on April 20, 2013•From Durham, NC
He was great!
Country Club Event•Reviewed on April 22, 2013•From Wake Forest, NC
Wedding•Reviewed on November 24, 2012•From Chapel Hill, NC
Mr. Hudson was very accommodating. He agreed to play for our wedding on very short notice, and and was prifessional and timely with his communication. He was very personable and was flexible with our schedule. He suggested a wonderful program of pieces and played them beautifully. It should also be mentioned that he was very patient with the bride who was a bit late to her own wedding :). It was a pleasure to have him perform at our wedding!
Church Service•Reviewed on March 24, 2013•From Kernersville, NC
Birthday Party (Adult)•Reviewed on July 14, 2012•From Chapel Hill, NC
Piper Hudson was the absolute hit of the party. We will request him again for our next occasion.