Back to profile
Daryl Moon Reviews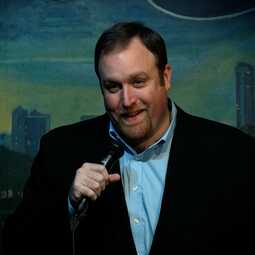 Avg 5.0 | 25 Reviews

Comedian from Chicago, IL

35 Verified Bookings
Starting at $325 per event
---
25 Reviews for Daryl Moon
Corporate Function•Reviewed on April 2, 2022•From Michigan City, IN
Restaurant Event•Reviewed on November 3, 2018•From Galena, IL
We will definitely be having him back! Everyone in room relaxed laughed and left very pleased with their evening out!! Very funny does a fantastic job reading the crowd and adjusting accordingly! Can't wait to laugh it up with Daryl Moon again! Make sure you hire him for his game show Screwlyweds! Everyone loved it!!!
Birthday Party (Adult)•Reviewed on December 9, 2018•From Danville, IN
Daryl Moon was very professional and funny. He was there with any questions before the event and did an amazing job at the event! Thank you Daryl!
Christmas Party•Reviewed on December 9, 2017•From Janesville, WI
Our Christmas Party was a huge success because Daryl Moon did an awesome job entertaining all of us. He is quick witted, very funny, and kept us all laughing. We liked the fact that his comedy was hilarious without using vulgarity and cuss words. I highly recommend Daryl to entertain your party!
Corporate Function•Reviewed on December 1, 2017•From Wolcottville, IN
I told Daryl I wanted my staff to have a night they wouldn't forget and he delivered. I'd recommend him to anyone wanting to have a great time.
Birthday Party (Adult)•Reviewed on April 29, 2017•From Orland Park, IL
Daryl was phenomenal! We booked him for my husbands 40th Surprise party! He had people laughing so hard and put on an amazing show! Daryl Moon is great! All our family and friends were asking where we found him and that was the hardest they laughed in a long time. Do not pass on Daryl! He is a great comedian and will make your party a blast!
Holiday Party•Reviewed on December 19, 2014•From Fort Wayne, IN
We were VERY happy with Daryl Moon's performance at our Company Party. He was hilarious & interacted perfectly with our group. Everyone enjoyed. I would definatly recommed!!! Thanks again Daryl!
Corporate Function•Reviewed on December 16, 2017•From Chicago, IL
Daryl was hilarious. Everyone had a great time!
Fundraiser•Reviewed on April 1, 2017•From Farley, IA
Daryl performed at a fundraising event and followed through as promised! He was very good at communicating with me prior to the event to make sure everyone was on the same page and his performance fit the crowd at our event nicely.
Holiday Party•Reviewed on January 14, 2017•From Willowbrook, IL
Daryl was dressed appropriately for the venue\party. His attitude was professional he arrived early to make sure that there would be no glitches. He tried very hard to include personal tidbits to make the evening more fun and personal for our club members. We had a large variance of ages at our party, which Daryl had to deal with, and he did so successfully. We have a tough crowd with some of the older people, however Daryl was able to get everyone to laugh, including the stonefaces in the group. Darrell also kept his act cleaning, which I had requested. If I ever were to need a comedian again, I would certainly rehire Daryl. I highly recommend him.
Event•Reviewed on March 13, 2015•From Juneau, WI
I have been to a lot of comedy shows and no one has made me lose 5lbs from laughing and crying so much. He has amazing talent feeling the crowd and making jokes that fit the group! Feedback from customers were the same. I will definitely be booking him again.
Fundraiser•Reviewed on March 21, 2015•From Columbus, WI
Outstanding! We simply can not say enough positive things about Daryl Moon and Kelsie Huff. They were professional, accommodating, personable, and hilarious! They engaged the crowd immediately and mingled afterwards. The crowd quickly identified with their material and were captivated for the entire show. Daryl did his homework prior to the event and was able to incorporate local oddities into his routine, Having never hosted a comedian prior to this event, Daryl's level of communication prior to our event was superb and appreciated. A true professional who found his calling! We highly recommend Daryl and Kelsie and we will definitely have them back! A success!
Holiday Party•Reviewed on January 18, 2013•From Green Bay, WI
This was a work party with a wide variety of ages and ethnicity in the room. We asked Daryl for a 'clean' comedy show and to ensure it wouldn't be offensive to any ethnic groups. That's exactly what he delivered. He lined up a co-star to help since we were looking for 1.5 hours (a rather long show). They kept the crowd laughing the whole time, ribbed a few people we pointed out, and made for a really enjoyable evening by all. Everyone I talked to later on had nothing but praise for Daryl.
Private Party•Reviewed on August 24, 2013•From Chicago, IL
Daryl was great. He was conscious of the mood and vibe of my event and really customized his performance accordingly. He truly wanted to enhance all the guests' experience. He was well-liked by everybody.
Club Event•Reviewed on November 2, 2013•From Saint Charles, IL
Wow! The show was amazing. Daryl, Kelsie, and Dobie put on a show. Everyone had a great time. Members are already asking when we can do it again. Thanks to Daryl, our comedy night at the Lodge was a complete success.
Fundraiser•Reviewed on October 13, 2017•From Chicago, IL
Daryl was great, he was easy to work with, very professional, worked hard, and was funny and engaging. He helped up raise money at our fundraiser.
Club Event•Reviewed on April 27, 2013•From Kendallville, IN
Everyone had a great time and enjoyed the show!!!
Celebration•Reviewed on May 26, 2013•From Saint Charles, IL
I hired Daryl for a Memorial Day party. I was looking for "an annoying guest" and Daryl thought of the brilliant idea to bring in a woman comedian as well and come as "the annoying couple!" Holy cow they were amazing!! It was absolutely hysterical Daryl and "his wife" had all my guests talking!! I would without a doubt give 5 stars all around with two thumbs up!! Besides Putting on a fabulous performance Darryl is very accommodating and the pricing was very reasonable! He kept in touch with me and had some great ideas. I read Darryl's profile and knew he would be a perfect fit for my party and I was right on!! •ND
Birthday Party (Adult)•Reviewed on March 23, 2013•From Plainfield, IL
I had Daryl for my husband 40th surprise birthday party. He did a little of a roast on my husband which I thought he did really well. I had him for 45 min. but that might have been to long. 30 min. would have been perfect. Over all I think Darly did a great job.
Corporate Function•Reviewed on March 16, 2014•From Chicago, IL
Daryl was completely accommodating. Our corporate reception event went so smooth with Daryl's lead for the evening entertainment. EVERYONE had a good time, laughed A LOT and left having had a really good time.
Birthday Party (Adult)•Reviewed on November 10, 2012•From Whitewater, WI
Had Daryl out for my husband's 40th birthday party. What a blast we had! Daryl was very accommodating and brought personal humor about my husband into the show which was a big hit! Super nice guy and very funny! I would definitely recommend him for your event.
Wedding Ceremony•Reviewed on August 30, 2013•From Ann Arbor, MI
What a funny and respectful man! My husband and I found Daryl online and werent sure if we had made the right decision to hire a comedian but It all turned out so wrll and I wouldn't change anything for the world. Daryl had 2 phone interviews with us before the wedding and showed up ready to preform*!thank you so much*
Event•Reviewed on November 8, 2013•From Andover, MN
Daryl delivered exactly what I requested and was able to keep my crowd entertained for the duration of time I requested. Thanks Daryl
Holiday Party•Reviewed on December 5, 2017•From Flossmoor, IL
Daryl was such a great guy and totally accommodating! He brought everything he needed for the country club venue of my party. My entire team really enjoyed his performance and especially loved the game show that he did- like the dating game. I recommended him to my husbands' dental practice and they loved him as well. I thought he did a great job and really added some fun to our holiday party. I would definitely recommend Daryl for your event.
Birthday Party (Adult)•Reviewed on September 4, 2021•From Racine, WI
Daryl was great at our event! He really was good with the crowd, quick witted and funny. He was perfect for our event. Thank you for your professionalism, and your flexibility was appreciated.