Back to profile
Global Spanish Guitar Duo/Flamenco/Americana Reviews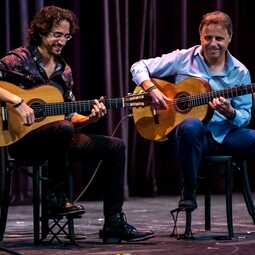 Avg 5.0 | 26 Reviews

Flamenco Duo from Chicago, IL

60 Verified Bookings
Starting at $300 per event
---
26 Reviews for Global Spanish Guitar Duo/Flamenco/Americana
Fundraiser•Reviewed on October 8, 2022•From Kenosha, WI
They were absolutely wonderful! They played for our fundraiser and the attendees LOVED them. We received many compliments on Carlo and Fran.
Anniversary Party•Reviewed on June 20, 2020•From Romeoville, IL
Our experience was excellent, Carlos was professional and courteous to our COVID-19 request and with a perfect Representation of a Guitarist... our parents 50th anniversary was made a bit more special in having Carlos performance for parents due to the Covid-19 situation.. We highly recommend Carlos for all of your events..
Wedding Reception•Reviewed on July 5, 2014•From Chicago, IL
We cannot say enough how wonderful Diego and Carlos were at our July 5th wedding! We had family in town from Spain for the celebration and they were so touched by the gesture, and more importantly thought their music was fantastic. Diego was incredibly professional, and accomodating, and together they truly made our wedding magical. I'm sure someone in our family will be hiring him soon for their next party! Best, Samantha & Ignacio Navascues
Wedding Cocktail Hour•Reviewed on September 17, 2011•From Saint Charles, IL
We hired Carlo to play guitar solo during the cocktail hour and dinner portion of our wedding. He was absolutely perfect!! Very professional, yet relaxed. His music was lovely, and the feeling and scene he created for during our outdoor cocktail hour was phenomenal. The music he chose was so romantic and classy, and was especially nice to have while everyone was eating dinner. I would recommend him to anyone who wants to create a romantic feel at their wedding. Having a guitarist was also very unique as none of my friends had one at their weddings, so I feel it made our wedding that much more memorable. I am so so happy we booked him!
Birthday Party (Adult)•Reviewed on June 14, 2014•From Chicago, IL
I found Carlo & Diego online through Gigmasters and from my first contact with Carlo, my experience was nothing short of great. I was throwing a party for my mother's birthday and expected about 40 guests. Carlo and Diego were not only utmost professionals beforehand in planning and organizing with me, but once there, they created an incredible atmosphere, playing an array of music to fit the mood and audience, from Spanish guitar to a flamenco version of Happy Birthday, and even tango for the tango crowd. The quality of the sound was also superb. I could not be happier with the experience of hiring Carlo and Diego and with their memorable contribution to the event.
Corporate Function•Reviewed on June 17, 2014•From Chicago, IL
These guys were so so great. I didn't have to worry about what they'd play and when we had a 15 min delay in beginning the program they came and asked me whether.they should keep playing a few more minutes in the meantime. I really hope others in attendance at the event hire them for their events.
Wedding Cocktail Hour•Reviewed on September 17, 2010•From Denver, CO
The best decision I made in planning our event was hiring Carlo and David. Their talent, song selection, understanding of the audience, understanding of the venue, understanding of the event itself and what it called for, their ability to conform to the environment in which they played (which was a tropical jungle in Mexico with no electricity) all coupled with an amazing attitude and desire to give my guests the best performance possible made our wedding the most raved about event we or any of my guests have ever been to. We can not thank them enough!
Christening•Reviewed on August 21, 2010•From Delafield, WI
We couldn´t have been more pleased with Carlo´s performance. He was professional and accommodating during every step of the booking process and most importantly he added the perfect musical backdrop for our event. We had my husband´s family and friends from Spain in town to help us celebrate and his music was highly regarded by all of them - a true testament to just how talented he is! We also gave a copy of his CD to each of our guests as a thank you gift, which they LOVED - I would definitely suggest this. Highly recommended and I would not hesitate to book Carlo or through Gig-masters again.
Wedding Reception•Reviewed on September 4, 2010•From Chicago, IL
Las Guitarras/Spanish guitar duo made my wedding a really magical night. The sound was amazing! Vocals, guitars, cello and percussion all sounded great. I had quite a few musicians as guests who were blown away by the quality and talent. This band has such a wide range and pull off soft and calm as effortlessly as energetic and exciting! And of course when the percussionist added some flamenco dancing to the evening everyone was mesmerized and truly entertained. They were really so professional, so flexible and so so fun. I cannot say enough about how pleased we were with our choice! I would highly recommend this band for your next event!
Anniversary Party•Reviewed on August 8, 2009•From Chicago, IL
We could not have been more delighted with the music provided by Carlo & Diego. They performed a variety of classical Spanish guitar music pieces and even took a request to play a piece by the Gipsy Kings. Their music was absolutely beautiful & they are wonderful guitar players! We received many amazing comments & inquiries from our guests including the guests of honor on how much the enjoyed the music. Thank you Carlo & Diego for helping us create this beautiful memory for my brother and his wife on the their anniversary!
Wedding Reception•Reviewed on September 3, 2010•From Chicago, IL
They did a great job! Was just perfect for our event.
Birthday Party (Adult)•Reviewed on October 17, 2009•From Riverside, IL
Carlo and Diego were a fantastic addition to our outdoor event. Their music is simply beautiful and it added a chic and elegant vibe to our celebration. Guests commented on how much they enjoyed the performance. Can't wait for the next occasion to hire them again!
Wedding Ceremony•Reviewed on June 18, 2010•From Libertyville, IL
The Spanish Guitar Duo was wonderful! They were very easy to work with and very professional. They helped make our wedding special and one of a kind! I would recommend them to anyone!
Happy Hour•Reviewed on October 2, 2009•From Chicago, IL
We hired the Spanish Guitar Duo to play during the cocktail hour of our wedding. Our guests loved it! Carlo did a great job. I'd recommend the Spanish Guitar Duo to anyone that's looking for authentic Spanish/Latin guitar music.
Wedding Cocktail Hour•Reviewed on September 12, 2010•From Orland Park, IL
Our guests really enjoyed the spanish guitarist. Thank you for being a part of our special day. It was truly magnificent.
Corporate Function•Reviewed on August 27, 2009•From Houston, TX
Unfortunately, we were unable to have the duo due to financial constraints, but Carlo was great to work with and a pleasure to hear. I am glad he made the trek to Texas.
Wedding Cocktail Hour•Reviewed on May 5, 2012•From Chicago, IL
FIVE stars for all of the above. They were "early to arrive, set up and prepare"! Lovely music, lovely people wish they were in Newport Beach, CA for my son's wedding this September. Would hire them in a heart beat again.
Wedding Cocktail Hour•Reviewed on September 3, 2011•From Chicago, IL
I am a professional violinist (www.fifth-house.com) and think I am a decent music critic. These guys are great (I did not know them before)! My other professional colleagues thought they were awesome also. They had a great selection of music, all memorized! They had a great sound system and even let me borrow a mic for my best man's speech. These guys are for real, don't hesitate to book them.
Wedding Ceremony•Reviewed on June 25, 2011•From Pekin, IL
Carlo and David were exceptionally professional when playing for our Wedding. Our Wedding was outdoors and it turned out to be in a misty rain. Carlo and David were extremely flexible and accomodating and were a definite highlight during our event. They played a special request for my wife during the ceremony and they played an amazing set during the dinner hour at our reception. Many of our guests made a point to compliment us on our choice of music for the wedding. We would recommend Carlo and David to anyone planning a special event as you are certain to be more than pleased with the performance.
Wedding Ceremony•Reviewed on May 7, 2011•From Inver Grove Heights, MN
Carlo and David were absolutely wonderful playing beautiful music. We were completely happy with their level of professionalism, talent, and overall ease working with them. Thank you so much Carlo and David!!!
Corporate Function•Reviewed on May 5, 2011•From Vernon Hills, IL
Wedding Cocktail Hour•Reviewed on September 17, 2010•From Saint Charles, IL
Although we were only able to enjoy part of the cocktail hour to listen to them, we were blown away by how perfect it was. Tom and Stefano were great!! Everyone commented on how much they enjoyed their music and how unique it was to have them play. I would reccommend The spanish guitar duo for anyone who wants amazing, unique music at their event. Thanks guys for making our wedding more then we could have ever imagined!
Birthday Party (Adult)•Reviewed on May 13, 2017•From Barrington, IL
Carlo and Diego were fantastic. Great sound, professional and provided one of the best "in home" sessions I've heard. They interacted with the party and made the entire celebration very special. I would whole heartedly recommend them for any event. Their sound is real and polished. Thanks guys!
Wedding•Reviewed on September 26, 2015•From Chicago, IL
Carlo and Diego played the ceremony and cocktail reception for my outdoor wedding, and we could not have been more thrilled. They are beyond talented. A few of our guests were asking how they can hear more, buy the CD etc. Also, I originally started researching string quartets because that just seemed like the route people take for wedding music. I'm so glad we went with a Spanish guitar duo. It was different, fun, classic, and a real crowd pleaser. I strongly suggest that brides book them!
Wedding Cocktail Hour•Reviewed on August 31, 2014•From Chicago, IL
Such a great addition to our wedding