Back to profile
Tom Rohde, Classical, Brazilian And Spanish Guitar Reviews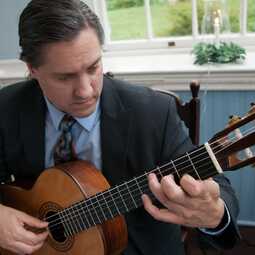 Avg 5.0 | 83 Reviews

Classical Guitarist from Lusby, MD

152 Verified Bookings
Starting at $250 per event
---
83 Reviews for Tom Rohde, Classical, Brazilian And Spanish Guitar
Wedding Ceremony•Reviewed on July 14, 2018•From Frederick, MD
Tom was an absolute pleasure to work with. He provided an extensive list of songs that he is proficient in and was open to many suggestions. I requested he learn a new song from my culture and he learned right away in less than a month. He met with me on the phone and responded quickly to emails. He arrived at the venue very early. Everyone loved his music. He knows how to play and is a true artist. Please consider him for your event! He is very special!
Wedding•Reviewed on May 20, 2017•From Newport News, VA
I listened to a lot of guitarists but the minute I heard Tom's playing I knew he was the right person for my daughter's wedding. He was so professional and his playing was pure heaven. We had a small family wedding of about 30 and many things became very last minute like who sits where, who walks when and with who, basic stuff. Tom knew exactly when and what to play and he just moved seamlessly from the outside ceremony to the indoor dinner and cake cutting. Tom never missed a beat. If you want someone who is friendly, professional and plays the most beautiful music then Tom Rohde is the must! I wish I could give him 10 stars!
Wedding Ceremony•Reviewed on September 24, 2016•From Alexandria, VA
Tom's the best! A pro from beginning to end. And, of course, a top notch musician. We had him play during cocktails before and after our wedding ceremony in a cozy restaurant in Alexandria VA. He was perfect for the setting, and we loved his Spanish and Brazilian repertoire. Wouldn't hesitate a second to recommend. Great guy and superb musician. Don't look elsewhere, book him now!
Wedding Ceremony•Reviewed on May 14, 2016•From Woodstock, MD
We would highly recommend Tom! Communicating and coordinating with him prior to the wedding was hassle-free and simple. He was very obliging and put together an arrangement of a modern song I wanted to use for the processional, he even gave us the sheet music afterwards! He played beautifully and is obviously a very talented musician, and the pieces he selected for the prelude to our ceremony and cocktail hour were perfect.
Wedding Ceremony•Reviewed on June 26, 2011•From Waterford, CT
Tom was amazing! He played a truly amazing mix of Classical and Spanish music. The elegance his music added to the ambiance of the wedding and cocktail hour created a magic atmosphere which all the guests complimented us on. We were really happy to have him play at our wedding and would recommend him to others without hesitation.
Community Event•Reviewed on December 31, 2014•From Grasonville, MD
Excellent experience. Tom fit in wonderfully with our guests and his selection of repertoire was exactly what we wanted for the occasion. very easy to work with and very talented. John Vezeris
Engagement Party•Reviewed on April 18, 2015•From Washington, DC
Tom is a gentleman and focused professional. He played at my surprise engagement party to the delight of the entire crowd. Also, Tom is eager to learn new music in his style. I asked him to learn a few songs that my fiancé would enjoy and I gave him a couple of samples. However, he went out of his way to learn 7 songs and played them masterfully. He was incredible. Thank you Tom making my engagement even more special.
Wedding Ceremony•Reviewed on June 8, 2013•From Purcellville, VA
Tom was wonderful. He was extremely organized before the wedding, reaching out to us to make sure we had all of our music picked out and to accomodate any special requests. The day of, he was great as well - we didn't have to worry about anything with him. He was on time, played exactly what we wanted, and most importantly, he's just extremely talented. We received a lot of compliments on how perfect and classy the music was. Couldn't have asked for anything better. Thanks so much Tom!
Wedding Ceremony•Reviewed on September 7, 2013•From Arlington, VA
Using Tom Rohde was one of the best decisions we made in the planning our wedding. He was gracious enough to bring a microphone for us to use during the wedding ceremony and hook it up to his amplifier. He also allowed us to choose our own songs for the wedding ceremony that were not in his normal repertoire and made his own great arrangements of these songs! I got numerous compliments about Tom Rohde during and after the wedding. Also, communication was great during the entire process, as we exchanged many emails. I highly recommend him!
Wedding•Reviewed on March 30, 2013•From Fairfax, VA
Absolutely amazing. Tom learned all of the songs we wanted and played them exquisitely! My husband is in the music industry as well and he was blown away. Tom and his guitar definitely made our wedding one of a kind and so special. Everyone commented on how well he performed. He exceeded all of our expectations and his professionalism stood out above all of the vendors we hired. Love, Chris and Emily
Wedding•Reviewed on March 9, 2013•From Berlin, MD
Tom played at my wedding this past weekend in the Easter Shore. He was so amazing I can't even put words into how incredible he was. If he is available for your event I would book him fast. He is responsive, accomodating, professional and kind. Most of all he is an absolutely AMAZING guitarist. I asked that he play a the love song from Cinema Paradisio and he had to take the piano piece and write it for the gutair. It was perfect. He made a copy of the music he wrote and signed it for us. He helped make my wedding special & personall with just the right tenor of music. He also played for the first part of our reception as well. I highly recommend
Art Gallery Opening•Reviewed on October 5, 2012•From Washington, DC
I made great efforts to search for a classical guitarist for an opening reception in Touchstone Gallery, Washington, D.C. in October, 2012. Not until I heard the sample of Tom Rohde's artistry on the Gigmasters site, I stopped searching. I recommend Tom Rhode whole-heartedly for his superior musicality as well as his musicianship. His work ethic was impressive. No worries about late arrival. He is cultivated and polite with wonderful personality. In short, in addition to his excellent skills, he has uncommon qualities. Amazing! all in one!! He also has a broad repertoire, and he respects his client's wishes. He is someone the client cannot find fault with.
Wedding Cocktail Hour•Reviewed on June 30, 2012•From Cambridge, MA
Tom was simply fantastic. He was incredibly professional, very accommodating, and superbly talented. Our guests (including my Brazilian mother) raved about him and his performance during our outside cocktail hours. We hope to have the opportunity to hire him again sometime soon. Thank you for the wonderful memories Tom!!
Wedding Ceremony•Reviewed on May 14, 2011•From Provincetown, MA
Thomas made our wedding day very special. We hired him to play during our ceremony and cocktail hour. He worked with us to select pieces for the processional and recessional, but we gave him free reign beyond that to select other music for before the ceremony and afterwards, and he was magnificent. He captured the mood just perfectly. Very much a pleasure to deal with from start to finish and we would very highly recommend him for your event.
Wedding Ceremony•Reviewed on April 30, 2011•From Providence, RI
Tom is completely great. He communicated with me before the event, took time to find out specific pieces we wanted him to play, was super professional and reliable, and played BEAUTIFULLY! Tom was a special addition to our wedding ceremony and cocktail hour - I'm so glad we found him via this site. If you are researching guitar players and are thinking about contacting Tom, DO IT! I promise you will be extremely pleased.
Wedding Ceremony•Reviewed on June 24, 2010•From Portsmouth, RI
Tom was an amazing addition to our wedding, his music made our ceremony absolutely unforgettable. I asked Tom if he would play Harvest Moon by Neil Young while my father walked me down the aisle. Not only did he agree to learn and play it, he played it so beautifully and adapted it a bit for his style of guitar. Our guests raved about Tom's talent. He was so accommodating and easy to work with, it made the wedding planning process that much easier knowing I had a great musician to work with. Our wedding would have been incomplete without Tom!
Wedding•Reviewed on September 4, 2009•From Bolton, MA
Tom was an incredible addition to our wedding on 9/4/09. He is very talented and plays beautifully. He was very professional and I was immediately impressed with his organized approach to helping us work through the ceremony and cocktail hour logistics. He sent us a list of questions requesting ceremony details which helped us to think through things. We felt so confident with his approach and professionalism that we didn't feel the need for a rehearsal. When we met in person that day, it was comfortable like meeting an old friend. He has a wonderful gift and presence. I highly recommend him to anyone – you can trust you will be in good hands.
Wedding Cocktail Hour•Reviewed on December 18, 2010•From Sharon, MA
We hired Thomas to play flamenco guitar for our wedding ceremony and cocktail hour. He did a phenomenal job! Thomas worked with me beforehand to select the perfect songs, took special requests, and was always prompt and professional in his emails and over the phone. The day of the wedding he arrived early to set up and made a special point to thank us for hiring him to be a part of our special day. He played beautifully and we received many compliments from our guests. Thank you for a unique and beautiful experience, we loved having you!
Wedding Ceremony•Reviewed on July 3, 2009•From Cataumet, MA
Tom's music a wonderful part of our wedding day. In addition to his outstanding repertoire of Latin and classical guitar music, Tom learned several of our favorite pieces including some Russian music where no notes were available...he learned these by listening to recordings of the music! We highly recommend Tom.
Cocktail Party•Reviewed on October 10, 2010•From Sandwich, MA
Tom was AMAZING! All of my guests commented on how much they enjoyed his playing & how good he was. He learned two Nick Drake songs for our processional & recessional and when I heard him start to play them, I got chills because they sounded soo perfect (they are special songs for my husband & i). Tom came early to set up/tune, & communicated/coordinated with me prior to the event to ensure he had all the contacts & info he needed so i did not have to worry on my wedding day. If you don't hire Tom for your event, you're crazy!! He is a true talent, nice guy, and professional. I would give him an 11 if possible! Thank You Thank You Tom~you did such a great job! :)
Wedding Ceremony•Reviewed on December 4, 2010•From Sudbury, MA
Thomas was wonderful. Every single guest commented on the high quality of the music and enjoyed his selections. He worked with us prior to our wedding to select the best songs for each part of the ceremony. He also downloaded the music and learned to play the song we requested for our first dance! (You are the Sunshine of my Life.) He's very professional as well. Can't say enough good things!
Cocktail Party•Reviewed on June 26, 2010•From Portsmouth, RI
We had a wonderful experience with Thomas. He always responded quickly to any communication and had great recommendations for our event. We even asked him to do a random vocal accompaniment and he made it work seamlessly. I would highly recommend him for his professionalism and talent!
Wedding•Reviewed on June 12, 2010•From Windham, NH
Tom is absolutely amazing. He is professional, kind and so very talented. He plays with ease and grace. Everyone at our wedding commented on how wonderful he was. He was very helpful in choosing just the right musical pieces for the ceremony and cocktail hour. For our wedding, Tom played Spanish and Latin pieces to complement the Spanish theme. Incredible job. I would highly recommend him to anyone looking for a classical guitarist. When I have another event that warrants live music, I will definitely be giving Tom a call back. A+! Thanks, Tom! You made our wedding day that much more memorable.
Cocktail Party•Reviewed on June 5, 2010•From Providence, RI
Thomas was the best addition to our Spanish-themed party. In the words of our guests, he made the event "magical." Very professional, accommodating, and wonderfully talented.
Celebration•Reviewed on November 19, 2009•From Cambridge, MA
Mr. Rohde is a virtuous guitarist and a scholar in Brazilian music. He performed and lectured at very high level.