Back to profile
LaBak The Magician Reviews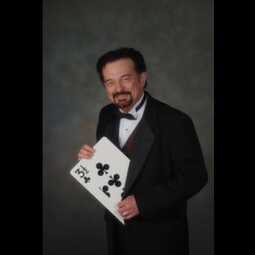 Avg 5.0 | 94 Reviews

Magician from Santa Clarita, CA

160 Verified Bookings
Starting at $175 per event
---
94 Reviews for LaBak The Magician
Anniversary Party•Reviewed on September 3, 2016•From Pasadena, CA
LaBak was outstanding! He performed for 30 adult guests at our anniversary dinner. LaBak was well prepared and flexible when our schedule ran later into the evening than planned. LaBak engaged every one of our friends in the audience. His solid showmanship made them smile, laugh, shout out "Wow!!" and applaude in appreciation. For the two days after we have received emails and FB posts from guests saying what a great night they had, how much they enjoyed LaBak the magician, and several added it was "the best night of entertainment in years." If you want a successful and memorable event we recommend LaBak! K and S, Padadena
Private Party•Reviewed on May 3, 2015•From Valencia, CA
La Bak was definitely the HIT of the party. He was so pleasant, accommodating and entertaining. I would MOST certainly hire his services again and recommend him to friends, family and anyone that wishes to have some real fun for their party or special occasion.
Baby Shower•Reviewed on May 9, 2015•From El Segundo, CA
LaBak was thoroughly enjoyed by all at my daughter's baby shower. He performed close up magic by strolling from table to table, entertaining both young and old. He incorporated the name of my future grand daughter into some of his tricks and performed a special trick for my daughter and her husband that provided a keepsake of the event. Would definitely recommend him.
Holiday Party•Reviewed on December 10, 2014•From Los Angeles, CA
LaBak The Magician was wonderful to work with from the very start to the day he performed at our holiday party. He was very accommodating with our budget and time and was in constant communication to ensure everything we had asked for was done. Most importantly, everyone had a great time!
Holiday Party•Reviewed on December 18, 2013•From West Hollywood, CA
LeBak was awesome! Called and emailed us a number of times to go over the details of the event to ensure that he gave us exactly what we wanted. Showed up early and immediately went into performance mode, doing tricks for the event planners as we waited for guests to arrive. He moved effortlessly through the crowd and everyone really enjoyed his illusions. He even went overtime at no cost just to make sure all of the guests had a chance to participate in the magic. Book LeBak - you won't be sorry!
Private Party•Reviewed on August 10, 2013•From Glendale, CA
LaBak entertained my party with approximately 80 people as a strolling magician. He showed up early and left late, making sure that the late arriving guest got a chance to see a few tricks. Everyone loved him, from adults to children and I couldn't be happier. The performances were engaging and the overall experience was top notch professionalism. Thanks LaBak for sharing your amazing talents!
Birthday Party (Kids)•Reviewed on April 6, 2013•From Burbank, CA
LaBak is AWESOME! He is not only a talented magician he is also a great entertainer. It energy and love to entertain is refreshing. He performed for my daughter's 6th Birthday. He had tricks for parents and children. Every parent commented that this was one of the best shows they had seen. He also made it very special for my daughter. He had personalized tricks with cards that had her her name. He is very respectable and professional. We had a wait for 15 minutes for some guests to arrive, and not only did he readily oblige to the request, he started hanging out with other guests and started showing some tricks. I recommend him for both Adult and kids party
Birthday Party (Kids)•Reviewed on October 13, 2012•From Los Angeles, CA
I hired LaBak the magician for my twin's 7th birthday party... My boys are still talking about it . We absolutely loved His magic show. He has Great carisma, amazing talent and is very professional. Children and adults enjoyed the show. I most defenatly recommend LaBak the magician for your future entertainment. He really made our carnival birthday event a memorable one! ;)
Baby Shower•Reviewed on November 10, 2012•From Los Angeles, CA
We were all thoroughly entertained. For me LaBak's show was very reminiscent of the 1960's TV show, "The Magic Land of Allakazam". I am not saying his material is dated, far from that. I'm just making an analogy from a personal reference point. Family oriented, with guest ranging in all ages, LaBak's presence and tone of voice was engaging. This was the highlight of the event which helped to make it memorable.
Birthday Party (Kids)•Reviewed on September 21, 2013•From Playa Vista, CA
LaBak was great! He arrived to my sons 7th birthday party on time, was super friendly and was ready to go in minutes. The performance was tailored towards kids, but adults were quite entertained as well. And trust me, when my older father says: " i have no idea how he did it?!", that is truly magical. At the end of the day my birthday boy told me that this was the best day ever! I would definitely have him work my party again and recommend LaBak to all of my friends. Thank you!
Birthday Party (Kids)•Reviewed on August 25, 2012•From Milwaukee, WI
He did a great job, kept the kids and adults enaged and everyone had a great time. Would recommend him to anyone looking for a great magician.
Private Party•Reviewed on February 23, 2013•From Woodland Hills, CA
Labak is a great performer.very professional and accommodating.everyone at the party was thoroughly entertained.the magic tricks were mind boggling.we had a great experience.
Birthday Party (Adult)•Reviewed on December 8, 2012•From Los Angeles, CA
LeBak was a Wonderful choice , great tricks, worked the room and crowd well, and a classic "Magician presentation" ! He came early, stayed late, and was enjoyed by all !
Birthday Party (Kids)•Reviewed on July 7, 2012•From Milwaukee, WI
He was very entertaining for the kids and the adults as well. I was very pleased with the entertainment. I would definitely book him again and refer him to others.
Private Party•Reviewed on June 3, 2012•From Milwaukee, WI
I hired LaBak to help me with my proposal to my girlfriend. He was the upmost professional entertainer I have ever worked with. He was kind, considerate and funny! I had a creaitve idea to propose to my girlfriend at sunrise. He met me a week prior to look over the area at the beach and find out what I wanted. He, without hesitation, hiked to the beach spot at 4:15am to beat us down there and appear after the sunrise and perform for us. He was a fantastic magician and I couldn't be happier with the way things turned out. The trick her did to make the ring appear was amazing and I will never know how it worked out! Thank you Labak!! Bryan Milwaukee, WI
Rehearsal Dinner•Reviewed on October 14, 2011•From Plymouth, WI
We were looking for entertainment for our son's wedding reheasal diiner & could not have made a better choice in Magicians! Several weeks later, we are still receiving comments on how much fun our guests had. Our group was diverse - young kids to grandparents; teenagers to adults - everyone was left in awe after each magic trick was performed ... including the skeptics. We appreciated how LaBak included the audiance by participating in his magic and in his humor. It is not an exaggeration to say that LaBak had everyone laughing. As guests left - we heard more than one of them tell LaBak that he was the best magician they had ever seen - we agree!
New Year's Eve Party•Reviewed on December 31, 2012•From Rancho Palos Verdes, CA
It's always a little scary choosing a performer off of the internet, with that being said I am very pleased and would highly recommend LaBak for your event! He was very communicative before his performance, called to confirm when, where and what was needed and his show is funny and very interactive with the audience, he's a great performer, magician, and someone that your group will have fun with!
Christmas Party•Reviewed on December 18, 2012•From Camarillo, CA
LaBak was friendly, professional and talented. He treated our event with the utmost respect and care. He arrived on time, was dressed very nicely and was very engaging of the crowd. I would highly recommend LaBak!
Birthday Party (Kids)•Reviewed on May 19, 2012•From West Bend, WI
We were very pleased with the show provided by LaBak the Magician. The children and adults both enjoyed it very much. The show was for our 7 year old twins and he took the time to remember their names and which one was which (they are identical). The extra step meant alot to me and my son's as well. I really liked that he included all of the children as well to make it extra special for them. I would highly recommend him to any one looking to have a magician for their party!
Birthday Party (Kids)•Reviewed on May 6, 2012•From Mequon, WI
Hiring Labak for my daughter's 7th birthday couldn't have been a better decision for a room full of over 30 kids and a few of their parents. He had ALL the kids laughing so often at his antics, and he amazed them with his tricks. Many times, there was participation from the group, from my daughter and other kids. After he was done with the show, he even came back and did strolling magic for the adults, it was a delightful bonus that I hadn't asked for, but appreciated.
Graduation Party•Reviewed on March 10, 2012•From Germantown, WI
LaBak was Fantastic! Everyone enjoyed the show from young kids to adults to grandparents. He had the whole room amazed. I would hire him again in a heartbeat! Thanks for the GREAT performance LaBak!!
Holiday Party•Reviewed on January 28, 2012•From Pewaukee, WI
We had a wonderful experience with LaBak. We couldn't have asked for a more accommodating person/act. We thoroughly enjoyed the show and I will highly recommend him to others.
Corporate Function•Reviewed on October 8, 2011•From Crystal Lake, IL
He was very entertaining, and did a great job attending to all our guests, I'd definitely recommend LeBak.
Banquet•Reviewed on September 27, 2011•From Green Lake, WI
La Bak was a wonderful act!!!! I would highly suggest him to anyone. He was so accommodating and brought the crowd into his act that everyone was so involved they couldn't take their eyes off of him. GREAT GREAT act!!!
Birthday Party (Adult)•Reviewed on August 20, 2011•From Antioch, IL
LaBak The Magician was fantastic. He made my birthday that much more entertaining. The kids and adults alike were surprised, stunned and ultimately thrilled to have LaBak perform. Thank you so much!!