Back to profile
James Duchon Reviews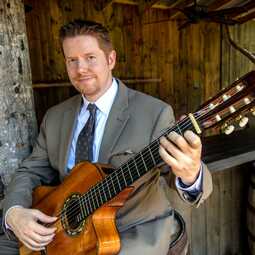 Avg 5.0 | 118 Reviews

Classical Acoustic Guitarist from New Smyrna Beach, FL

207 Verified Bookings
Starting at $150 per event
---
118 Reviews for James Duchon
Wedding Ceremony•Reviewed on August 3, 2013•From Vero Beach, FL
James Duchon is so amazingly talented that we have wedding guests still calling us to remark on his performance. He was outstanding! He added such a special touch to our wedding and made it all come together. James played during our ceremony as well as our reception and was spectacular throughout both! His voice is phenomenal and we could not have found a more talented guy if we had searched forever. He not only has such a gift musically, but also is such a warm person. It was a pleasure working with him and we really appreciated his being so accommodating and flexible. James, we will never forget how much you helped make our day so special. Nikki & Craig
Wedding Reception•Reviewed on July 7, 2012•From Orlando, FL
---SPEECHLESS--- Talk about an extraordinary talent!!! Every single guest and vendor present for our wedding and reception were blown away by the caliber of James' artistry and professionalism. James is the real deal-- Extremely polished, courteous and accomodating. From the moment we placed our deposit, James opened lines of communication with us and went out of his way to make our day special and our music, PERFECT! Look no further--- NOONE will compare to James Duchon!
Wedding•Reviewed on November 10, 2012•From New Smyrna Beach, FL
My husband and I hired James for our wedding. He is an extremely talented, professional young man. His communication with us before the wedding was professional, timely and extremely polite. James was accommodating to our needs with performing at our beach ceremony, wearing suitable attire and was very personable with our guests. James learned and performed a requested song perfectly for our ceremony (which was not on his song list). I can not speak highly enough of James and highly recommend him to anyone considering his services. Thank you James!
Wedding Ceremony•Reviewed on November 17, 2012•From Orlando, FL
We were very pleased with James' performance at our outdoor wedding ceremony. His music added the intimate touch we needed - he played background music as our guests arrived and were seated; he then played specific songs we requested for the bridal party entrance, bride entrance, and wedding party exit. We also received several compliments about him from our guests. He was very professional and greeted us afterward to ensure our satisfaction. Thank you, James!
Wedding Ceremony•Reviewed on March 31, 2012•From New Smyrna Beach, FL
We had some rain prior to our ceremony and James had to change out some equipment at the last minute but everything ran so smoothly. I got to have my live guitarist play while walking down the aisle and it was the perfect day. We loved the music and our guests really seemed to enjoy him during the cocktail hour. All and all James was very professional and accommodating.
Wedding Cocktail Hour•Reviewed on December 9, 2012•From Orlando, FL
Mr. Duchon was a HUGE hit at our wedding. I have guest STILL talking about how much they enjoyed him. He is SO gifted- his music is absolutely wonderful!!! My only regret is that I should have had him stay and play longer! We just Loved having Mr. Duchon play at our wedding. It just made our day all the more special since the bride LOVES live music. He does not disapoint!!!
Review by Jennesen (Jenn) T.
Wedding•Reviewed on April 14, 2013•From Rockledge, FL
Met my expectations and beyond!! Learned a song for my wedding which he played perfectly. All my wedding guest raved how amazing James was. Great communication and very professional. I don't plan on getting married twice but would hire James for any future event. Thank you for making my wedding have that extra special touch :) Jenn
Wedding•Reviewed on June 23, 2013•From Winter Park, FL
James performed both acoustic guitar and DJ services for our wedding yesterday. I cannot say enough wonderful things about him. He arrived early and was professionally dressed in a suit. Most of all, he accommodated all of my last minute changes to our original wedding program timeline and I appreciate how easy going he was about it. My guests raved about his acoustic guitar music prior to the ceremony and I wish I was able to hear him perform it. He did wonderful with his announcing and got people moving on the dance floor for the reception. We will definitely be referring him to friends! Don't hesitate, book him before someone else does! Thank you so much, James!
Review by Sean & Eunice R.
Wedding Ceremony•Reviewed on January 14, 2012•From Cocoa Beach, FL
James was absolutely amazing. We gave him a real challenge with a very important song to us and he played beyond our expectations. James arrived well prepared and professionally dressed and was ready to perform very quicly. Don't hesitate to contact him for your event.
Christmas Party•Reviewed on December 10, 2011•From Orlando, FL
James was was great to work with. He was polite, prompt, accommodating and played and entertained very well. He definitely helped make our party a success.
Wedding•Reviewed on March 16, 2008•From Cocoa Beach, FL
James was a blessing for my son's wedding ceremony. The wedding venue was in Cocoa Beach, Fl. I don't know anyone who lives there so when I found James on GIGMasters and he agreed to play classical guitar I was very excited. His professionalism and talent was exactly what I wanted to set the mood for a beautiful beach wedding. He was so cooperative with every detail; from our first meeting in Orlando to select the music, to the wedding rehearsal in Orlando, to learning and rehearsing the piece for the vocal duet an hour before the ceremony, to setting up microphone and speakers on a deck at the beach. It was perfect! Thank you James and GIGMasters.
Wedding Ceremony•Reviewed on April 18, 2009•From Vero Beach, FL
James is extremely talented and was a pleasure to work with. His music was the perfect backdrop to my wedding. He can play a wide variety of music styles and spent a great deal of time selecting which songs would be the most appropriate. He was professional and punctual and even accommodated a sound check the day before the wedding just to make sure everything would be perfect! I would highly recommend James to anyone planning an event where they need musical entertainment.
Wedding Reception•Reviewed on October 15, 2011•From Orlando, FL
As we faced the daunting task of planning a Florida wedding from our home in Philadelphia, we quickly understood that everyone we hired needed to be thoroughly researched. After an exhaustive online search, we were delighted to find the perfect musician and dj in James Duchon. Immediately after our first conversation we found James to be friendly, kind, and patient. We hired him to play guitar for our ceremony and cocktail reception and then dj the reception. Our wedding day was perfect. We can't say enough great things about James' impeccable performance and professional demeanor. He was a great fit for our wedding and our guests loved him too!!
Wedding•Reviewed on October 9, 2009•From Daytona Beach, FL
James was AMAZING! He was timely, well dressed, played great music, and was really helpful in selecting what to play, particularly when I had no ideas. I would hire him again, and would recommend that anyone looking for a guitarist do so as well. He had two set ups to allow for movement around the event, and even brought a microphone for our officiant. He always responded quickly via email, which was a pleasure. I cannot say enough great things about James!
Wedding•Reviewed on November 7, 2009•From Palm Coast, FL
James went above and beyond to make our wedding spectacular, even moving all his equipment to the upstairs banquet room to perform our first dance song, which he customized and slowed down to make it more "dance-able" for us! He is so talented and professional, everyone enjoyed his lovely music. I would definitely recommend him to anyone!
Wedding Reception•Reviewed on August 13, 2011•From Daytona Beach, FL
James was amazing! Everyone that was at our wedding had nothing but great things to say about him. Its exactly how I had hoped our ceremony and reception would be. If we ever have another event we will definitely call James.
Wedding Ceremony•Reviewed on May 8, 2010•From New Smyrna Beach, FL
James was extremely pleasant to work with, I would highly recommend him to a friend in a second. He visited us in our home to play samples of all his work, and meet face to face in order to go over wedding details. He remembers everything!! He did a beautiful job playing guitar for my wedding ceremony, I received a lot of compliments. He even learned two new songs (favorites of my Husband and I) in order to accomodate our wishes for our ceremony. 100% satisfied and then some. Thank you James for everything!! - Mr & Mrs Read
Celebration•Reviewed on July 17, 2011•From Saint Augustine, FL
Both myself, and all of the guests at my celebration only had GREAT (not just good, but GREAT) things to say about James. He was professional, and his music was beyond amazing. I would more than recommend him for any event. Thanks James!
Wedding Cocktail Hour•Reviewed on May 15, 2010•From Orlando, FL
As a singer, I'm always looking for professional musicians to accompany me. I found James Duchon on GigMasters and hired him for a wedding reception. He was easy to work with, accompanied me very well, arrived at the gig on time and in the appropriate attire. I look forward to hiring James Duchon again in the future! ~ Heidi Joy - Singer
Wedding Ceremony•Reviewed on July 2, 2011•From Lake Mary, FL
This was my daughter's second wedding. She wanted the music to be different. That's why we chose James. He is an excellent quitar player and the background music for the cerremony was wonderful. He is very professional, versatile and listened to all our requests. Since this was a small family wedding with lots of children, James knew exactly what to do. I wished we could of had more dancing at the reception but our time line was running out. He is also a great D.J. One always remembers the music not the food. I definetly would recommend him for weddings big or small.
Wedding Ceremony•Reviewed on June 12, 2010•From Ponte Vedra Beach, FL
James was a terrific compliment to my nephew's wedding and we were really appreciative of his availability on such short notice. We were able to handle all the pre event planning with him over the phone and he was very flexible at the last minute as the ceremony moved around the property! I would highly recommend him to anyone looking for a classical/accoustic guitarist for their special event! Jack S.
Wedding Ceremony•Reviewed on June 24, 2011•From New Smyrna Beach, FL
Thank you so much, James. It was perfect. Your music provided the perfect sound track to our celebration.
Wedding Ceremony•Reviewed on November 7, 2010•From Orlando, FL
James is a wonderful person and a talented musician. He was always available for any questions or comments we had regarding our wedding. We have received several compliments on 'our guitarist' at our wedding, he was truly a key component on our wedding day. It is so nice to be able to have a live musician play at your event without having to be a millionaire. Thank you James, we'll never forget it.
Wedding Reception•Reviewed on May 14, 2011•From Orlando, FL
James did an amazing job, will recommend and hire him again for future events. Thanks James
Wedding Reception•Reviewed on February 26, 2011•From Jacksonville, FL
Amazing!!! Not only did James do a wonderful job with the playlist he provided, but we sent him a mp3 of "Wagon Wheel" and he learned it in a mater of weeks and performed it as our first dance. I had multiple people come up and say that he sounded just like the lead singer. He was extremely professional and accomidating, not to mention very talented. If I ever find the need for a performer he will be the first I book! Everyone at my wedding has asked for his contact info. I would highly recomend him for any event!!! Great job!