Back to profile
Matt Commerce Reviews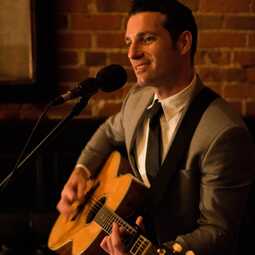 Avg 5.0 | 159 Reviews

Acoustic Guitarist from Los Angeles, CA

278 Verified Bookings
Starting at $400 per event
---
159 Reviews for Matt Commerce
Retirement Party•Reviewed on August 26, 2022•From La Jolla, CA
Absolutely perfect. Hired Matt to provide music and audio support for my retirement ceremony and party. The entertainment and setup was spot on. Would hire again in a heartbeat. Perfect for any classy engagement!
Birthday Party (Adult)•Reviewed on June 11, 2022•From Chino, CA
Matt was great my two three year old grand daughters even request a song from frozen and he knew the song . we will book him again THANKS MATT
Corporate Function•Reviewed on May 21, 2022•From Ojai, CA
Matt Commerce is a wonderful, talented individual and the entertainment for the evening was outstanding and splendid! I will definitely recommend him to other event planners seeking great entertainment with such professionalism and courteous friendly manner.
Wedding Reception•Reviewed on May 20, 2022•From Laguna Beach, CA
Matt was able to adjust his performance, time and duet partnership due to the changing circumstances leading up to our wedding. He was an absolute pleasure to have sing and perform at our wedding, as well as MC our small reception. I highly recommend Matt for your laid back beach vibe.
Wedding•Reviewed on May 15, 2021•From West Hollywood, CA
Matt was amazing to work with. From day one he kept the lines of communication open and was extremely helpful with planning the evening (He even recommended the wonderful photographer we ended up going with!). Even when our plans had to drastically change the day before the wedding he was able to accommodate us without any issue. Of course the most important thing is that his singing and playing were excellent. He created a wonderful ambience and at least half of our guests mentioned how talented he was to us at some point in the evening. Between his talent, professionalism, and positivity, this will be the easiest decision of your party planning. BOOK MATT NOW!
Wedding•Reviewed on October 13, 2019•From Paradise Valley, AZ
STOP LOOKING and just give him all your music budget. Matt is FANTASTIC, all capital letters, all the excitement, all the stars. My whole family wanted to wrap him up and take him home, he's talented, friendly, funny, and just plain amazing. Everything we requested was timed perfectly and his MC skills were beyond expectation. At the end of the night he sang two duets with 2 of my very talented guests and then let my 4 year old nephew sing with him! I can't profess enough how humbled and grateful I was to have Matt play our wedding, it's like Ed Sheeran, but BETTER.
Birthday Party (Adult)•Reviewed on January 17, 2022•From Agoura Hills, CA
Matt was a pleasure to work with. He has an incredible voice and played all the songs we requested. I wouldn't hesitate to use him again and I highly recommend him.
Holiday Party•Reviewed on November 18, 2021•From Redondo Beach, CA
Matt was professional and accommodating. We would definitely use his services again! Summit Wealth Management
Birthday Party (Kids)•Reviewed on August 21, 2021•From Long Beach, CA
Matt was incredible. He is so professional and kind. His talents are endless. We will be hiring him again the first chance we get!!! ;)
Cocktail Party•Reviewed on December 16, 2021•From La Jolla, CA
Matt never disappoints! Wows my guests each and every time! Truly amazing singer/guitarist!
Wedding Ceremony•Reviewed on October 3, 2020•From Charleston, SC
Matt is amazing! He played the ceremony and cocktail hour at our backyard wedding with family in Charleston and everyone absolutely loved it. Matt was so easy to work with throughout the process and was able to accommodate exactly what we had in mind for the day. He plays the guitar and sings beautifully - we are so happy he was part of our wedding day!
Wedding•Reviewed on July 15, 2020•From Santa Barbara, CA
We had Matt perform at our picnic elopement and he was an absolute dream to work with. He is so talented and truly made our special day even more romantic and magical. He really went above and beyond in ways that weren't even in his job description. We requested he play certain songs for us and he even sent us demos before the event. He has such an amazing voice and he's so skilled at the guitar and ukulele. We are honestly itching for another excuse to celebrate something so we can hire Matt again. Thank you so much Matt you were amazing!!!
Wedding•Reviewed on October 18, 2020•From Savannah, GA
Matt was great to work with. Personable, responsive to my requests, and most importantly...an amazing singer/guitarist. One of our post-wedding brunch attendees asked if he was Jack Johnson..that's how much he sounded like him. I would highly recommend Matt and would absolutely hire him again.
Birthday Party (Adult)•Reviewed on May 6, 2020•From Reseda, CA
If there was a way to give more than the maximum rating, that is what I would give Matt. He is an absolute professional, delivered above and beyond what was requested, was always prompt with communication, and he absolutely came through for a very special event. I can't thank him enough. He is amazing. You should book him immediately. You won't find a better person for the job.
Private Party•Reviewed on January 18, 2020•From Los Angeles, CA
We love Matt,he is fantastic ,will have him back anytime We had the best time last night all my friends are raving about the dinner party and the music ...Mart made the evening complete Thank you
Wedding•Reviewed on May 23, 2021•From Pasadena, CA
I personally was not there to hear him but everyone at the wedding said he was amazing. Everyone did say he was very talented and played everyone's favorite songs! :) definitely set the mood during cocktail hour. No complaints, thank you and will definitely have him come to the next event.
Wedding Ceremony•Reviewed on June 23, 2018•From Anaheim, CA
Matt was AMAZING. He's a pleasure to work with and knew exactly what we were looking for at our wedding. He not only sang/played guitar during our ceremony but also MC/DJ at our reception. So many guests have already sent their praises about Matt's work and we couldn't agree more! HIGHLY recommend him for any event!
Birthday Party (Adult)•Reviewed on January 25, 2020•From Los Angeles, CA
We had Matt last night for my 40th birthday. It was really amazing. Matt helped us create the perfect vibe for my party and I am forever grateful!!
Grand Opening•Reviewed on January 23, 2020•From San Diego, CA
Matt was as professional as musician come. He was knowledge, on time, and rose to the occasion. I had a Grand Opening with many VIPs including the mayor and he received nothing but the highest praise. Its not really a question, if you should book him. Just hope he is available and schedule him while you can!!
Private Party•Reviewed on August 16, 2019•From Ojai, CA
Matt was wonderful! He performed at our son's welcome party before his wedding. Matt was professional, accommodating and a joy to work with. His music was perfect for the evening. He was great at reading the crowd and knowing what to perform and at what volume. I cannot recommend him more!
Wedding Ceremony•Reviewed on June 2, 2019•From San Clemente, CA
Matt is amazingly talented and was a huge hit at my daughter's wedding! The music was perfect for our intimate outdoor ceremony and he flawlessly assisted the wedding planner in keeping things moving along. He is very professional and can interact as much or as little as you prefer. His music was awesome and he was happy to play from his playlist or take requests. We would definitely hire him again and highly recommend him!!
Wedding•Reviewed on October 7, 2018•From Santa Barbara, CA
No need for you to look any further for a guitarist. Matt knocks it out if the park! We had a small wedding ceremony and dinner to follow, and Matt truly made the evening. His music is impeccable, he is in tune with the vibe of the crowd, and adjusts accordingly. Matt even filled last minute requests of songs he didn't have in his repertoire! In addition to his professionalism and talent, he's truly a sweetheart. You've gotta go with Matt!
Wedding•Reviewed on August 31, 2019•From Paso Robles, CA
Matt was incredibly accommodating and prompt when we had requests and was able to modify songs to our wedding. He was amazing! Even the winery we had our wedding at wants him back for other functions and concerts!
Wedding Reception•Reviewed on March 28, 2019•From San Clemente, CA
Matt was phenomenal from start to finish! We appreciated the preliminary brief phone consult so he could get to know us better, the song genres we liked, and understanding the ambiance we wanted for our wedding. We were very impressed by his extensive song list, very important when looking for variety. We appreciated his flexibility and willingness to learn songs. On the day of our wedding, he was punctual, very professional and cheerful. All our guests were very impressed with him. Even our teenage daughters were smitten with him.:) Matt is very seasoned and sounds amazing. I highly recommend him!
Corporate Function•Reviewed on October 7, 2019•From Thousand Oaks, CA
Matt is not only super talented, but also easy to work with and very professional on-site. This is the third event I've hired Matt to perform and he always exceeds our expectations and the guests thoroughly enjoy his performance.