Back to profile
Amethyst Quartet Reviews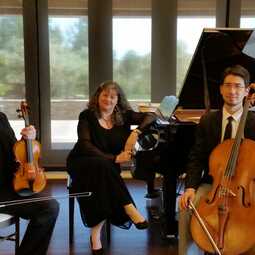 Avg 5.0 | 34 Reviews

String Quartet from San Francisco, CA

68 Verified Bookings
Starting at $450 per event
---
34 Reviews for Amethyst Quartet
Wedding Ceremony•Reviewed on March 10, 2019•From San Francisco, CA
Lara was amazing and so hopefully to us our newlyweds!!! She was very familiar with the venue and provided flawless input to make our ceremony one of the most special moments!!! The music was present but not overbearing. It set an amazing tone for the ceremony! Will recommend to family and friends without a doubt!
Wedding Ceremony•Reviewed on June 23, 2018•From Mill Valley, CA
Absolutely the best decision to hire Celtic sands for our ceremony. The music was beautiful and exactly what we wanted. Thank you!!!
Birthday Party (Adult)•Reviewed on April 19, 2008•From Livermore, CA
Celtic Sands was BEYOND unbelievable!! I WILL recommend them in the future and use them ourselves!! They were wonderful and accomodating and added a definate WOW factor to our party!! We can't thank them enough for their friendliness, professionalism, and of course their amazing talent!! We were honored to have them be a part of our very special day!! The THANKS goes to them!!!
Private Party•Reviewed on January 23, 2019•From San Francisco, CA
Great music !
Wedding Ceremony•Reviewed on June 3, 2016•From San Francisco, CA
They did an exceptional job! I would hire them again in second and highly recommend this talented group.
Christmas Party•Reviewed on December 18, 2010•From Los Angeles, CA
Despite the horrible weather, they persevered to get down to LA from San Francisco and with a smile or two! They performed outstandingly and were extremely pleasant (I especially worked with Lara) to deal with. Highly professional and talented. I would recommend them without reservation and the music was so wonderful - - my 85 guests can't stop raving about Celtic Sands.
Fundraiser•Reviewed on October 21, 2016•From San Francisco, CA
This group was exactly what i had envisioned....they fit right in and people noticed!! Thank you Thank you Lara and Company!
Wedding Reception•Reviewed on October 31, 2009•From Sparks, NV
Everyone at the reception was EXTREMELY impressed and pleased with them! I could not have gotten a better group to help celebrate my marriage! We already have plans to hire them for future events.
Corporate Function•Reviewed on December 10, 2010•From San Jose, CA
Celtic Sands was exactly what we needed for our office party. They were responsive, punctual, and very talented. They did a great job!
Wedding•Reviewed on July 27, 2008•From Lodi, CA
Hiring Celtic Sands for our wedding was one of the best things we did! We absolutely loved them in every way. They were so sweet and excited for us and all of our music ideas. They were very helpful and never said no to anything. They were patient and very punctual with everything. If we ever have another big event in California we would hire them in a heartbeat. We will recommend them to every one we know. What I love most about their music is not just the talented playing but the love and commitment they put into their songs and furthermore - into our wedding.
Funeral•Reviewed on April 2, 2009•From Los Gatos, CA
Celtic Sands played at the reception for my dad's memorial service. Their music was fabulous and extremely appropriate for the event. Towards the end, the people attending the reception liked them so much that they got Celtic Sands playing more up tempo irish music...it was wonderful. They were professional, talented and very accomodating. Use them, they are great!
Corporate Function•Reviewed on October 13, 2007•From Sacramento, CA
What a great evening! This group made our whole event. Its all about the music!! They get two thumbs up in performance, style and attitude.
Wedding•Reviewed on May 24, 2009•From Pleasant Hill, CA
Everyone enjoyed the music! People kept coming up to me and asking where I found this duo, as they were so good. They played classical before the wedding ceremony, and then a variety of classical and Irish folk music during the dinner hour. We booked only two of the musicians, but they brought many instruments to play, giving a variety of music and sound. I recommend them to anyone.
Wedding•Reviewed on May 24, 2014•From San Jose, CA
My husband and I decided to celebrate our heritage, getting married in an outdoor setting in our respective clan kilts. As guests arrived, they were welcomed by Celtic Sands for our appetizer reception. The song selection and musical talent of these three musicians created an atmosphere of old world celebration. Guests commented on what a wonderful surprise it was to arrive to such wonderful music and a sense of festivity. The first impression of our entire wedding for our guests was Celtic Sands. However,long after the last note was played, the guests were still talking about this impressive troupe well into the night.
Birthday Party (Adult)•Reviewed on November 21, 2008•From Los Gatos, CA
Celtic Sands was wonderful! The music arrangement and selections was perfect for our Irish Clan and was enjoyed by all. Thank you for helping to make this a memorable celebration and we look forward to our next family reunion with you!
Hotel Event•Reviewed on November 10, 2007•From Las Vegas, NV
Great show. A real talented group. We'll invite them back, for sure.
Celebration•Reviewed on December 4, 2010•From Riverbank, CA
Actualy,Lara who is the point person recommended her other group The Amethyst Trio for my party because she feltt they fit my party better. She was correct and everything went great! I'm using both her groups for my daughters wedding and I know I will be pleased!!!
Wedding•Reviewed on May 26, 2007•From San Francisco, CA
They were great. I highly recommend Celtic Sands. Their sound is so fantastic and they are so professional. I think without them, it wouldn't have had the same special feel. Many thanks to you guys. You're amazing musicians.
Wedding•Reviewed on October 5, 2008•From Woodside, CA
Celtic Sands was a pleasure to work with for our wedding! They were the most professional and easy to work with vendor in the whole wedding planning experience. Not only were they very accommodating but they offered advice and tips to make our event run smoothly. The music was fabulous and we had many compliments from our guests on how their music made our event special.
Wedding•Reviewed on June 1, 2007•From San Mateo, CA
This group is superb and the harp playing is spell-binding. They also played everything we requested. What a talented and fun group of musicians. I would whole-heartedly recommend Celtic Sands to anyone who needs musicians for an event.
Wedding•Reviewed on September 6, 2008•From Mill Valley, CA
As the Bride I wasn't able to enjoy the Celtic Sands Music during the ceremony or Cocktail hour, but EVERYONE raved about how beautiful they sounded! During the ceremony, I thought it would be a great Idea to sing my vows to my husband, but with my nerves shot to hell, I couldn't even hold a tune, one of the celtic sands nicely picked up my key, and played a little background for me- I REALLY appreciated that! as for my singing :) not much they could do about that! During the cocktail hour they offered to stay later if needed, the music was lively and fun, was perfect for our Irish family from Ireland- made them feel right at home. THanks Celtic Sands!
Wedding•Reviewed on October 27, 2007•From Walnut Creek, CA
We had the pleasure of Celtic Sands performing at our daughter's wedding this past Saturday. They were delightful! The trio performed many beautiful Irish songs as well as the more traditional fare. They even led us in some group singing of Molly Malone, All For Me Grog, etc.! We got so many compliments on them from the Irish and Non-Irish family. They really added to this very special day. We will definitely invite them back for future gigs! Thank-you!!
Corporate Function•Reviewed on March 17, 2008•From San Francisco, CA
We hired them for a corporate reception. They had good communication prior to our event, showed up on time, performed as contracted. Everyone loved it, they did a really great job. I would highly recommend them.
Wedding•Reviewed on September 20, 2008•From Burlingame, CA
the harpist (lara garner) was wonderful! and the harp was absolutely gorgeous! Lara was very easy to work with and she always responded quickly to my e-mails. since i wasn't exactly sure what i wanted for the wedding ceremony, she helped me plan it! she even left her harp so we can take pictures with it!!! she was absolutely great!
Wedding•Reviewed on August 18, 2007•From Santa Cruz, CA
Great band and great performance ! Very talent and accommodating especially for our special requests, we've got a lot of compliment from our friends about this band we chose and really make our wedding day special, unique and unforgetable. I highly recommend this band to my friends.