Back to profile
Troy Fernandez Reviews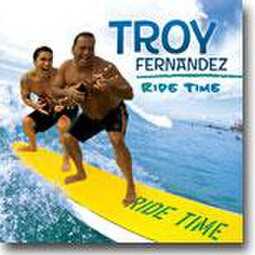 Avg 5.0 | 46 Reviews

Ukulele Player from Reseda, CA

78 Verified Bookings
Starting at $400 per hour
---
46 Reviews for Troy Fernandez
Private Party•Reviewed on December 24, 2020•From San Diego, CA
So thrilled to find that he was available on the bash, it was amazing having him for a private zoom concert and I think it was the best Christmas present to my boyfriend that I could've ever given him, it made our Christmas Eve so fun. Troy Fernandez is a legend and it was amazing that we could experience his talent first hand. He took some requests and also came up with songs to play that were our favorites before we even requested them. We are still talking about how incredible he was! Such a cool person too! Thanks Bash for making it possible! Troy Fernandez concert was epic!
Birthday Party (Adult)•Reviewed on September 23, 2020•From Los Angeles, CA
Troy is a living legend and it was such an honor to book him. His is very attentive, but most importantly nice, patient and accommodating. He gave my brother some ukulele lessons, talk story and a gave mini performance over Zoom. This was a birthday gift for my brother. And he was thrilled.
Birthday Party (Adult)•Reviewed on June 6, 2020•From Vista, CA
Troy was incredible He is a master behind the Ukulele He made our party. So thankful to have met him. Thanks Troy.
Corporate Function•Reviewed on June 22, 2019•From Newport Beach, CA
Troy was so wonderful! Honestly, I don't think we could have had a better experience with a musician. He was on time, professional and he is so extremely talented. We will definitely be using him again for events in the future. Thank you Troy!!
Private Party•Reviewed on May 4, 2019•From Hollywood, CA
It was an honor to have Troy perform at my mother's memorial service. We needed a very specific Hawaiian instrumental sound and vocal. Troy is a master! He could not have been nicer or more accommodating. We have been fans of the Crater Boys since the early 90s, and I was utterly thrilled to have been able to hire Troy for our event. Many of the people in attendance commented on how perfect the music was. It meant so much to our family to have him there. Thank you Troy!
Birthday Party (Adult)•Reviewed on May 4, 2019•From Long Beach, CA
Had a backyard Hawaiian themed party for my dads 60th with about 30 people from young to old—and everyone loved Troy. He played Hawaiian music, cover songs like the eagles and Beatles, and my favorite song Over the Rainbow. Great voice and super professional. A nice way to elevate any party. Thank you Troy!
Memorial Service•Reviewed on April 7, 2019•From Newport Beach, CA
Troy is very professional, he was on time and he and his daughter are great entertainers. Everyone enjoyed themselves. This is the second time we've used him. Mahalo Troy and family
Community Event•Reviewed on December 21, 2018•From Los Angeles, CA
Troy was amazing! Not only is he incredibly musically talented, but so kind as well! He was able to meet all of our needs and more. I am so happy to have met Troy and look forward to working with him in the future. I 100% suggest Troy to anyone looking for a musician.
Memorial Service•Reviewed on May 1, 2018•From Santa Barbara, CA
Troy Fernandez is a very talented musician! We hired him to play for a few hours at a surfer's memorial paddle out at the beach. His ukulele and voice were perfectly matched to our bittersweet occasion and truly added the traditional richness we were hoping for. We would hire him again for any type of occasion in a heartbeat! Thank you Troy!!
Bridal Shower•Reviewed on September 29, 2018•From Ladera Ranch, CA
Troy and his daughter were phenomenal! They performed at my daughters best friend Tiki Bridal Shower and were engaging, professional and all around fantastic! The impromptu hula lesson was the hit of the party! Mahalo Troy and Tia!!!!
Corporate Function•Reviewed on September 15, 2018•From La Canada Flintridge, CA
Troy and his daughters, Tia and Tory were AMAZING! They really made our corporate Luau event a huge success. Troy is tremendous on the Ukulele and I swear IZ or Jimmy Buffett were on stage when he was singing. And his daughters are rising stars that covered classics and today's hits with such range that our everyone was blown away when they sang. Also, the arrived early, communicated easily and were professional in every regard. 5 stars is not enough.
Troy Fernandez:
Aloha Ted, Thank You for having Me and My Family perform at Your Event. It was a nice set up with the stage overlooking everybody. We moved here from Hawaii to try to get Tory and Tia (TNT) connected to the Music Industry here in LA. I know My Daughters got the Talent, Looks, Personality and Story. All They need is connections. Do You know anybody in the Music Industry or know somebody Who might know somebody? I told TNT They might get discovered when We perform at a Party. I'm just trying all angles cause I know that if We meet somebody in the Music Industry, I think that might be the start to something Big. Mahalo Troy
Birthday Party (Adult)•Reviewed on September 8, 2018•From Los Angeles, CA
Everybody enjoyed his performance. I know that few has requested hie business card and bough a cd too. His daughter danced the hula. My suggestion would be for her daughter to wear something colorful or accessorize herself with something "hawaiian" to grace the affair. She wore plain black so we lent her a hawaiian lei. Dress to the occassiion, I would say.
Private Party•Reviewed on May 26, 2018•From Canyon Lake, CA
Great, added great value to our event!
Birthday Party (Adult)•Reviewed on June 9, 2018•From La Verne, CA
This was our second event with Troy and his family. Great people and extremely talented. Our guests were amazed. Mahalo for making some lasting memories.
Baby Shower•Reviewed on June 2, 2018•From Orange, CA
We hired Troy for a Hawaiian themed baby shower and couldn't have been happier. He is incredibly talented, and his daughters who were alongside performing as singers and dancers, were just as amazing. All our guests raved about how great they were and how they felt like they were really on a tropical vacation. He and his family really brought the whole night and theme together. I would definitely recommend Troy and already have!
Wedding Reception•Reviewed on May 5, 2018•From Fallbrook, CA
We were do honored to have Troy play at our wedding. For the Maui guests it was like a major celebrity was there (cause he is!!) and it meant SO much as a surprise to the groom to have him there. For my side, everyone kept commenting on his incredible talent, (many members of my family are musicians) and his daughters were an amazing bonus and blended so well with his performance. Thank you for adding some local flavor to our beautiful wedding. We were so happy and honored to have you there. Troy is so professional and an amazing talent. Everyone should hire him for their events.
Birthday Party (Adult)•Reviewed on November 18, 2017•From Sherman Oaks, CA
Troy is absolutely incredible. I will be hiring him again. Everyone loved him. His daughter also sang and she has the voice of an angel. They are both so talented.
Wedding•Reviewed on October 7, 2017•From Manhattan Beach, CA
Troy and his daughters were a fantastic addition to my daughters ceremony and cocktail reception. So happy we found them.
Private Party•Reviewed on September 10, 2017•From Montebello, CA
We had Troy Fernandez give a performance for my mom who is in hospice care. We received a bonus as he brought his family. His two daughters also sang and did the hula for my family and friends. Everyone really enjoyed themselves and the performance brought back many memories! Troy is a great entertainer and fantastic with the ukulele!
Private Party•Reviewed on September 9, 2017•From La Verne, CA
Troy is truly an artist! Not only can he bring you into his world when he sings, his ukelele mastery is just a mind blower. He loves what he does and he shares this with his audience. My guests were amazed with his daughters singing. What a talent!! If you want your party to be fun and talked about for a long time you have found THE right person. Mahalo Troy and family.
Birthday Party (Adult)•Reviewed on September 2, 2017•From Sunland, CA
Amazing!! Troy and his lovely family were awesome. He and his beautiful daughters gave a phenomenal performance! 10 stars!! So if you are looking for beautiful authentic Hawaiian music, look no further.
Retirement Party•Reviewed on August 5, 2017•From Pasadena, CA
Troy and his family were AMAZING! They were worth every penny and more! Their performance really made my party a hit and all of my guests were raving and how awesome they were! Thank you Troy and family!
Wedding Reception•Reviewed on July 7, 2017•From Burbank, CA
Absolutely great! His daughters are a great talent with beautiful voices. They even surprised and delighted us with an amazingly beautiful Hula dance. My guests as well as my husband and I were blown away. Everyone had such a wonderful time and were greatly entertained. It was a nice touch to our Hawaiian/ Mexican themed wedding and felt it was well worth the added expense to have live entertainment as well as a DJ. Highly reccomend Troy and his beautiful daughters!
Birthday Party (Kids)•Reviewed on July 8, 2017•From Los Angeles, CA
Troy Fernandez was fantastic! He is an amazing talent and the we continue to receive rave reviews from all that were in attendance at the party. Troy, his wife and two daughters performed at my daughter's 1st birthday and the quality of the ukulele and vocals was amazing. And such a nice addition to have his daughters sing vocals and dance hula (amazing). Troy was such a great guy to work with and I am already talking about booking him for our next party. My wife and I are very particular and huge music fans and I can confidently say that we had the BEST with Troy. Thank you for such a memorable day and making our daughters 1st birthday so special!
Birthday Party (Kids)•Reviewed on May 6, 2017•From Woodland Hills, CA
Troy is very talented and a warm friendly person. His set up is very simple and professional and the music sounded amazing!! So many hawaiian favorites and some we didn't even know. All in all the quality of music and performance was outstanding. His family is also very warm and his talented daughters sing and dance to fill in the show. We would hire him back in a second. Thanks Troy for making our special day even more special.
Troy Fernandez:
Mahalo Braddah Geoff