Back to profile
Troy Fernandez Reviews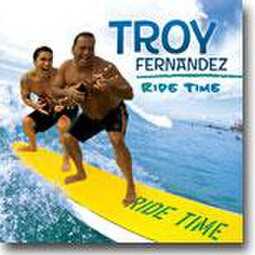 Avg 5.0 | 48 Reviews

Ukulele Player from Reseda, CA

80 Verified Bookings
Starting at $400 per hour
---
48 Reviews for Troy Fernandez
Birthday Party (Kids)•Reviewed on July 8, 2017•From Los Angeles, CA
Troy Fernandez was fantastic! He is an amazing talent and the we continue to receive rave reviews from all that were in attendance at the party. Troy, his wife and two daughters performed at my daughter's 1st birthday and the quality of the ukulele and vocals was amazing. And such a nice addition to have his daughters sing vocals and dance hula (amazing). Troy was such a great guy to work with and I am already talking about booking him for our next party. My wife and I are very particular and huge music fans and I can confidently say that we had the BEST with Troy. Thank you for such a memorable day and making our daughters 1st birthday so special!
Birthday Party (Kids)•Reviewed on May 6, 2017•From Woodland Hills, CA
Troy is very talented and a warm friendly person. His set up is very simple and professional and the music sounded amazing!! So many hawaiian favorites and some we didn't even know. All in all the quality of music and performance was outstanding. His family is also very warm and his talented daughters sing and dance to fill in the show. We would hire him back in a second. Thanks Troy for making our special day even more special.
Troy Fernandez:
Mahalo Braddah Geoff
Birthday Party (Kids)•Reviewed on April 2, 2017•From San Diego, CA
My words will not come close to explaining my gratitude to Troy and his family. An amazing performance by Troy for my daughter's 1st birthday luau -- absolutely love, love, love listening to Troy strum the ukulele - incredible talent! Thank you to his daughters for their performance- singing and dancing hula - just as gifted as Troy ... and mahalo to Rose for her laughter and kindness! My daughter's luau was amazing because of Troy's performance, and everyone said Troy is really really good! Much aloha Troy, Leilani!
Birthday Party (Adult)•Reviewed on March 18, 2017•From Orange, CA
Troy provided fantastic entertainment. He played a variety of traditional Hawaiian and contemporary songs that fit our party perfectly. Since the party everyone has been complimenting how much they liked his performance. This brought back so many feelings and memories in all of us.....definitely a highlight of the evening.
Review by Christie Leilani K.
Memorial Service•Reviewed on March 4, 2017•From Bonita, CA
Troy Fernandez is a true professional. We hired him to perform at a memorial service, and not only did he provide the most beautiful Hawaiian music, but he even took requests near the end of the event, and made it fun. That's what we wanted and what our family really needed. We experienced technical issues with the house sound equipment, and Troy lended a hand by letting us use his mic and PA System and saved the day! Troy, you made a very important event truly unforgettable. People are still talking about how great you were. Not only that, they want to hire you too! We are very satisfied, and thankful to have hired you. Mahalo nui from the Kaninau Ohana
Memorial Service•Reviewed on January 7, 2017•From Laguna Beach, CA
Troy was not only professional and dedicated to doing his job but he played with heart, which was felt in the entire room. He brought some authentic Aloha to our event, which was exactly what we needed. Thank you, Troy
Birthday Party (Adult)•Reviewed on December 10, 2016•From Pacific Palisades, CA
Troy Fernandez is so talented and was such an amazing part of our party. Everyone loved listening to his beautiful eukelele playing and singing. And a special treat was having his daughters sing and dance hula. They are very talented and added a really special touch to the performance. We enjoyed having his whole family at our party. We highly recommend Troy and his daughters to anyone looking to have an authentic Hawaiian musical experience at their party or event. Thank you Troy!!
Christmas Party•Reviewed on December 8, 2016•From San Diego, CA
Troy and his daughters were phenomenal!
Birthday Party (Adult)•Reviewed on October 8, 2016•From Chatsworth, CA
Best Ukelele entertainer...love his songs, and able to accommodate our guests requests. His daughters also performed well (both Polynesian dance and sings great!). Our guests enjoy the music immensely, as well. We highly recommend Troy Fernandez...All The Best to him and his family :-) MAHALO, TROY!
Wedding Reception•Reviewed on September 25, 2016•From Huntington Beach, CA
It was great have Troy Fernandez at our reception! All the guest Loved him and his daughters. He is very talented! A great musician and singer. Great entertainment! The Best!!!! Hope to hear him play soon.... Thank You so much to play at our Wedding Reception!
Birthday Party (Kids)•Reviewed on September 10, 2016•From Anaheim, CA
Awesome experience! Especially growing up listening to his music, and then to have him play live in the backyard! Took me back home!!!!
Anniversary Party•Reviewed on July 23, 2016•From Huntington Beach, CA
Once again Troy was the best. Everybody loved him and his family,I will have him over for the next one.
Celebration•Reviewed on July 28, 2016•From Seal Beach, CA
Perfect for both celebrations I e hosted!! My guests LOVE him!
Baby Shower•Reviewed on July 16, 2016•From Pacific Palisades, CA
Troy is the "real deal" and exceeded our expectations. His musical talent and ukulele style are phenomenal. He brings the Aloha Spirit with him, making our Polynesian event truly authentic. All of our guests were delighted and thoroughly enjoyed the live entertainment. Troy's daughters are equally talented at doing the hula and sing with extraordinary vocal musicality and passion. The music is fun ,lively, and will transport you to the islands ! He and his beautiful girls made our event truly memorable.
Celebration•Reviewed on May 31, 2016•From Irvine, CA
Wedding Reception•Reviewed on September 12, 2015•From Redondo Beach, CA
Tony and his daughters were the best! They all had great voices, and Tony is a master on the ukulele. They were the life of our wedding reception. They got people dancing, doing the hula, and even a conga line broke out! Their music was perfect, and we highly recommend them!
Corporate Function•Reviewed on September 17, 2015•From Irvine, CA
Troy is an amazing talent. My company and I loved having him. His family is great and very talented too. I would highly recommend him. Excellent!!!!!
Luau Party•Reviewed on August 22, 2015•From Huntington Beach, CA
The guy was great, can't wait to hire him again for our next party.
Birthday Party (Adult)•Reviewed on August 8, 2015•From Northridge, CA
Troy was prompt and professional. He and his family are a tremendous talent, making the afternoon memorable to our guests and family. They shared a grace and a gift in their music, and anyone looking to take their Luau to the next level needs to look no further.
Luau Party•Reviewed on July 19, 2014•From San Diego, CA
5 stars all around, Troy and his family are awesome !!
Luau Party•Reviewed on April 23, 2014•From Pomona, CA
Everyone loved the music and had a great time!
Birthday Party (Adult)•Reviewed on March 23, 2014•From Cerritos, CA
Los Angeles is lucky to have a Hoku-award winning musician in town. We have strong ties to Hawaii and when we were planning our son's first birthday party, we absolutely wanted to make sure that we had the right entertainment there to celebrate. Troy is an ukulele master and he was the perfect choice for our family-style party. For anyone wanting a slice of Hawaii at their party, Troy is it! We were honored to have him.
Birthday Party (Adult)•Reviewed on October 12, 2013•From Los Angeles, CA
Troy blew us all away with how effortless and beautifully he played and sang. The hour of him playing passed far too quickly! We HIGHLY recommend him. In a heartbeat! I can't wait to have him again at another party!