Back to profile
Blue Drifters Reviews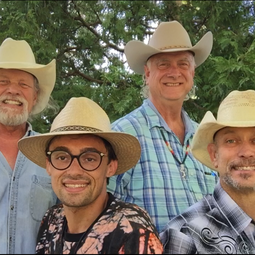 Avg 5.0 | 28 Reviews

Bluegrass Band from Minneapolis, MN

51 Verified Bookings
Starting at $700 per event
---
28 Reviews for Blue Drifters
Family Reunion•Reviewed on September 25, 2021•From Deer River, MN
The band was great! Nicest guys you'll ever meet. A few of them drove about 4 hours to get here. They arrived early and played late, even though it was cold and dark. They even brought their own lighting to illuminate an outdoor stage setting. The music was so much fun and a good time was had by all.
Corporate Function•Reviewed on October 7, 2021•From Edina, MN
Community Event•Reviewed on September 11, 2021•From Walker, MN
Everyone loved their performance and enjoyed hearing some of their stories.
Wedding•Reviewed on July 24, 2021•From Duluth, MN
They did such a wonderful job!! Professional and pleasurable!! Amazing sound and a very good fit for our beach wedding:) they let us pick our favorite songs and did such a great job!! Super happy they were able to come and do such a great job! So satisfied!!
Celebration•Reviewed on October 12, 2019•From Minneapolis, MN
Steve and the band were very acommodating, friendly and super professional! Their music was perfect for our event!
Family Reunion•Reviewed on September 29, 2018•From Cumberland, WI
They were talented, flexible, engaging and accommodating. Great addition to our family reunion!
Corporate Function•Reviewed on August 21, 2018•From Minneapolis, MN
Blue Drifters Acoustic Quartet was fantastic! They played for 3 hours at our conference's opening reception on Nicollet Island Pavilion. We had to start a little early, but they were ready to go. They played a nice mix of upbeat and more mellow/slow bluegrass. Additionally, the music was not too loud, allowing people to talk and network. The Band was very easy to communicate and work with, providing quick responses to email inquiries and minor last minute changes.
Community Event•Reviewed on August 7, 2018•From Minneapolis, MN
Great set of musicians. Great performance for our national night out event for around 150 people! Super easy to work with!
Birthday Party (Adult)•Reviewed on June 9, 2018•From Mason City, IA
This band went above and beyond in traveling to our event and then also getting everything set up and brought in from the rain. We had tornados and they still played on and made it an eventful night. Everyone had a fabulous time and wonderful stuff to say about the band! Thankful for them keeping the night going during the rough storms!
Festival•Reviewed on May 4, 2018•From Red Wing, MN
We were so happy to have the Blue Drifters perform at our Spring Artisan Fair! They are so talented and engaging, a real crowd pleaser. The music was wonderful and everyone had a great time. I appreciate their flexibility and professionalism and hope to have them back again for a future engagement. THANK YOU!!!
Wedding•Reviewed on February 17, 2018•From Saint Paul, MN
The Blue Drifters were perfect for our small wedding at the St. Paul Hotel. They were extremely talented and picked the perfect set. Our guests were thrilled! Highly recommended!
Community Event•Reviewed on October 6, 2017•From Turtle Lake, WI
Blue Drifters were wonderful! Despite the rain for our outdoor event, Wisconsin Colorfest & BBQ Bash, they did an awesome job and kept everyone entertained!
Wedding Reception•Reviewed on September 16, 2017•From Deerwood, MN
Working with the band was so easy. We had multiple communications among multiple people (the bride, the brides family) and the band was flexible and accommodating to all of our requests. They are a talented bunch of musicians and interacted in a very friendly way with our guests.
Birthday Party (Adult)•Reviewed on May 6, 2017•From Mound, MN
Birthday Party - 100 guests aged 1-95 yrs. The music DAZZLED. Great communication and deft at reading the crowd. Unique hillbilly/jazzy vibe; retro meets hipster. Pros all around. Musically complex and sophisticated, and really down-home fun at the same time. Depth of knowledge, years of experience, top notch musicianship. Good background music for gabby guests, and a truly great performance for those who paid closer attention. Perfect. I would hire these guys for a variety of events, they could swing to meet so many needs. These guys deliver artistically while leaving the planner (me!) with peace and utter confidence. Bravo, Blue Drifters!
Rehearsal Dinner•Reviewed on July 21, 2017•From Wayzata, MN
Outstanding!!!!
Wedding Reception•Reviewed on June 10, 2017•From Excelsior, MN
I can't say enough about Steven Earl Howard and the Blue Drifters. They played my wedding on June 10th, and rocked it! They came despite the heat and bugs- true professionals. My favorite was when they broke out the banjo. Perfect for my outdoor farm/sculpture garden setting at Big Stone Mini Golf and Sculpture Garden. There is nothing that quite compares to actual LIVE music for a wedding, instead of the impersonal feeling of a DJ playing "the Macarena." Highly recommended for your next wedding or party guys.
Event•Reviewed on June 24, 2017•From Lanesboro, MN
they played for students ages 11 to 16 all the students enjoyed the music and jokes and had a great time
Celebration•Reviewed on July 2, 2017•From Howard Lake, MN
The guys were Great! Lots of blue grass as well as oldies from the 60's and 70's! Setting everything up was easy and Steve was great with the communication!
Wedding•Reviewed on August 27, 2016•From Brantwood, WI
Steve Earl Howard and the Blue Drifters were wonderful at our wedding. They played background tunes during dinner and then dancing songs afterward. We had many positive compliments from our guests! They must have had a few technical issues because their microphones were squeaking, but overall they were awesome. We would definitely hire them again and recommend them to others!
Community Event•Reviewed on June 15, 2017•From Saint Joseph, MN
Wedding Cocktail Hour•Reviewed on July 20, 2013•From New Richmond, WI
Booking was excellent. They learned three new songs on request and made our wedding extra special. I would recommend the Blue Drifters for anyone looking for great bluegrass or folk music.
Anniversary Party•Reviewed on June 2, 2012•From Excelsior, MN
The Blue Drifters were very very good and very professional from the time I found them. They were prompt with CD's to listen to and having a program drafted of what they would play. They were very punctual with contracts and signing and showing up for the event. All night I heard from people that they were very very good and very entertaining. I am so happy I found them for this event. Margaret Kleven
Corporate Function•Reviewed on July 25, 2012•From Chanhassen, MN
The Blue Drifters were a great addition to our Company Picnic! Very entertaining and talented!
Corporate Function•Reviewed on October 26, 2014•From Hutchinson, MN
The Blue Drifters were fantastic for our venue! They are a talented group of musicians and their music is evident of their talent. Our event was truly enhanced by this group's performance---it wouldn't have been the same without them.
Wedding•Reviewed on July 27, 2014•From Plymouth, MN
What a great group! Leading up to the event, I always received quick responses and was left with very few questions. Their efficient communication gave me complete confidence in their reliability which was proven out through the end, which as the bride, was a must! The talent of the Blue Drifters...can't say enough about that!! They were quite the buzz at our wedding, and I'm pretty sure we will see them again at friends' future events. Highly recommend! Thanks to Steve and the Blue Drifters!