Back to profile
Joe Gandelman Reviews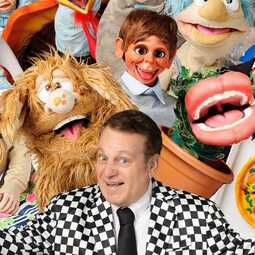 Avg 5.0 | 82 Reviews

Ventriloquist from San Diego, CA

183 Verified Bookings
Starting at $300 per event
---
82 Reviews for Joe Gandelman
Sort:
School Assembly•Reviewed on March 30, 2023•From Whiteriver, AZ
Joe performed at our School assembly last March 30, 2023. He didn't just entertain both incoming 6th graders and middle schoolers who go to our School District, but he also entertained our staff and teachers. It really showed in his performance that he is very passionate about his craft and he always makes sure that he engages everybody in the gym. He was very prompt and came two hours early before the scheduled show which showed his work ethic and professionalism. Overall, it was a wonderful and successful performance.
School Assembly•Reviewed on March 14, 2023•From Novato, CA
Mr. Gandelman, family entertainer is a seasoned ventriloquist. He made the trek from San Diego to the North San Franciso bay area to share his talent with our school. The kids roared with laughter and really enjoyed the show. Some of our younger kiddos were a little scared, but Mr. Gandelman took 5 minutes towards the end, took the time to share a bit about how he does what he does and showed them how the puppets work, that they are not real and it is all controlled by him for entertainment. This was a great way to share a deeper dive into his craft to the student body. Thank you, Joe for visiting San Ramon Elementary in Novato, CA.
Birthday Party (Adult)•Reviewed on March 4, 2023•From Huntington Beach, CA
Mr. Gandelman is a great guy, performer with unbelievable skills. My father's 90th birthday party was a smashing success because of Mr. Gandelman and his talents. My family of 40 people most of them are middle aged or retired walk away with lasting memories and smiles on their faces. My family took Mr. Gandelman's business cards for future parties. Yes, I would hire Mr. Gandelman for future parties as well. No hesitation at all.
Community Event•Reviewed on December 2, 2022•From Chula Vista, CA
Joe was a pleasure to work with and a fabulous entertainer! He was punctual and friendly. He kept a group of 25 kids laughing and seated for 30 minutes. The children had a fabulous time as did the adults! Joe is entertaining, and professional and is a real asset to any event you are having!
Wine Tasting Party•Reviewed on October 17, 2022•From Temecula, CA
I would recommend Joe for any of your events. He has a wonderful cast of "characters". Very entertaining! Dee
Birthday Party (Kids)•Reviewed on July 23, 2022•From Valencia, CA
Joe was such a great person to work with. He really entertained everyone, especially, my daughter, the birthday celebrant. Both kids and adults loved him. We had a bear theme party, and made sure he performed with his bear. He also was very professional with his communications and with the whole process. Being that he was far away, he made sure he was at our event early because of traffic. That and everything he did was much appreciated!
Wedding Reception•Reviewed on January 29, 2022•From Pleasanton, CA
Nothing was too much trouble for Joe. He jumped in with both feet and made our event one to remember. When our friends talk about the night, they gush about how good he is. We whole heartedly recommend Joe for any event and you couldn't meet a nicer guy.
Corporate Function•Reviewed on December 10, 2021•From Bakersfield, CA
Joe was absolutely fabulous! He not only entertained our staff but included us in the fun. His lip sync routine was hilarious and we were so happy to have him. We would certainly have him back again!
Holiday Party•Reviewed on February 25, 2021•From Moorpark, CA
He was fantastic! We had all ages and they all enjoyed!
Holiday Party•Reviewed on October 27, 2021•From Toronto, ON
Great Spooky show. Kinds and adults were entertained throughout. Get Zoom Get Joe. Have fun.
Birthday Party (Kids)•Reviewed on March 20, 2021•From Laguna Niguel, CA
Joe and his Ventriloquist Friends did an amazing job. He was so funny. The kids were able to participate with him and he went right along with their comments. After asking each of the kids which "friend" they enjoyed, each child had a different answer from the boy, the shark, the zombie, the baby, etc... They gave over 10 different answers. Joe's show was perfect for all ages. I our group it went from 3 - adults (Eldest adult would not give me their age). Thank you Joe for a fun time on zoom. Hopefully, one day we can do it in person.
Event•Reviewed on April 15, 2021•From Oakdale, CT
Joe was great from the first day we requested a quote. He responded quickly via email and also called personally as we had special needs audience and he wanted to ensure us he would be able to provide a great show for them. We did book him and actually had to ask him if he would reschedule with not really any notice. He was very understanding and accommodating. The individuals in the group home along with the staff really enjoyed Joe's show. We are definitely going to schedule again in the future and am also recommending to others. It is not always easy to get our individuals to respond or interact but Joe had them laughing, vocalizing, and shaking their maraca!!
Holiday Party•Reviewed on April 1, 2021•From Carlsbad, CA
Every step of the way dealing with Joe was a true pleasure! He is extremely entertaining, as both the children (this was a show for mostly toddlers) AND their parents were delighted. I watched the faces of the children. They were enthralled, and their parents were overjoyed to see their kids so wholesomely entertained. Joe made the process easy and pleasant -- from booking to payment. I proudly offer Joe the highest possible recommendation!
School Assembly•Reviewed on June 3, 2020•From Bronx, NY
Joe was great! Everything about the show was fantastic. The kids and families were very engaged and entertained. Joe kept everyone involved and encouraged kids to participate. The characters kept coming out of his sleeve. He's super friendly and reaches out to the kids in so many ways. You couldn't tell it was a virtual show based on the kids' reaction. At the end of the show he even taught the kids some secrets of the profession! Highly recommended!
School Assembly•Reviewed on March 18, 2021•From New York City, NY
We love Joe Gandelman and friends show from beginning to end. Joe kept the kids entertained the whole time. He was hilarious and kept us laughing the whole show. Highly recommend it!
Birthday Party (Kids)•Reviewed on February 13, 2021•From San Francisco, CA
Joe was terrific! He entertained 23 nine year old and their parents for a solid hour on Zoom. My son was in stiches-which was the goal. Beautiful and fun puppets entertained all. Joe's sense of humor, patience, and tutorial on how to do it ourselves took it over the top.
Joe Gandelman:
And THANK YOU. The kids were wonderful and I can tell your son has a great sense of humor (he laughed at all my jokes).
Community Event•Reviewed on February 26, 2021•From Los Angeles, CA
Great show! Kids really enjoyed it!! Thank you!!
Joe Gandelman:
Thank you SO MUCH for giving me the honor of doing your show for your GREAT group of kids (and adults).
School Assembly•Reviewed on September 14, 2020•From Yulee, FL
Joe has done an excellent job with our summer virtual camp and now our virtual after school program, Dash Camp Afterschool. Joe's show is definitely a fan favorite.In addition to his awesome show, Joe has been very accommodating, honoring any requests we may have, and providing awesome feedback on how to make the overall experience better for our campers. Joe is a huge team player, a great talent and his show is just so fun!! Both kids and adults are guaranteed to laugh a lot during his show. I highly recommend Joe for virtual or in person shows. Huge thanks for everything Joe! -Dash Camp Afterschool Team www.dash-camp.com
Birthday Party (Kids)•Reviewed on August 29, 2020•From Hinesburg, VT
My son and his friends loved Joe Gandelman's performance ... it was wonderful seeing them happy and laughing throughout... would recommend him to anyone who wants to have a great time!
Birthday Party (Kids)•Reviewed on April 12, 2020•From San Diego, CA
When you're stuck at home and there's social distancing rules in your state, you have very limited options on activities for your kid's birthday. Enter Joe Gandelman's virtual puppet show! My daughter, her friends, and all the parents were very entertained with Joe's comedy and his ventriloquy skills. He communicated very well on what to expect during the show and showed up early on Zoom to do a quick sound/video check to reduce any hiccups. Highly recommend Joe Gandelman for virtual shows to add some smiles and laughter during these times.
Community Event•Reviewed on May 1, 2020•From Redondo Beach, CA
He was great - exactly what we were looking for! kids and parents greatly enjoyed!
Joe Gandelman:
Thank you SO MUCH for inviting "us" to do our VIRTUAL SHOW with the more than 20 families!! It was an honor of being part of your event! Zoom as usually worked fine for a show and I'm now working on learning how to use another platform which is better for future shows (Zoom will also be available as an option).
Corporate Function•Reviewed on December 15, 2017•From Anaheim, CA
He was great.!!!Hit all the punch lines for the key officials and catch phrases. Love the audience participation and play acting. We will definitely have Joe come again to entertain us. We will also suggest him to friends and families for their special events. Thank you Patricia Lacy Construction
Bar Mitzvah•Reviewed on November 17, 2019•From Moorpark, CA
Joe is an excellent and entertaining ventriloquist! He keeps the audiesnce engaged and goes out of his way to make sure everyone has a great time! I highly recommend him!
School Assembly•Reviewed on June 6, 2019•From Carlsbad, CA
He is great. The children and staff really enjoy having him every year. He treats the kids with respect and has patience with them as he teaches them how to perform. He gives every child a turn if he can. Thank you
Birthday Party (Adult)•Reviewed on March 29, 2019•From La Jolla, CA
Joe is a great entertainer, and his show is excellent for the kids as well as adults. He has a wide variety of puppets, so the show is fast moving and fun. I had my grandkids for a birthday party, and they loved Joes show.Hire Joe and maKE any party a hit=good wholesome entertainment for people of all ages. check his videos on youtube.