Back to profile
Joe Gandelman Reviews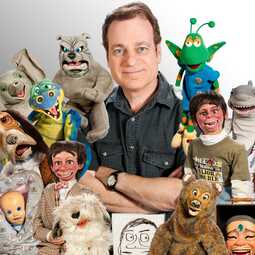 Avg 5.0 | 77 Reviews

Ventriloquist from San Diego, CA

172 Verified Bookings
Starting at $275 per event
---
77 Reviews for Joe Gandelman
Birthday Party (Kids)•Reviewed on March 14, 2009•From Irvine, CA
We had a party for almost 20 kindergartners and I wasn't sure if they would be able to sit still for an hour long performance. However, Joe really held their attention, made them laugh and even taught them a few things! Joe was easy to work with, professional and talented. I would recommend him for your next event.
Birthday Party (Kids)•Reviewed on March 29, 2009•From San Diego, CA
School Assembly•Reviewed on June 23, 2009•From North Hollywood, CA
We had Joe come in for a performance in our summer camp, the kids were on their feet throughout the show! The counselors were even laughing! I can say that this hour was a quite short one! I highly recommend Joe!
Birthday Party (Kids)•Reviewed on December 5, 2009•From Escondido, CA
Joe was amazing, I really didn't know what to expect and with kindergarteners you never know, it can be hit or miss. The party was for my 6 year old with younger kids, teens to grandparents he had everyone laughing, the kids were glued to their seats fully interested in his show and with the many puppet friends he had, the kids were very responsive and excited to see what he was bringing out next. Joe's interaction and patience with the kids was great and at the end, showing and teaching the kids how ventriloquism works wow, he is vantastic. Joe helped make my daughters party a great success. Thank you Joe. Wanda, Escondido, CA
School Assembly•Reviewed on June 10, 2009•From Rancho Cucamonga, CA
School Assembly•Reviewed on June 29, 2009•From San Diego, CA
Joe was great. He really knew how to relate to the kids and to our community. We had a large age range and all had great laughs. Thanks!
Hanukkah Celebration•Reviewed on December 2, 2010•From La Jolla, CA
I was a little panicked when I hadn't heard from him after signing a contract a few weeks before the event. I sent a few e-mails to find out his set up needs and confirm everything, and after leaving a few messages he returned my call the morning of it. At first he seemed a little disorganized w/ his puppets & kept leaving the stage to go get the next one, when I could have put a table nearby or something (this could have been communicated beforehand, thus my e-mails asking for set up needed ahead of time). Overall, the seniors enjoyed his performance and especially that he talked about ventriloquists of "their time". Despite all of this, I would still recommend him.
Joe Gandelman:
I offered to do this show for the Jewish Center at a discount which I was happy to do. This was show was in fact confirmed SEVERAL times via email, contract, my getting a deposit and an email thanking this client when I got the deposit. I told her "We're all set!" by email and got a response. She apparently sent me another email (after this had been contracted, confirmed and RECONFIRMED again) that I never got. 24 hours before the show my phones in my condo were totally OUT and my internet was totally disconnected since my condo is being sold and it was ripped apart. Once back online, the day of the show, I called her immediately and explained what happened and sa
Club Event•Reviewed on January 22, 2011•From Fallbrook, CA
Joe was very accomodating and went out of his way to cater the show to the group. A real pleasure to wortk with and would highly recommend.
Christmas Party•Reviewed on December 10, 2009•From Van Nuys, CA
The show was a little slow at the biggining but the end was the BEST. Joe had everyone laughing!
Birthday Party (Adult)•Reviewed on June 11, 2011•From La Jolla, CA
Joe was put in a very difficult situation and he did as well as could be expected. it's hard for me to judge his performance as the schedule ended up being pushed back over an hour from his original performance time. Joe was very sweet and accommodating, but by the time he got on stage people were exhausted and ready to go...so not Joe's fault. He really did try the best he could.
Joe Gandelman:
The biggest problem gig in 20 years: I was put on at 10:15 not the slated 8:30.The audience didn't think the custom puppet I was given taht supposedly looked like the guest of honor looked like him. Info given by wife for customized jokes that I paid a pro comedy writer $150 to work with me on were TOO inside so only she and husband knew the inside joke. A story I will tell for year.
Birthday Party (Kids)•Reviewed on June 23, 2012•From Pasadena, CA
Joe did a excellent job interacting with each child according to the children likes. He adapted to the environment very well. I would recommend Joe to friends and family. My adult friends enjoyed him just as much as my daughters friends. 5 Stars from me. Excellent!!!!!
Hanukkah Celebration•Reviewed on December 9, 2012•From San Diego, CA
Joe came on time. He brought all the necessary equipment and handled the show on a limited stage. He was funny and entertaining, especially for the children 3-12. The best part was how he allowed each child to go up with him and he taught them some of the tricks of ventrilloquism.
Fundraiser•Reviewed on May 4, 2013•From Hemet, CA
Holiday Party•Reviewed on December 13, 2012•From San Diego, CA
Private Party•Reviewed on November 29, 2013•From San Diego, CA
Joe contacted me immediately to make specific arrangements. He arrived on time and was very competent. The children and adults enjoyed his show, especially at the end when he showed how his puppets work.
Church Service•Reviewed on June 20, 2013•From San Diego, CA
Private Party•Reviewed on July 5, 2014•From Mission Viejo, CA
Joe was very easy to work with. He understood the nature of our group and the need to be flexible. The kids loved him and his "friends"...I personally didn't get to much of the show, but I heard all good reviews.
Birthday Party (Kids)•Reviewed on November 26, 2017•From San Diego, CA
Joe was truly great and very professional. He was prompt and courteous and did a great show.
Birthday Party (Kids)•Reviewed on September 16, 2017•From Carlsbad, CA
Me joe was very professional. The children likes him a lot and they had a very good time . He's very accommodating and patient with children request.
Christmas Party•Reviewed on December 24, 2017•From Highland, CA
Joe arrived early to set up. The children and adults enjoyed his performance. He is great with children.
Corporate Function•Reviewed on December 22, 2017•From Los Angeles, CA
He was very accommodating.
Birthday Party (Adult)•Reviewed on February 15, 2018•From Palm Desert, CA
very personable and professional --- wish he has in introduced FEWER characters and spent more time with these puppets. overall very enjoyable
School Assembly•Reviewed on June 29, 2018•From Long Beach, CA
Christmas Party•Reviewed on December 15, 2018•From Saint George, UT
The show started out slowly. It took.awhile to get going. Would recommend that puppets be brought from off stage by a person and introduced rather than picked up out of cases. Alot of childish jokes. Get the audience involved early in the show. Really enjoyed old man. But spend more time with some of the characters. Liked that Joe mingled with audience before show. There was not alot of positive feedback from our group on overall presentation.
Club Event•Reviewed on March 2, 2019•From Huntington Beach, CA
Joe was very focused on his time right down to the minute. Repeated Congratulations to the Bingo volunteers....one time is fine but not from every character. Would have liked more dialog with each character & less characters. I did not feel we were being entertained. We did not request anything special so above question is non-applicable. He's a nice guy, but looking for much more.
Joe Gandelman:
Am very surprised due to the large number of laughs throughout the show and the many people who came up to me after the show, or even commented as they came up as volunteers who said they loved the show. A batch of people asked for my business cards. I do advertise that I use a big cast of characters but may consolidate one or two.