25 Festive Appetizer Recipes to Celebrate the Holidays
If you're looking for holiday recipes, check out these festive appetizers!
Brittany Barber
Contributor
On the hunt for festive appetizers to make over the holidays? Whether you're hosting a small Christmas dinner or going all out this year, you're going to want to have a look through these festive recipes for holiday inspiration.
Even if you're hiring a caterer to help with the meal plan, some of these festive appetizers are so easy to make, you can have one on the table in no time at all. (Y'know, for those last-minute change of plans that always seem to happen over the holidays.) 
READ MORE:
Here are 25 festive appetizer recipes to make at your holiday celebration:  
Antipasto Holiday Wreath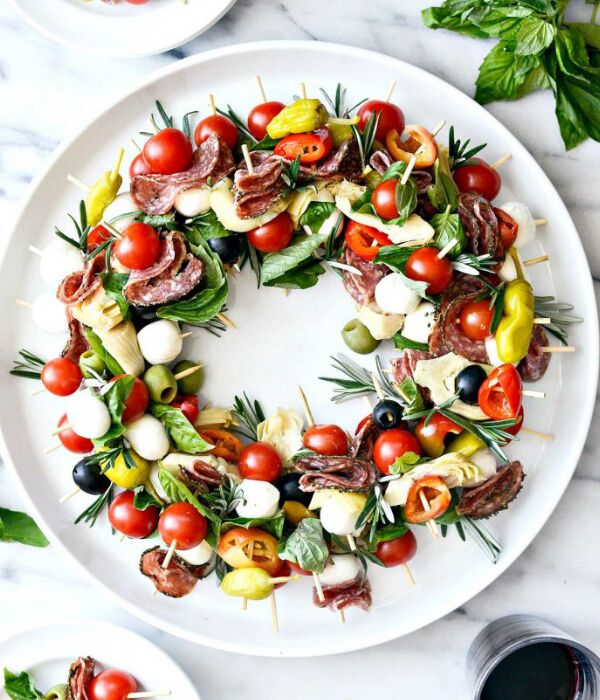 Photo: Simplyscratch.com
If you're looking for festive ideas, try a holiday appetizer that is shaped like a wreath. Follow the antipasto recipe on Simply Scratch, or use it as inspiration and make up your own! 
Brown Sugar Bacon Wrapped Scallops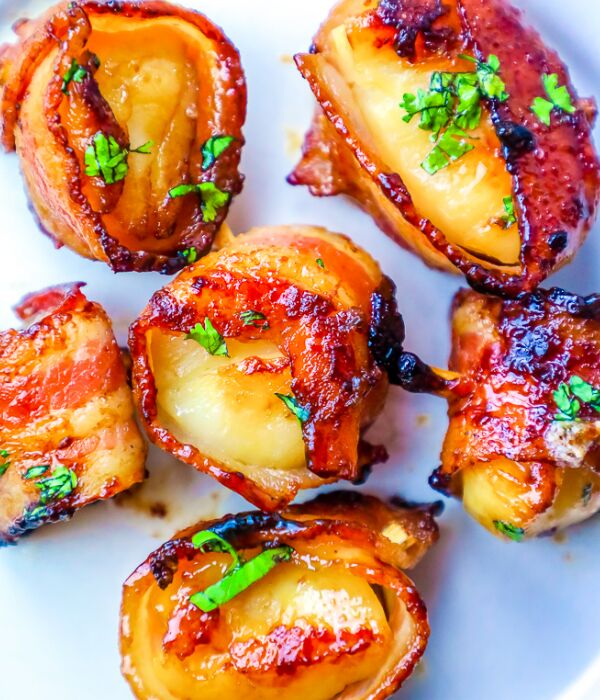 Photo: Sweetcsdesigns.com
Prepare to drool over these brown sugar bacon-wrapped scallops. Need I say more? 
Orange Pomegranate Salad
Photo: Brooklynsupper.com
You can't go wrong with a festive appetizer that includes orange and pomegranate.  Brooklyn Supper's salad recipe will add a refreshing pop of color to your holiday dinner table this December — check it out! 
Figs In A Blanket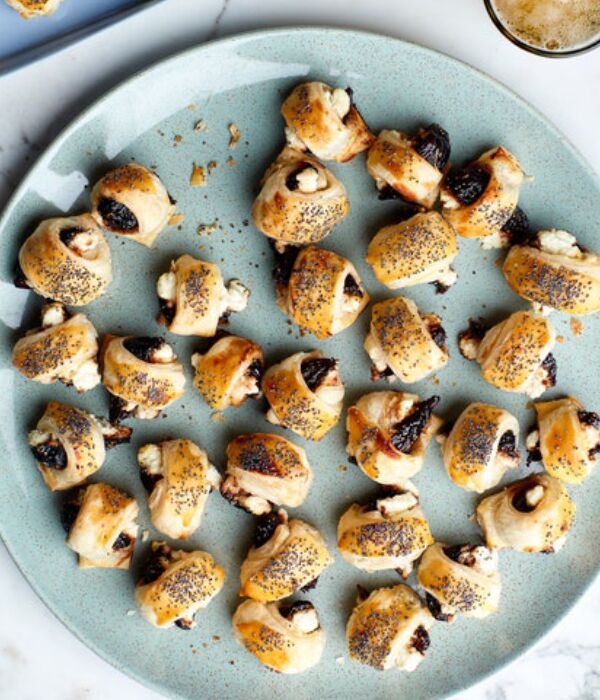 Photo: Chelsea Kyle/Epicurious.com
If you're looking for a delicious holiday appetizer that's also vegetarian, look no further! This figs in a blanket recipe is an excellent festive spin-off of the typical pigs in a blanket.
Christmas Tree Cheese Board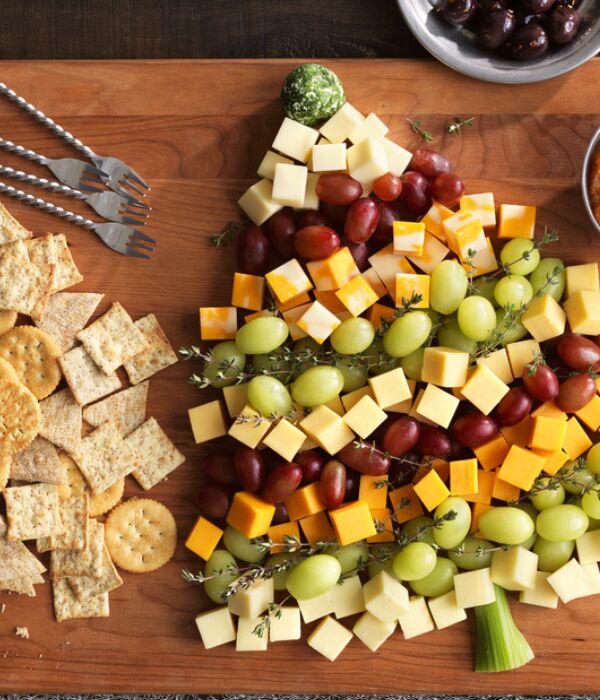 Photo: Kraftwhatscooking.ca
Any holiday appetizer shaped like a Christmas tree is sure to be a hit. Kraft What's Cooking offers a simple assortment of cheese and grapes as inspiration — but feel free to get creative with your own holiday cheese board Christmas tree. 
Rosemary Marinated Feta Cheese Recipe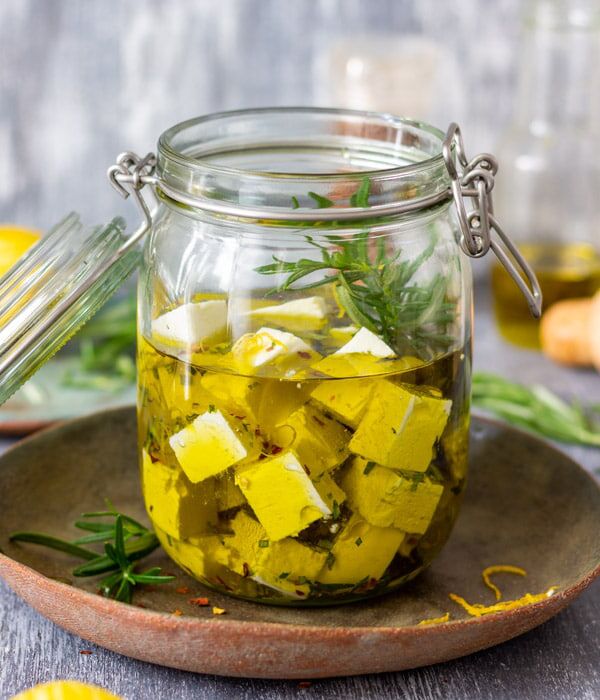 Photo: Appetizeraddiction.com
This marinated feta cheese recipe is great if you're looking to enhance a holiday cheese board or festive salad. It's super easy to prepare as long as you have a mason jar, olive oil, rosemary, chilli flakes, lemon — and of course, feta cheese. 
Pro Tip: Save the leftover oil for cooking or as a dish to sop up with fresh bread. 
Fried Burrata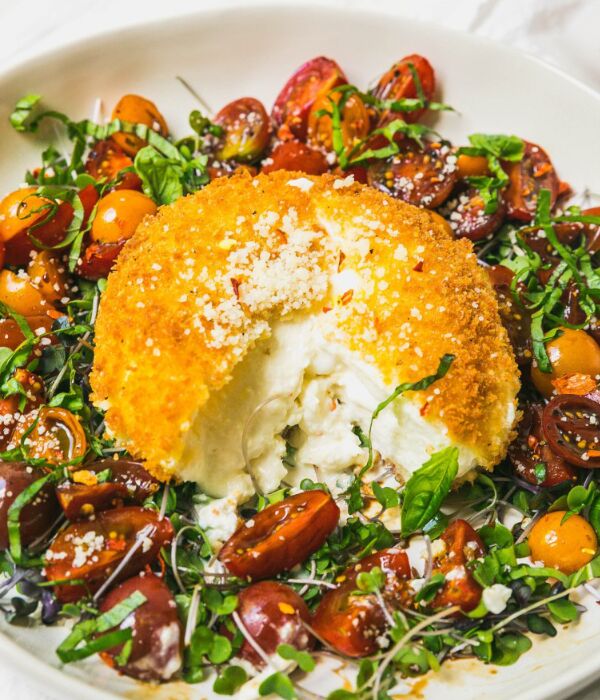 Photo: Nevernothungry.com
If you haven't tried fried burrata, stop what you're doing, and read this recipe. Never Not Hungry recommends double-dredging and shallow-frying it in a non-stick skillet. Paired with balsamic marinated tomatoes? Yes, please. 
Baked Brie with Pomegranate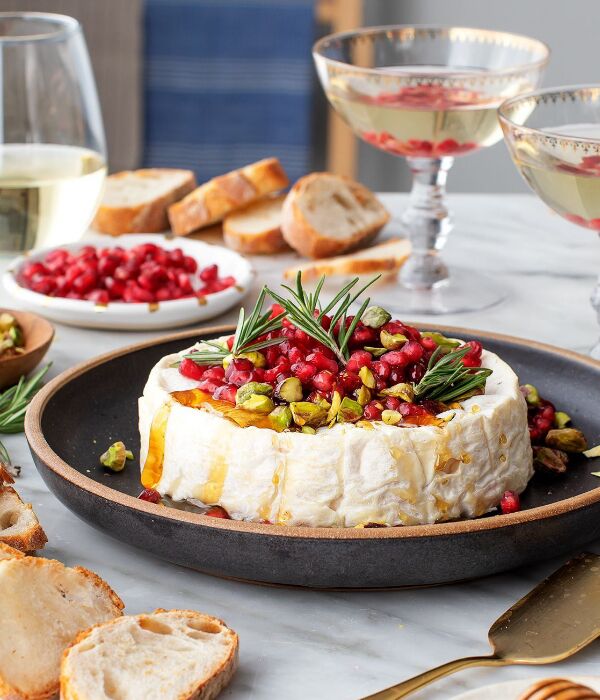 Photo: Loveandlemons.com
Try this decadent recipe from Love And Lemons if you're as obsessed with brie as we are. Garnished with pomegranate, pistachios, and rosemary — what more could you possibly want in a festive holiday appetizer? 
Shrimp Cocktail
Photo: Fromachefskitchen.com
A colorful shrimp cocktail is a great holiday appetizer, and particularly popular at New Year parties and gatherings. You'll want to bookmark this recipe From A Chef's Kitchen to use again at your Cinco de Mayo celebration too! 
Fresh Burrata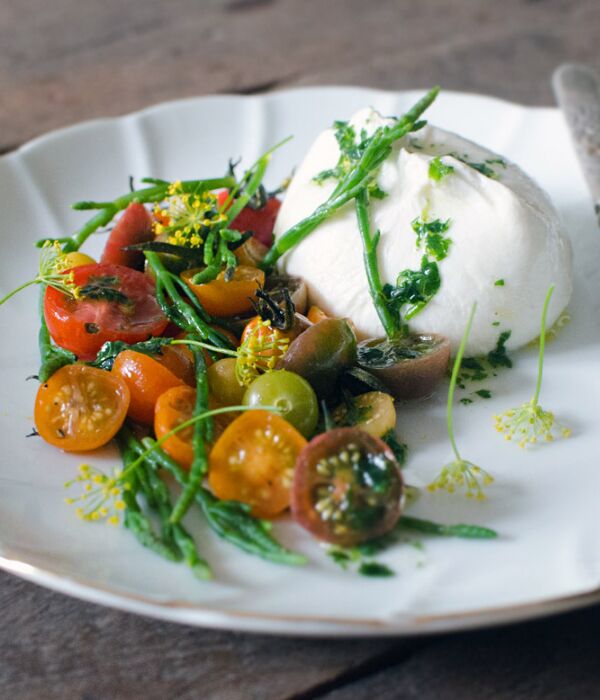 Photo: Heneedsfood.com 
This simple burrata recipe requires minimal work, as long as you can find fresh burrata and tomatoes in your neighborhood this season. With the vibrant red, green, and white colors on this dish, it should complement the decor on your Christmas table perfectly.
Pro Tip: Add a few slices of fresh fig to your balsamic tomato salad for an added sense of the holiday season! 
Sweet Potato Fries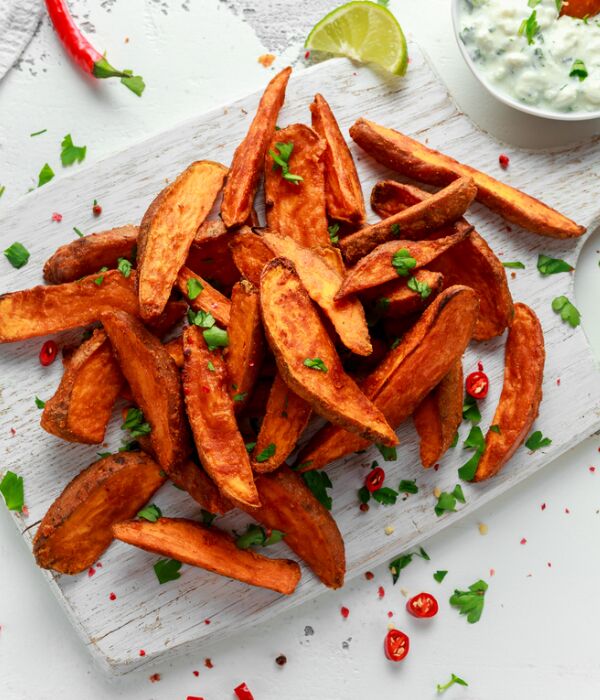 Photo: DronG/Shutterstock.com
Sometimes, simple is the best way to go during the holidays. These fries are super delicious (and addictive), and a great way to put sweet potatoes on the table this December. Check out NYT Cooking for the recipe!
Curried Butternut Squash Soup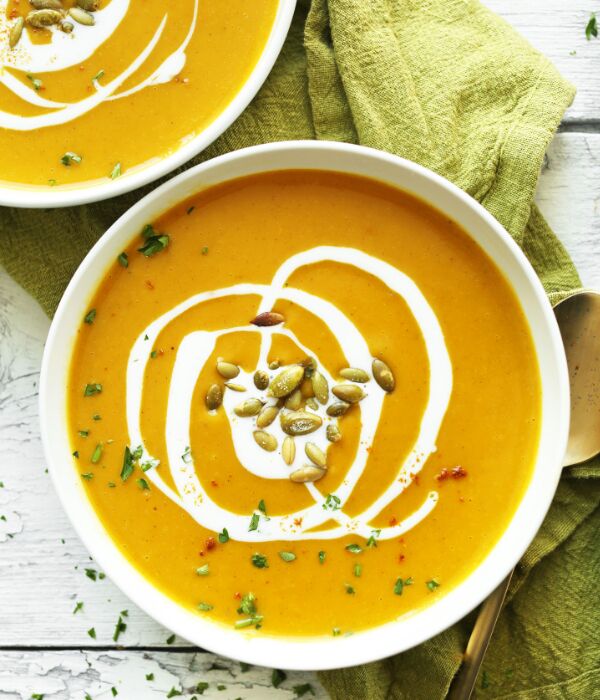 Photo: Minimalistbaker.com
I don't know about you, but butternut squash soup is a staple in my house around the holidays. This flavorful recipe from Minimalist Baker is all you'll ever need for a foolproof dish to serve this winter.
Butternut Squash & Pomegranate Crostinis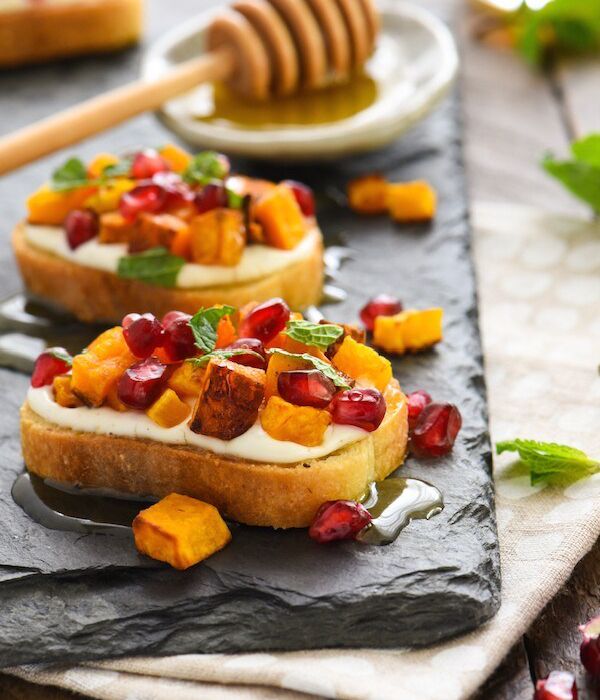 Photo: Foxeslovelemons.com
Reminiscent of the summer months, this crostini recipe uses butternut squash, pomegranate, and whipped feta to bring you a next-level, holiday "bruschetta."   
Smoked Salmon & Cucumber Bites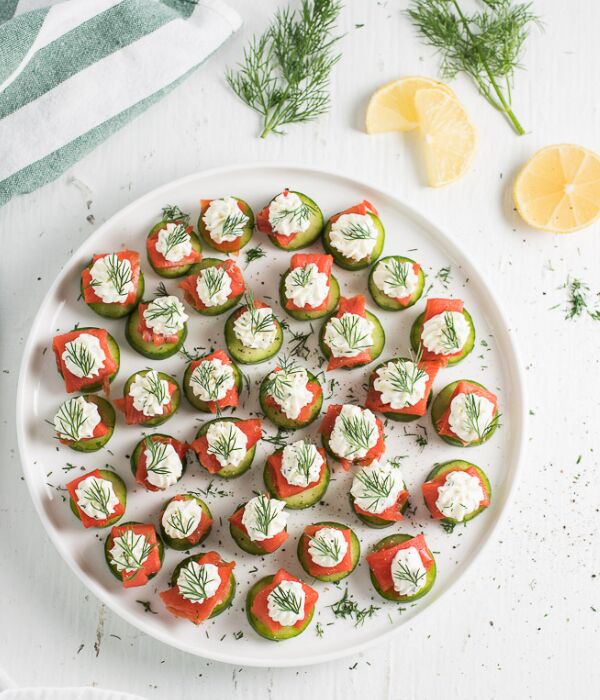 Photo: Theendlessmeal.com
These refreshing smoked salmon bites are perfect for snacking on before Christmas dinner. Plus, they're super cute! 
Vegetarian Stuffed Mushrooms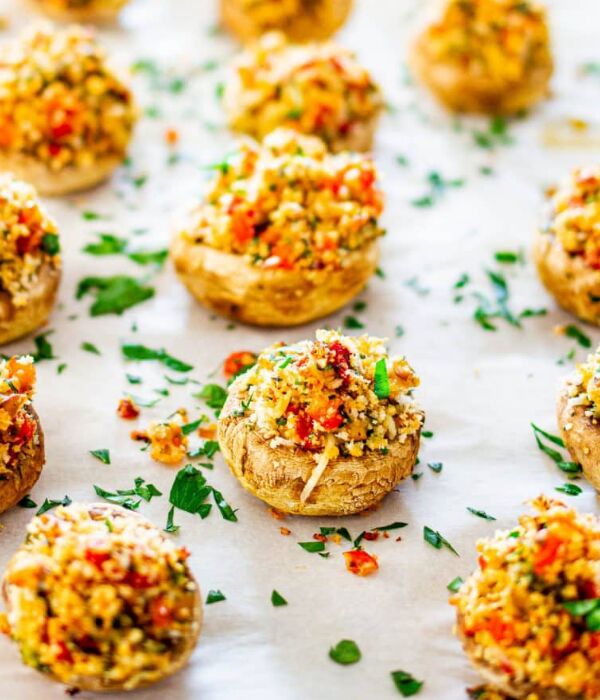 Photo: Jocooks.com
Whether you're a vegetarian or not, these savory stuffed mushrooms are sure to be a crowd-pleaser this holiday season. Packed with flavor, Jo Cooks recipe is delicious and easy to follow.
Proscuitto Fig Crostinis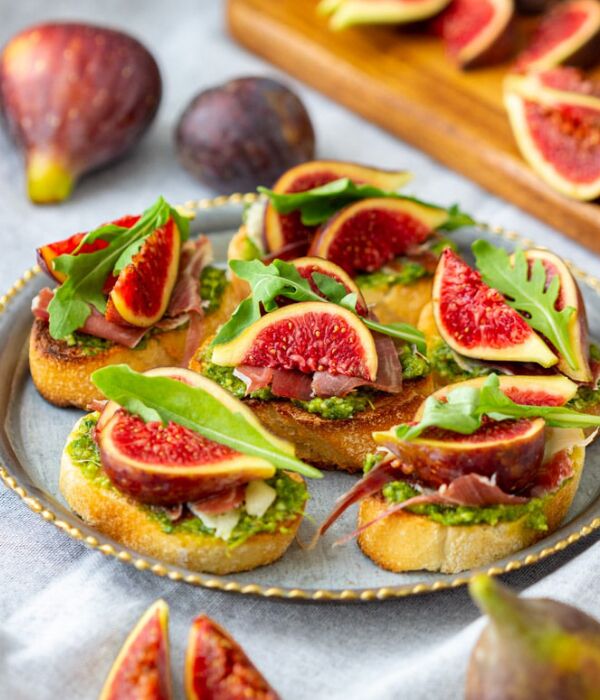 Photo: Appetizeraddiction.com
These colorful crostinis are a must-try this holiday season. Check out Appetizer Addiction for their delicious recipe! 
Butternut Squash Hummus with Feta & Pomegranate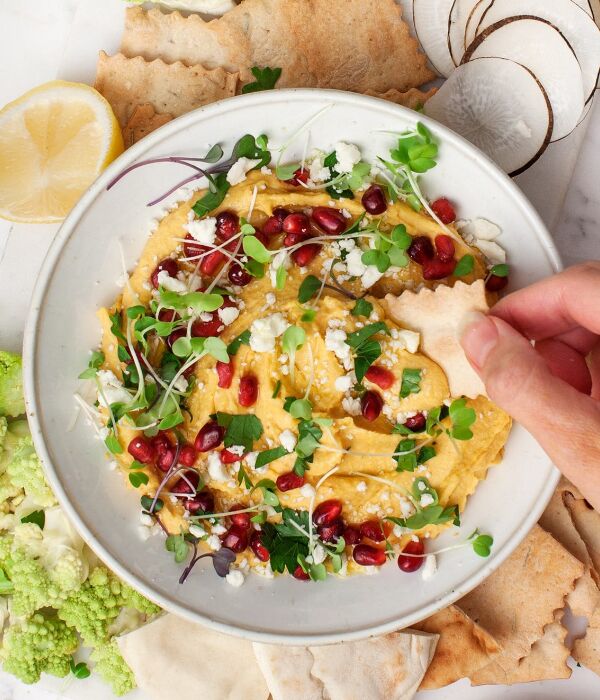 Photo: Loveandlemons.com
You can never have enough butternut squash during the holiday season! In this fun hummus recipe from Love And Lemons, you'll find a unique way to serve a festive squash appetizer.
Cranberry Goat Cheese Appetizer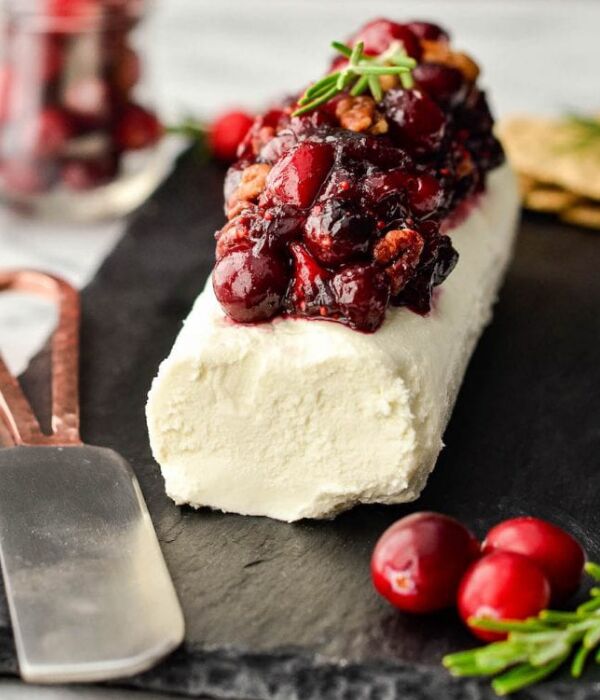 Photo: Joyfoodsunshine.com 
An easy way to make any appetizer festive? Add cranberries, pecans, and warm spices. Check out Joy Food Sunshine for their delicious cranberry goat cheese recipe. 
Spinach Artichoke Dip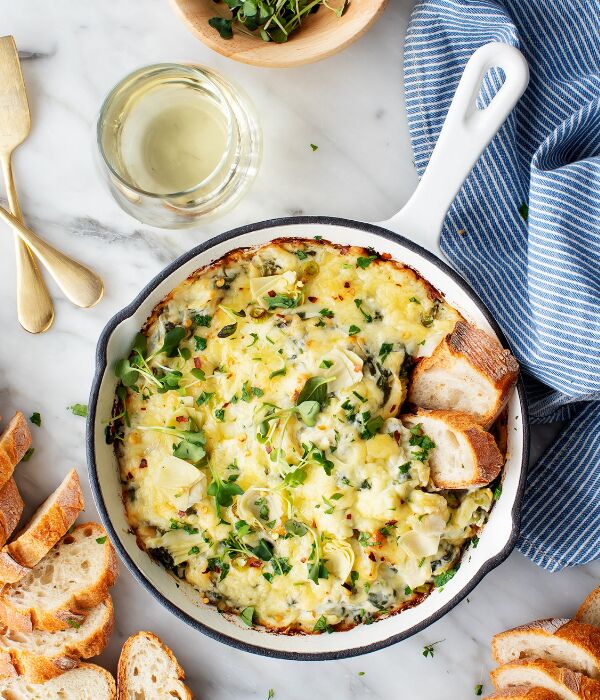 Photo: Loveandlemons.com
Try this flavorful, creamy artichoke dip if you're looking for a decadent holiday appetizer to serve this December. Check out Love And Lemons for the full recipe!  
Spinach Artichoke Zucchini Bites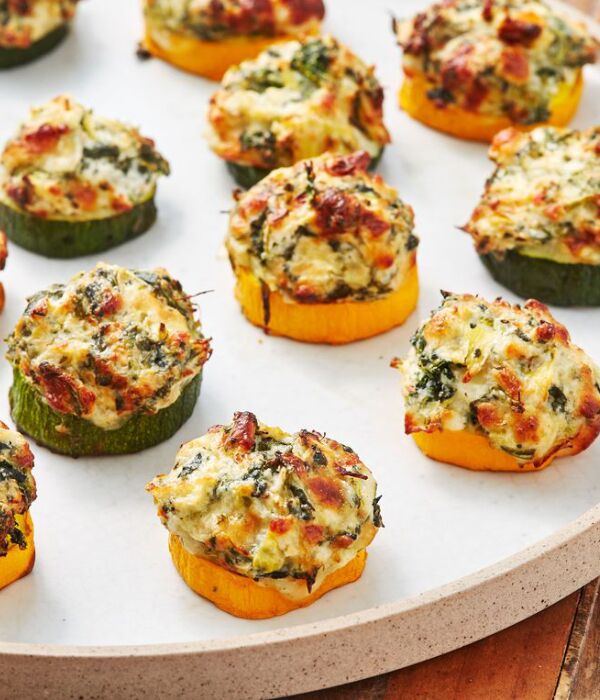 Photo:
Parker Feierbach/

Delish.com

Speaking of spinach and artichoke — this delicious, vegetarian holiday appetizer is great for anyone who's looking to cut the carbs this holiday season. Check out the recipe here!
Festive Hummus Wreath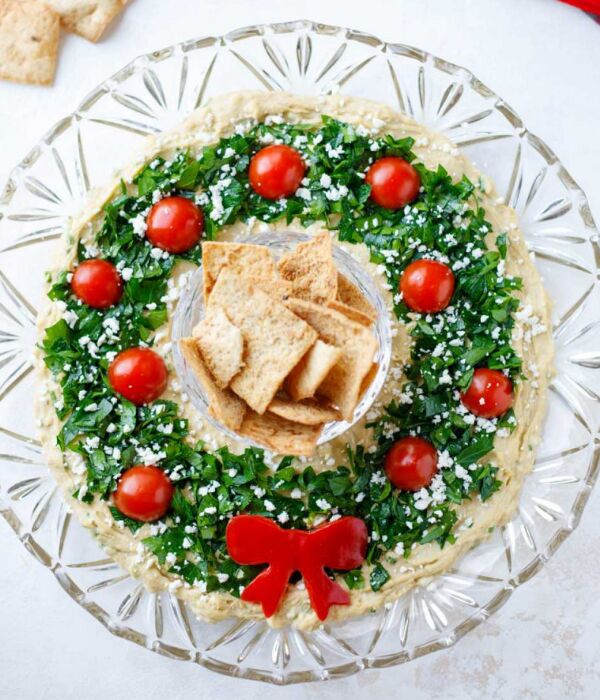 Photo: Twohealthykitchens.com
Isn't this hummus plating adorable? Go to Two Healthy Kitchens for this festive recipe! 
Margherita Flatbread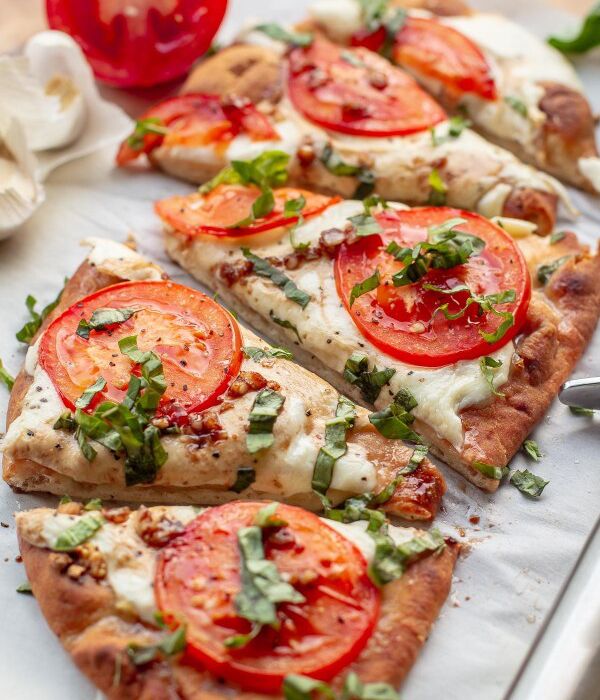 Photo: Letthebakingbegin.com
Although this flatbread recipe from Let The Baking Begin is great to make all year round, try it out as a sharable appetizer this holiday season! 
Festive Sweet Potato Rounds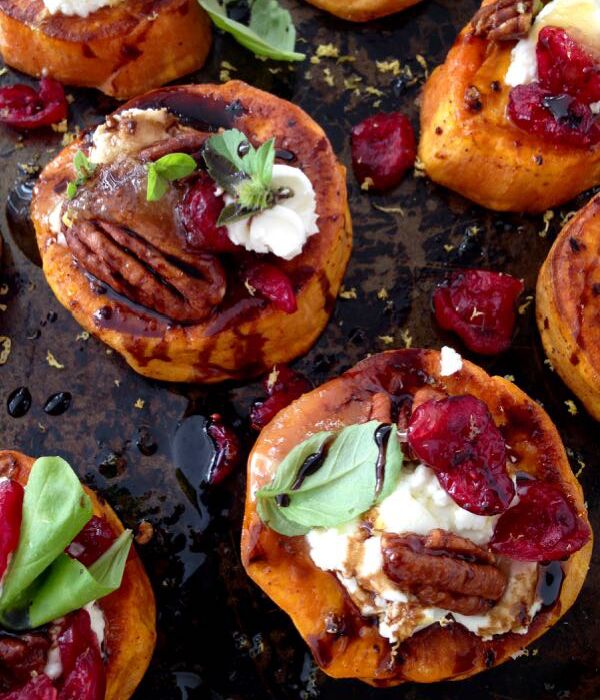 Photo: Ciaoflorentina.com
Sweet potato? Goat cheese? Pomegranate? Sage? What more could you want in a festive appetizer recipe?
Caprese Salad Christmas Wreath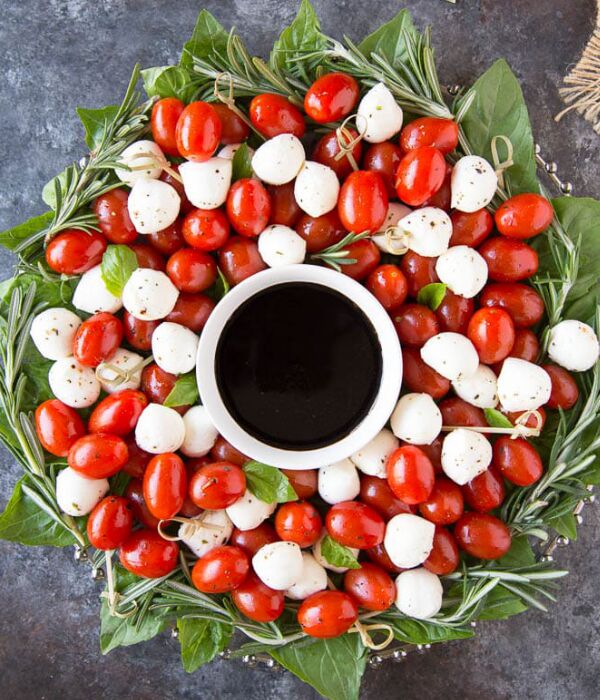 Photo: Simplehealthykitchen.com
Another beautiful wreath appetizer recipe for anyone who still needs a vegetarian dish on their holiday menu. Check out Simple Healthy Kitchen for the recipe!
Pro Tip: You can use this same layout for a fruit wreath as well — just use red fruit like strawberries and raspberries, and replace the balsamic with a melted chocolate dip instead!
Maple Roasted Squash Salad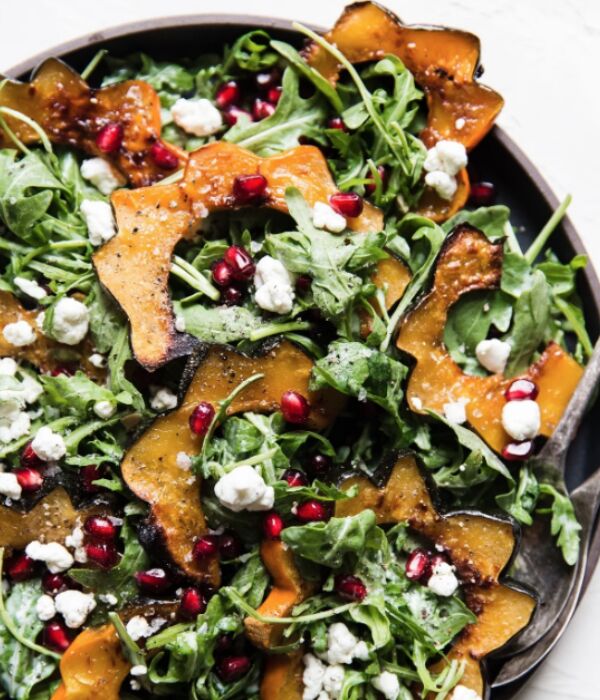 Photo: Themodernproper.com
A colorful salad that tastes like Christmas? I'm sold. With acorn squash, pomegranate, and goat cheese, you'll want to check out The Modern Proper for the recipe! 
You can find even more holiday celebration ideas on The Bash, including these 26 Festive Holiday Cocktail Recipes. Happy holidays! 
About Brittany Barber
Brittany Barber, lover of books, dogs and romance, graduated from Bishop's University with a Communications and Theatre degree. After spending some time working abroad in the theatre world, she is now a freelance writer covering a range of lifestyle topics including wedding and event planning for The Bash, WeddingWire, 2life and Fluttr.