How to Host a Hanukkah Party: An Easy Guide
Get your host hat on. It's holiday season.
Hanukkah, also known as the Jewish Festival of Lights, is one of the most important holidays for people of Jewish faith. From lighting the menorah for eight nights to stuffing our faces with latkes and kugel, it is definitely one of the best times of the year. If you're hosting a Hanukkah party this year—we're here to help.
Once you have decided on a guest list, date, time, and a way to spell Hanukkah (it can be tricky!) you have the basics to plan the perfect Hanukkah party. Don't know where to start? Look no further than these Hanukkah party ideas.
READ MORE:
Here are some Hanukkah party ideas for hosting this year:
Step 1: Invitations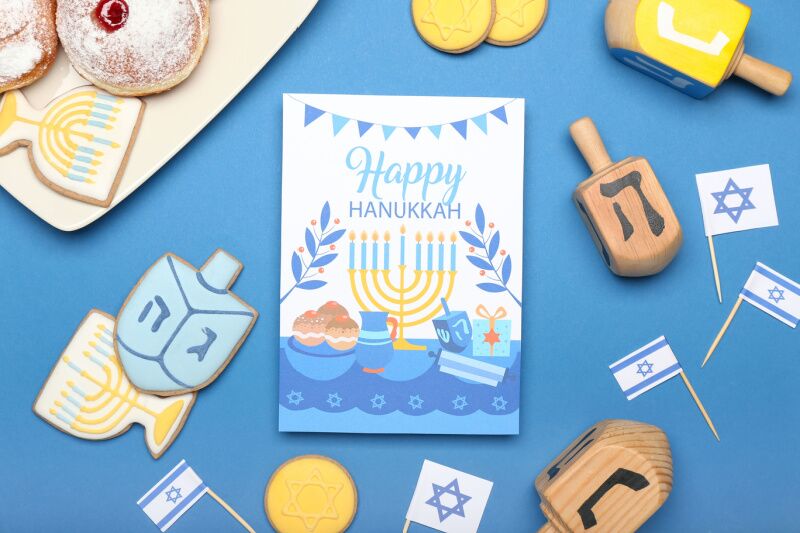 Photo: Pixel-Shot/shutterstock.com
A crucial part of party planning is choosing a date, and luckily, you have eight to choose from! Whether you opt to go digital, mail them out, or just send a text, make sure you give guests ample time in advance. Stick with the traditional blue, white, and silver color scheme, sparkles, and stars to help start the Hanukkah festivities.
Step 2: Food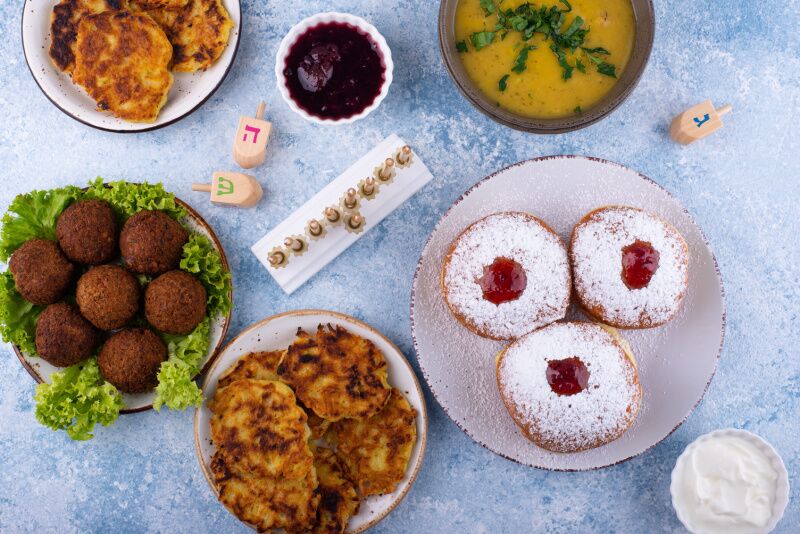 Photo: Yulia Furman/shutterstock.com
Can we all agree that one of the most important parts of any type of party is the food?! Many of the traditional Hanukkah dishes are fried in oil, to commemorate the one day supply of oil that miraculously lasted for eight days. 
Latkes
When you're hosting a Hanukkah celebration, the star of the show is definitely latkes, or potato pancakes. When preparing the potato latkes, make sure to keep an eye on the pan since you'll be frying them in a lot of oil. Latkes are best served hot, so you'll probably want to heat them up while guests arrive. 
One of the best parts about latkes is the ability to get creative with different toppings. Set up a latke bar so guests can dress their latkes in applesauce, sour cream, or even caviar if you're feeling fancy.
If you're watching your carb intake this year, try some healthier alternatives like sweet potato or carrot latkes. Another option is to serve the latkes with a salad or side of fresh vegetables to soak up some of the grease. Rather than frying the latkes, you can make them slightly healthier by baking or air frying them as a low-fat alternative.
Challah
This bread is a staple during the Jewish holidays, so it definitely needs to be featured on your table spread. Known for its braided design, slight sweet flavor, and golden crust, this is sure to be a hit amongst guests. If you have leftovers, you'll be able to make delicious sandwiches, French toast, and other recipes.
Kugel
Depending on your dinner menu and preferences, kugel can be made sweet or savory. Some classic recipes are potato kugel, noodle kugel, Yerushalmi kugel, spinach or vegetable kugel, and fruit kugel. Get creative with your kugel dish this year and venture out to try a new variation, or a few!
Sufganiyot
The traditional dessert for Hanukkah is sufganiyot, or deep fried jelly donuts. These donuts can be filled with jam, custard, and topped with powdered sugar for a finishing touch. Another  similar sweet option is Loukoumades which are deep fried puffs dipped in honey or syrup.
Sugar Cookies
There are tons of iconic Hanukkah shapes that will be perfect for your holiday cookie spread. Bake up sugar cookies in the shape of dreidels, menorahs, the Star of David, and much more. This can also double as a fun Hanukkah party activity, especially if there are kiddos in attendance.
Step 3: Music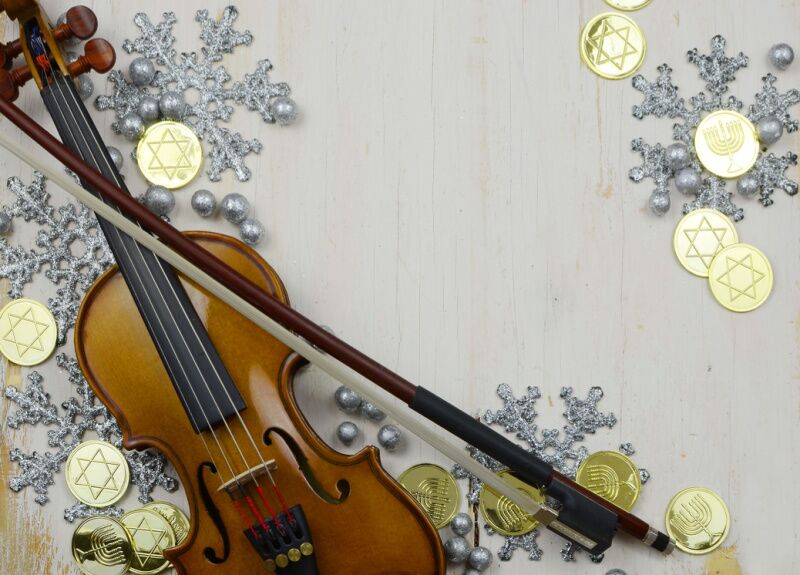 Photo: Perry Correll/shutterstock.com
Turn on some holiday music like Adam Sandler's Hanukkah Song and "I Had a Little Dreidel." If you would rather have live music for the evening, consider booking a string quartet, klezmer band, violinist, or accordion player to put you in the Old World mood.
For more Hanukkah song inspiration to play during your celebration, check out our Hanukkah playlist available on Spotify.
Step 4: Décor
The traditional colors for the holiday are blue, white, and silver, so try to incorporate these shades into your Hanukkah decorations. What's great about these colors is that they are also perfect for a beautiful winter theme, so you can keep most of these decorations up all season  long.
Consider getting some colorful dreidels, funny sweaters, and of course, you can't forget a beautiful menorah. To save time after the party, look into getting Hanukkah themed disposable plates, cups, and utensils. Not only are they fun and festive, but it saves you the stress of post-party cleanup.
Step 5: Games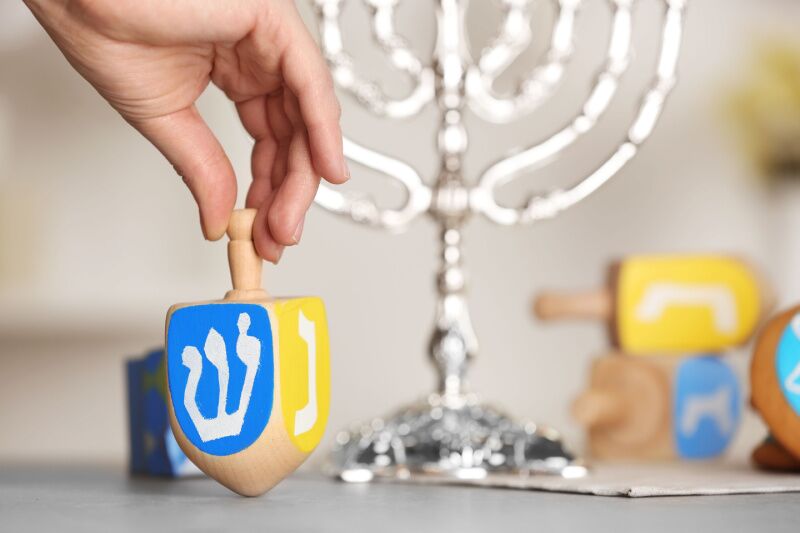 Photo: Africa Studio/shutterstock.com
No Hanukkah party is complete without a round or two of the dreidel game, but there are plenty of activities for guests of all ages to celebrate the festival of lights! 
Dreidel
The best part about the dreidel game is that any number of people can play at once, but you may want to divide the crowd into two or three different groups so everyone has a better chance to win. You'll also want to have pennies or a sweet treat like M&Ms on hand as a prize for the winners. If you need to brush up on the rules this year, you can find the instructions here.
Gelt Coin Toss
This easy DIY activity is perfect for your Hanukkah party because you probably already have all the materials. All you have to do is set up jars or bowls at different distances and guests will take turns flipping their chocolate coins into them. Whoever wins will earn the grand prize of your choosing!
Pin the Candle on the Menorah
This is a holiday twist on the party favorite, pin the tail on the donkey. Get a large picture of a menorah or craft one out of construction paper to display on an empty wall. Next, guests will take turns pinning a paper candle to the menorah in the proper place. Don't forget to blindfold the player and spin them around!
Step 6: Gifts
Hanukkah is a gift-giving occasion, but buying presents for each person can be difficult if you're celebrating with a large group. Opt for a small goodie bag with a dreidel and chocolate gelt for everyone to bring home. You can also have guests bring a gift for more of a traditional 'grab bag' style gift swap.
Step 7: Lighting the Menorah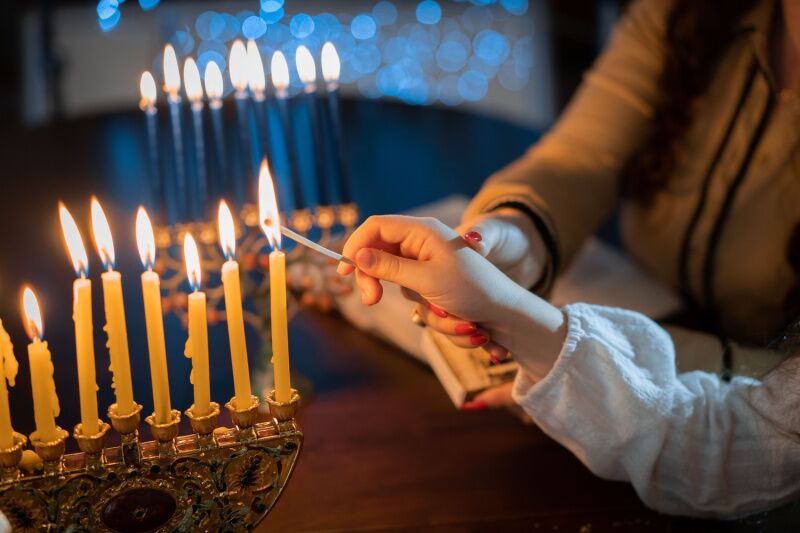 Photo: Olga Savina/shutterstock.com
If your party falls during one of the eight nights of Hanukkah, set a timer for sundown and light the candle with all of your guests. Hanukkah candles should be lit from right to left, each one being lit by the shamash. Traditionally, a blessing is said during the lighting of each night. The menorah symbolizes the one-day supply of oil that miraculously lasted for eight days and nights, so this step is the most important, and what the entire holiday is centered around.
Step 8: Thank You Notes
Once the party is over, send guests a thank you note for attending, especially if they brought a dish or gift. This will be the finishing touch to this year's Hanullah celebration.
Now you're ready to host and have a Happy Hanukkah with your friends and family. If you're celebrating virtually, download a Hanukkah Zoom background or phone home screen from one of these holiday Zoom backgrounds.
Find more inspiration for holiday parties from The Bash.