12 Appetizer and Cocktail Recipes for a New Year's Eve Party
Toast the new year with these mouth-watering snacks and drinks.
Lilly Blomquist
Contributor
There's a lot of pressure to go all out on New Year's Eve. We've completed another trip around the sun and everyone is determined to make the upcoming year the best one yet. As we head into a new year, there's always more hype surrounding the celebration.
Instead of entering the new year stressed trying to arrange a memorable soiree, leave all your worries behind and turn to this list of New Year's Eve appetizer and classic cocktail ideas for some assistance. 
These food and drink recipes will not only taste amazing, but they'll also provide the perfect Instagram-worthy photo-op. You won't need to go overboard on the shimmer and shine when these eye-catching appetizer and cocktail displays are part of your decor. These dishes and drinks are also straightforward to follow and easy to make, so they're perfect for anyone without culinary expertise.  
If you want to sit back, relax, and enjoy this New Year's Eve, you can always hire a bartender and caterer and have them add these recipes to your party menu.
Here are 12 appetizer and cocktail ideas for your next New Year's Eve party.
We have 8 appetizer recipes followed by 4 cocktail recipes. These are more fun than your standard cream cheese based dips or tom collins and moscow mules—not that there's anything wrong with those! 
Sweet Pepper Poppers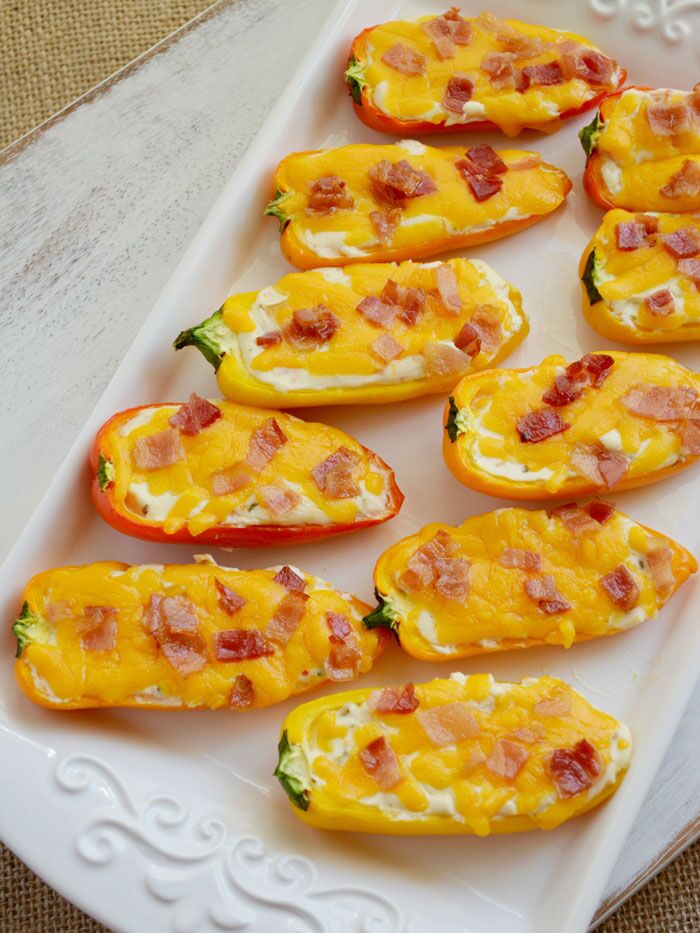 Sure, this appetizer might be loaded with melted cheese and crispy bacon, but you won't feel as bad about indulging in this finger food since you'll be getting in your veggies. This low-carb appetizer is perfect for party attendees who have vowed to limit their carb intake during the upcoming year or for anyone who wants to save room for a second piece of cake later on. 
All you have to do to prepare these flavorful appetizers is cut the mini peppers in half, fill the hollow centers with the creamy dip and pop the baking tray into the oven.
Read the full recipe at Finding Zest.
Sweet Potato Rounds with Herbed Ricotta and Walnuts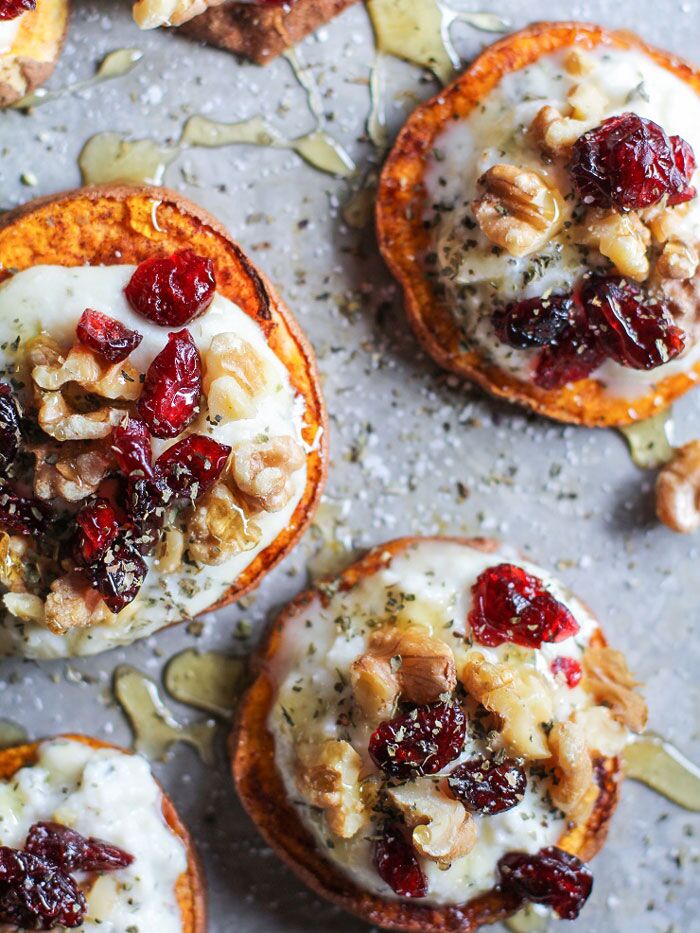 Looking for a healthier alternative to the classic chip and dip spread? These appetizers are not only packed with vitamins and nutrients, but they'll also create an elegant and impressive display. Chop and roast the sweet potatoes, slather the rounds with creamy ricotta, sprinkle on crushed walnuts for a satisfying crunch and top with dried cranberries to satisfy any sweet tooth. 
Read the full recipe at The Roasted Root.
Greek Salad Skewers

If you aren't travelling for New Year's Eve this year, nibbling on these Greek salad skewers will taste like you've been transported to the sunny coast of a Greek island. A Greek salad on a stick is a much more appetizing way to eat your greens. Plus, you won't be needing a big salad bowl, forks or plates, so the minimal utensils means an easier cleanup. 
Read the full recipe at Karen's Kitchen Stories.
Cauliflower Buffalo Bites

With all of the special diets, allergies and dietary restrictions out there, hosting a party can certainly be a challenge. With this dairy-free, gluten-free and paleo appetizer, you'll take care of almost every food accommodation. And by serving roasted cauliflower instead of greasy wings, you won't have to get your hands and face all dirty (which certainly won't match with your New Year's Eve outfit).
Read the full recipe at The Real Food Dietitians. 
Spinach Feta Pinwheels

For another Mediterranean-inspired snack, prepare this take on a spanakopita. The flaky, crispy puff pastry stuffed with melted cheese and creamy spinach will melt in your mouth. Just roll the dough around the rich filling, bake the dish and voilà! 
Read the full recipe at That Skinny Chick Can Bake.
Pineapple Mango Salsa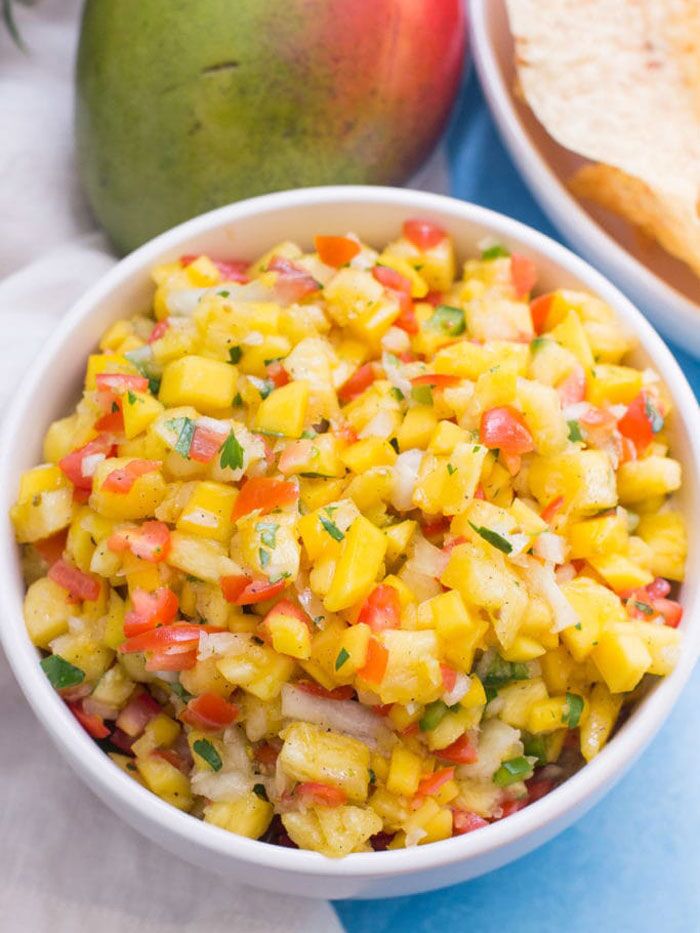 A special occasion like New Year's Eve calls for exciting and unexpected appetizers, so give your classic tomato salsa an upgrade with a pineapple and mango twist. Avoid the winter blues and ring in the new year with an appetizer that tastes like summer in the tropics. Pair the fruity salsa with chips for the perfect sweet-and-salty combination.
Read the full recipe at The Clean Eating Couple.
Buffalo Chicken Dip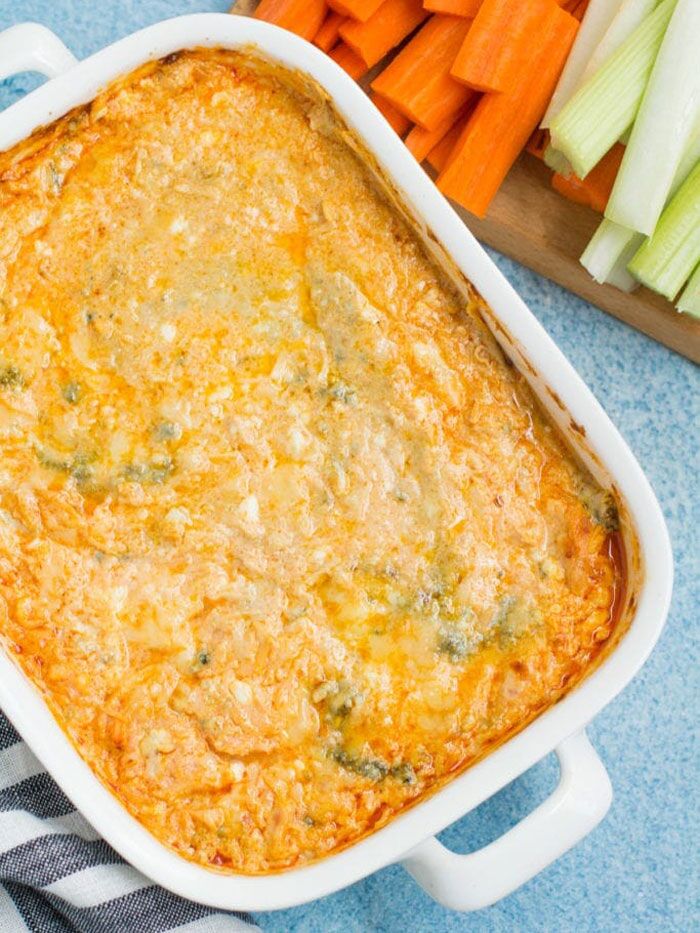 This healthier take on buffalo chicken dip is packed with rich, creamy and spicy flavors. To make the appetizer gluten-free and nutrient-dense, serve the dip with carrot and celery sticks. 
Read the full recipe at The Clean Eating Couple.
Garlic Herb Vegan Almond Cheese Spread
Wondering how you can make an appetizer that vegans/vegetarians and meat-lovers will love? This creamy cheese dip uses almonds instead of cow's milk, which makes it plant-based. To really pack on the punch, season the dip with fresh herbs and spices. This appetizer is super versatile because you can spread the "cheese" on crackers, bread or vegetables. 
Read the full recipe at Delightful Adventures.
Raspberry Pomegranate Champagne Cocktails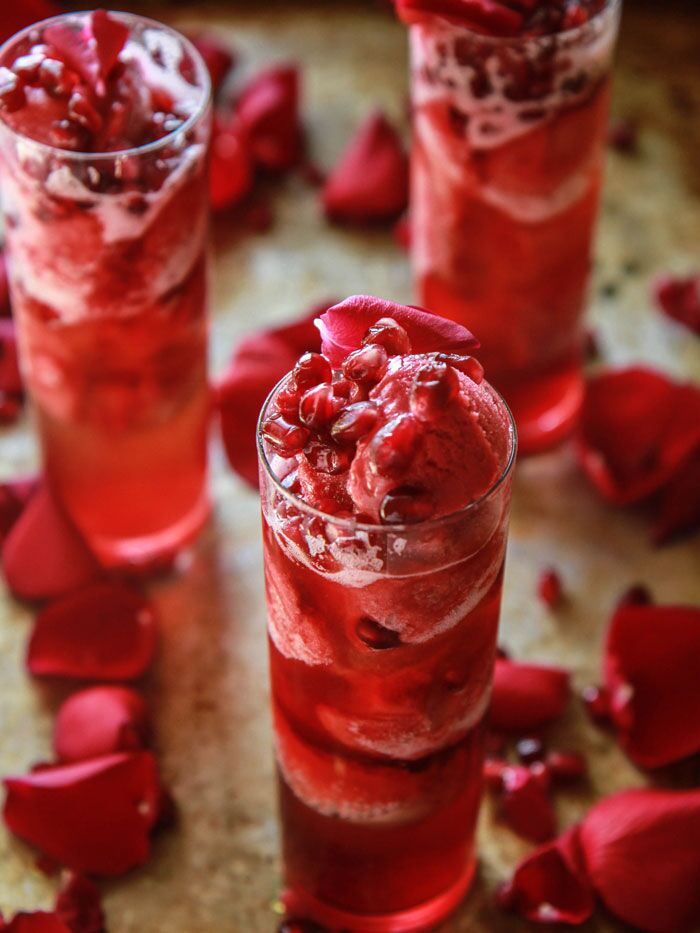 Yes, this cocktail is full of nutritious raspberries and pomegranates, but serving this sweet beverage will seem like you're starting off the evening with dessert (plus a kick). The bright color makes this drink a gorgeous party decoration, and the smooth and thick texture will satisfy everyone's palate. Serve with fun straws, and garnish with pomegranate seeds to top it off. 
Read the full recipe at Heather Cristo.
Gingerbread Winter Warmup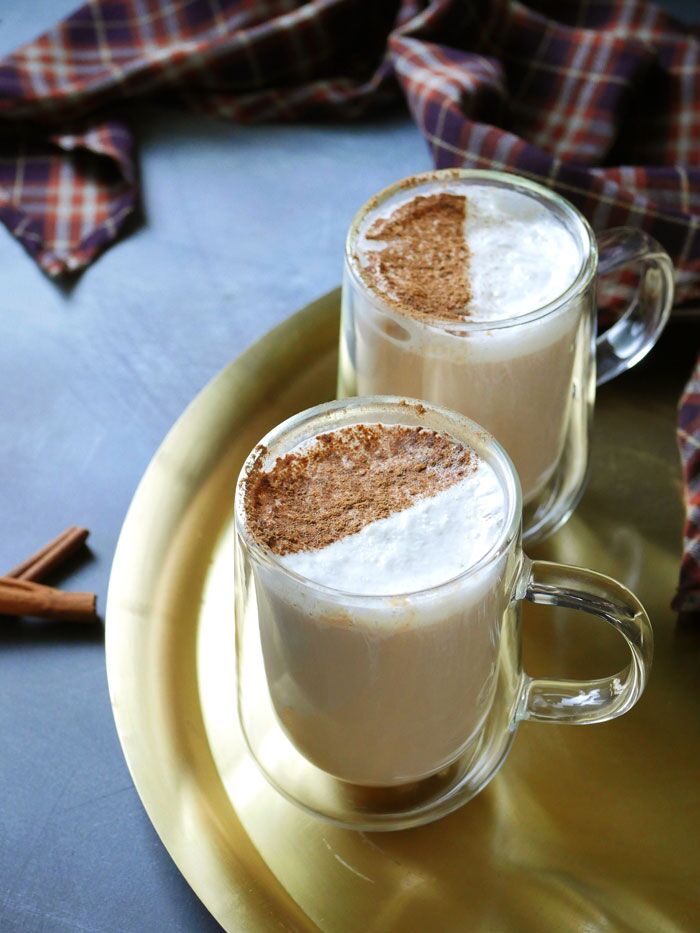 Champagne is often the go-to drink on New Year's Eve, but try celebrating a fresh start by switching it up with a whiskey-based cocktail. This beverage tastes like a gingerbread cookie, so you'll get to savor the holidays a little longer. Enjoy the chocolate and cinnamon taste by the fire with all of your besties for the perfect evening. 
Read the full recipe at Stir and Strain.
Cranberry Orange Prosecco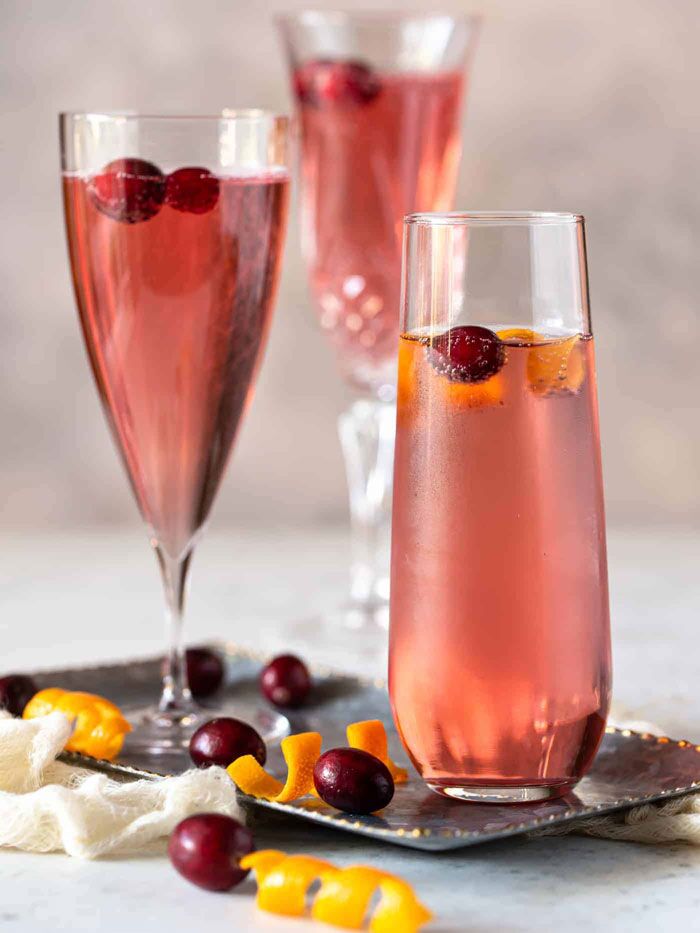 If you'd rather stick with tradition and pop open a bottle of champagne, try this celebratory drink. This cocktail includes a splash of cranberry juice and oranges, which will naturally sweeten the bubbly beverage. Decorate with orange peels and fresh seasonal cranberries for a beautiful finishing touch.
Read the full recipe at Garnish with Lemon.
Blackberry Thyme Sparkler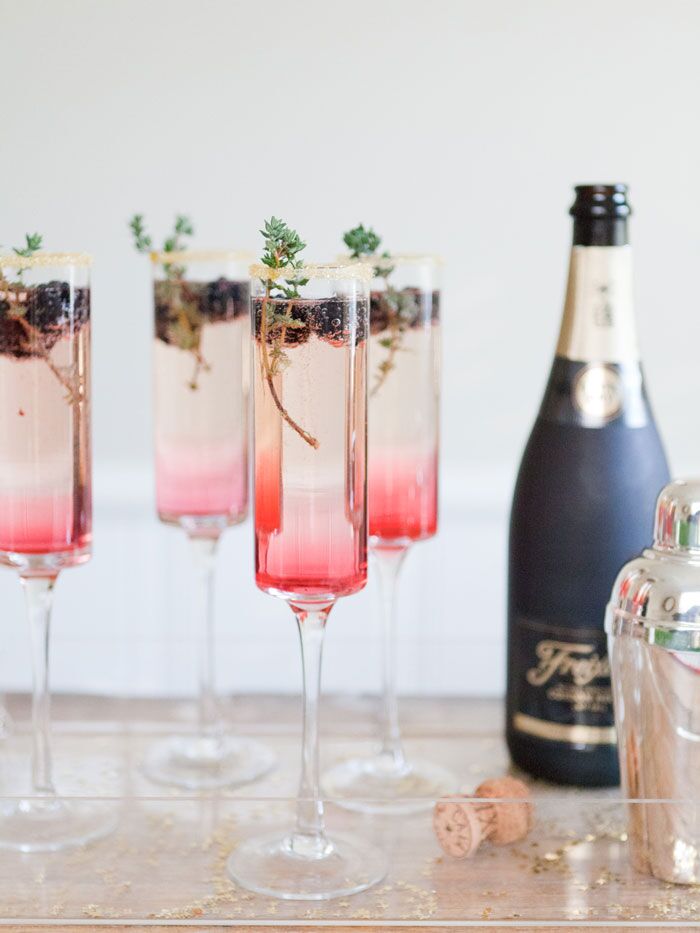 Passing out glasses of this fizzy and fun cocktail will surely make a statement at your New Year's Eve extravaganza. Combine real blackberries and thyme simple syrup with champagne for a chic and classy beverage that will impress all of your guests. 
Read the full recipe at The Effortless Chic.
New Year's Eve is all about fresh starts and new beginnings, so why not get ahead of the game by trying out these new and creative recipes? Whether you're planning an intimate gathering with friends to watch the ball drop or an extravagant rager with a large crowd, these food and drink ideas will complete every New Year's Eve party. 
Find more party ideas and inspiration on The Bash.