15 Amazing Outdoor Wedding Venues in Chicago
Want to host your wedding outdoors? Check out these terraces, gardens, and courtyards for an open-air celebration.
Alice Prendergast
Contributor
Is Chicago, Illinois your wedding destination of choice? Well, we're here to help you get the ball rolling with your wedding planning by finding you the perfect venue.Outdoor weddings are definitely the most popular for warmer months and we've rounded up our top outdoor wedding venues in Chicago to point you in the right direction. From elegant courtyards to botanic gardens to waterfront lounges, there's something on this list of open-air spaces for everyone.
READ MORE: 
Here are the best outdoor wedding venues in Chicago to host your open-air celebration.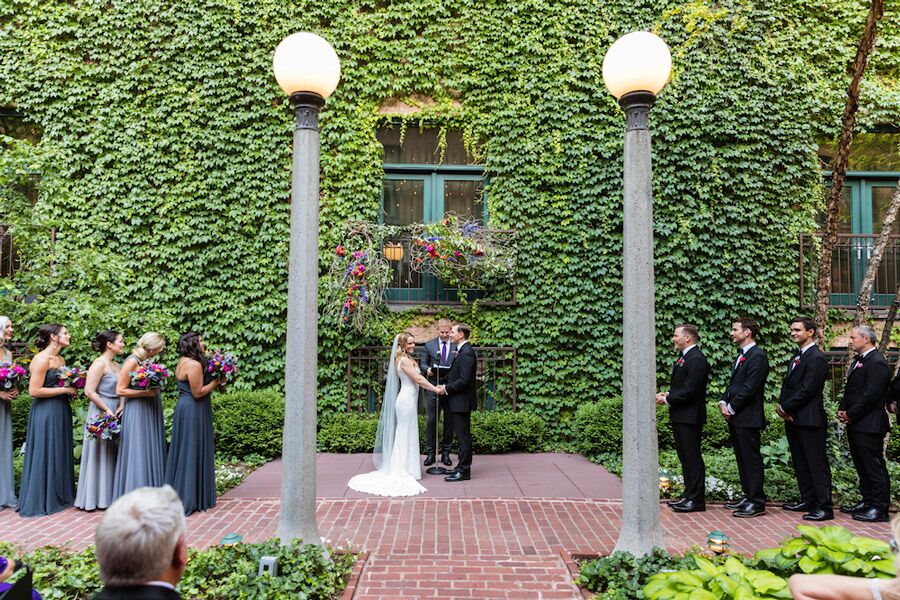 Photo: Michael Durr
The Ivy Room, 
12 E Ohio Street, #100
If you're on the hunt for a romantic, historic Chicago wedding venue, The Ivy Room will be right up your alley. It has several banquet halls, but one of the most stunning event spaces is the outdoor courtyard. It features exposed brick walls, brick flooring, manicured gardens, and ivy-coated walls that make for the perfect wedding ceremony backdrop. It can accommodate up to 50 guests, making it ideal for more intimate celebrations.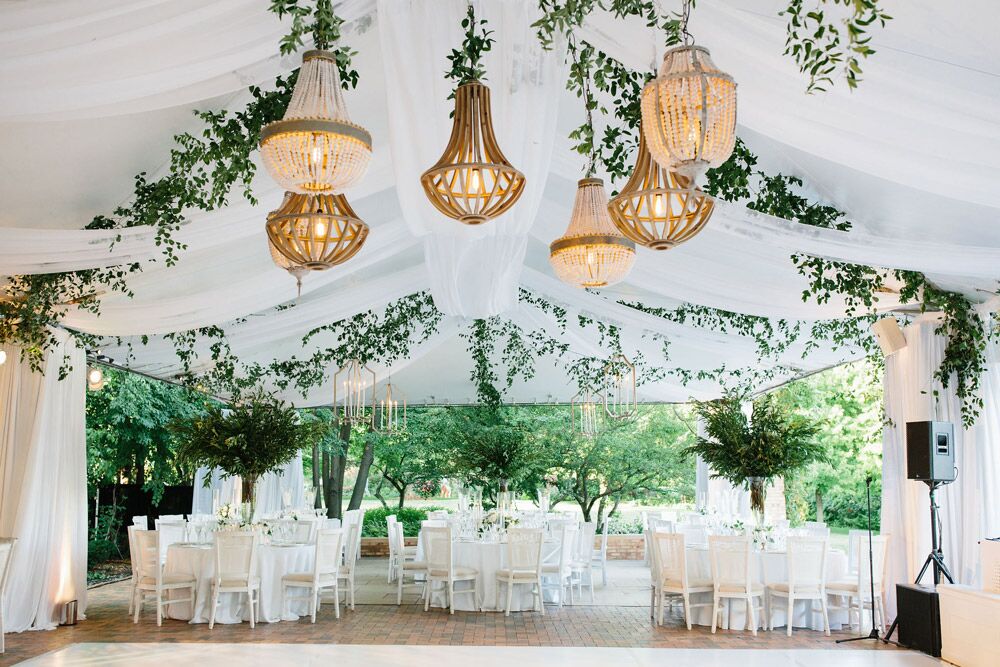 Photo: Katie Kett Photography
Chicago Botanic Garden, 
1000 Lake Cook Rd, Glencoe
Got a green thumb or just really love the look of a lot of greenery? Well, the Chicago Botanic Garden may just be the wedding venue for you. It's got gorgeous lawns, manicured flowers, idyllic ponds, and enough space to put up a full marquee tent for larger receptions. It has seven outdoor areas to choose from for your big day, the largest of which can fit up to 350 guests for a cocktail reception (don't worry - there are plenty of options for small celebrations, too!).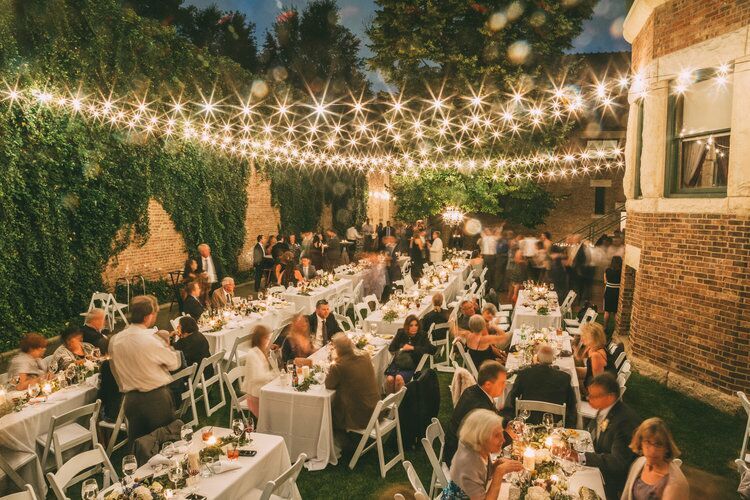 Glessner House, 
1800 S Prairie Avenue
Chicago may not have legit castles, but it is home to manor houses that look regal enough to be castles, and Glessner House is no exception. It's located in the South Loop area and has both indoor and outdoor spaces available for events. If you're looking to say your "I dos" in the open air, its courtyard seriously can't be beat. It has manicured lawns and is surrounded by exposed brick walls swathed in climbing ivy vines. It's large enough to fit 100 guests, making it ideal for small to midsize weddings.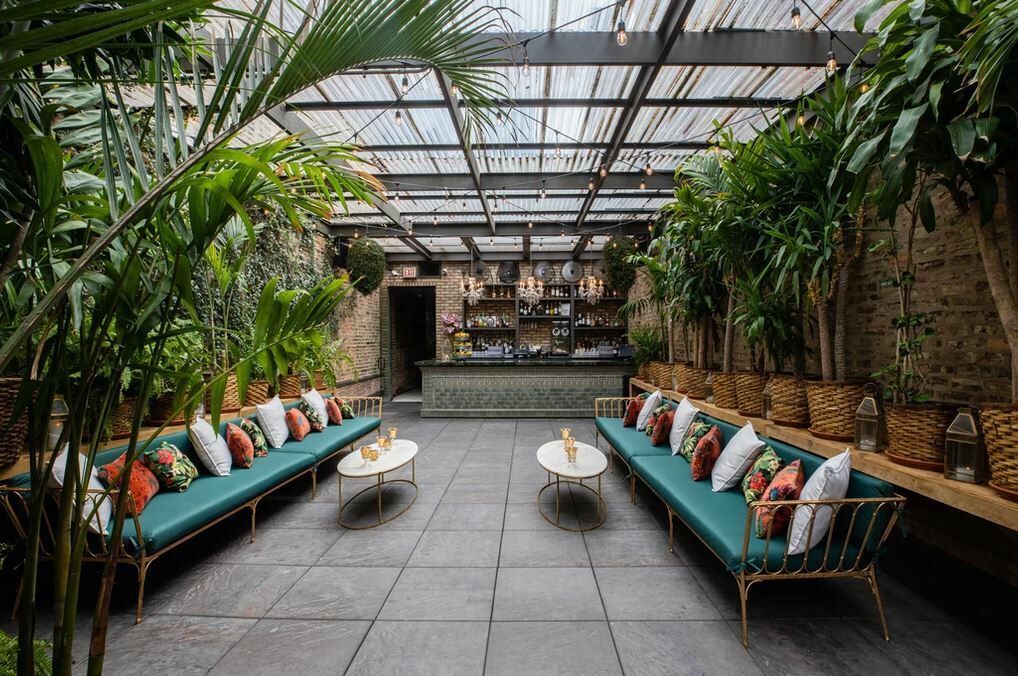 Celeste - Rooftop Garden, 111 West Hubbard Street
Although it may not be technically outdoors, the enclosed Celeste Rooftop Garden has amazing natural beauty that will make you feel like you are outside in a glamorous garden. This picturesque venue has dozens of Instagram-worthy photo opportunities, a private catering service, as well as Victorian furniture that gives off a complete English garden aesthetic. Use this year-round space for a small, intimate wedding celebration accommodating up to 90 guests.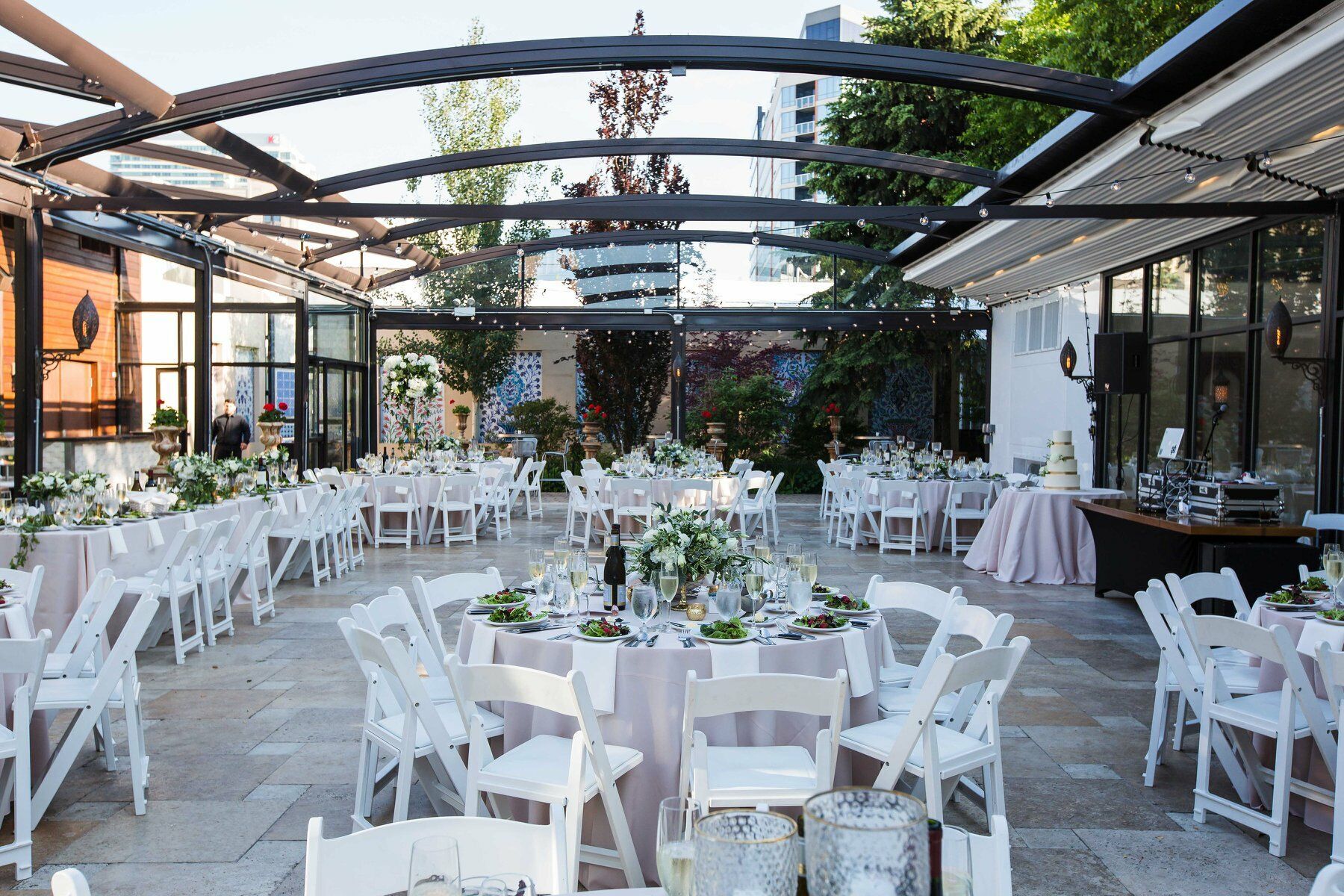 Galleria Marchetti, 
825 W Erie Street
La Pergola at Galleria Marchetti is a gorgeous Mediterranean-inspired outdoor venue surrounded by ivy-covered brick walls. It boasts Travertine flooring, plenty of flora and greenery, and is pretty much a blank slate waiting to be transformed for your big day. Though it is an open-air venue, it has a retractable shade that allows it to be used year-round. It can accommodate between 50 and 300 guests, making it great for weddings of all sizes. P.S. Galleria Marchetti has a second garden venue (The Pavilion), if La Pergola doesn't suit your style.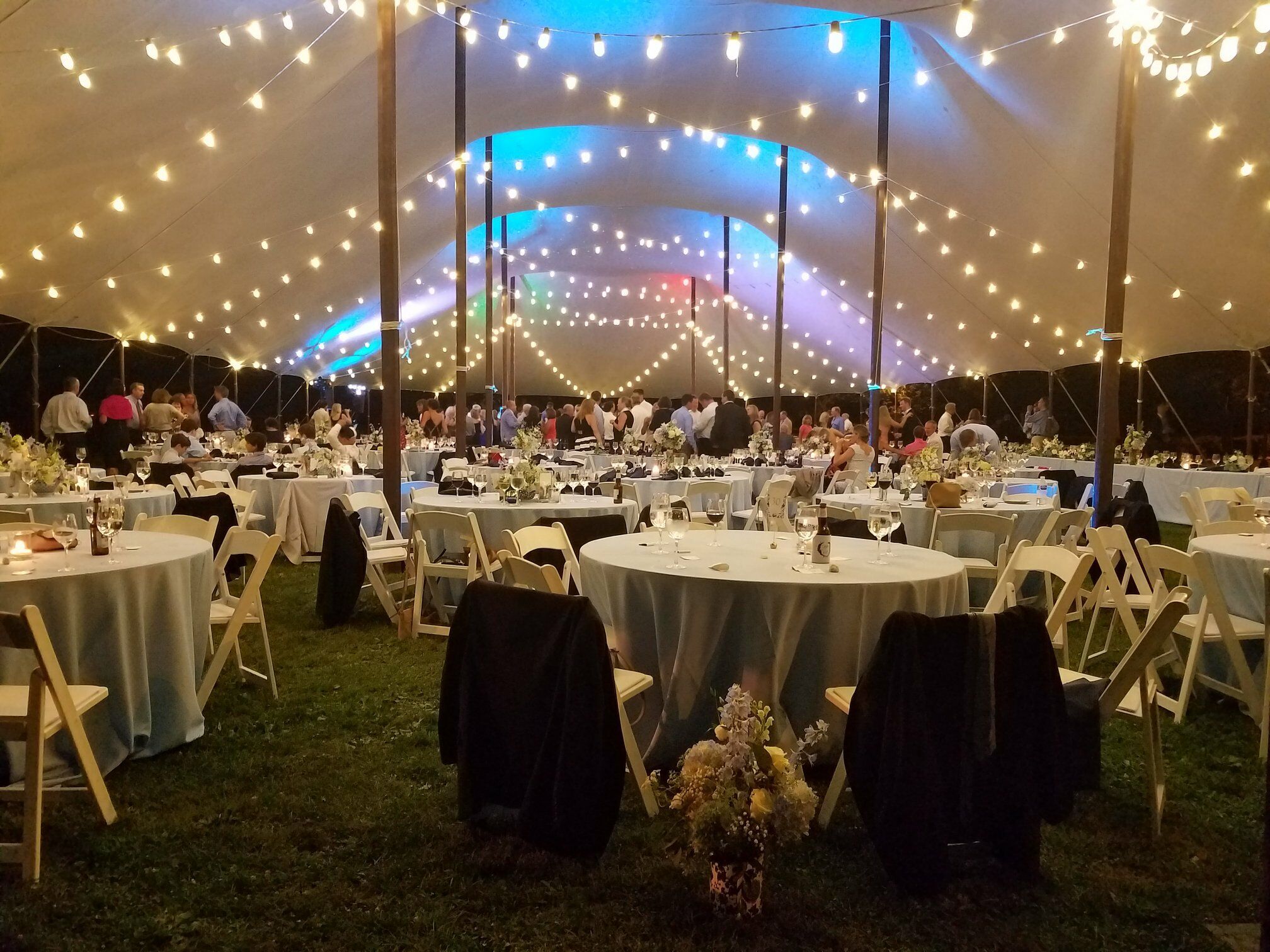 Morgan Park Academy - Jones Bowl Aerial, 2153 W 111th Street
Located on the expansive grounds of Morgan Park Academy in Chicago is the Jones Bowl Aerial. Invite up to 800 guests and enjoy the "hidden gem of Chicago's South Side" for an elegant soirée. The area includes red brick buildings, classic architecture, and has a flexible space with room for customization. Take advantage of the venue's various amenities including an event manager, bar service, and catering service that can accommodate many cuisines and dietary restrictions.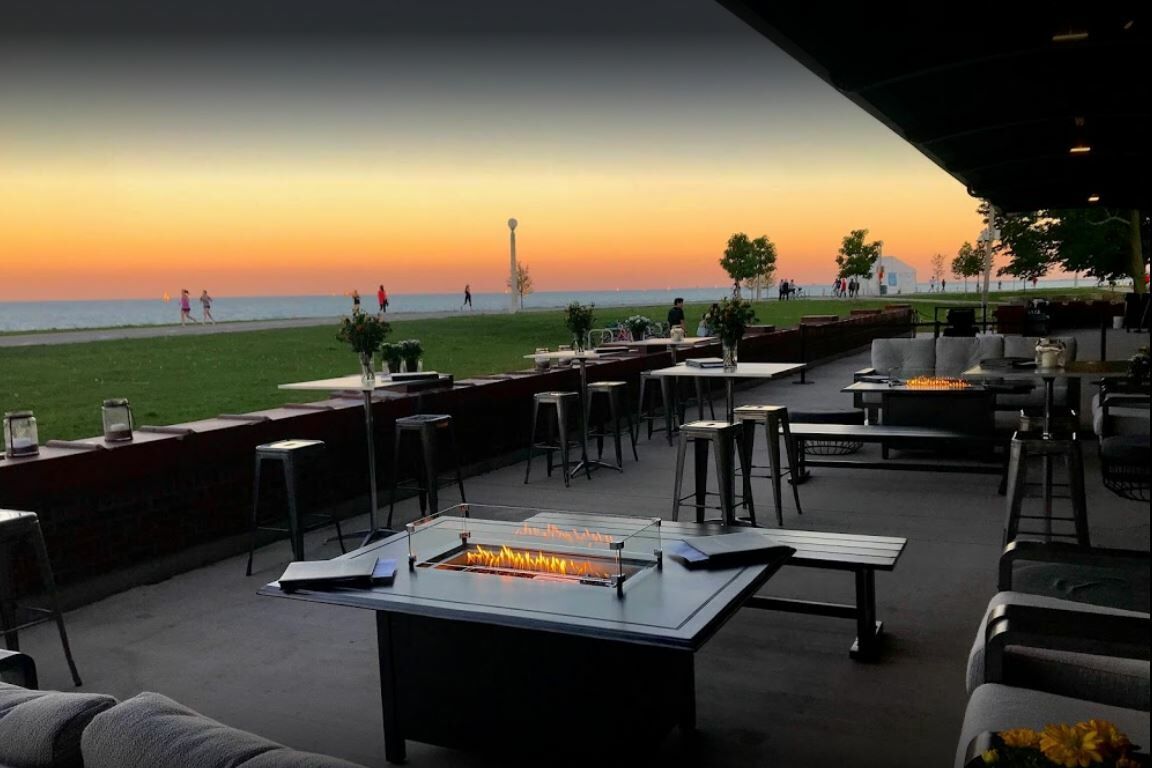 Theater on the Lake, 
2401 N Lake Shore Drive
Theater on the Lake is an absolutely stunning waterfront wedding venue with an unparalleled Chicago skyline view. The venue sits almost directly on the water's edge, giving you a seriously breathtaking backdrop for your ceremony and reception. The outdoor space is simple and chic, with a mix of table and lounge seating. It's also partially covered, which is great if Mother Nature decides to act up in the middle of your celebration. It covers a whopping 6,000 square feet of space and can fit up to 500 guests, making it a solid choice for larger weddings and gatherings.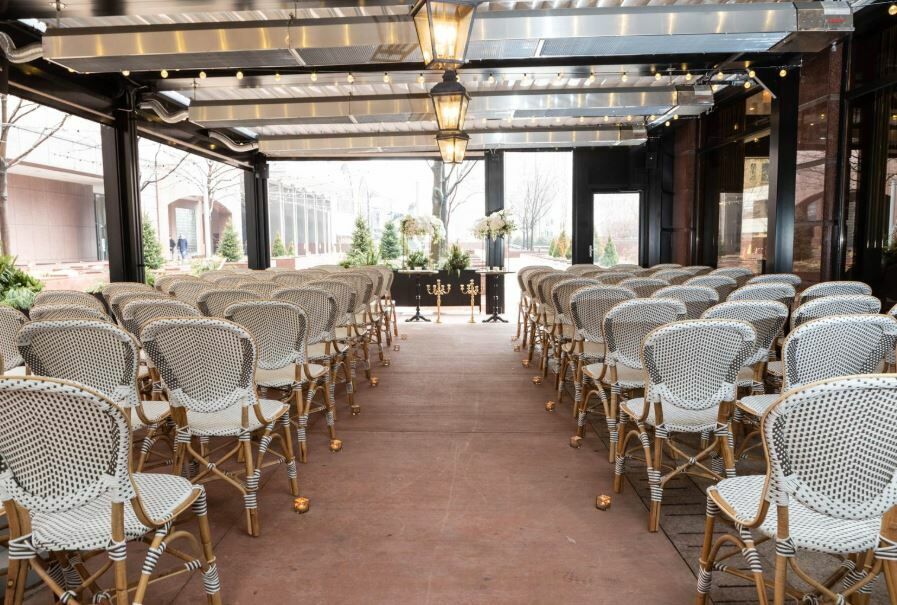 Taureaux Tavern - Patio, 155 W Van Buren Street
Located right in downtown Chicago is Taureaux Tavern - Patio. Known for their delicious french cuisine, the restaurant has been featured in the media including Michelin Guide, Modern Luxury, and The Chicago Tribune. This sophisticated venue is open year round with options to have the space fully enclosed with a retractable cover, or completely open to let the sunshine in. 
Complete with wicker furniture and tons of natural lighting, you will feel like you are sitting in a parisian cafe. Enjoy the elegant aesthetic for an intimate romantic wedding that can accommodate up to 100 guests.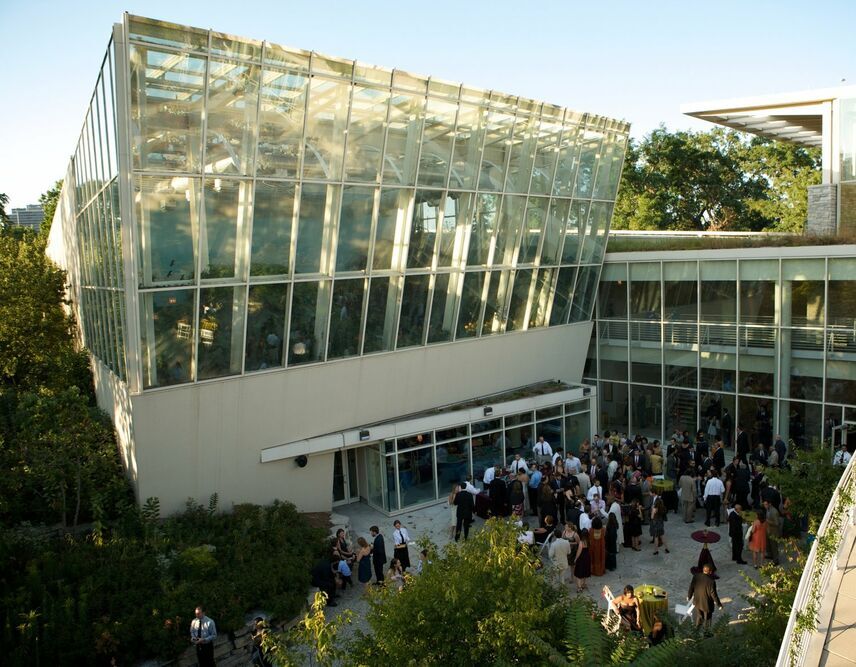 Peggy Notebaert Nature Museum, 
2430 N Cannon Drive
Peggy Notebaert Nature Museum, located on the outskirts of Park West, is a one-of-a-kind wedding venue that's perfect for anyone who's in the market for something modern. It has two lovely outdoor event spaces to choose from: the Ravine & Lobby (which has a capacity of 200 guests) and the Terrace (which has a capacity of 350 guests). Both offer gorgeous natural views of the surrounding wooded area and of the breathtaking, geometric building, so you really can't go wrong.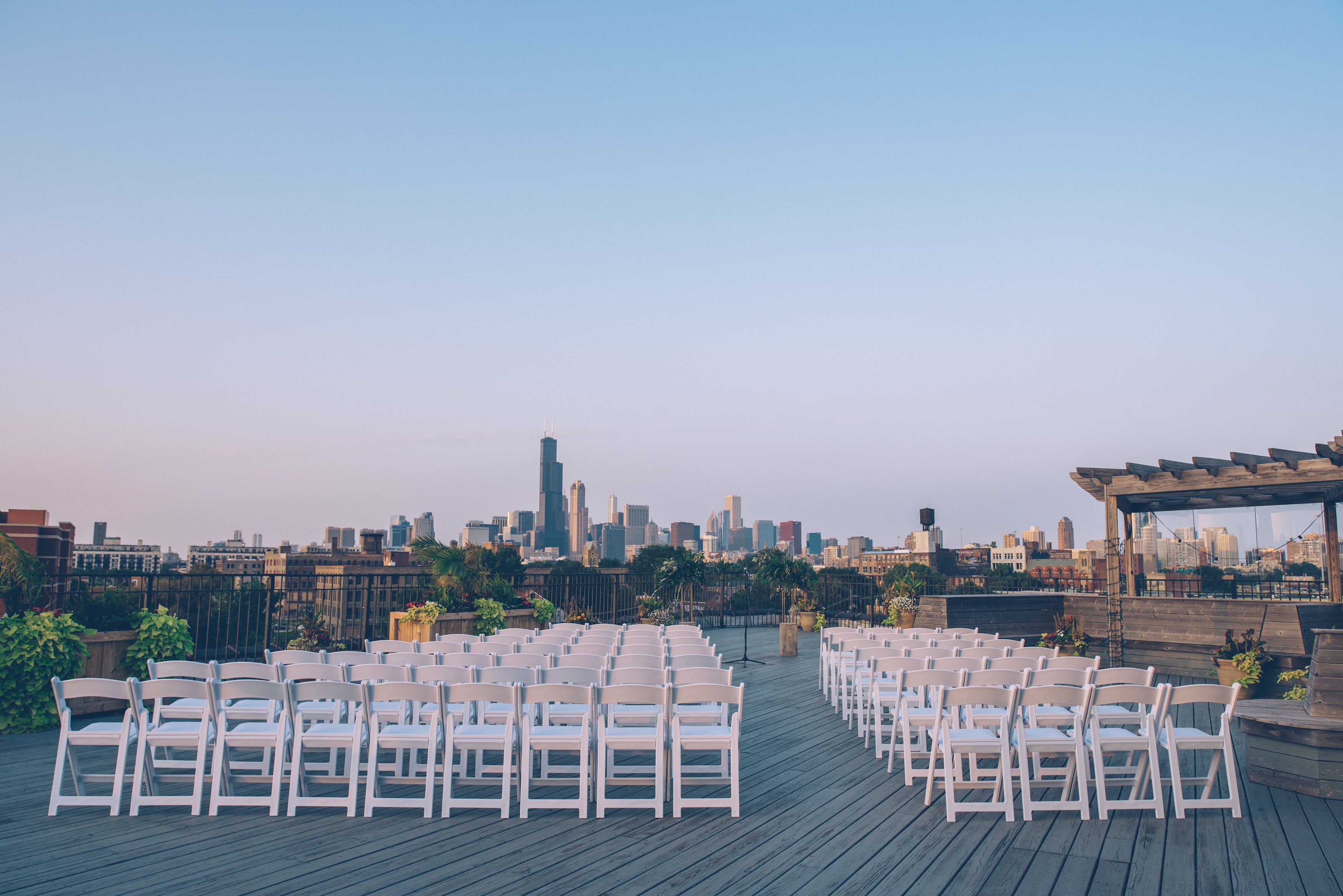 Lacuna Events, 
W 21st Street
Head on over to the Pilsen neighborhood to check out Lacuna Events, a unique rooftop venue with panoramic views of downtown Chicago. The wooden patio is surrounded by greenery, has various bars where your guests can quench their thirst, a healthy dose of exposed brick, and a minimalist design that lends itself to almost any wedding theme. It's 5,000 square feet and can comfortably fit up to 250 guests.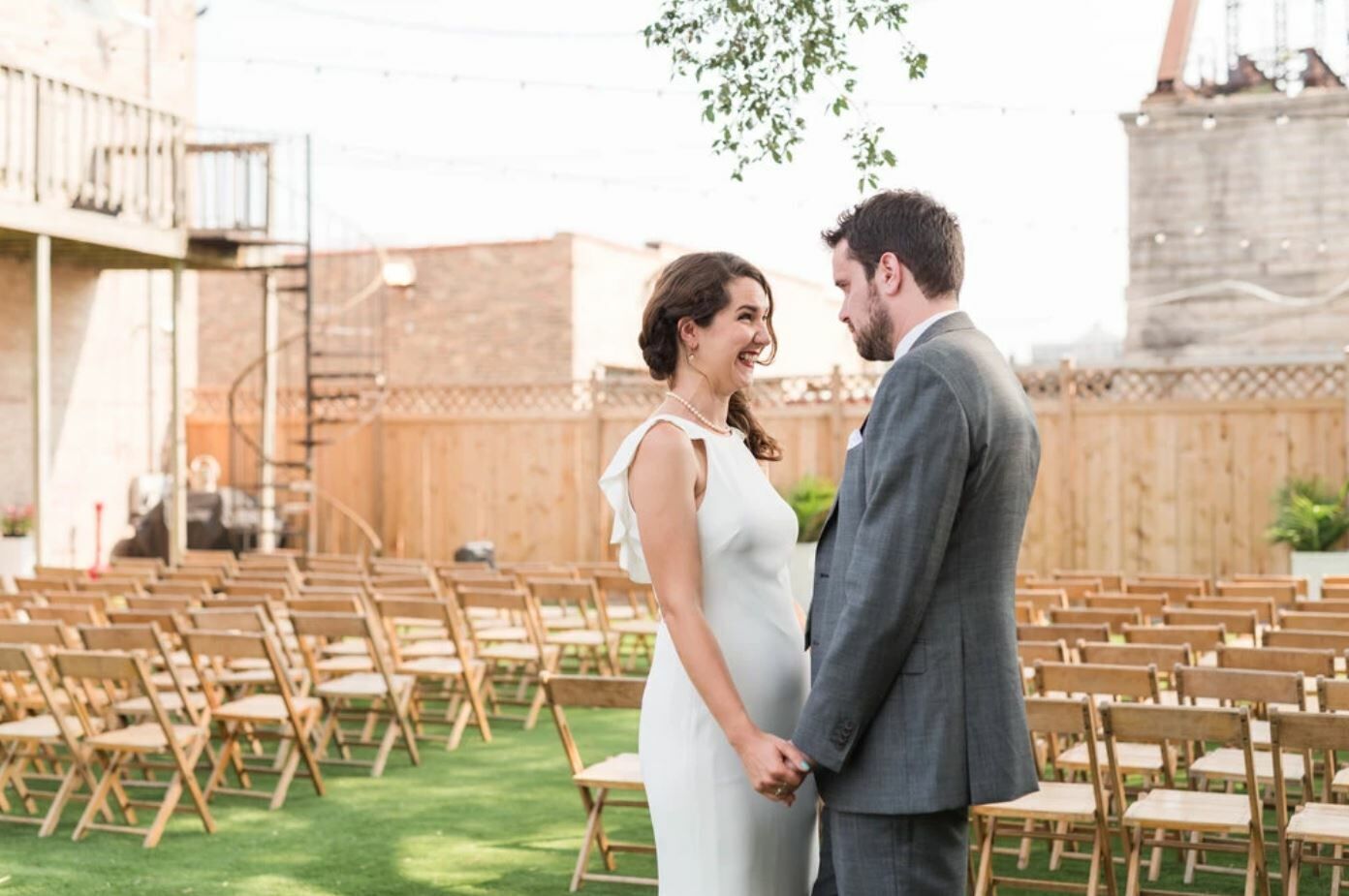 Bridge 410, 
410 N Paulina Street
Want a true "blank canvas"-style space? Bridge 410 is calling your name. Its outdoor area is the definition of minimalist, with just an artificial grass lawn and wooden fencing to work with, the decor is completely up to you. You can turn it into a whimsical outdoor ceremony space, a wedding reception area brimming with lawn games, or fill it with tables for a fancy plated dinner - whatever suits your style. There's also plenty of room inside the industrial-chic building, if you want to have an indoor-outdoor event. As for space, a full buyout will give you enough room for 250 guests.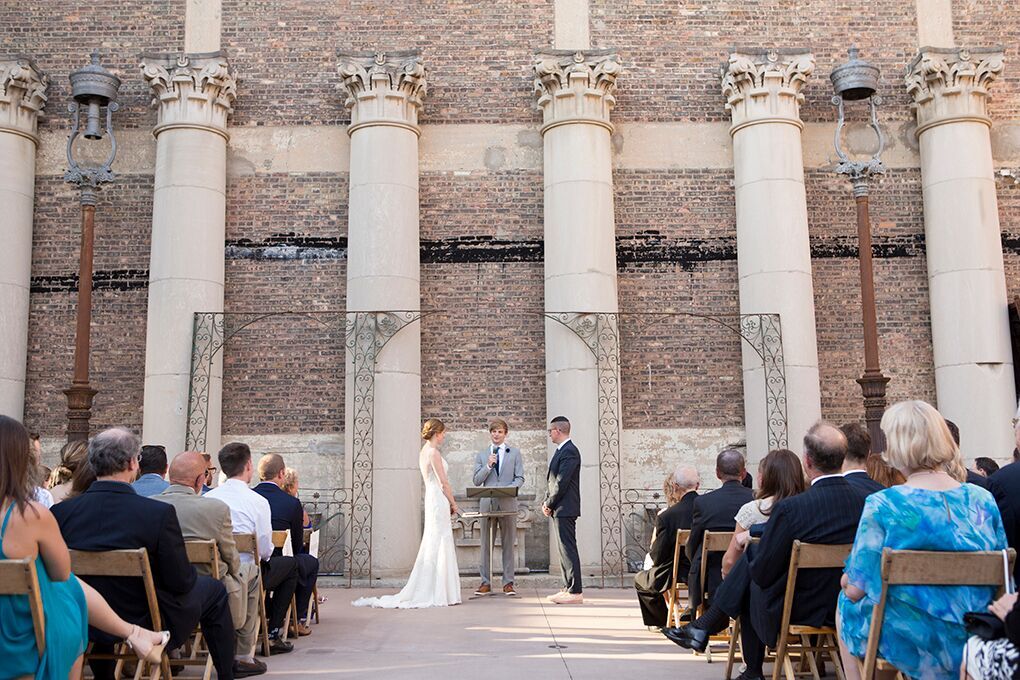 Artifact Events, 
4325 N Ravenswood Avenue
The courtyard at Artifact Events is one of the most elegant outdoor wedding venues Chicago has to offer. It's located in the historic district of Rosewood and will give you privacy and luxury on your big day. It has grand Romanesque columns, budding trees, and is surrounded by exposed brick walls. The 3,500 square foot space is completely flexible, meaning you can set up your ceremony space, dance floor, and dining area wherever you like. It's large enough to fit up to 270 guests, so you should be able to squeeze in all of your nearest and dearest.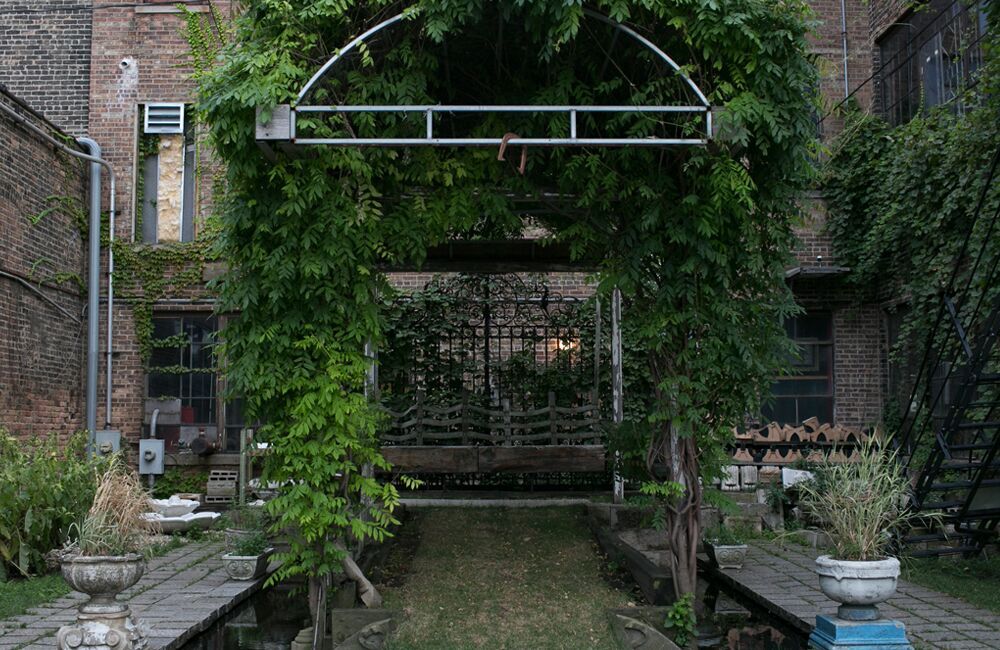 Salvage One, 1
840 W Hubbard Street
Salvage One in West Town has another beautiful courtyard space that'd suit any elegant wedding theme. It's covered in greenery, so it could almost be classified as a garden wedding venue (which is awesome, if you're all about the plants). There's also a wooden pergola, brick-lined pathways, and a statement wall decorated with bar doors and "Chicago" written in lights, making it stand out from the other courtyards on this list. It can accommodate anywhere from 100 to 250 guests.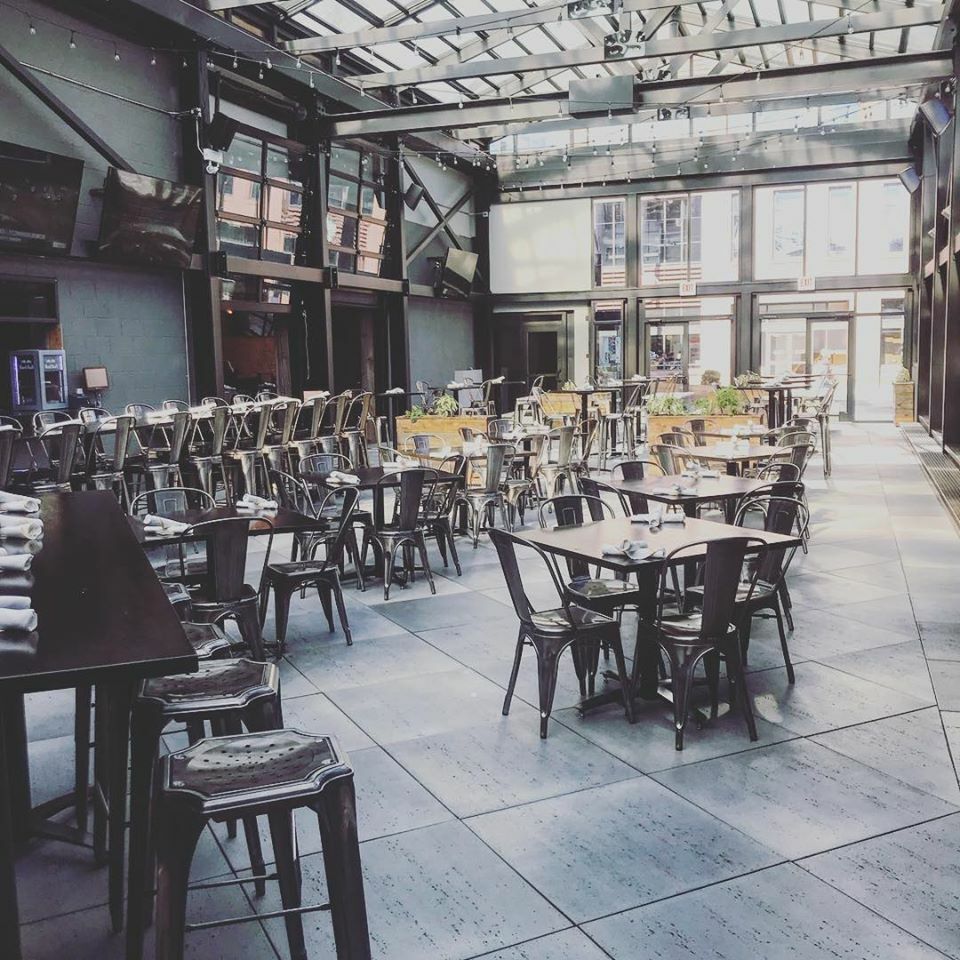 Rizzo's Bar & Inn - Patio, 3658 N Clark Street
Perfect for a fun and baseball loving couple (Chicago Cubs or White Sox!), Rizzo's Bar & Inn has catering services that can cue up ballpark inspired favorites including mini burgers, fried chicken cones, nachos, and freshly baked pretzels. This versatile space can hold up to 250 guests and can be transformed into a completely covered or open outdoor patio space. 
Enjoy the modern and urban features with touches of greenery accents here and there. This family-owned and operated restaurant also includes two private bars in the patio area with bartenders that can create and serve the couple's special cocktails.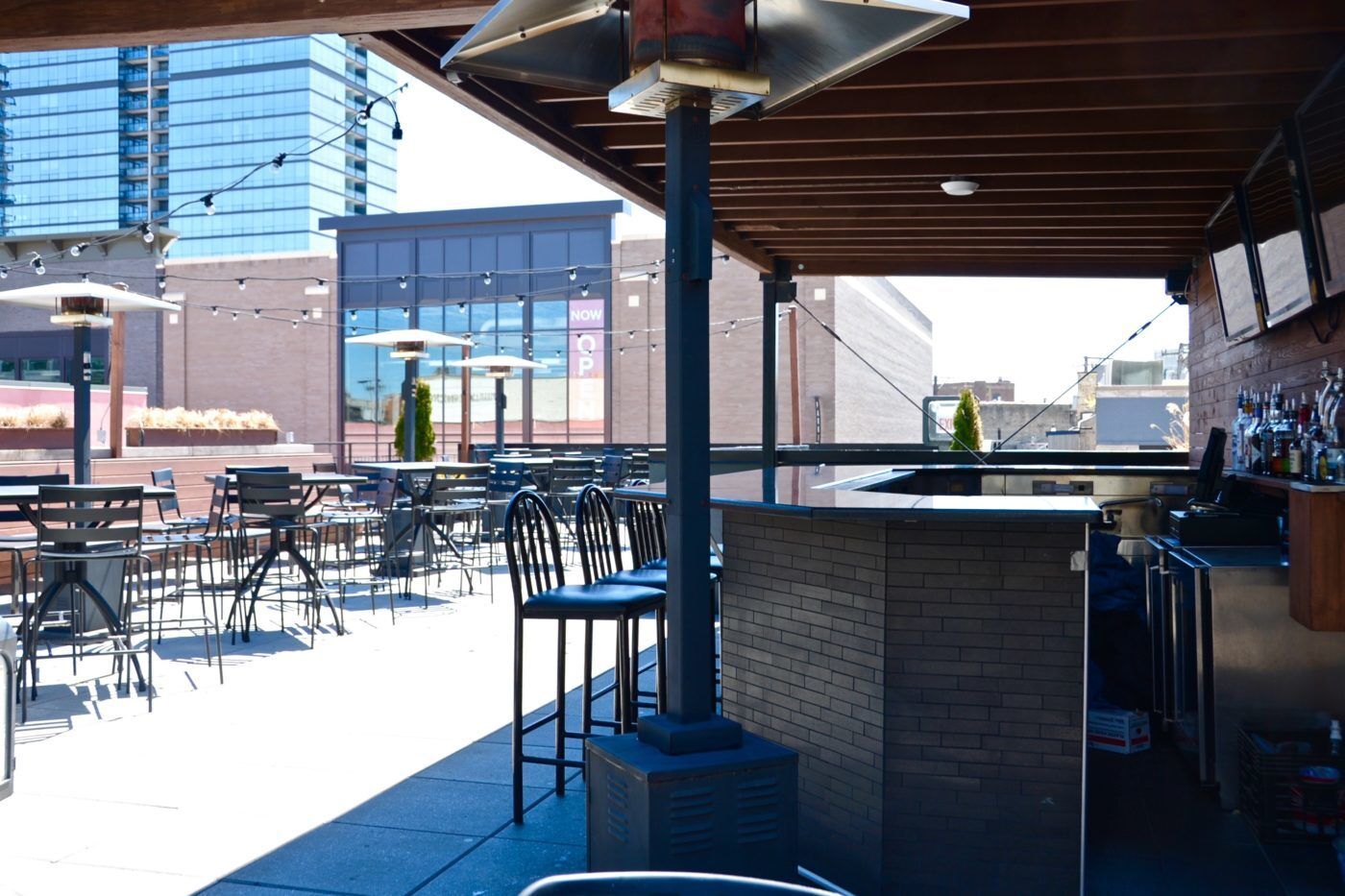 Joe's on Weed Street - The Rooftop, 940 W Weed Street
This rooftop bar is perfect for an outdoor summer wedding. The 3,500 square foot patio can fit between 100 to 120 guests to overlook the scenic skyline of Chicago. Joe's on Weed Street boasts an urban yet rustic atmosphere that the couple and wedding guests will absolutely love. Work with the different available packages, culinary team, and event staff to help turn your wedding into the celebration of the year.
Find wedding venues, suppliers and entertainment in The Bash Wedding Planning Guide »