Your Essential Outdoor Wedding Checklist
Planning an outdoor wedding? Here are all the details you need to consider.
Outdoor weddings are definitely having their moment in the sun! Getting married outside can add a romantic, relaxed feeling to your special day, but that doesn't mean outdoor weddings are without their challenges. As relaxed as an outdoor party may feel, it actually requires careful planning.
This outdoor wedding checklist is designed to make sure you don't miss any of the additional details and considerations that go into an open-air celebration (including some timely tips for social distancing due to COVID-19).
Bonus: Check out our complete wedding planning checklist for a wedding check-off list, google doc, budget planner and more!
Here is your essential outdoor wedding checklist.
Alternative Location
No one likes rain on their wedding day, but having a backup plan is essential for any outdoor component of your wedding day, such as a garden wedding ceremony or open-air reception. Make sure to include a time by which you'll make the call to switch locations in your plan. Some wedding venues offer an indoor alternative that can accommodate your guest count if you have to bring your ceremony, cocktail hour or wedding reception indoors.
A covered outdoor event space or a wedding tent rental can also be a real lifesaver. Not only will it provide shelter from both rain and sun, but it will also be less disruptive to a change in plans and set up of tables and chairs—especially if you're planning a backyard wedding where you don't have enough space to move inside.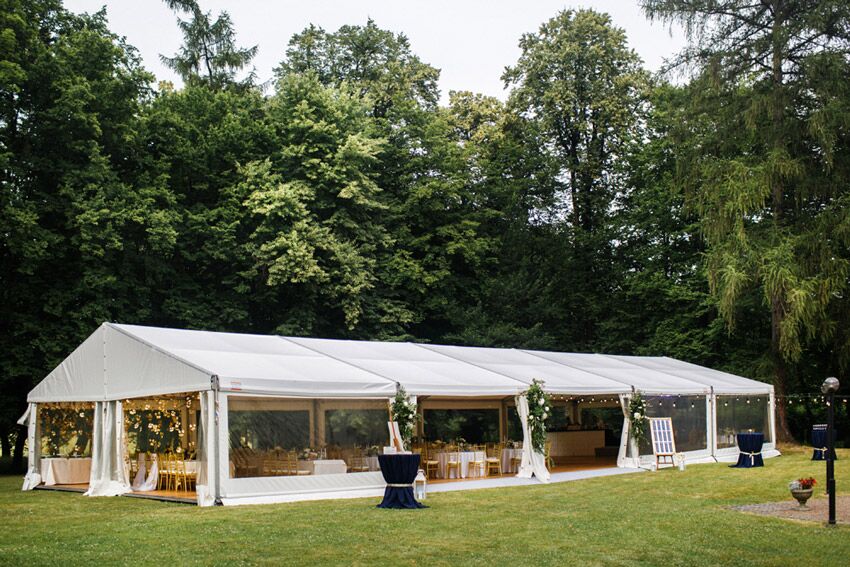 Communication Plan
It's raining, you're moving your wedding indoors. How do you let everyone know about the new plans? Unless your indoor site is in the same place as the outdoor site you'll need a communication plan for vendors and guests alike.
You should include a note on your wedding website and even on an invitation insert like a map, especially if the location address will change due to rain. If the location address will not change due to inclement weather, it wouldn't hurt to let guests know to show up "rain or shine". Directional signage can also point your guests in the right direction when they arrive.
If you have a wedding planner or day-of coordinator this is something you should discuss with vendors ahead of time. They can help you notify all your vendors. If you're handling all of the plans yourself, discuss your back up plan with vendors upon booking to ensure it's on file (and included in the cost). Ask a trusted friend or maid of honor to call and notify all the vendors if you need to resort to plan B.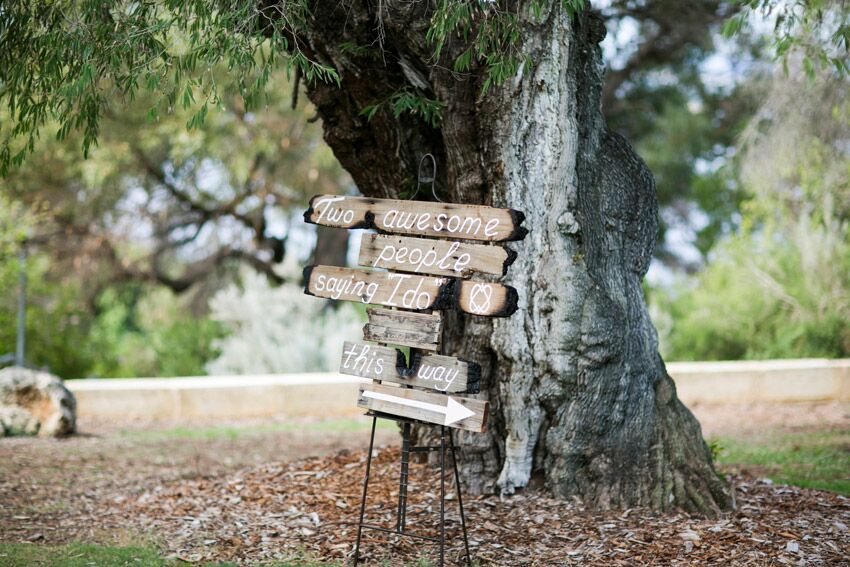 Staging Area
If your wedding and reception are outside, is there a nearby indoor location for you to use to get dressed? Getting ready on your big day should be an enjoyable experience, so do to take this into consideration. Many outdoor wedding venues have a bridal suite or dedicated room on site. You could also book a nearby hotel room or Airbnb to make it extra special for you and your wedding party.
Parking
Most outdoor wedding venues have ample parking, but if you're planning a backyard wedding or a restaurant patio reception, is there enough street parking? If not, perhaps you can make an arrangement with a nearby school, church, public lot or community center. Be sure to add parking info to your wedding website.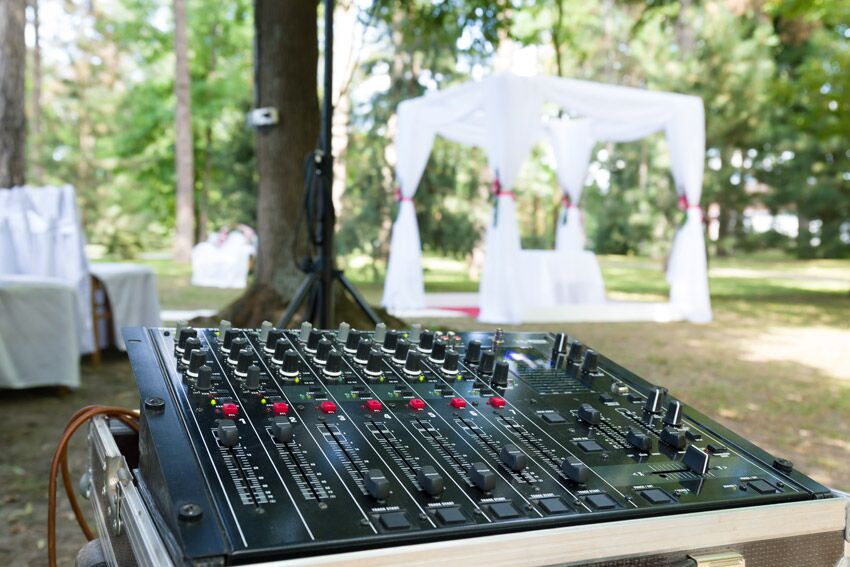 Musician/DJ Needs
Ask your musicians or DJ what they need in terms of appropriate shade, temperature control, and power access. You'll also want to familiarize yourself with local bylaws and park or venue rules when it comes to sound volume and time restrictions. The last thing you want is to have the police show up and shut down your wedding due to a noise complaint.
Also, look into events taking place in the surrounding area on your big day so you don't get blindsided by your harp processional music or first dance song getting drowned out by a nearby music festival.
Dance Floor
If your reception is outside, you'll want a portable dance floor. They come in a variety of styles, shapes and sizes, so look for one that fits your wedding theme.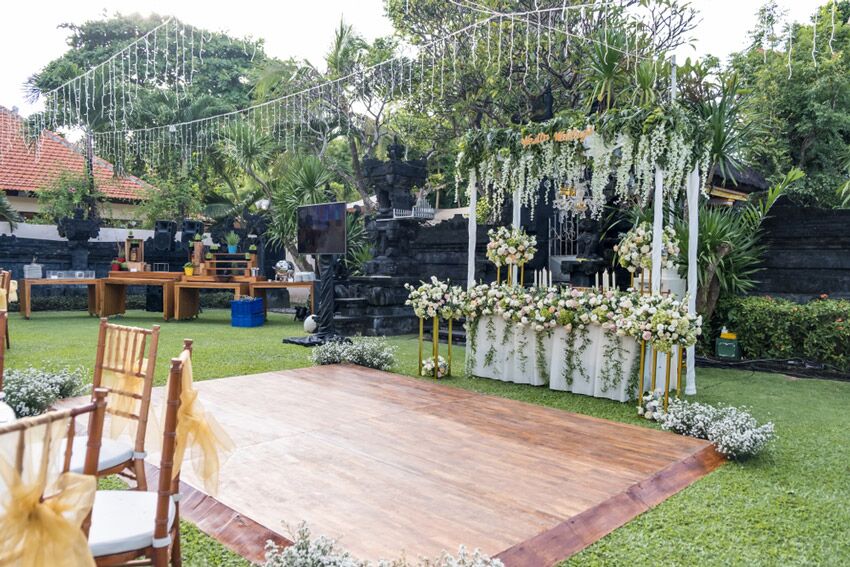 Lighting
Is your outdoor wedding reception lasting into the wee hours? Do you have the appropriate lighting? You'll want to be sure that guests can find restrooms and make it back to the parking area safely. Not to mention, strings of lights are just so romantic.
Food and Flowers
Is your reception outside? Check with the wedding caterer, baker, and florist about refrigeration or electricity needs. If you have not mentioned to your baker or florist that the wedding is being held outside, do so at once! It's possible that you've chosen flowers or wedding cake icing that just won't work with an outdoor wedding.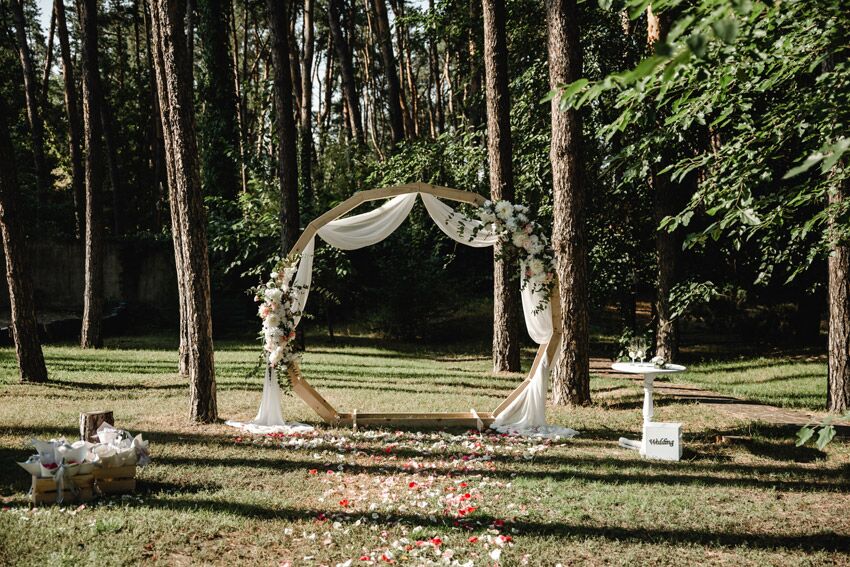 Seating for Elderly or Disabled Guests
You may be having a super quick outdoor wedding ceremony, but some people on your guest list will still need a place to sit. Your grandparents or cousin on crutches may be fine if the wedding ceremony is only 15 minutes, but what if things get a little bit of a late start, can they stand for half an hour? If you're only going to have seating for those who really need it, it's fine to mark it as reserved.
Portable Restrooms
Don't forget your restroom capacity, especially for a park, forest or backyard wedding. These days, you can rent attractive portable restrooms worthy of a wedding.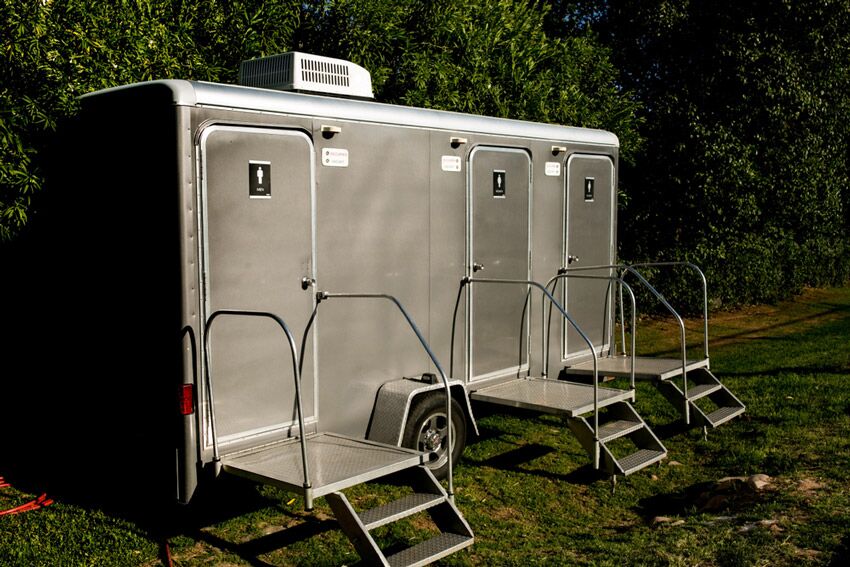 Shade
If only your ceremony is outside you probably don't need a tent, but you may want one if you're worried about sun or rain. Remember to discuss shade needs with any vendors who will be working outside.
Hydration
You may think you don't need water available for a short outdoor wedding, but again, what happens if things get delayed? If your reception is outside you'll want to make sure that you provide extra non-alcoholic drinks to keep your guests hydrated.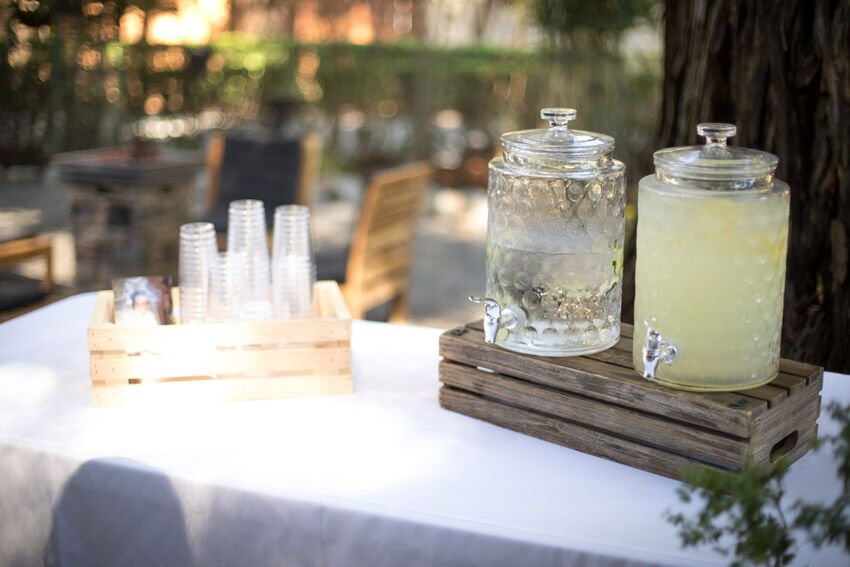 Bugs
One of the less romantic aspects of an outdoor wedding is the bugs! Early nighttime is prime for mosquitos, talk to your tent provider or wedding planner about a plan for combatting critters.
Social Distancing
If you're planning an outdoor wedding to practice social distancing due to COVID-19, there are a few additional considerations. Add these items to your outdoor wedding checklist: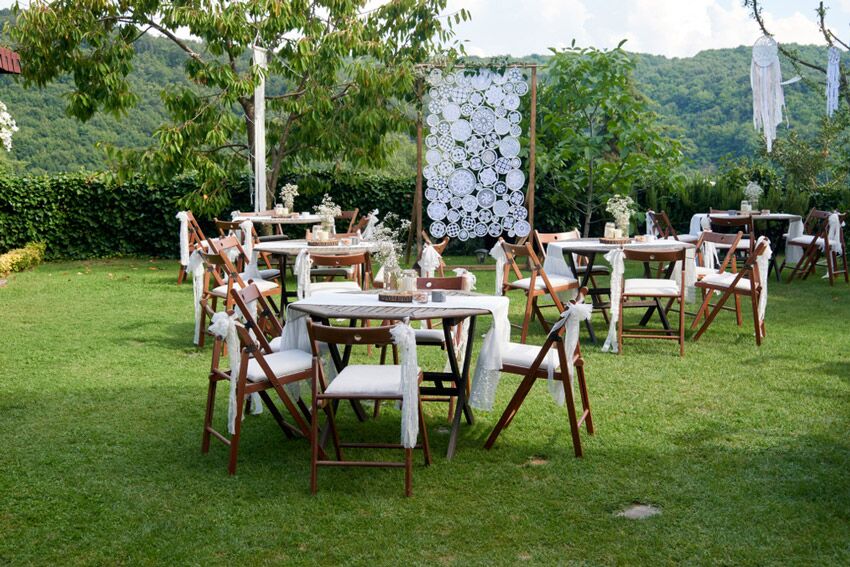 Set up hand sanitizing stations.
Have guests stand at your ceremony (except for those that need seating) so they can spread out. You could even borrow a technique from public parks set up for social distancing and make circles (use petals instead of chalk) to designate areas for small groups to stand 6 feet apart.
If you have a large guest list, host groups in shifts instead of all at once.
Avoid long table seating and opt for individual tables for 4 to 6 people instead—and spread them out.
Serve plated meals or set up food stations with individual servings instead of a self-serve buffet.
Minimize sharing of items among guests, like photo booth props, serving utensils, guestbook pens, etc.
Create multiple lounge areas, satellite bars, and dance floors to keep clusters of guests small.
Look into wedding insurance in case you need to postpone your wedding due to social gathering number restrictions being put into place.
Find wedding ideas, venues, suppliers and entertainment in The Bash Wedding Planning Guide »