Looking for a killer outdoor party venue in Chicago? Well, we've got a few ideas for you! If you're planning a party and love the great outdoors, these Chicago event spaces are sure to knock your socks off at your next outdoor event. From rooftop bars to charming greenery-clad patios to chic terraces, this list has something for every style of soiree and occasion. These spots are awesome for birthday parties, corporate events, anniversaries, private parties, and everything in between.
Here are the best outdoor venues in Chicago.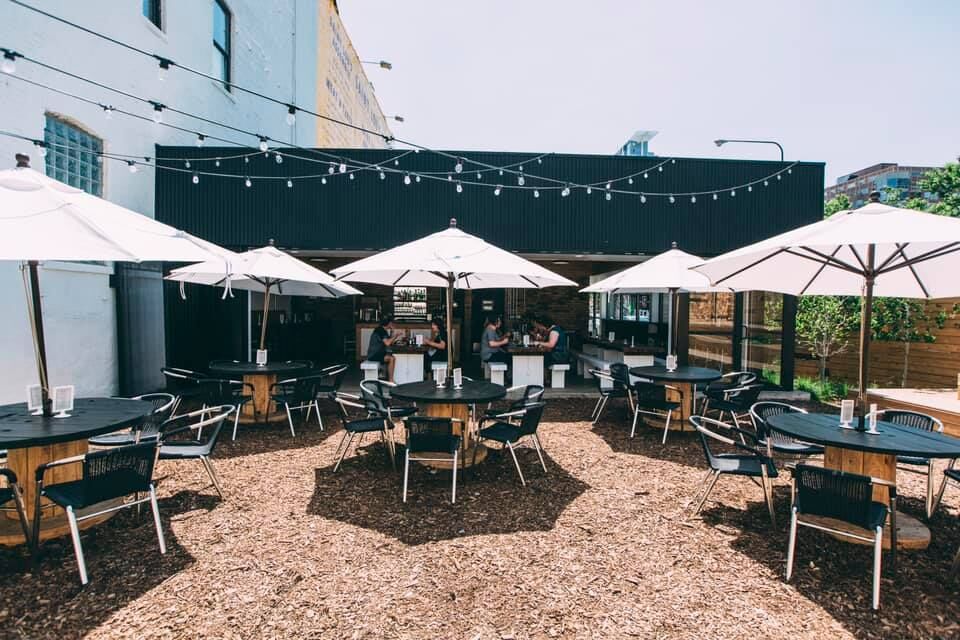 Saint Lou's Assembly, 664 W Lake Street
Head to the Fulton River District of Chicago and you'll find Saint Lou's Assembly, an American spot specializing in comfort classics with a heavy dose of industrial flair. Besides delicious food, this eatery has a beautiful back patio that's perfect for outdoor events. It's equipped with a high wooden fence, modern furnishings, and strands of Edison bulb lights that make it glow in the evening. If you need a bit of extra space, opt for a full buyout—the restaurant has floor-to-ceiling windows that can be fully opened to create a cool indoor-outdoor event space with more room to dance, mix, and mingle with friends and family. It can fit between 25 and 65 guests.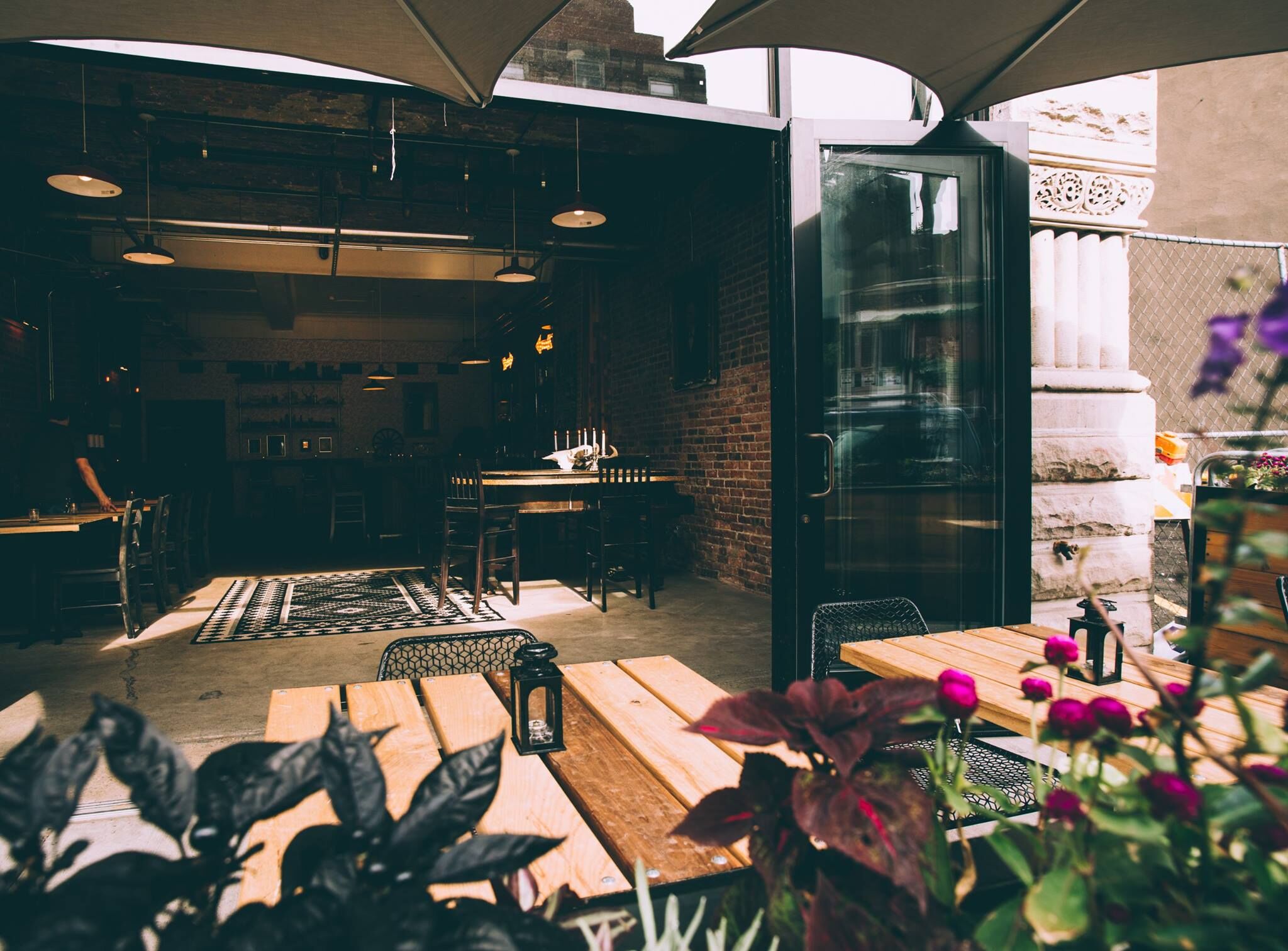 Tack Room, 807 S Allport Street
If you want an indoor-outdoor Chicago party venue with some cool, hipster style, look no further than Tack Room. The rustic-chic piano bar, located in the Pilsen neighborhood, has got everything you need for a good time. The inside of the restaurant is absolutely gorgeous, boasting exposed brick walls, visible pipes (for a nice industrial touch), and plenty of knickknacks. It spills out onto the petite sidewalk patio where you can enjoy drinks or dinner with your guests giving you the best of both worlds. It can accommodate anywhere from 45 to 75 guests.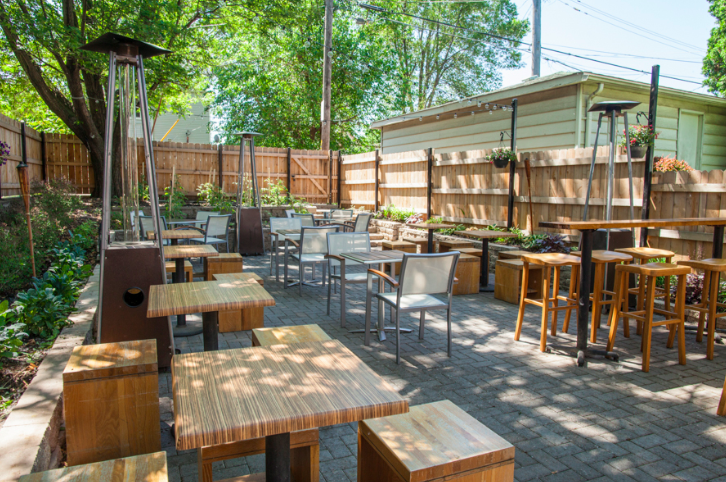 The Duck Inn, 2701 S Eleanor Street
If you're on the hunt for a sweet and simple outdoor Chicago venue, check out The Duck Inn. It's located between the Pilsen and Bridgeport neighborhoods by the Chicago River and is the ideal spot for a more casual event. It flaunts high fences, wood-heavy decor, and plenty of greenery (perfect for plant fanatics). If the weather starts acting up, they can cover the entire space with a tent for a reception-style, so you don't have to stress if Mother Nature decides to rain on your parade (literally). It can accommodate up to 118 guests, so you can go ahead and add a few extra names to your RSVP list.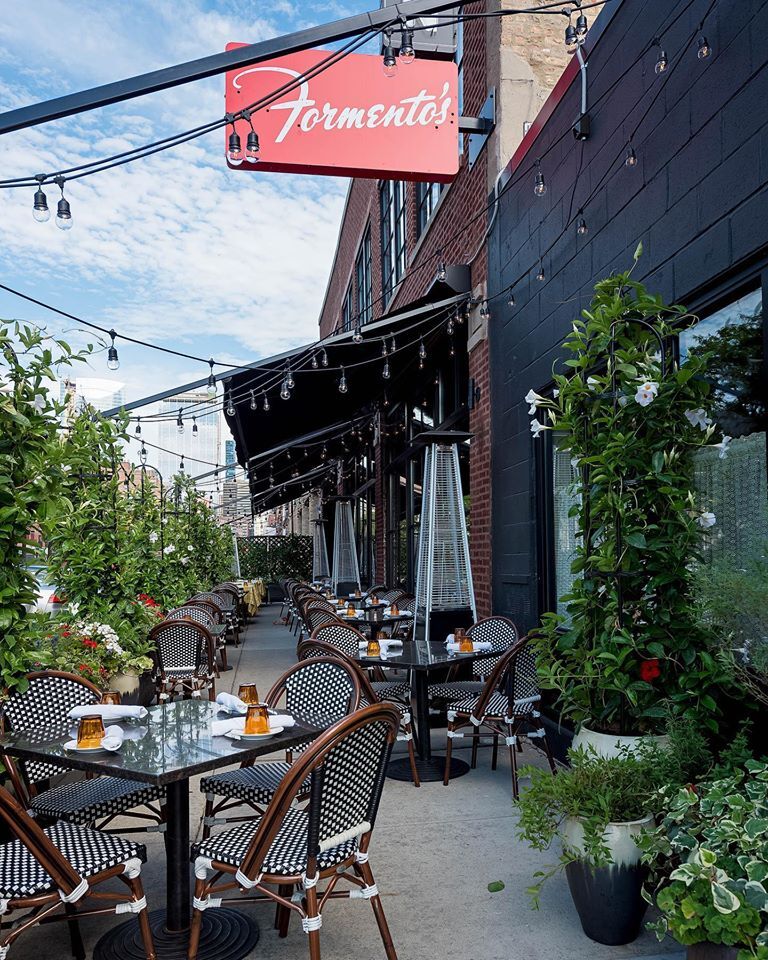 Formento's, 25 W Randolph Street
For those who love people watching and top-notch Italian food, Formento's is great. Its slim patio is right on the sidewalk, so you can watch the hustle and bustle of the city go by as you dine and party the night away (it's just a hop, skip, and a jump away from Morgan Station). The outdoor space is decorated with wicker patio furniture, string lights, and tons of foliage, giving it a bit of chic, European charm. It's large enough to fit up to 85 guests, but can cater to smaller affairs, too.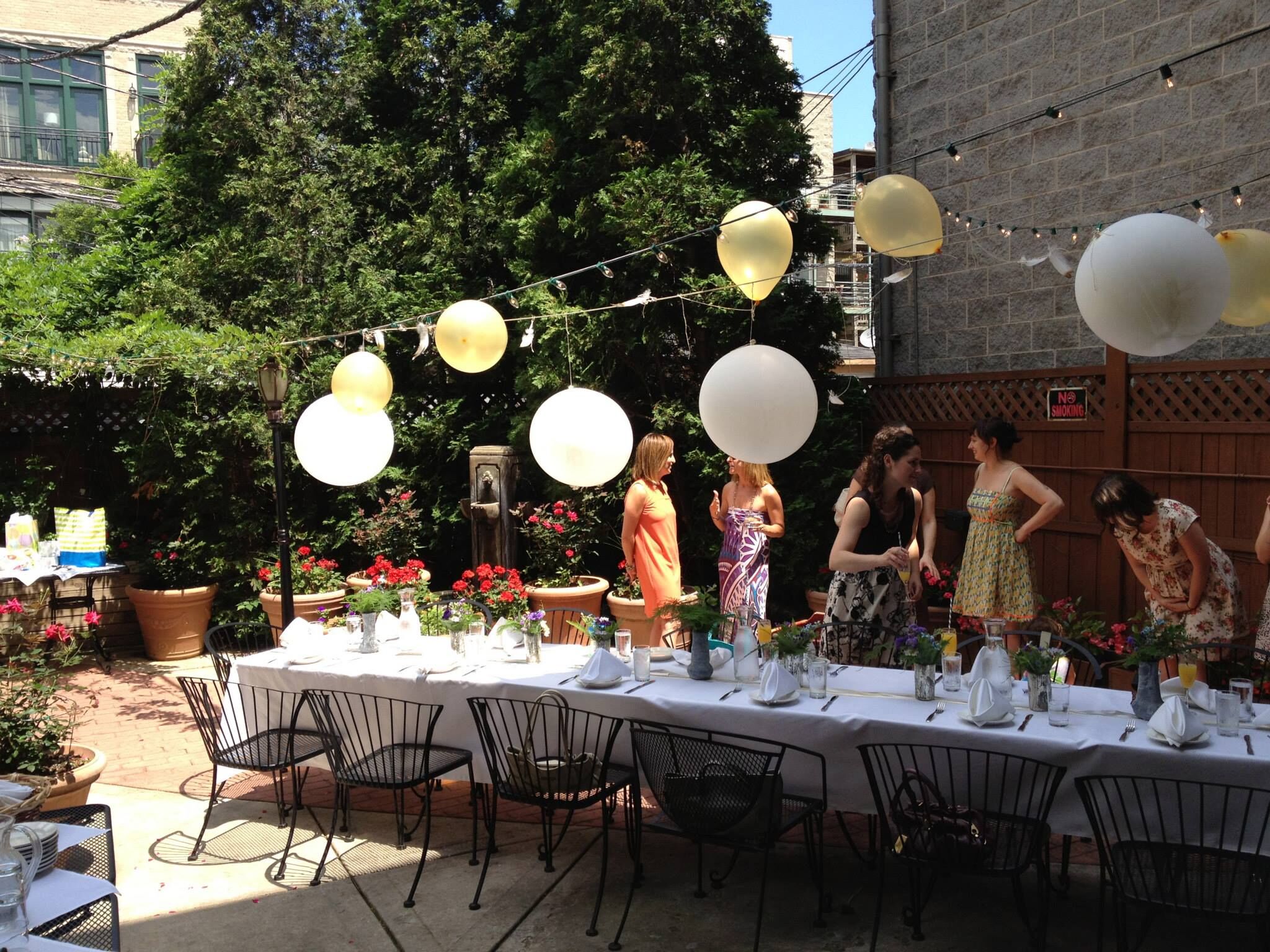 Enoteca Roma Ristorante, 2146 W Division Street
The cozy backyard patio at Enoteca Roma Ristorante is the ideal spot for anyone who wants to give their birthday celebration a homey dinner party feel. The Italian wine bar is located just south of Wicker Park, but it looks like it belongs in, well, Italy. Here you'll be dining al fresco under string lights, surrounded by a garden of gorgeous shrubs and flowers. It covers 2,400 square feet and can fit anywhere from 25 to 65 guests.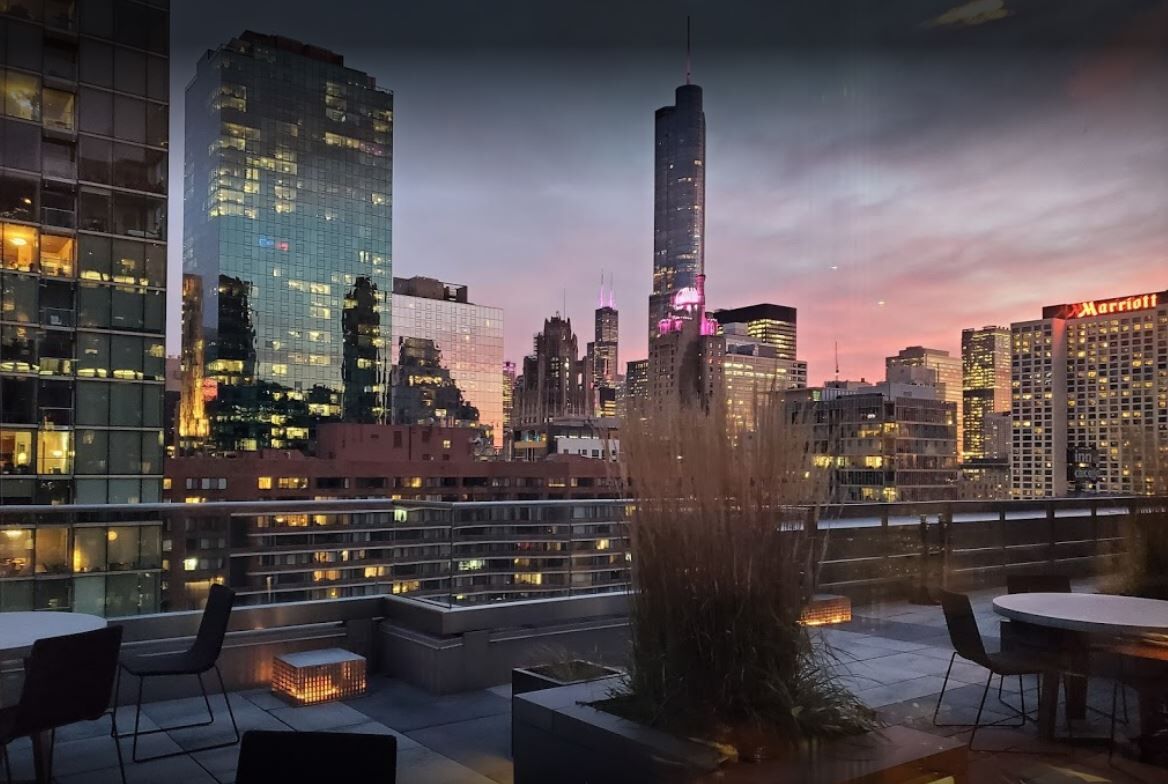 Woodwind, 259 E Erie Street, 18th floor
If you want a chic rooftop terrace with stunning skyline views that's great for cocktail parties, Woodwind has just what you're looking for. It's located in the Streeterville neighborhood and looks out onto the Chicago skyline and Lake Michigan (it's perched 18 stories above street level, so you won't have an obstructed view). As for style, it has tiled flooring, chrome furnishings, and is definitely on the more minimalist side of things (essential, if you want to add your own decorative touches). It can fit up to 70 guests, so you can probably fit all of your nearest and dearest.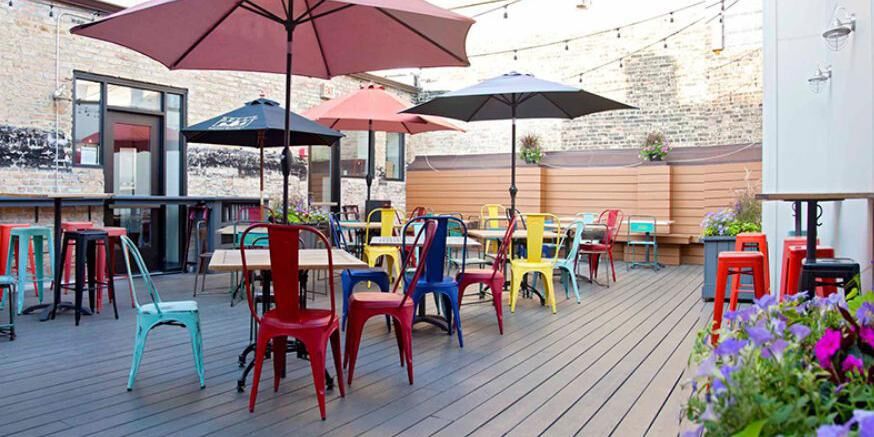 Chop Shop, 2033 W North Avenue
Woodwind a bit too fancy for your taste? Head over to Wicker Park to take advantage of the back patio at Chop Shop. This former auto body shop is cool, casual, and colorful with a rainbow of mixed and matched stools and chairs and exposed brick walls. During the day it gets plenty of sunlight and at night it is set aglow with strands and strands of string lights (so it's great for both midday and evening events). It's large enough to accommodate between 25 and 75 guests.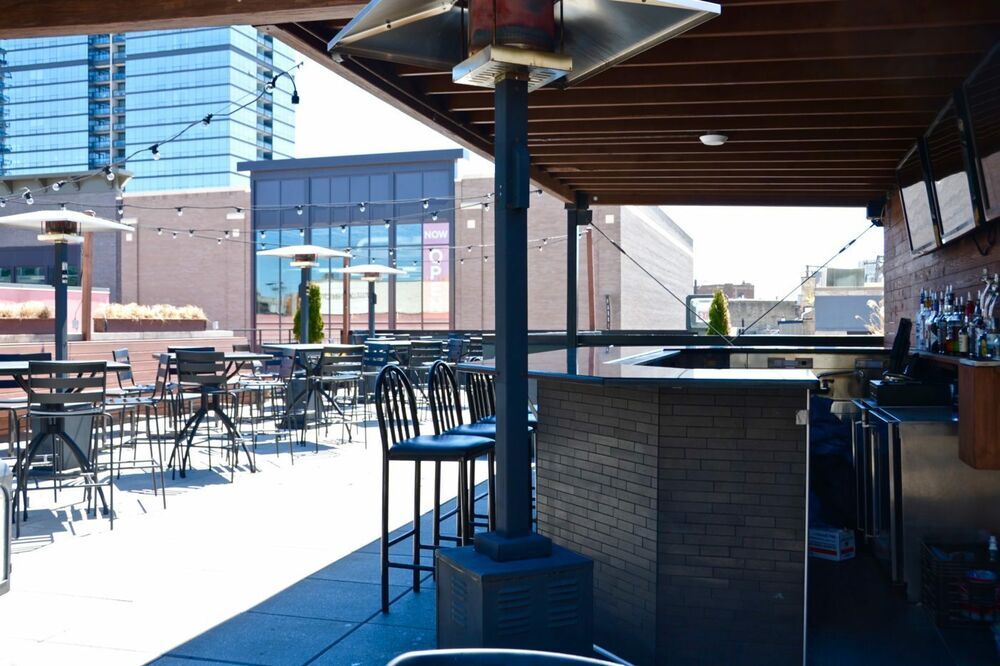 Joe's on Weed Street, 940 W Weed Street
Joe's on Weed Street is home to a cool rooftop bar with an industrial vibe. It's just a short walk from the River North (right near Clybourne Corridor) and has amazing views, food, and drinks on offer. The outdoor space covers 3,500 square feet and is pretty bare-bones, so you can really transform it to fit your theme. As for capacity, it can fit up to 120 guests, making it great for larger celebrations.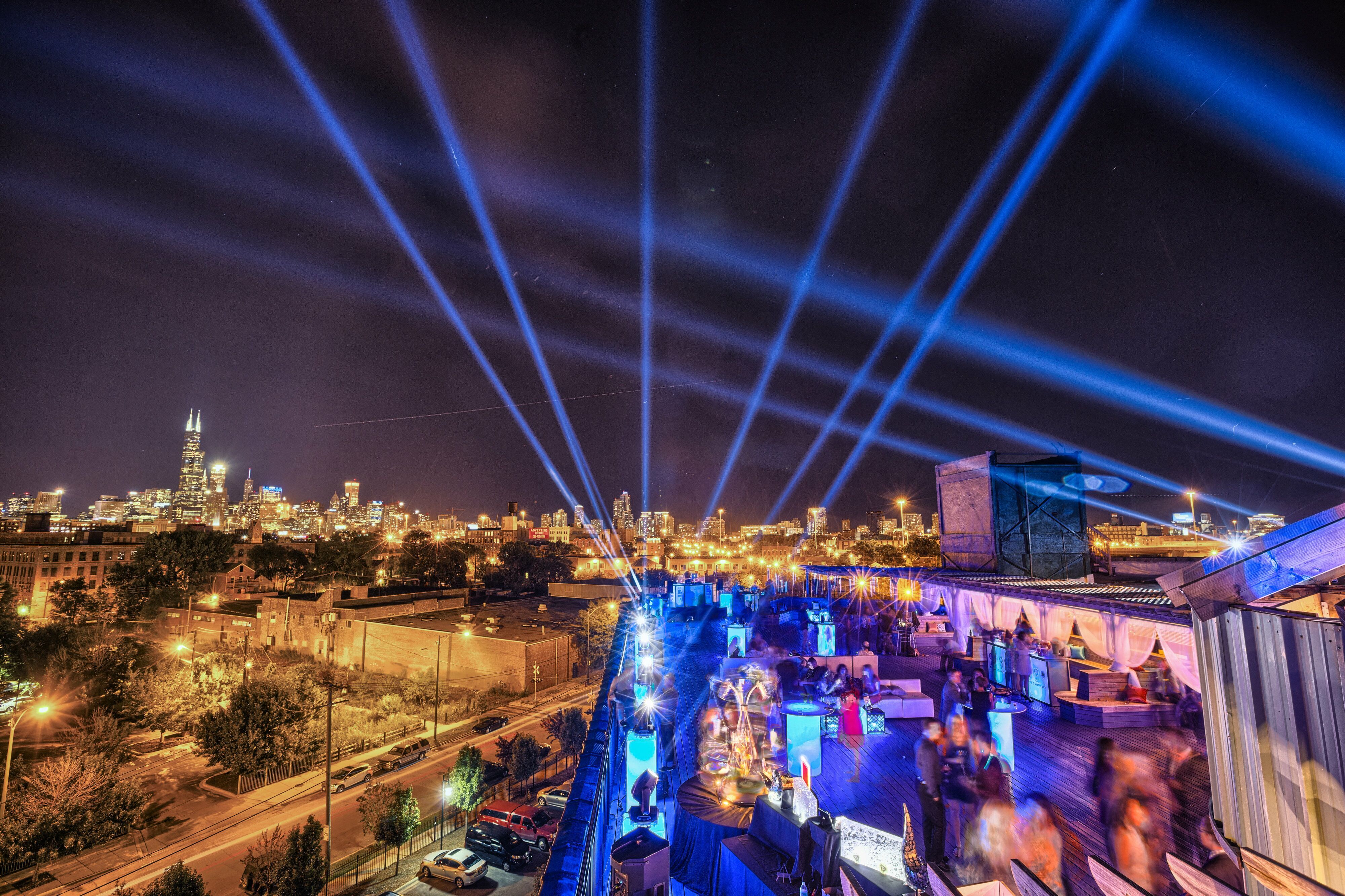 Lacuna Events by LM - The Skydeck, 2150 S. Canalport, Suite 2C-6
Experience the vibrant skyline of Chicago from The Skydeck of Lacuna Events by LM. This versatile location is one of the premier destinations for celebrating life's special moments. Located in Chicago's Pilsen neighborhood, this minimalistic space has a lot to offer including catering services and equipment setup and breakdown—all while giving off a fun and eclectic vibe.
Ideal for large gatherings and outdoor events, The Skydeck can host a capacity of up to 250 guests with its impressive 5,000 square foot space. Use this venue as a blank slate to bring any theme or vision for your celebration to life.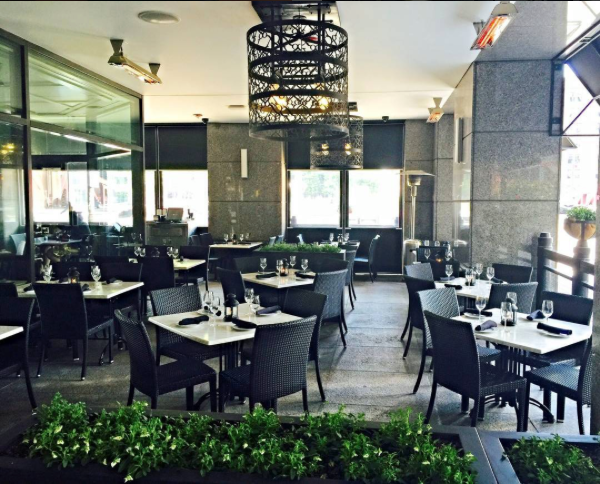 Prime & Provisions - The Outdoor Lounge + Terrace, 222 N LaSalle Street
Prime & Provisions is a contemporary outdoor lounge and terrace that is sophisticated and offers timeless glamour. Overlooking the Chicago River, this restaurant makes the perfect backdrop for small, private outdoor events or classy cocktail parties. Invite up to 75 guests to dine on a selection of premium steaks, seafood, and high end liquor during your next dinner party.
With built-in heaters throughout the space, Prime & Provisions can be booked for celebrations and events year round. Take advantage of the ability for a custom floor plan to create the perfect setting that will complement your event. Work with event staff and offered amenities including lighting systems, sound systems, and different furniture options to create a completely unique experience.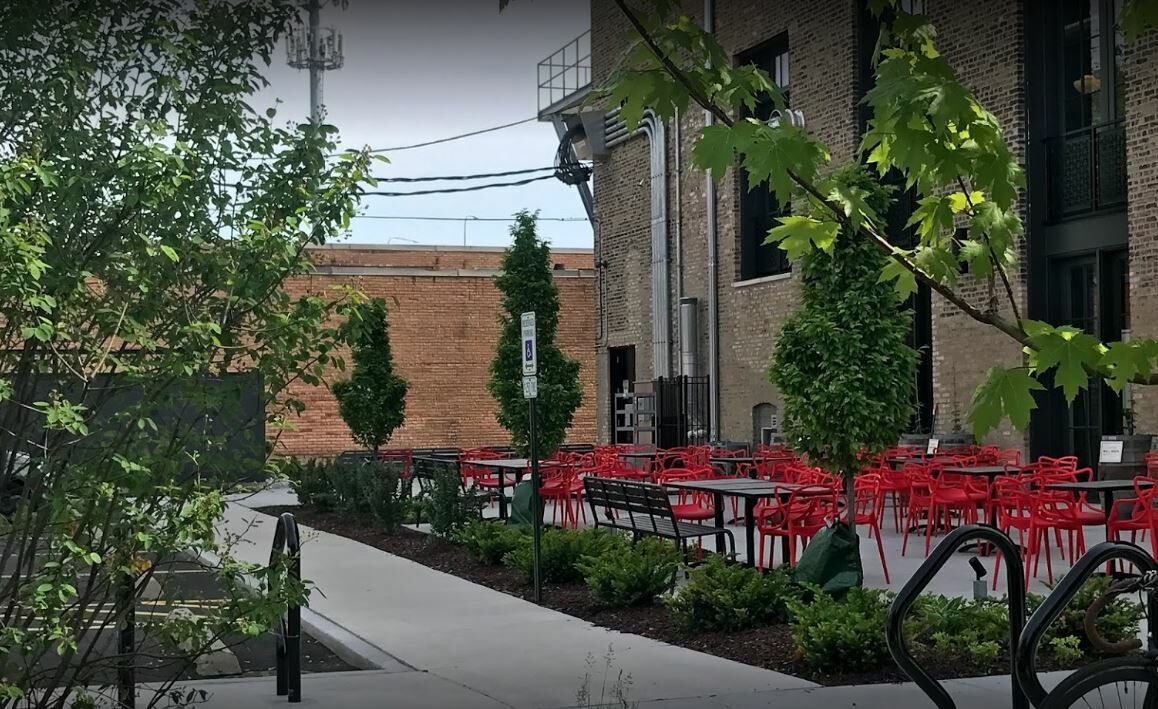 Eris Brewery & Cider House - Patio, 4240 W Irving Park Road
The rising popularity of breweries is not slowing down anytime soon, so if you're planning a casual get-together or outdoor celebration in the Chicago area, you need to check out Eris Brewery & Cider House. 
Eris Brewery & Cider House gives an elevated pub experience with innovative craft beers that all guests will enjoy. Rustic beer barrels line the exterior, accented with pops of color from the bright red outdoor furniture. Located next to an industrial building, the patio offers an open-air dining experience for up to 100 guests that makes the perfect space to mingle. Pair your beer with brewery favorite dishes including adult grilled cheeses, cauliflower wings, and Nashville hot sandwiches.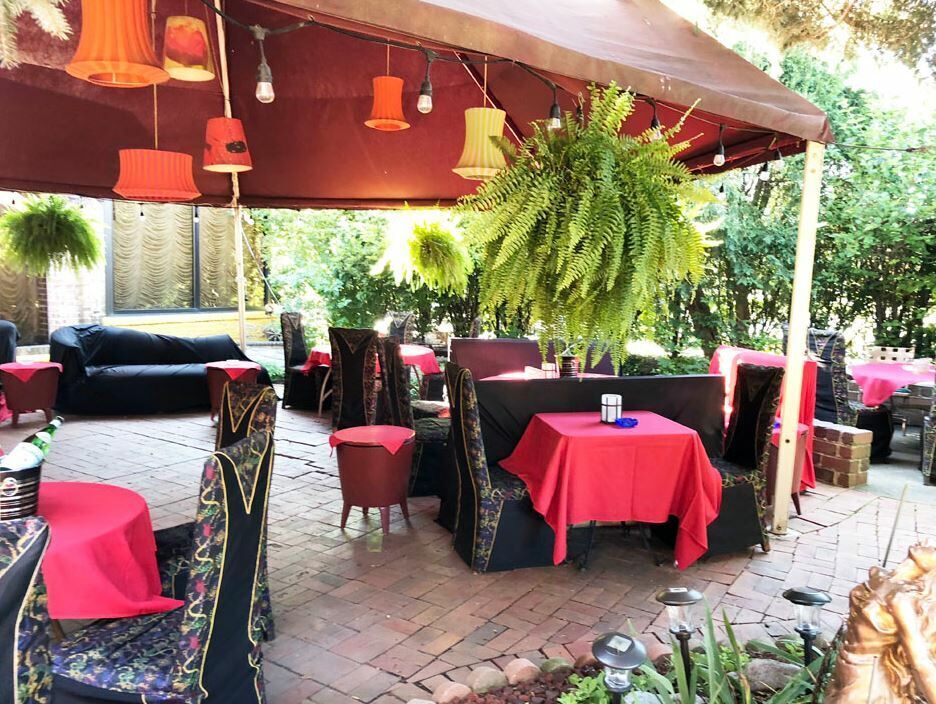 Zhivago Restaurant & Banquet - Patio, 9925 Gross Point Road, Skokie
A glamorous atmosphere does not even begin to describe the patio at Zhivago Restaurant & Banquet. Decorated with string lights, lush greenery, and pops of bright colors, you'll want to host your next outdoor event here. The small and intimate venue offers space for up to 50 guests, guaranteeing a luxurious and unique experience. In the event of inclement weather, the outdoor space can easily be covered with an outdoor tent.
The in-house culinary team offers food and beverage packages that will cater to different tastes and budgets, so you can get exactly what you want. Choose from special dishes including chicken kabobs, potato latkes, and caviar stations that are inspired by Eastern European Cuisine.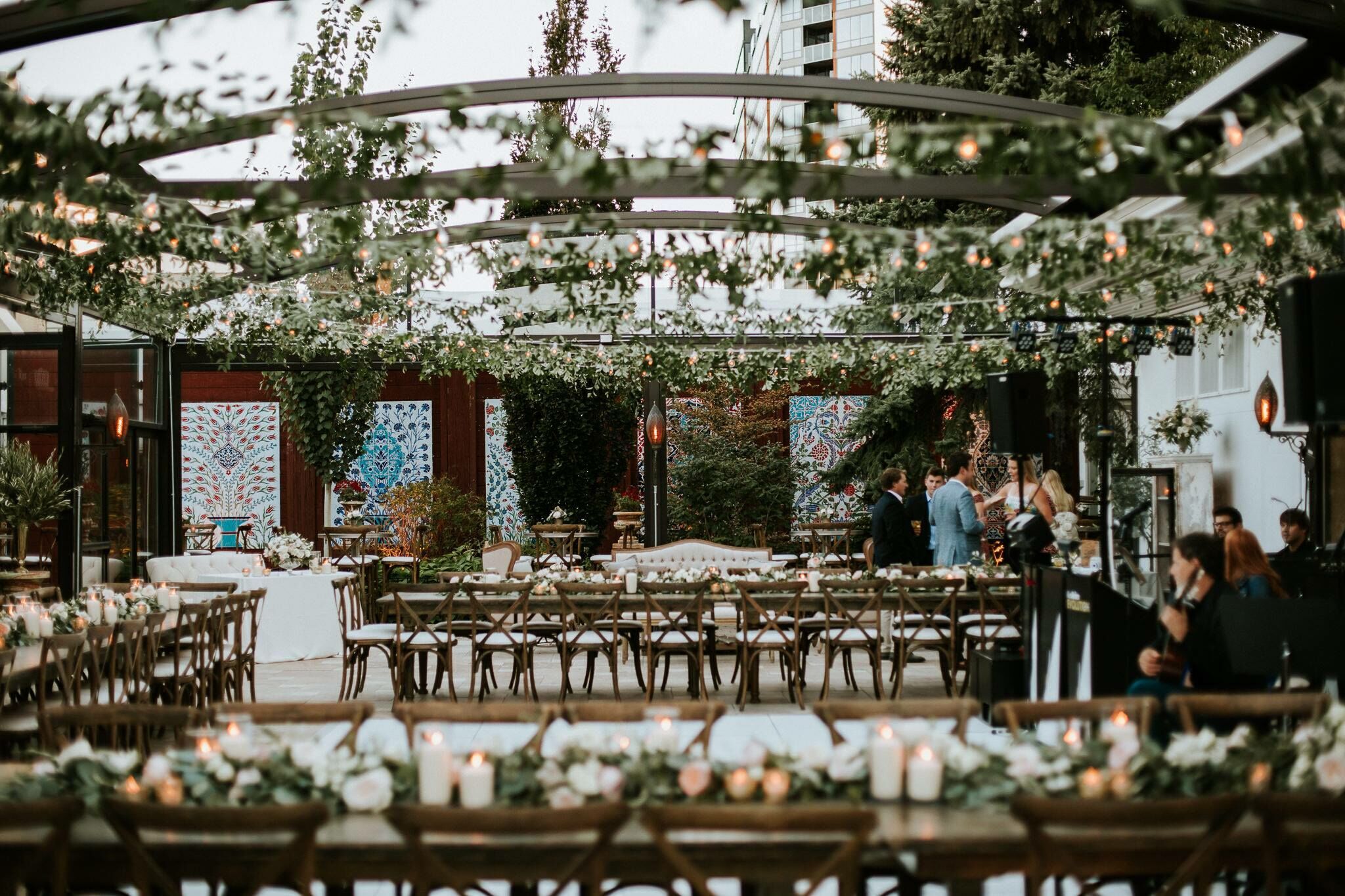 Galleria Marchetti - La Pergola, 825 W Erie Street
Ideal for larger events, La Pergola at Galleria Marchetti offers 4,500 square feet of space for up to 300 guests. This family-run venue offers a unique and elegant garden setting in the heart of The Windy City.
Enjoy the classic European architecture that adds to the beautiful setting suitable for any type of event. With amenities including a covered and open outdoor space, a stage, and sound system, La Marchetti also includes equipment setup and breakdown, beverage services, and delicious catering services. This restaurant offers a unique combination of elegance, sophistication, and a modern aesthetic you won't find anywhere else.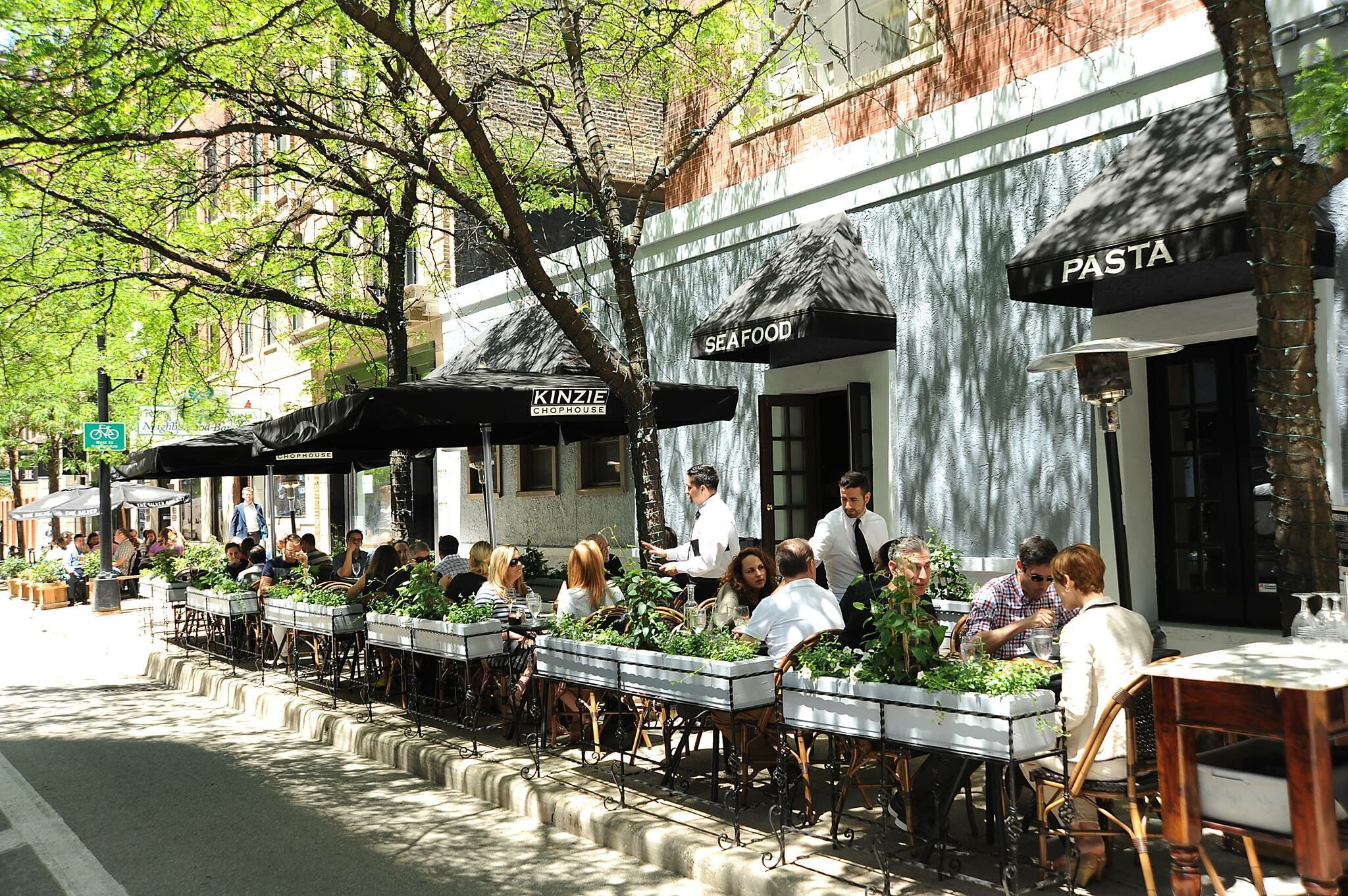 Kinzie Chophouse, 400 N Wells Street
The intimate outdoor patio at Kinzie Chophouse offers scenic views of the hustle and bustle of Chicago. Ideal for smaller cocktail style events, this well established steakhouse can accommodate up to 30 guests in its outdoor space. Take advantage of overhead awnings and large parasols during inclement weather to make the space available year round.
Enjoy the charming city setting during your next celebration while sipping on different draft beer, house brand liquor, and dining on the plethora of catering options available. This sophisticated venue offers cuisine ranging from New American to Middle Eastern delicacies, while offering dietary accommodations as well. The outdoor space is equipped with tables and chairs, an event manager, and event staffing to help make your event as stress free as possible!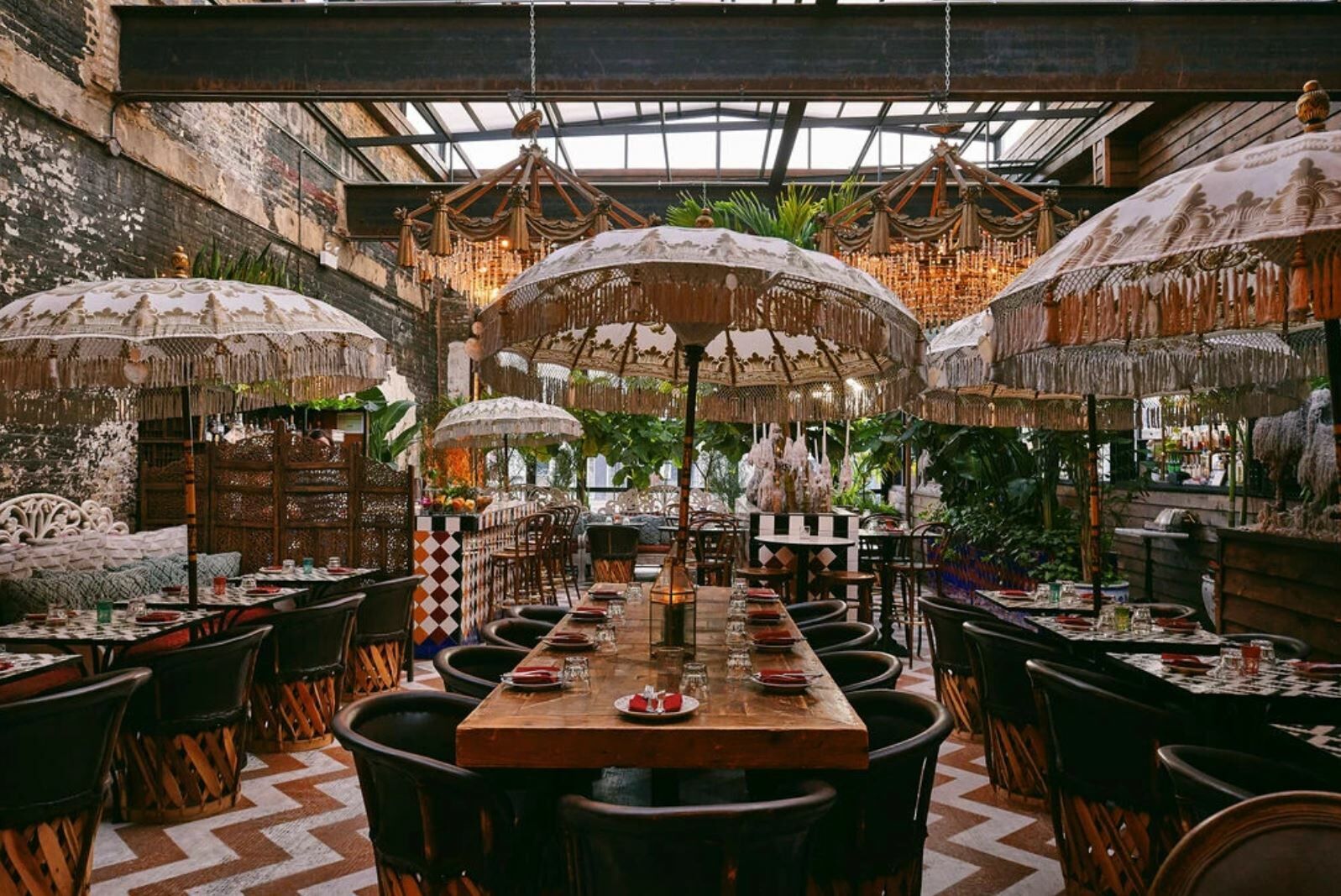 Beatnik West Town - The Courtyard, 1604 W Chicago Avenue
Bohemian and eclectic only begins to describe the unique aesthetic of Beatnik West Town. The courtyard is inspired by 1960s culture decorated with terracotta tiles, exposed brick walls, and a mix of accented greenery. Each table includes an umbrella to provide shade on sunny days as well as a retractable glass ceiling to be used during inclement weather.
Invite up to 80 guests to celebrate in the courtyard and dine on a range of Mediterranean, Asian, and Middle Eastern cuisine. Beatnik West Town also serves brunch for early parties which is ideal for birthdays, bachelorette parties, and baby showers.
Find more party venues in Chicago on The Bash.