10 Amazing Outdoor Wedding Venues in Los Angeles
Planning for your big day? You'll find everything you need with one of these amazing LA wedding venues.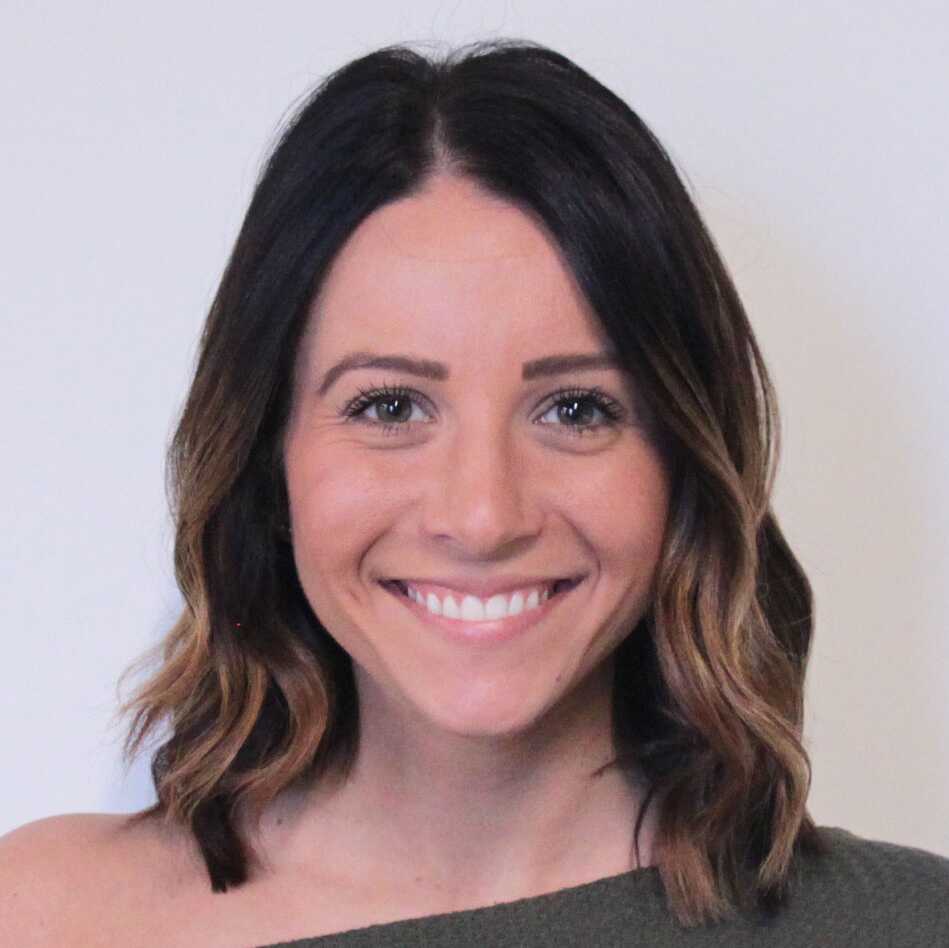 So you're tying the knot in LA, and have started what seems like the never ending list of wedding planning. Of course, the first thing that comes to mind is finding the perfect venue. From gardens to rooftops, backyards and patios—the possibilities are endless with outdoor wedding venues in Los Angeles. 
If you've decided that an outdoor space is what you want for the big day, you can check one thing off your wedding planning checklist when you visit some outdoor venues in Los Angeles to host your wedding ceremony and reception. Whether it's a historic landmark, has views of the Pacific Ocean, or is nestled in Southern California or Beverly HIlls, these gorgeous wedding venues will have everything you could want or need.
Here are 10 of the best outdoor wedding venues in the Los Angeles area.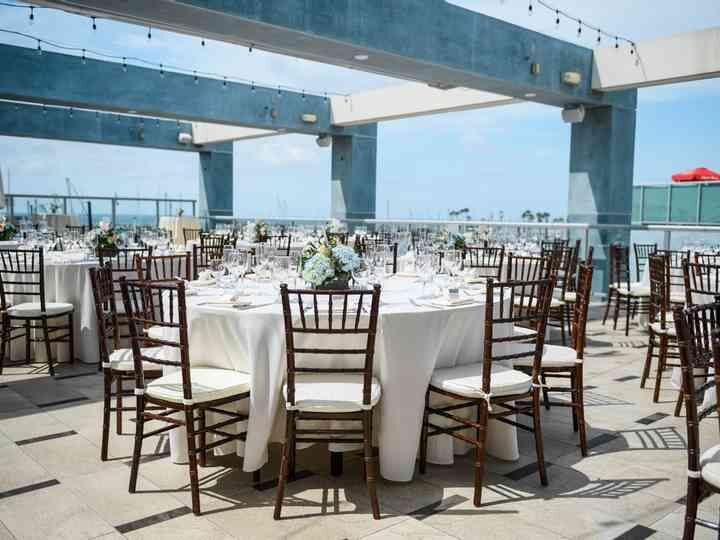 Shade Hotel - Sky Level, 655 N Harbor Drive, Redondo Beach
Right on the coast, outside the city of Los Angeles is the modern, chic Shade Hotel in Redondo Beach. Sky Level is the perfect outdoor wedding venue to host your special day! With breathtaking views of the ocean and Malibu skyline, the picturesque backgrounds for your special day will be unmatched. 
Spanning over 2,500 square feet, Sky Level is able to accommodate small and large weddings of up to 250 guests. The space features string lights, a fully stocked bar, amazing cuisine, top-of-the-line event staffing, and stylish furniture. This wedding venue is unique and versatile and can be adapted to suit any wedding style with different layouts and decor.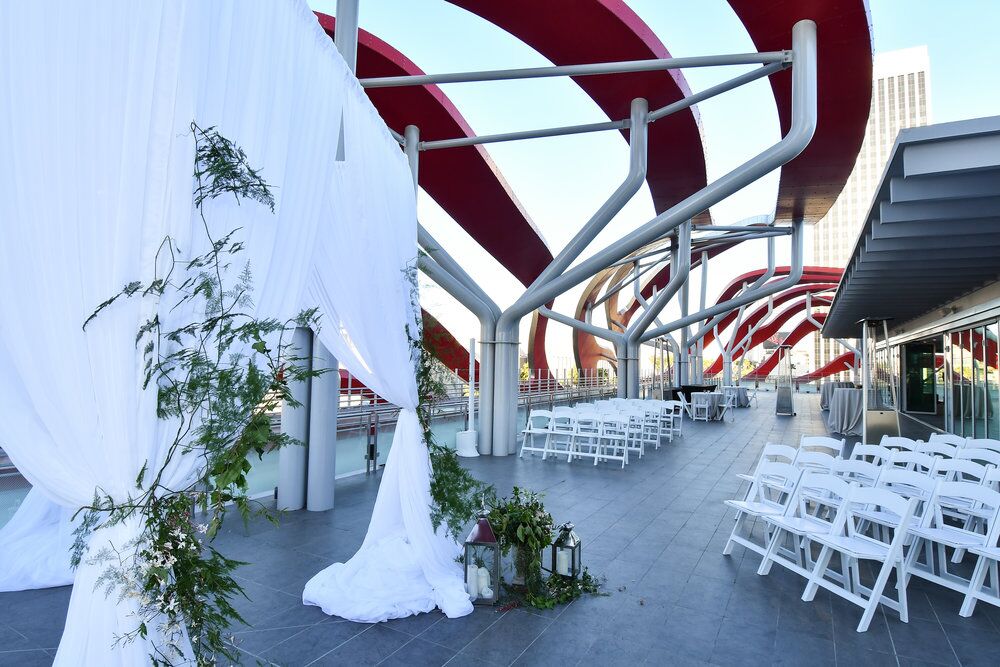 The Petersen Museum - Penthouse & Pavilion, 6060 Wilshire Boulevard, Los Angeles
The Petersen Museum is an automotive museum featuring 120 years of evolutions of vehicles and engineering achievements—and is also the home to the Penthouse & Pavilion, a contemporary outdoor rooftop. This area offers an open-air, stunning view of the Los Angeles skyline, and illuminating lights so it can be enjoyed at night time as well.  
The Penthouse & Pavilion is truly a one of a kind wedding venue that guests won't forget, from the metal and red art installments, modern decor, and the classic cars.  with the ability to host up to 300 guests. 
Rancho Los Cerritos Historic Site, 4600 Virginia Road, Long Beach
Located on the Rancho Los Cerritos Historic Site, is the beautiful outdoor space known as The Backyard. Based out of Long Beach, this beautiful, expansive lawn area features endless greenery, beautiful string lights, various decor and furniture rentals,  and an optional outdoor dance floor. The focal point of The Backyard is a 150-year-old Moreton Bay Fig Tree. 
Wedding guests will enjoy stunning views and garden pathways to explore the grounds. The Backyard is amazing for wedding receptions small or large, with the maximum capacity of 350 guests. As an outdoor wedding venue, it still has ample privacy as the space is lined with hedges and trees.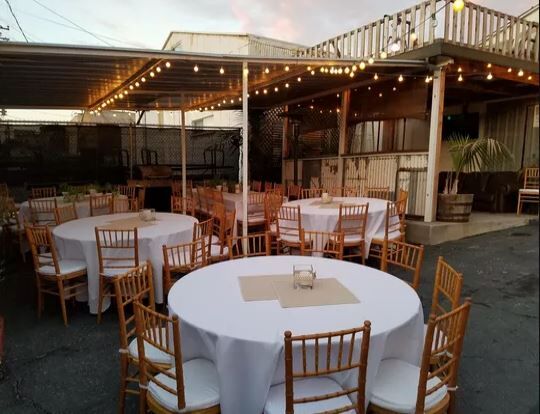 South Bay Customs, 115 Penn Street, El Segundo
South Bay Customs is a vintage American motorcycle shop, gallery, and special events venue located in El Segundo, California. This truly one-of-a-kind, alternative space is a unique option to choose as a wedding venue. South Bay Customs has an expansive indoor warehouse as well as a 1,500 square foot outdoor lounge. 
The outdoor event space at South Bay Customs includes a rustic and private area for guests to mingle during cocktail hours or table settings for sit down dinners. The patio is designed for intimate weddings of 75 guests or grand weddings of up to 250 guests. This venue also features comfortable furniture and a turn-key stage for live performances. If you're considering a wedding band, this venue is for you!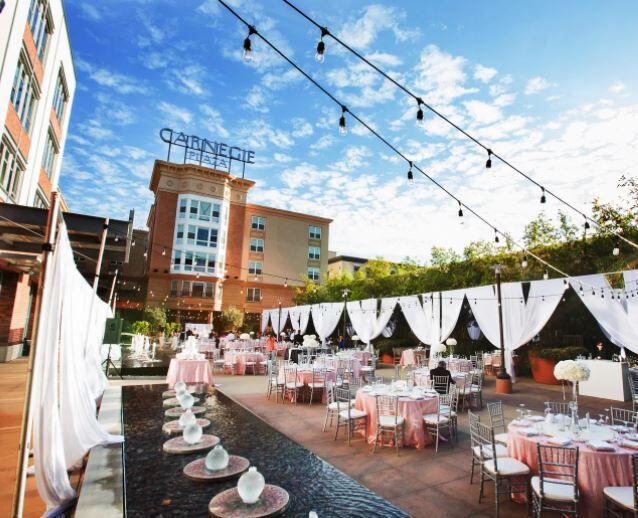 Muzeo Museum and Cultural Center Plaza, 241 S Anaheim Boulevard, Anaheim
Located just outside of LA, is the Muzeo Museum and Cultural Center that also serves as an event venue for weddings. One of its highly requested spots is the Carnegie Plaza & Courtyard that spans over 4,780 square feet.  The Plaza features tranquil waterscapes, palms trees, olive trees, a variety shrubs, and bamboo lining. Market lights are strung throughout the courtyard and plaza, allowing it to be transformed from a day to night outdoor wedding venue. The Plaza is for larger weddings accommodating 250 to 400 guests.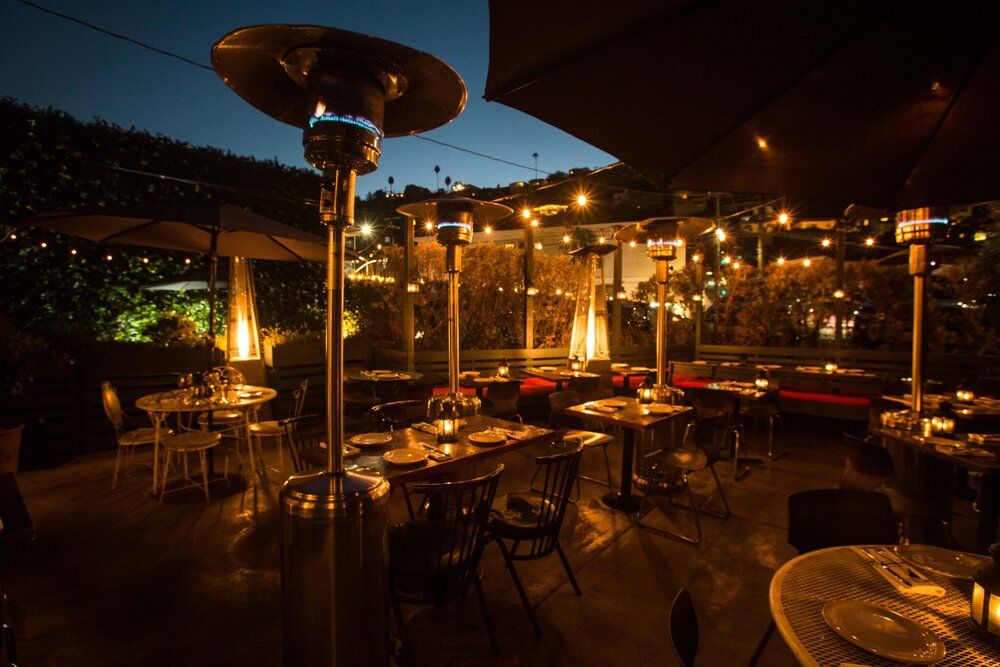 Barbrix, 2442 Hyperion Ave, Los Angeles
If you're looking for a unique space with home-away-from-home vibes, then Barbrix, a restaurant set in a 1940s era house, is the wedding venue for you. With a fluid space, and both outdoor and indoor options, it gives guests the ability to mingle throughout with exclusive access to the restaurant.  
The patio is the gem that most brides and grooms are drawn to. With bistro lights strung above, a view of Silver Lake hills, and friendly hospitality, this wedding venue is characterized as cozy and inviting. Barbrix is fully equipped with heaters so that the space can be used year round.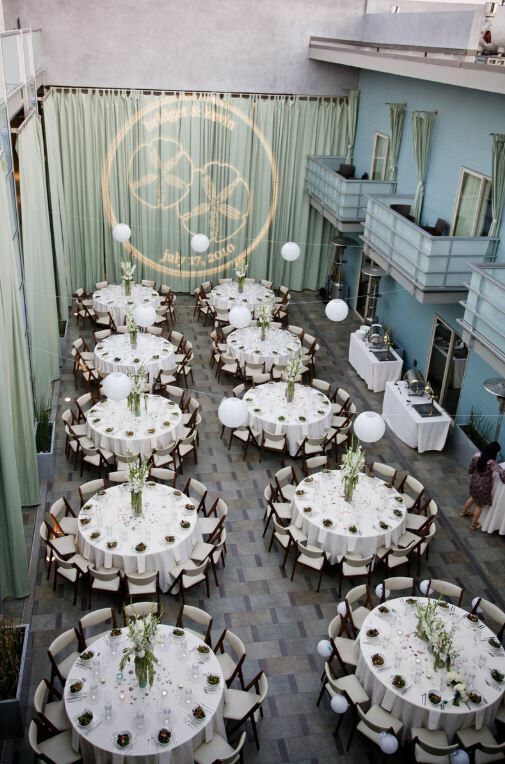 Shade Hotel - The Courtyard, 1221 N. Valley Drive, Manhattan Beach
Is your wedding style modern and chic? The Shade Hotel Courtyard is exactly what you'll want in a wedding venue. This special events venue is located in Manhattan Beach, right outside of LA. It has upscale equipment, top of the line amenities, and is equipped with a professional event team to ensure your big day goes off without a hitch.  
The Courtyard is an open-air outdoor wedding space that has an aesthetic blending contemporary and beach features, and is situated within the hotel. It can host up to 120 guests for seated functions and 150 guests for cocktail receptions. All catering is provided in house.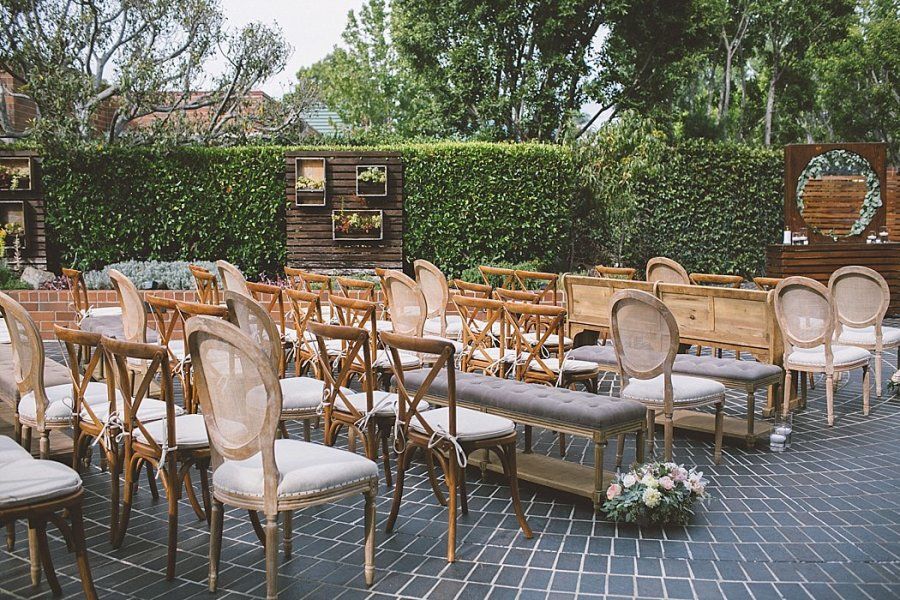 Tiato Kitchen Venue - Outdoor, 2700 Colorado Avenue, Santa Monica
Have you always dreamed of getting married in a romantic garden setting? Tiato Kitchen and Garden Venue has exactly what you're looking for for your special day. Featuring the largest outdoor dining space in Santa Monica, Tiato is fully equipped to make your wedding the most memorable day of your life.  
The Garden is surrounded by greenery featuring herbs and citrus plants that are also used to infuse the cocktails and cuisine that you and your guests will enjoy on the big day. The Garden features a large tent-like awning, beautiful string lights, and can seat up to 350 guests. The onsite event team has tons of experience executing weddings, and will ensure that your dream wedding vision comes to life. 
Lakeside Restaurant & Lounge, 16817 Ventura Boulevard, Encino
The private garden at Lakeside Restaurant & Lounge is the ultimate romantic and inviting outdoor wedding space. Located right in Encino, the garden is an exclusive setting that is suitable for small weddings and offers full brunch, lunch, and dinner options for events. 
The garden is enclosed by wrought iron fences making it completely  secluded from the rest of the venue and restaurant. This open air space features massive trees sprinkled throughout the garden offering shade on hotter days. The private garden at Lakeside Restaurant & Lounge has romantic string lights, and table decor options such as flower centerpieces and custom linens that will ensure your wedding is everything you envisioned.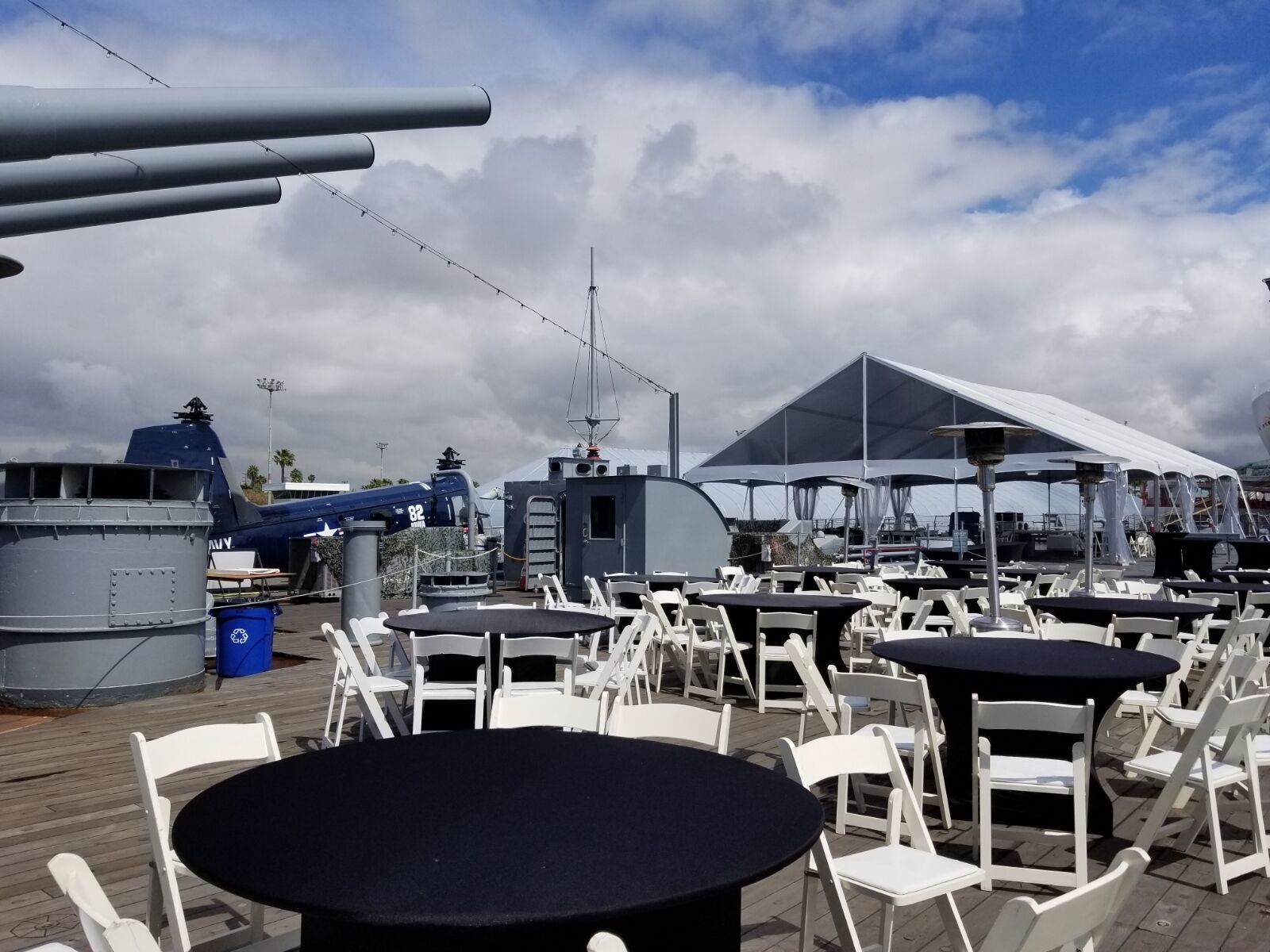 Battleship Iowa Museum - Fantail, 250 S. Harbor Boulevard, Los Angeles
Imagine tying the knot on a historic naval vessel making your wedding truly unique. The Battleship IOWA Museum, located in San Pedro, California makes that dream a reality as you can rent the Fantail space on the ship exclusively for your special day. With 360-degree views of the Los Angeles harbor and the ability to host anywhere from 800 to 1,500 guests, the Battleship is without a doubt, a grand outdoor wedding venue that is one-of-a-kind.  
The Fantail deck has various layout options to accommodate wedding ceremonies, cocktail hours, a dance floor, bars, catering stations and seated receptions. Wedding guests can also explore other parts of the ship and museum making it an interactive experience. Battleship IOWA has onsite event security, photographers, and an event staff to assist with the execution of your special day. 
Find more wedding and outdoor venues on The Bash.