Back to profile
Jeff Herbert Bagpipes, Guitar, Vocals Reviews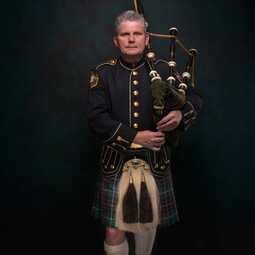 Avg 5.0 | 101 Reviews

Bagpiper from Rockville, MD

174 Verified Bookings
Starting at $300 per event
---
101 Reviews for Jeff Herbert Bagpipes, Guitar, Vocals
Sort:
Funeral•Reviewed on August 18, 2023•From Arlington, VA
Jeff was amazing everything we hope he would be and more. My only regret is not having enough time to have my photo taken with him. JAA
Funeral•Reviewed on May 19, 2023•From Arlington, VA
Excellent! Jeff positioned himself with the wind carrying his song and pipes up the hill perfectly. Jeff honored our Father with GARYOWEN.
Saint Patrick's Day Party•Reviewed on March 15, 2023•From Washington, DC
Perfect way to welcome our guests. Beautiful music played outdoors despite the old and wind'
Memorial Service•Reviewed on February 19, 2023•From Alexandria, VA
I was personally unable to attend my brothers memorial service. However I was informed by family that his appearance there was exactly what was needed. Jeff was very flexible and knew just the right music to play. My brother made sure to tell me how perfect it was and that out of a score of 5, his was a 10!!! I'm very grateful to have been able to find Jeff to play at this important moment in the lives of my brothers mourning loved ones. My request had been to play something to send my brother to the other side. Jeff went way above and beyond and I could not be happier!!! Thank You Very Much. --NATE-- :-)
Valentine's Day Party•Reviewed on February 14, 2023•From McLean, VA
Jeff was prompt professional and engaging with our group. He provided a wonderful addition to a couples gathering for Valentines day! Highly recommend
Funeral•Reviewed on December 10, 2022•From Westminster, MD
Jeff was exceptional. First class and extremely professional. Highly recommend. Thank you Jeff. The Bash process was also very good providing qualified, trusted, professionals.
Wedding Ceremony•Reviewed on November 5, 2022•From Leesburg, VA
Absolutely wonderful to work with, extremely talented. From bagpipes to guitar, his music made a great day, perfect. We cant thank or reccomend him enough.
Funeral•Reviewed on November 4, 2022•From Germantown, MD
Jeff is very talented & was a perfectly lovely & meaningful addition to the graveside service for my grandfather- he has an easing presence, open & kind, he dealt flexibly with a few timing hiccups as the ceremony began. He was very kind & accommodating & SUPER TALENTED, very impressive & my family & I highly recommend his services- especially if your loved one is resting at All Souls Cemetery in Germantown MD.
Funeral•Reviewed on September 12, 2022•From Arlington, VA
I would think I'm not alone in that I had never planned a ceremony at Arlington previous to my dad's recent funeral. Lucky for me, Jeff has a good deal of experience with the ANC ceremony and knew much more than I did about when he should play. He made a suggestion that I would not have considered and which I am so very thankful that he did. He was so accommodating and professional, and his bagpipes were hauntingly beautiful, just as we hoped. I cannot say enough great things about Jeff!
Club Event•Reviewed on September 2, 2022•From Davidsonville, MD
Was very friendly and professional. He arrived on time. Played great music and added a great touch of the Marine Corps Hymn.
Event•Reviewed on August 21, 2022•From Towson, MD
Professional , works well with client to meet expected outcomes for your event. Highly recommended.
Funeral•Reviewed on April 27, 2022•From College Park, MD
Funeral•Reviewed on April 2, 2022•From Silver Spring, MD
Jeff Herbert is an extremely talented musician and vocalist! He is very accommodating and a true professional in every sense of the word. Our event was enhanced by his performance. Very versatile player on different instruments. Would unequivocally recommend his services to anyone who is interested.
Funeral•Reviewed on March 11, 2022•From Frederick, MD
Jeff responded to a request that had zero notice and subsequently afforded him no time to prepare for what was an emotional and personal event. (a baby's funeral). He was empathetic, and was accommodating to the short notice and the confusion that accompanied the changing details of the even involving time, location, etc. As my side of the family (my niece was the mother of the child that passed) is first generation American (from Ireland) she requested at the last minute to have certain "old country traditions" (the bagpiper among them) being done. I am forever grateful that I lucked into Jeff responding to the request that I placed on your site. Thank you
Celebration•Reviewed on October 16, 2021•From Germantown, MD
Jeff was awesome!! Very easy going and did a fabulous job with my party! Great musician!
Funeral•Reviewed on October 9, 2021•From Washington, DC
Jeff was superb! His piping brought inspiration and comfort to all. There was a special request from The Family that "The Parting Glass" be sung by a personal friend as part of Funeral. We were especially appreciative that Jeff took the time to coordinate with the friend and provide a very memorable presentation of the song. The dual instruments with Jeff's piping as he took his leave of the group (much like the words of the song) was especially poignant and perfect for the moment
Rehearsal Dinner•Reviewed on September 16, 2021•From Alexandria, VA
Jeff made my sons rehearsal dinner perfect. Due to timing and it was raining outside we weren't able to have Jeff greet the guest as a whole. And it was his suggestion that he stay outside in the rain and welcome the guest as they arrived and then send them upstairs. Which I thought was really quite lovely of him. Once inside he played played continually played well and when I walked by him asked if everything was OK was he too loud could I hear him etc. So yes I would highly recommend him one for His talent and another for his being a true professional musician.
Funeral•Reviewed on June 15, 2021•From Bowie, MD
Jeff is a lovely person. Everyone was very impressed by the bagpiper. His talent is a gift and I am grateful he was able to play at my mom's funeral.
Funeral•Reviewed on May 14, 2021•From Arlington, VA
Wedding•Reviewed on April 11, 2021•From Frederick, MD
Jeff Herbert was wonderful to work with every step of the way. He is very talented and was a lovely surprise at my sister's Celtic wedding. He had the whole congregation in tears! I highly recommend him as an artist to anyone in the area!
Birthday Party (Adult)•Reviewed on August 18, 2020•From Bristow, VA
I am so thankful for Jeff! He did an amazing job and brought my Mom to tears on her special day. He was prompt with communicating once we booked and leading up to our event. I highly recommend booking with him! Thanks again Jeff!!
Birthday Party (Adult)•Reviewed on August 14, 2020•From Manassas, VA
We had a great experience with Jeff. He responded quickly to all my emails and delivered as promised. I wouldn't hesitate to request his services again in the future. He's really good!
Funeral•Reviewed on April 29, 2020•From Damascus, MD
We contacted Jeff Herbert about playing the bagpipes at a funeral. He was professional and did a great job the day of the service. We really appreciated his flexibility and compassion. He answered all our questions, waited for us to sort things out with the Church, and then calmly worked with us during these strange Covid times. Moreover, what was really amazing was the sense of presence and honor he brought to the day. Jeff was not "showy"-- he was reverent and dignified. It was a moving experience for all of us at the service...even those who were virtually participating. Thank you Jeff for making an unbearable day a little easier.
Funeral•Reviewed on February 1, 2020•From Arlington, VA
Funeral•Reviewed on January 6, 2020•From Rockville, MD
Jeff was great to work with. He played at my father in law's funeral and his respect and professionalism were exemplary. Highly recommend.