Back to profile
Yuliya Bellydancer FireDancer SnakeDancer Showgirl Reviews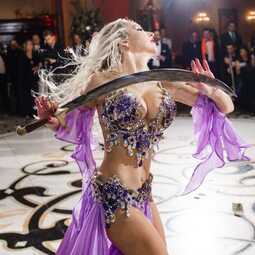 Avg 5.0 | 202 Reviews

Belly Dancer from New Milford, NJ

356 Verified Bookings
Starting at $300 per event
---
202 Reviews for Yuliya Bellydancer FireDancer SnakeDancer Showgirl
Birthday Party (Adult)•Reviewed on March 19, 2011•From Garden City, NY
Yuliya made the day and the difference in Gabe's birthday bash. She is incredibly talented, very professional and her abilities in portraying the belly dance concept was captivating. She is very expressive and captured the attention of the audience. She, not only danced very well, but she also made the audience part of the belly dance experience. My guests were very much impressed with her talents, charms, professionalism but most of all she made a big impact and impression on the birthday celebrant. It made his day!! Thank you Yuliya for making our party unique and fun because of your exquisite performance.
Bachelorette Party•Reviewed on April 2, 2011•From Atlantic City, NJ
Great experience!!! This is the first time going through Gigmasters and they did not disappoint from beginning to end!!! Yuylia was helpful and enthusiastic from our first conversation to the culmination of her performance. Would recommend her highly! Extremely talented, on time and prepared and professional!!! THANK YOU, THANK YOU!!!!!
Birthday Party (Adult)•Reviewed on January 29, 2012•From Whitestone, NY
Was very professional was the highlight of my party . Had everyone up and dancing overall talent was amazing as well . Would deffently recommend Yuliya too anyone was very statisfied .
Birthday Party (Adult)•Reviewed on April 14, 2011•From Paterson, NJ
I had Yuliya do a performance for a birthday party, and everyone enjoyed her performance. Yuliya had done a great job with getting the guests to participate and enjoy their time with her. I would recommend Yuliya to anyone looking to have a great party/event. If you want a boring dancer who is not fun, and does not dance amazing then Yuliya is not for you.
Bachelorette Party•Reviewed on April 23, 2011•From Jamaica, NY
She was amazing! Everybody loved her performance especially the bride to be. She was interactive with the guests and very enthusiastic. At the end of her performance all my guests were asking for her information. I would definitely recommend her to someone else.
Engagement Party•Reviewed on November 5, 2011•From North Brunswick, NJ
Bridal Shower•Reviewed on October 30, 2011•From Edgewater, NJ
Birthday Party (Adult)•Reviewed on April 16, 2011•From Bronx, NY
There is not enough that i can say about Yuliya. She was excellent, very professional. She put on a great show as well as making everyone a part of it. She even had my mom dancing and having a great time. My nieces loved watching her dance. She was wonderful with the kids making them part of it as well. I will 100% contact her again. And have told all my friends about her.
Birthday Party (Adult)•Reviewed on May 8, 2011•From Newark, NJ
Yuliya has a fun positive spirit. The minute she showed up I knew we were in good hands and could expect a eonderful show! "Wow" is one word to describe her show! Everyone was impressed and amazed at the props she used!! I would recommed her 100%!!!!!
Christening•Reviewed on May 7, 2011•From Bronx, NY
Yuliya was a Terrific performer! We love her and so did everyone else. I would have entertain all me parties. Thanks Yuliya!!!
Bachelorette Party•Reviewed on May 29, 2011•From Mountainside, NJ
She is great! All the peoplea at my party had good comments about her and we all loved her performance. I would highly recommend Yuliya fpr any event. We are planning to hire her for our next party
Christening•Reviewed on June 11, 2011•From Brooklyn, NY
Yuliya was very professional, talented, energetic, warm, and sweet. Her performance was a beautiful highlight to our son's baptismal party.
Wedding Reception•Reviewed on June 3, 2011•From Providence, RI
Yulia was amazing! The poor girl blew a tire on the way to my reception and although shook up she still came out and perform like she was having the best day of her life! The men at my wedding loved her!! Lol! Nothing beats when she got my husband on the dance floor! People are still talking about it....... Just great, And my 4 year old niece wants to dance just like her. Everyone loved the entertainment and I would sooooo hire her again.
Father's Day Party•Reviewed on June 20, 2011•From Elizabeth, NJ
Yuliya is very talented performer, all resident, family member & staff can't stop talking about her. Resident stated that this is the BEST FATHERS DAY EVER!
Sweet 16 Party•Reviewed on June 24, 2011•From Howard Beach, NY
Couldn't ask for a better belly dancer for my daughter's sweet sixteen. The guests all loved her performance. Yuliya always returned my calls promptly and was very accomodating and curtious. Would definitely recommend her!
Birthday Party (Adult)•Reviewed on June 25, 2011•From East Orange, NJ
Yuliya was absolutely WONDERFUL!!!! I would highly recommend her to friends, family and anyone who is looking for great entertainment at their party!!! She was not only friendly and beautiful she engaged with the adults as well with children. I was happy that I found her and my husband loved his surprise!!!! Thanks Yuliya you were a hit!!!
Birthday Party (Adult)•Reviewed on July 2, 2011•From Staten Island, NY
Yuliya was very professional, beautiful and talented. Our whole party enjoyed her performance and Yuliya made sure to get everyone up to dance. She was very accommodating and stayed to take photos with everyone too! I highly recommend her for any event =)
Wedding Reception•Reviewed on June 25, 2011•From Union, NJ
Yuliya was great and such a sweetheart- she really made my wedding an event to be remembered.
Birthday Party (Adult)•Reviewed on July 8, 2011•From New Rochelle, NY
Yuliya was the hit of my husband's 50th Birthday party. My husband and my guess Love her so much that they said we need To get her again. Yuliya, thank you so much For making my husband's day so special.
Banquet•Reviewed on July 10, 2011•From Bronx, NY
Dear All, We hired Yuliya for our summer family banquet. She was wonderfull and amazing!!! Her skills and professionalism left all my guests highly impressed and eager to watch her for the whole night. The young, teens, midled age and elderly people all enyoyed her artistic prefornance. If you contract her services, you will have an unforgettable experience.:-)
Nursing Home Event•Reviewed on July 8, 2011•From Stamford, CT
Yuliya is very personable, respectful, professional, and looks adorable in her costume. I woulod certainly user her again if the need arise and I would refer her to my friends. Her performance was excellent and exactly what I needed for the completion of my party. I was satisfied
Birthday Party (Adult)•Reviewed on July 23, 2011•From Mohegan Lake, NY
Highly recommend Yuliya, you will NOT be disappointed. Extremely talented young lady and a crowd pleaser! Would higher her again and recommend to friends.
Birthday Party (Adult)•Reviewed on August 27, 2011•From Elizabeth, NJ
Because of the hurricane Irene we had to cancel our event. :( nonetheless Yuliya was always available to answer questions and responded immediately the communication was great. I am dying to have another event to see her perform. At cancellation time i told them i wasnt expecting my deposit back which they returned anyway and was greatly appreciated..
Birthday Party (Adult)•Reviewed on July 30, 2011•From Garfield, NJ
we had a lot of fan and it was a highlight of the evening
Event•Reviewed on September 10, 2011•From New York City, NY
Yuliya is amazing, we had her performing for our Arabian Nigth club event and she was defenetly better than expected. Yuliya as a great personality that complete her talent, she really loves what she does and you can really tell just by looking at her, i hihgly recomand Yuliya , and guaranty that she will have your party be a great succes ...