Back to profile
Yuliya Bellydancer FireDancer SnakeDancer Showgirl Reviews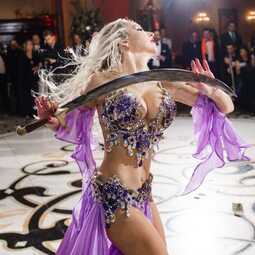 Avg 5.0 | 202 Reviews

Belly Dancer from New Milford, NJ

356 Verified Bookings
Starting at $300 per event
---
202 Reviews for Yuliya Bellydancer FireDancer SnakeDancer Showgirl
Birthday Party (Adult)•Reviewed on April 3, 2010•From New Milford, NJ
I had the honor to vote for the first 5 red stars!What an excellend dancer, what a great performance!What can be said about Yuliya other then WOW! She is gorgeous and has the personality to match. Yuliya performed at my party and everyone in attendance loved her as Yuliya was the surprise entertainment. Yuliya looked stunning, and her performance was spectacular!! Yuliya interacted with all the guests and truly made my husband's party amazing. I highly recommend Yuliya to perform at your event. I look forward to hiring this wonderfull dancer for another event. Thanks again Yuliya -you made it a night we all will never forget!!!!!!!!
Bar Mitzvah•Reviewed on April 23, 2010•From Livingston, NJ
Dear Yuliya,Thank you for the show last night. I couldn't make a better pick then you,you were incredible,fun and entertaining !I enjoyed dancing with you. We will rember this for many years to come!!!You are beautiful !God bless you!
Birthday Party (Adult)•Reviewed on April 16, 2010•From Flanders, NJ
This was an awesome Bellydance performance. It is a 10 star rating. Everything went smoothly, the dancing was absolutely beautiful. I have been getting phone calls all day from my guests telling me what a great time they had at my party and that the "Belly Dancer" I hired was spectacular. Yuliya truly made my event a memorable one. Thank you sooooo much!
Wedding Reception•Reviewed on July 30, 2010•From Philadelphia, PA
I would recommend Yuliya to anyone that is looking for a belly dancer she was a great part of our wedding (Licole & Tyrick )
Sweet 16 Party•Reviewed on June 19, 2010•From Bronx, NY
Wedding Reception•Reviewed on June 26, 2010•From Laval, QC
amazing, many friends asked me for her number to book her at their events.
Birthday Party (Adult)•Reviewed on July 9, 2010•From Scranton, PA
Yuliya was wonderful! Very talented and responsive to the crowd! Everyone at the birthday party truly enjoyed the performance!
Birthday Party (Kids)•Reviewed on May 30, 2010•From New York City, NY
Yuliya was the best choice for our friend's 40th's birthday party and the party was a great success! Yuliya and her dance both were beautiful and everyone was really impressed. She customized her dance to all ages: Kid, young and older adults. She also got everyone involved in her performance which made it even more fun! Definitely in the future we would like her back to do a bigger performance for us!
Birthday Party (Adult)•Reviewed on June 12, 2010•From Flushing, NY
Yuliya is a very talented young lady that was very accommodating to our requests. Her costumes were beautiful and the audience enjoyed her a lot.
Birthday Party (Adult)•Reviewed on August 14, 2010•From Somerset, NJ
Yuliya was very nice and full of energy. She even stayed and took some pictures with me and others at the event. I would highly recommend her for entertainment.
Birthday Party (Adult)•Reviewed on August 27, 2010•From Wilkes Barre, PA
Yuliya came and danced for my boyfriends surprise party and she was amazing! Everyone was so excited and and had a really great time! I want to have another event just so I can hire her! Haha. Yuliya, thanks so much for coming and sharing your talent and passion with us!!
Birthday Party (Adult)•Reviewed on August 28, 2010•From Southington, CT
Dinner Dance•Reviewed on September 26, 2010•From Staten Island, NY
Yuliya put on an amazing performance for my engagement party. She got everyone to dace, everyone was amazed by her sword balancing. Over all I would have her do more parties for me. She was amazing and my whole party was too! Thank you Yuliya <3
Birthday Party (Adult)•Reviewed on October 30, 2010•From Bridgewater, NJ
We booked Yuliya for a 40th birthday party and she did an excellent job. Both her performance and ambience during the showing were great, and would recommend her highly.
Birthday Party (Adult)•Reviewed on November 6, 2010•From Paterson, NJ
Birthday Party (Adult)•Reviewed on November 13, 2010•From Bronx, NY
I booked "Yuliya" for a 30th birthday party. She was very professional, friendly, and entertaining. My guest list was diverse in age and culture. Everyone enjoyed her performance. Especially, the "hip-trick" move that still has everyone talking. Thank you, Yuliya for helping create an event that was full of energy and smiles. You really helped me execute my vision for the party. If you are looking for a bellydancer, Yuliya is the dancer for your next event!!!
Wedding Reception•Reviewed on December 12, 2010•From Garfield, NJ
Thank you so much for being a part of our Wedding!We all had a blast and our guest did as well. You are an amazing dancer and very professional.Thank you again for taking a part of our special day.
Cocktail Party•Reviewed on December 31, 2010•From Holmdel, NJ
Amazing soul and excellent talent. Really knows how to get even the most shy guest involved and participating passionately would recommend highly
Birthday Party (Adult)•Reviewed on December 11, 2010•From New York City, NY
We were very pleased with Yuliya to the point that I would hire her again for other events. I was a amazing performance. She was very engaging. My daughter loved her. It was the best birthday present of the night. I would recommend her to anyone she is a complete sweetheart!
Birthday Party (Adult)•Reviewed on January 29, 2011•From Fairview, NJ
She and her personality are beautiful...all my guests loved her, especially the men. I highly recommend her!
Anniversary Party•Reviewed on July 2, 2011•From Newark, NJ
you was very nice. see you next event.thanks
Birthday Party (Adult)•Reviewed on February 26, 2011•From Linden, NJ
Yuliya was great, my husband and I were very pleased as well as our guests, and I WOULD NOT hesitate to recommend her to anyone. She truly was the high-light of the party.
Birthday Party (Adult)•Reviewed on March 5, 2011•From Garden City, NY
Yuliya was an excellent bellydance & very professional, my husband was in chocked so happy that he still thanks me for Yuliya, & all the gests do not stop to talk about it, they thank me for very special moment that was the best of the party. My friends & I would hire Yulila again.
Private Party•Reviewed on March 4, 2011•From New York City, NY
Yuliya is a professional!!! It was a complete pleasure dealing with her since the initail phone call, the show was excellent all my guests enjoyed her performance greatly. I am definetely recomending her to all my friends. Thanks Yuliya for making our boss Birthday an unforgetable event!!!!!
Birthday Party (Adult)•Reviewed on March 13, 2011•From Philadelphia, PA
She was very professional and really put on a show that everyone young and old enjoyed very much. aWESOME JOB!!!