Back to profile
Allen Tolbert Unit Reviews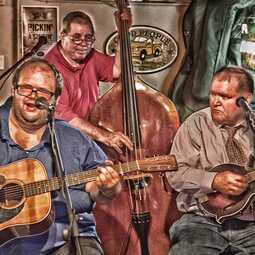 Avg 5.0 | 57 Reviews

Bluegrass Band from Birmingham, AL

74 Verified Bookings
---
57 Reviews for Allen Tolbert Unit
Festival•Reviewed on October 29, 2022•From Hartselle, AL
The Allen Tolbert Band came to our church Fall Festival and exceeded every expectation! They are indeed a wonderful group of people! They entertained us all night in a friendly and professional manner! They accompanied every request and communicated back and forth promptly! I 100% recommend it, and we plan to hire them again for future events! Book the Allen Tolbert Band!
Festival•Reviewed on October 15, 2022•From Madison, AL
Valley View Health and Rehab hosted a "WELCOME TO THE CARNIVAL" event. Over 350 residents/family, staff/family, and sponsors joined the fun. Hundreds of visible smiles was the backdrop to one of the best fiddler bands ever, "Allen Tolbert Unit". They didn't just perform, they became a part of something very special-our forever friends. From the very 1st greeting, to conversations about the actual event, the simple booking process, and finally meeting them in person was the best experience. This band is genuine. Thank You for sharing your talents with Valley View. It mattered. Happiest Trails… Selina Ellis (Activity Director)
Birthday Party (Adult)•Reviewed on August 20, 2022•From Dallas, GA
The short version is they killed it!! We hired the Allen Tolbert Unit to play at a surprise birthday party for my wife. We couldn't have been more pleased with the experience. From the first point of contact to the end, these guys were nice, professional, and maintained a good level of communication. Their performance was outstanding as well! They are impressive musicians, interacted well with the crowd, and everyone loved them. The bottom line......hire these guys!!! You will not be disappointed.
Allen Tolbert Unit:
We had a blast and now we have an inside joke that will last a lifetime!!!! Thank you for having us!!!! Best Wishes! ATU
Wedding Ceremony•Reviewed on June 25, 2022•From Franklin, TN
Alan and his wife Breanna and his bandmates we're all an absolute joy to work with! We were blown away by their dedication and compassion. It was my dream to walk down the aisle for my wedding to nickle creek's song sweet afton. When they learned this, they very eagerly promised to learn the song to play it for us. They even learned 2 more songs from my favorite band to play as well! I'm not exaggerating when I say that their music brought people to tears bc it was so beautiful. I highly recommend Alan Tolbert, he and his band made our wedding so special!
Engagement Party•Reviewed on February 19, 2022•From Birmingham, AL
We had the BEST time with Allen Tolbert Unit! They were so kind, funny, and entertaining!! They played the best music and were very open to any requests that we had! They made communication and planning SO easy, which made the experience all the more enjoyable! We will certainly be using them in the future for any kind of party! We can't wait for another excuse to have them again!
Birthday Party (Adult)•Reviewed on January 29, 2022•From Alexander City, AL
Allen and the Band were 5's across the board in professionalism, talent, satisfaction, etc. I hired them for my father's 90th birthday and they were wonderful! They played all the great bluegrass favorites, took requests, engaged with the crowd. I'll use them again and recommend them to any that want to listen to great bluegrass!
Allen Tolbert Unit:
You are too kind! Thank you for having us for your party!!! We had an absolute blast!!!
Birthday Party (Adult)•Reviewed on April 3, 2021•From Ball Ground, GA
The Unit was extremely professional. They were prompt, required no assistance from me the host. They are accomplished musicians. Their song catalog ranges from standards to current bluegrass, new outlaw country and ballads. They allow pickers in the audience to come up and play with the band. I could not have envisioned a better experience. I look forward to hosting them again one day. Thanks Allen!!
Allen Tolbert Unit:
Matthew, thank you for having us! Such an amazing gig! The guys had a blast! Allen said "literally, one of the best gigs I've ever played" we can't wait to play for y'all again!!!
Trade Show•Reviewed on October 23, 2020•From Pelham, AL
Extremely pleasant to deal with and a fun group to listen to.
Wedding Reception•Reviewed on November 9, 2019•From Dahlonega, GA
We hired Allen and the band for our wedding in the North Georgia mountains and from beginning to end our experience working with them was top notch. They stayed in touch, worked hard to have every song we asked for ready to go, and were an absolute pleasure to work with in every way. I could focus on all the other wedding details because they made their part so easy! Not to mention that their musical skill exceeded my expectations - the entertainment was INCREDIBLE!!! Every guest commented on what great musicians they were and how much fun they had dancing. They are truly talented and I would never hesitate to hire them again! A++++
Rehearsal Dinner•Reviewed on October 18, 2019•From Alexander City, AL
These guys are incredible musicians! We had them play for our rehearsal dinner and they were absolutely incredible. From working with them to book to their performance on the day of, everything was seamless and easy. Despite not having a ton of light on the stage, they made everything work and even came in under the gazebo at the end of the night for an acoustic performance, which made the night really special. Would absolutely recommend these guys for any event!
Allen Tolbert Unit:
Thank you so much! We had a blast playing for your rehearsal dinner! We appreciate the hospitality!
Corporate Function•Reviewed on June 21, 2019•From Huntsville, AL
If I could give this group more than 5 stars, I would. From the moment I contacted them to the end of their performance, they were completely professional, friendly and eager to please - and their talent, WOW! They were amazing! I would book them again without question.
Wedding•Reviewed on June 1, 2019•From Lincoln, AL
Allen and the band were nice addition to our wedding. They learned a couple of songs we asked them to play, and did a great job. I definitely would. book them for future events.
Celebration•Reviewed on March 31, 2019•From Harpersville, AL
Allen and team were awesome! We had them out to our farm event, and they were everything we expected. We definitely recommend them!
Private Party•Reviewed on October 26, 2018•From Fitzpatrick, AL
In the midst of a very hectic wedding weekend for my daughter, the Allen Tolbert Unit was by far the easiest part of the logistics. Easy to book thru Gigmasters, Immediately replied with details, showed up on time, great music, outstanding personalities, and just an overall great experience. I look forward to using them again soon.
Family Reunion•Reviewed on September 29, 2018•From Guntersville, AL
It was an extreme pleasure having Mr. Tolbert at our reunion. He has amazing talent and is an awesome and very entertaining man. He mingled with us, got to know us a little and allowed us to get to know him, something I and my family value greatly. He is friendly, funny, a great conversationalist and his music is not to be missed if one has the opportunity to hear them play. I only regret that there was not more time with him, and that is on me. Next time, I will not make the mistake of not hiring them for more time. I didn't want it to end. My sincere gratitude goes to Mr. Tolbert and I hope he will be willing to do it again next year! He made the party!!!
Retirement Party•Reviewed on September 15, 2018•From College Grove, TN
Amazing band. Sounded great. Easy to work with. On time. Customized our experience with a time at the party where we all sang along with the band. Great guys. Highly recommend.
Grand Opening•Reviewed on March 25, 2017•From Clanton, AL
These guys are awesome! If you would like to have tremendous entertainers at your next event these are your guys. We had a crowd of 2300 people and all loved listening to these guys. They have a natural ability to connect with their guest and have a knack for feeling cues from the host through body language or eye contact. To put it bluntly... these guys "get it", cant say enough about the quality of the experience that all of our guest received that day!
Birthday Party (Adult)•Reviewed on June 18, 2017•From Childersburg, AL
The Allen Tolbert Unit was AMAZING! I want to have them on speed dial for more events. Breanna responded so quickly and kept in touch with me all the way up until the event date. All of our guests enjoyed the music so much. A. Harris
Private Party•Reviewed on May 11, 2018•From Jasper, AL
Super nice, talented people, very accommodating to my party. Will suggest to others. Smith Lake AL
Engagement Party•Reviewed on November 24, 2017•From Birmingham, AL
An incredibly accomplished group of musicians ! Our party was a beautiful ,magical celebration and The Allen Tolbert Unit was the perfect finishing touch . I highly recommend this group !
Celebration•Reviewed on June 24, 2017•From Birmingham, AL
The Allen Tolbert Unit did a great job performing at our Customer Appreciation Day. We had several hundred guest and many complimented us on our choice of the band. Though the weather was very hot and humid the band continued to play with very little rest. They were great!!!!
Birthday Party (Adult)•Reviewed on April 16, 2016•From Indianola, MS
Truly amazing musicianship. This group set the tone for a milestone birthday. Have had rave reviews from guests who thought they were the highlight of the evening. Two enthusiastic thumbs up!!
Wedding Reception•Reviewed on August 8, 2014•From Birmingham, AL
Absolutely wonderful. Hired them to play at my sister's reception. They were so helpful and sweet. By far the most accommodating/worry-free vendor we dealt with. Would hire them a million times over. Can not recommend highly enough. Perfect experience. Music was great.
Birthday Party (Adult)•Reviewed on May 21, 2016•From Brentwood, TN
Kind, easy to work with and fabulous music.
Private Party•Reviewed on April 11, 2015•From Flintstone, GA
Extremely talented musicians who are very easy to work with. They showed up on time, set up quickly, were very accommodating to our timeline, made a huge impression on our guests, and played thru till the end of our event. We will certainly have them again and I would highly recommend them for your event!