Back to profile
The Wonderfuls Reviews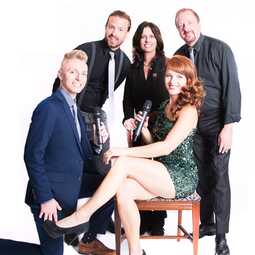 Avg 5.0 | 151 Reviews

Cover Band from Dallas, TX

289 Verified Bookings
Starting at $1,500 per event
---
151 Reviews for The Wonderfuls
Wedding Reception•Reviewed on July 3, 2022•From San Antonio, TX
Absolutely incredible! The Wonderfuls made our wedding reception unforgettable
Mardi Gras Party•Reviewed on February 25, 2022•From Shreveport, LA
The Wonderfuls killed it! They were great! Our bal would not have been nearly as awesome without them!
The Wonderfuls:
Oh Melissa!! Thanks! We still have not stopped thinking about how awesome that was! Queen Sydni, the decorations, that venue! Just WOW!!! Thanks so so much for trusting us!
Wedding Reception•Reviewed on November 13, 2021•From Frisco, TX
They are professional and very talented. Everyone was impressed! Definitely the right choice!
Wedding Reception•Reviewed on June 26, 2021•From Shreveport, LA
The Wonderful were just that, wonderful! Their communication and professionalism was spot on. Their talent is unmatched. They are by far the best wedding band in the business- and I've been to a ton of weddings. All night long we had people asking who they were and how to hire them. We have told all of our friends they MUST hire them for their wedding. I cannot say enough wonderful things about them!
Wedding Reception•Reviewed on July 3, 2020•From Sperry, OK
The Wonderfuls were well... Wonderful! They got the party started and kept it going all night! They were very easy to work with and even learned a few new songs that we wanted them to play. People kept coming up to us and telling us they couldn't believe how good they were! We couldn't recommend a better band to play at your wedding or event!
Wedding Reception•Reviewed on June 13, 2020•From Claremore, OK
The Wonderfuls are completely amazing. John worked so hard to make sure we had the perfect night. I had a song that I was dying to be my first dance. They not only played it, but they rocked it. They also took care of all my songs for the ceremony so I did not have to! What a gift it was to have them play at my wedding.
Wedding Reception•Reviewed on January 4, 2020•From Dallas, TX
We had our wedding on January 4, 2020 at The Hall of State. What a fantastic performance from a group of talented musicians! They absolutely kept the party going and everyone loved their selections. I have already recommended them to everyone who asked. Special thanks for Johnny for being so accommodating and responsive. Thank you so much for the unforgettable evening!
Corporate Function•Reviewed on November 20, 2019•From Dallas, TX
The Wonderfuls were fantastic! They gave a truly professional, high quality performance. Both vocalists voices were phenomenal and they were very interactive with the crowd. Our clients and partners had nothing but good things to say and stayed for the entire event (although there were others going on at the same time) because the band was so entertaining. Thank you all so much for working with us and if we come back to Dallas we will definitely book you again!
Wedding•Reviewed on November 9, 2019•From Corpus Christi, TX
WOW WOW WOW..... this band is INCREDIBLE. their talent and professionalism was beyond my expectations! Guests kept asking me if they ever do concerts so that they could get tickets! Don't look further - book them NOW.
The Wonderfuls:
Erin! Thanks for having us! What an amazing evening! We really enjoyed everything about playing for you and your guests! All the best to you and Chadwick!!
Wedding•Reviewed on October 12, 2019•From Tyler, TX
The band was excellent! We hired them to play for our wedding and they were very nice and easy to work with for each step. They are really good at reading the crowd and playing songs that get people out on the floor! They even brought us (bride/groom) on stage at one point! Highly recommend them to anyone needing live entertainment.
The Wonderfuls:
You guys and your guests were a total blast!! Lovely bride too!! Thanks so much for having us!
Wedding Reception•Reviewed on August 24, 2019•From Arlington, TX
The band was so wonderful.. not to be punny. But I would highly recommend this band. My guests never left the dance floor. So accommodating and fun!
Wedding Reception•Reviewed on July 27, 2019•From Oklahoma City, OK
The Wonderfuls were great from start to finish. The dance floor stayed packed until everyone was asked to leave. Had many tell me how great they thought the band was. Highly recommend!!
Wedding•Reviewed on June 22, 2019•From Fort Worth, TX
BOOK THEM NOW! I wish I could go back to our wedding so I could spend more time fully watching and admiring this band. Our venue had an indoor & outdoor area; and the talent and energy of The Wonderfuls Band had everyone outside dancing their tails off despite the Texas heat. Looking back on videos, our guests look more like they are attending a raging concert then an ordinary wedding; they clapped and yelled for the band after every song and demanded "one more song!" at the end. All of our guests said "WHERE DID YOU FIND THIS BAND!?" HOW CAN I BOOK THEM FOR MY OWN WEDDING!? THIS IS THE BEST WEDDING I'VE EVER BEEN TOO!" I mean, isn't that every bride/groom's dream!?
Wedding Reception•Reviewed on June 2, 2019•From Royse City, TX
This band is AMAZING and crazy talented. I am in a family full of musicians so we have a pretty high expectation of what a band/entertainment should be about and they FAR exceeded those expectations. Johnny is SO easy to work with and very interested in meeting the needs of the bride/groom and any special requests. We asked for lots of specific favors throughout the night and they accommodated them perfectly. Bottom line, this band is the best wedding band around and I would give them more than 5 stars, if I could.
Corporate Function•Reviewed on April 4, 2019•From Plano, TX
excellent band, vocals, on time, kept it lively with popular dance music.
Wedding Reception•Reviewed on March 16, 2019•From San Antonio, TX
I hired The Wonderfuls for my wedding reception and I couldn't have been happier! The booking process was easy and Johnny was always available and knowledgable if I had any questions leading up to the event. I was blown away by their talent - I have also had numerous guests call me and rave about how amazing and FUN they were and the dance floor was packed the entire night! I would highly recommend this band to anyone and everyone needing entertainment for any event. You can't go wrong with this band!
Wedding•Reviewed on March 2, 2019•From Pecos, TX
Band, vocals, entertainment factor...wow! Anyone considering The amazing Wonderfuls will be satiatily satisfied. So worth every penny!
The Wonderfuls:
Thanks so much for the kind review! We had such a great time with your guests and especially with Candy and Simon! Thanks so much for having us!
Corporate Function•Reviewed on December 21, 2018•From Kopperl, TX
Very professional, diverse, flexible and a ton of fun! Our employees raved about them! Will use them again!!!
Wedding Reception•Reviewed on September 29, 2018•From Dallas, TX
Stop... don't look further.... just hire this band for the most incredible high energy you have ever had a dance party.. They will have everyone dancing from young to old. I will never hire another band but the Wonderfuls for any event I plan. Just do it... now!
Wedding•Reviewed on August 18, 2018•From McKinney, TX
This band is the BOMB!! They keep the crowd moving, and cater to special requests. The guests and venue coordinator loved them and couldn't stop raving about them! Thank you for celebrating our special day with us. We were honored!
Retirement Party•Reviewed on July 6, 2018•From Dallas, TX
The Wonderfuls were the perfect call for my retirement celebration. The band was timely, professional, fun, and truly entertaining. The female and male vocalist were awesome; both are extremely talented performers. The sound of the band was phenomenal; the drummer as well as the two guitarist are excellent instrumentalist. The groups manager John is responsive and eager to work with you to accomplish what you want for your event. Overall we were very happy with The Wonderfuls and there performance. During the event and for days after, there were a number of people from the event as well as staff of the venue who wanted to know who the band was. Great Job Wonderfuls!!
Wedding Reception•Reviewed on May 12, 2018•From Tyler, TX
If there were six stars available, I would give them ten. I gave 5 out of a possible 5. I lost count of the people at the reception that came up to me and said "The band is so great!!!" and "What is their name?" and "Where did you find them?" Everyone danced. A lot. I can recommend this band without any reservation. I am so glad I got them to play. They lived up to their name, they were wonderful. Thanks again for making a special evening so much fun.
Wedding Reception•Reviewed on March 24, 2018•From Fort Worth, TX
I wish i could rate them higher than 5 stars! The Wonderfuls are nothing short of amazing!! We've received sooooo many great comments about them and people wanting to know how we found them. All of the band members were so nice and easy to work with. I would recommend them a hundred times over to anyone looking for a great band for an event. They really knew how to pump up our wedding crowd and read the vibe. They were by far the BEST vendor at our wedding.
Corporate Function•Reviewed on January 18, 2018•From Denton, TX
Great group that everyone loved - thank you for making our grand opening special. The party was for nearly 800 people -
Holiday Party•Reviewed on January 6, 2018•From Dallas, TX
The Wonderfuls played our company holiday party and were nothing short of FANTASTIC! Their look and sound is great. They covered such a wide variety of songs and really were able to reach all demographics at the party. Their cocktail hour set is great as well. I hope to work with them for our future parties!