Back to profile
The Wonderfuls Reviews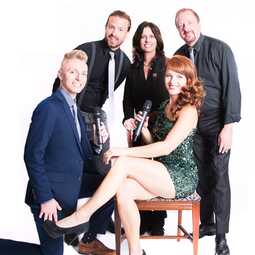 Avg 5.0 | 152 Reviews

Cover Band from Dallas, TX

291 Verified Bookings
Starting at $1,500 per event
---
152 Reviews for The Wonderfuls
Wedding•Reviewed on June 25, 2016•From Rockwall, TX
5 stars, They were amazing so glad I booked them early . I had so many people tell me they were the best band they had ever heard .I knew they would be good by their reviews but I was blown away how awesome and entertaining they were. Thank you for helping make my daughters wedding day perfect!!!
Graduation Party•Reviewed on June 18, 2016•From Midland, TX
We cannot even begin to describe how incredibly amazing The Wonderfuls are!!! We hired them to play at our autistic son's high school graduation party after reading pages of awesome reviews. They are so talented and able to cover such a wide variety of music, and they had all our guests asking where we found such a great band! We were so moved when they asked our son to join them as they played his favorite song "Don't Stop Believin'!" The entire party gathered around the stage and cheered them on for one of the most incredible moments of his life. This band is truly something special and we are forever grateful for their kindness how special they made our party.
Wedding•Reviewed on May 28, 2016•From Dallas, TX
Outstanding. The band was tight, high energy, and a pleasure to deal with. They even let the groom (aka me) get up there and play a tune with them! Highly recommended.
Wedding Reception•Reviewed on May 21, 2016•From Shreveport, LA
They were absolutely great. They had the whole crowd involved and took the show. I'm very impressed and would recommend them to anyone needing a band. I'll also use them again if I need a band. Just want to give the Wonderfuls a huge thank you for the amazing performance.
Wedding•Reviewed on May 20, 2016•From Fort Worth, TX
They really are Wonderful! They did a fantastic job at our wedding. Our guests are still raving about how great they sounded, and asking where we found them.
Fundraiser•Reviewed on April 9, 2016•From Texarkana, TX
This was a fabulous band that kept everyone happy and dancing! The Wonderfuls were courteous, professional, easy to work with, and very talented. They were the life of the party, made it our event WONDERFUL, and earned rave reviews from all of our guests. We would definitely hire them again!
Celebration•Reviewed on February 6, 2016•From Abilene, TX
WONDERFUL!!!!!!
Wedding Reception•Reviewed on December 19, 2015•From New Orleans, LA
I knew The Wonderfuls through previous weddings and fell in love with the band! They are the most sweetest people ever! I was very pleased of everything I special requested. They willing to work with your ideas. I love it! All my guests love the band and commented so much how great they were. So good, I already passing their numbers around for people who enjoyed so much!!! Would so recommend this band to everyone!!
Fundraiser•Reviewed on December 4, 2015•From Mission, TX
Awesome!!!
Wedding•Reviewed on November 7, 2015•From Benton, LA
The Wonderfuls were absolutely amazing. I could not have asked for a better band for our wedding reception! So many people complimented us on our band choice & I definitely agree! They are the BEST!
Wedding Reception•Reviewed on October 10, 2015•From Denton, TX
We couldn't have asked for a better band for our wedding. The Wonderfuls are exceptionally talented and they know how to get a party started. They have a knack for feeling out a crowd and keeping them entertained all night long. We started with light jazz during the reception dinner and by the end of the night EVERYONE was on the dance floor, even grandma. The Wonderfuls made our wedding a memorable and fun event for guests and we couldn't be happier with our choice. With their level of talent, they could definitely charge a LOT more for an event, but they do it for the love of performing their beautiful music.
Wedding Reception•Reviewed on October 24, 2015•From Tyler, TX
The Wonderfuls were just that wonderful. The first 45 mins of my reception the lights went out and they still entertained my guest playing acoustic- thank you!! We recommend them for any event!!
Wedding Reception•Reviewed on August 22, 2015•From Oklahoma City, OK
The Wonderfuls played at our wedding in Oklahoma City this past Saturday and they were phenomenal! They played dinner Jazz at first during the cocktail hour, and it sounded like it was a CD, they were so good! Then when it was time to dance, they got the crowd going like crazy! Our wedding had about 265 people there, and everyone kept asking for their name and telling us they were the best band they had ever heard at a wedding! They even performed some rap/hiphop songs which were super fun! I would definitely recommend The Wonderfuls for any event! Oh, and their female singer was SO sweet and smiled the whole time! thank you for making our reception perfect!
Wedding•Reviewed on August 1, 2015•From Amarillo, TX
The Wonderfuls were everything I could have asked for and more at my wedding! They made sure the guests never stopped having fun and their energy and song choices were perfect. I would hire them over and over again!
Corporate Function•Reviewed on August 13, 2015•From Dallas, TX
The Wonderfuls were indeed, wonderful. They played at a conference for us and everyone spoke very highly of them. Thank you!
Wedding•Reviewed on July 18, 2015•From Arlington, TX
My mom and I (MOB & Bride) cannot tell you how much The Wonderfuls were more than WONDERFUL! We hired them for our wedding reception without even hearing them! After talking to John for the first time we knew they were going to be great! We totally came to trust them with their music selection for our wedding as long as we kept dancing and our guests of all ages never left the dance floor!! We cannot thank this band enough for making our reception so AWESOME! John MC'd the reception well and they kept the music going from dinner until we had our exit! SO many guests couldn't believe how great they were! Look no more for a wedding band!! This is the one for you!!!
Wedding Reception•Reviewed on October 3, 2015•From Frisco, TX
I have never seen a wedding reception where guests spent the entire evening on the dance floor. The energy provided by the Wonderfuls set the tone for a truly FUN evening. We had an issue regarding our request for music during the dinner hour, but they worked to make up for it. Overall, numerous guests commented that all of the details for the wedding were great, but the band placed it over the top. Would highly recommend them for future events!
The Wonderfuls:
Thank you Kelley for the review. I agree with you that it was our fault about the dinner music part. I take full responsibility for the mis-communication that occurred. I take pride in making sure no detail is overlooked and I flat out missed that one. Thank you for acknowledging what we did get right though! We ended up playing straight thru with no breaks to try to make up for it and it was great seeing your guests enjoy our performance the way they did! You guys were great clients and I can't thank you enough for the work and for the honest review! Best wishes to the happy couple and to you as well!
Dinner Dance•Reviewed on July 29, 2015•From Dallas, TX
Working with The Wonderfuls was easy and stress free, start to finish. They were accommodating to our needs, were professionally mannered, and impressed all of our event's attendees. They are able to provide a wide range of music selections, all with great sound and quality. I would absolutely book them again, and recommend them for a corporate or personal event.
Wedding Reception•Reviewed on June 27, 2015•From Shreveport, LA
The most important thing to me as a bride when planning the wedding, was having a band that would bring the whole reception to their feet! The Wonderfuls did that for us and so much more. They're song list on their website in itself is admirable with such a wide range of songs. They let me pick songs to be played which was VERY accommodating, and they followed the list specifically. They played all our favorites from 90s hip hop to current, and had the party dancing non stop! We've had numerous people tell us it was the best reception, and we know that WAS all due to the Wonderfuls, and their talent and interaction with the crowd!
Wedding•Reviewed on July 25, 2015•From Dallas, TX
The Wonderfuls made our wedding reception an unforgettable night for all!! The dancing never stopped! Truly a wonderful band with very talented people, thank you guys for making our wedding amazing!!! We got so many compliments on our band! Would hire them again in a heart beat!
Wedding Reception•Reviewed on June 13, 2015•From Frisco, TX
This group is the best. From start to finish our wedding guests were amazed at the quality of the music. They have a wonderful sense of how to get a party started and keep it going with perfectly timed rising and falling energy levels. There was music for everyone from 2 to 82. The band was a big part of making our daughter's day the best day of her life. John was a wonderful MC. They lived up to their name---the Wonderfuls.
Wedding Reception•Reviewed on May 30, 2015•From Fairview, TX
We couldn't be more thrilled with The Wonderfuls! We booked them for our wedding after reading reviews on line. They were a pleasure to work with. Johnny was so kind and accommodating of our requests to make the day everything we hoped it would be. All of our guests commented on how great our band was. They played a wide range of music that all of our guests enjoyed dancing to. If I ever have another event that requires live music, The Wonderfuls will be my first phone call!
Wedding Reception•Reviewed on May 2, 2015•From Wichita, KS
We chose the Wonderfuls because of their varied music selection and flexibility in choosing the song playlist for the night. The music was excellent and we received many compliments about how impressive the band. They brought such energy to our reception and everyone had a great time dancing. Johnny was very accommodating and was also very responsive to my many emails which made it easy as I was planning a wedding from abroad. I would highly recommend them as they were a pleasure to work with.
Private Party•Reviewed on December 13, 2014•From Murphy, TX
I would definetly recommend hiring The Wonderfuls. They were great to work with and they played awesome music. You can't go wrong with this band!!!!
Fundraiser•Reviewed on November 13, 2014•From Dallas, TX
This event was a fundraiser for people with intellectual and developmental disabilities, such as Downs syndrome. A portion of the night was dedicated to celebrating a married couple with Down syndrome and their 5th year anniversary. The 1st song they danced to at their wedding was "Because You Loved Me" by Celine Dion. I called John a couple weeks prior a asked if the band could learn it. Not only did they learn it - they killed it. The audience was brought to their feet, tears in eyes, as Austin and Christi swung and dipped to this live performance. I am forever grateful to John and the team for learning this song on short notice - it made all the difference.