Back to profile
The Wonderfuls Reviews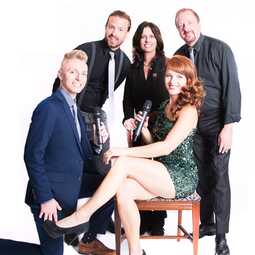 Avg 5.0 | 152 Reviews

Cover Band from Dallas, TX

291 Verified Bookings
Starting at $1,500 per event
---
152 Reviews for The Wonderfuls
Holiday Party•Reviewed on January 6, 2018•From Dallas, TX
The Wonderfuls played our company holiday party and were nothing short of FANTASTIC! Their look and sound is great. They covered such a wide variety of songs and really were able to reach all demographics at the party. Their cocktail hour set is great as well. I hope to work with them for our future parties!
Wedding Reception•Reviewed on November 11, 2017•From Tyler, TX
We booked The Wonderfuls for our wedding reception and couldn't have been happier! They are truly talented and know how to work a crowd! Everyone kept coming up to my husband and I asking who they were and how we found them! If we could do it over again, we would book them again and again!! Such a great band! Super sweet people!! So much fun!!!
Wedding•Reviewed on October 21, 2017•From Shreveport, LA
We used The Wonderfuls for our wedding and they were amazing! They are so fun and incredibly talented! Our guests danced all night thanks to them! The reception was such a success because of them and their ability to entertain. We can't thank them enough for a memorable night! Thank y'all!
Wedding Reception•Reviewed on October 14, 2017•From Plano, TX
We hired the Wonderfuls for our wedding after first hearing them at a friend's wedding, and it seriously made our WHOLE WEDDING! Our reception was an absolute blast, and our guests are still talking about how much fun they had with the band. John and his group are so professional and easy to work with, know how to get the crowd excited, and are very talented musicians. It was truly the best day of our lives, and the Wonderfuls were a huge contributing factor. Thank you for making our wedding reception the party of the year! -Kristen & Ryan
The Wonderfuls:
You guys are SO SWEET! We had a TOTAL blast with all of you as well! Please stay in touch and come see us at some public performances! All the best to you both! Thanks again for having us!
Wedding Reception•Reviewed on August 26, 2017•From Grapevine, TX
We had a 'movie release' themed wedding and reception at an old theater in Grapevine, TX. The Wonderfuls provided a backdrop of old standards (Sinatra, etc) while our guests arrived and drank Champagne. After the wedding ceremony, they came back with dance hits old and new that had our folks on the dance floor all night. The band leader, Johnny, took special care to give special attention to the bride and groom. At one point, he had everyone encircle us on the dance floor as we all sang Journey music. It was amazing. They truly made our celebration memorable. We HIGHLY recommend them.
Wedding Reception•Reviewed on June 25, 2017•From Dallas, TX
Our wedding was an absolute whirlwind, but we completely trusted the Wonderfuls to perform and entertain our guests while we were busy with pictures and everything else! They are professional, on time, entertaining, and SO much fun! Everyone at our wedding (including us!) was highly impressed with the amount of talent this band had to offer. They were truly the best choice and they set the fun, upbeat, romantic mood for the entire night! It was all even better than we pictured it! The band members are fun and electric and will interact with the guests! We truly could not have picked a better wedding band for our special day! Thank you Wonderfuls, you guys are great!
Graduation Party•Reviewed on June 11, 2017•From Fort Worth, TX
Amazing show !!! They are the tops , more than I expected. The soloist is out of this world with her vocals. The whole crew are so nice and friendly , very accommodating and pleasant . They made my daughter's graduation party the best . Would highly recommend this awesome group. Actually a lot of my friends are already planning to book them in their upcoming event.
Wedding Reception•Reviewed on July 1, 2017•From Heath, TX
The Wonderfuls are an amazing band! They played for our wedding last night and we are very pleased with their performance and professionalism. They met every request and accommodated us with a great attitude. They went above and beyond for us and we are grateful to share our experience with such an awesome band. We highly recommend The Wonderfuls to anyone interested in hiring a band!!!!
Wedding•Reviewed on June 3, 2017•From Tulsa, OK
The Wonderfuls were absolutely incredible last weekend at our wedding in Tulsa. As a wedding planner, we recommend bands all the time but every time we work with The Wonderfuls we know they are going to bring the party! They are professional, kind, easygoing, and you can tell that they will go above and beyond to make sure everyone has a great time and overall wonderful experience. I can tell they pour their heart and soul into the band and their performance level is outstanding. You can't go wrong with them!!! They will forever be a part of the Aisle Be With You vendor referral because they are WONDERFUL...JUST LIKE THEIR NAME :)
The Wonderfuls:
Ariana!!! Thank you and the entire Aisle Be With You team for our ongoing relationship! It did not take long for our group to see the ENORMOUS difference between a wedding/reception and an Aisle Be With You orchestrated event. One thing I noticed at Saturday's reception was when the Father of the groom, during his opening remarks, mentioned many vendors who made the event possible. When he mentioned Ariana, the entire crowd of 300+ erupted in wild applause! In 9 years and 350+ weddings, I have never witnessed that! Future brides and grooms: if you want a beautiful, perfect, and stress free wedding/reception experience, contact Ariana with Aisle Be With You!!!!
Wedding Reception•Reviewed on May 28, 2017•From Plano, TX
Absolutely the best decision you could make for your event is to BOOK THEM NOW or be sorry you didn't. They were very thorough planners but still worked with our schedule changes as they happened. Did not make one request that was turned down, and their suggestions were spot on as they obviously do this very often. They were the talk of the party and it even continued into the next day at lunch with people asking their name and how we found them. Performance wise, it was spectacular. Jazz vocals were smooth as silk. They had everyone on their feet all night. Most importantly for me, they were incredibly kind people who truly care about you and your event above all.
Wedding•Reviewed on May 13, 2017•From Weatherford, TX
Can not say enough good things about this band! Very professional. Always received an immediate response from them when I had questions. Great vocals. Great interaction with guest. Received tons of compliments from our wedding guest. Bravo!!!
Wedding Reception•Reviewed on May 20, 2017•From Texarkana, AR
This band was so amazing! As soon as their first song ended, everyone started asking me who they were and how I found them because they were so impressed with how good they are. Individually, each member is so musically talented. The singers were as good or better than the original artists they were covering. And everyone was so mice! I couldn't have asked for anything better! 10/10 would definitely book again. They are as their name implies, Wonderful. Thank you so much for awesome wedding reception.
Wedding Reception•Reviewed on May 6, 2017•From Purcell, OK
This group is AMAZING!!!!!! We had seen them at a previous wedding of a friend of ours and contacted them the next day to see if they would travel to Oklahoma! I'm so glad they did because our wedding wouldn't have been complete without them! Guests were on the floor dancing before the food was even served for our reception! I have only heard great things so far and it's been only 24 hours since our wedding! One of our friends may hire too! John was so great to talk to, accommodating during all phone calls, correspondence, and finally in person! They stayed later to play for us, and everyone was dancing the night away. Hire this band and you WILL NOT regret it!!!
Private Party•Reviewed on April 29, 2017•From Fort Worth, TX
The Wonderfuls are amazing! They were very accessible and did a fabulous job of playing to our crowd. We have dinner/dances several times a year and they were the most well received band we have had in a long while. I would not hesitate to recommend them. We will definitely be hiring them again!!
Wedding Reception•Reviewed on April 22, 2017•From Arp, TX
Amazing! Highly recommend these guys. I keep getting compliments about how great they were. Everyone was awesome and they responded to all emails and phone calls in a timely manner. They rocked it!!!
Wedding Reception•Reviewed on March 18, 2017•From Tyler, TX
This band was absolutely amazing! We were so excited to have them at our wedding (dinner music and reception, they nailed it!) and everyone at the wedding kept coming up to us to tell us how much they loved the band! They were the heartbeat of the reception and they did an incredible job! We definitely recommend having them play for your next event- they were a blast and so professional!
Fundraiser•Reviewed on February 25, 2017•From Hooks, TX
We hired The Wonderfuls two years in a row, and we thought they were great the first time. They were even better the second time! They have a fabulous new singer and definitely kept the party going right up until the very end!
Wedding Reception•Reviewed on February 18, 2017•From Fort Worth, TX
I would give this group of great people more than 5 stars! They were by far the most friendly and ORGANIZED vendor we had at our wedding! They were such great sports too when it came to wedding guests interacting with them. Not only do they have a vast experience with wedding, but they have some serious talent. After our wedding, The Wonderfuls gained another 250 fans! We certainly look forward to visiting them at a band night locally some time!
Wedding Reception•Reviewed on January 28, 2017•From Shreveport, LA
The Wonderfuls were incredible at our wedding reception! They were incredibly easy to work with throughout the entire wedding planning process. Their performance was amazing and kept everyone on the dance floor all night. They were so enjoyable that noone wanted to leave when it was over and kept chanting for one more song. I could not have been any happier or more pleased with our choice of them as the band for our wedding reception and I would highly recommend them!!
Christmas Party•Reviewed on December 9, 2016•From Garland, TX
The Wonderfuls played at our company Christmas party, and they definitely lived up to their name! They were responsive to any requests or questions I had during the planning process, and they showed up early to set up the day of the party. Almost immediately after they started playing, I got questions about where I found the band and enthusiastic comments. I asked them to start the evening a little more quietly so that people could hear each other and mix and mingle with jazzy, slow Christmas classics, and they did just that. Later in the evening, they really kicked it up and managed to get even our non-dance crowd out on the dance floor. Highly recommend them!
Wedding Reception•Reviewed on March 11, 2017•From Dallas, TX
Very talented and fun band! Received many compliments on the band.
Wedding Reception•Reviewed on September 24, 2016•From Dallas, TX
This band knows how work with wedding coordinators and the bride's parents. They are enthusiastic performers and have a broad range of music and songs. We had a wonderful reception experience with them and wholeheartedly recommend The Wonderfuls for this type of event. Entertaining-kept the dance floor crowded.
Wedding Reception•Reviewed on July 16, 2016•From Dallas, TX
The Wonderfuls played at my wedding reception recently and we were blown away!! From the time we did our first dance, to the last song of the reception, we hardly left the dance floor! It was the most fun reception with the best songs! Everyone has raved about how great they are and how well they engaged with the crowd. They did an awesome job gauging what the crowd wanted. John gave me the confidence to fully trust him and the product the band would provide for us. We want to plan another party just so we can have them again. Thank you for making our reception THE BEST!!!
Wedding Reception•Reviewed on September 10, 2016•From Houston, TX
The Wonderfuls played at our wedding reception in Houston and were amazing. Some of our guests are still telling me how great they were and some friends even want to hire them for their wedding reception next year. They did a great job of getting people on the dance floor and keeping them there the whole time! They are very talented and really sounded incredible. They played mostly current/top 40 songs and a couple of the classic wedding oldies.
Community Event•Reviewed on June 24, 2016•From Celina, TX
The Wonderfuls were great at our Community Event. The crowd absolutely loved them, and they were really made an effort to get everyone involved!! They arrived with plenty of time to set up and get going right on time. They're awesome!