Celebrate the Festival of Lights with these Diwali Party Ideas
Mark this symbolic occasion of the triumph of light over darkness in style.
Sadiyah Qureshi
Contributor
Diwali, the Hindu festival of lights, is one of the most aesthetically stunning events on earth and a feast for the senses. It's also a wonderful time to get together with close friends and family to enjoy each other's company, share gifts, and create cherished memories. 
Diwali is a significant religious celebration that has its roots in India. Every year, the five-day festival of Diwali signals the beginning of the Hindu New Year. Although the moon's position determines the exact dates each year, it typically falls between October and November. Diwali is all about light, color, and exuberance and is a wonderful event to celebrate.
If you're considering hosting your own celebration, this list of Diwali party ideas is here to guide you through the process of picking out decorations, themes, gifts, and activities. Honor and connect with your heritage and mark this symbolic occasion of the triumph of light over darkness in style. 
Here are some Diwali party ideas to celebrate this year: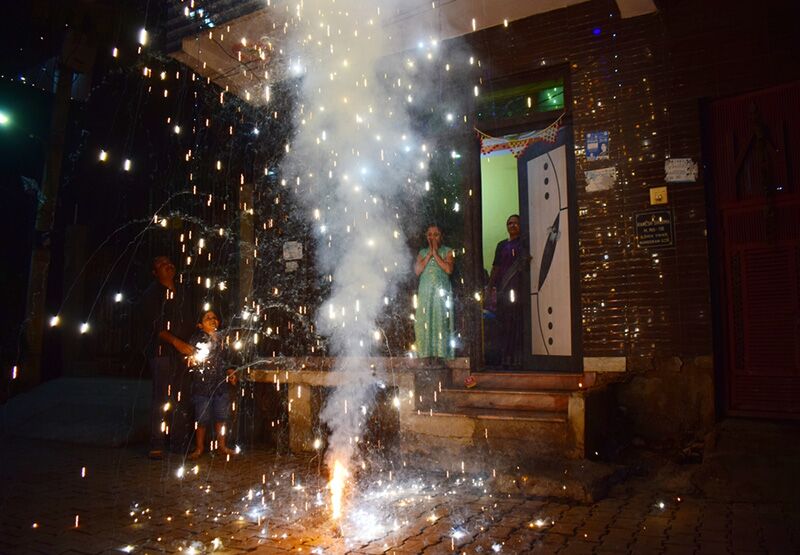 Photo: Sudarshan Jha/shutterstock.com
Lighting
It being the festival of lights, it makes perfect sense to bring in professionals to create a dazzling display that is sure to impress. Lighting candles and diyas, or small clay lamps, is a traditional part of Diwali celebrations. 
From uplighting to stage lighting, bar and buffet lighting, and special dance floor effects, you can't go wrong. Your guests are sure to be wowed by the brilliant display, and if there's something to splash out on for a Diwali party, it's definitely the lighting! 
Henna
While it may be more commonly associated with Indian weddings, people frequently apply mehndi on their skin during Indian festivals as a celebration and a representation of good health, fortune, and energizing vitality. Why not hire a henna artist and add to the fun at your event by having some unique designs applied?
Fireworks
If there was ever a time to bring in the professionals for a firework display, it's Diwali. Firecrackers and other displays of fireworks are a traditional part of festivities. If you've chosen to hold a grand event with room for outdoor celebrations, then hire a fireworks specialist. They can choreograph something to fit your vision, venue, and budget. 
Dance Performances
Dancing on Diwali is a great way to celebrate. Get the party started and wow your guests with some great musical entertainment. There are many traditional Indian dances you could incorporate, and the lights, colors, and costumes are an ideal way to ensure your event has a great atmosphere. 
You could even hire professional dancers to choreograph a dance number to awe your guests and bring some show stopping Bollywood musical energy to the celebrations. 
Photographer
After all the time you've spent ensuring the little details of your event are perfect, make sure the festivities and fun with your guests are preserved forever. A professional photographer brings the expertise and will ensure your album is a true representation of the splendor of your Diwali event. There's a whole host to choose from on the Bash, so you'll be sure to find your favorite.
DJ
For wonderful musical entertainment that ensures all of your guests have a blast on the dance floor, a professional DJ is a must. They can work with you to help deliver a playlist you love as well as keep the crowd engaged and entertained. Your DJ can even work with you to help with the running order of your event and ensure the night runs smoothly.
Authentic Catering
Take the stress out of hosting by letting a catering service handle your delicious Diwali dishes. You can sit back and enjoy the celebration while professional servers dish up a delightful festival feast. Whether it's fragrant rice dishes or delicious freshly baked naan, they can deliver something mouthwatering. The right business can deliver a menu that's sure to light up taste buds, like a selection of fresh samosas complimented by spicy Indian pickles.
More Diwali Party Ideas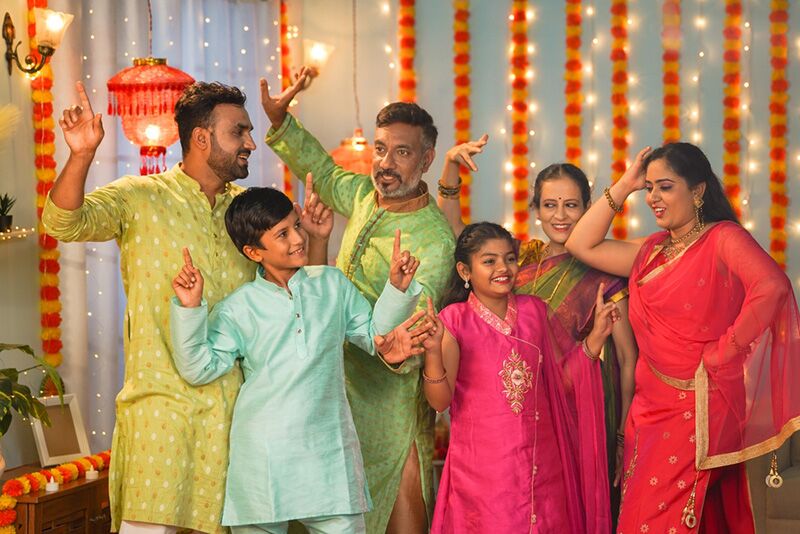 Photo: WESTOCK PRODUCTIONS/shutterstock.com
Rangoli Design Competition
A well-known Diwali custom is making rangoli, which are lovely decorative surface patterns created with flowers and colored powders. It's common for people to create rangoli patterns on the ground in front of the entrance to their home to greet the gods and bring luck. Set a timer and allow each participant to create a design. When everyone has created a rangoli, award points to each based on the design presentation taking creativity, color combination, and clarity into account. Incorporating traditional motifs is a lovely way to connect with the culture of Diwali.
Card Games
It is said that Goddess Parvati and her husband, Lord Shiva, played dice on the eve of Diwali, and the Goddess decreed that everyone who gambled would be prosperous all year. Since then, playing card games like rummy and bluff for cash on Diwali has been common. Why not gather your guests for a game of cards and honor the tradition at your Diwali party? If you'd rather not bet money, you could always use a stash of different kinds of candy. 
Gifting
Diwali preparations and presents may have a new-year feel to them because this festival also symbolizes a new beginning. Traditionally, presents frequently include gold items, nuts, and sweets. Gold coins and jewelry are popular presents, but anything in gold is appropriate and seen to increase the recipient's success and prosperity in the next year.
DIY Diyas
Diyas are small traditional earthen clay lamps that are lit on Diwali. Why not create your own diyas as a fun party activity? Bring the clay lamps, paint, glitter, glue, sequins, beads, and mirrors you need. You and your guests can then enjoy decorating them together. When the lamps are finished, you can put lamp oil and wicks in them and light them at your Diwali event. Guests may also like to take their designs home with them, a symbol of your wonderful event. 
Dress and Attire
A big part of Diwali is getting dressed up, so your look should be something truly elevated that rises to the occasion. Whether you want Bollywood-level silks and sparkles or something more understated, your ensemble should meet your vision and fit like a dream. Make a statement by dressing in striking hues of gold, ochre, and mustard that capture the spirit of Diwali.
Florals
Vibrant marigold garlands are a traditional flower of choice to display at Diwali, as it's considered a particularly auspicious bloom. As mentioned above, rangolis are Indian floral designs made from orange, white, and yellow flowers and are used to decorate entrances, stairways, and more at Diwali. You can even hire a professional florist to deliver top-tier Diwali flowers for your event, ensuring you'll have a fantastic floral theme that fits the occasion.
Incense
Lighting incense during Diwali prayer ceremonies is a crucial aspect of these celebrations. Lighting incense that has aromas associated with the festival creates the correct energy and atmosphere. Burning incense perfectly complements the divinity of Diwali to make your celebration more authentic and special.
Diwali Themed Food and Drinks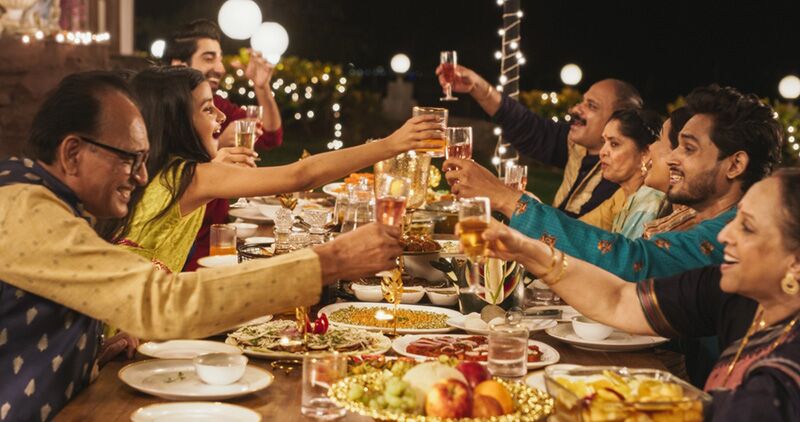 Photo: Kitreel/shutterstock.com
Diwali foods are always traditionally vegetarian, so keep this in mind when selecting the menu for your Diwali celebrations. 
Sweet Treats
Mithai, or Indian specialty sweets, are most strongly linked to the celebration of Diwali. You now have the ideal justification for indulging in all the Indian delicacies you can find. 
Kaju Katli, a sweet that is frequently cut into diamond shapes and embellished with edible silver coloring. Instead of serving a large sit-down supper, consider laying up several small dishes for visitors to munch on. 
Other popular traditional sweet Indian sweets that are served at Diwali include milk barfi, which is Indian fudge. Another favorite is motichoor ladoo which is a blend of sweetened crushed chickpea flour shaped into balls. You could try making other traditional Indian desserts like rasmalai or gulab jamun or have an Indian caterer dish up these sweet delights.
Indian Savory Appetizers
Vegetable samosas, which are deep-fried filo pastry triangles stuffed with veg and deep-fried, and aloo tikki, which is a delicately spiced potato dish, are both popular offerings. 
Pani puri, also known as ragda, is a very well-known Indian street cuisine that consists of crispy, hollow, fried dough balls. The balls are served with spicy, tangy water, sweet chutney, boiled potatoes, moong sprouts, chickpeas, or white peas curry. They are bursting with flavor, so one is never enough. 
It's also common to have bowls of various savory lentil mixes around as a popular Diwali snack.
Diwali Banquet Meal
After any Diwali prayer ritual, if you are throwing a Diwali celebration, you should only serve vegetarian fare. A range of Indian curries, stir-fried vegetables, and delicious Indian bread could be served as your main dish. 
There are a ton of different popular vegetarian curry dishes that are popular with bases of lentils, potatoes, or even spinach. Make sure to place condiments like yogurt, mint chutney, and mango pickle on the dinner table for Diwali.
Diwali Cocktails
Spice things up with an Indian vodka mojito, or try something new with a tamarind ginger margarita. Diwali is a great occasion on which to experiment and enjoy some exotic flavors. There are a ton of traditional Diwali snacks that pair well with a cold beer. While it's not customary, many individuals choose to celebrate with champagne, wine, beer, or whiskey.
Sharbat
Sharbats are a popular Diwali drink. They are made with fresh fruits, herbs, flowers, essences, and even sandalwood syrup. Either the ingredients are combined with ice and water, or they are first produced as cordials and then diluted. 
Nimbu Pani
The cool lemonade known as nimbu pani serves as an excellent introduction to Indian soft drinks. It cuts through the richness of Diwali food and is made with freshly squeezed lemon or lime juice and flavored with ginger, mint, or saffron essence. 
Find more party ideas and inspiration here on The Bash.