The Top Wedding Trends for 2024
Don't be surprised to see these wedding trends in 2024.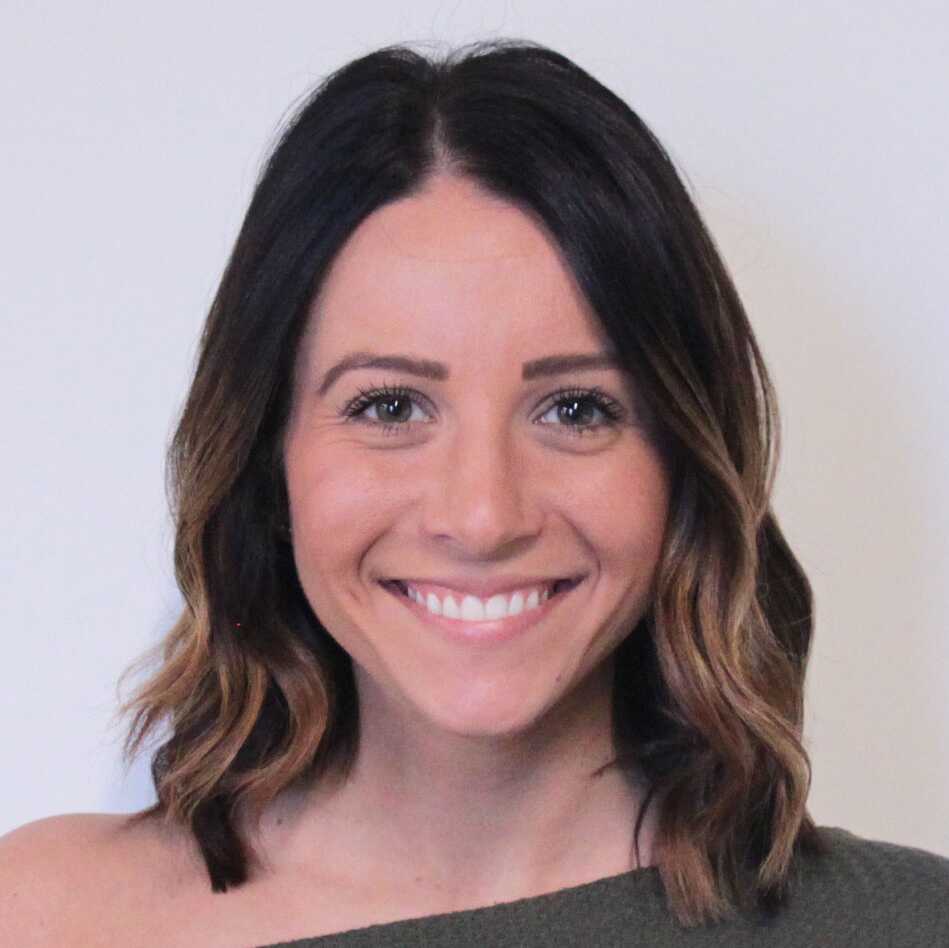 Planning a wedding in 2024? You've come to the right place! We've got the top wedding trends for 2024 from event planners and pros within the industry.
Just getting started with planning? Check out these top wedding entertainment ideas as well this comprehensive wedding planning checklist to get you started in the right direction. 
READ MORE: 
Here are some of the top wedding trends for 2024:
Maximalist Décor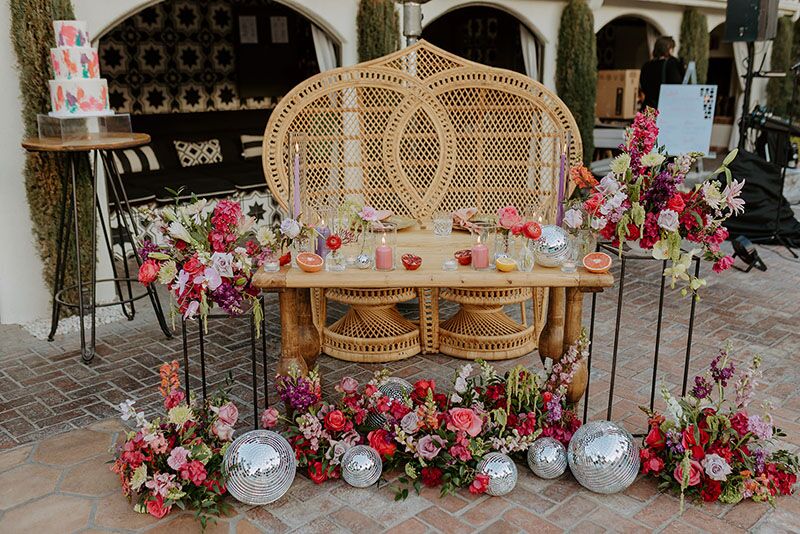 Photo: Parallel 33 Photography | Feathered Arrow Studio
"For upcoming 2024 weddings, I'm seeing more maximalist decor styles trending and less traditional styles. Bright colors, personalized decor, and unique elements such as fruit in bouquets and mid-century inspired designs," shared Kari Dirksen-Smith - CEO + Lead Planner, Feathered Arrow Studio.  

"There are fewer "traditional" elements (for example no cake or bouquet/garter tosses happening anymore) and couples are instead opting for more bespoke guest experiences such as coffee carts, gelato carts, etc. I'm also seeing a shift in attire - brides in simpler dresses and grooms in boldly colored suits! I'm here for it all!"
Multi-Course Dinners
"Gone are the days of large guest counts and massive buffets. Couples are more and more frequently opting for smaller guest counts of around 50-75 and are leaning into multi-course dinners to treat their guests to an epic dining experience. Get creative with your menu, and get inspired by locations, seasons, or memories that are significant to you and your partner," shared Rob Pausmith, Founder of Pausmith Group.
Immersive Entertainment 
"Couples are increasingly moving away from cookie cutter weddings and seeking to infuse creativity, personalization, and interactive entertainment," shared Eriksen Dickens of Peek Wedding Films. 
"Some popular examples we expect to see more of in 2024 include: custom signature cocktails based on your love story, DIY food and drink stations (s'mores bar, build your own taco bar), interactive photo booths with digital backgrounds, GIFs and videos, surprise dance/music performances that ties into the couple's interests (think a choreographed first dance to favorite movie score or K-pop number!), or custom Snapchat filters for guests to use with specialized art and animations."
Pro Tip: Find and book bartenders, photo booths, live music, and more for weddings here on The Bash.
Champagne Towers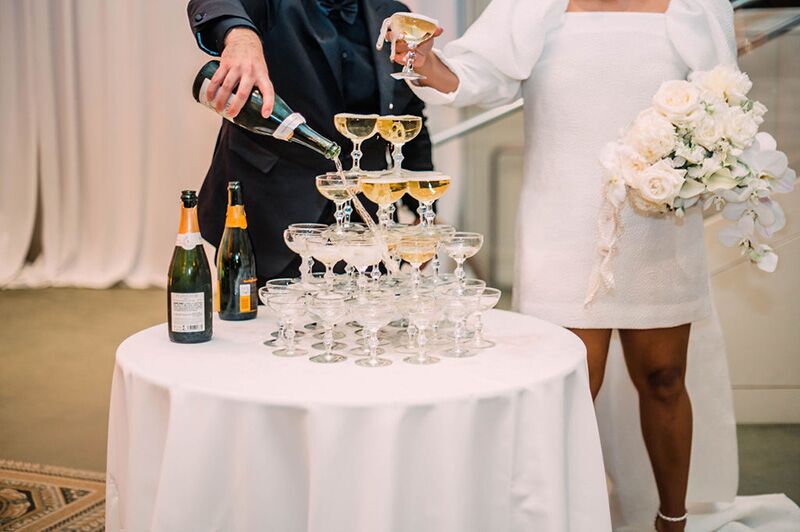 Photo: Reyna Robyn Photography | Alston Mayger Events | Portland Art Museum | Olivia Hawthorne Makeup | Devil's Food Catering | Arden Event Collective | Wildflower Portland
"I predict the champagne tower is going to go strong into 2024-- but why stop at champagne? I'm seeing clients do espresso martini towers and margarita towers as well! If you're not reaching for champagne as your go-to celebratory drink, make this trend fit YOUR style," shared Ashley Lachney, Owner of Alston Mayger Events.
"I've also loved seeing guests spoiled with handwritten notes from our clients. Incorporating these into your seating chart or at each guest's place settings is such a sweet touch and, frankly, comes really easy when you're filling the room with people you're SO grateful to have witness your vows." 
Wedding Veils
"We noticed the wedding veil made a huge comeback in 2023 and predict an even stronger showing in 2024. After taking a backseat to more modern bridal styles, long cathedral veils are having another big brides moment. The resurgence of classic veils complements the rise in elegant, formal wedding aesthetics we're seeing," shared Dickens.
"Brides want the full royal princess experience on their big day. An extended veil adds dramatic flair as the bride walks down the aisle and creates stunning shapes on camera as she moves."
Wedding Videography
"Perhaps we're biased, but we strongly believe wedding videography will continue rising in popularity in 2024! Couples are recognizing video's unique ability to completely immerse viewers in your wedding day - far more than photos can convey alone. Cinematic wedding videos are like mini movies, capturing the live action, emotions, sounds and little details of your wedding," shared Dickens.
"This creates a beautiful visual keepsake you'll treasure forever. Videography also gives loved ones who couldn't attend a chance to soak in the experience and share in the magic. At Peek Wedding Films, our mission is to create one-of-a-kind wedding videos that tell the authentic and completely unique love stories of our couples. If you're looking for a wedding videographer for a 2024 wedding, we'd love to connect!" 
Pro Tip: Find a wedding videographer here on The Bash.
Late Night Bites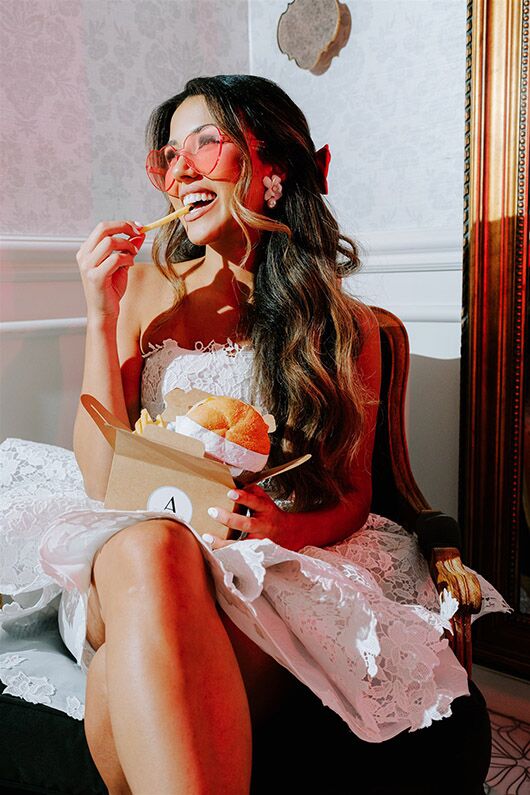 Photo: Long Brook Photography | Venue: Crossed Keys Estate
Jessica Rodriguez Hanselman of Crossed Keys Estate shared, "Treat your guests to a midnight snack as they leave for the night. Make it more personal by choosing a food that is meaningful whether it's a treat you enjoy eating together or a snack that reflects your heritage. A custom to-go box or sticker can also elevate the look of to-go food and adds an extra fun touch!"
Ending the Party on a High Note 
"For 2024 to try to find new ideas to end up the party in a high and memorable note. Some of our favorite ideas include having a sing-along for the last 30 minutes of the party, pizza by the valet parking attendant, milk and cookies or milkshake shots, a picture wall with framed pictures from the wedding, or an "Instastart and instadrunk moment" (take the same picture and the beginning and end of the party),"shared Ariel Becker, CEO at Becker and the Co..
Color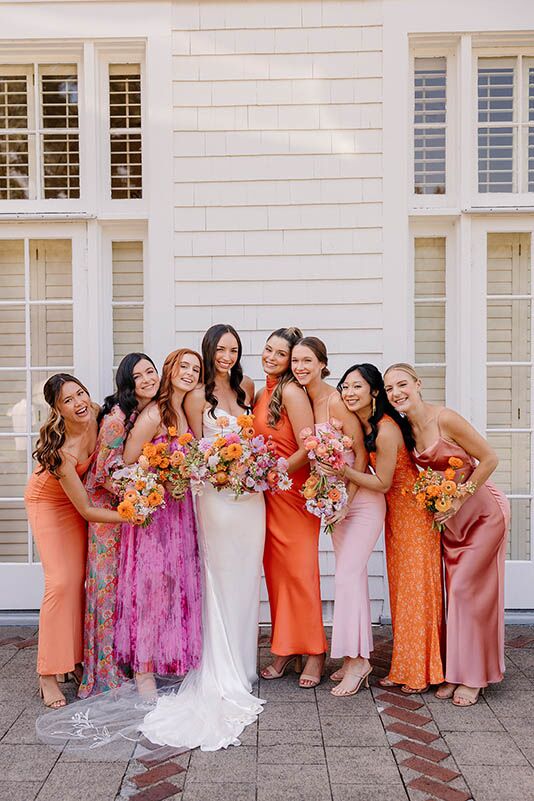 Photo: Andrea Zajonc Photograph | Bridal Bliss + Rock Paper Coin
"Pops of color are everywhere, and we're loving it. Bringing in soft and bold colors is a great way to make your wedding your own," shared Davis.
Content Creators
Along with your standard vendor list, we're seeing an increase in content creation. "Wedding Content Co is your new wedding bestie capturing all the iPhone content you could ever need," shared Becca Davis, Chief Marketing Officer at Fitzgerald Hospitality Group.
Guest Dress Codes
Davis also shared a fun tip when it comes to guest dress codes. "Choose a theme and tell your guests to go all out for it! Bold colors, everyone in black, everyone in pink, florals—make your wedding your own Eras Tour!"
An Ode to Traditions and Heirlooms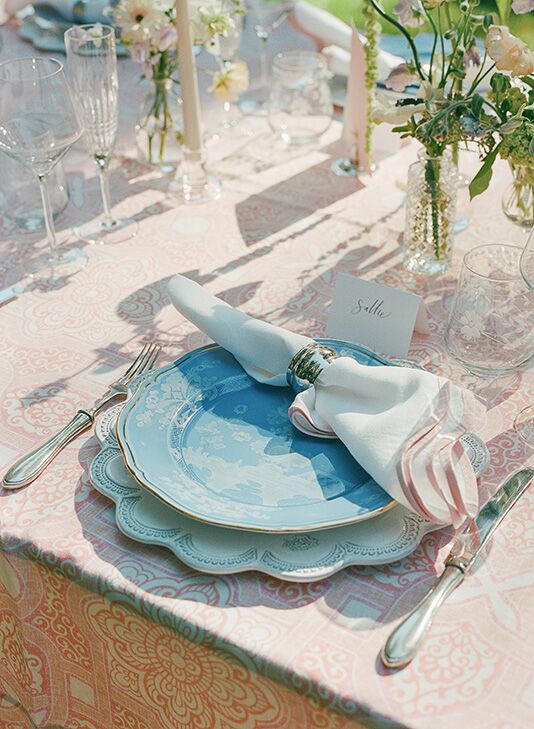 Photo: Holly Hursley | Chloe Alise Events | Theoni | BBJ Tavola
"While modern stationery, floral, and fashion choices are all the rage for weddings these days, 2024 is going to bring about an emphasis on incorporating touches of traditions and heirlooms," shared Leah R. McCoy, President, Wedding Gown Preservation Kit.  
"We're seeing couples loving the juxtaposition this brings, like pairing an ultra-modern gown with a grandmother's heirloom brooch, serving a unique multi-course dinner but utilizing vintage china, or having a bold and colorful wedding design but choosing to forgo a first look in favor of the tradition of waiting to see each other as you walk down the aisle."
"Couples in 2024 are going to keep up with the trends while still embracing moments of tradition here and there!"
Bold Fashion
Jason Jackson, President & COO at Generation Tux shared, "Trends are shifting into 2024 as couples are embracing bold looks for their wedding day. Classics remain a staple, but we're seeing a sharp uptick in demand for hunter green and burgundy suits."
"This change marks a shift from the dark grays that were trending last year. Accessory colors are leaning brighter and bolder as groom's flex their personal style." 
Smaller, More Intimate Weddings
"This trend continued to gain popularity in 2023 and we fully expect it to dominate in 2024. Couples are steering away from large, elaborate guest lists and gravitating towards more intimate weddings with only their very nearest and dearest in attendance," shared  Eriksen Dickens, Peek Wedding Films.
"There are many benefits to downsizing your guest count. You're able to splurge on a high-end venue and gourmet menu when feeding less people. You'll also be able to give each of your guests a more personalized, VIP experience."
"For video, we can better document special moments when the camera isn't divided amongst 300+ faces. If you still want the grand affair, think about limiting your ceremony guests and having a smaller reception after. This gives you the best of both worlds!" 
Outdoor Weddings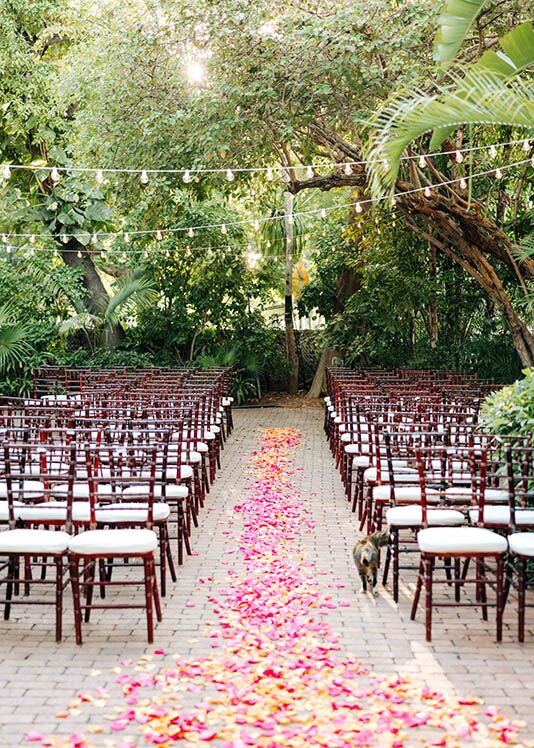 Photo: Sand and Sea Studios | WCO Events | Venue: Ernest Hemingway Home | Duarte Floral Design
"With more couples thinking outside of the box when it comes to their weddings, a top wedding trend for 2024 will be unique settings - especially outdoors. Outdoor weddings are on the rise as couples seek out unique settings that can't be found at traditional venues. Whether they're looking for something historic or fun, outdoorsy or romantic—there's no doubt that this trend is here to stay, " shared Anna Rodenbeck of WCO Events.
Tailor-Fitted Clothing
"Oftentimes, the guys get overlooked in a lot of the wedding planning and design. The slim-fit suit has been popular the past few years and we see no signs of this trend going away anytime soon," shared Vincent Leone, Roma Tailors LLC. 
"A well-made, well-cut suit/tuxedo will definitely make you stand out in a room full of frumpy oversized suits. And of all days, you need to be the guy that has all eyes on him. The celebration of the human form has been around as long as humans have inhabited the earth. Putting on a crisp, tailor-fit suit will do wonders for your self-confidence, poise, and ego. Of all days where you want to look and feel like a million bucks, we say go for it and splurge a little. You won't regret it!" 
Sustainability
"This trend speaks to the mindset of our couples: sustainability. And while that concept may seem a little off from the others we have already mentioned, they can go hand in hand. Our couples ultimately want to be thoughtful in all of their decisions," shared Nora Sheils, Founder Bridal Bliss and Co-Founder Rock Paper Coin.
"This may include estate jewelry, printing invitations on upcycled materials, charity-based registries, and vendors that give back. As we have seen a rise in couples that are focused on their footprint, we have worked with them to find a venue and team that are like-minded, and also find ways to lessen their impact and give back to the community. We can't wait to see these trends come to life in 2024!"
Multiple Dress Changes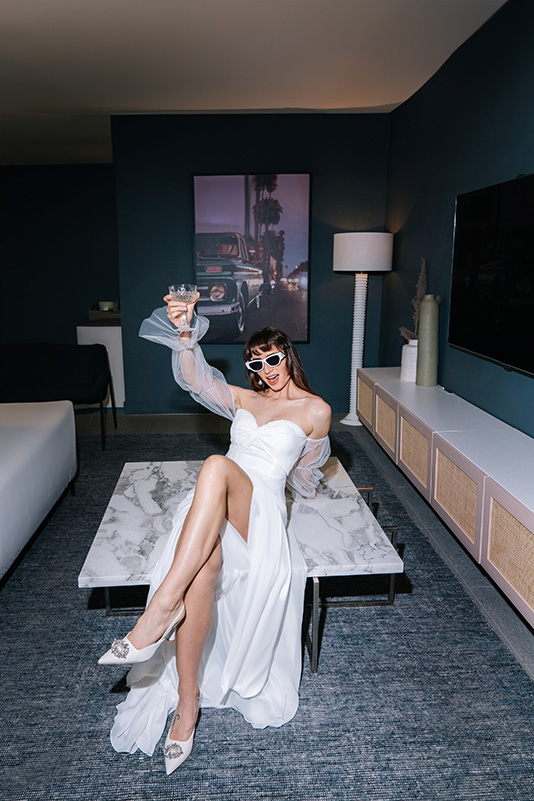 Photo: Anastasia Shevchenko
"2024 continues to buck traditional wedding norms on every level. One of the personalized decisions we've been seeing is brides doing multiple dress changes, but not necessarily gown changes. The ladies are choosing comfort and fun as they consider their outfit changes," shared Elizabeth Lutz of Elizabeth Lutz Boutique Design & Event Planning.
Live Streaming 
"Live streaming gained widespread popularity during 2020 when couples had to pivot to virtual weddings. Now, live streaming is here to stay as a way to include loved ones who can't physically attend," shared Dickens.
" In 2024, we expect nearly every wedding to be live streamed in some capacity. Couples may choose to live stream just the ceremony so elderly relatives or faraway friends can virtually participate in real time. Or, others may want to live stream the entire event start to finish as the ultimate favor for absent guests. The great news is live streaming a wedding has never been simpler or more affordable."
Petite Bouquets
"Petite wedding bouquets are the newest trend after years of seeing oversized ones take center stage. A small bouquet really allows the wedding gown to shine," shared Lisette Gatliff of Lisette Gatliff Photography.
Large Wedding Parties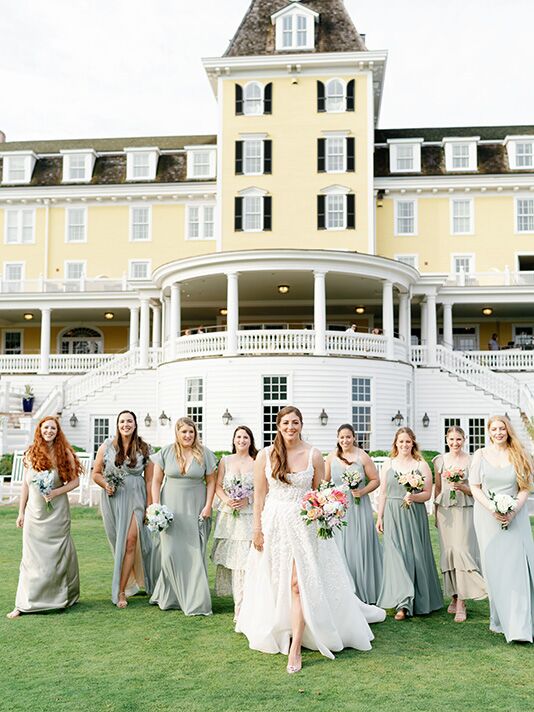 Photo: Jackie Fox Photography | Sayles Livingston Floral Design | Ocean House | Eventlightenment Planning
Alexandra Denniston, Owner & Lead Planner at Eventlightenment Planning shared, "More and more Gen Z couples are tying the knot and along with that comes their large friend groups, which translates to their oversized wedding parties."
"In 2024 we will continue to see the size of couples' wedding parties increase to include 10+ bridesmaids/groomsmen/other VIPs! I'm so excited to see how they step up the game with multi-colored and patterned attire along with unique accessories and party portraits."
Custom Attire
"Personalized suits with custom logo linings are trending now. Imagine having a picture of a loved one that passed who is not at the wedding or a beloved pet, well now from a simple digital photo you can embrace that as part of your wedding attire," shared Leone.
"The three-piece suit is timeless and elegant. At some point in the evening, odds are the jacket is going to come off, but grooms still want to look dapper. A vest is the perfect addition. Custom logo vests are also making their way into the groom's wedding attire."
"Whether you offered your coat to your bride when she caught a chill or just needed to cool off your core body temperature, you'll know that you are still going to look like a million bucks and be comfortable enough to dance the night away." 
Live Artists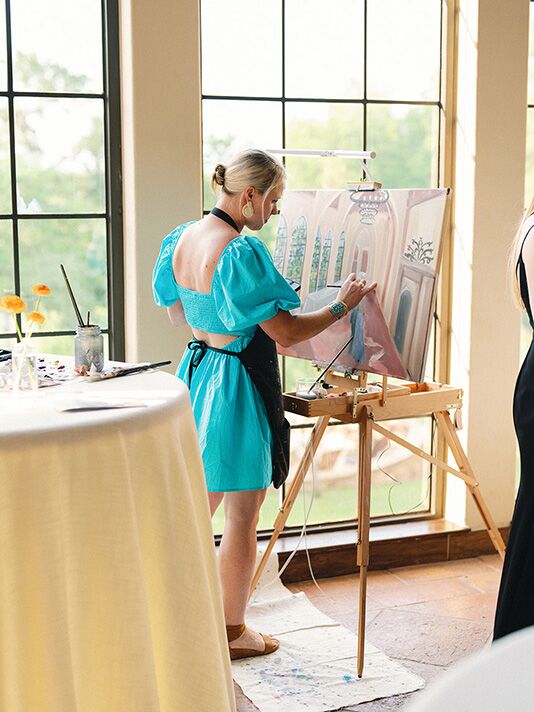 Photo: Ann Mark | Jennie Lou Art
"Looking for something to propel your wedding to a luxury level, and give your guests an experience they will not forget? Hire a live artist to capture a painting of the event, during the event, or, even better, have the artist paint watercolor portraits of your guests during cocktail hour, or at the welcome party!"
"Art is a timeless and luxurious addition to your wedding day, not to mention an heirloom you will pass down to your children as a testament of your love and lasting memory, " shared Jennie Tucker of Jennie Lou Art.
Film and Patterns
"Two very popular trends we're seeing with our 2024 clients is a gravitation towards organic film photography, paired with a penchant for maximalism color and pattern combo in designs, shared Chloe Skelly of Chloe Alise Events.
"It feels very retro but done in a modern, elegant and new age way, that I think feels organic and true to our couple's vibrant personalities versus neutral color palettes for their weddings. The way these patterns pick up on film photographs as well is always so fun to see come together!"
Skipping the Post-Wedding Brunch
"We're seeing couples opt-out of a post-wedding brunch, in favor of hosting another activity on the front end of the weekend - think golf tournaments, pickleball, wine tasting, or a casual gathering for guests who come into town early," shared Emily Coyne of Emily Coyne Events.
"For those who do desire a Sunday Funday, we're seeing much later start times so that guests can relax and sleep in."
Flash Photography 
"Add a touch of Hollywood glamour to your wedding photos with flash photography. Create striking images by using flash to capture candid moments, even in low-light settings. Think sunglasses at night, dramatic shadows, and unforgettable shots,"shared Anastasia Shevchenko of Sheff Production Photography & Videography.
Find more party and wedding trends here on The Bash.