19 Outdoor Party Games and Entertainment Ideas
Your guests will have a blast with one of these party games or entertainment ideas.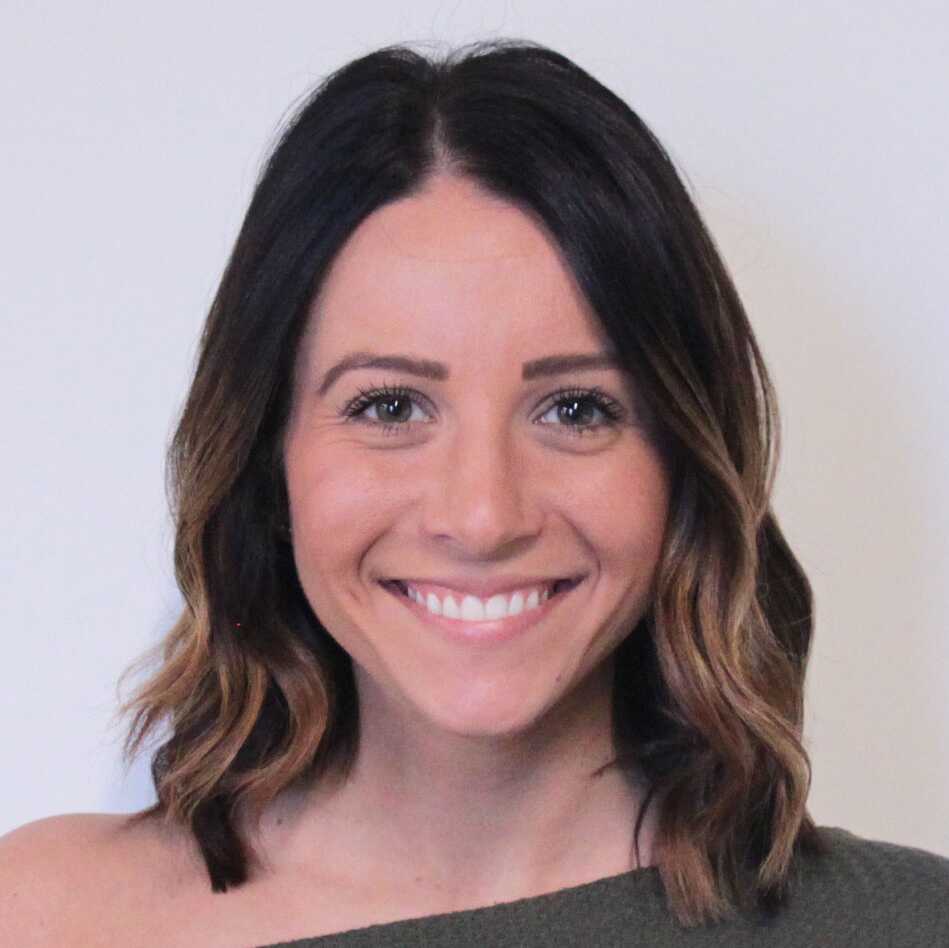 Party planners everywhere are looking for outdoor party ideas that are safe for celebrating while social distancing due to the COVID-19 pandemic. Activities like outdoor party games and party entertainment are the perfect way to make your next at-home celebration even more exciting.  
With social distancing limiting some of our traditional party trends, party games and entertainment will normalize your new style backyard event. Ranging from original party game favorites to musical performances, you can't go wrong with these fun and relatively cost entertainment effective options.
Here is a list of 10 fun outdoor party games and party entertainment ideas for your next celebration.
Outdoor party games
Whether you own it, borrow it, or buy it—the key to an outdoor party game is that it can be easily set up, right in your own backyard. These outdoor party games are perfect for kids and adults.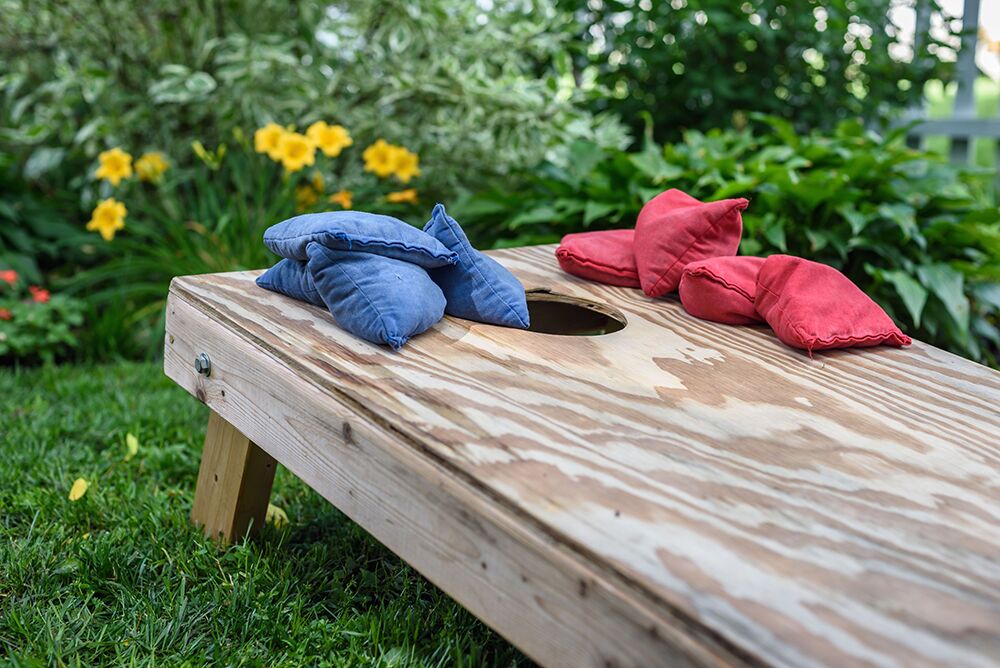 Photo by David Prahl/Shutterstock.com
Corn Hole
Potentially the most popular of all the yard games—corn hole is a staple activity at most summer soirees. Whether you have your own custom boards or are borrowing them from a friend, a corn hole tournament is a perfect game to encourage a little friendly competition among guests.
Yard Pong
Typically an adult drinking game, yard pong is appropriate for all ages. If you're really feeling creative, you can make your own life size yard pong with trash barrels and volley balls.
PutterBall
For the golf enthusiasts in your life, PutterBall combines golf with beer pong and is the perfect activity for an outdoor guys night. 
Kan Jam
Guests will test their frisbee skills when you set up Kan Jam as a backyard party activity. Whether it's Kan Jam original, mini, or splash—teams of two play with a goal of getting their frisbee into their teammates bucket.
Ladder Golf
You don't need to be a golf pro to play and enjoy Ladder Golf! Comprising teams of two or four, party guests will aim to get their bola on one of the three tiers of the game ladder.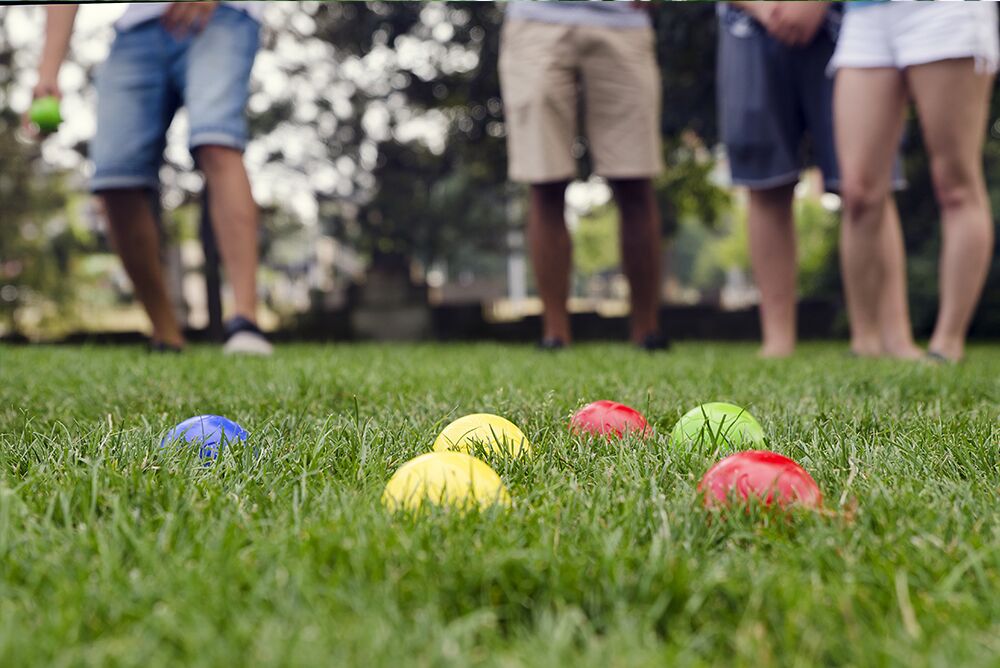 Photo by Pavla/Shutterstock.com
Bocce ball
One of the most traditional backyard party games to play, bocce ball will be a hit for the adult party guests. Bocce ball can be played by 2, 4, or 8 on two different teams striving to get their bocce balls closest to the pallino. 
Outdoor Party Games for Kids
Traditional things like hula hoops, a ring toss game, capture the flag, life size tic tac toe, and potato sack races are fun games that every child can enjoy. 
Pro Tip: If it's an extra hot day, fill up some water balloons or add some extra pool noodles for swimming.
Party entertainment
All bookable on The Bash—find exciting party entertainment for your outdoor party has never been easier.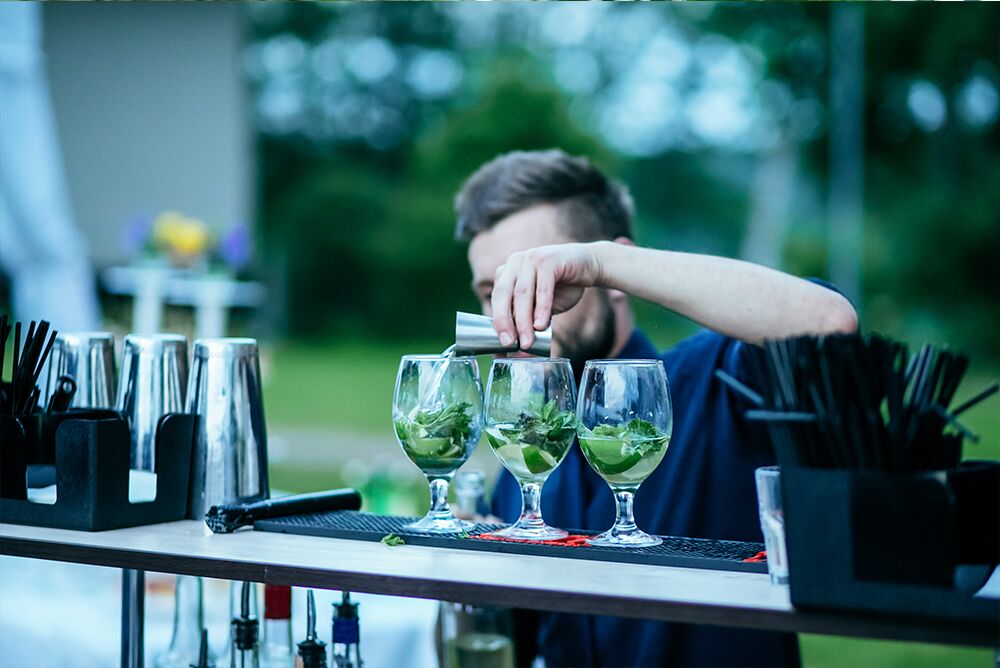 Photo by Alex Ander/Shutterstock.com
Bartender
Bring in a bartender to craft custom cocktails for your next outdoor soiree. With a professional behind the bar, it's one less thing to worry about on your list of party to-dos.
Food Truck
Hire a food truck to stop by for an hour or two and provide additional exciting treats for your guests. From mini donuts to ice cream, and tacos to pizza, you'll be surprised at the variety of options available from a local food truck.
Band
From small country bands to large cover bands, and everything in between, a band will be the perfect party entertainment for a backyard milestone birthday party, or event with an adult crowd.
DJ
More than just having a playlist prepared, a DJ will spin popular hits, can encourage guests to dance (if that's what you're looking for) and can facilitate party games as an emcee. 
Pro Tip: For a smaller outdoor event, you may want to consider booking a mobile DJ who requires less set up and brings their own equipment.
Dancers
For a summer party, guests will be highly entertained with a performance from some dancers. Whether it's hula dancers, belly dancers, flamenco dancers, or hire dancers, their unique skills will be a hit with guests of all ages.
Animals for Parties
Whether it's a petting zoo, reptile party, or pony rides—hiring a vendor with animals for parties is sure to keep the children entertained. You'll also get some pretty cute photos too.
Bounce House
Although typically considered kids party entertainment, a bounce house or party inflatable can be enticing to a variety of guests. If it's going to be a hot summer day, you can search for a bounce house with a sprinkler system option to cool down guests.
Magician
A strolling magician who can perform various tricks throughout an event, without requiring a sit-down show, is the perfect party entertainment experience for a small outdoor event this summer.
Elvis Impersonator
An appearance from The King will not be forgotten at this summer's anniversary party, retirement celebration, or cocktail hour with friends and family. 
Caricaturist
Not only is a caricaturist party entertainment that all guests with love—their drawings whether digital or traditional print can double as a party favor.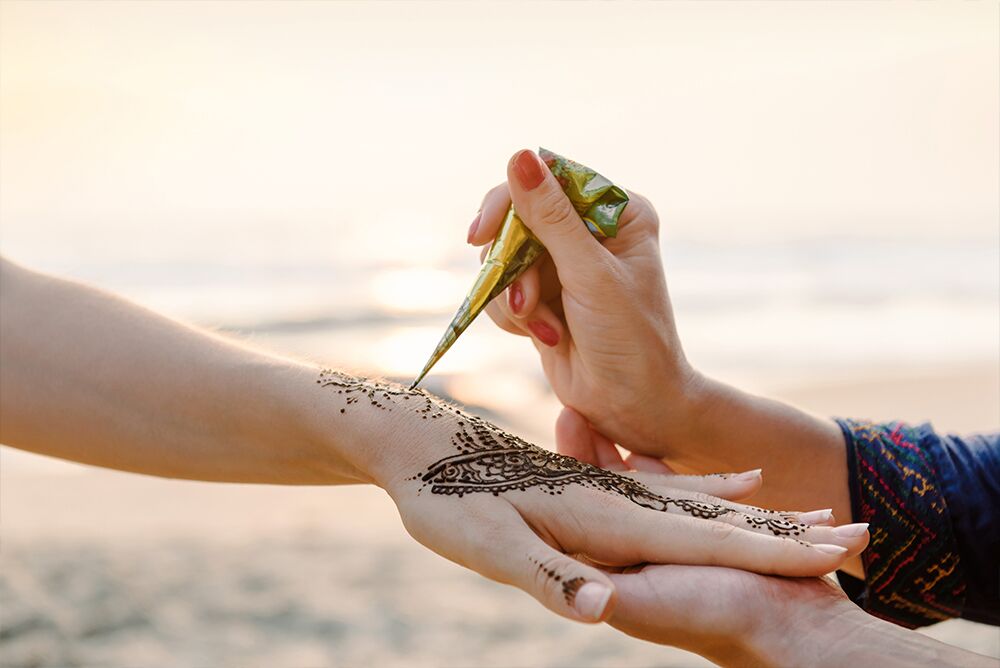 Photo by Nina Lishchuk/Shutterstock.com
Henna Artist
Perfect for a luau, kids' birthday party, or even a teen party, a henna artist will be an exciting option for the younger crowd at your outdoor summer party.
Face Painter
A standard for kids party entertainment—you can't go wrong with face painting as your kid friendly party activity. Check with your vendor to see if they offer other fun options like temporary tattoos or airbrush tattoos. 
Find more outdoor party and virtual party inspiration from The Bash.