How to Throw a Murder Mystery Party this Halloween
Who doesn't love whodunnits and mysteries?
Brittany Barber
Contributor
Night has fallen and the moon is full. You are among friends who are skillfully adorned in eccentric yet sophisticated costumes in anticipation of the best Halloween murder mystery party ever. Irresistible cocktails and Halloween hors d'oeuvres are being devoured with merriment. The spooky music blends harmoniously with laughter while gowns and capes swirl in the warm flicker of lit jack o'lanterns. Your guests are entranced by the luring energy of the All Hallows Eve festivities. 
Until suddenly, an ear-splitting, blood-curdling scream deafens the party! Everyone rushes to the next room, only to freeze with terror. There, on the floor, lies the bloodied body of a dear friend. A murder! Those around you abruptly transform from companions to suspects. Who could have possibly done this? 
Well, that's for your guests to find out! Celebrate Halloween 2023 with an enthralling murder mystery party. Wondering how to do that? We've created a guide to help you host a great Halloween party with the best murder mystery party entertainment. 
READ MORE:
What is a Halloween Murder Mystery Party? 
A Murder Mystery Party is a themed event that involves interactive mystery-solving of a fictitious murder. Generally, in a group of 8 or more, the objective revolves around figuring out who the murderer is, how they did it, and why. There can also be interesting character subplots, like secret affairs, thievery, and hidden agendas. 
With Halloween 2023 coming up, this spooky roleplaying "whodunnit" game can be the perfect source of entertainment for your Halloween party. 

Photo by Fer Gregory/Shutterstock.com
Here are 10 tips on how to throw the best Halloween murder mystery party. 
Virtual or IRL? 
The first thing you need to decide for your Halloween party is whether or not you will be hosting an interactive, live-action murder mystery party or a virtual murder mystery game. Digitally or IRL, there are plenty of experts in murder mystery entertainment that can curate an excellent game for you and your guests, whether you choose to do a murder mystery dinner party or play together online while staying at home.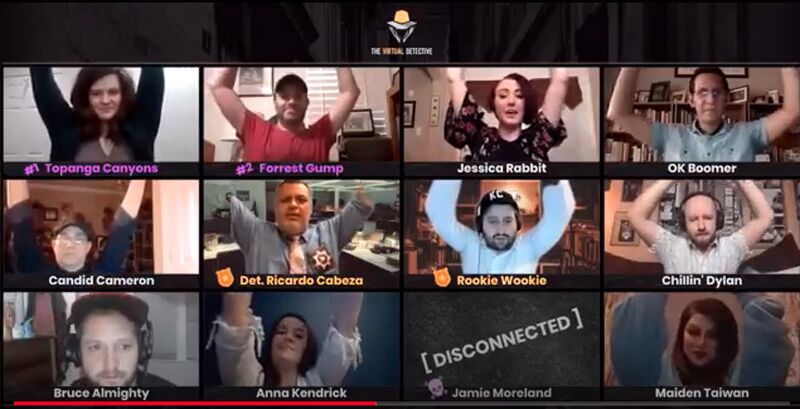 Photo: Virtual murder mystery party by Virtual Detective
Send Invitations 
Make a guest list and get your murder mystery party guests to RSVP as early as possible. Knowing exactly who will be participating will help you or your murder mystery entertainers to organize and plan out the plot and characters. Send your invites at least two weeks in advance to leave enough time to properly plan. Typically, murder mystery events require 8 or more people, but some murder mystery entertainment can offer games that work with smaller parties too. Make sure to include everything your guests will need to know in the invite, including theme, costume requirement, and what to expect.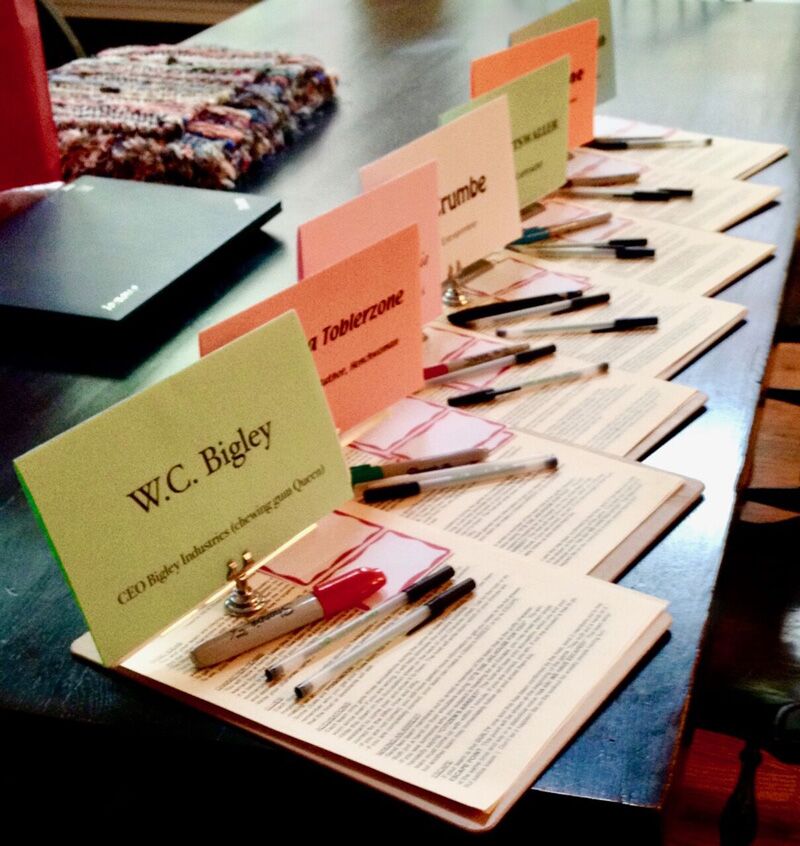 Photo: Murder mystery game kits to play at home by Mystery and Game Shows
Choose a Murder Mystery Theme 
Murder mystery parties can be hosted under a variety of intriguing themes. Whether you choose a 1950's jazz club or a masquerade ball, it's entirely up to you and your guests! If you don't want to bother with a specific genre, just keep it as simple as a Halloween party murder mystery - where the "murder" takes place at a Halloween party! Your guests can dress in the costumes they would have worn, either at the event in person or on a video call if you're going with a virtual Halloween party. If you need some inspiration, there are plenty of murder mystery companies that can help you figure out what theme is best for your party. 
Decide on a Murder Mystery Venue
If you're not hosting virtually, choosing a party space should be easy enough once you've figured out how many guests will be attending. Unless you're hosting a public murder mystery dinner theater show or something on a larger scale, your own home or even backyard should do the trick. If you're not exactly keen on having people over, there are a bunch of party venues you can rent out for the evening instead. Take inspiration from your theme and rent out a library, cocktail bar, mansion or theater to set the scene.
Assign Character Roles
Once everyone has RSVPed, provide your guests with their character sheets or scripts to review prior to the party. Giving them out in advance will help your guests come prepared and in character! Depending on which murder mystery entertainment you choose, you can leave costumes entirely up to your guests' discretion, or give them specific character aesthetics. 
Plan your Halloween Party Menu 
The safest way to serve food at your Halloween party is to provide individually wrapped or plated items. Passing out small appetizers or hor d'oeuvres that can be served in cupcake liners will prevent unnecessary or accidental food handling. You could also hire a caterer to ensure all food and food scraps are taken care of professionally if you'd like to relieve some of the party-planning stress. If you're planning a virtual murder mystery party, you can still get creative with a menu! Encourage your guests to make Halloween treats and snacks in advance to enjoy during the video call. 

Photo by Africa Studio/Shutterstock.com

Decide on Drinks
Figure out if you want to serve a signature cocktail or if you would prefer a simple BYOB approach instead. Another option is to stock your fridge full of canned and bottled beverages that can be recycled as soon as it's finished. Not only will this help keep things clean and sanitary, but it will cut back on dirty dishes at the end of the night too. If you'd prefer a wider selection of beverages or elaborate Halloween cocktails, hire a professional bartender or mixologist to make drinks professionally and safely.
Bonus: Here are 24 Halloween Drinks and Cocktail Recipes.
Decorate 
Set the mood with decorations that match your Halloween murder mystery party theme. Be as elaborate or as easygoing as you'd like—just don't forget the fake blood for a semi-realistic murder scene! If you're hosting a zoom murder mystery party, you can add some mystery intrigue and murder ambiance with a spooky Zoom background.
Bonus: We've got these 45 Spooktacular Halloween Zoom Backgrounds to download for free.
Decide on Rounds
Murder mystery entertainment can vary from game to game. Usually, there are two or three rounds throughout the night, with additional character cards handed out at the start of each round. How long do you want your guests to look for clues to solve the crime? If you want the entire night to be based around the mystery game, go for a plot that requires several rounds. If you have other fun stuff planned for the evening, opt for a shorter plot with one or two rounds instead.  

Photo by Nikolay Antonov/Shutterstock.com
Create a Halloween Murder Mystery Playlist
Although YouTube streaming can be an inclusive way to play music at your Halloween party, you may want to create a playlist ahead of time to avoid breaking out of character. Whether you throw together a couple of hours' worth of 50s jazz, swinging blues, or spooky Halloween-themed music, make sure you are equipped with a long enough playlist to last the whole night - or at least until the mystery is solved! 
For other Halloween party ideas, check out our Halloween Events Page for ideas and resources.
About Brittany Barber
Brittany Barber, lover of books, dogs, and romance, graduated from Bishop's University with a Communications and Theatre degree. After spending some time working abroad in the theatre world, she is now a freelance writer covering a range of lifestyle topics including event planning for The Bash, WeddingWire, 2life and Fluttr, and shopping for BuzzFeed and Narcity.