17 Amazing Outdoor Wedding Venues in NYC
On the hunt for an amazing outdoor wedding venue in NYC? Here are a few of our absolute favorites.
Alice Prendergast
Contributor
If you're tying the knot in New York City, you're pretty much spoiled for choice when it comes to venues. The city is brimming with gorgeous grand ballrooms, industrial lofts, and restaurants, but some of it's best wedding venues are in the great outdoors, on rooftops, terraces, and back patios. 
If these open-air event spaces sound right up your alley, let us show you some of the best outdoor wedding venues in NYC. From artsy spaces and chic lounges to golf courses and intimate patios, this list has something for every wedding theme.
Here are the 17 of the most amazing outdoor wedding venues in NYC.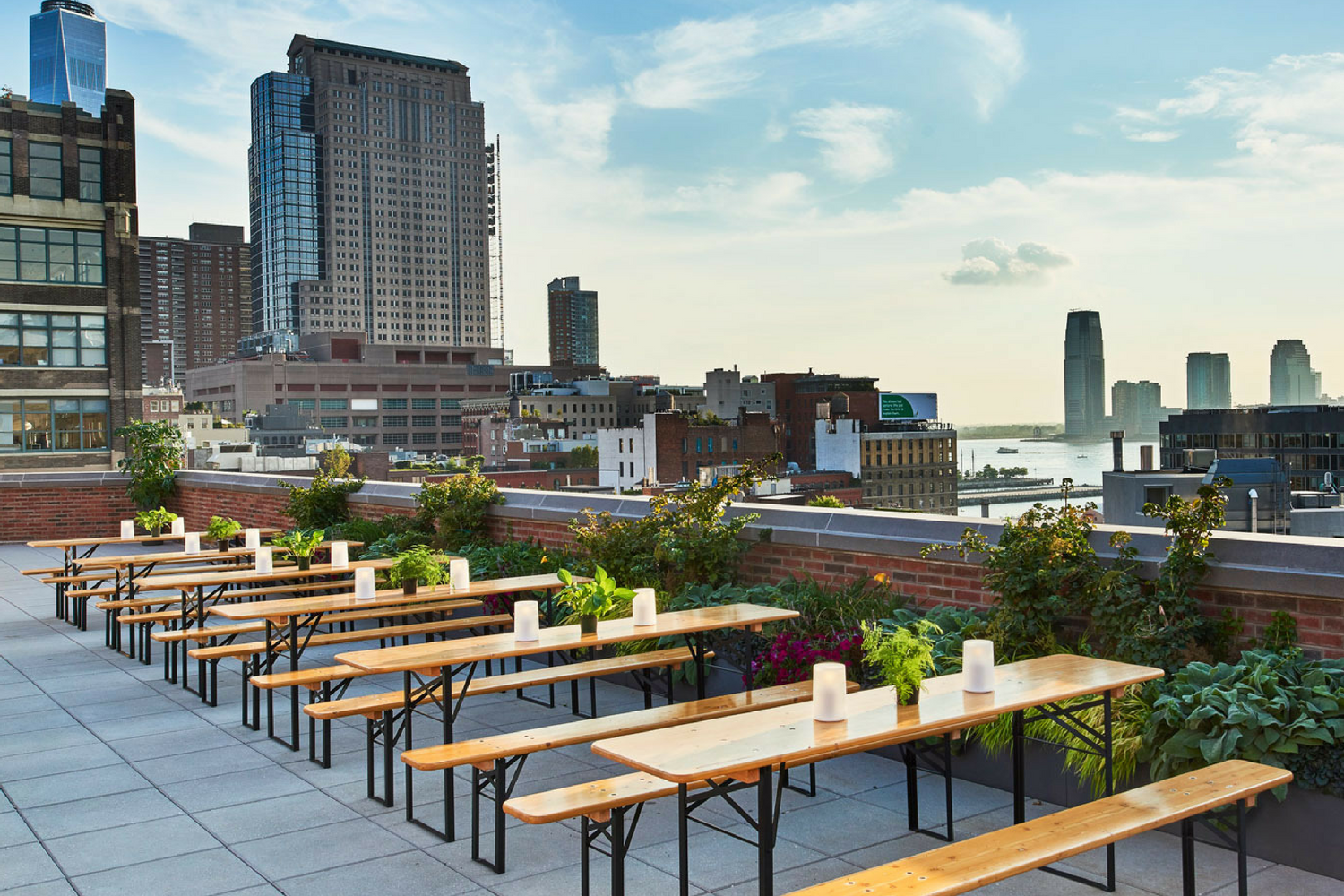 Arlo Soho - A.R.T. Soho, 231 Hudson Street, 11th Floor
Arlo Soho is an artsy, luxurious space located in, you guessed it, the heart of Soho. Make your way past the top floor onto the rooftop and you'll find a modern indoor-outdoor bar that's more than worthy of your wedding. The space flaunts an illuminated bar and is decked out with chic patio furniture, but it can be completely overhauled for your special day.  
Like the Tribeca rooftop, the spot has killer views of the city, so you'll barely need to invest in any extra decor (your guests will be waaay to busy scoping out skyscrapers, anyway). In total, it covers 3,000 square feet and can fit up to 250 guests.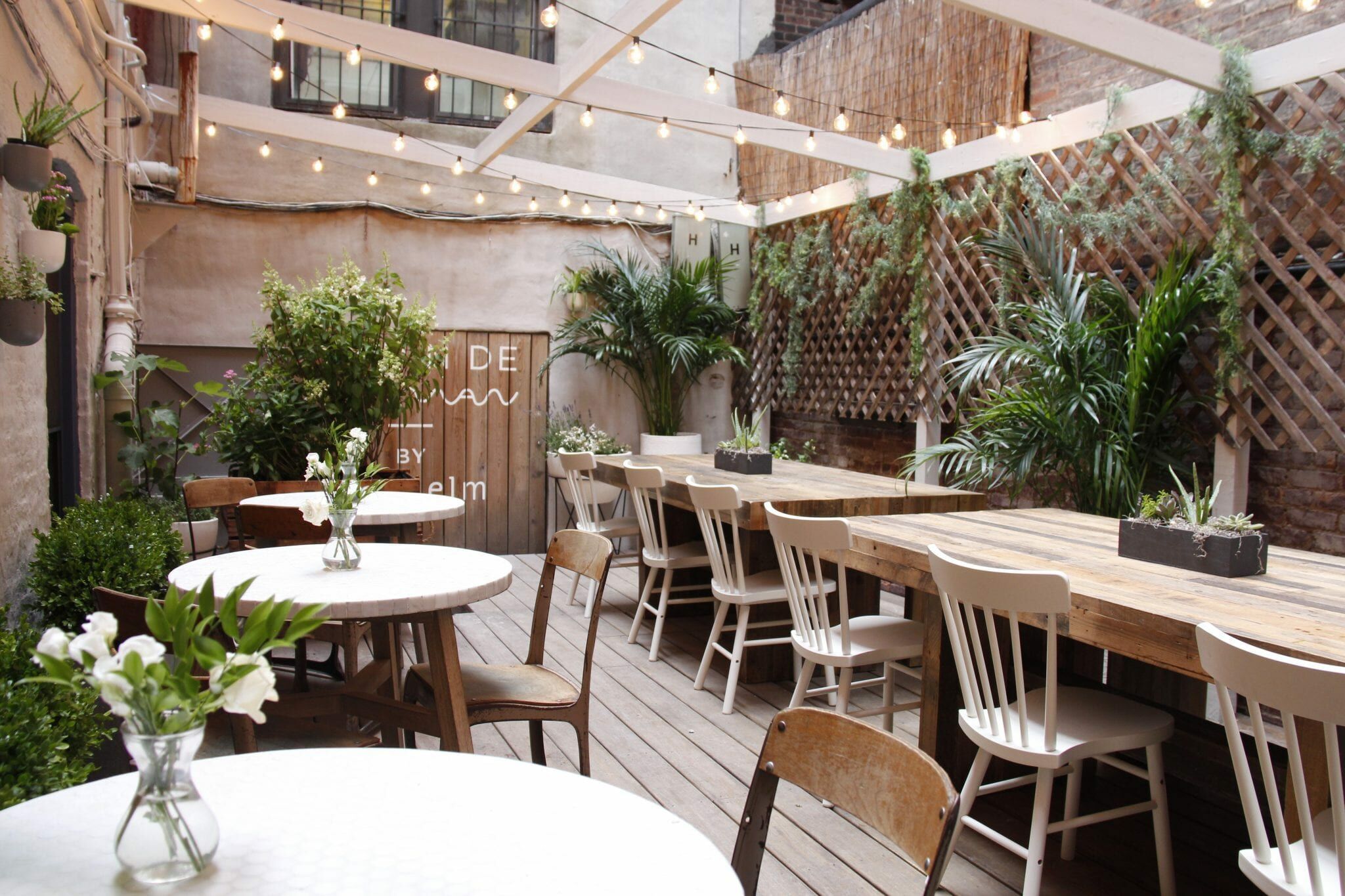 Marche Maman, 237 Centre Street
If you're on the hunt for something a touch more intimate, head on over to Marche Maman in Lower Manhattan. The adorable French-inspired spot will transport you out of NYC for your big day and give your nuptials a healthy dose of Parisian flavor. Not only are you guaranteed a top-notch wedding menu filled with delicious sweet treats and cocktails, but also offers amazing ambiance.  
The petite outdoor terrace is sandwiched between brick buildings, giving you and your guests a bit of privacy (rare, when it comes to NYC patios). It's decorated with string lights and rustic wooden furniture, but you can spruce it up even more with balloons and bespoke floral arrangements. It's large enough to fit up to 75 guests.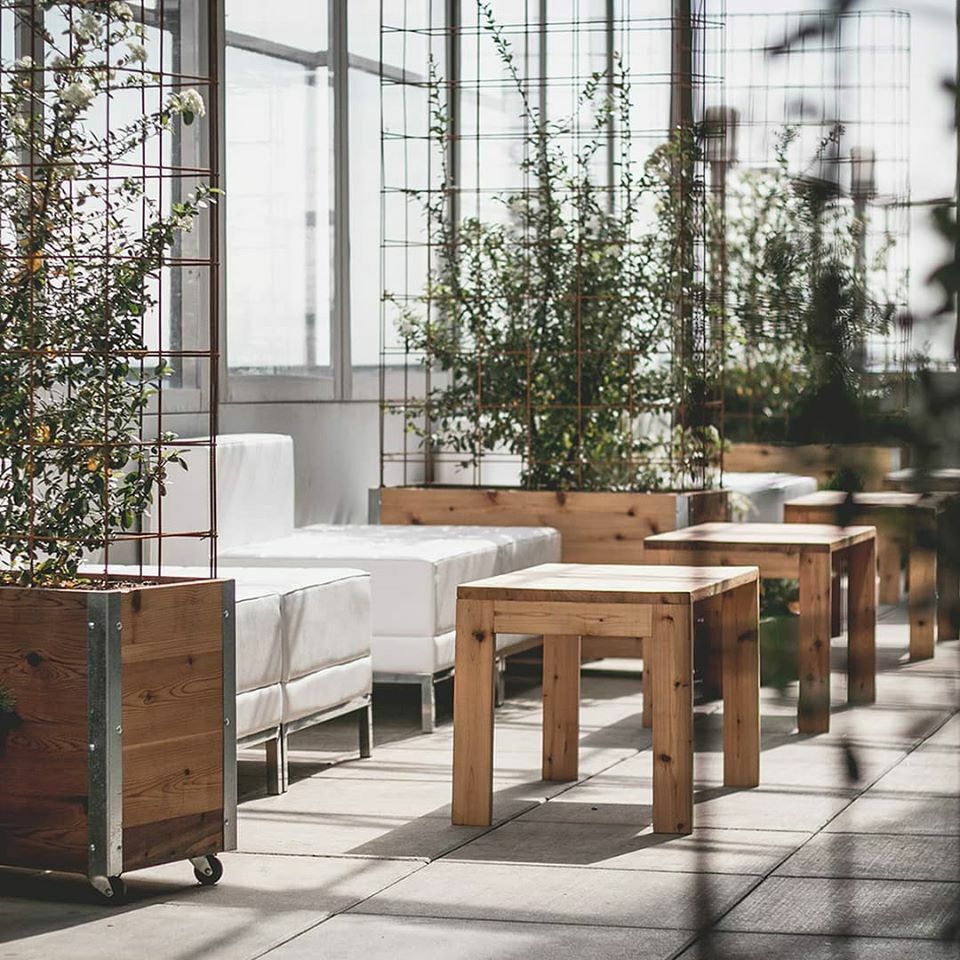 Kimoto Rooftop Garden Lounge, 228 Duffield Street, Brooklyn
NYC may be filled with hustle and bustle, but if you're looking for a tranquil place to celebrate your big day, we suggest escaping to the Kimoto Rooftop Garden Lounge. It's a tranquil terrace with a modern, spa-like feel, decked out with contemporary bench seating, wooden tables, and plenty of greenery.  
A few candles, floral arrangements, and metallic decor accents would go a long way here, but it's also gorgeous for any couple who wants to embrace a more minimalist theme. It can accommodate between 25 and 150 guests, making it ideal for small to midsize weddings.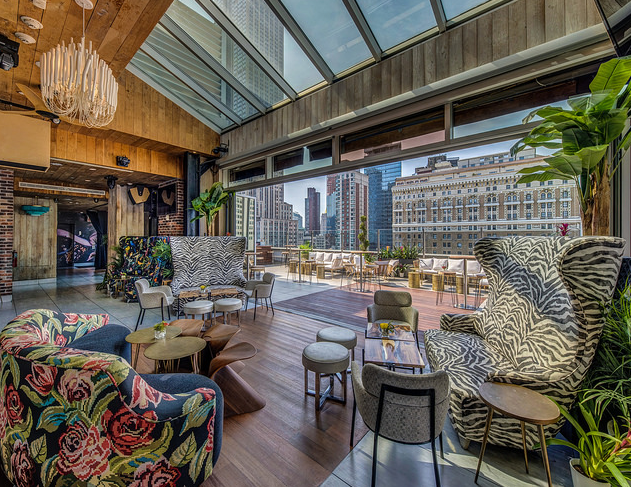 Monarch Rooftop, 71 W 35th St
If you want to host your wedding celebration in the Midtown South area, Monarch Rooftop is a gorgeous choice. The indoor-outdoor bar is perched 18 floors above street level and offers unobstructed views of the Empire State Building and Manhattan's most iconic skyscrapers (pretty epic wedding backdrops, if you ask me).  
As for decor, it's outfitted with eclectic furniture pieces and tropical plants, but can be switched up to suit the wedding theme of your dreams. It spans 5,000 square feet of space and can accommodate up to 300 guests, so it's great for larger weddings.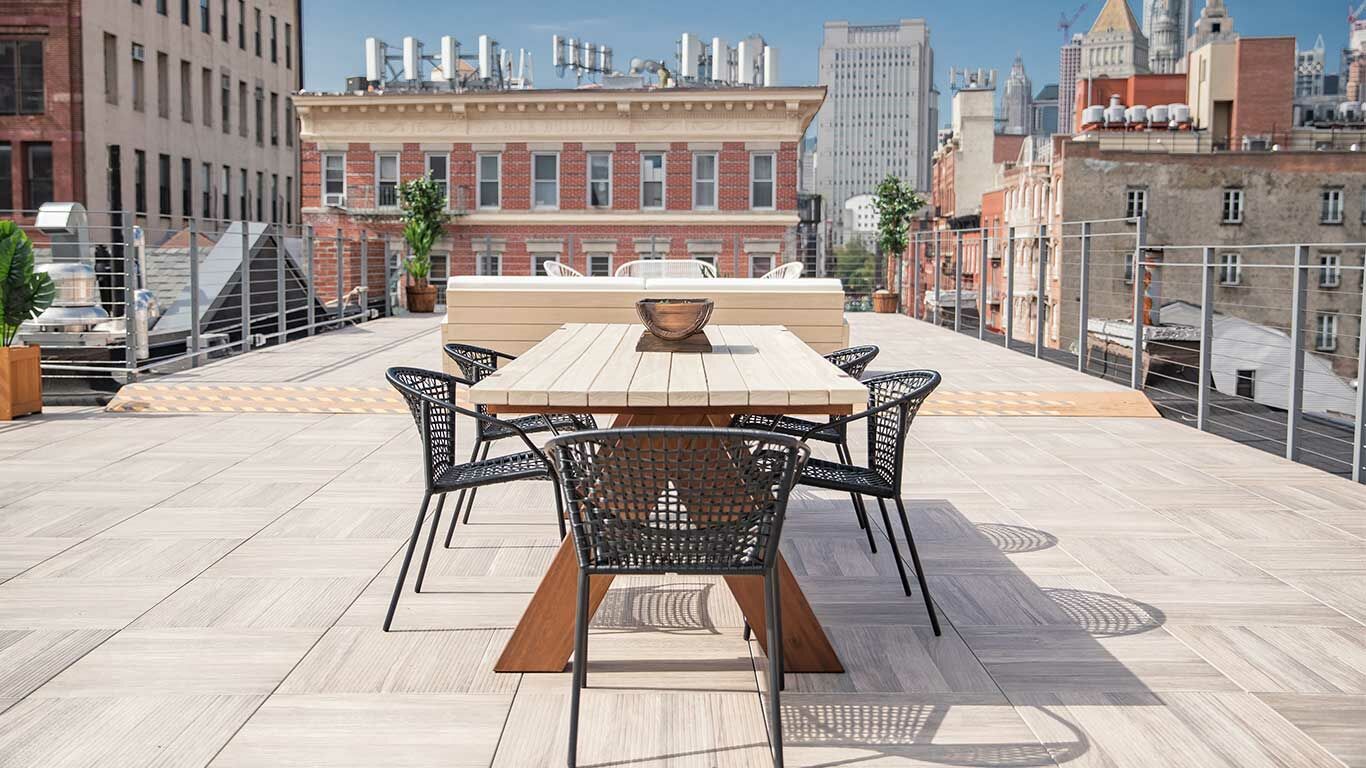 The Farm Soho - The Farm Rooftop, 188 Grand Street
The Farm Soho offers a smaller, yet equally gorgeous rooftop patio where you can say and celebrate your 'I dos'. The space has chic tiled floors, amazing views, and is smack in the middle of Soho, making it easy for your guests to get to. It covers 2,300 square feet of space and can fit up to 50 guests, so it's great for micro weddings and small events.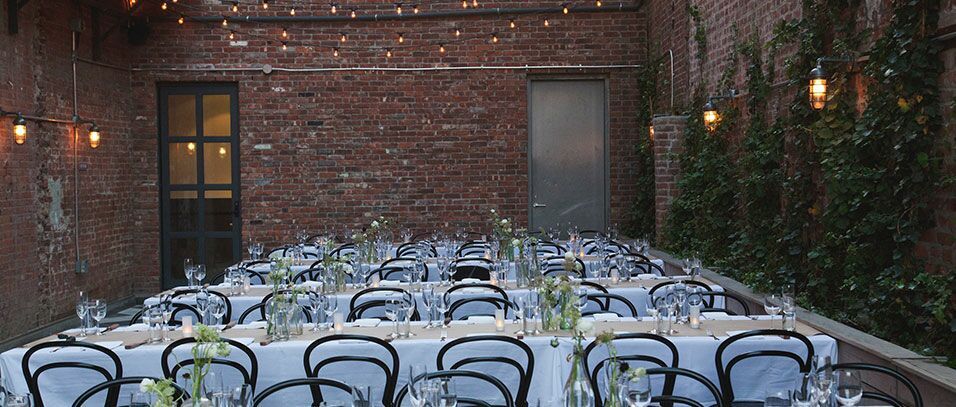 Wythe Hotel, 80 Wythe Avenue, Brooklyn
If Williamsburg is calling your name, the Wythe Hotel needs to be on your radar. In 1901 the building was a factory, but has since been transformed into an iconic independent hotel. The inside still has a lot of that warehouse charm, but the Garden Terrace is really where it's at for weddings. It's surrounded by exposed brick walls and has chic black and white tiled floors.  
The best part? It's covered by a retractable roof, so you won't have to switch locations if there's a drizzle or downpour on your big day. It's large enough to accommodate up to 150 guests, making it great for midsize weddings.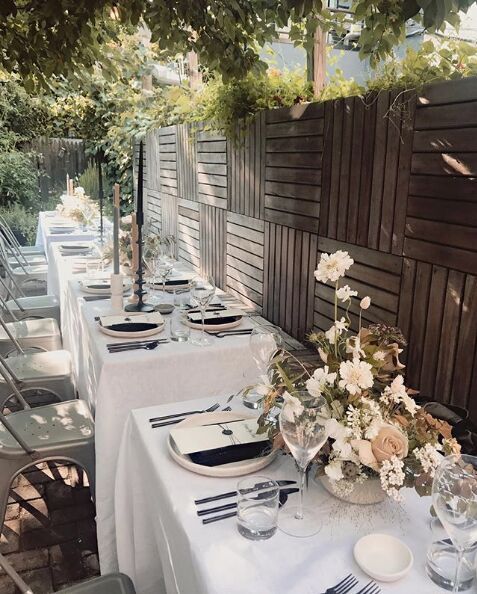 Faun Patio, 606 Vanderbilt Avenue, Brooklyn
Dream of having a backyard wedding, but your tiny apartment patio just won't do the trick? Take advantage of the patio at Faun. It's located in Brooklyn and boasts quaint wooden fencing, simple patio furniture, and a ton of greenery. It covers 550 square feet and can fit between 15 and 65 guests.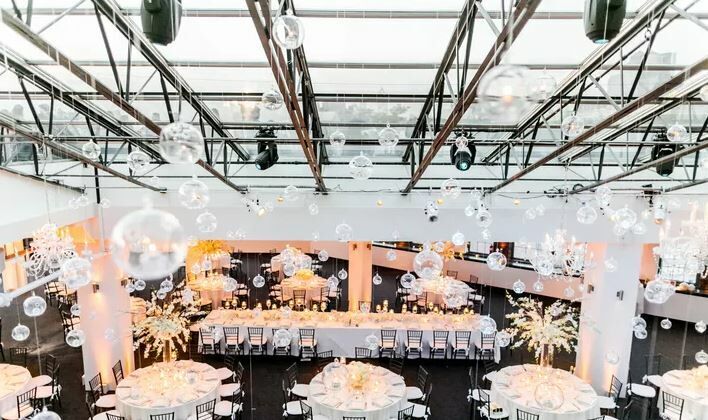 TR+360 - Tribeca Rooftop, 10 Desbrosses Street
If you want an NYC outdoor wedding venue with a view, you need to see the TR+360 - Tribeca Rooftop. The paved terrace covers a whopping 14,000 square feet and can fit up to 750 guests (though it's great for smaller celebrations, too!). It doesn't have any extravagant bells or whistles, meaning it's a blank canvas just waiting to be transformed for your big day. There's also a stylish indoor space available, which is a perfect Plan B option if Mother Nature starts to act up.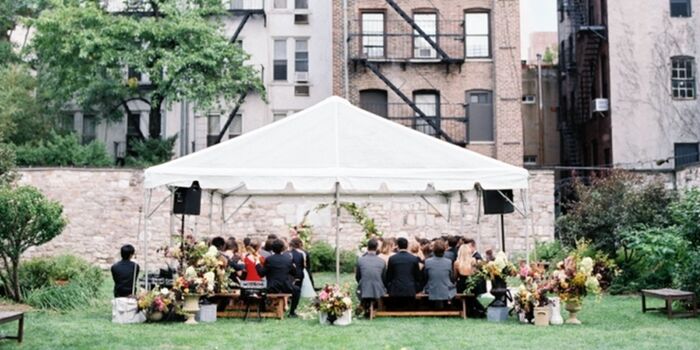 New York Marble Cemetery, 41 1/2 2nd Avenue
Want a unique venue that's a far cry from a Brooklyn bar or Manhattan ballroom? Check out the New York Marble Cemetery in the East Village. The name may seem a bit dark for a wedding day, but trust me when I say, it's well worth a visit.  
Instead of gravestones, you'll find a lush green lawn surrounded by a perimeter of flowers and shrubs (so you won't need to hire a florist!). It's completely flexible, so you can dress it up however you want for your big day. The space is large enough for 60 guests, so don't go too wild with your guest list.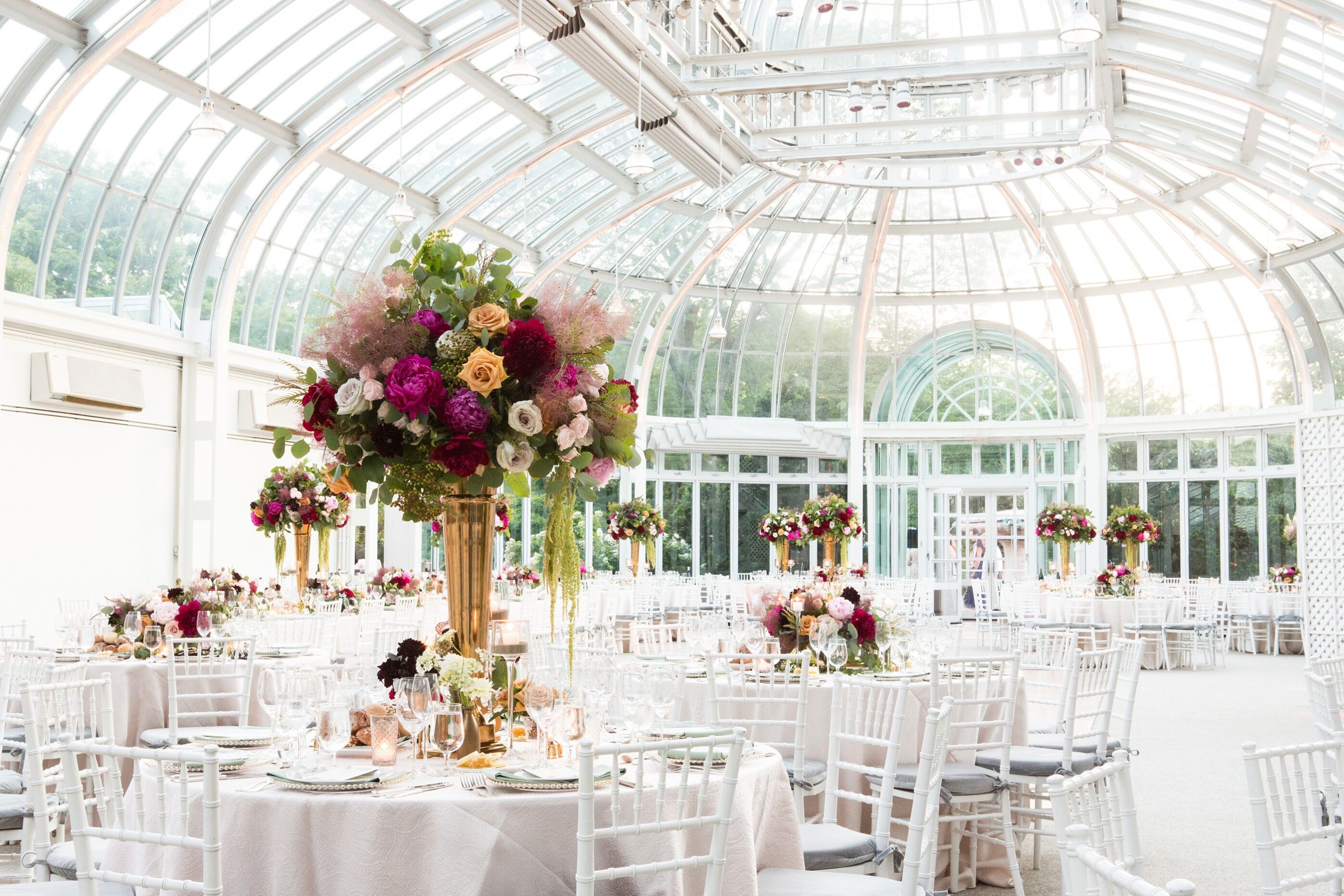 Botanical Gardens
If a garden wedding is what you have in mind, then a beautiful botanical garden in NYC is the perfect spot for your special day. At the New York Botanical Garden you have Stone Mill, which oversees a stunning view of The Bronx River or the Garden Terrace Room which oversees the beautiful Rockefeller Rose Garden. 
At the Snug Harbor Botanical Garden in Staten Island there are five different outdoor spots (and some indoor options) that will be perfect for both cocktail hours and receptions. If you're looking for something glamorous, then look no further than gorgeous Brooklyn Botanic Garden. This stunning venue features an outdoor terrace for ceremonies and the glass-walled Palm House. 

Terrace On The Park - Penthouse Suite/Rooftop,
52-11 111th St, Queens
Get the best of both worlds of an indoor and outdoor wedding with the Penthouse Suite/Rooftop at Terrace on the Park. Located in Queens, this venue has breathtaking views that overlook Flushing Meadows Park and the classic Manhattan skyline. Take advantage of the city's natural beauty in Downtown New York with the countless photo opportunities and one-of-a-kind backdrops.
Not only does Terrace on the park have their own culinary and bartending services, but you can also experience white-glove service from the talented and accommodating staff. Invite up to 350 guests in the 3,000 square foot space that includes ambient lighting, floor-to-ceiling windows, and gorgeous floral displays.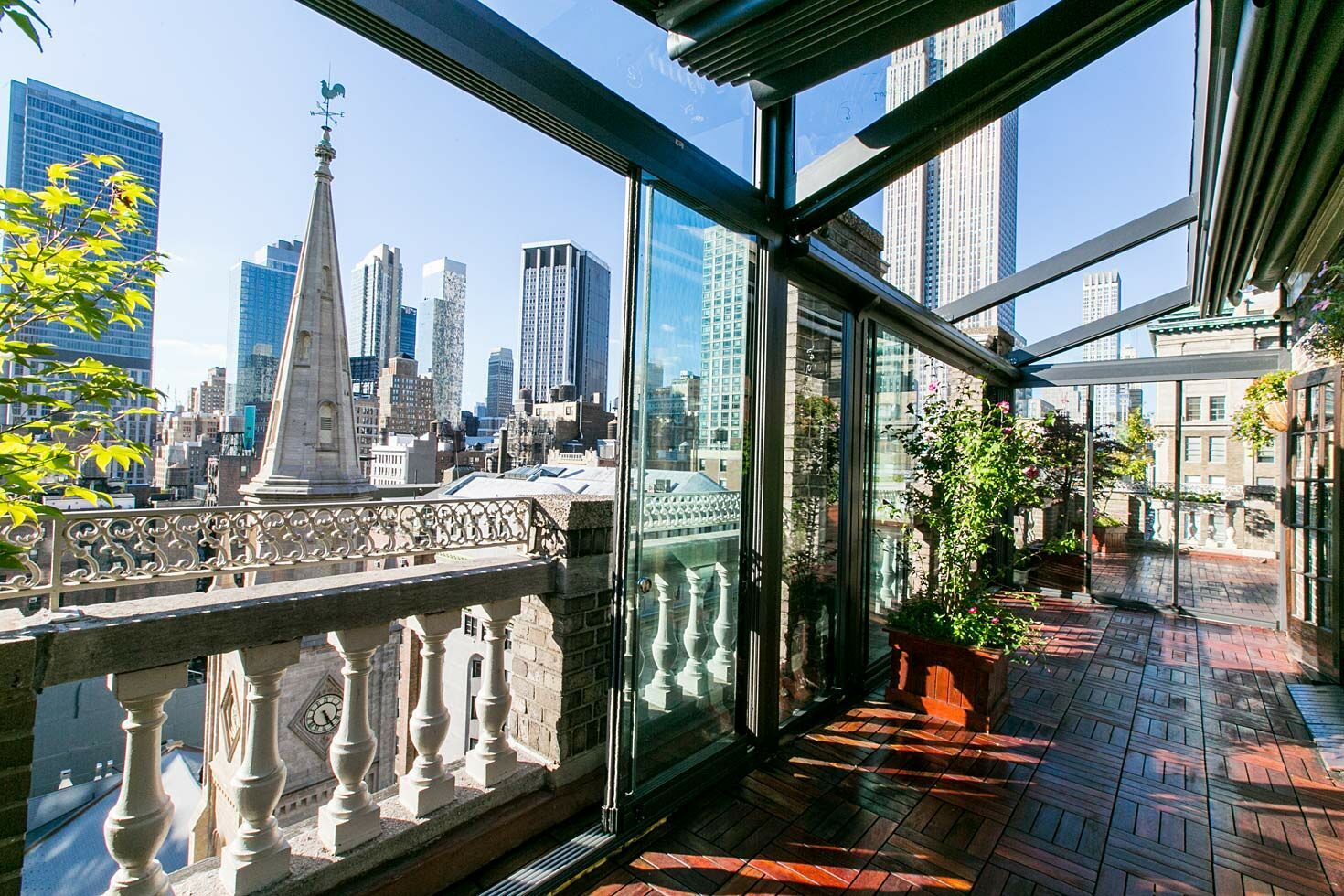 Midtown Loft & Terrace, 267 5th Ave
If you're tying the knot in The Big Apple, you'll definitely want to check out Midtown Loft & Terrace as a venue option. Use this gorgeous rooftop year-round with its retractable rooftop, and you'll have the city skyline as a backdrop no matter that season.
The 4,000 square foot space includes mahogany floors, a fireplace, an illuminated skybar, and can accommodate up to 150 guests. This modern atmosphere is airy, inviting, and also has views including the Empire State Building for plenty of photo opportunities.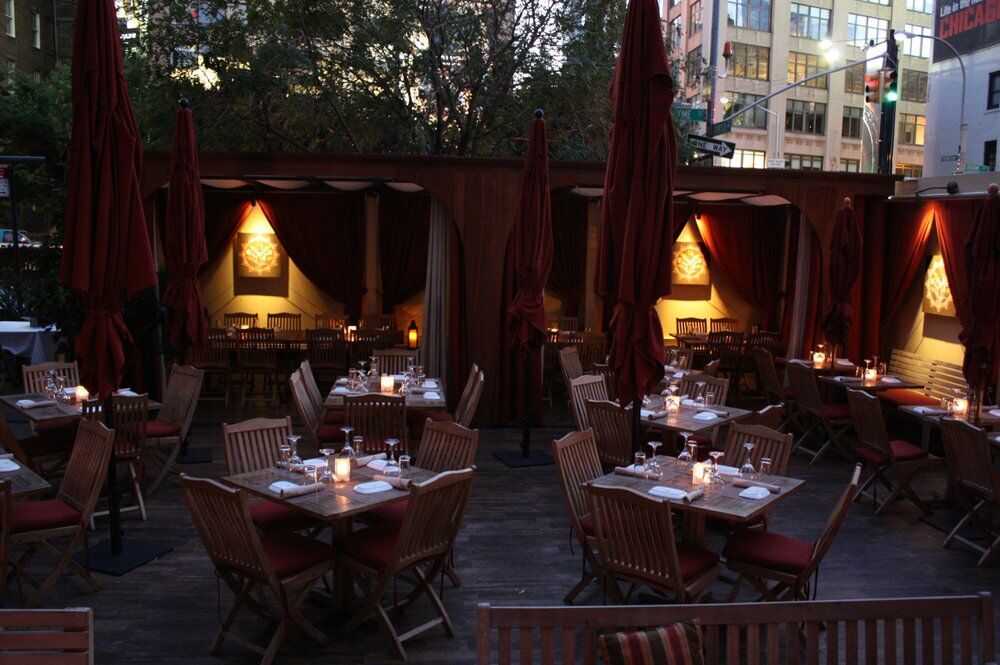 Pera Soho - Gazebo, 54 Thompson St
Pera Soho is a tranquil Medeterranian restaurant located right in the heart of SOHO. Enjoy an al fresco dining experience that features an array of eclectic food and beverage menus. Known for their impeccable service, the Gazebo at Pera Soho would make a perfect venue for a small, intimate, and personalized wedding. This location is 240 square feet while accommodating up to 40 guests, for the ultimate cozy-chic yet outdoor wedding venue in NYC.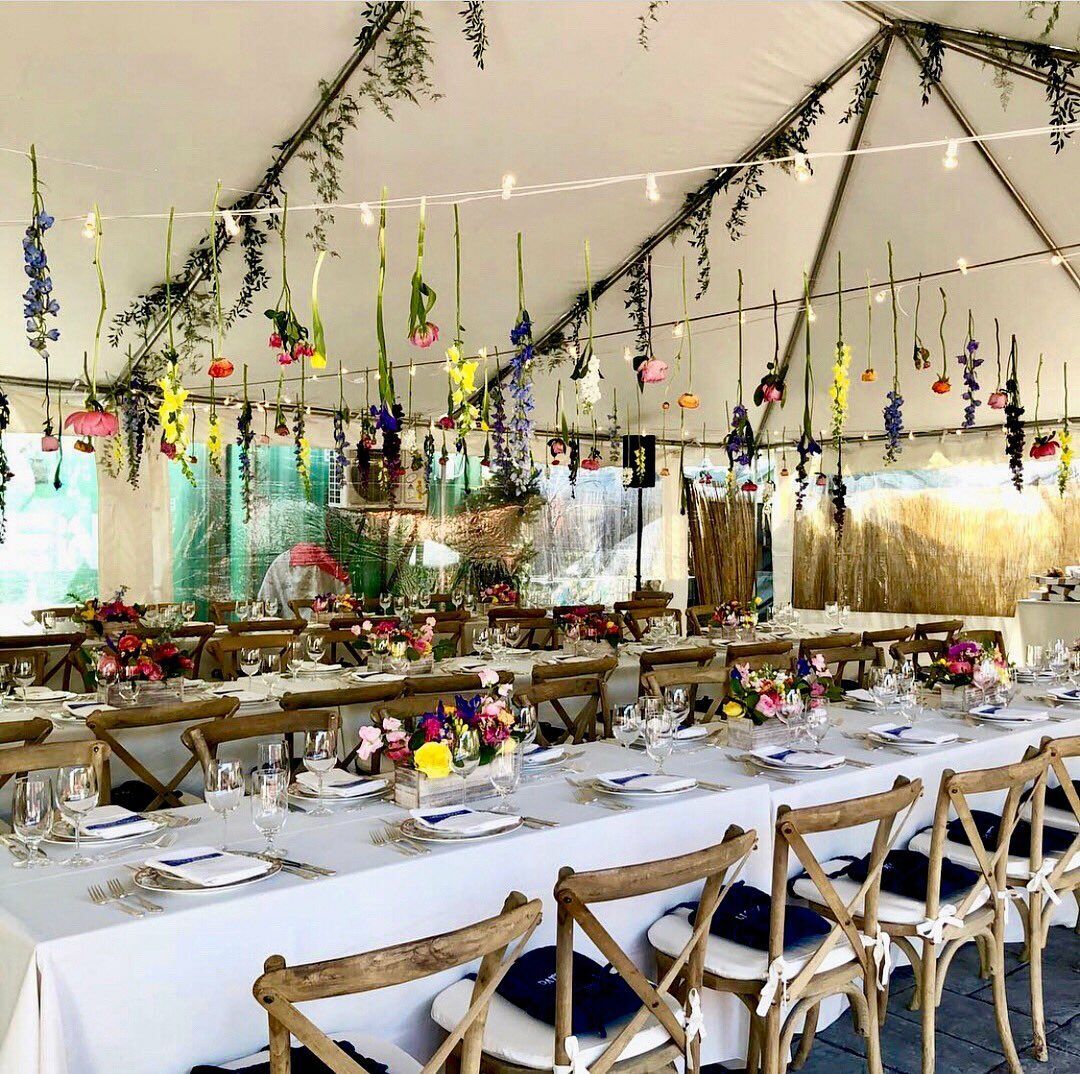 Roberta's Pizza, 230 Park Ave
If you're looking for a fun and casual way to celebrate after your nuptials, consider the unique outdoor space at Roberta's Pizza. Known as one of Bushwick's most distinctive pizzas, you will not be disappointed with their expansive menu ranging from mouth-watering pizza to dry-aged ribeye steaks. 
This former warehouse includes an intimate garden, rustic furniture, and illuminated string lighting that has an industrial-chic aesthetic. With 2,000 square feet of space, the outdoor restaurant can accommodate up to 180 guests for your wedding day.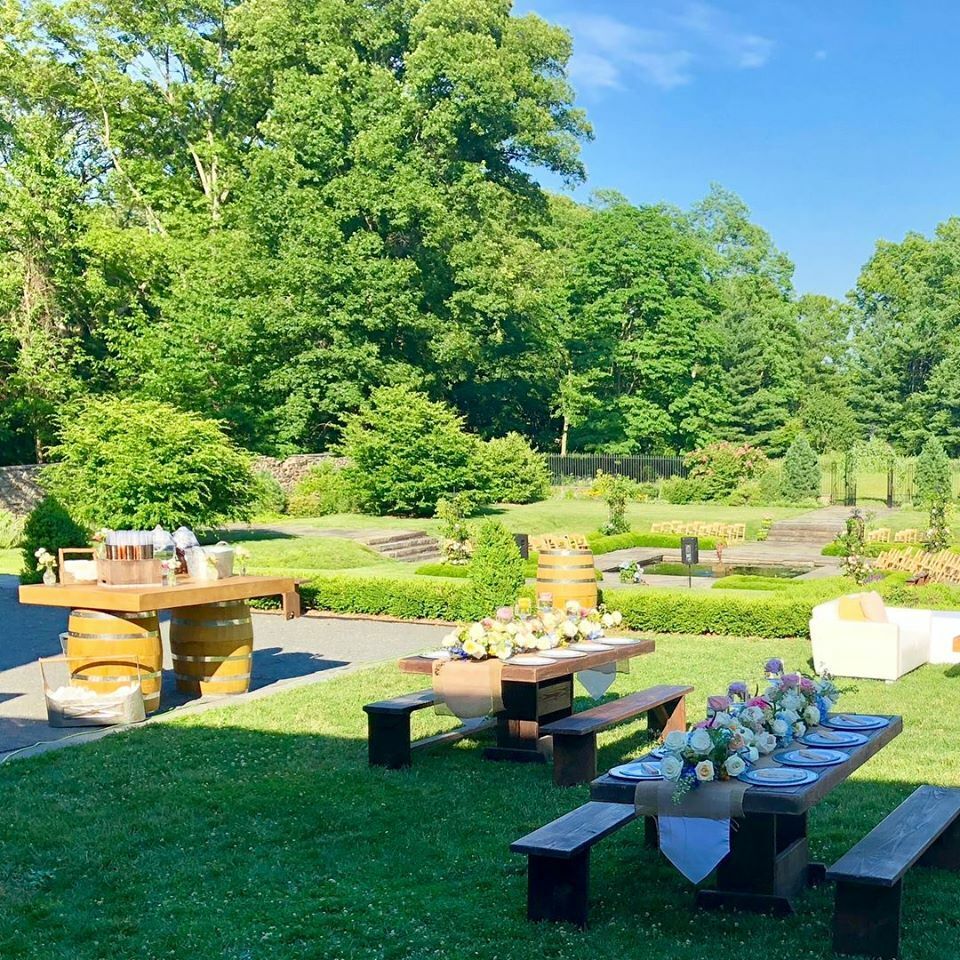 Bartow-Pell Mansion Museum, 895 Shore Rd, Bronx
The Bartow-Pell Mansion Museum is a hidden gem nestled within Pelham Bay Park in the Bronx. The venue includes a serene setting of expansive gardens and beautiful landscaping that will make a gorgeous backdrop for an outdoor wedding. 
Choose from a selection of tables and chairs, tents, and other amenities to help bring the vision of your big day to life. With a number of gardens and outdoor space, you can invite up to 125 guests for an enchanted garden wedding at this gorgeous mansion.
Pro Tip: Check out our complete wedding planning checklist for a wedding to-do list, budget planner, and more!
Find the perfect venue for your next occasion on The Bash.