26 Easy and Creative Picnic Party Ideas
Here's everything you need to host a picnic party.
Break out the baskets and blankets; a fabulous picnic experience awaits. If you've ever gotten the urge to seize the moment and spend some time around the people you love, nothing achieves it quite like a picnic. Whether you're planning on making a huge effort or aiming to host something casual, these picnic party ideas are sure to help.
If you have something in mind or are looking for a bit of inspiration to lean into, we've put together some concepts that might spark your imagination. From an intimate two-person date to a get-together with family and friends to a classic summer picnic, here are some ideas you might want to consider when planning your picnic party.
Here is everything you need to plan a perfect picnic party:
Determine What Kind of Picnic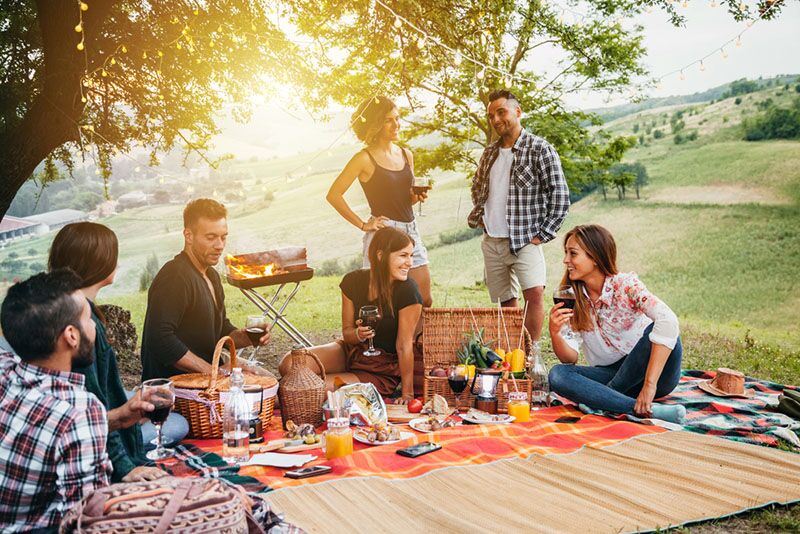 Photo: loreanto/shutterstock.com
Themed Picnics
Whether it's a special occasion or not, you don't always need to have a reason to host a fun event. If you just want to plan something for those closest to your heart, why not make it exciting and incorporate a theme? There are quite a few to choose from, and depending on the one you select, it can determine a few other details of the day. 
You could have a fancy dress picnic where everyone dons their fanciest frocks, suits, and other formal wear. Perhaps embrace the Bohemian aesthetic and transform your venue with unconventional, artsy decor. If you're looking for something else, why not try an Alice in Wonderland or Vintage-themed picnic?
Romantic Picnic for Two
For the romantic at heart, a cute picnic with just your partner might be something you're planning for an anniversary, birthday, or just because you love them. Whatever your reason, these kinds of plans are perfect for letting your significant other know just how much you value them and their company. 
If this is what you're going for, make sure you take the time to consider what your partner likes and try to include it in your plan. You could bring a candle or two, some bubbly, and a meal cooked by yours truly — brownie points incoming!
Birthday Picnic
Once a year, it's your turn to be the center of attention. That said, it's always good to make room for others and celebrate alongside your favorite humans. Planning a picnic for your b-day means you can enjoy good company in a relaxing setting that doesn't necessarily have to be at a traditional venue. You could plan to have it halfway through a hike or out at your local park, leaving you with no rental fees or clean-up at home.
Environmentally-Friendly Picnic
Here's something for the eco-conscious party planner to dig their teeth into. If you're all about taking care of the environment, holding an environmentally-friendly event is a great way to raise awareness and do something socially positive at the same time. 
There are a whole host of ideas you can work into your design, from using compostable or reusable utensils to eating local and organic food with limited to no packaging — if you're thinking of sending invites, go paperless!
Family Picnic
The classic family picnic; it's as American as it gets, and there's a good reason for it – they're a lot of fun and healthy for the soul. Whether you're a couple with kids looking to have a sweet family excursion or you're inviting everyone, including the in-laws and their dogs, picnics make great social occasions. 
Choose a Picnic Location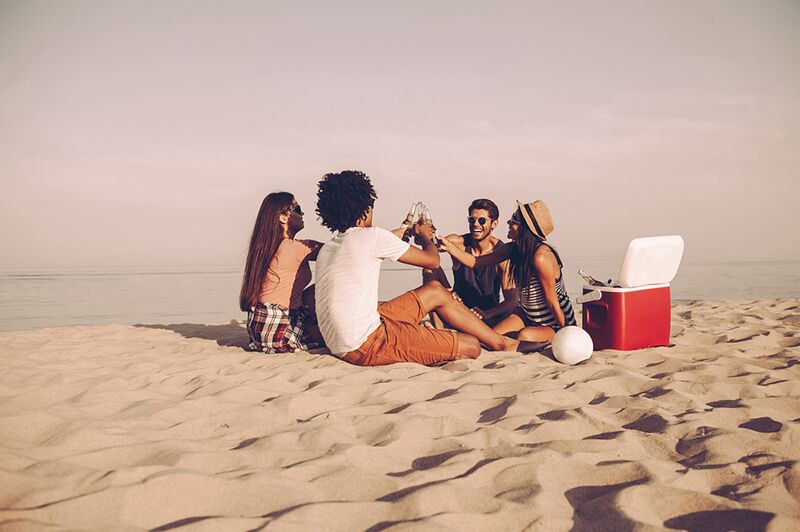 Photo: G-Stock Studio/shutterstock.com
Your Backyard
Hosting a picnic in your backyard provides quite a few benefits. It's really cost-effective and easy to stay on top of the planning process. There won't be lots of lugging things around as you'll only have to move items from the house to your picnic spot. 
Similarly, once the hangout is over and everyone's gone home, you can do a little tidying (or leave it for the day after) and then kick back and relax. Parents will love this as it means no overly-tired kids to deal with on the drive home – phew!
Indoor Picnic
Imagine coming up with all these great ideas for a picnic party only for the weather to hinder your plans. Well, if you decide to have it inside, you can avoid any uncertainty and guarantee yourself and your guests a comfortable experience. 
Also, if you're interested in implementing something specific for the look of your picnic, you can easily do so, knowing the environment isn't so unpredictable. Regardless of the season, your plans can go ahead knowing that you'll be nice and cozy indoors.
Picnics in the Park
This could be the most iconic setting for this kind of gathering. The idea of hosting picnics in a park tends to invoke thoughts of A Sunday Afternoon on the Island of La Grande Jatte and other idyllic imagery. 
It's also a splendid setting to pull out all the stops and bring some of those elaborate ideas to life. You can go all out, or you can have something more modest; the choice is yours. Just a thought: make sure that those in charge of the park know you're coming first.
Picnic on the Beach
If you're fortunate enough to live near the ocean, it's one of the most beautiful locations for a picnic. Sunshine and seawater are always an excellent combination; mix that with delicious foods, colorful blankets, and your closest individuals, and you've got a winning formula. Though the beach presents a few obstacles, preparing well will undoubtedly provide a cherishable experience.
Hike & Picnic
You could also merge your picnic event with another popular pastime. If you love the outdoors, especially getting out into nature and exploring, why don't you plan to host a picnic during a hike? 
Accompanied by some of your favorite humans (and animals if you're planning on bringing them too), you could pack up a lovely basket full of goodies and meander through a national park until you find the perfect spot. 
This is a great option for small groups as everyone can share the load with carrying and cleaning up.
Find Picnic Entertainment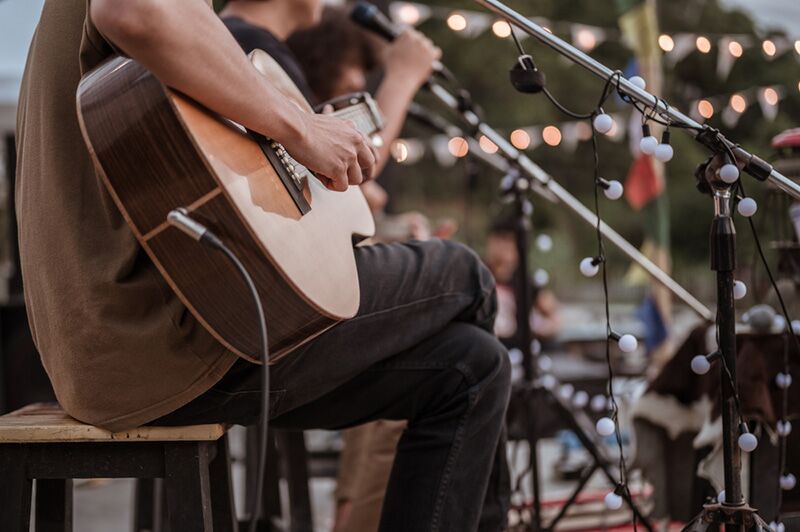 Photo: Day Of Victory Studio/shutterstock.com
Live Music
What's an event without any music? Good tunes have a way of transforming an atmosphere and will help shape the feel of your picnic. If you're planning your hangout in a public space, it might be a good idea to hire an acoustic musician — it tends not to be too loud for those you're sharing the area with. That said, if you're going big, why not hire a DJ to throw on some sweet melodies while everyone enjoys your lovely get-together? 
Face Painter
Who said face paints were for kids only? Liven things up and book yourself a professional face painter — if you're working with a particular theme, this could offer a unique opportunity to really bring it to life.
Lawn Games
Contemplating ideas for a picnic party will eventually lead you to think about what games you should play during the event. You could hire something fun like giant Jenga, or if you have some fun bits lying around at home, why not bring them down and use them? Croquet, hand tennis, and bocce ball are super entertaining activities for you and your guests.
Picnic Party Decorations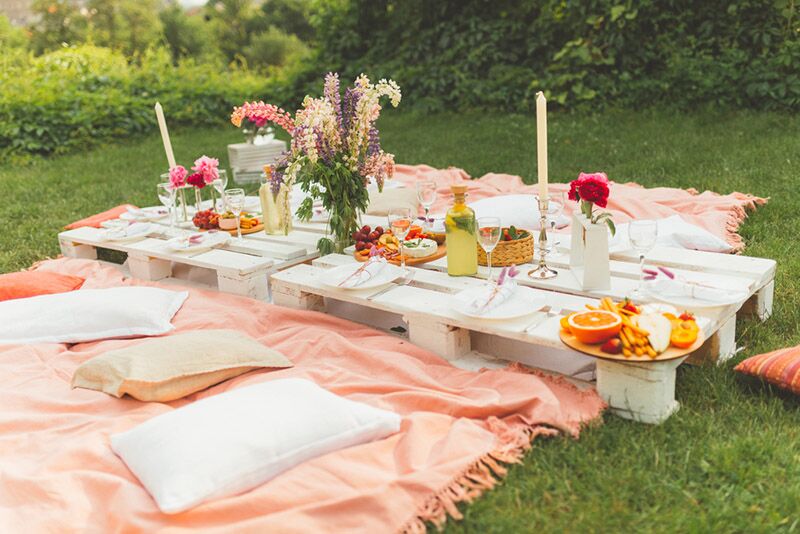 Photo: KateKlim/shutterstock.com
Fresh Flowers
Trying to give your picnic a dose of summer vibrancy? Flowers represent the essence of beauty and have an incredible way of transforming their surroundings. If you're wondering how to plan a picnic that will live long in the memory, try decorating your setup with beautiful blooms. You could have a florist help out, or you could pick some wildflowers yourself — just make sure they're not endangered or potentially toxic.
Plush Pillows, Blankets, and Small Tables
Comfortability is key when you're picnicking. Since most picnics take place outside and often while sitting on the ground, it's worth taking some time to consider investing in comfy seating. Lots of multicolored pillows and patterned tapestry blankets will work perfectly with a bohemian theme. You could even take inspiration from the Japanese chabudai, a low table used in the dining room for eating, and set something similar up for your guests.
Shade
It might sound obvious; however, shade is crucial to any successful outdoor picnic. From practical shade cloth to elaborate umbrellas, there are many unique options to choose from and match with your desired event theme or design. One of the main benefits includes avoiding prolonged exposure to the sun — because no one wants to go home looking like a lobster.
Balloon Garlands
Balloons are a timeless representation of joy and add a celebratory aesthetic to any occasion. Having special garlands made just for your picnic might seem a little extra, but we think if you're going to do anything, you might as well go the extra mile. They will certainly give your picnic occasion a bright and playful look, and also make superb backdrops for photos.
Attire For The Setting
Giving your guests some sort of dress code is a great way to get people invested in the event. The attire you'll need will probably depend on several factors — like whether it's inside or outside and what type of theme you end up going for with your picnic. Some scenery speaks for itself, and you could lean into it for inspiration; surf-style at the beach always goes down well. 
Traditional Picnic Items
From mason jars to a picnic table or a picnic blanket, these traditional items can add to your decorations. For a picnic themed event, you can always opt for a red and white checkered tablecloth to act as the starting point and match the rest of your decor off of that. 
Picnic Food Ideas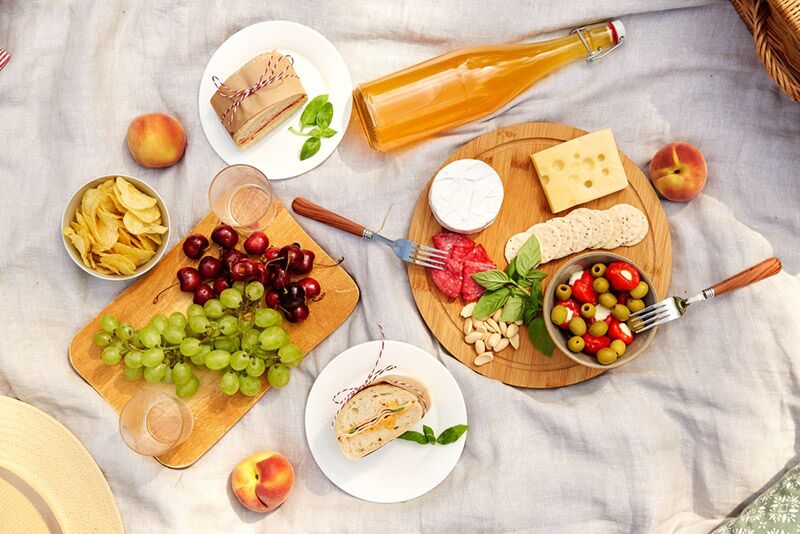 Photo: Ground Picture/shutterstock.com
Salads and Sandwiches
As far as picnic party ideas go, these simple yet satisfying meals won't disappoint you. They don't need to be boring either; you can go full-gourmet and add some delicious ingredients, artisan bread, and the works. You'll find that even though they're easy to make, salads and sandwiches will fit right in and be a popular choice no matter how casual or formal the feel of the event might seem.
Charcuterie Boards
In the culinary world, charcuterie boards and platters are staking a claim as one of the more popular catering options for event occasions. Not only are they covered in delicious bite-size morsels, but they look absolutely fabulous — those attending your picnic are guaranteed to take one look and dig right in without hesitation. 
Good Ol' Fashion BBQ
The classic cookout remains undefeated as one of the most social ways to come together for a meal. There seems to be something so comforting about cooking food over a fire, drink in one hand and tongs in the other. Once you've grilled everything to perfection, you can set it out for your guests to dish up for themselves; easy-peasy.
Classic Desserts
Some would say dessert is like the cherry on top of a good meal; we tend to concur! From cakes to brownies and donuts to pies, there are so many options to consider. Desserts are easy to decorate, and you can incorporate your theme or color palette to match; extra event design points for effort.
Pro Tip: If you don't want to prepare food for your picnic party, you can always hire a caterer to handle this aspect.
Make Picnic Party Drinks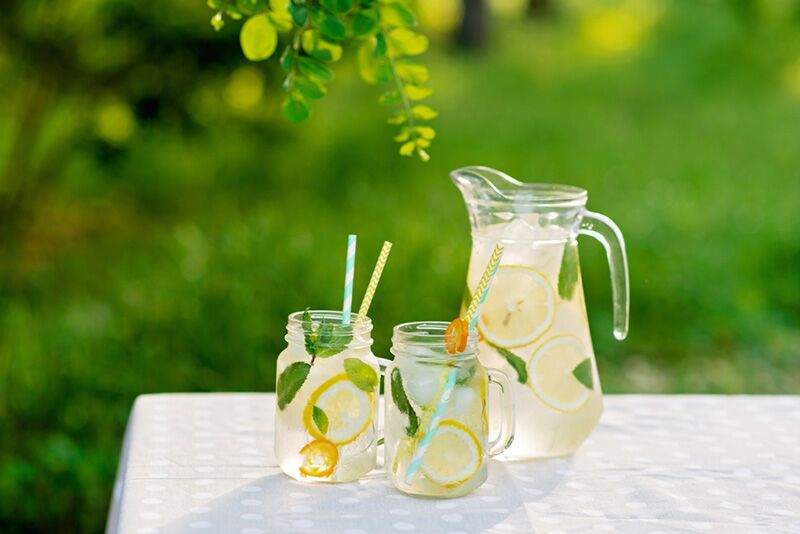 Photo: TashaSinchuk/shutterstock.com
Homemade Refreshments
DIY endeavors are inherently rewarding, and making fresh homemade beverages will put you in good standing with your guests. Try making a delicious brew of ginger beer and garnish it with some mint leaves or perhaps go for something timeless like a jug of thirst-quenching lemonade. If you plan to host your picnic outside, make sure to bring a cooler to keep the drinks nice and cold.
Cocktails and Mocktails 
Inject a little festive magic into your picnic event with a burst of flavor in the form of a delicious cocktail or mocktail. Mix them with seasonal fruits, fresh herbs, and cordials to diversify your selection. Sodas and Fruit Juices
It's always good to ensure you're catering to everyone at your event and having some age-appropriate beverages for your younger guests. Monitor the situation, though: some juices have high sugar content, and if left unchecked, it could lead to a rowdy group of kids storming the picnic — you have been warned. 
Pro Tip: Hire a local bartender to handle the drinks. A bartender can craft custom cocktails and serve picnic themed mocktails too.

Find more inspiration and ideas for your next event here on The Bash.