There's something special about Thanksgiving. A full day dedicated to indulging in our favorite foods and spending time with loved ones seems too good to be true. It's a holiday full of traditions, but sometimes, doing the same thing over and over again (like having to force down yet another bite of your aunt's dry mashed potatoes) can make the evening stale.
A Thanksgiving theme is an excellent way to spice up the traditional festivities. Bringing new traditions to the table—literally—is a fantastic way to make memories and add your own personal touch to the annual celebration. Whether you're hosting turkey dinner this year or throwing a preliminary Friendsgiving celebration, a Thanksgiving theme will make the party planning process less overwhelming and more fun. 
New Thanksgiving themes with fun decor, tasty dishes and engaging activities will be a breath of fresh air for everyone in attendance. If you're unsure where to start, these Thanksgiving party theme ideas will give you some ideas and inspiration. 
If you're looking to find entertainment or vendors for your Thanksgiving celebration, get started here.
Here are some creative Thanksgiving themes and decorations to wow your guests.
Glitter and Gold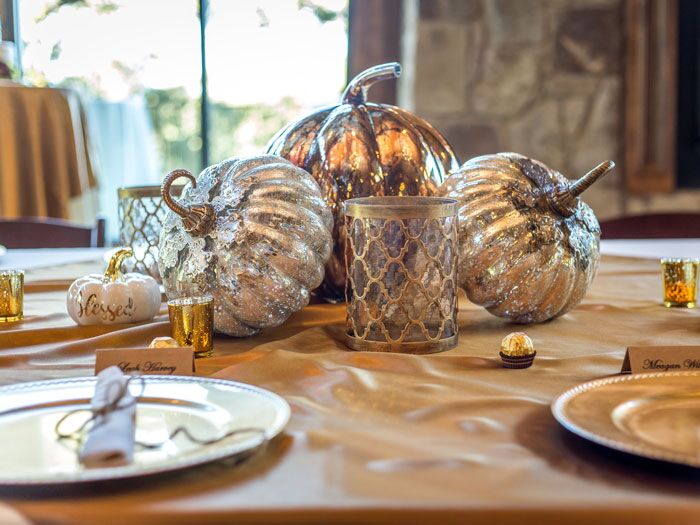 Photo Credit: Brandi McComb Photography
Make your home shimmer and shine with a sleek silver and gold Thanksgiving theme. Painting your house (so to speak) with metallics will give your setup an elegant and fancy flair. Accent your party entrance with an arrangement of gold and silver balloons and pumpkins (even spray painting pumpkins will do the trick), and add candles for extra ambience.
If you really want to up the ante, set the table with luxurious linens: A sequin tablecloth for shine and silk napkins for a fine dining experience. Top off the evening with a dessert display of white-frosted treats like cupcakes and sugar cookies with gold sprinkles.
Fresh from the Farmers Market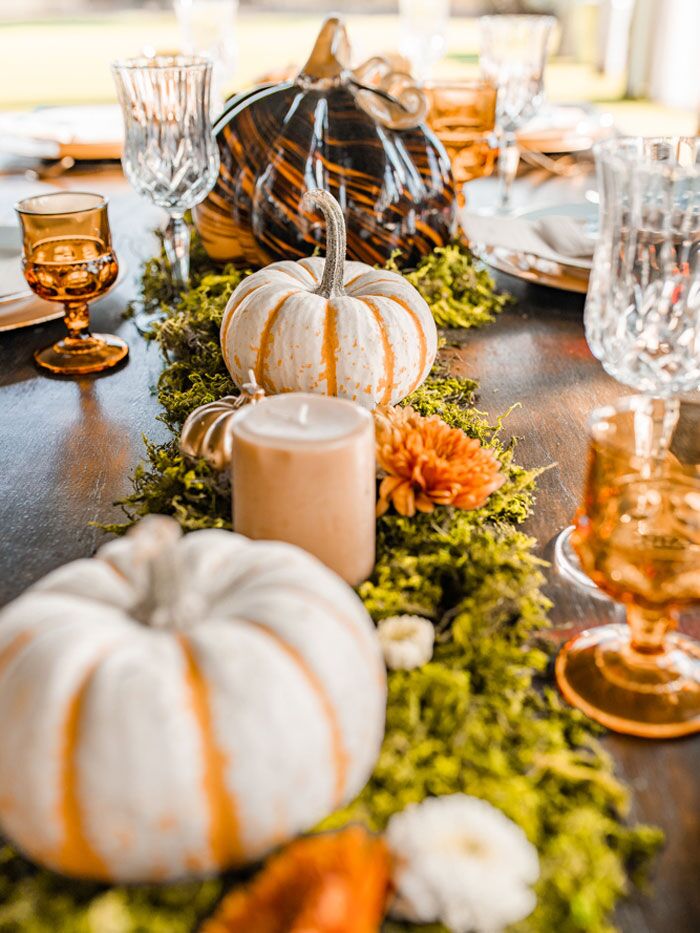 Photo Credit: Heartbrave Studios
Let's be honest: Food is definitely the highlight of Thanksgiving. And if we're going to spend the evening stuffing our faces, we might as well make the meal fresh and healthy. Celebrate the Thanksgiving season by serving all of the seasonal food that you can find at your local farmers' market.
For appetizers, prepare a beet dip with carrot sticks for dipping or a creamy pumpkin bisque. Serve sweet potato casserole and roasted Brussels sprouts, cauliflower and broccoli as sides. If there's still room for dessert, enjoy an apple crisp with organic apples or sliced caramel apples, and wash it down with hot apple cider. 
Bring the outdoors indoors and freshen up your home with natural decorations and warm hues of red, yellow and orange. Arrange a cornucopia in the center of your dinner table, and fill it with mini pumpkins, winter squash, stalks of corn, apples and gold flowers. Line your table with pinecones, autumn leaves, dried flowers and white candles for the finishing touch. Decorate the rest of your home with white and orange pumpkins and cinnamon-scented candles for the full package. 
Pastel Pumpkin Party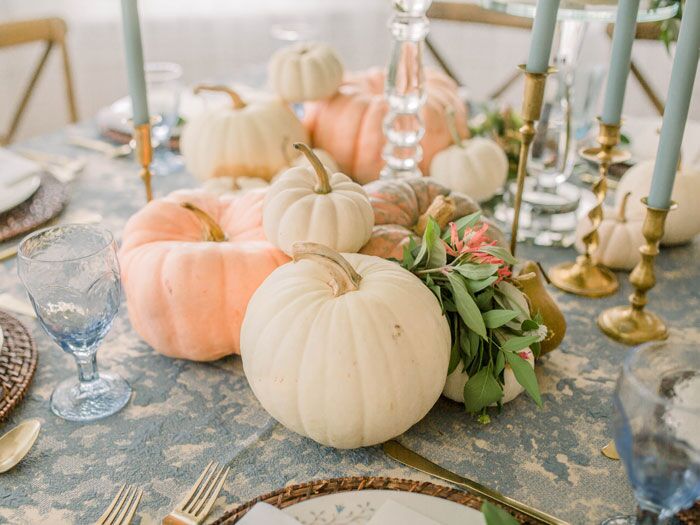 Photo Credit: Jenna Lindsey Photography
Who says pastels are just a spring trend? Decking out your home in soft pinks, greens, blues, oranges and yellows will make this year's Thanksgiving party feel lighter. Steep your home in muted and pale hues by setting the table with a pastel tablecloth, napkins and glasses. Line pumpkins and lit candles down the center of the table to create a table runner.
For the centerpiece, you can arrange a fresh bouquet of white flowers and pink roses. If you want to occupy the hungry guests while you're cooking dinner, set up an arts and crafts station where everyone can paint their own pumpkin in pastel colors. 
Formal Cocktail Hour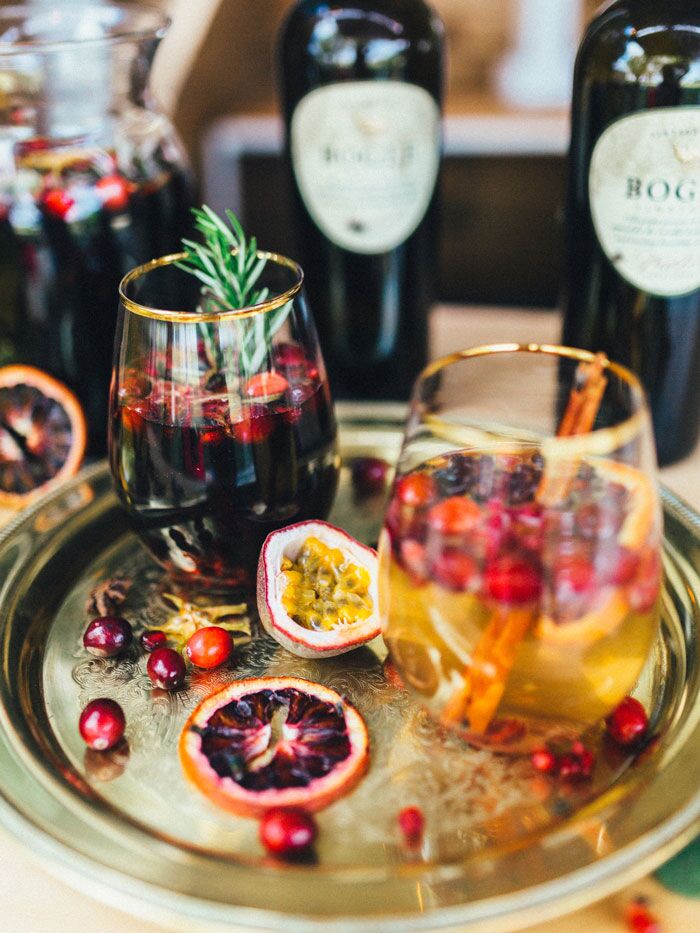 Photo Credit: Ashley Medrano Photography
If you're planning on hosting a Thanksgiving party for grown-ups only, a cocktail party is a great idea. Instead of sitting down to a big turkey dinner, everyone can catch up over seasonal cocktails and festive hors d'oeuvres. Offer everyone a taste of fall flavors with apple cider mimosas, cranberry margaritas, mulled wine or pumpkin pie sangria.
To save yourself from pouring drinks all night, make the cocktails ahead of time, and arrange the glasses on a bar cart decorated with candles, autumn leaves and orange pumpkins. Or, if you'd rather pass the responsibility on to someone else, hire a bartender.
Since no one wants to drink on an empty stomach, prepare mini sweet potato sliders with melted marshmallows and toasted pecans in addition to baked brie bites with cranberry sauce for appetizers. You can also arrange a cheese board in the shape of a turkey and serve with hearty crackers. 
Pie Swap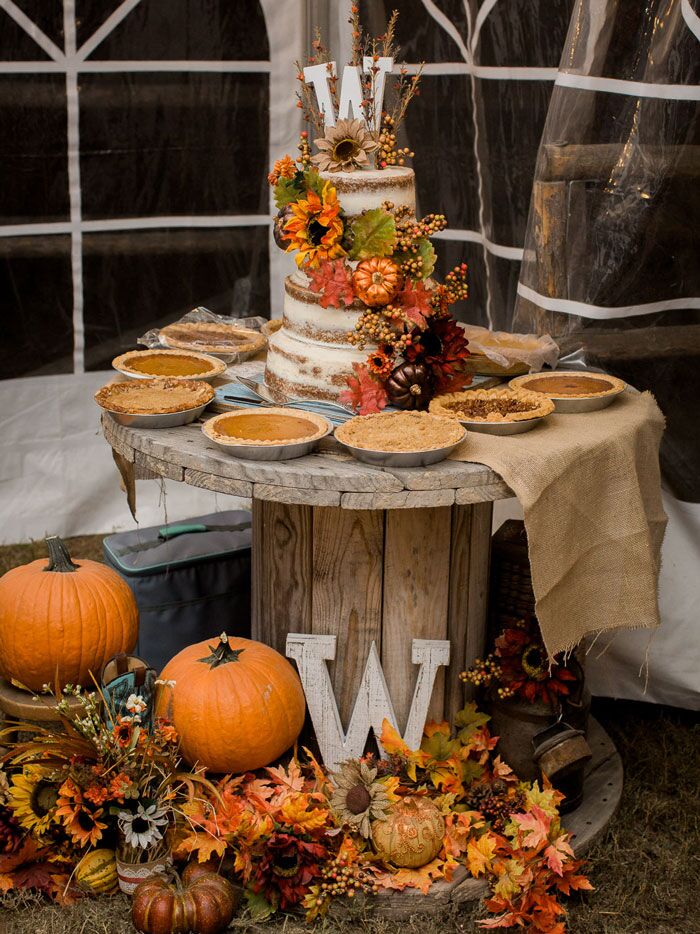 Photo Credit: Megan Lee Photography
A pie exchange party is the perfect Thanksgiving theme idea if you don't feel like cooking everything yourself. And we're not talking just dessert pie, we mean every kind of pie. From sweet pies, such as pumpkin, apple, pecan or sweet potato, to savory pies, such as pizza, quiche or pot pie, the options are endless. 
Ask everyone to bake a pie or assign guests to a certain kind if you're afraid of too many duplicates. Set up a couple of different tables to display the dishes by group, so savory options are together and sweet options are seperate. For some friendly competition, you can ask guests to vote for the best pie and award the winner with a prize.
Trade Plaid Print for Animal Print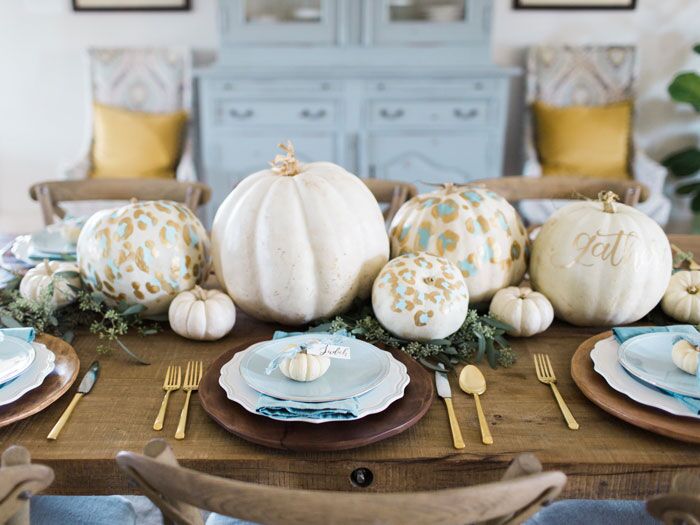 Photo Credit: Carolynn Seibert Photography 
Everyone knows that tartan and plaid are the print for fall. They're basically the Godfather of fall fashion. So, do something unexpected and ignore them completely. Give your traditional Thanksgiving decor a wardrobe change and lean into chic animal prints. Paint white pumpkins and turkey cutouts with cheetah, snakeskin or leopard designs.
With such a trendy Thanksgiving theme, a wrinkled sweater and old ripped jeans probably won't make the cut. Nudge guests to dress in more formal outfits by adding a note on the invitation. Attendees can don a festive cocktail dress, jumpsuit or a sharp sport coat with dress pants.
Rustic Farmhouse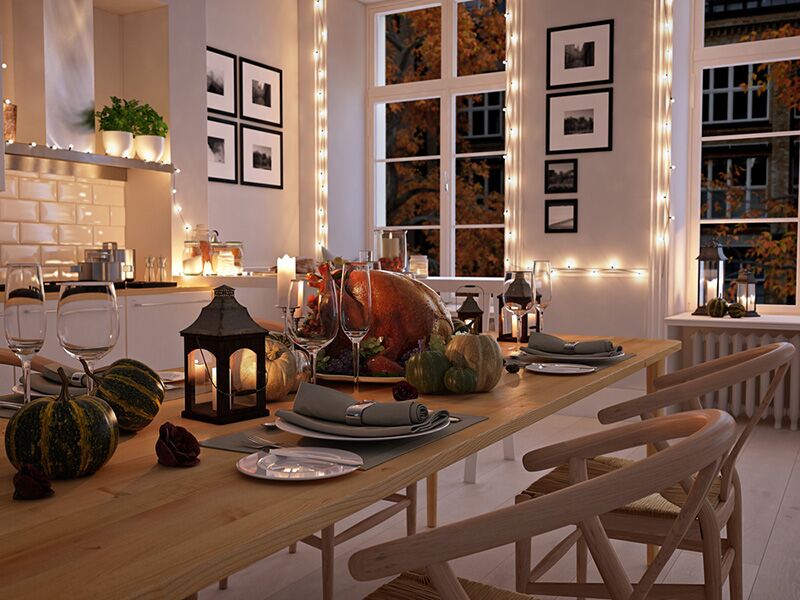 Photo: 2M media/shutterstock.com
Create an atmosphere that's cozy and full of fall vibes with farmhouse themed decor. Decorations like burlap table runners, mason jar centerpieces, and wooden accents are key. For this Thanksgiving theme, you can serve a farm-to-table menu with locally sourced ingredients.
Picnic Theme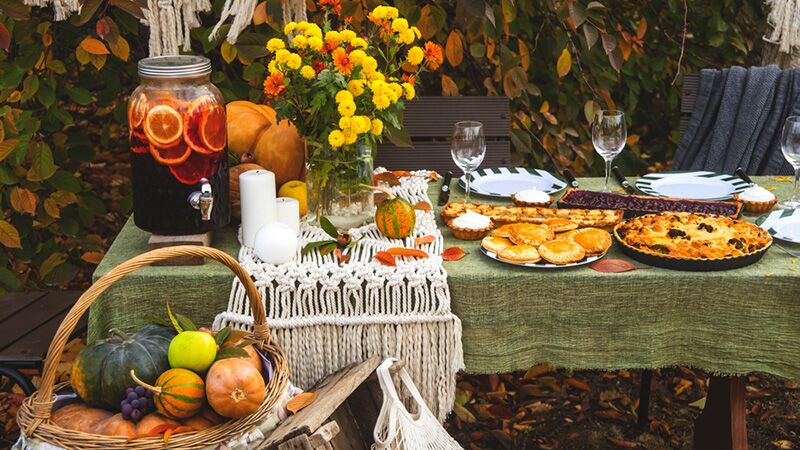 Photo: svitlini/shutterstock.com
If you live where the weather permits, consider having a Thanksgiving picnic in your backyard or in a local park. Set up some cozy neutral colored blankets and use picnic baskets to transport food. Turn Thanksgiving classics into picnic foods and serve things like turkey sandwiches, salads, and pies.
Mason Jar Madness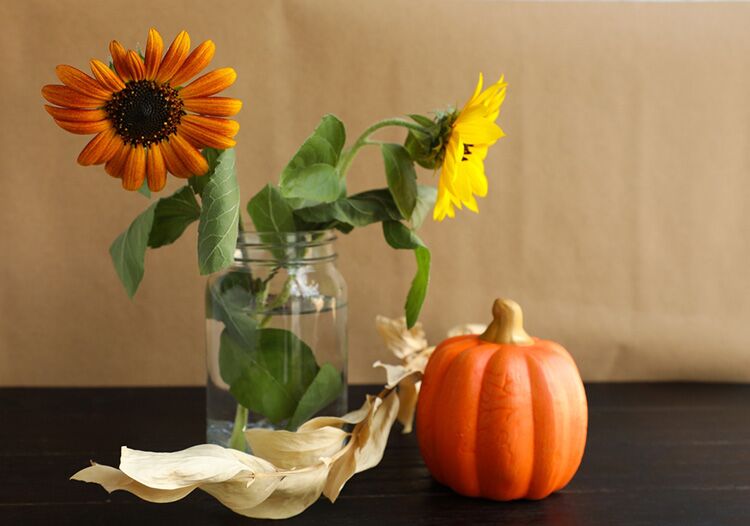 Photo: Dawn Balaban/shutterstock.com
You can never go wrong with mason jars. Incorporate mason jars into your decorations and serving dishes. You can serve cocktails and mocktails in mason jars and also make centerpieces with seasonal items like flowers or fill with leaves or mini pumpkins.
Traditional Harvest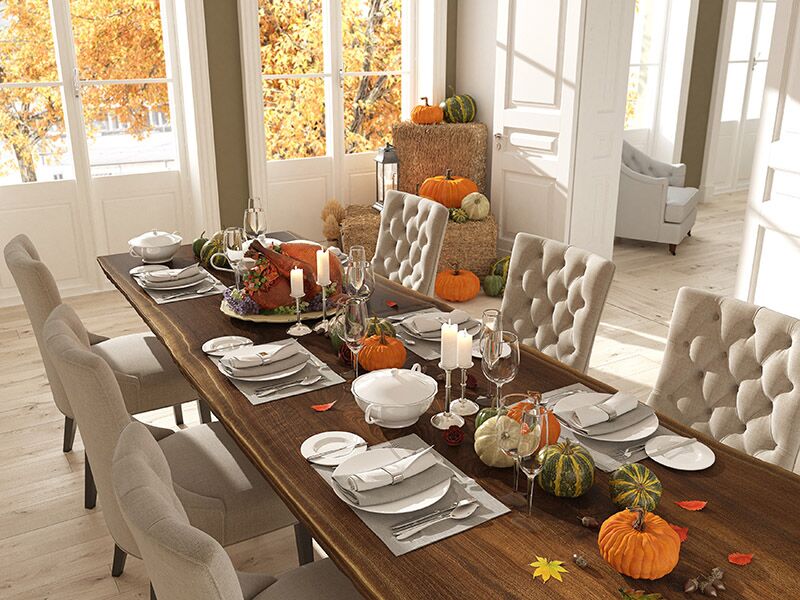 Photo: 2M media/shutterstock.com
Embrace the classic Thanksgiving theme with decorations featuring pumpkins, gourds, cornucopias, and fall foliage. You can even encourage guests to dress in traditional fall colors like orange, red, and brown. This is a simple yet classic theme that's sure to be a hit with guests.
You can find even more Thanksgiving celebration ideas here on The Bash.