Everything You Need for a 50s Theme Party
Rock around the clock tonight.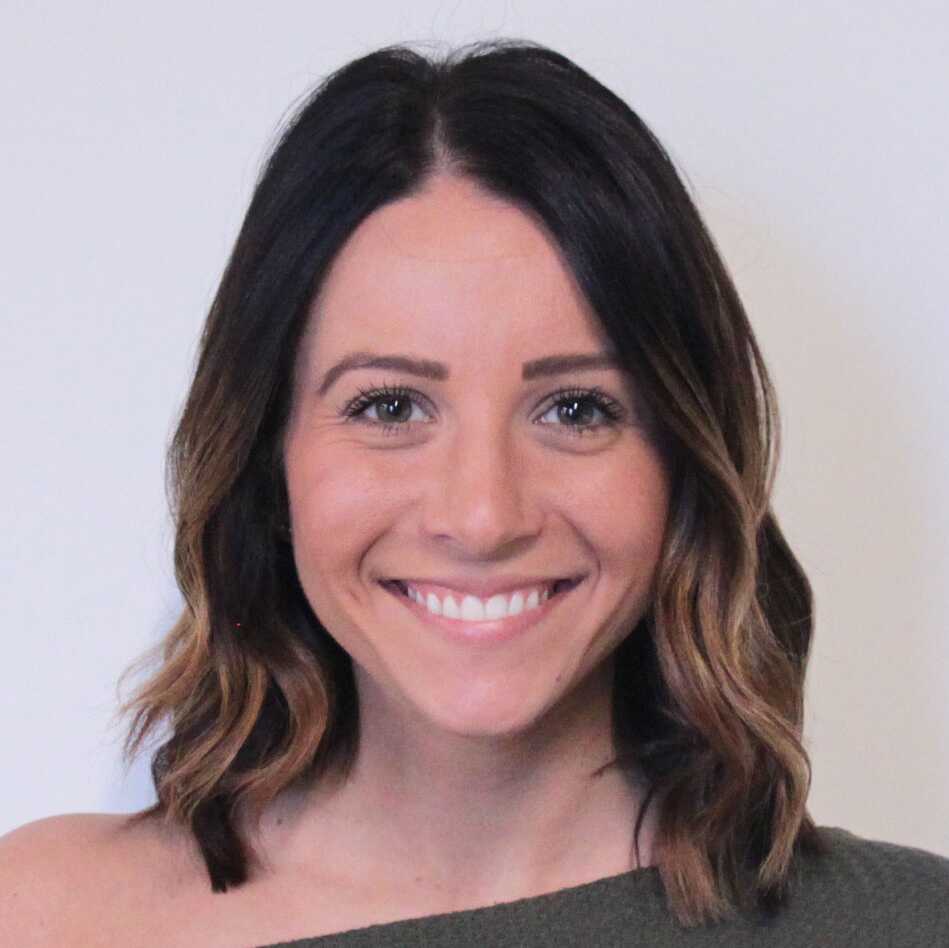 The 1950s introduced a whole wave of new trends to American culture. Drive-ins were the hottest spot in town to see and be seen, fashion got a rebellious makeover with fitted dresses, slicked back hair and edgy leather jackets, and music influenced social culture like sock hops. If you're looking for the perfect theme to celebrate an anniversary, milestone birthday, or private event, a 50s theme party is the way to go.
As any '50s party should, this celebration has all the glitz and glamour of the time: poodle skirts, chiffon scarfs, vintage jeans, red lipstick, and lots of rock 'n' roll. The 50s theme party  is complete with a candy shop, yo-yos and hula hoops, and each table has chocolate-glazed floral arrangements topped with sprinkles, looking as delicious as a diner milkshake.
Travel back in time to the "Happy Days" of the '50s by decorating your party space with old vinyls, photos of hot rod cars and throwback cuisine.
50s Theme Party Venue
Diner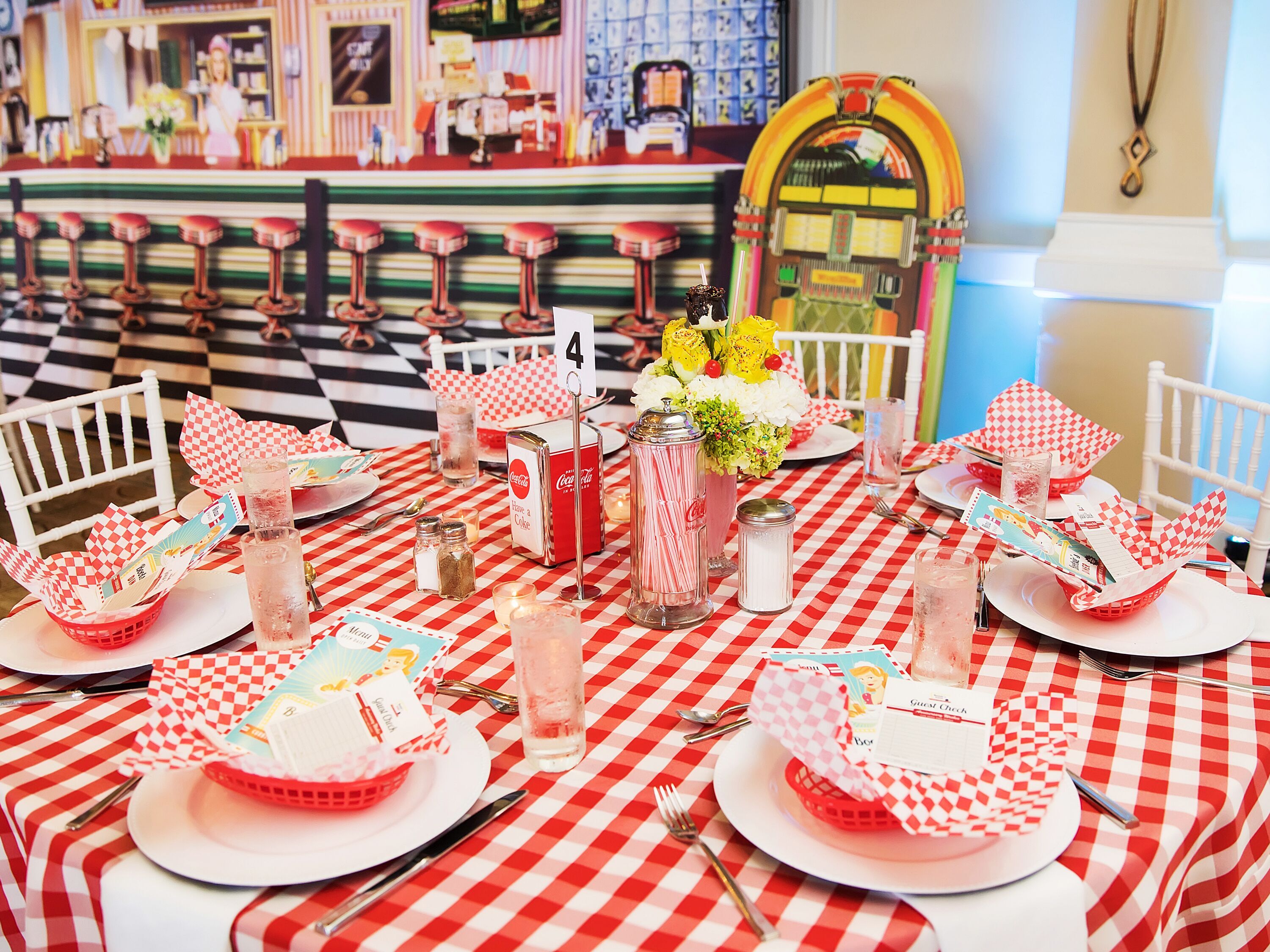 Photo: Limelight Photography
A traditional diner will send guests back to the 1950s with its old school interior. This venue makes party planning a breeze, as there's little to do for decorating and you don't need to hire a caterer.
No diner in your area? You can DIY a diner-like atmosphere easily enough with the right decorations, like checkered tablecloths, neon-colored uplighting and vintage touches like glass Coca-Cola bottles and napkin dispensers.
50s Theme Entertainment
Dance Band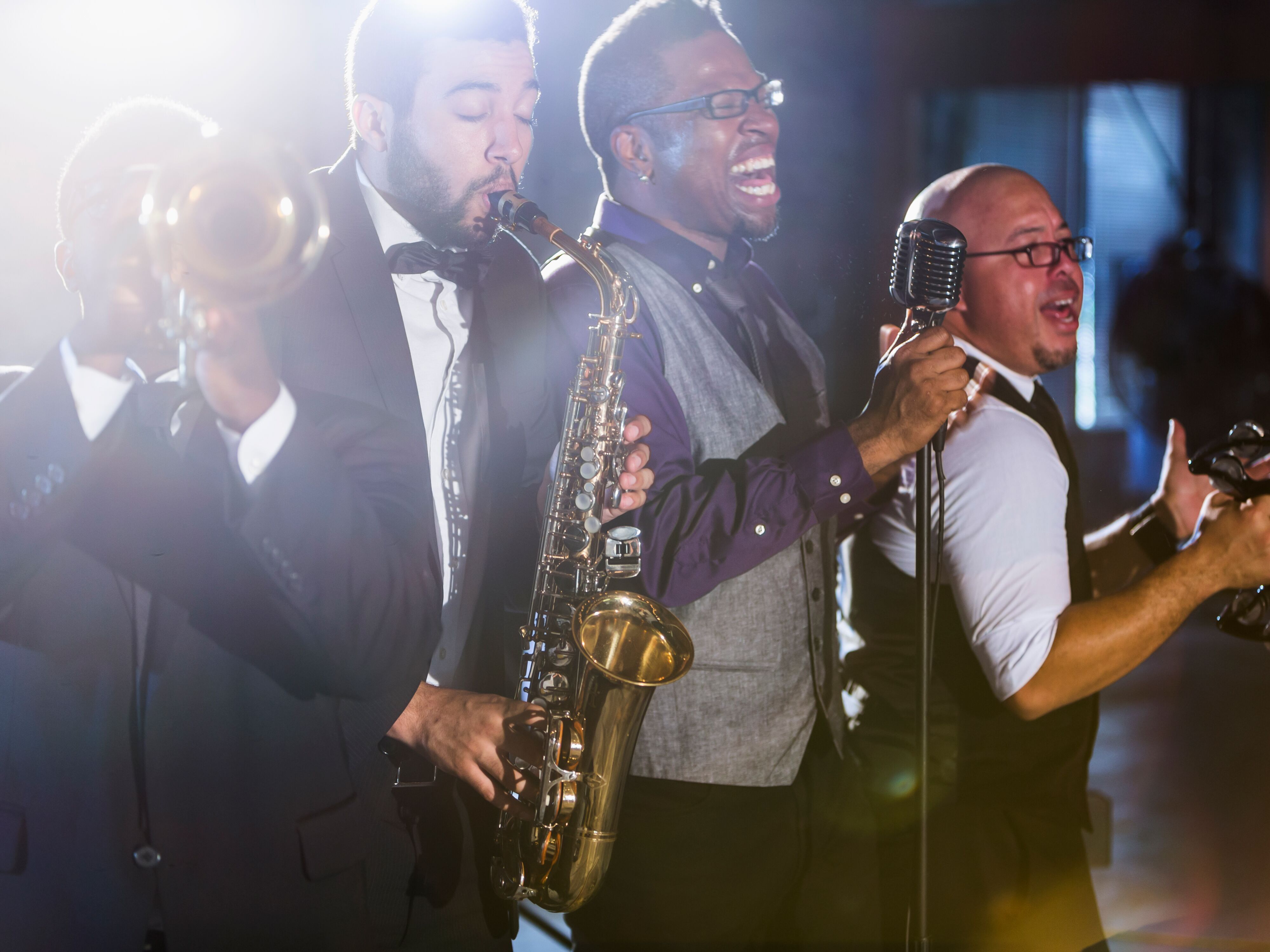 This era was booming with new dance moves, such as the Jitterbug, the Jive and the Bunny Hop. Book a dance band to cover popular tunes from the '50s and put your moves to the test.
Lucille Ball Impersonator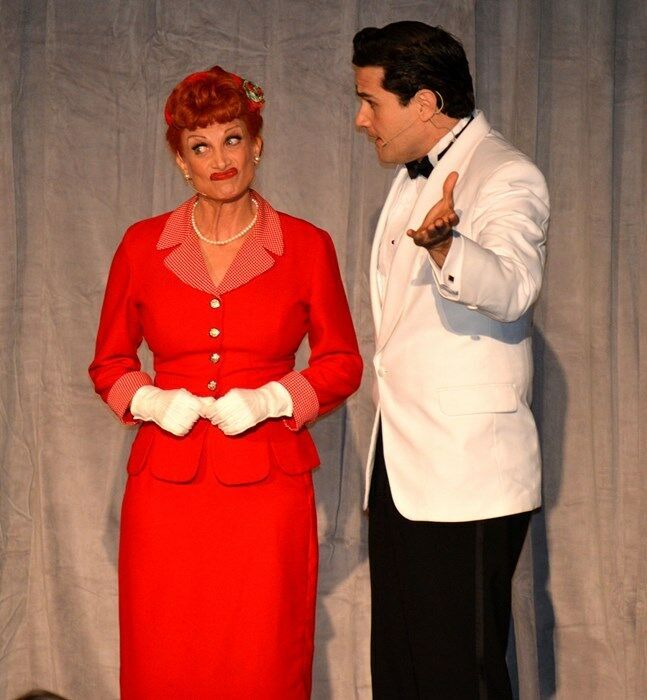 Photo: Lucy & Ricky Tribute Show
Who doesn't love Lucy? Lucille Ball was a comedy powerhouse in the '50s and graced family televisions across America weekly. Book a Lucille Ball impersonator to charm guests with her unsurpassed humor and pose for photo ops.
50s Theme Food
Dessert Bar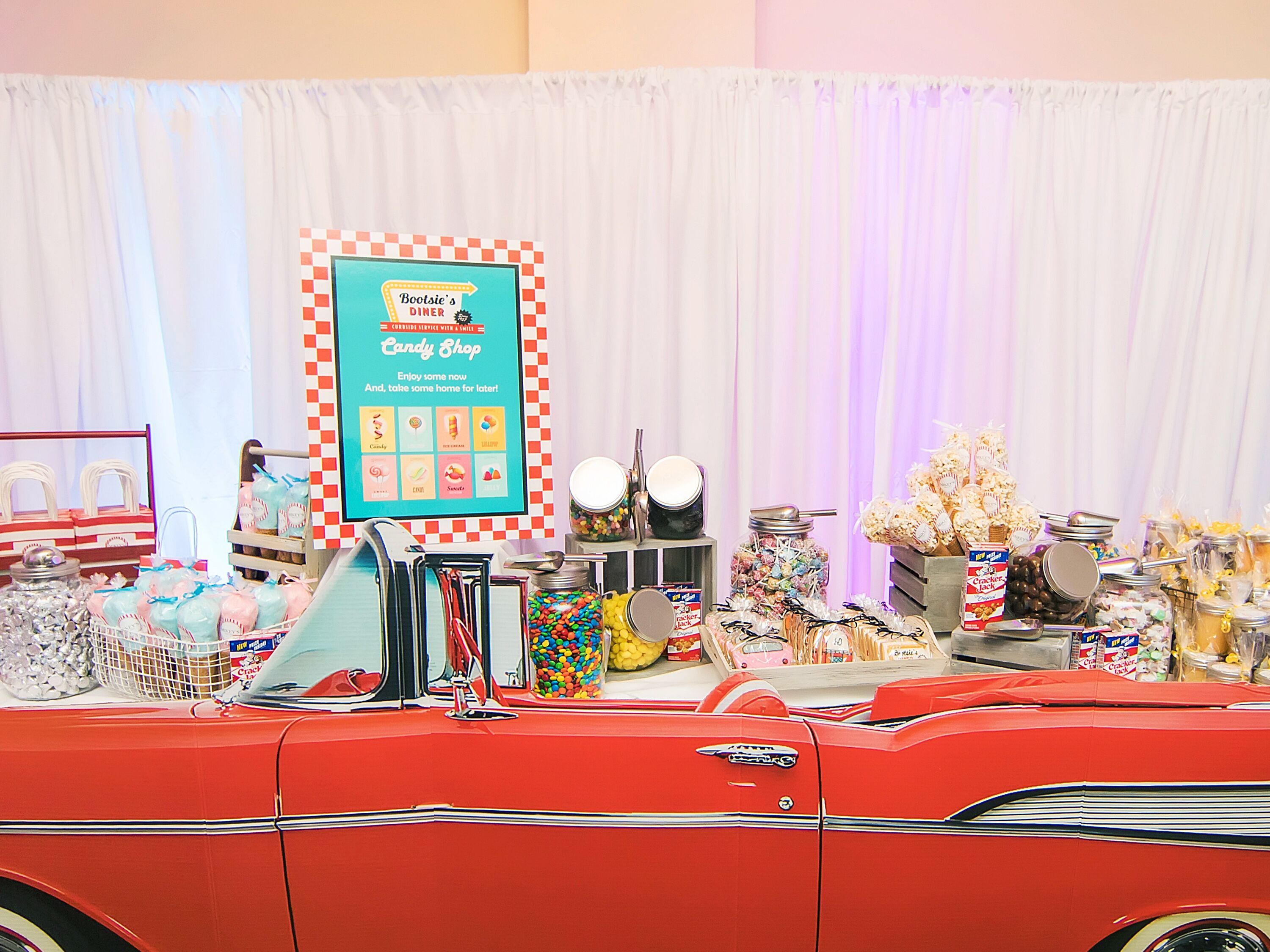 Photo: Limelight Photography
Set up a candy and dessert station with nostalgic favorites and modern crowd pleasers. Stock your "candy shop" with cookies, cotton candy, taffy, Double Bubble chewing gum, mini boxes of Cracker Jack, lollipops and candies. If you include to-go bags on the table, this candy station can double as a take-away favor.
Diner Food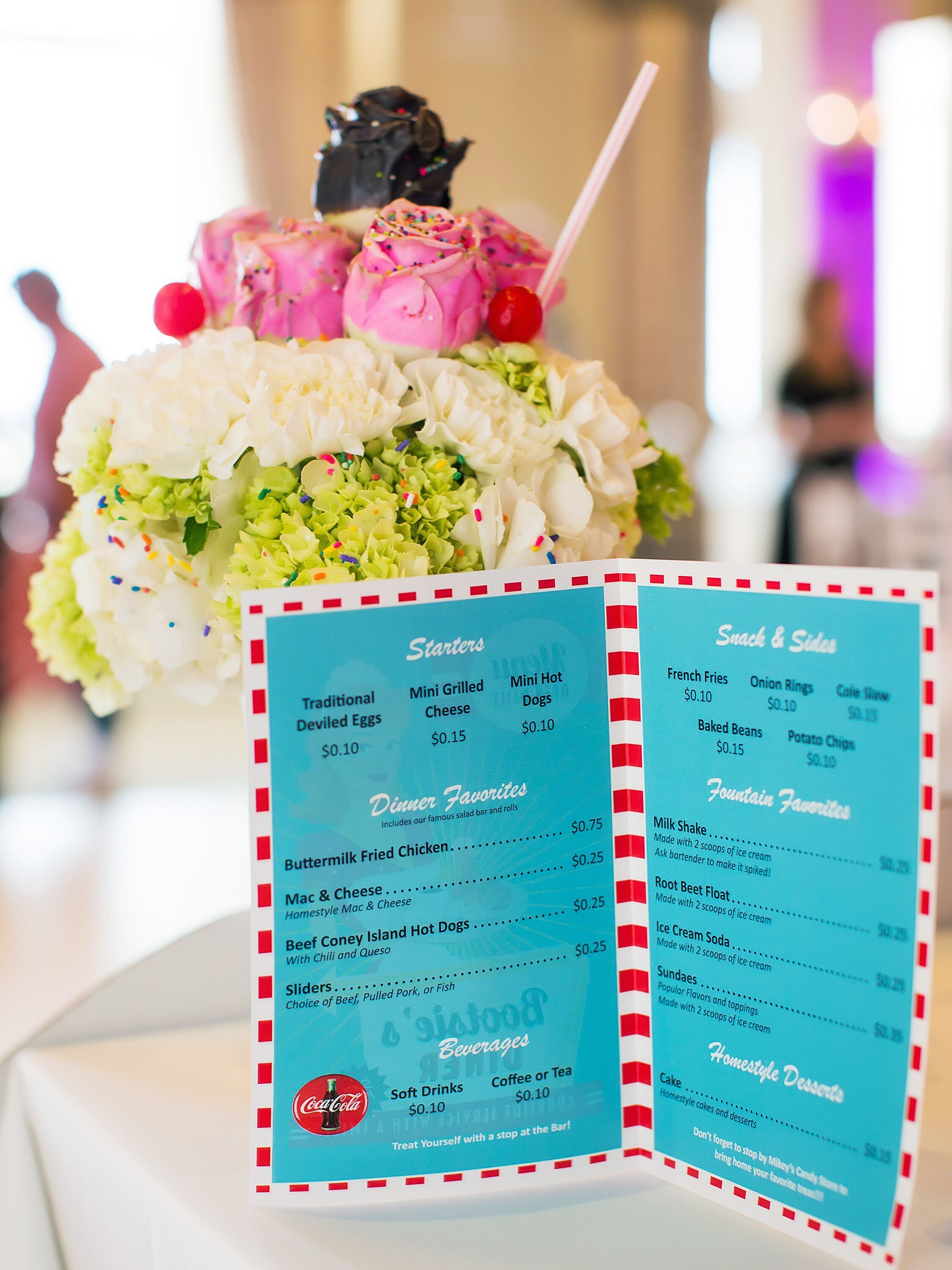 Photo: Limelight Photography
Remember back when hotdogs only cost a quarter? And a refreshing soda pop was a dime? A full meal for less than a dollar—imagine that. Have fun with your food menu and craft it into a restaurant-style pamphlet complete with 1950s pricing. Opt for diner favorites like fried chicken, mac and cheese, hot dogs and sliders with sides of french fries or onion rings.
Pro Tip: Hire a local caterer to handle the desserts and diner food. 
50s Theme Drinks
Milkshakes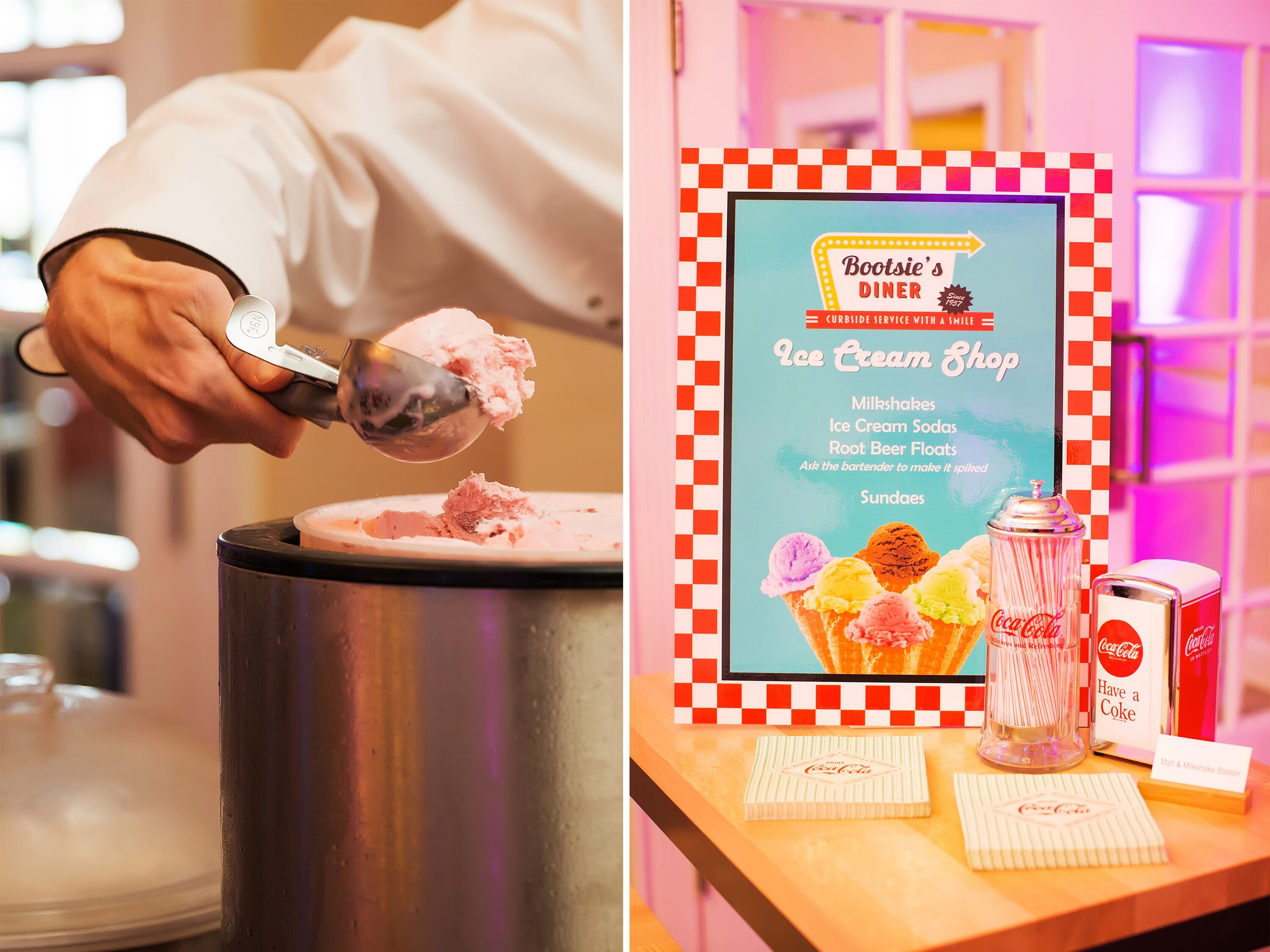 Photo: Limelight Photography
What better accompaniment to a '50s party theme than a milkshake bar? Combine a selection of classic flavors like chocolate, vanilla and strawberry, with a few candy mix-ins to complete the setup. Make sure to have an attendant monitoring this station—or better yet, preparing the shakes entirely. (Ice cream gets messy fast.)
Pro Tip: Hire a local bartender and kick it up a notch with the ever trendy boozy milkshakes.
50s Creative Detail
Themed Costumes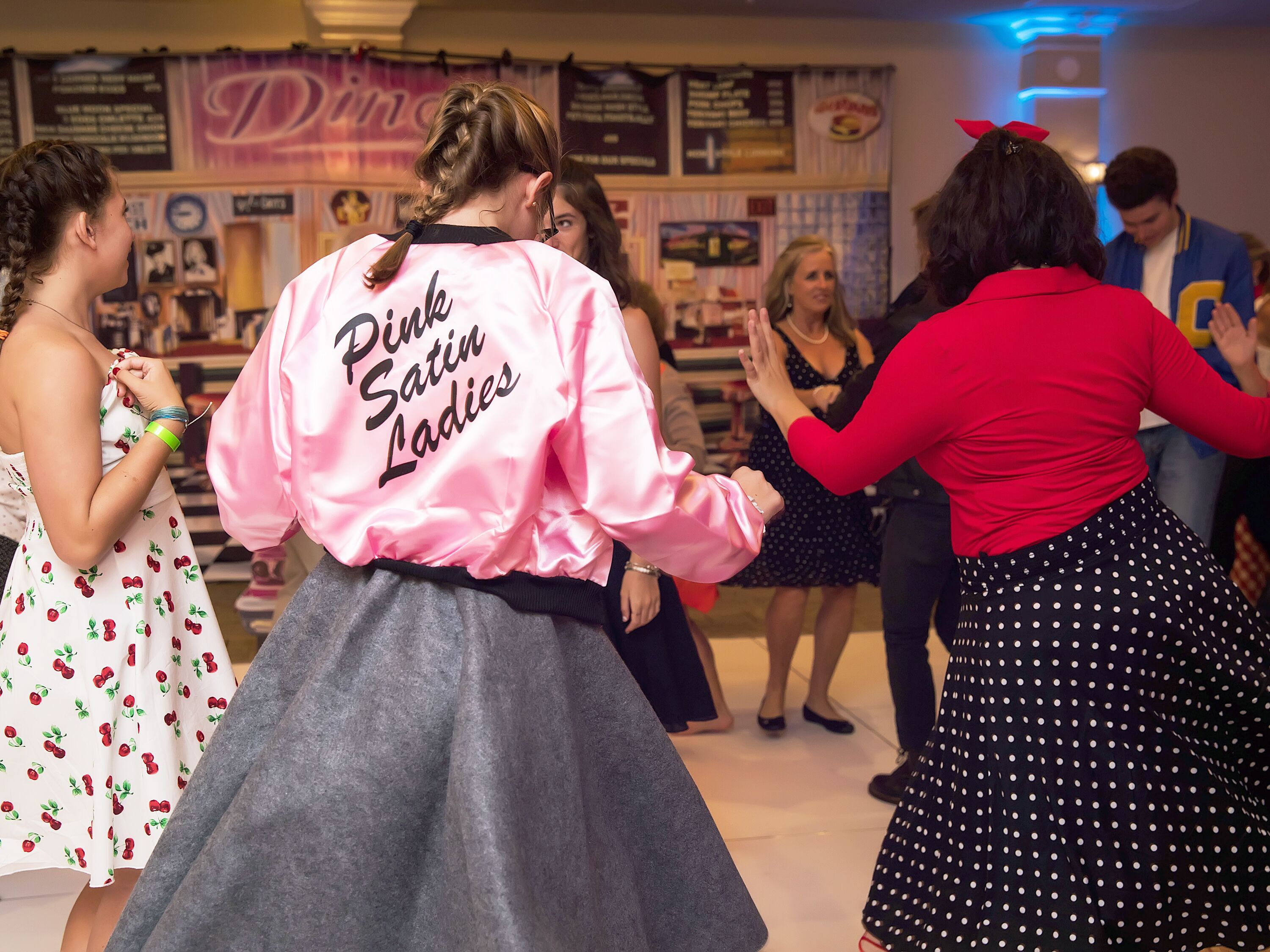 Photo: Limelight Photography
Encourage guests to come dressed in '50s style. Poodle skirts, leather or old varsity jackets and cateye-frame glasses capture the look.
Find more party theme ideas here on The Bash.
Floral designer: Carter's Florist | Event Venue: The Don Cesar