20 Graduation Pool Party Ideas for the Class of 2023
Celebrate in style with these graduation pool party ideas.
School is out and summer is in! It's time to honor the graduate with an epic and unforgettable pool party to celebrate their hard work. When hosting a graduation party, you'll most likely be attending a few other graduation parties in return, and they tend to get repetitive fast. If you're planning a celebration for your own graduate and want to keep it unique, we're here to help.
From food, to live entertainment, and party activities that will ensure fun for guests of all ages, we've compiled the ultimate list of graduation pool party ideas for this year. Whether you're the graduate or a proud parent, you're definitely going to want to incorporate these exciting details into your outdoor celebration.
Keep reading for 20 graduation pool party ideas…
Choose a Date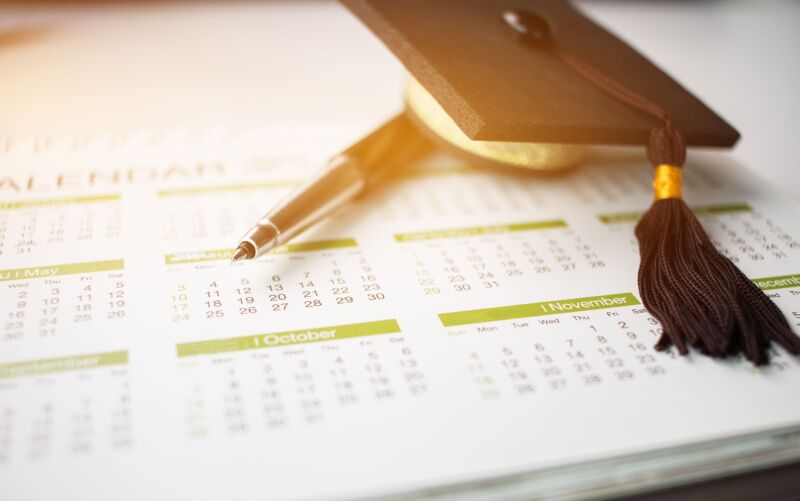 Photo: smolaw/shutterstock.com
Prior to sending invitations to the entire graduating class, you'll want to choose a date. Discuss party dates with friends and family to avoid any double booking, so everyone will be able to attend. 
You might want to set a rain date in case the spring or summer weather doesn't cooperate with the graduation pool party plans. Don't forget to include the message to bring a bathing suit, this is a pool party after all!
Rent a Pool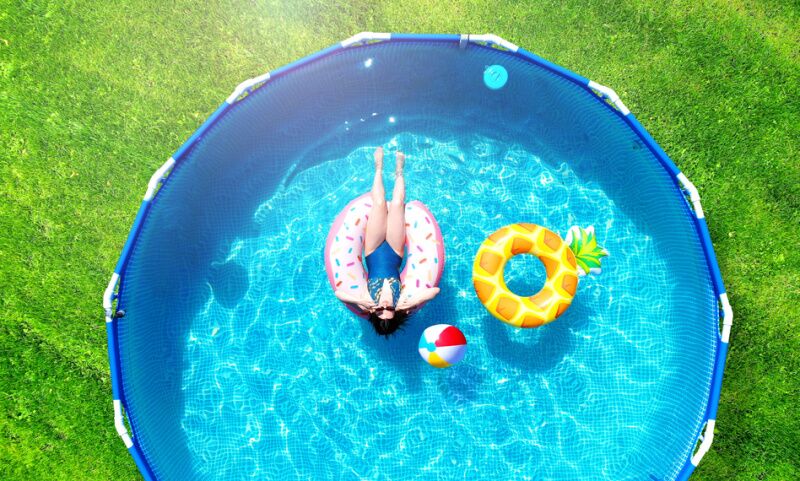 Photo: Varavin88/shutterstock.com
If you don't have a pool in your backyard, that shouldn't stop you from hosting an unforgettable pool party! Find a company in your area to set up and fill an above ground pool for as long as you want. You can also purchase large inflatable pools on Amazon for the party and use them throughout the summer.
In addition to the pop-up pool, keep guests cool with other outdoor party classics like water balloons and squirt guns. We recommend using biodegradable water balloons to make cleanup as easy as possible.
Bartender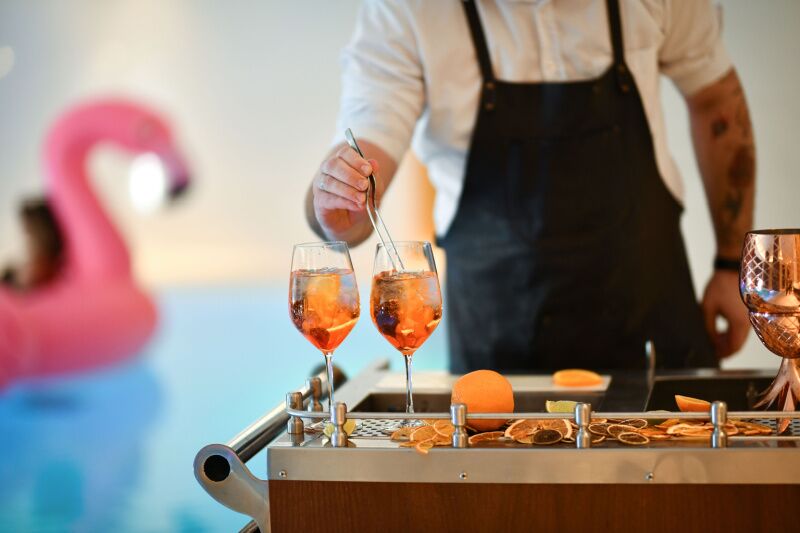 Photo: Migunova Yana/shutterstock.com
For a college graduation party, hire a bartender to whip up delicious cocktails for guests during the celebration. Work with these mixologists to curate a special drink menu and even a custom cocktail based on the school's colors and mascot. For a high school graduation get-together, discuss plenty of mocktail options with the bartender for the graduates.
Bonfire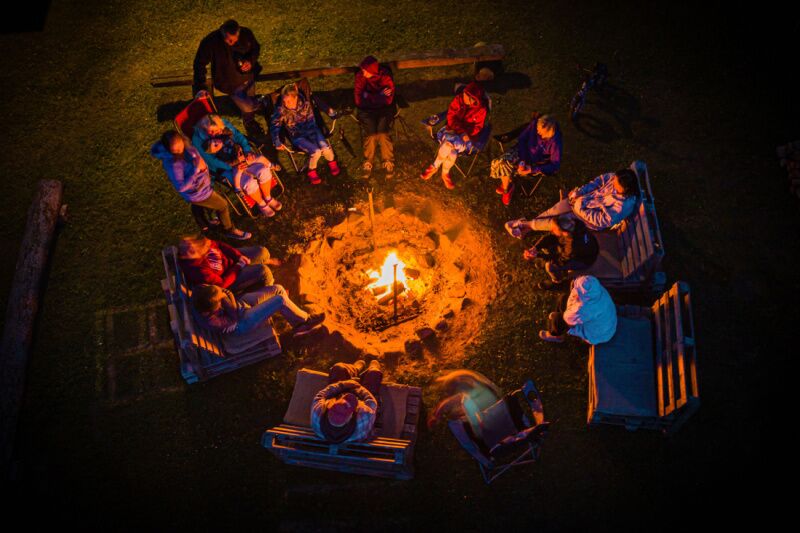 Photo: ako photography/shutterstock.com
Cool summer nights by the bonfire are always an unforgettable experience. Sit around the fire pit, roast marshmallows, and reminisce with friends and family about memories with the graduate. This might be one the last big get-togethers before the graduates part ways for college, work, or any other post-graduation plans.
DJ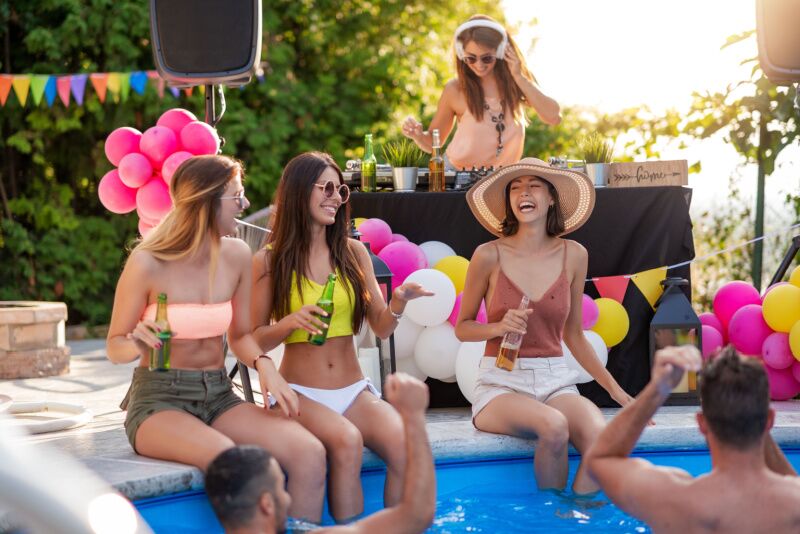 Photo: Ivanko80/shutterstock.com
Leave the aux cord in the hands of a professional DJ for this graduation pool party. DJs on The Bash keep up with the latest music and know what their audiences like to listen to. Discuss the song selection with the DJ beforehand to include favorite tunes but also avoid any unwanted songs during the party.
Including a DJ at the pool party is the perfect way to get everyone's attention if they're spread out in the outdoor space. DJs can make announcements when food is being served, speeches are being made, and anything else you might need to ensure the celebration runs smoothly.
Fun Pool Floats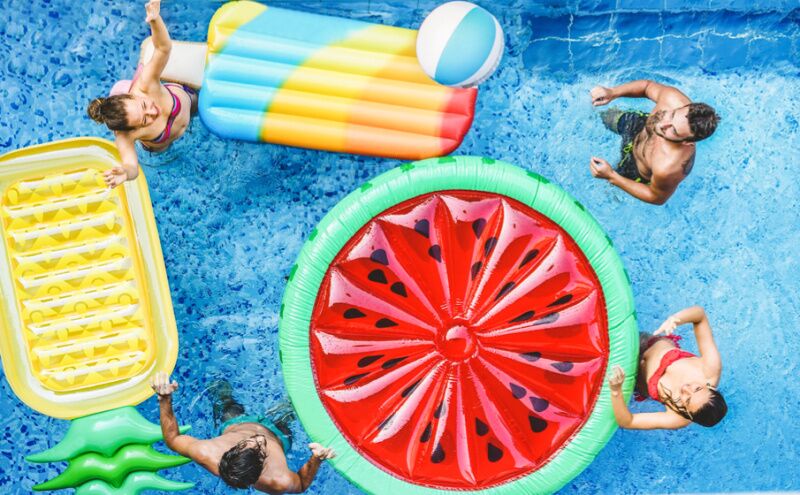 Photo: DisobeyArt.shutterstock.com
The perfect addition to a pool party? Fun pool floats. Get creative and fun with your pool float selection by including ones like unicorns, donuts, and anything else you can find. When hosting parties outside, it can be difficult to come up with creative decor, that's where the pool floats come in! Amazon has a variety of pool floats that will be fun to lounge on, but also add a pop of color to the party.
Smart Cookies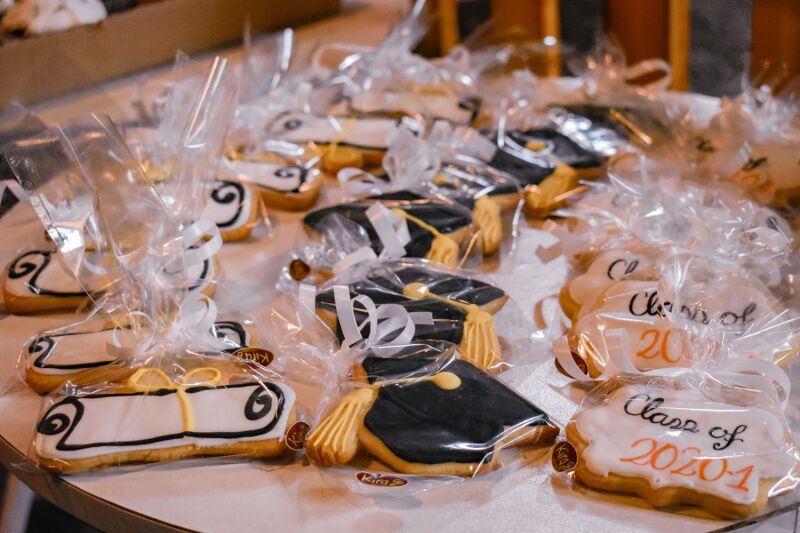 Photo: alejandra.flores.j.shutterstock.com
Tell the graduate they are one smart cookie with a dessert table that guests will not be able to keep their hands off of. From chocolate chip, to snickerdoodle, and even sugar cookies dedicated to the graduate's school, there will be something for everyone to satisfy their sweet tooth.
School Colored Decor
Photo: emilyyya/shutterstock.com
What's a graduation party without school themed decorations? Fill the outdoor space with colorful balloons, streamers, and tableware dedicated to the alma mater to be festive. Shop school color themed kits on Amazon to start planning the graduation party decor.
Champagne Tower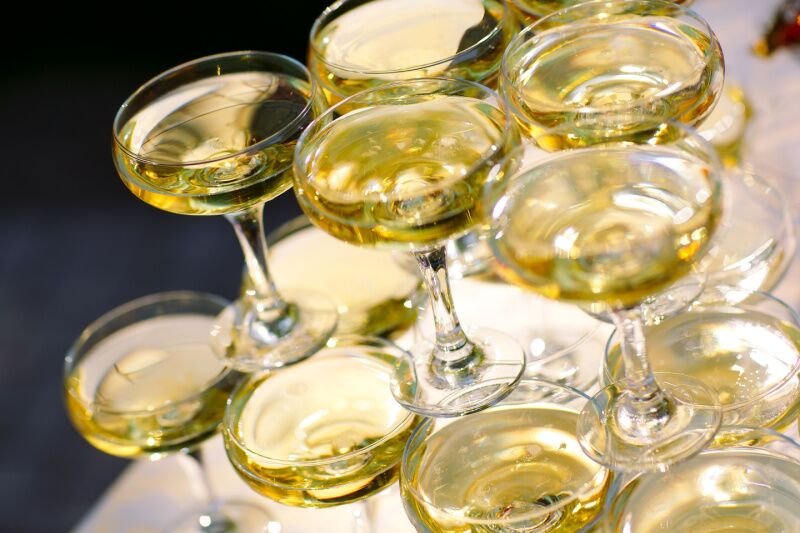 Photo: David Tadevosian/shutterstock.com
This popular TikTok trend is the perfect way to celebrate a college graduation milestone. Complete the pool party with a champagne tower that allows for the perfect photo ops. Stack as many glasses as you want into a pyramid (we recommend using plastic), have the graduate pop a bottle of bubbly, and watch the fountain of champagne pour to fill each glass. This can also be done with sparkling apple juice as a fun touch for a high school graduation.
Themes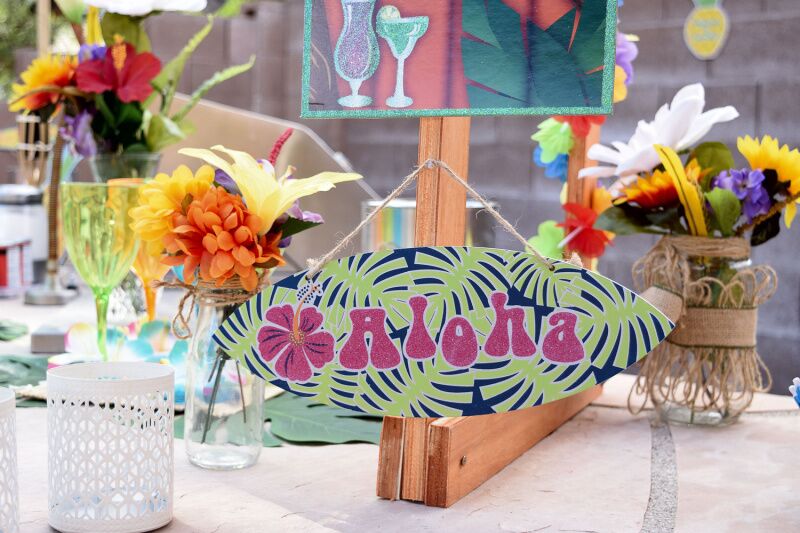 Photo: Thienne Johnson/shutterstock.com
Traditionally, graduation parties don't have themes, but who says you can't? Take inspiration from things the graduate loves by incorporating details into decor, food, and invitations. Some of our favorite graduation party themes include luau, Friends, and Mamma Mia. If you're feeling creative and want to set the tone of the party with a theme to match, browse  more party theme ideas on The Bash.
Photo Backdrop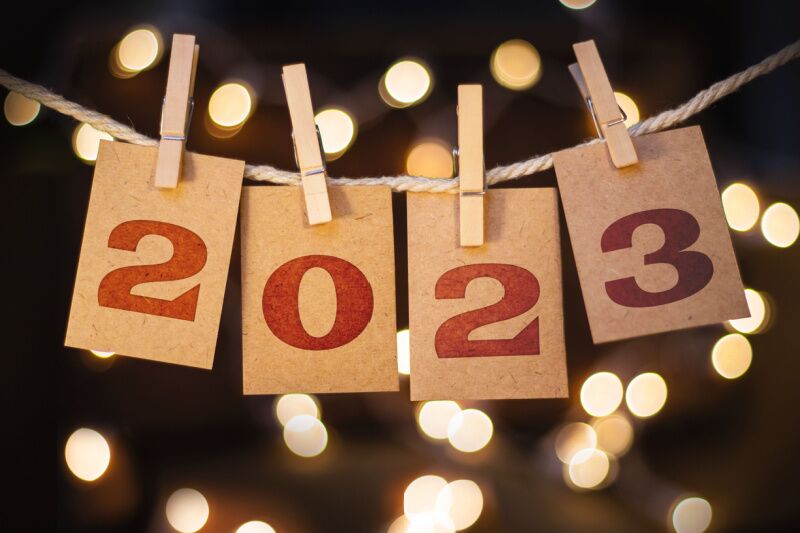 Photo: enterlinedesign/shutterstock.com
Put your DIY skills to the test by assembling your own backdrop that also doubles as the party's focal point. Every guest in attendance will want a picture with the graduate to post on Instagram, so you're going to want to make it as aesthetic as possible. Start with a tinsel banner, numbered balloons of the graduation year, and any other details you want to add. 
Pro tip: If DIY projects aren't your favorite, book a photo booth that will provide all of the backdrops, props, and cameras you'll need.
Lawn Games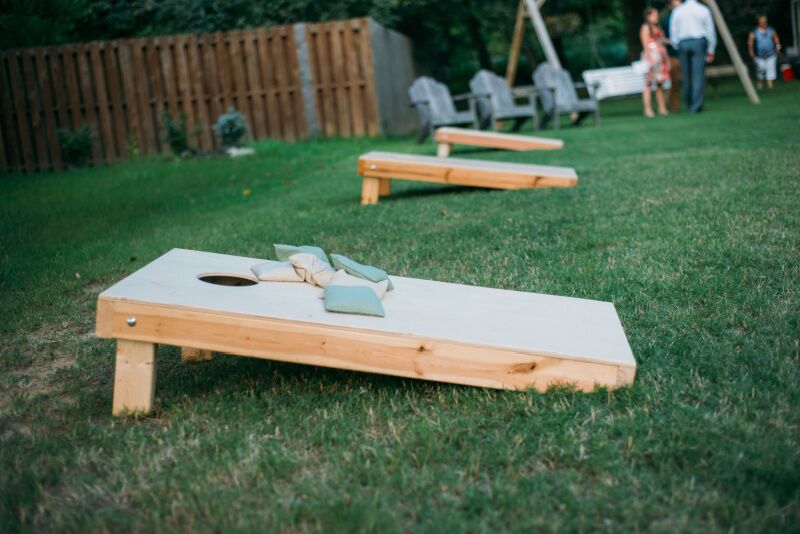 Photo: Cari Griffith/shutterstock.com
Every pool party should be complemented with lawn games. Afterall, who doesn't love a few friendly rounds of corn hole? Include favorites like Kan Jam, Wiffle Ball, and a net to play badminton, volleyball, and other backyard games. 
Food Truck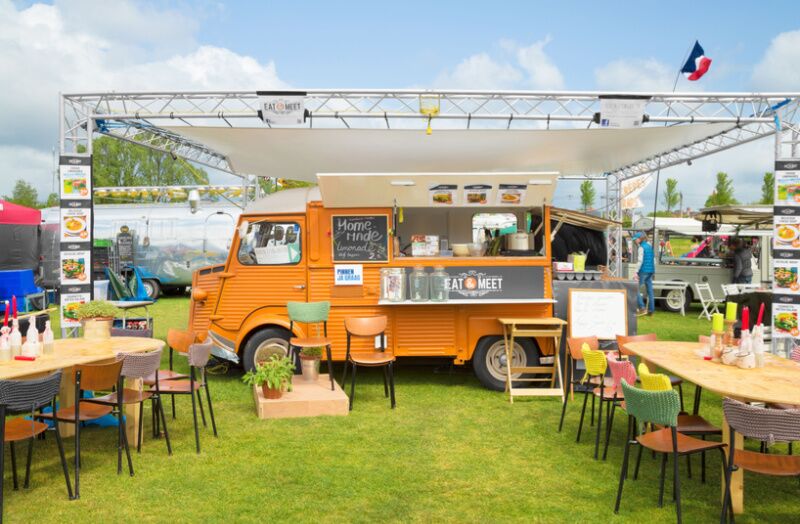 Photo: Gertan/shutterstock.com
Backyard graduation parties can get repetitive fast. How many hot dog and hamburger barbeques can you possibly go to? Consider booking a food truck to keep the food options interesting while also providing a wow factor. Browse local food trucks on The Bash for delicious wood-fired pizza, tacos, mini donuts, and much more.
Marquee Letters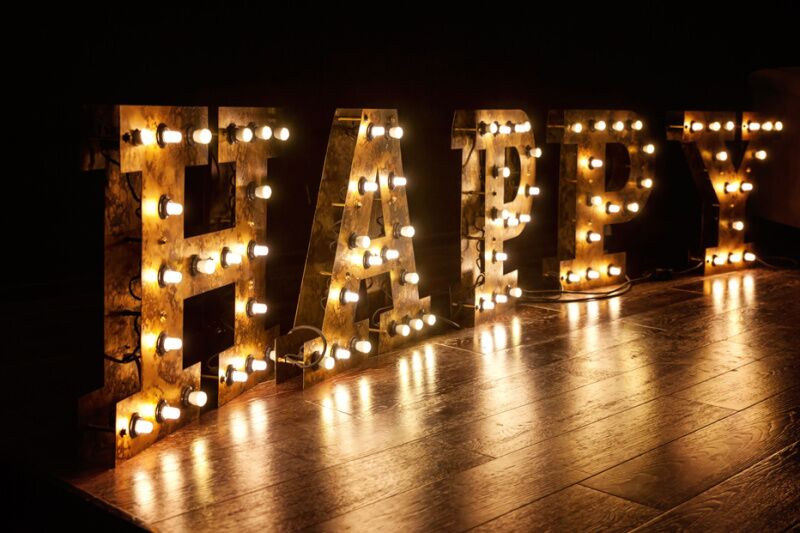 Photo: Julia Zavalishina/shutterstock.com
Put the graduate's name in lights—literally, with bright and bold marquee letters. If you feel like taking up a DIY project, visit your local craft or dollar store to get the materials. If you'd rather leave this in the hands of a professional, consider booking an event planner to handle all things decor and logistics.
Tent Rentals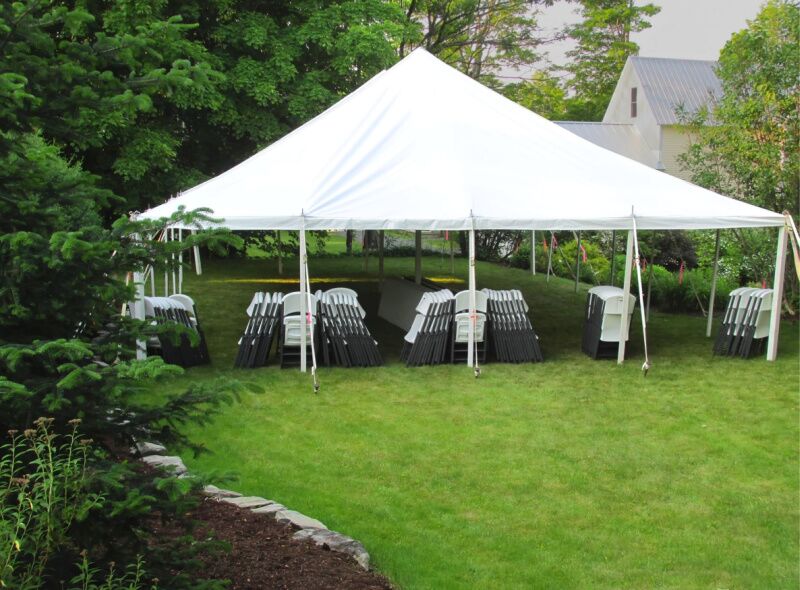 Photo: MGS/shutterstock.com
Even if the weather is perfectly sunny the day of the party, it's strongly recommended to rent a few tents for your pool party. This will help keep guests comfortable from potential rain, direct sun, etc. Browse party tent rentals on The Bash to select from different sizes and other features the celebration might need.
Memory Table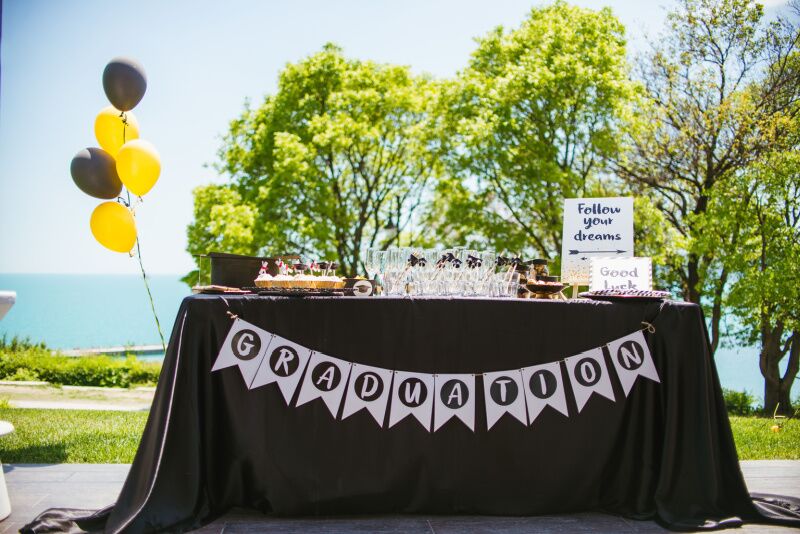 Photo: emilyyya/shutterstock.com
This isn't an original idea, but sometimes you just can't beat tradition! Celebrate this milestone with pictures displayed of the graduate's other milestones. Stroll down memory lane with pictures from their Kindergarten graduation, learning to ride a bike, their first day of high school, any special time you want to include. 
Beverage Table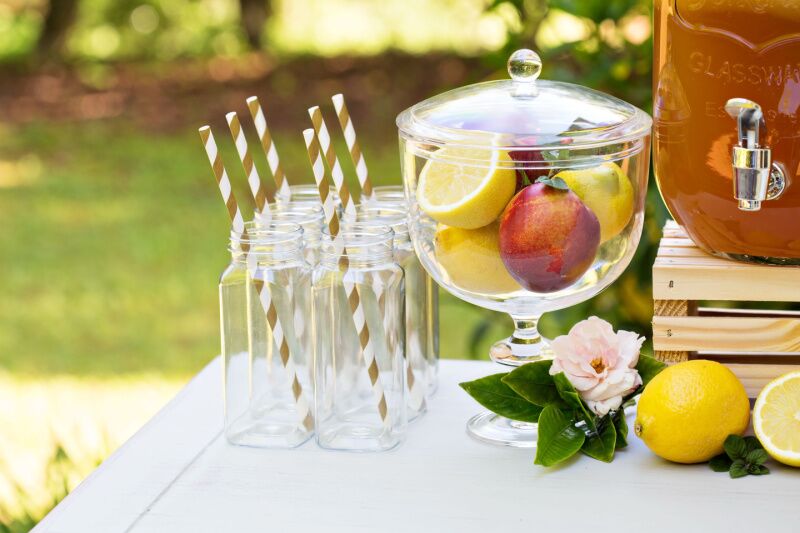 Photo: lena Veselova/shutterstock.com
Chances are, it's going to be hot at this pool party. Keep everyone's thirst quenched by ensuring there are plenty of beverage options available. Set up a table with large pitchers including lemonade, iced tea, sangria, and of course cold water. 
Caterer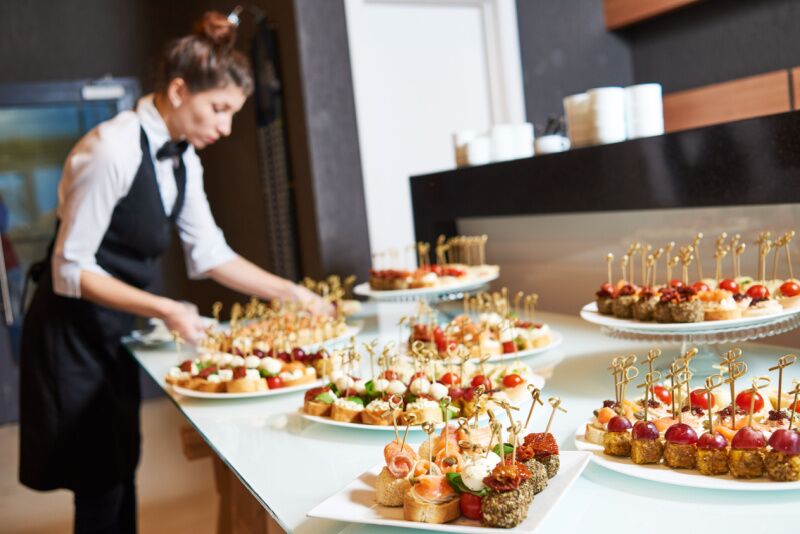 Photo: Dmitry Kalinovsky/shutterstock.com
If you don't want to get stuck on grill or kitchen duty during the graduation pool party, book a professional catering team. These culinary masters can curate a delicious menu based on the needs of the party, so there is something for everyone to enjoy. Communicate with caterers to decide on a sit-down meal, buffet, or lite bites that will circulate the party.
Inflatables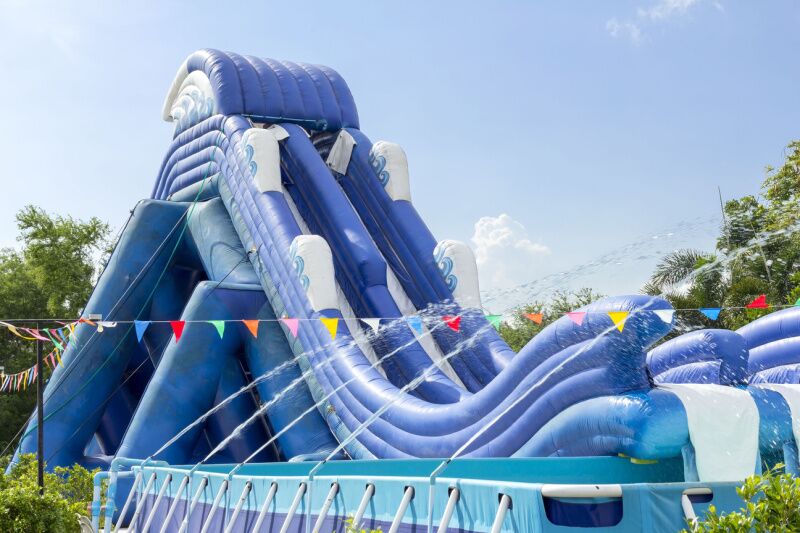 Photo: Surasak_Photo/shutterstock.com
No matter how old the graduate and their friends are, they'll love to unleash their inner child with a bounce house, water slide, or obstacle course. If the space allows, consider booking party inflatables for people to take a break from swimming but still enjoy the beautiful weather. Find local vendors that will set up and break down the equipment, so you can enjoy the party.
Graduation Cake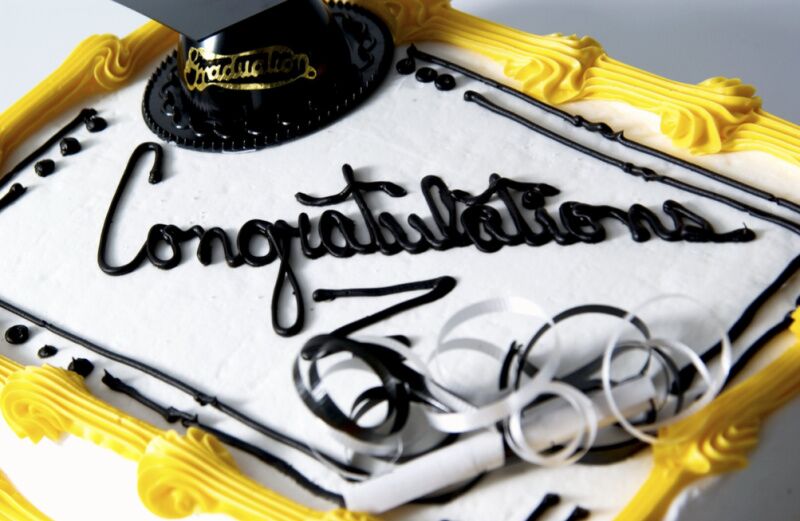 Photo: GWImages/shutterstock.com
What's a party without a celebratory cake? Honor the graduate with a customized graduation cake complete with school colors, a good luck message, or even their picture! In addition to cake, you can never go wrong with serving graduation cupcakes to allow for more flavor variety and dietary preferences.
Find more graduation party ideas here on The Bash.