17 Super-Trouper Mamma Mia Party Theme Ideas
Gimme! Gimme! Gimme! everything you need for your perfect Mamma Mia themed party.
Are you ready to take a chance on a Mamma Mia party theme? This beloved movie-musical is teeming with inspiration for an unforgettable event.  You've got singing, dancing, delicious Grecian food, and all the beachy cocktails you could ask for. 
With our help, none of these fabulous details will slip through your fingers and your guests will be thanking you for the music all night long! A Mamma Mia themed party is the ideal choice for a milestone birthday celebration, private party with friends, or if you really want to stay true to the vibe of the movie, an engagement party. 
Not only can you and your guests bond over your love of this hit musical, but you can also gain a newfound appreciation for the Grecian elements, inspired by its setting. Soundtracked by the endless hits of ABBA, you and your friends can enjoy delicious food and drinks, dressed up in your finest Dynamos costumes.
Here's our top ideas for a Mamma Mia party theme:
Mamma Mia Themed Entertainment
Sing-along Movie Screening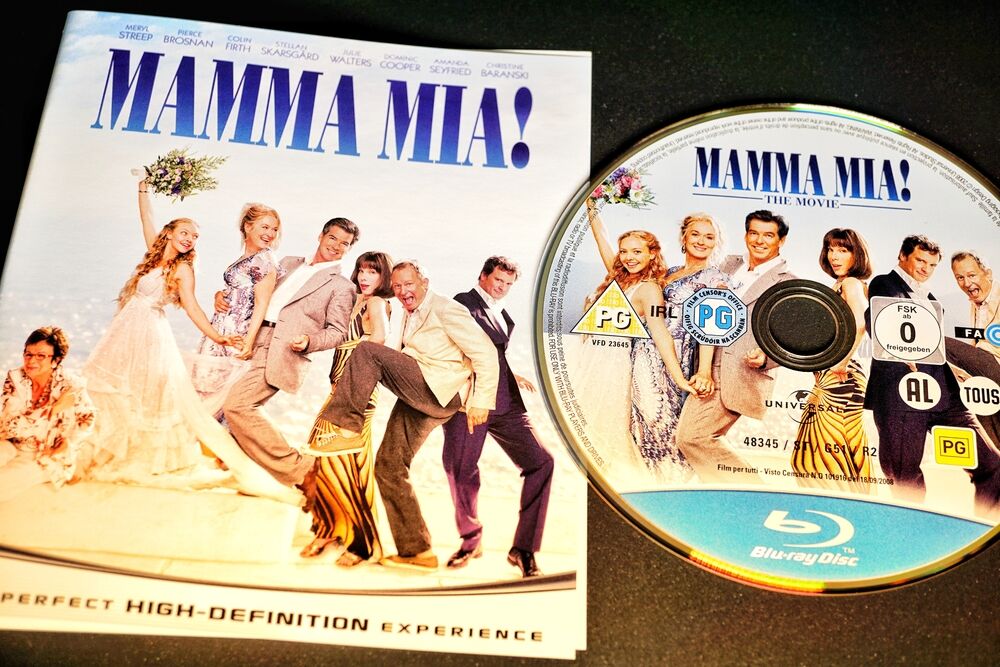 Photo: Stefano Chiacchiarini '74/shutterstock.com
Bring your guests together for an exclusive screening of Mamma Mia with an added element of participation. For an extra cinematic experience, consider projecting the movie on an outdoor movie screen. Beginning your night with a much-needed rewatch of your favorite film is sure to set a tone of excitement for the party that follows. 
Karaoke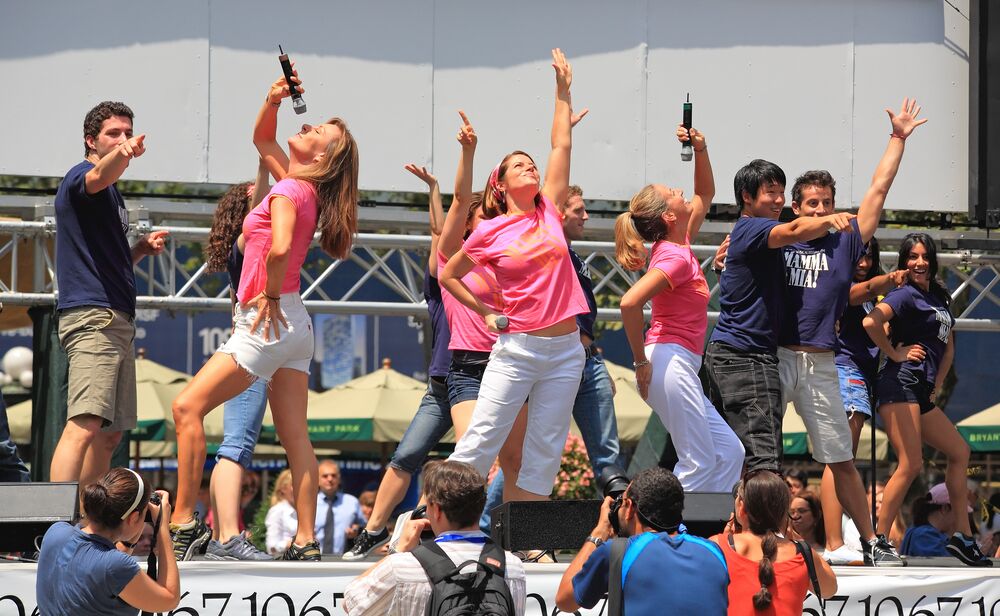 Photo: gary718/shutterstock.com
What's your go-to ABBA belter? Get the band back together with some thematic karaoke. You can stick to songs from the Mamma Mia soundtrack or, for the superfans, choose deep cuts from ABBA's back catalog. Bonus points for group choreography. 
Pro Tip: Hire a Karaoke DJ to handle the logistics and ensure the best songs are on queue.
ABBA Tribute Band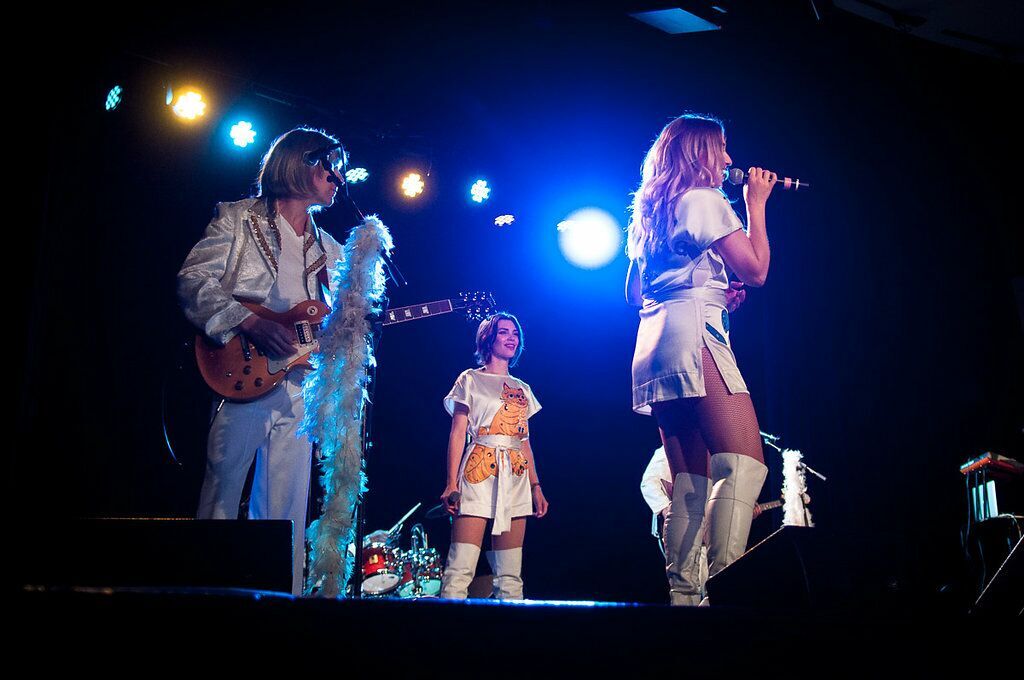 Photo: Dancing Dream 
Relish in the full fantasy by finding an ABBA tribute band to play at your party. There are plenty of bands that specialize in recreating the Swedish superstars' iconic performances and are sure to bring the house down. Work with your chosen band to design a custom Mamma Mia setlist that completely fits the purpose of your celebration, be it a birthday or engagement party. 
Costume Contest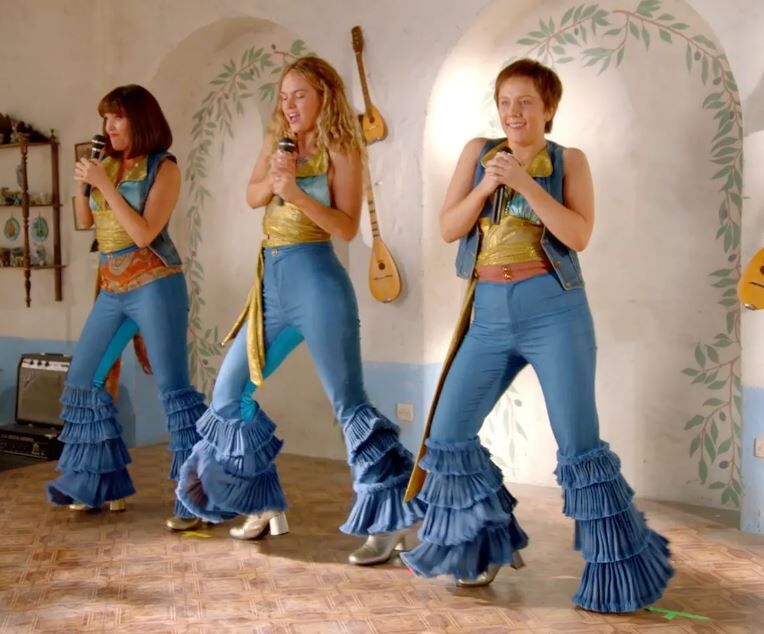 Photo: Glamour UK
Mamma Mia is known for some truly iconic looks–think Donna's dungarees, Tanya's chic bob, and the unforgettable denim looks of the Dynamos. Invite your guests to make their best attempt at dressing up as some of their favorite characters and crown the best or most creatively dressed. This element also creates the opportunity for some amazing photos that you can share on social media!
Mamma Mia Themed Venues 
Villa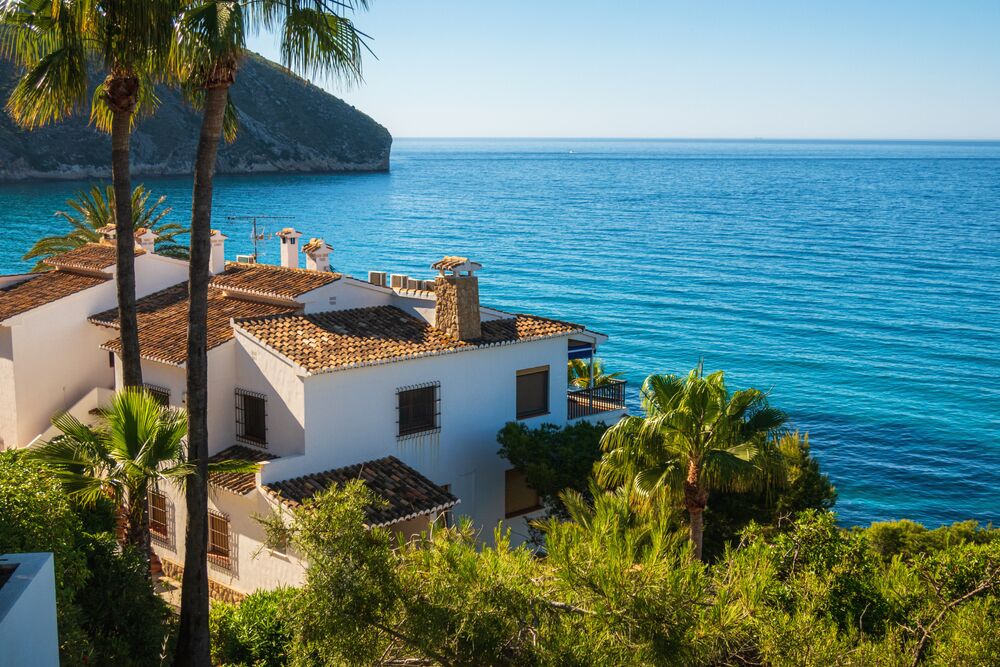 Photo: Miguel AF/shutterstock.com
Mamma Mia is all about the vibes of a Grecian paradise, taking place on a fictional yet picturesque island. You can recreate the mood by holding your party at a villa near the sea, pretending you're the newest guests at the Bella Donna. Some elements we recommend are sandy stones and close proximity to the water, especially if you want to recreate the Lay All Your Love on Me scene. 
Beach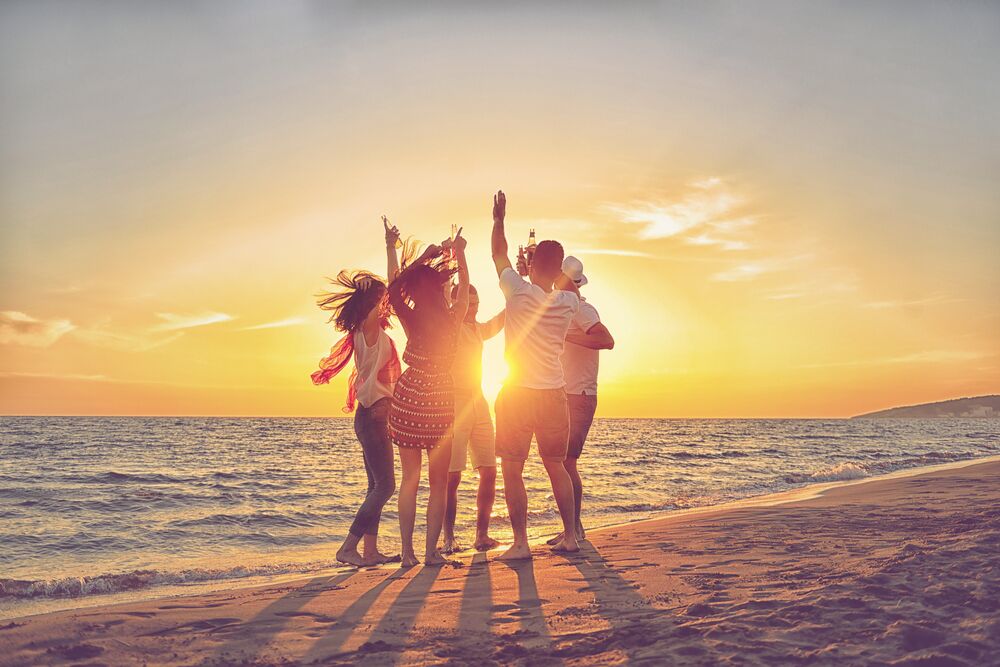 Photo: FS Stock/shutterstock.com
With its evocative Grecian setting, Mamma Mia is the ultimate beach movie. So it makes sense that you might want to host your themed celebration on the beach! You can set up bonfires, tiki bars, and anything else you desire to make the night as magical as the movie makes you feel. 
Rooftop Pool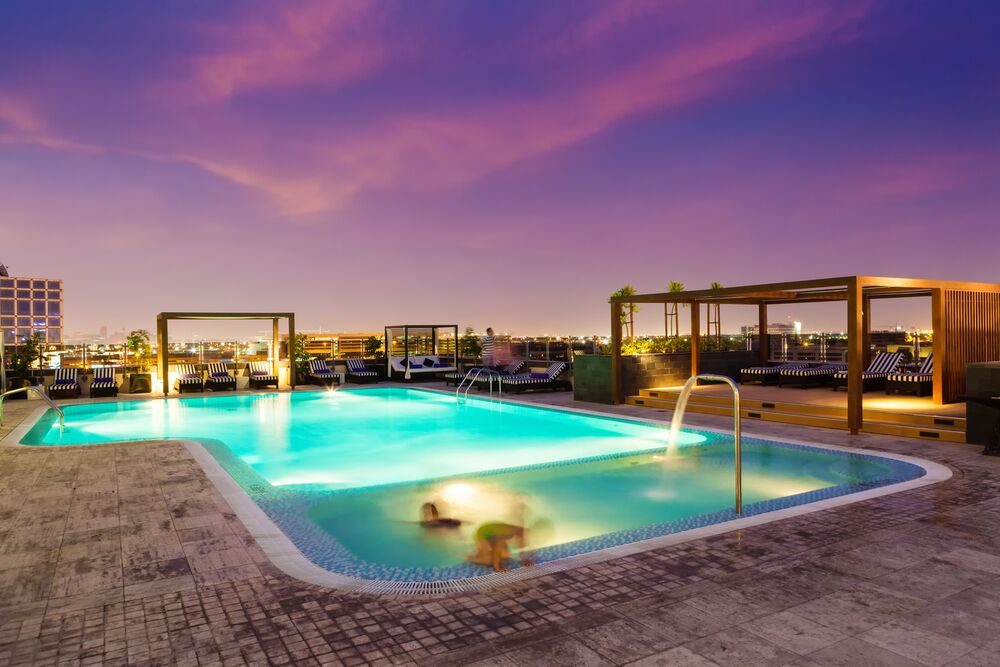 Photo: Avatar_023/shutterstock.com
Being by the water is an essential part of the Mamma Mia experience, but if you can't make it to the beach, don't worry. A rooftop pool setting is a glamorous alternative. Here, you can set up your outdoor screening areas, food spreads, and bar areas with ease. Guests can relax by the water and even take a dip if the mood takes them.
Mamma Mia Themed Food Ideas
Souvlaki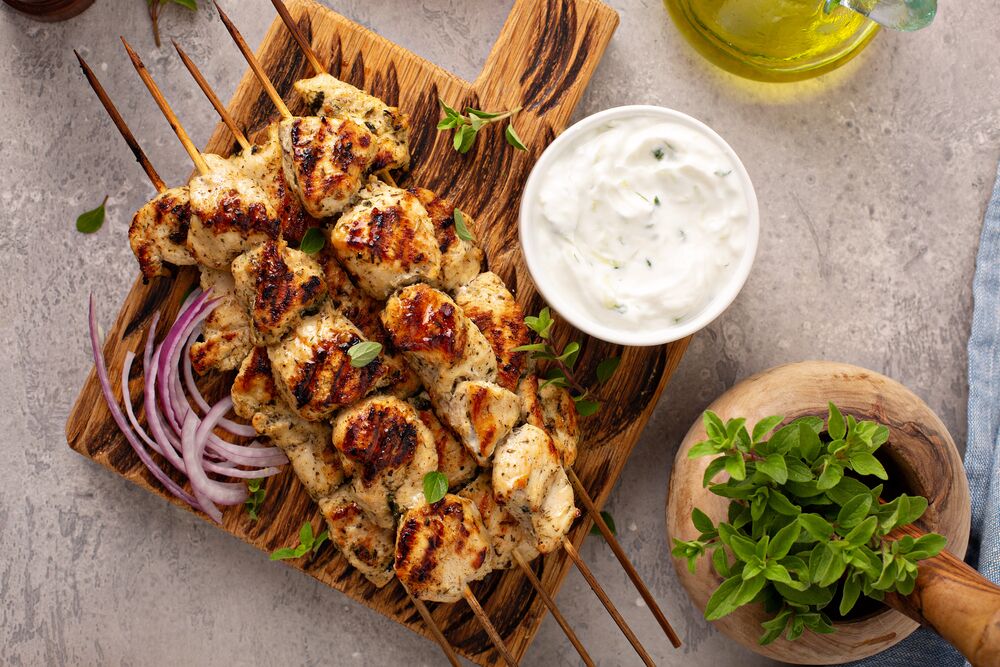 Photo: Elena Veselova/shutterstock.com
Greek food is an essential part of your Mamma Mia themed party menu. Indulge in delicious souvlaki, which is made up of skewered chicken seasoned with herbs and spices. Veggie options can also be created, using the vegetables of your choice. 
Fresh Grapes and Olives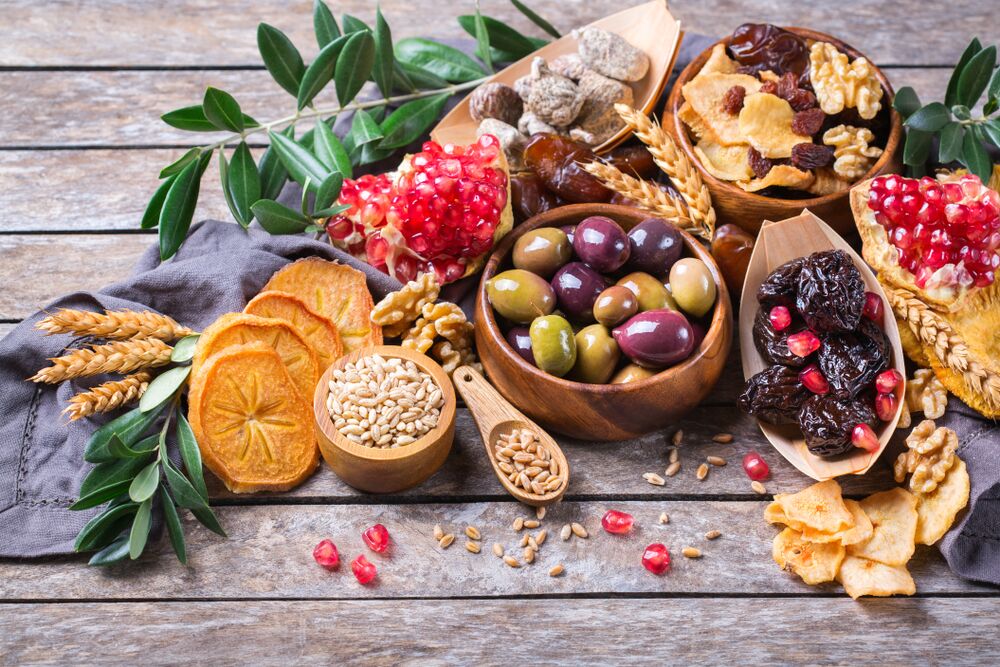 Photo: Antonina Vlasova/shutterstock.com
Not just good for a garnish, fresh grapes and olives are ideal snacks for a Mamma Mia celebration. Their presentation can even be arranged to look indulgent. You can enjoy the refreshing sweetness and sharp saltiness of the grapes and olives in equal measure, pairing them perfectly with your other menu items. 
Mezze Platters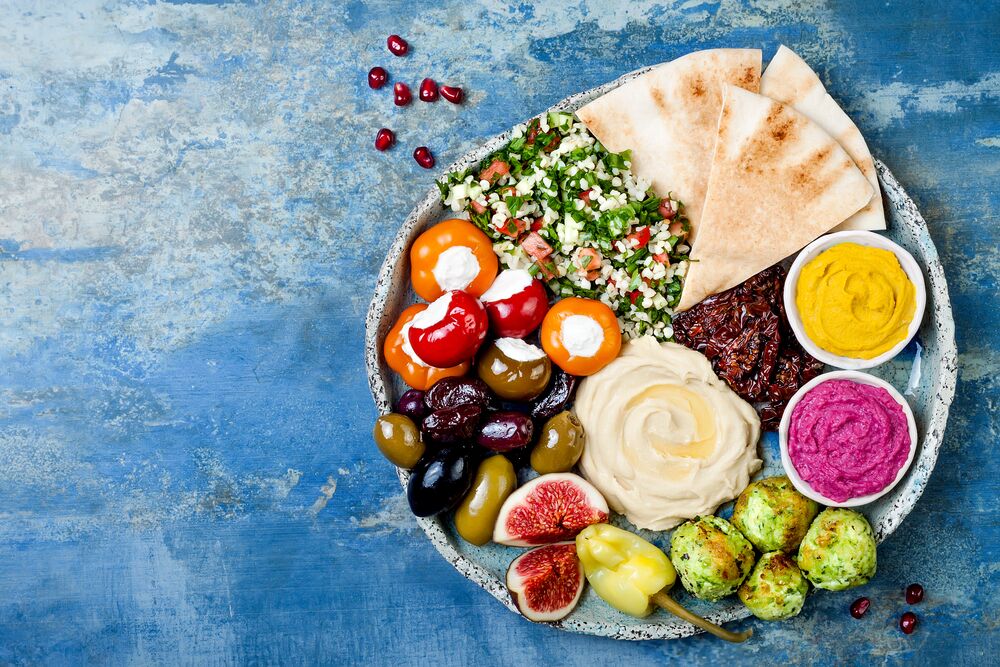 Photo: zarzamora/shutterstock.com
Just like Mamma Mia, a mezze platter is a little bit of everything good. These spreads are perfect for feeding large crowds, but smaller versions work perfectly too. They can be loaded up with Grecian classics like feta cheese, stuffed peppers, pita bread, hummus, and more. 
Mamma Mia Themed Drinks
Fishbowl Cocktails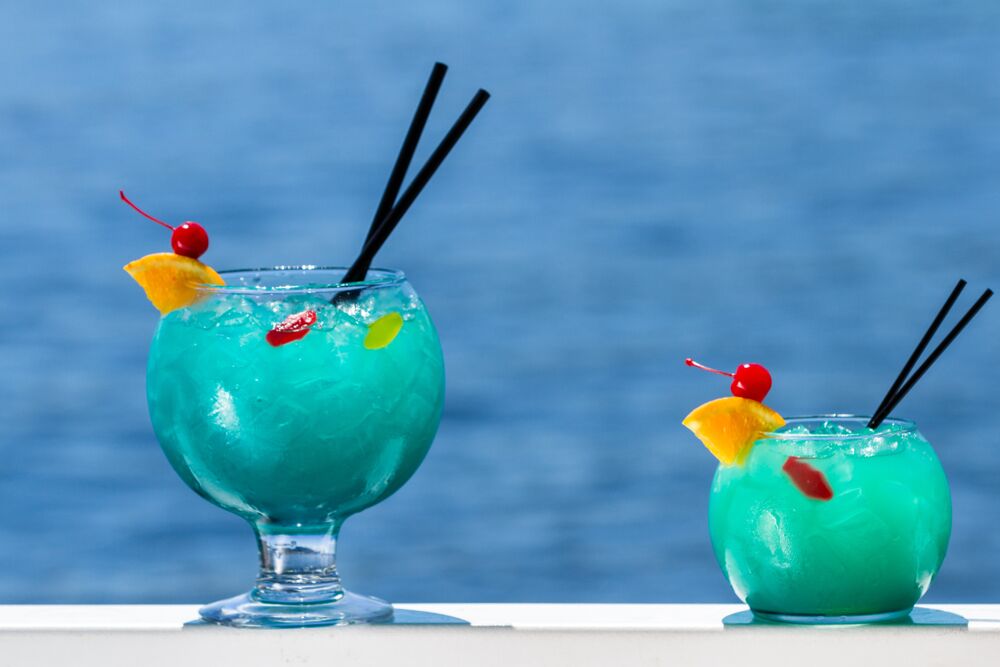 Photo: Nature's Charm/shutterstock.com
It's no secret that the Dynamos of Mamma Mia enjoy a tipple or two, especially a fruity cocktail. You can create indulgent concoctions in a fishbowl presentation, designed for your guests to grab and share. These outrageous beverages also give major vacation vibes–when in Kalokairi, right?
Pro Tip: Hire a local bartender to make a variety of fishbowl cocktails and more to serve to party guests. They'll feel like they're on vacation in no time.
White Wine Spritzers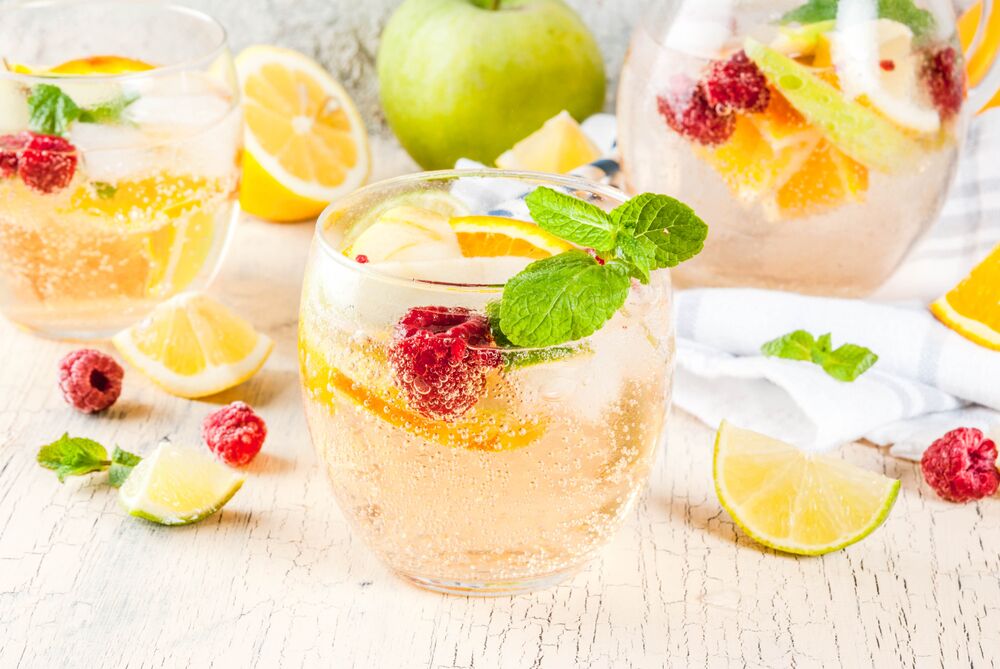 Photo: Rimma Bondarenko/shutterstock.com
Take advantage of the Greek talent for winemaking and use some to create refreshing, fizzy white wine spritzers. These drinks are a perfect addition to a summertime cocktail menu. You can even serve them as you screen the movie, giving your guests a taste of Greece topped with fizzy bubbles and fresh fruit. 
Blue Ocean Mocktails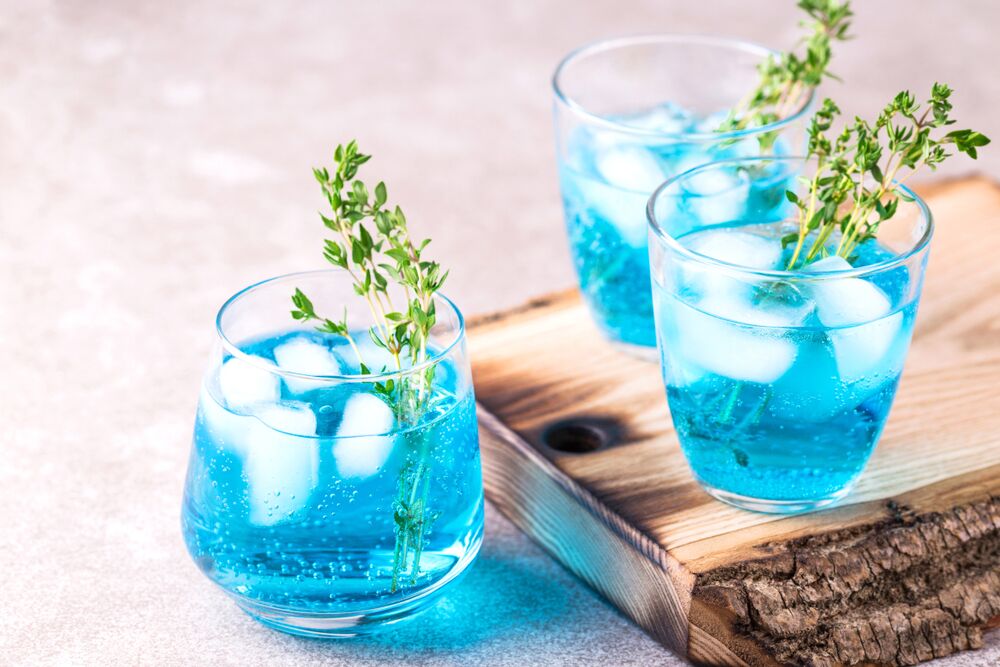 Photo: Yuliia Kononenko/shutterstock.com
Make your mocktails with style, layering your non-alcoholic beverages of choice and coloring them with blue food coloring to evoke the magic of the ocean. For extra ABBA-inspired fun, how about adding a flower or two to the drink, inspired by Sophie's wedding bouquet?
Mamma Mia Themed Party Creative Details
Costumes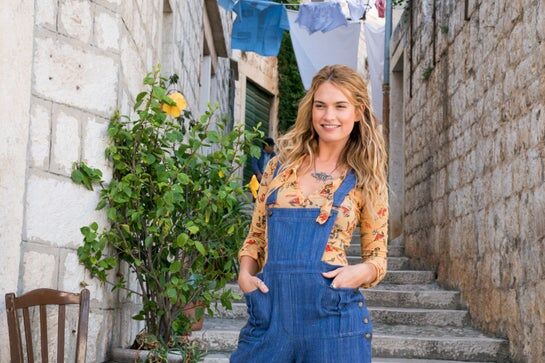 Photo: Refinery29
A Mamma Mia-themed party gives you the opportunity to go all-out fashion wise. You can choose from the style of modern-day, like Sophie's floaty dresses, or indulge in Seventies glam complete with shimmering jumpsuits and denim dungarees. We recommend beachy waves, floral accessories, and big, fabulous hats. You'll be dancing queens in no time.
Donna's Diary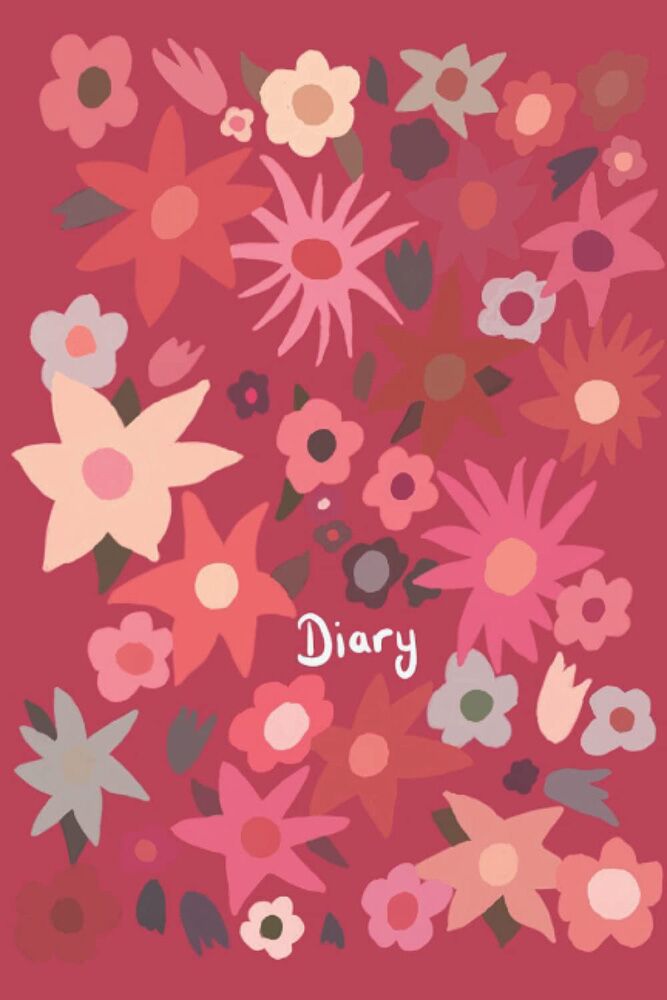 Photo: Amazon
Decorate your event with pages from Donna's infamous diary, recounting her adventures in love and life. These pages can be scattered across tables, available for guests to pick up and read. You could also consider giving out replications of Donna's diary as party favors for all those in attendance to fill with their own fascinating life stories. 
Wedding Flowers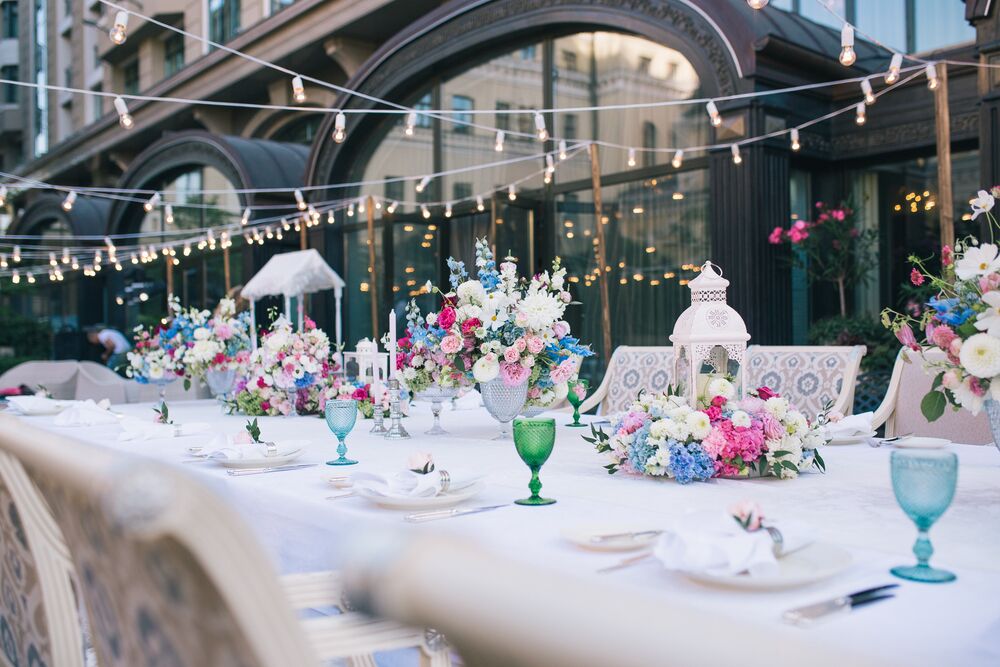 Photo: Olga Zvorska/shutterstock.com
In tribute to Sophie's wedding in Mamma Mia, you can incorporate a floral element into your party's decor. Think flowing centerpieces for your tables and flowers ready to weave into your guests' hair. These floral pieces can come in the colors of your choice, but romantic pinks and purples are always a good idea for a romcom.
Blues and Whites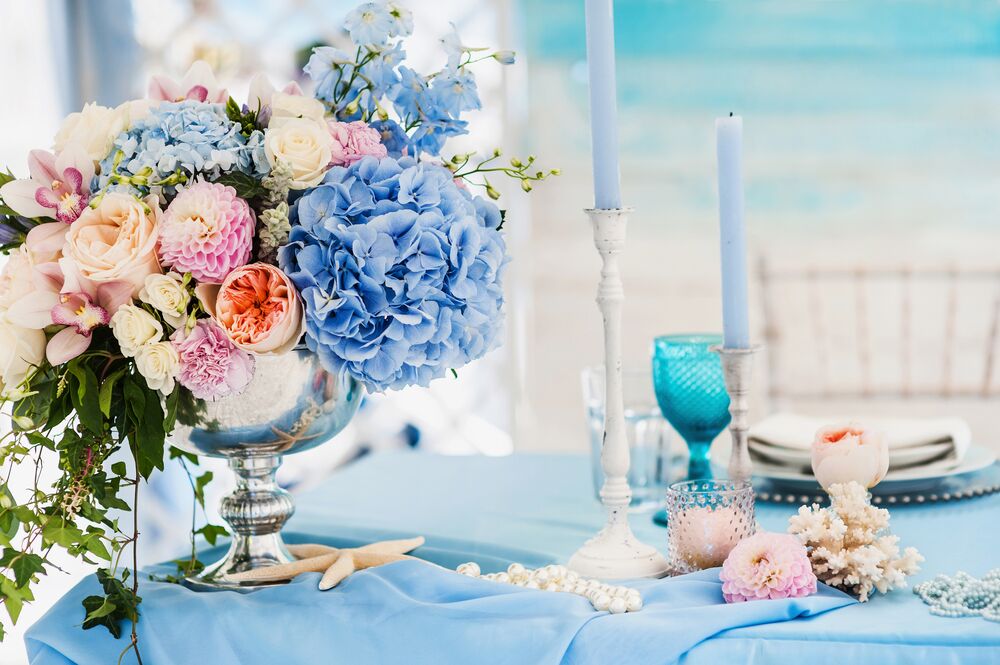 Photo: Kite_rin/shutterstock.com
To best represent the colors of the Greek flag, incorporate blues and whites throughout your party decorations. We recommend blue linens with white plates as well as blue wine bottles to be used as centerpieces. And, don't forget some blue and white glitter within the party decor!
It simply wouldn't be Mamma Mia without a little sparkle. Glitter is always a great incorporation into any celebration, and how you include it is totally up to you! You can go for glitter poppers, confetti, or even sequin backdrops for your event photos. These shimmering elements can totally transport you to the sunny glamour and beauty of Donna and the Dynamos heyday. 
Find more themed party ideas here on The Bash.