25 Halloween Movies to Get You Ready to Party
Choose one of these spook-tacular movies to everyone in the Halloween spirit.
Photo credit:
Insider.com
Is there a better way to celebrate spooky season than by watching your favorite Halloween movies on the big screen? We rounded up a list of the best Halloween movies to get you in the spirit. From thrillers, to comedies, to feel-good cult classics, you can find your movie viewing schedule for the next month right here.
Whether you're looking for last-minute costume ideas or Halloween party ideas, these iconic films should be able to help you out. And for the day of your party, we recommend queuing a few up back-to-back for easy streaming to set the scene (just mute the sound—we're going for aesthetics here, not vocals). 
So, grab your favorite Halloween candy, plop down on the couch, and turn on one of these fang-tastic films. 
READ MORE:
Here are 25 Halloween movies to get you ready to party:
The Babysitter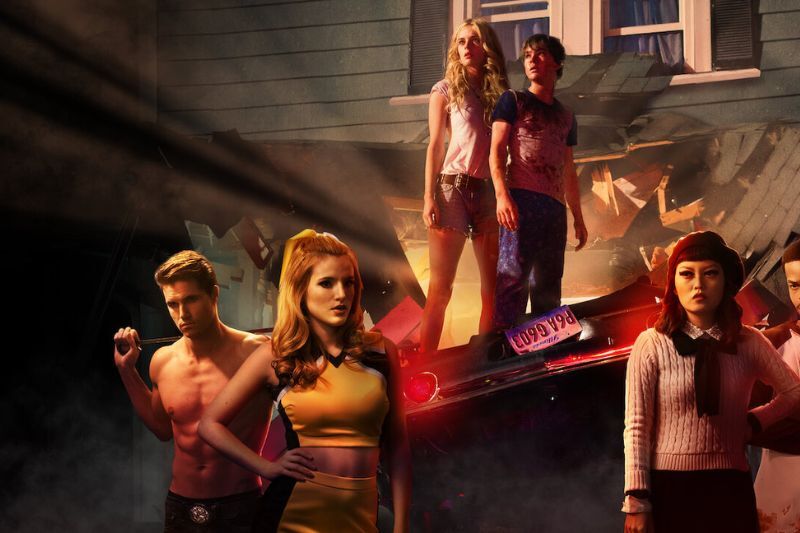 12 year old Cole thought it was just another night with his favorite babysitter, Bee, until he discovers she's actually part of a satanic cult. Cole spends the night fighting his fears as he  tries to outsmart and take down Bee and her friends before they can perform the ritual sacrifice.
Available to Stream on Netflix
Hocus Pocus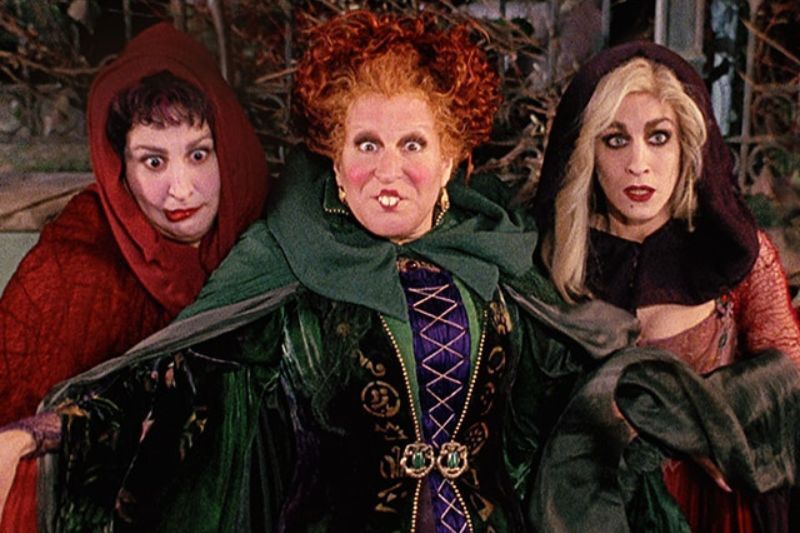 Double, double, toil and definitely trouble! When three witches return from the 17th century in this funny yet creepy movie, the trio tries to put the whole town under one of their spells. A mysterious party will surely be brewing if you fill your home with broomsticks, witch hats, and black cloaks for the movie's backdrop. 
Stream Hocus Pocus on Disney+
Mom's Got a Date With a Vampire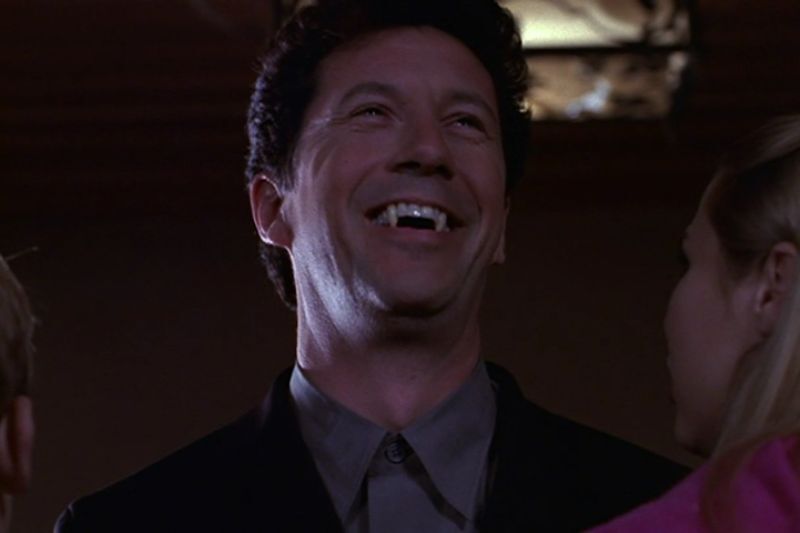 Nothing screams Halloween like vampires, blood, and bats. In this Disney Channel original movie, the Hansen kids are eager to get their mom out of the house, so they set her up on a date with a man who turns out to be a vampire. Talk about an evil stunt! This movie would be the perfect accompaniment to a vampire-themed party that is decked out in flying paper bats, plastic fangs, and sweet treats covered in frosted "blood."
Available to stream on Disney+
Under Wraps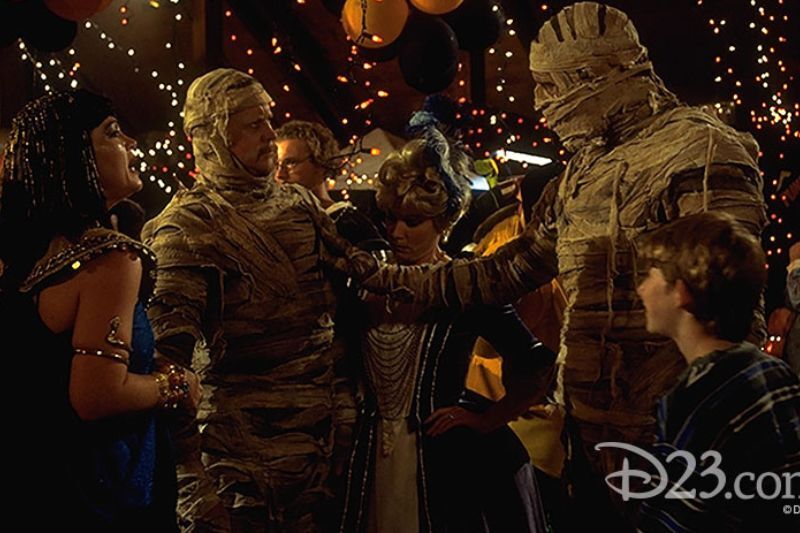 This Disney Channel classic about a group of friends who battle the clock to safely return a mummy back to his resting place is perfect for kids, families, or grown-ups who want to feel the Halloween magic. If you want to turn your home into the ultimate graveyard, dim the lights, serve mummy calzones wrapped in long strands of cheese, and decorate the space with tombstones, cobwebs, spiders, and skeletons. 
Rent or buy Under Wraps on Amazon Prime
Haunted Mansion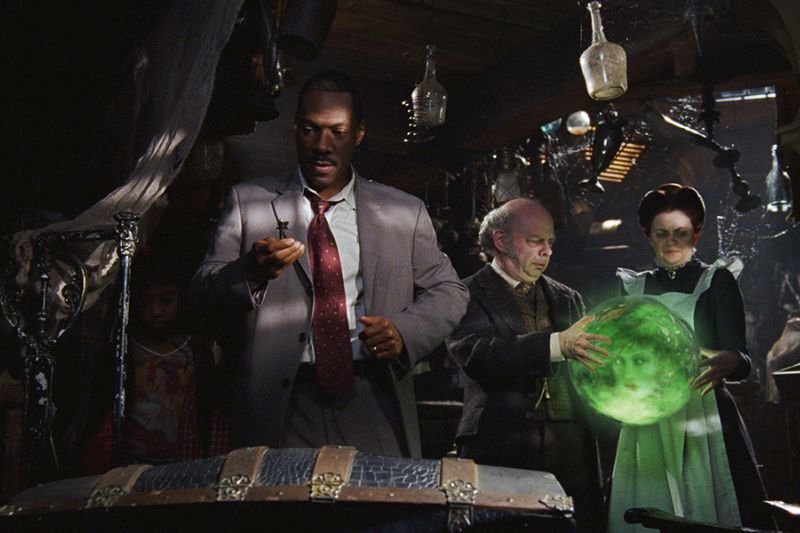 Watching this scary comedy starring Eddie Murphy will give everyone a fright. Get really spooky by transforming your home into a haunted house with flying ghosts, mounds of spiderwebs, dark lighting, and eerie music.
Stream Haunted Mansion on Disney+ and YouTube TV
Hocus Pocus 2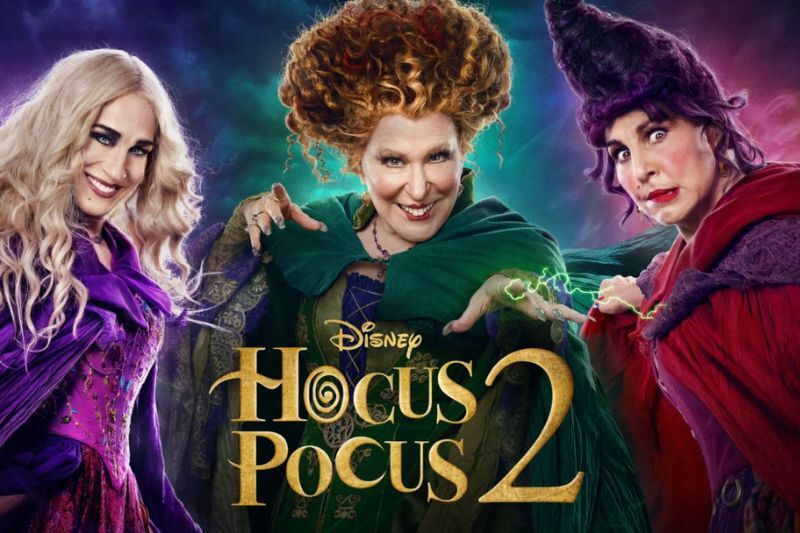 If you thought 30 years for a sequel is too long, not for Hocus Pocus! This is a Disney Halloween classic that we're lucky enough to have the rest of the story for. Spoiler alert if you haven't watched it yet; it looks like there could be an opportunity to have the Sanderson Sisters come back for a part three!
Available to stream on Disney+
SCREAM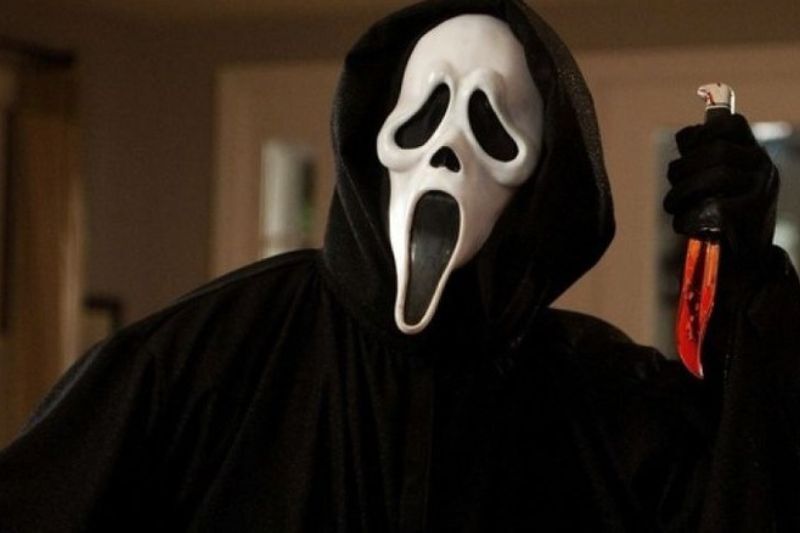 When a serial killer hunts down victims and asks them trivia questions, they must answer correctly or face a gruesome death. Halloween is full of suspense and this horror film will have you sitting on the edge of your seat, your eyes glued to the screen, and your heart racing while witnessing sudden attacks and looming murders.
Stream SCREAM on Netflix
Scary Movie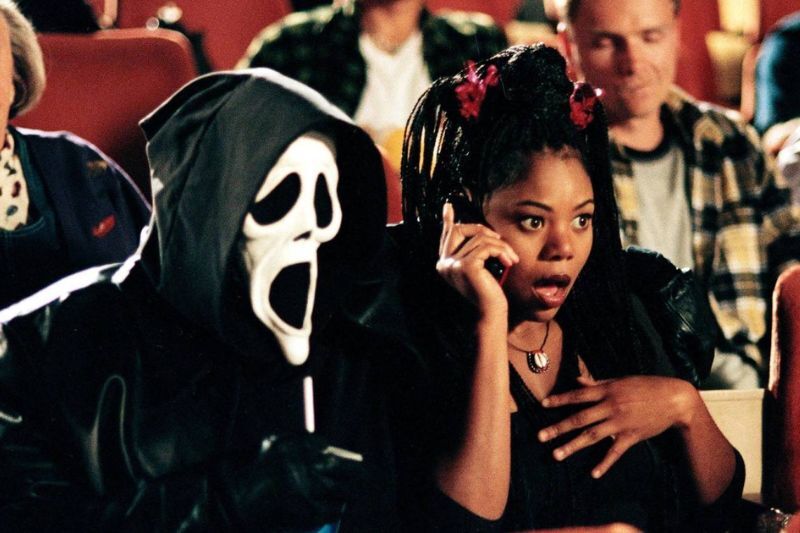 Well, the title of the movie certainly speaks for itself. Consider this movie a scary parody of all the classic teenage slasher films. Dim the lights, set the scene with candles, and get that popcorn ready. 
Rent or buy Scary Movie on Amazon Prime
Harry Potter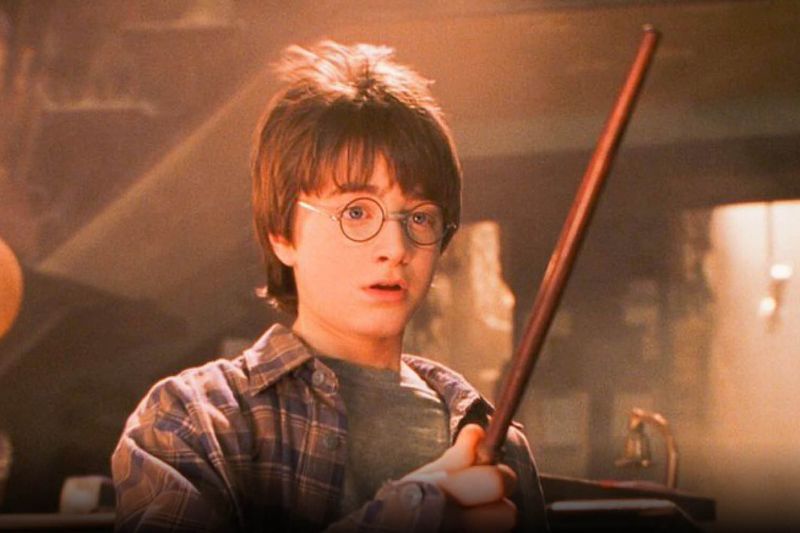 Harry Potter fans could watch this movie any and every day of the year, but viewing the classic film, full of magic and mischief, is an excellent way to celebrate Halloween. Convert your house into Hogwarts by compiling and arranging wizard robes and hats, magic wands, stuffed owls, and brooms in addition to burgundy and gold balloons, streamers, and banners.
The whole series is available to stream on HBO Max
Halloweentown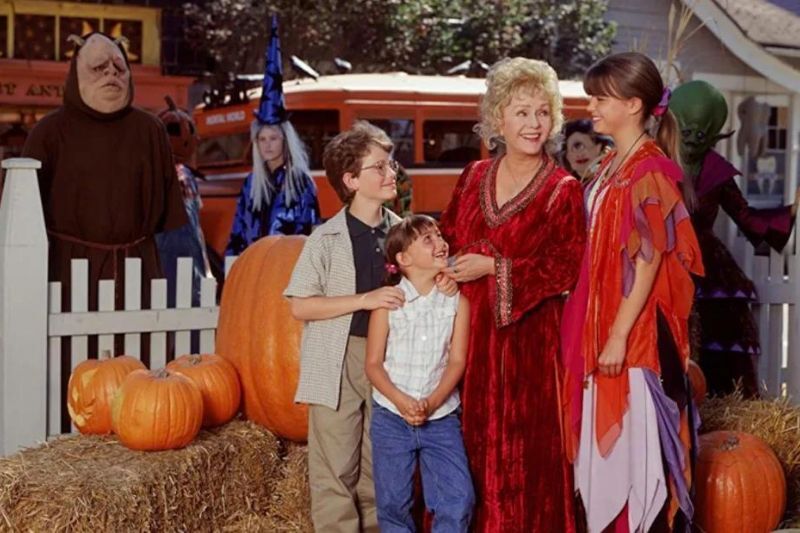 You probably wished you could visit Halloweentown as a kid, but with a viewing party of the beloved film and Halloween-themed decor to match, you can enter the magical world without even leaving your house. Have a Halloweentown marathon and watch the rest of the series: Halloweentown II: Kalabar's Revenge (2001), Halloweentown High (2004), and Return to Halloweentown (2006).
Stream the Halloweentown series on Disney+
Edward Scissorhands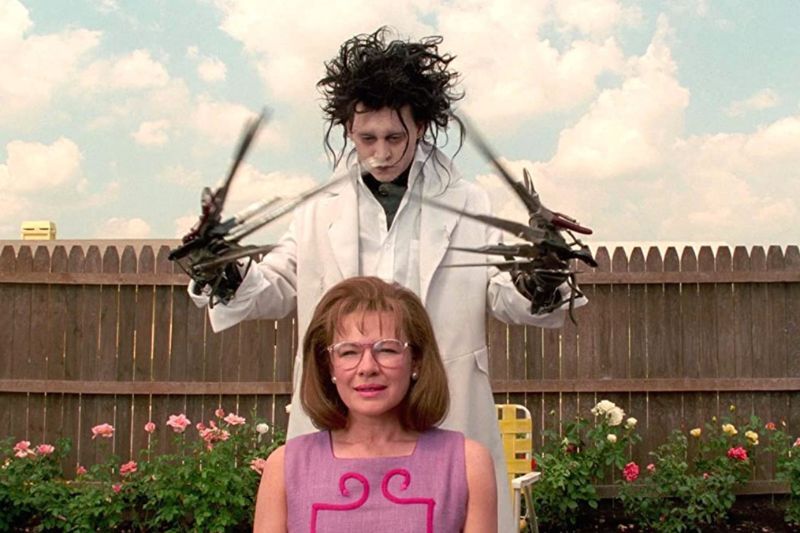 Turning on this movie of a man who has scissors for hands will transport everyone at the party to an eerie world. In the spirit of Halloween and the movie's freaky plot, consider decking out your home in all black with chains, belts, and scissors as accessories. 
Rent or buy Edward Scissorhands on Amazon Prime
Goosebumps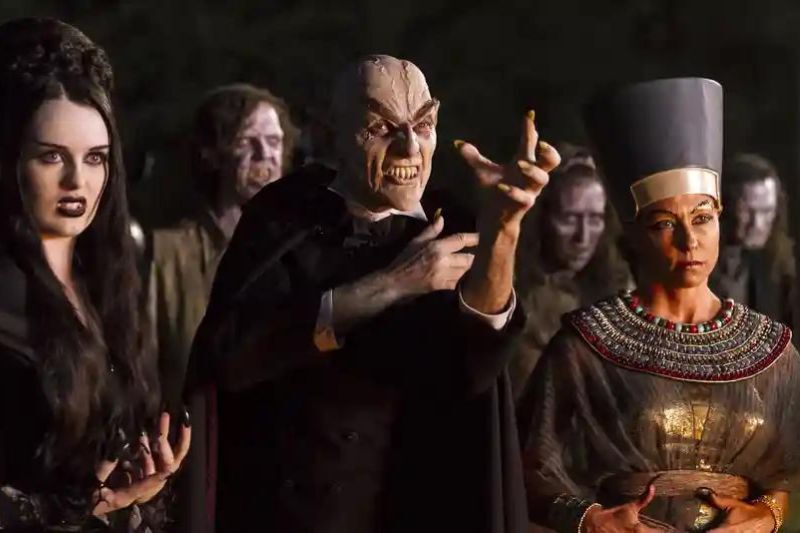 Watching this thrilling yet funny movie about a boy who unleashes monsters from R.L. Stine's best-selling series "Goosebumps" is a great way to celebrate the magical season as a family. The creatures will send a shiver down your spine, but the adventure and fantasy will occasionally make you cackle.
Stream Goosebumps on Netflix
Ghostbusters (2016)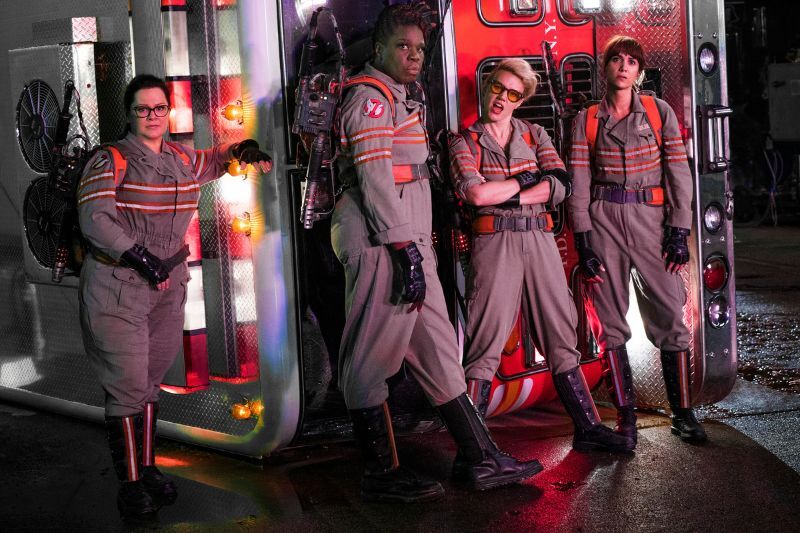 Female empowerment meets ghost battles, with a heavy dose of comedy from the likes of Melissa McCarthy, Kristen Wiig, Kate McKinnon, and Leslie Jones. 
Rent or buy Ghostbusters on Amazon Prime
Ghostbusters (1984)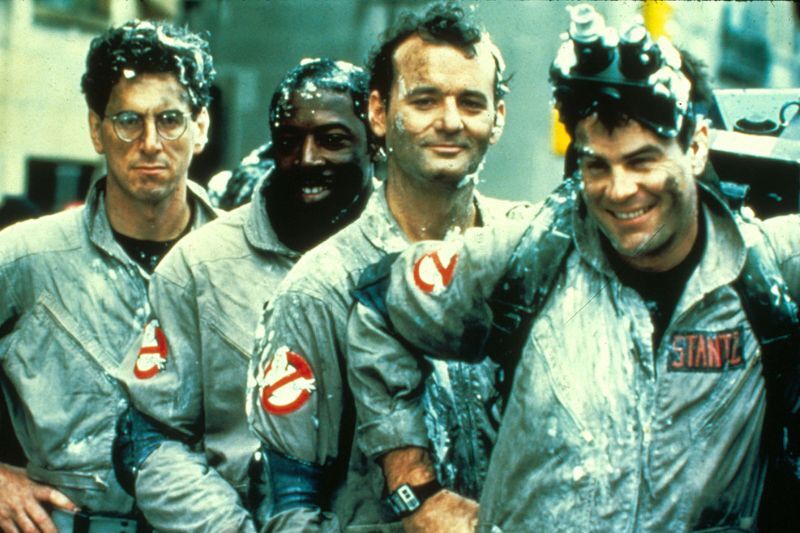 If you'd rather go old school, the original Ghostbusters film, which aired in the '80s, has fashion that's as scary as the ghostly apparitions. Complement the movie with neon green balloons, punch, cutlery, napkins, plates, and signs that indicate your house is a ghost-free zone.
Stream Ghostbusters on Amazon Prime
Practical Magic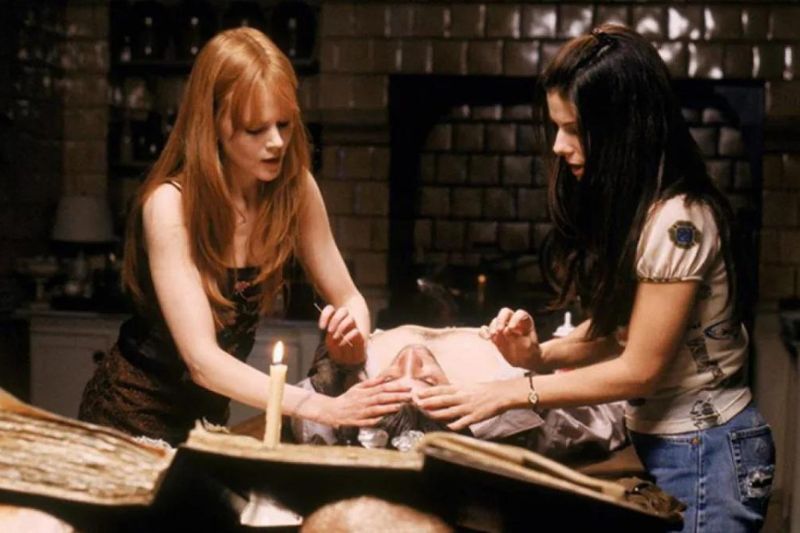 This bewitching tale about witch sisters who face prejudice and a threatening curse will put guests under a spell with its romantic, laugh-out-loud scenes, and Halloween spirit. For a little more magic at your Halloween party, serve a few recipes from your own book of spells, such as mini hotdog fingers, pretzel broomsticks, and bone-shaped cookies.
Stream Practical Magic on HBO Max
What We Do In The Shadows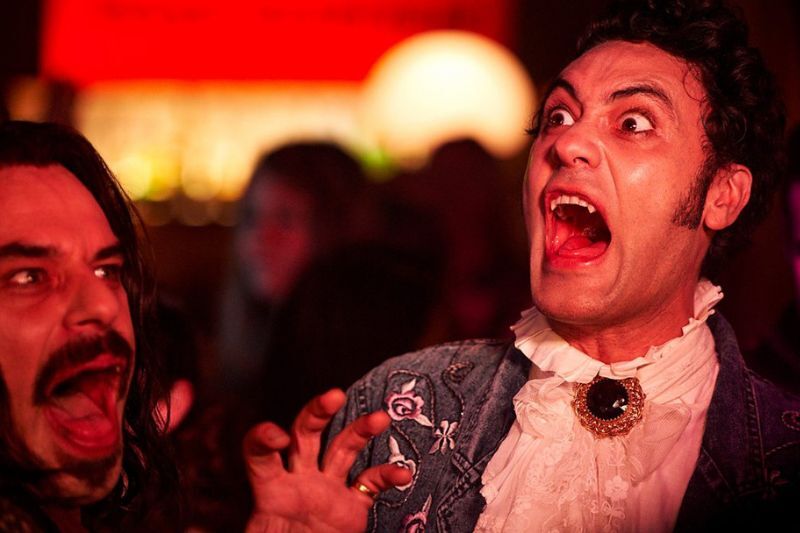 Curious what vampires really do? There's nothing that cries Halloween more than getting a firsthand preview of how vampires live. Pretend like you're Dracula for the evening and create a vampire's paradise with blood-red juice, lip-shaped cookies, and blood-stained candles.
Rent or buy What We Do In The Shadows on Amazon Prime
It's the Great Pumpkin, Charlie Brown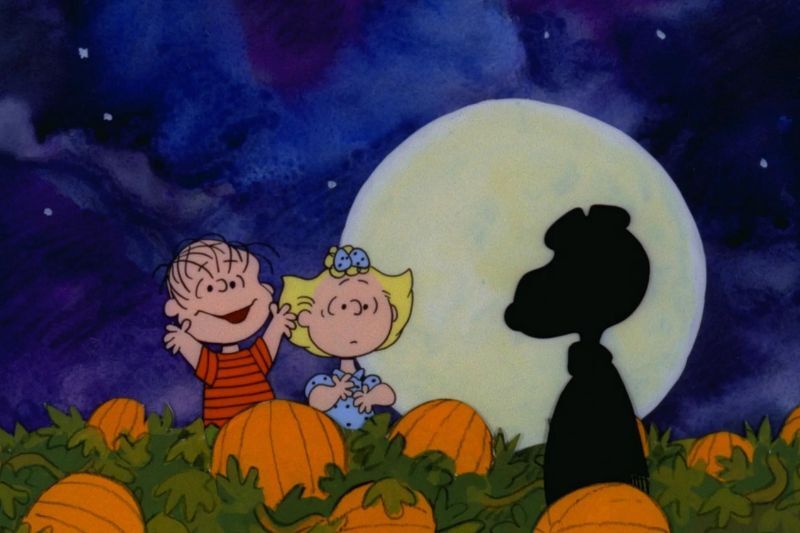 Feel nostalgic this fall by rewatching this Halloween classic. Who can resist a classic Peanuts cartoon?! Watch Charlie Brown, Snoopy, and the rest of the gang's Halloween night adventures as they await the arrival of The Great Pumpkin. The decor for this Halloween party is super easy; pumpkins everywhere!
Stream It's The Great Pumpkin Charlie Brown on AppleTV
Carrie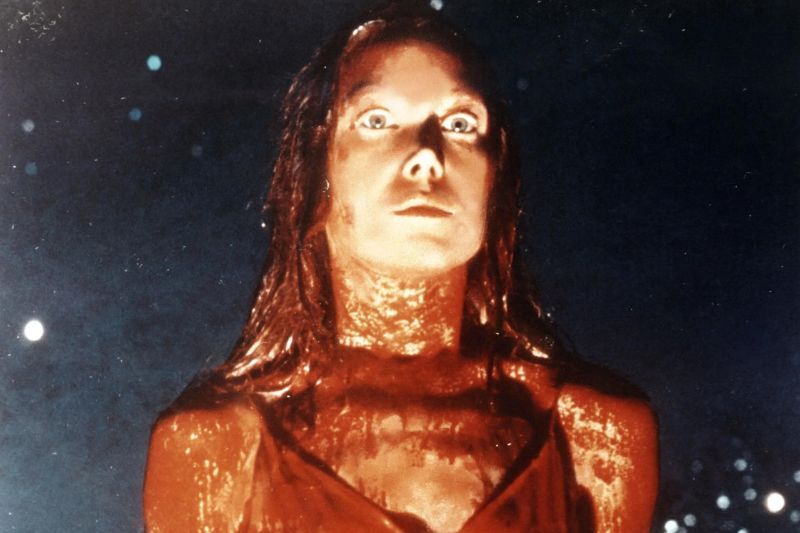 Is there any novel-turned-movie written by Stephen King that isn't scary? The answer is no. Stream Carrie this Halloween to watch one of the most terrifying teen movies of all time. Whether you choose to watch the original or the remake, this movie will still have you on the edge of your seat.
Rent or buy Carrie from Amazon Prime
The Nightmare Before Christmas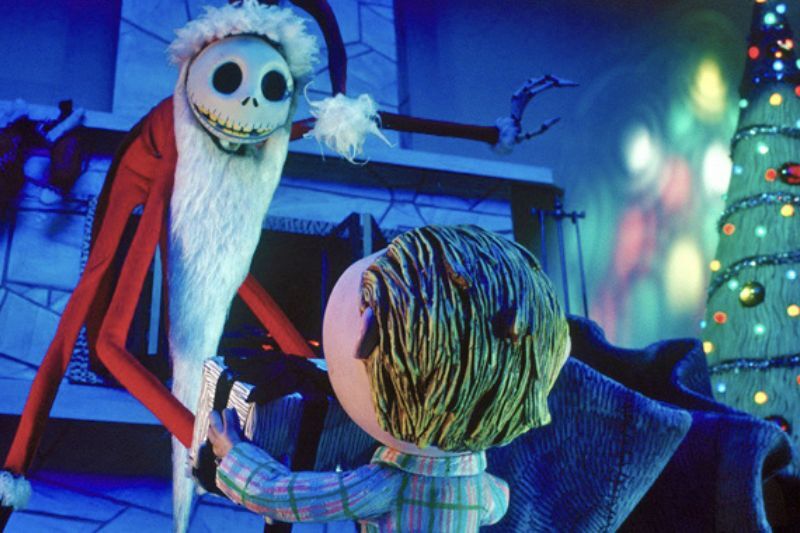 The debate whether this classic is considered a Halloween or Christmas movie is never ending, but if we can celebrate Christmas in December and July, why can't we also celebrate in October? Watch this movie for a fun-filled mashup of two favorite holidays.
Stream The Nightmare Before Christmas on Disney+
Sleepy Hollow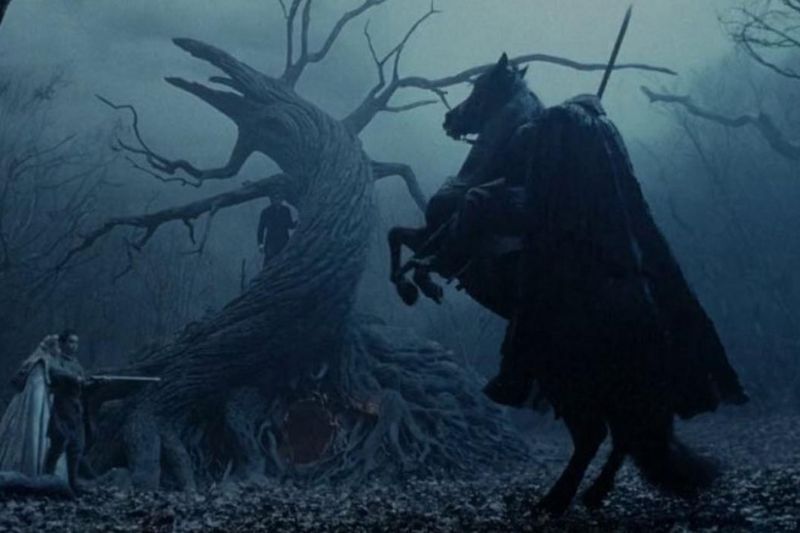 The legend of the Headless Horseman is a Halloweentime favorite based off of Irving Washington's classic tale. Watch Johnny Depp uncover unsolved murders throughout the small town of Sleepy Hollow while getting tied up in romance, horror, and fantasy all at once.
Rent or buy Sleepy Hollow from Amazon Prime
Hubie Halloween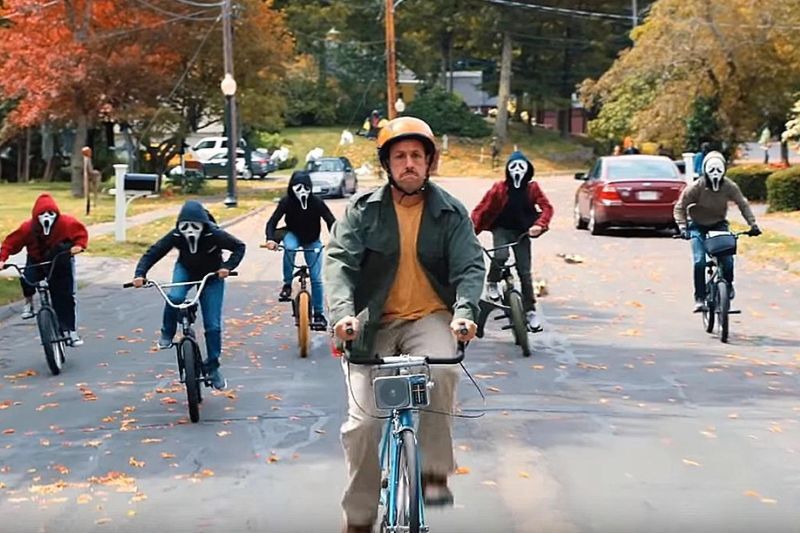 If you would rather laugh than scream while watching a festive fall movie, Hubie Halloween is definitely for you. Taking place in Salem, Massachusetts, Adam Sandler's character keeps his entire town safe this Halloween as he solves the murder mystery and saves the holiday. Keep with the theme during your viewing party with all the Halloween classics; bobbing for apples, candy, and jack-o-lanterns.
Stream Hubie Halloween on Netflix
It Chapters One and Two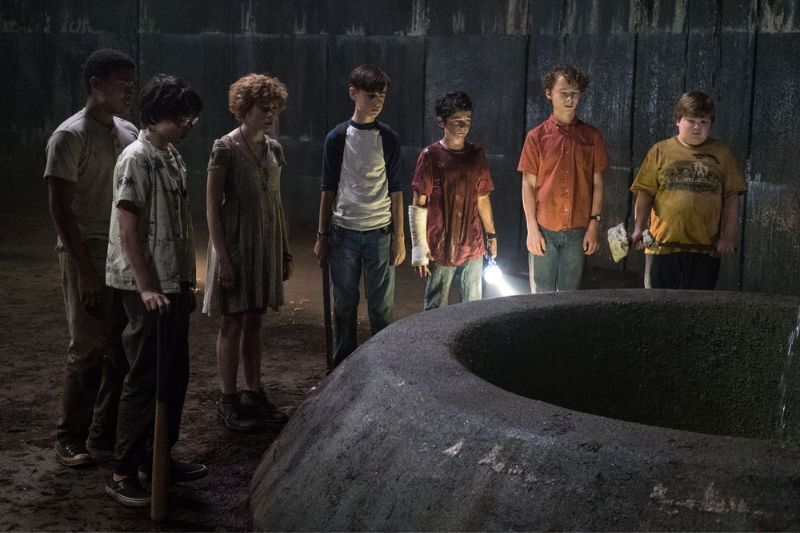 Stephen King should be considered the King of Halloween. Based on his famous novels, It Chapters 1 and 2 will take you along the journey of a group of friends trying to take down a killer clown in their small town.
Rent or buy both Chapters One and Two on Amazon Prime
Hush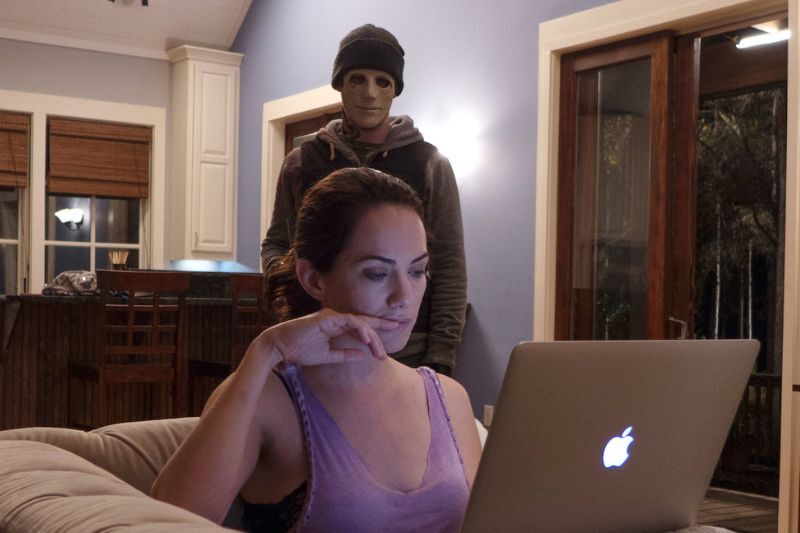 This psychological thriller is about a deaf and mute writer who lives alone in the woods while working on her latest project. Experience her life in silence as she tries to dodge a masked killer that breaks into her home.
Stream Hush on Netflix
The Boy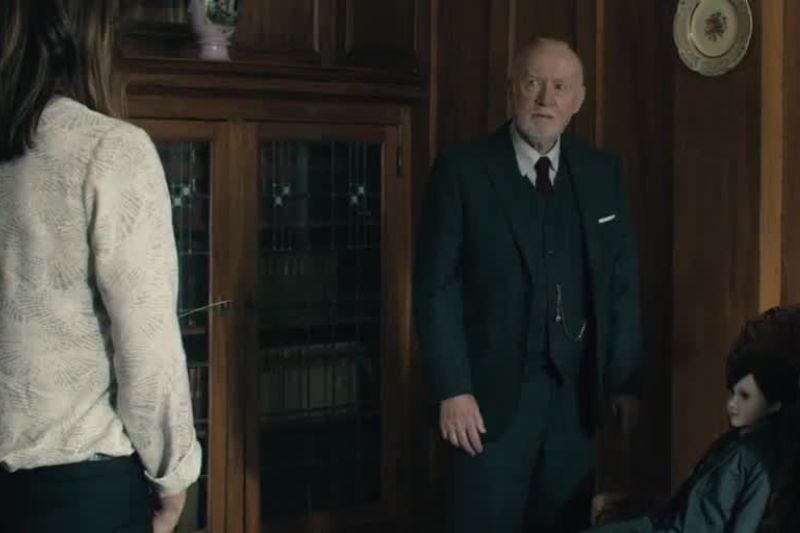 A young woman takes a new nannying job looking after an 8 year old boy, but this isn't any ordinary child. She must care for a life-size doll of her employers' son as they grieve his loss over 20 years later. Disturbing events take place and paranoia sets in to make her believe that this doll is actually alive.
Rent or buy The Boy on Amazon Prime
Ready or Not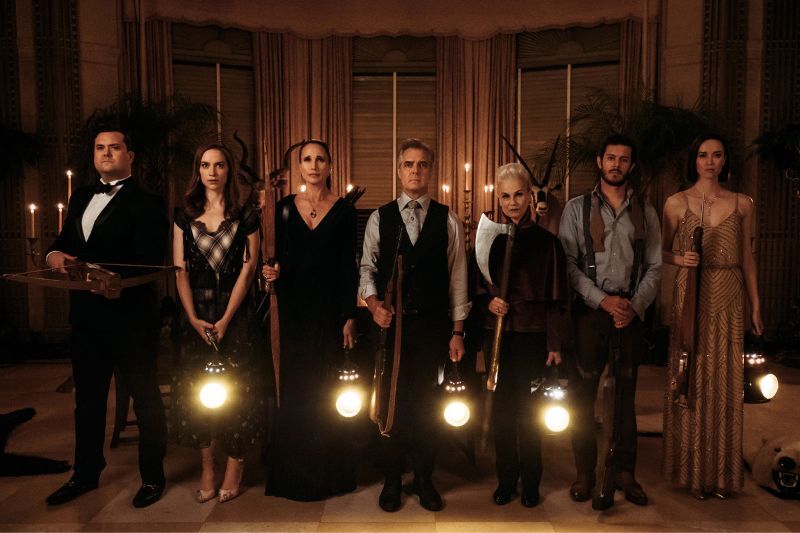 Grace marries the man of her dreams and cannot wait to spend time with his wealthy family in their estate, until they try to kill her. She must outrun and hide from her in-laws until midnight to avoid being a victim in their manhunt family marriage tradition. With guns, crossbows, and other weapons, this was definitely not the wedding night Grace imagined with her husband.
Stream Ready or Not on Hulu or watch on Amazon Prime
Find more Halloween ideas and inspiration here on The Bash.