28 Hocus Pocus Party Ideas That Will Put a Spell on Guests
Plan an event just like thissss…
Lauren Miolene
Contributor
Almost 30 years later and the Sanderson Sisters are ready to run amuck the streets of Salem, Massachusetts and haunt our screens once again. Hocus Pocus is a cult classic that has become a Halloween tradition in homes across the country, inspiring everything from costumes, to cookbooks, and of course, Hocus Pocus-themed parties. If you're looking to host this year, you're in luck with our top Hocus Pocus party ideas.
As we prepare for the sequel to premiere on September 30th, we'll be taking major movie inspiration for our Hocus Pocus 2 viewing party. But why stop there? If you're a lover of all things witchy and magical, Hocus Pocus makes the perfect mystical theme for a Halloween party, fall birthday, or bachelorette. It's time to turn your generic monster mash this fall into an event the Sanderson Sisters will want to crash.
It's all just a bunch of hocus pocus, but any successful party needs planning beforehand. Start by finding a movie-inspired venue, booking spooktacular entertainment, buying Hocus Pocus party supplies and serving a delicious menu filled with festive treats. 
Here are all the Hocus Pocus party ideas you'll need this year:
A Hocus Pocus-Themed Venue
At Home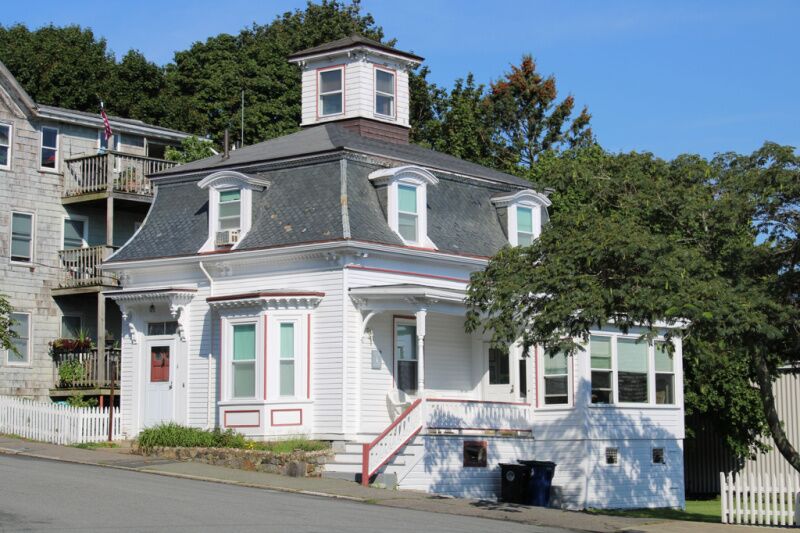 Photo: Jaclyn Vernace/shutterstock.com
The comfort of your own home is a perfect venue option, especially on Halloween night. Guests can take turns answering the door for trick or treaters and hand out candy throughout the party.
Museum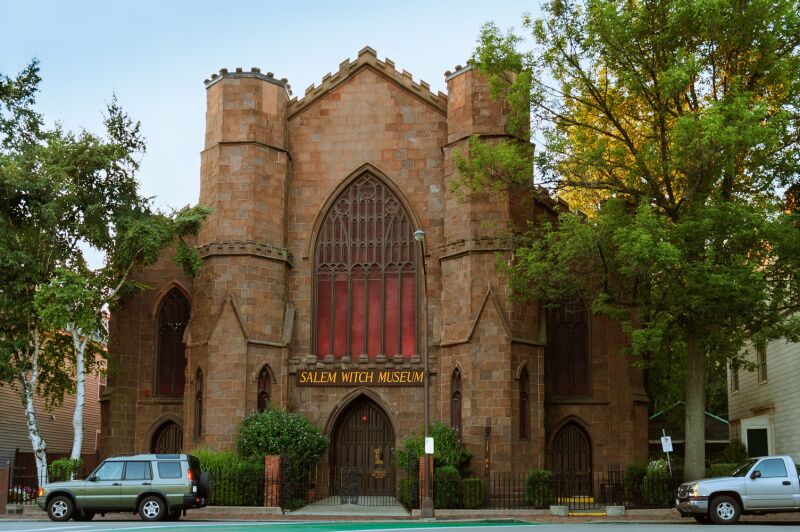 Photo: Pierrette Guertin/shutterstock.com
The Sanderson Sister cottage-turned museum plays a major part in the Hocus Pocus film. If you can't make your way to the Salem Witch Museum this fall, find a museum venue near you to help create the historic and gothic feel.
Event Hall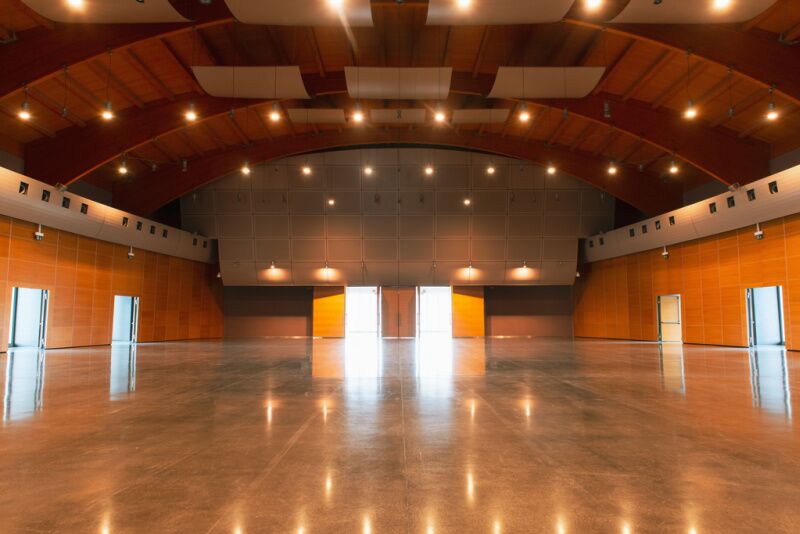 Photo: Fabio Pagani/shutterstock.com
In the movie, the whole town of Salem partied inside of town hall on All Hallow's Eve. If hosting a Halloween wedding or larger celebration, an event hall in your area will do just the trick (or treat) for a spooky soirée.
Hocus Pocus Party Entertainment
Hocus Pocus Costumed Characters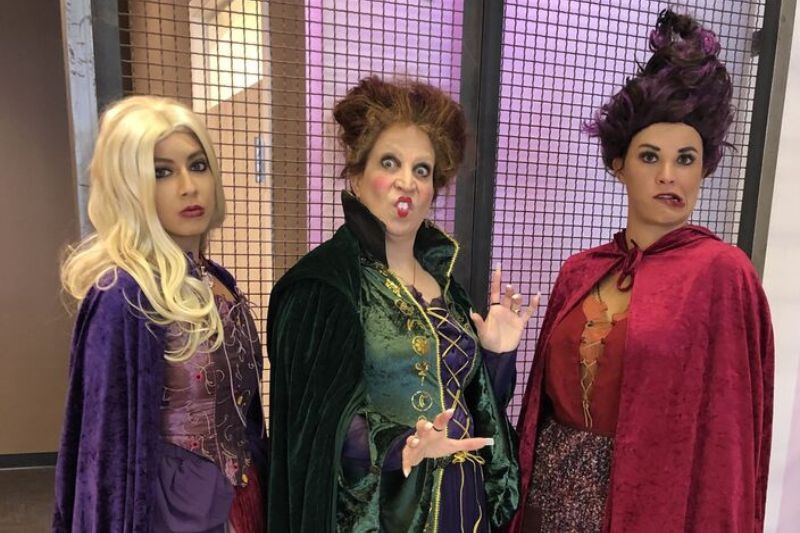 Photo: Happily Ever Parties & Entertainment
Witches, wizards, goblins, whatever special guests you wish at your Hocus Pocus bash is our command! Browse our site to find different characters, mythical creatures, and other spell-binding guests near you to level up the experience.
Karaoke DJ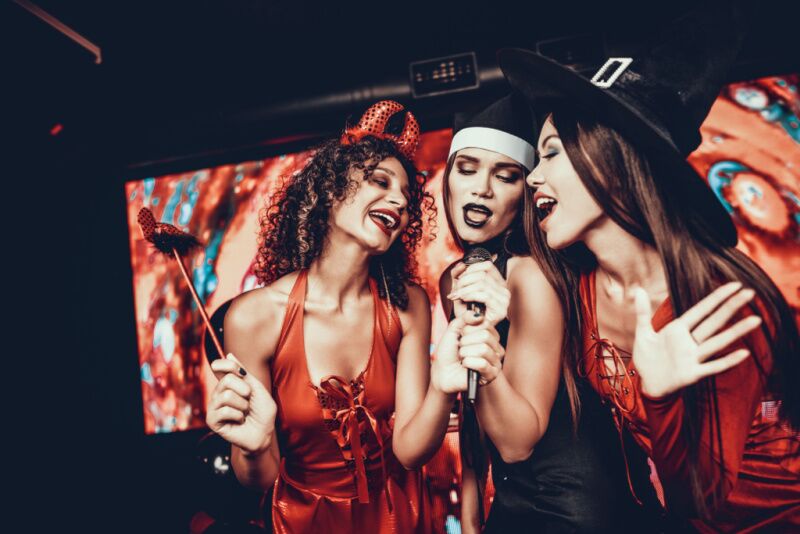 Photo: VGstockstudio/shutterstock.com
If you've ever dreamed of recreating the iconic town hall "I Put a Spell on You" performance, now's your chance. Book a karaoke DJ to play all your favorite Halloween hits and provide the equipment for you to sing and dance all night long.
Fortune Teller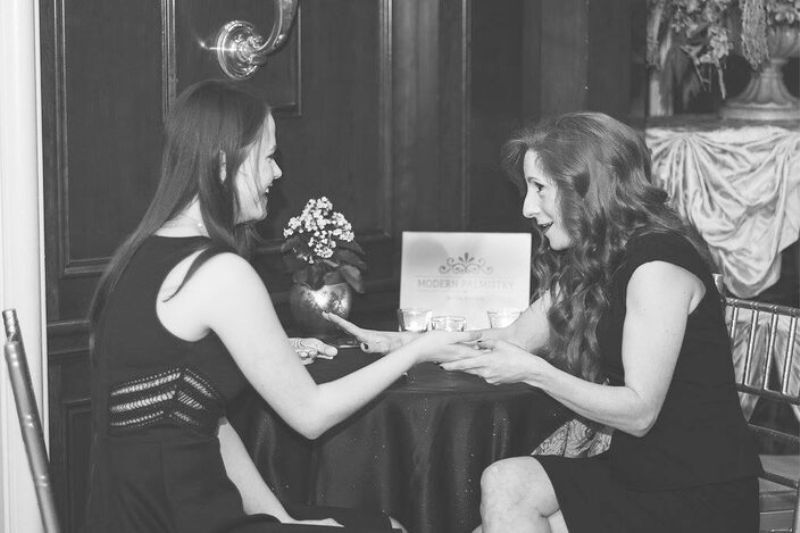 Photo: Raven
No one could have predicted the return of the three witches after almost 300 years, but a fortune teller will definitely give you a better idea. Book a fortune teller to leave guests in awe and tell guests what is yet to come.
Tarot Card Reader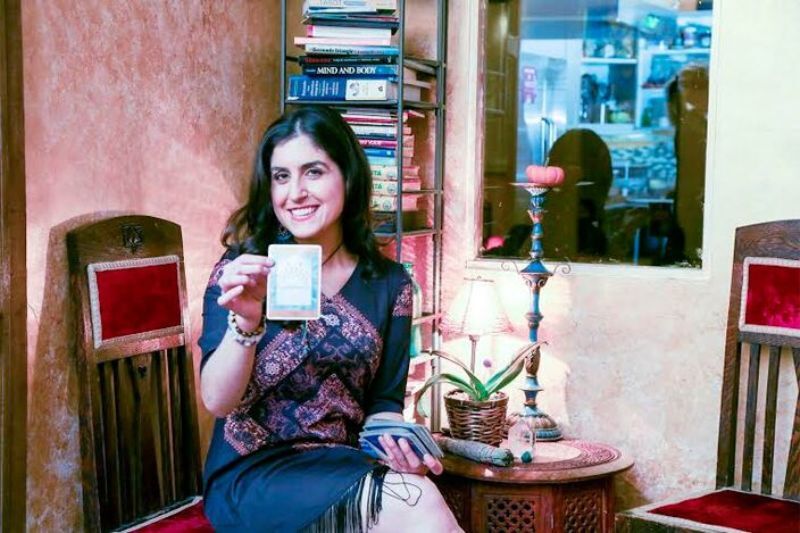 Photo: Eve Love & Light
Bring Hocus Pocus to life and see what the future holds with tarot card readings performed by a professional clairvoyant. Receive answers to life long questions, dive into your past, and learn more about yourself while getting your cards read at this theme party.
Magician
Photo: Nejron Photo/shutterstock.com
Magic and mischief are the first things to come to mind for spooky season. Get into the spirit by booking a magician to perform unique tricks that will wow partygoers of all ages. Add even more magic to your Hocus Pocus party with illusionists and mentalists that offer a variety of entertainment options.
Hocus Pocus Costumes
Sanderson Sisters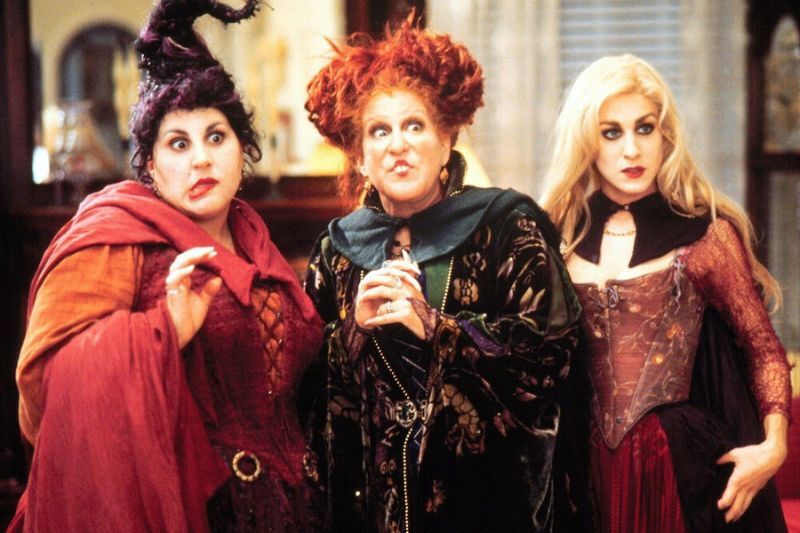 Photo: Disney Wiki
The witches are back! Take your pick of emulating the style of Winnie, Mary, or Sarah because the trio needs to make an appearance at this event. DIY your ensembles or shop for each of the sisters' looks on Amazon.
Max Dennison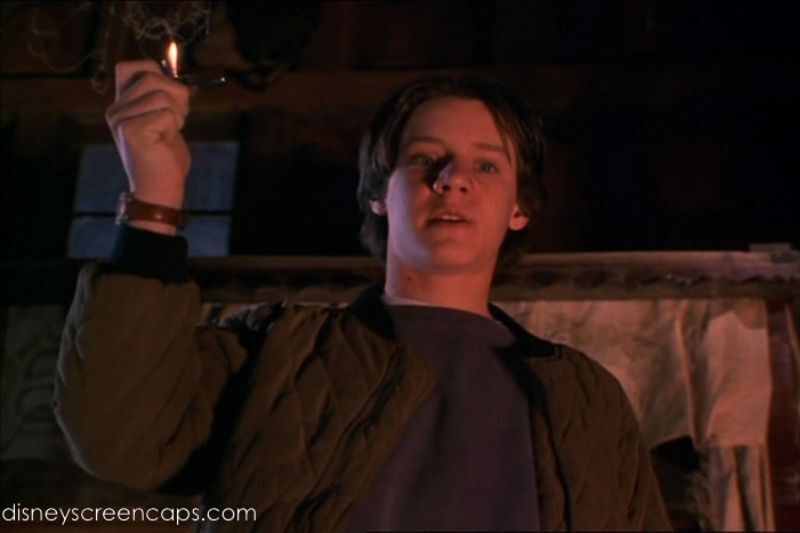 Photo: Disney Wiki
If dressing in a cloak and witch hat isn't your style, take a page from Max's style book this fall season and keep your party attire simple. His wardrobe consisted of jeans, bomber jackets, and Nike Cross Trainers (before Ice took them).
Zombie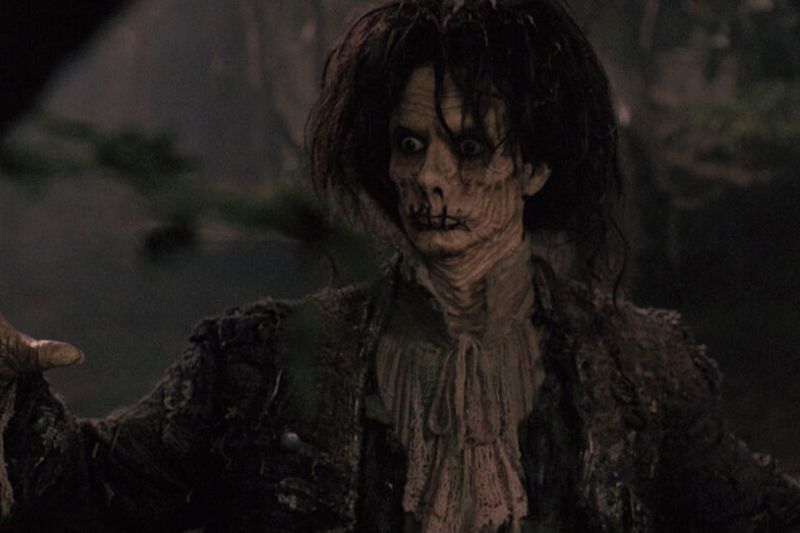 Photo: Disney Wiki
Billy Butcherson is everyone's favorite zombie. Dress like a member of the undead with a thrifted suit, wig, and dirty-looking makeup to pull it all together. Bonus points if you mumble and walk like a zombie!
Black Cat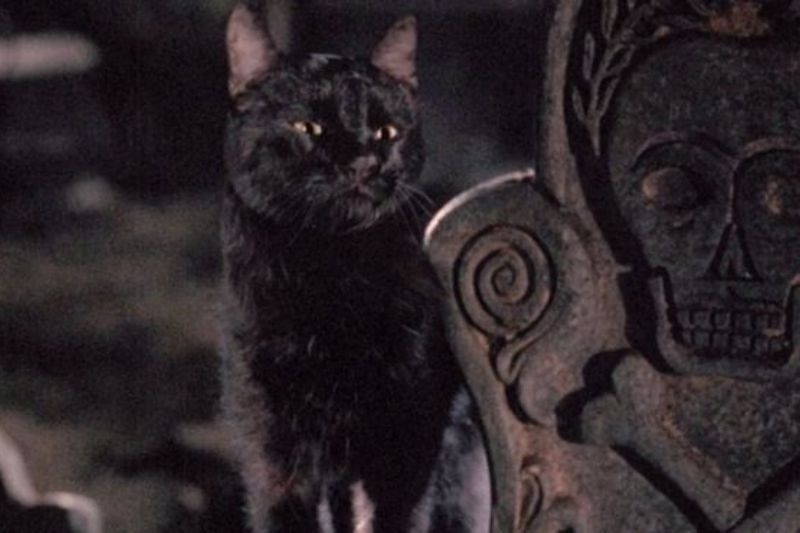 Photo: Disney Wiki
Thackery Binx is probably one of the easiest costumes to copycat for any type of costume party. Dress in all black and complete the look with black ears and drawn-on whiskers.
Hocus Pocus Party Details
Music
Photo: Ollyy/shutterstock.com
The Sanderson Sisters' rendition of "I Put a Spell On You" is one of the best Halloween songs to date. Along with other tunes from the soundtrack, take a listen to our Halloween playlist for inspiration and book a local DJ to get the party started.
Pumpkin Carving and Decorating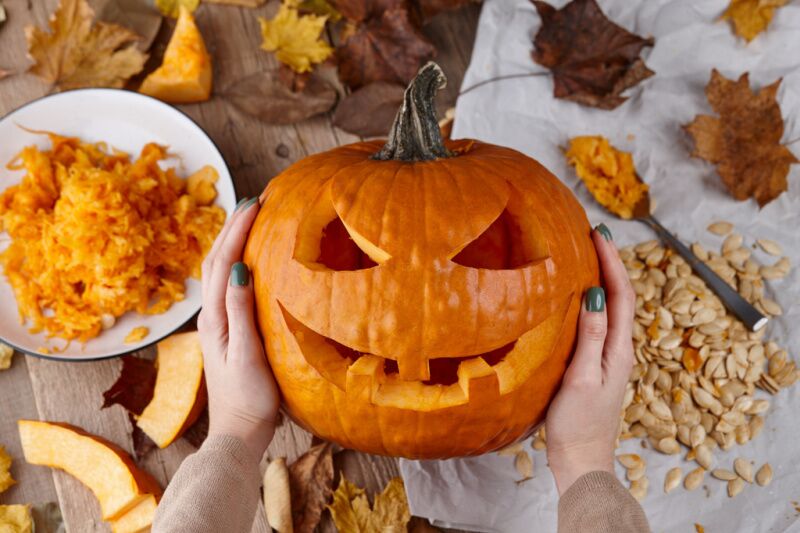 Photo: kobeza/shutterstock.com
Who doesn't love carving a pumpkin every year? Either BYOP (bring your own pumpkin) or supply an assortment of supplies for guests. Everyone will get into the spooky spirit by decorating their jack-o'-lantern to their liking and unleashing their inner artist. 
Find festive stencils available to download from Etsy.
Hocus Pocus 2 Viewing Party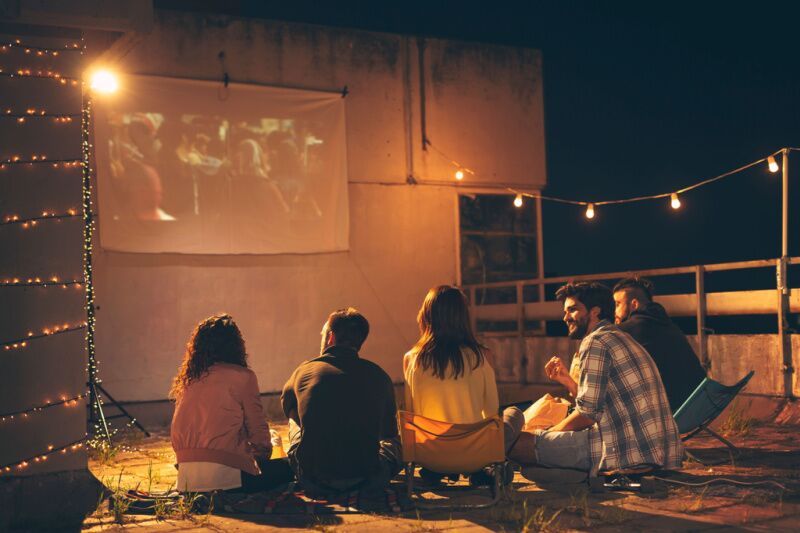 Photo: Impact Photography/shutterstock.com
You obviously need to have the actual Hocus Pocus movie showing in some capacity during this fa-boo-lous party. Either sit down together for a magical watch party or play it in the background to complete the ambiance and allow an immersive movie experience.
Sugar Cookie Decorating
Photo: Etsy
If you would rather give treats than tricks at this event, sugar cookie decorating is a perfect party activity. Using Hocus Pocus cookie cutters from Etsy, easily bake cookies in the shape of the Sanderson sisters so guests can enjoy decorating with colored icing, sprinkles, and other magical goodies.
Pro tip: Don't allow guests to go home empty-handed! Once the cookies are set, package them for individual party favors.
Hocus Pocus Themed Food
Dead Man's Toes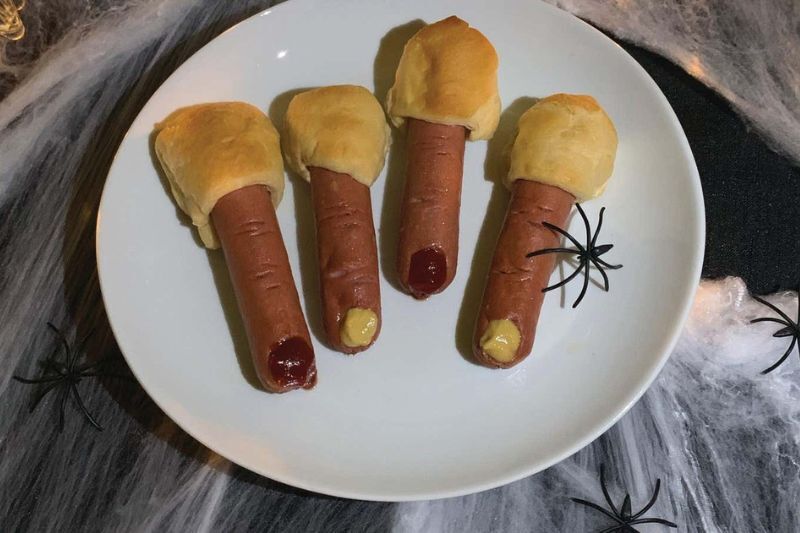 Photo: Bridget Thoreson / Ulysses Press
Using just hot dogs and crescent dough, you can easily recreate this special ingredient to use in a mystical potion or just to snack on. Decorate with ketchup and mustard for the final touches that will bring this food to life. No actual men are harmed in the making of this frightful party appetizer! 
Hocus Pocus Charcuterie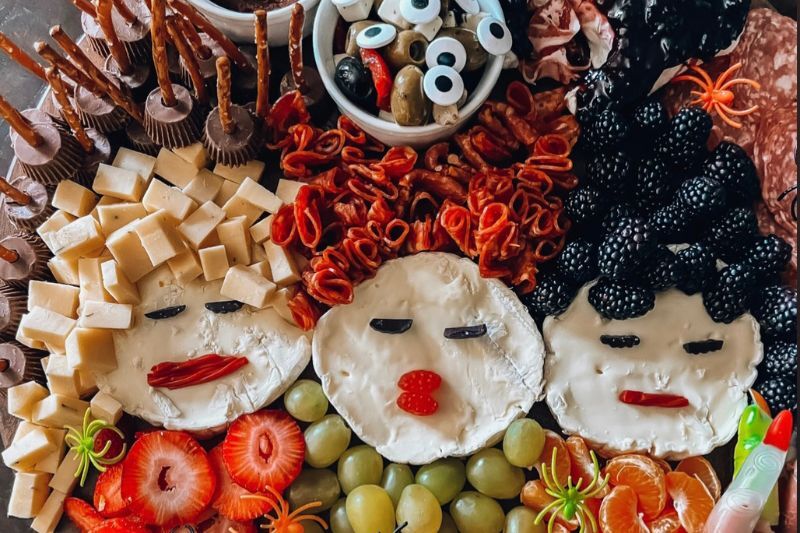 Charcuterie and grazing boards are crowd pleasers because there's something for everyone to munch on. Visit Something Delightful by Rachel Timmerman for more information on how she constructed this gorgeous Hocus Pocus-themed board featuring the Sanderson Sisters, witch brooms, and eyeballs.
Lucky Rat Tails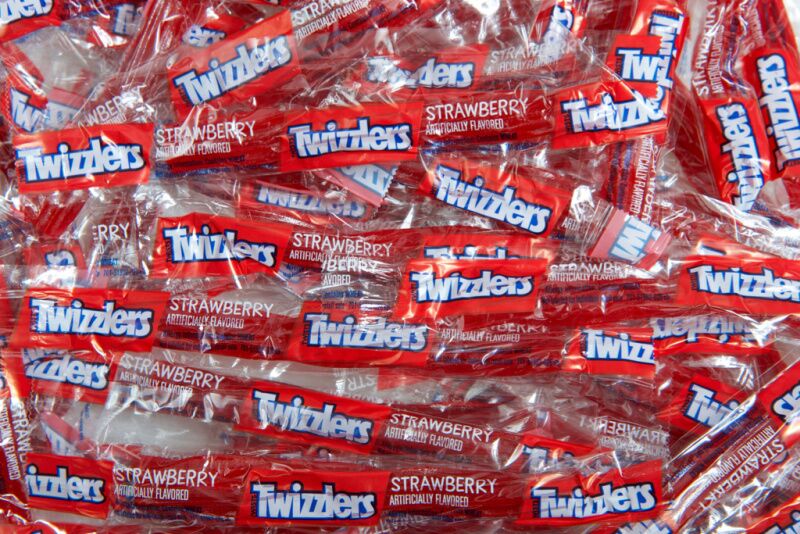 Photo: Sheila Fitzgerald/shutterstock.com
Sarah Jessica Parker's character came back after three centuries and immediately looked for her lucky rat tail. Instead of having actual rat tails at your monster mash, guests would much rather snack on Twizzlers, but they give off the same idea!
Caramel Apples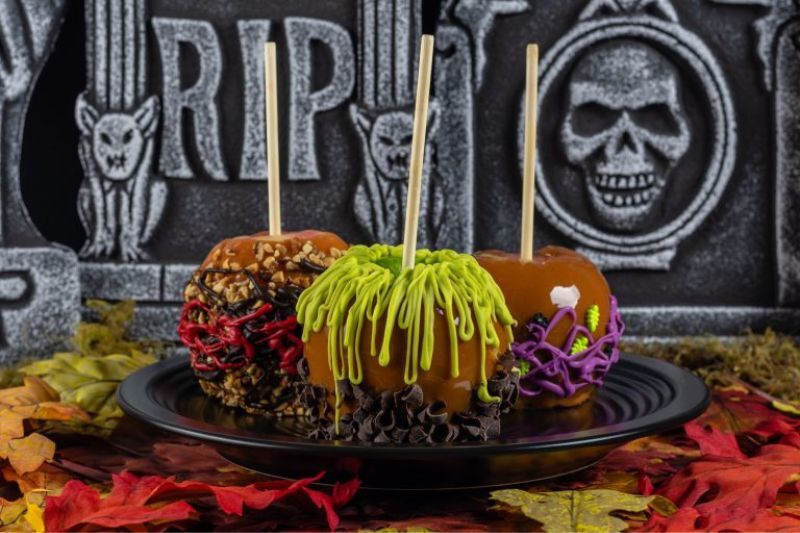 Photo: Geeks Who Eat
Organize a DIY caramel apple station for guests to garnish and decorate as a sweet party treat. Arrange colored sprinkles, chocolate chips, nuts, and other Halloween candy for people to create their own wicked awesome dessert.
Hocus Pocus Themed Drinks
Apple Cider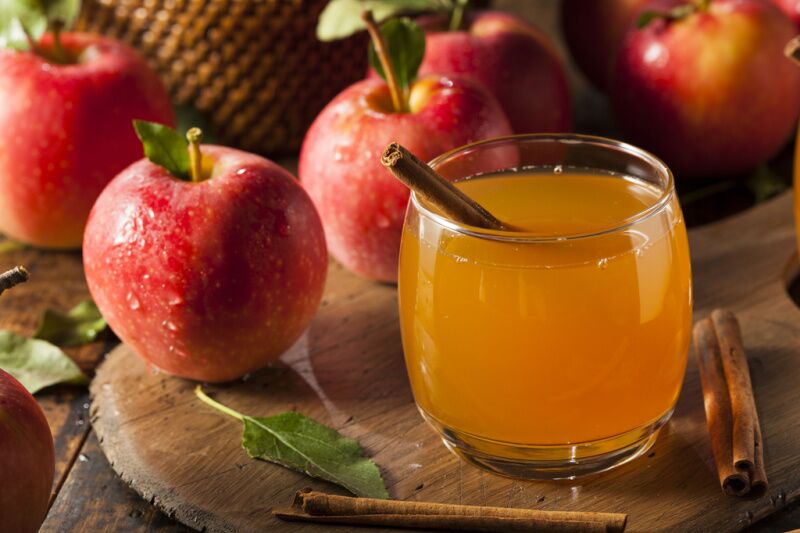 Photo: Brent Hofacker/shutterstock.com
Apple cider is absolutely necessary at any fall celebration. Take your pick from sparkling, mulled, regular apple cider, or all of the above for a festive beverage option. It can even be used in classic cocktail recipes including Moscow Mules, martinis, and margaritas!
Witches' Brew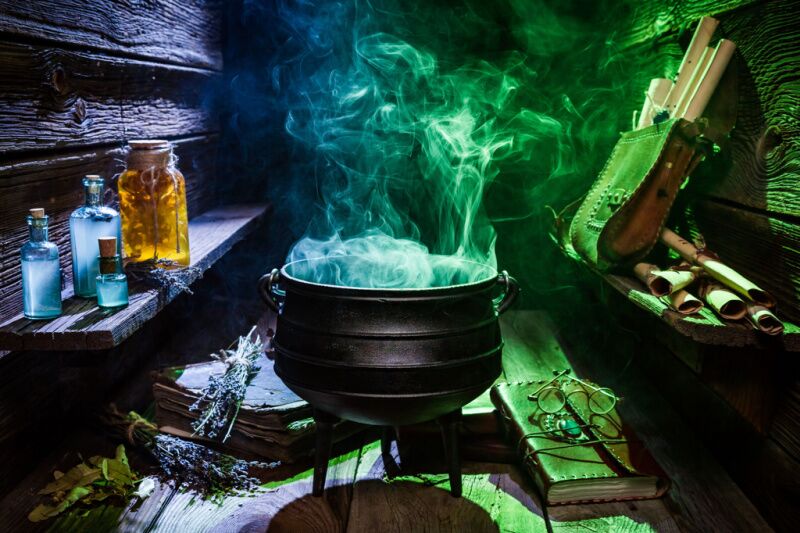 Photo: Shaiith/shutterstock.com
Forget happy hour, it's officially witching hour for this Hocus Pocus party! Any cocktail can easily be turned into a witches' brew—apple cider, fruit punch, you name it. Level up this party drink by serving in a caldron and these movie-themed cups for a spooky effect.
Virgin Black Flame Cocktail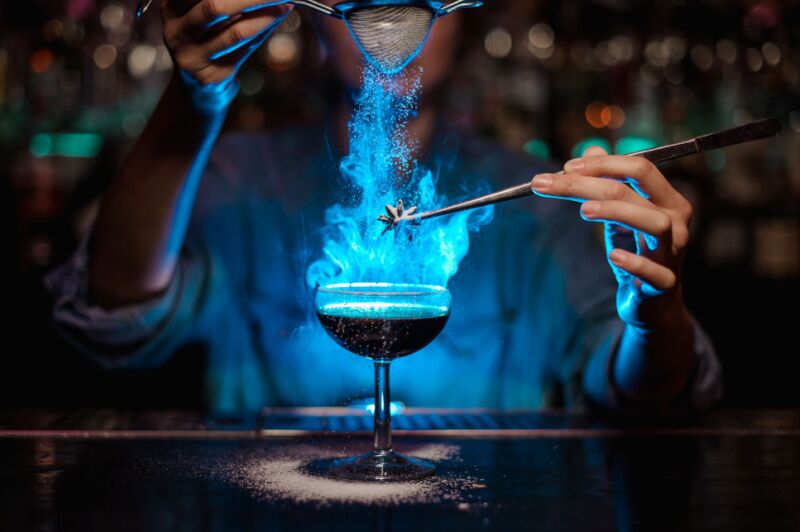 Photo: Maksym Fesenko/shutterstock.com
All you need to create this virgin black flame cocktail is your favorite drink recipe and activated charcoal. Not only will the charcoal turn the beverage black, but it's also known to improve kidney function and lower cholesterol levels. Add this black powder to lemonade, fruit punch, water—anything works!
Pumpkin Spice Espresso Martini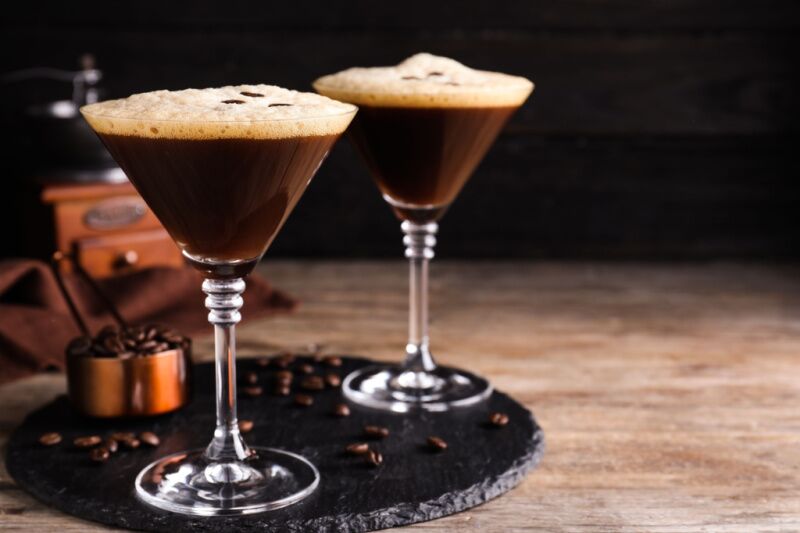 Photo: New Africa/shutterstock.com
We're here for the boos and booze! Combine this trendy cocktail with the taste of fall by mixing up pumpkin spice espresso martinis for an after dinner drink. If you're not a pumpkin spice lover, don't worry! Regular espresso martinis can easily be made and taste just as delicious.
Hocus Pocus Party Decor
Black Flame Candle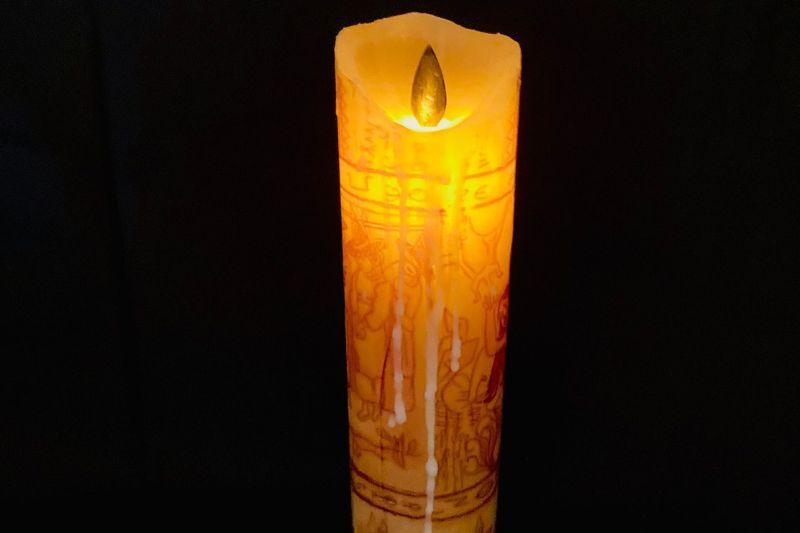 Photo: Etsy
It all started when Max lit the black flame candle that brought the Sanderson Sisters back to modern day. Incorporate this iconic movie prop into your themed party by purchasing a replica on Etsy. Don't worry, it's already lit!
Book of Spells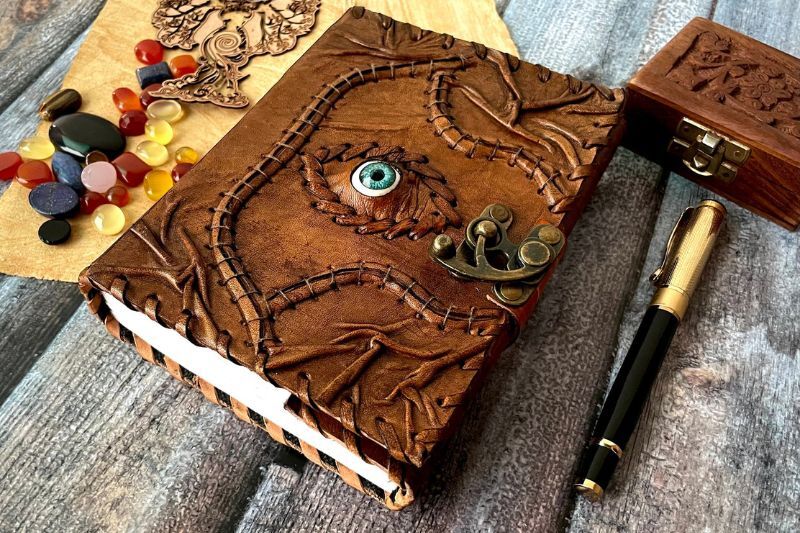 Photo: Etsy
What's a witch without her spellbook? This leather journal on Etsy looks exactly like Winnie's book from the movie. Filled with blank pages, guests can write thank you notes, their favorite Halloween memory, or scary ghost stories inside.
Spooky Garland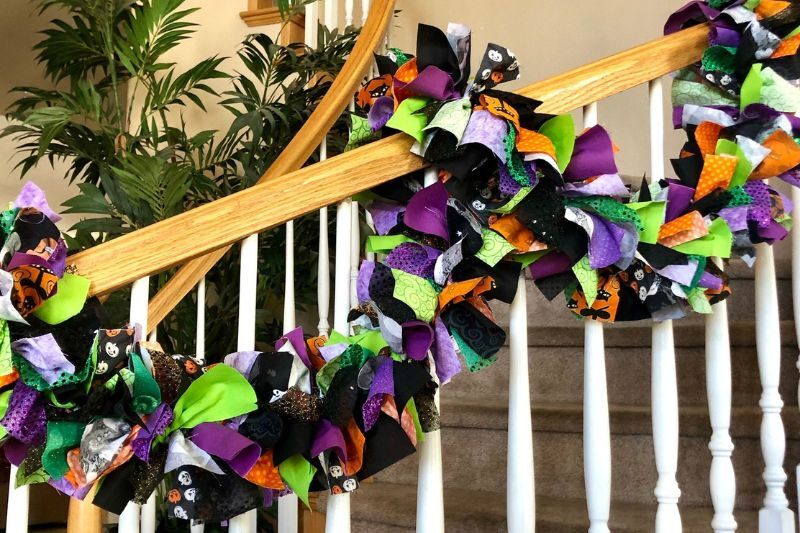 Photo: Etsy
Accent your event space with Hocus Pocus party decorations that will make the venue pop. The traditional Halloween colors of this spooky garland can be wrapped around staircases, draped around doorways, or even used on tablescapes. Find garland to match the aesthetic of your event on Etsy.
Quote Banner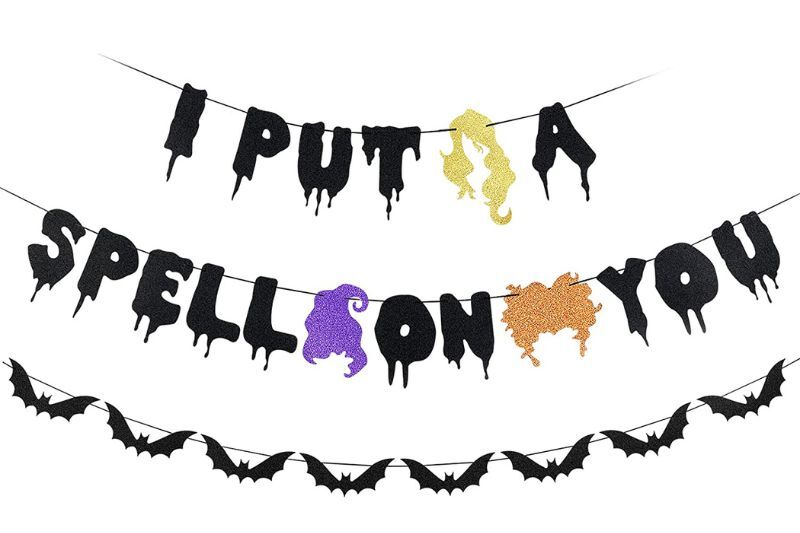 Photo: Amazon
Hocus Pocus has quite a few memorable lines. As an ode to the original film, decorate your space with this "I put a spell on you" banner, or one that says, "I smell children." This party decor idea also doubles as the perfect photo backdrop.
Pro tip: Book a photo booth or photographer to capture the fright fest.
Find more Halloween party ideas here on The Bash.