Want to hear something scary? Halloween is almost here! While some of you might have been preparing your party since last November, others may need some help to kick into party planning mode. We're here to give you some fresh ideas on how to achieve a Halloween party that fits your style.
Eerie Elegance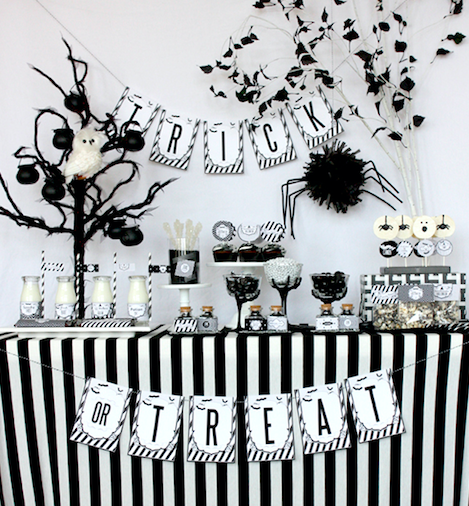 Photo Credit: Pizzazzerie
Gone are the days when basic black and orange tablecloths are the only linens to make an appearance. Halloween can be a celebration as fun or as elegant as you want it to be! This trick-or-treat table inspiration from Pizzazzerie is the perfect combination of spooky and chic. The black and white color scheme brings an unexpectedly classy spin to the spiders and ghosts on display.
Boo-tiful Brunch
Photo credit: Sheek Shindigs
Who says Halloween has to be a nighttime event? We love this adorable breakfast or brunch idea for Halloween morning or the day after. It's especially sensible for families with young children or for those who just want to celebrate all day! Sheek Shindigs shows us the perfect setup, which is complete with pumpkin muffins and candy bags full of cereal! How cute are the ghost milk jars? You can easily make the faces with googly eyes and construction paper from your local craft store.
Less Fright, More Fun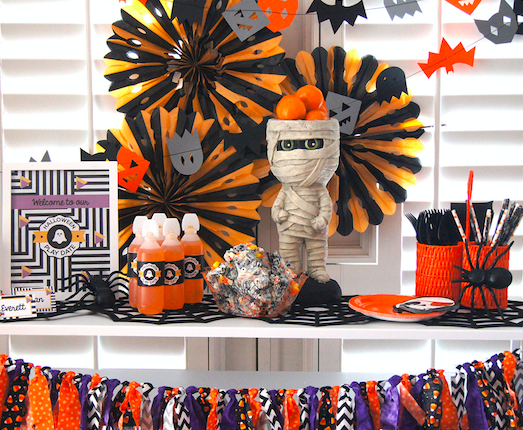 Photo credit: Elva M Design Studio
If you're looking to have a kids party that's less frightful and more friendly, then this inspiration from Elva M Design Studio has your name on it! The bright colors and fun patterns make this setup cheerful. It includes all kinds of kid favorites, like candy, juice bottles and streamers! To keep the little guests entertained, book a face painter. It'll add that extra something to everyone's costumes.
Gothic Get-Together
Photo credit: HelloMySweet
If you're aiming for something a little spookier, check out this gothic get-together from HelloMySweet on Etsy. She even sells all of the printables if you want to recreate the look at home! Dark colors and eerie elements, like these faux crows, will set the tone for this theme. Guests will love snacking on gooey brains, mummified pretzels and peanut butter ghosts. A fortune teller would make a fantastic addition to this setting. (Read how to hire one here!)
There you have it. No matter what your Halloween party style is, from bright and kid-friendly to elegant and eerie, your guests will have a ghoulishly good time.