37 Best Wedding Songs for the Violin
Looking for the best wedding music? Check out these timeless songs that are sure to make your guests swoon.
Brittany Barber
Contributor
When you think of wedding ceremony music, I'm sure some of the first things that come to mind are the sentimental cries of a violin playing Mendelssohn's "Wedding March" or Pachebel's "Canon in D Major". Which is fair, because what could possibly be more romantic than walking down the aisle to the swells and swoons of violin wedding songs on your big day?
Whether you choose to play classical music or modern love songs at your wedding ceremony — with the violin leading the melody? Your guests are bound to "ooooh" and "awwe" at the elegance and charm naturally imbued by the classical string instruments. 
If you're in the process of hiring a wedding violinist or building your wedding playlist, then you should definitely delve into these timeless wedding songs. You'll find music for your wedding processional song, your recessional song, and even wedding party music to play during cocktail hour (there are quite a few covers of popular songs that'll work for your father daughter dance, too!). 
READ MORE:
Here are 37 of the best violin wedding songs of all time: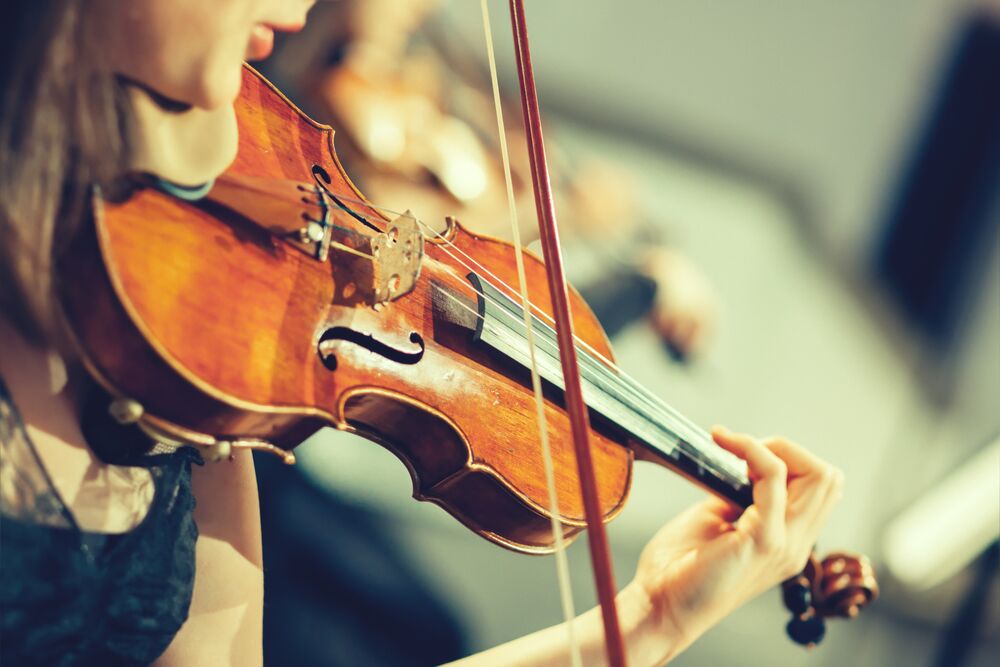 Photo: DeshaCAM/Shutterstock.com
1. "Canon in D, P.37," by Johann Pachelbel, The Violin Sisters
2. A Midsummer Night's Dream, Op. 61: IX. Wedding March," by Felix Mendelssohn, Legend The Band
3. "Can't Help Falling In Love With You" by Elvis, Alan Ng
4. "Clair De Lune" by Claude Debussy, Nadja Salerno-Sonnenberg, Sandra Rivers
5. "You Are The Reason" by Calum Scott, Daniel Jen
6. "Moon River" by Andy Williams, Manuel & The Music Of The Mountains
7. "Amazing Grace" by John Newton, The Violin Sisters
8. "Thinking Out Loud" by Ed Sheeran, Daniel Jang
9. "Deux Arabesques, L.66: Premiere Arabesque" by Claude Debussy, Federico Guglielmo, Jolanda Violante
10. "Love Me Like You Do" by Ellie Goulding, Brooklyn Duo
11. "Can You Feel The Love Tonight" by Elton John, Vesislava
12. Romances, L. 79: Romance No. 1" by Claude Debussy, Luigi Puzeddu, Jolanda Violante
13. "Gymnopedie No. 3" by Erik Satie, Columbia Symphony Orchestra, Frank Brieff, Isaac Stern
14. "I Will Always Love You" by Whitney Houston, Osiris Rodriguez
15. "Butterfly Waltz" by Brian Crain, Violin Music
16. "Perfect" by Ed Sheeran, Taylor Davis
17. "Romance No. 2 in F Major, Op. 50" by Ludwig Van Beethoven, Uto Ughi, Solisti Veneti, Claudio Scimone
18. "Stand By Me" by Ben E. King, Vesislava
19. "Thais: Meditation" by Jules Massenet, Anne-Sophie Mutter, Berliner Philharmoniker, Herbert von Karajan
20. "In My Blood" by Shawn Mendes, Vitamin String Quartet
21. "Home" by Edward Sharpe And The Magnetic Zeros, Vitamin String Quartet
22. "Les Beautes Du Diable" by Francois Dompierre, Angele Dubeau
23. "Just The Way You Are" by Bruno Mars, Vitamin String Quartet
24. "Violin Concerto No. 1 in E Major, RV 269 'La Primavera': 1. Allegro: Antonio Vivaldi, Candida Thompson Et. Al
25. "Young And Beautiful" by Lana Del Rey, Vitamin String Quartet
26. "Harvest Hymn" by Percy Grainger
27. "You And Me" by Lifehouse, Vitamin String Quartet
28. "Dolly, Op. 56: 1. Berceuse" by Gabriel Faure, Katia Labeque, Marielle Labeque
29. "Wildest Dreams" by Taylor Swift, Duomo
30. "Love Story" by Taylor Swift, Dallas String Quartet
31. "The Swan" by Camille Saint-Saens, Brooklyn Duo
32. "Here Comes The Sun" by The Beatles, Midnite String Quartet
33. "Shallow" by Lady Gaga and Bradley Cooper, Brooklyn Duo
34. "La Vie En Rose" by Ella Fitzgerald, Brooklyn Duo
35. "Beauty And The Beast" by Howard Ashman, Alan Menken, Midnite String Quartet 
36. "All Of Me" by John Legend, Daniel Jang 
37. "At Last" by Etta James 
Bonus: Save our violin wedding music playlist on Spotify, so you can listen anytime. 
Tips for booking a violinist:
While browsing, be sure to review violinist profiles and check out photos and videos. 

When preparing a request for one of our

violinist

s, keep in mind that the more details you can provide, the more accurate the price quote you'll receive. If you receive a price quote that seems like it needs clarification, don't hesitate to reach out to the musicians directly to find out more.

Make sure you have discussed what supplies the musicians will need for their performance. You'll want to know what they can provide, and what you'll need to have on hand on your wedding day.

Communicate your expectations and special requests to any prospective violinists, and make sure to ask about their repertoire — especially if you have a particular song that you would like them to perform.

If you're planning an outdoor wedding, be sure to discuss where the string quartet will be situated for the best acoustics and conditions for them to perform.

Make sure to discuss what kind of atmosphere and mood you are hoping to set for your event. The more they know, the better they'll meet your expectations. 

Do you want a solo violin? Or are you looking for a classical duo, trio, or even a string quartet? Depending on how many guests you are expecting, you might want to consider your options (a solo violinist alone might be too quiet if your wedding guest list is on the larger side).  
Questions to ask prospective musicians:
Have they booked gigs at similar events?
What music does the performer specialize in, and does it match your taste?
If your event needs amplification, can this musician provide it?
Will the performers work to individualize your event?
Can they provide past client testimonials or referrals?
Will they need any special equipment (like chairs, extension cords, etc.)?
How long have they been performing?
How much time do they need to set up?
There are tons of benefits booking through The Bash. Our guarantee ensures that our vendors are held to the highest standard of professionalism. All deposit and balance payments made online through our secure EventPay system are backed by a 100% money-back guarantee. You'll also have hands-on support from our Account Services team who is available to help with any event needs, including a last-minute replacement.
For more advice on hiring musical entertainment, check out these tips on how to book a band — and be sure to check out The Bash for more wedding planning tips and ideas.
About Brittany Barber
Brittany Barber, lover of books, dogs, and romance, graduated from Bishop's University with a Communications and Theatre degree. After spending some time working abroad in the theatre world, she is now a freelance writer covering a range of lifestyle topics including event planning for The Bash, WeddingWire, 2life and Fluttr, and shopping for BuzzFeed.