Tissue alert: There's probably not going to be another 12-month period that's as miraculous as the year that just passed. Your little cutie will certainly keep growing and continuing to charm everyone in sight, but there's simply no more dramatic transformation than the one that takes place between birth and age one.
So you already know you're going to celebrate this milestone in a big way. Now it's just a matter of making sure you'll have happy memories to look back on forever.
Reality Check: You Can't Do Everything
The first and most obvious way to ensure you'll have those memories is to take pictures during the event. Duh! However, if you want to do everything in your power to guarantee positive memories, perhaps you should leave the photos to a pro.
Let's face it: It's hard to be a super-parent. Whether you're going to host your child's first birthday party at your home or set up shop at a local restaurant or other kid-friendly establishment, you're likely to have ten million things on your mind that day. And the odds that you'll have banked a full night's sleep beforehand? Pretty low.
Enjoy the Party, Don't Work the Party
There will be people coming and going constantly. There will be other babies and toddlers and older kids running around. You'll be asked where the bathroom is dozens of times. People will need to know where to put their bags/coats/shoes/whatever. If you're having food and drinks, you'll be constantly monitoring tables to see if it's time to replenish the stocks. You'll be trying to catch up with friends you haven't talked to in months.
And some point, you'll probably try to gather everyone around to sing "Happy Birthday" and watch your son or daughter dive into a purposefully messy treat. It's a moment you'll look back on for the rest of your life.
So on top of all of that, do you really want to be juggling a camera and trying to get well-framed, not-blurry shots? And then in the weeks ahead, do you honestly see yourself having several free hours to go through all of those pictures, touch them up, and actually do something with them? The realization may be sinking in: Overseeing the party and photographing it is more than you can (or should) take on.
Go with a Pro
Sure, you might have a high-end camera and be happy with (or even proud of) the shots you've taken of your child to date. But a 1st birthday party will require your game to be at another level.
Chris Stratton, a Bash photographer based in central Pennsylvania, brings up an issue many harried parents will overlook on the big day: lighting.
"We have invested in equipment and have a number of options for portable lighting," Chris says. "Color correction is a must in a rapidly changing environment such as a party. Under fluorescent lights, some skin tones can appear green. Moving from outside to inside, images can become far too yellowish-red." A professional will be able to slip unnoticeably around your party to get the best candid shots while also working with and controlling supplemental and available light.
Candid Camera
Another thing a hired photographer can do is be on the lookout for what Chris calls "say-cheese syndrome." You're going to want to have shots of everyone who was present, but both kids and adults can fall victim to fake expressions when asked to pose on demand. "When I see three or four of the same smiles in a set of images, I sense that these are not genuine," Chris explains. "It is something I am picky about—waiting for and seeking to bring about honest expressions."
After the festivities have drawn to a close, your photographer will touch up the images so that everyone is looking their best. Wrinkles or dark circles on you? Stray hairs, spills or bumps and bruises on the little ones? Behold the magic of Photoshop! "We have, on request, removed unwanted objects or even guests from a favorite image," Chris elaborates. "And in some cases we can combine two or more photographs to make one perfect one."
Pin this handy shot list as a guide for working with your photographer. They are pros. They know what shots to get. But, it always helps to have a checklist for piece of mind.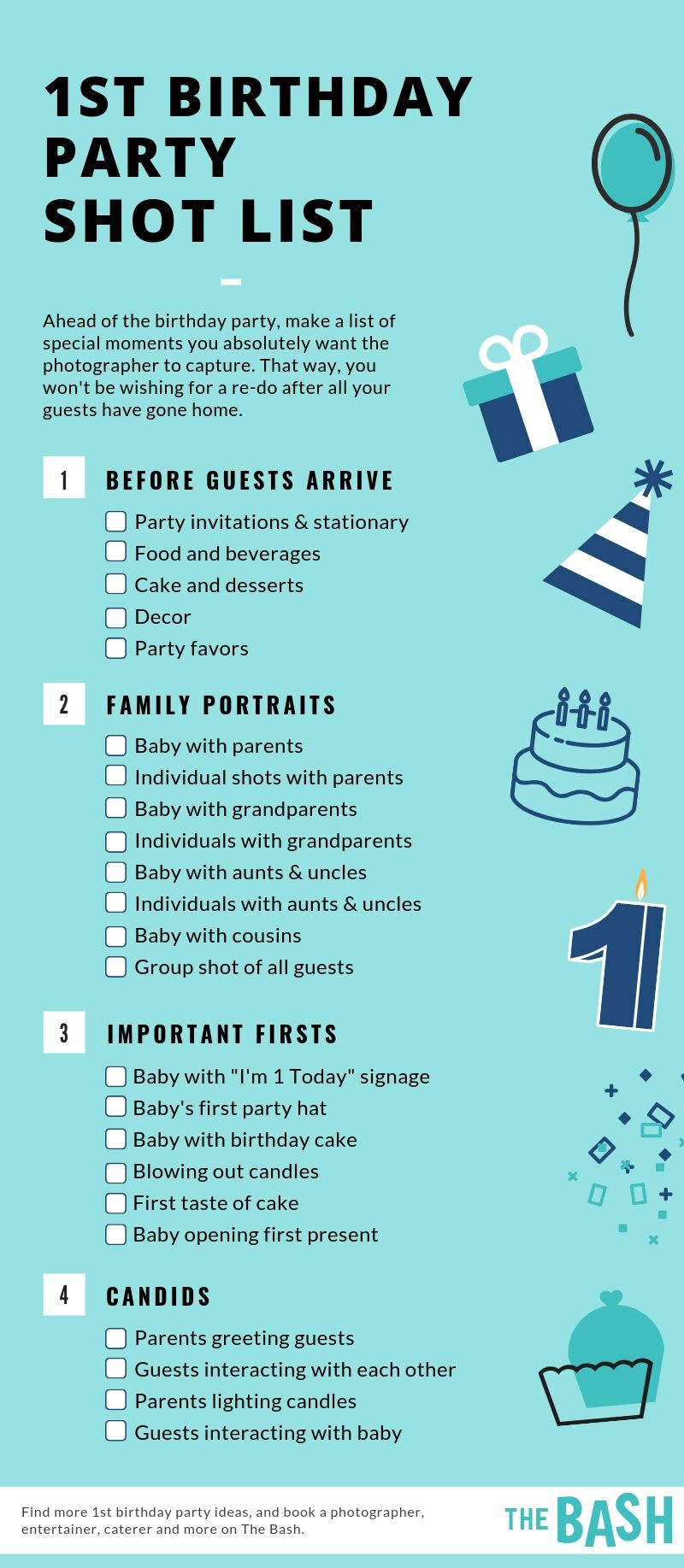 You'll Thank Yourself Later
So as you plan an incredible party for your son or daughter's first birthday, consider bringing in a pro to memorialize the happy occasion. Let them snap the pictures while you focus on celebrating. Because just like the past twelve months, your baby's party will go by in the blink of an eye. Make sure you're able to enjoy every minute of it.