A Cosmic Guide to Throwing a Galaxy Themed Party
Three. Two. One. Lift off!
If you dream about taking a journey to the stars, a galaxy themed party will delight your little cosmic guests. From swirling starfields to colorful plumes of interstellar gasses, you can delve into the void and bring your event to life with a startling color palette and matching decor. 
DIY-enthusiasts rejoice; it's your time to shine–this particular theme leans heavily on color, so you're going to have a lot of fun creating invitations, finding party supplies, and planning outfits. Adding a galaxy aesthetic to your favorite food and drinks will add hours of fun to your to-do list, from celestial-style cupcakes to nebula-inspired slushies.
Whether it's a galaxy themed birthday party for your little one, a galactic baby shower, or just a casual outer space party you're planning, we've got some tips and tricks worth noting for your upcoming adventure into the cosmos.
Here's everything you need to throw a galaxy themed party:
Galaxy Themed Party Entertainment
Face Painter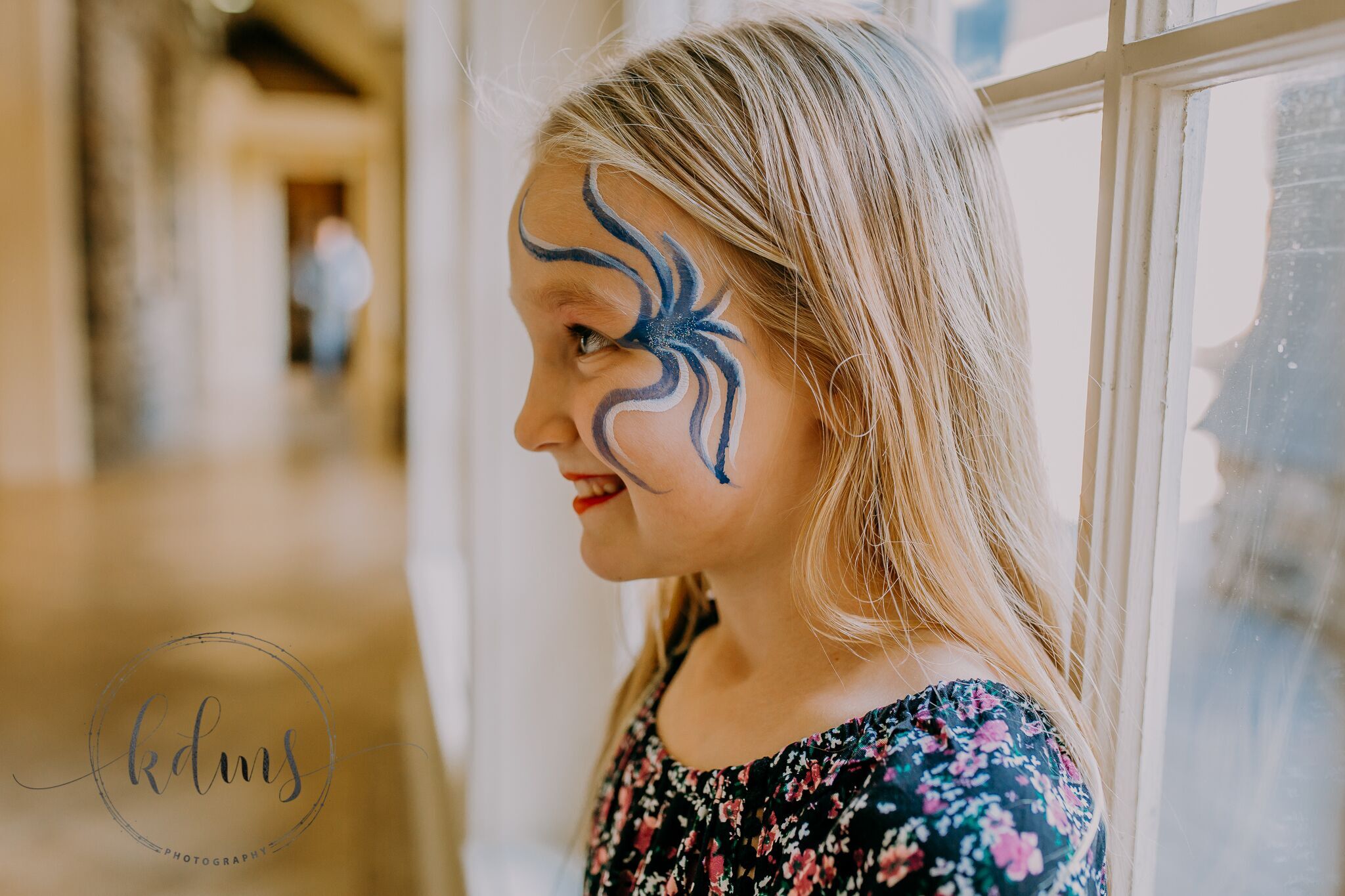 Photo: Faces by Paris
Something as simple as a little bit of facepaint can add a defining look to your party aesthetic–so, why not make sure everyone looks the part with the help of a talented face painter. 
As all of your little guests arrive, they can transform from earthling to extraterrestrial in no time at all. Make sure to let them know what colors you are using for the party, that way, you can ensure everybody remains on-brand.
DJ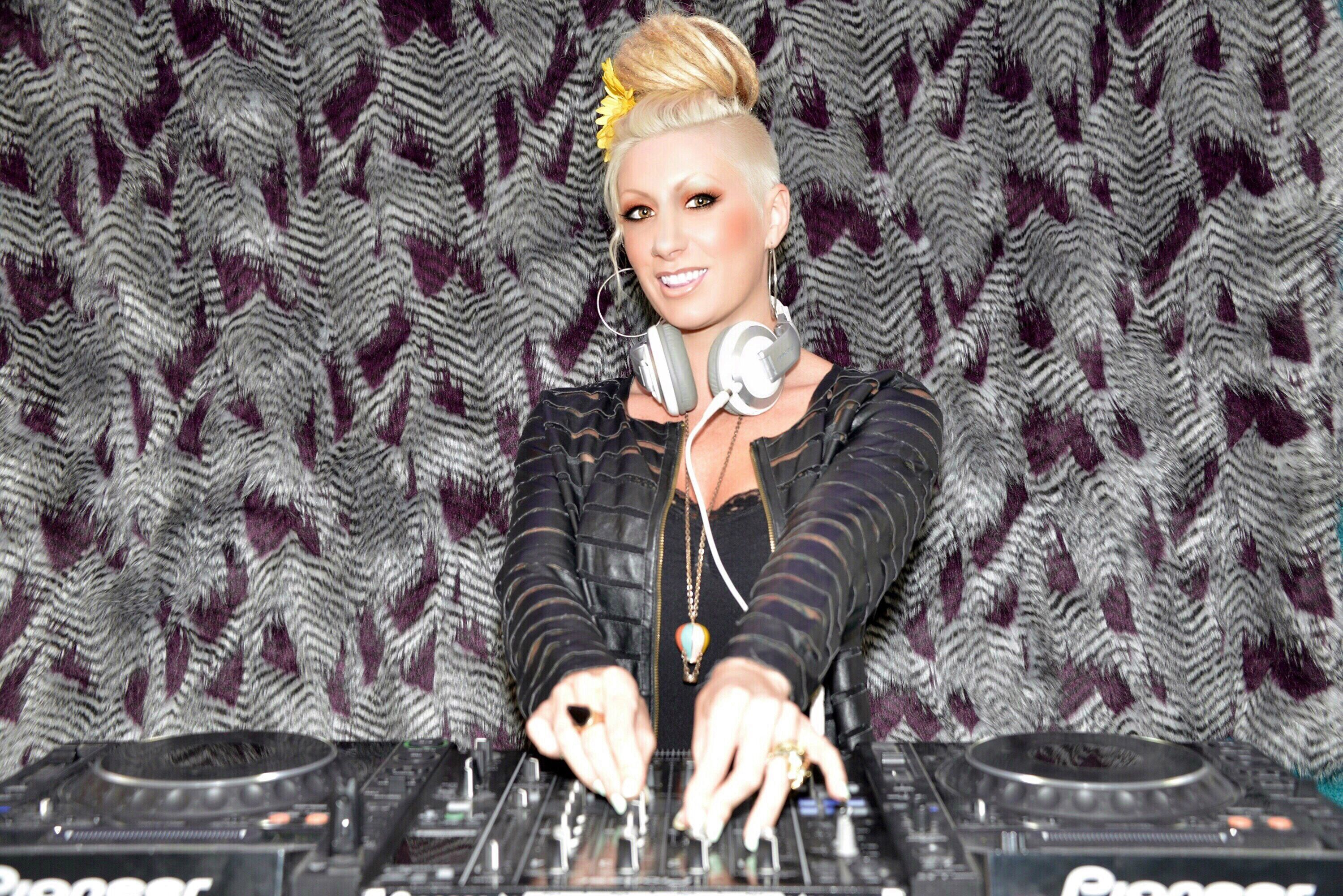 Photo: DJ Autumn Leilani
Break out the synthesizers; it's about to get spacey. No matter what party you're attending, music is essential to any memorable experience. Have your DJ spin classic cosmic-inspired tracks like Elton John's Rocket Man or Across The Universe by The Beatles. Dancing is the perfect way to keep kids entertained, and you might actually find yourself landing on the dance floor once or twice too.
Photographer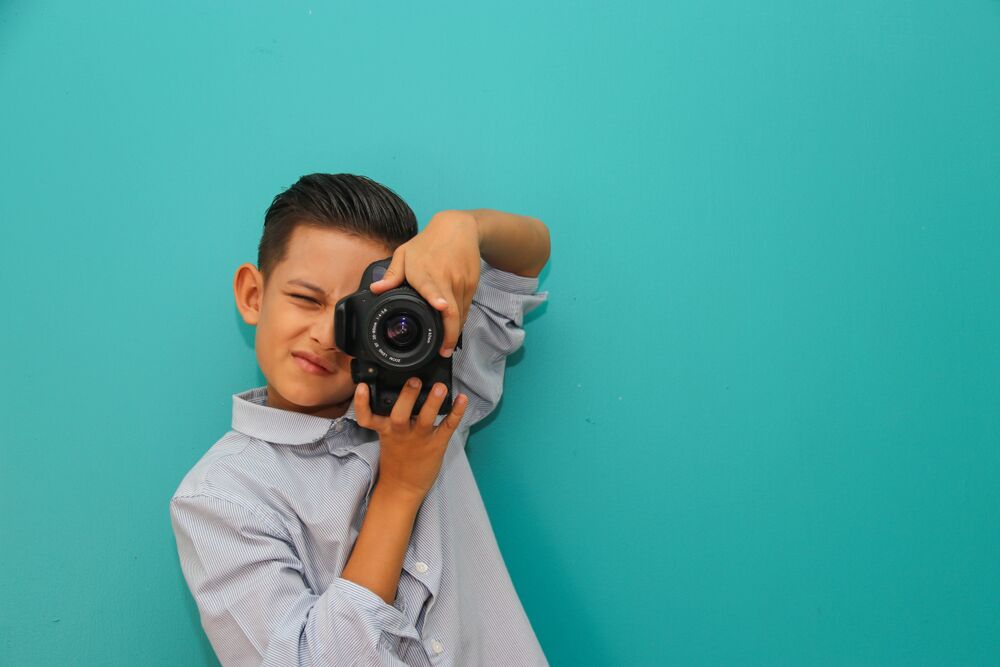 Photo: kangwan nirach/shutterstock.com
Even the astronauts that landed on the moon needed some photographic proof of their experience. A professional photographer will help capture all the intergalactic fun and provide the kids with unforgettable memories. Who knows, some of the images might even show up on their 21sts – before they grow up into real space explorers. 
Caterer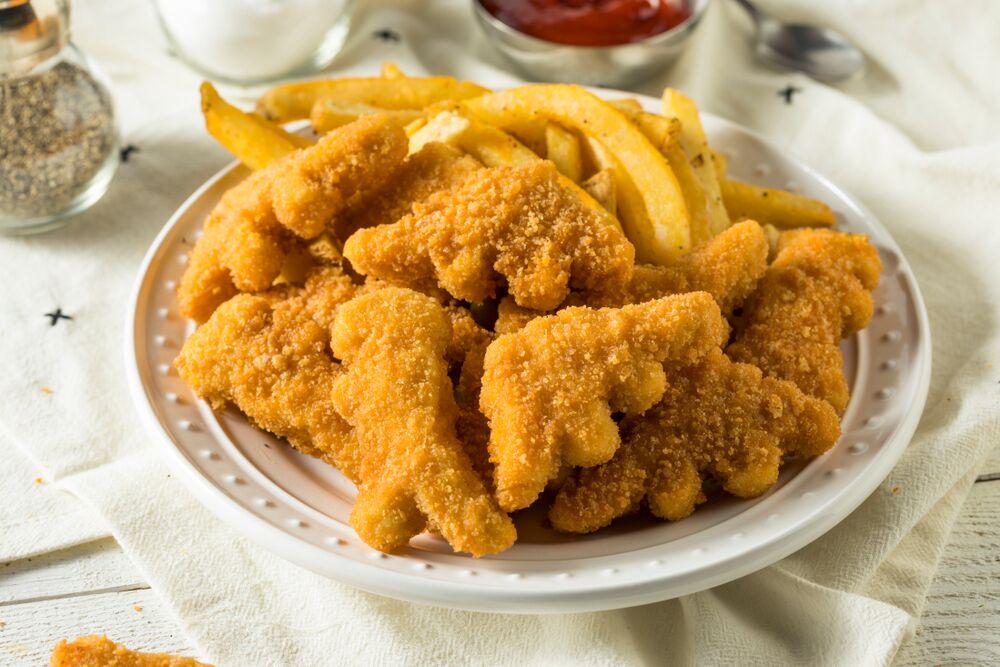 Photo: Brent Hofacker/shutterstock.com
Whether you're hopping across the low-gravity surface of Mars or beaming your spaceship through Saturn's rings, celestial travelers need their sustenance. Hiring a caterer will take care of the party-goers while also alleviating one additional task on your checklist. 
Contrary to popular belief, space cadets don't actually eat out of tubes anymore – so you can get your caterer to whip up something delicious to appease the kids.
Galaxy Slime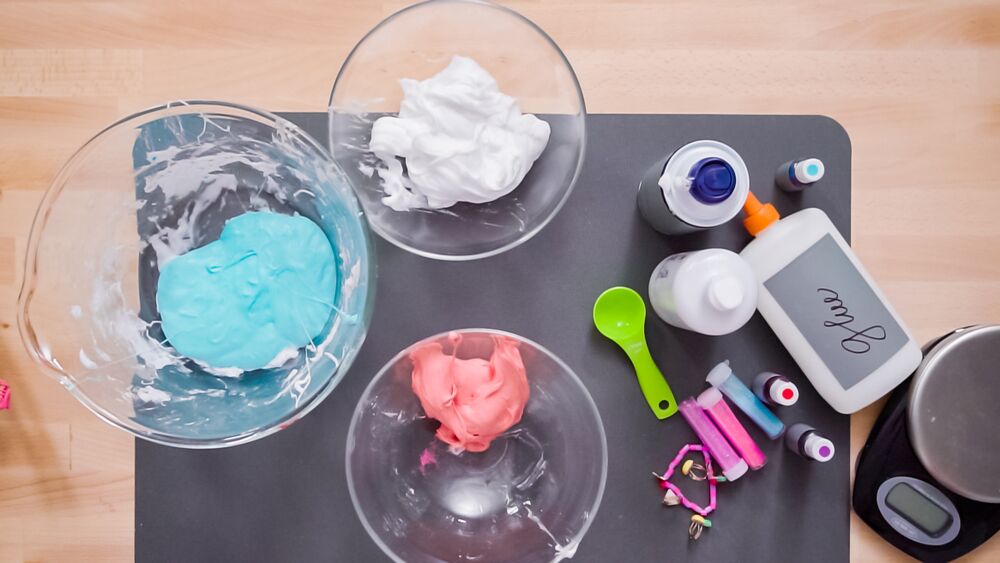 Photo: Arina P Habich/shutterstock.com
An activity that doubles as a party favor, what more could you ask for! Galaxy slime is easy to make with a few ingredients like Elmer's glue, baking soda, all purpose solution, and a variety of different food coloring. You can use this easy tutorial to learn how to make kid-friendly slime. 
Galaxy Inspired Venues
Your Own Home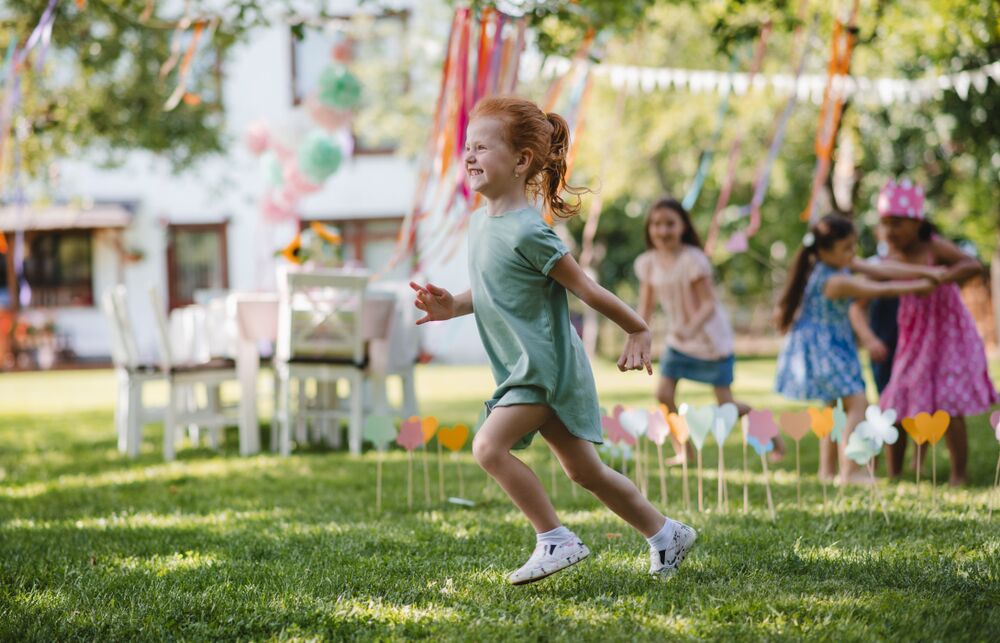 Photo: Halfpoint/shutterstock.com
Let's be honest; resources are precious, and sometimes it's worth considering using the home base as a safe bet. If you're happy to decorate your home like a star-speckled solar system, it will also come with all the comforts you're used to. 
Most parents will also feel at ease knowing that their children are somewhere safe and easy to access – even if it's made to look like a destination at the end of the universe.
Studio Loft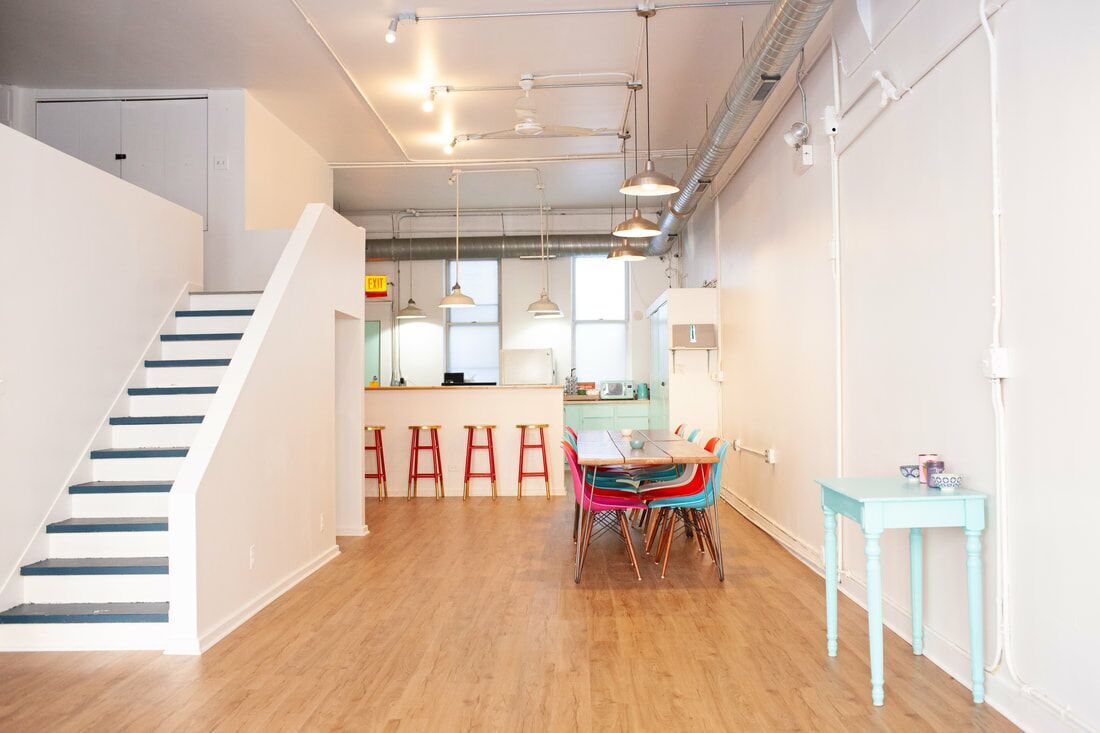 Photo: Hummingbird Studios
For those who love to go all out, why not give yourself the room to create your own interplanetary world. Studio lofts are like a blank canvas or terrain where you can bring your galaxy themed party vision to life and get highly detailed while doing it. Wide-open empty spaces; sounds a lot like our universe, doesn't it? With a bigger area to work with, you will have the option to incorporate more into the event design.
Galaxy Themed Party Details
Backdrops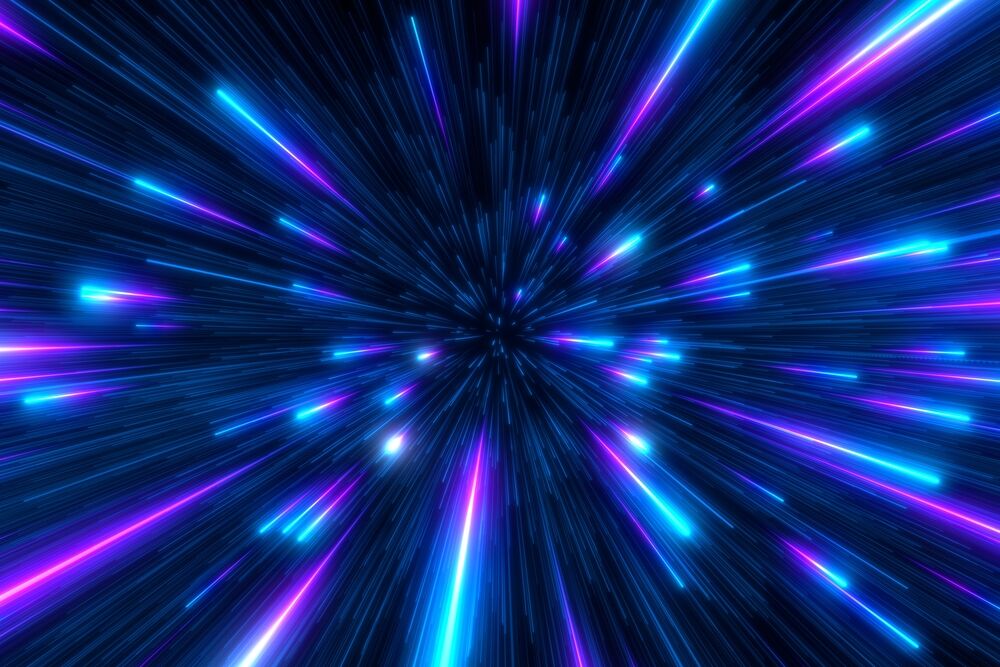 Photo: amgun/shutterstock.com
A great party design focuses on providing a sense of immersion. If you want guests to think like they're genuinely flying through the heavens, add backdrops on every possible surface you can. 
Going the DIY route? Grab some black sheets and paint – blues, pinks, and a little white should do the trick. Have fun splattering some stars and colorful nebulas across the canvas beforehand. Alternatively, some party stores stock galaxy-themed drapery and offer rentals or purchases.
Galaxy Themed Party Decorations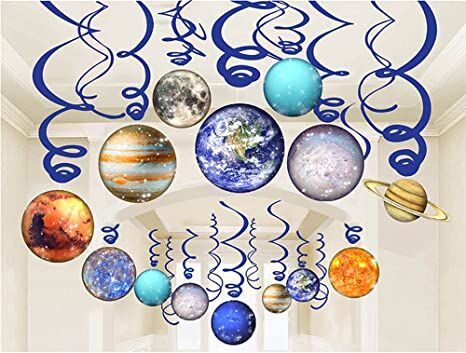 Photo: Amazon
Much like the planets, stars, asteroids, and black holes are the delicate details of our universe; decorations will help fill any void in your party design. From celestial body-inspired balloons to spacey ribbon banners, you can turn your party venue into a cosmic wonderland. 
Space Outfits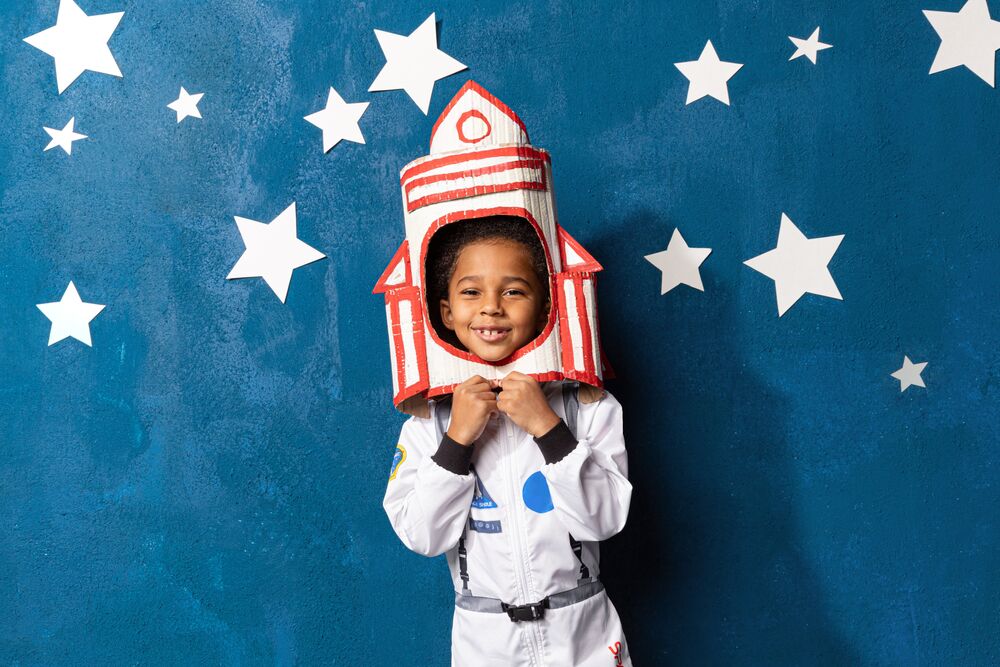 Photo: popcorner/shutterstock.com
When in space, dress like it! Donning a fun costume, headdress, or some makeup is one of the best ways to immerse yourself in the party atmosphere. From reflective onesies – like something from Bowie's The Rise and Fall of Ziggy Stardust and the Spiders from Mars – to handmade astronaut suits using cardboard boxes, the universe is your oyster and inspiration. 
If you're thinking less humanoid and something more Area 51, why not break out some alien eyeglasses and find yourself a green jumper. Anything with metallics, bright colors, and combat boots will do.
Holograms (AKA Projector)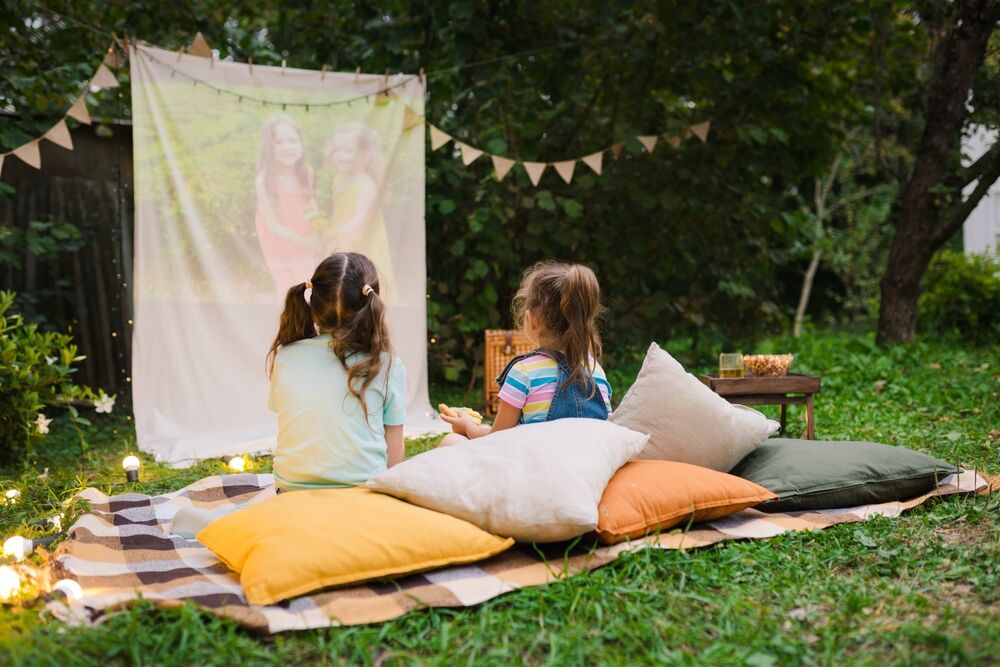 Photo: Tatiana Gordievskaia/shutterstock.com
In the maybe-not-so-distant future, holograms will become our primary means of communication. So in the spirit of intergalactic aesthetics, why not set up a projector? With an outdoor green screen rental you can play movies for entertainment, or you could just show footage of space from the internet.
Galactic Games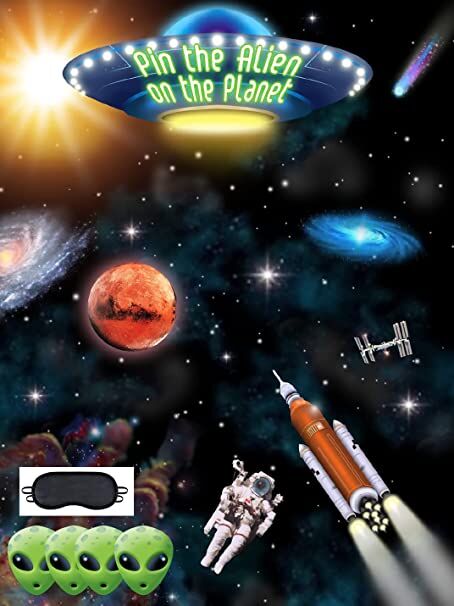 Photo: Amazon
Game stations are great fun and keep kids engaged for long periods of time. Depending on the resources you have at your disposal, you could set up game consoles along with a TV. Some suggestions could range from more current options like No Man's Sky for Xbox or Playstation to classic arcade games like Space Invaders.
If you're not interested in anything electronic, why not grab some space-inspired board games? They'll offer a social dynamic that the consoles might not. 
Galaxy Inspired Food Ideas
Cupcakes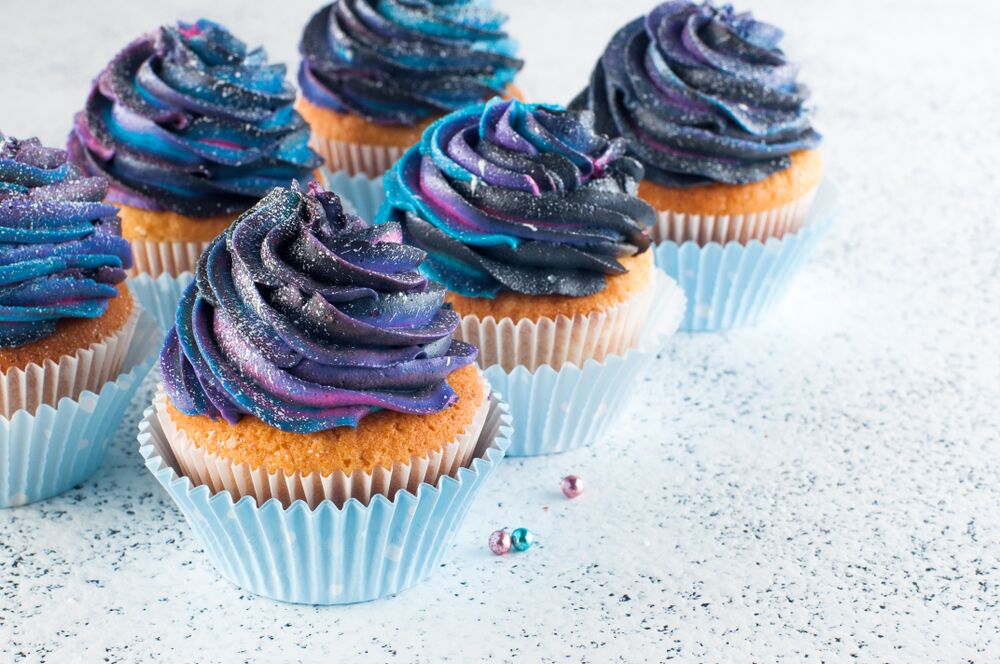 Photo: Lithiumphoto/shutterstock.com
One of life's small but wonderful sweet treats: the cupcake. They're pretty simple to make (or source from a professional bakery) and flexible regarding appearance. Add a little purple to the mix and then decorate with pink and blue icing; remember to drop a few edible star sweets on top, and you've got yourself a galaxy themed party cupcake.
Galaxy Cake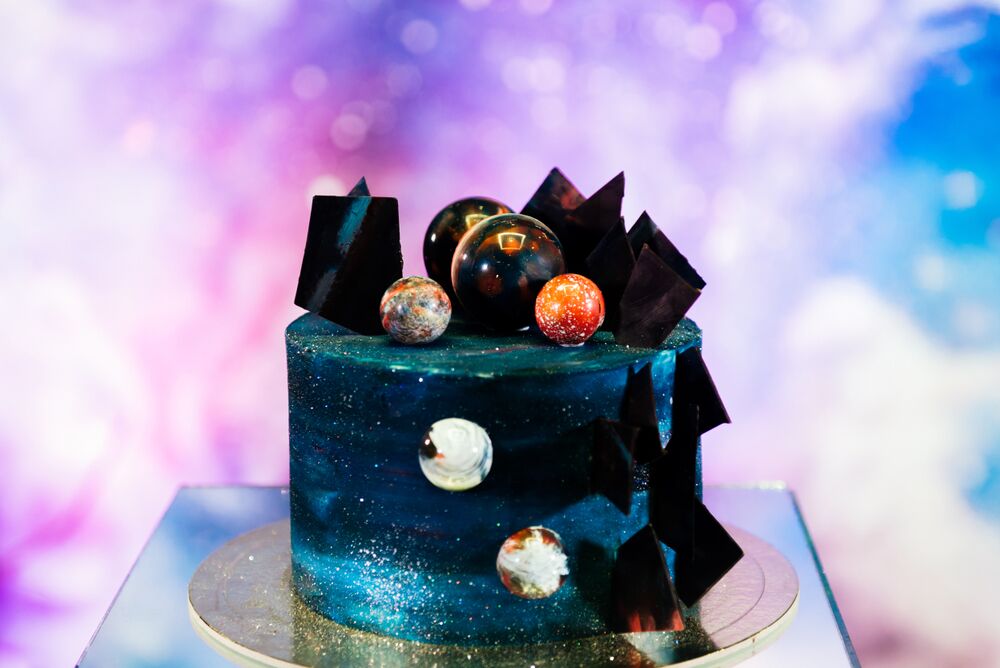 Photo: Kseniya Maruk/shutterstock.com
Whether you're hosting your child's birthday party or just a fun, themed gathering, cakes will make a great addition no matter what. Much like the cupcakes, they're simple to make or purchase and decorate according to your theme. Have your cake includes bright purples and blues, as well as stars and planets.
Soft Serve Ice Cream and Snow Cones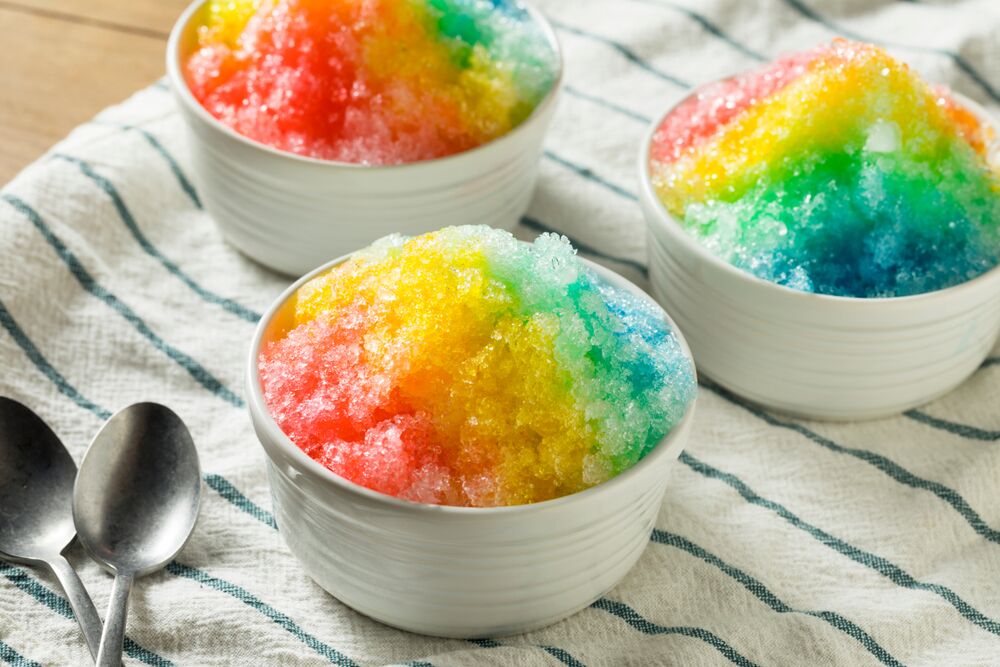 Photo: Brent Hofacker/shutterstock.com
If everyone screams for ice cream, it might be worth renting a soft-serve ice cream machine. You'll need to add a little cosmic-colored food coloring to the mix so that you get that whimsical look you're after. Alternatively, snow cones will also work just fine and are just as easily flexible when trying to match their colors to your space  theme palette.
Purple Bunned Burgers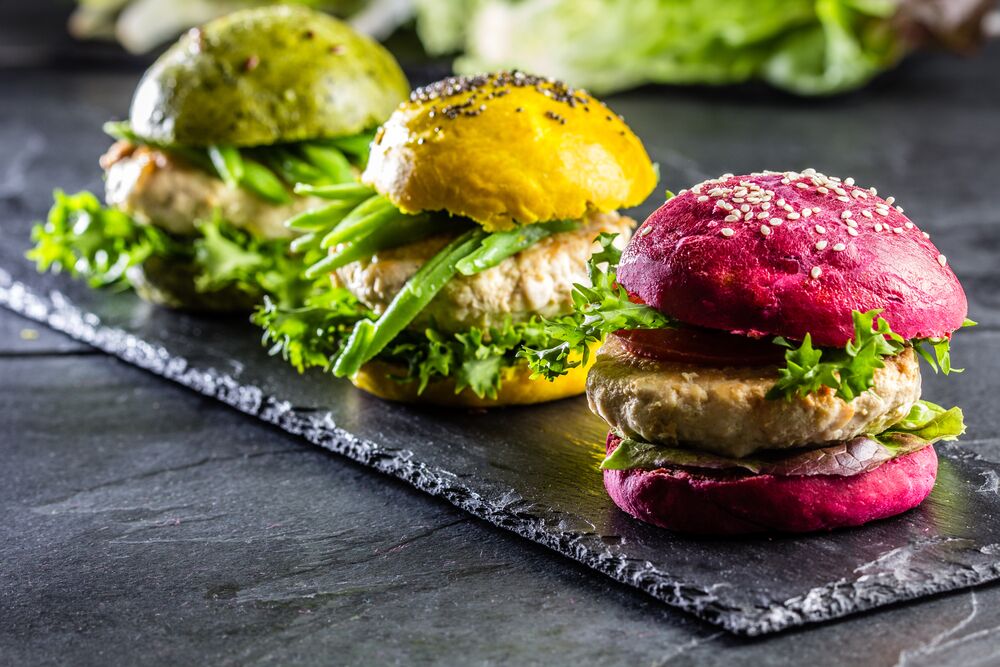 Photo: Larisa Blinova/shutterstock.com
Ah, the old classic - but hang on, you might be wondering what we're on about with a purple bun – and it's quite simple, really. In our wonderful, brave new world, we can make food out of pretty much anything, and yes, burger buns included. 
To add that galaxy theme to your meal, you can purchase purple sweet potato buns (and other vegetable colored buns) instead of regular ones. If you're using a caterer, just ask ahead of time to see if they would be willing to try and corporate these into their offerings.
Galaxy Inspired Drink Ideas
Galaxy Lemonade Slushies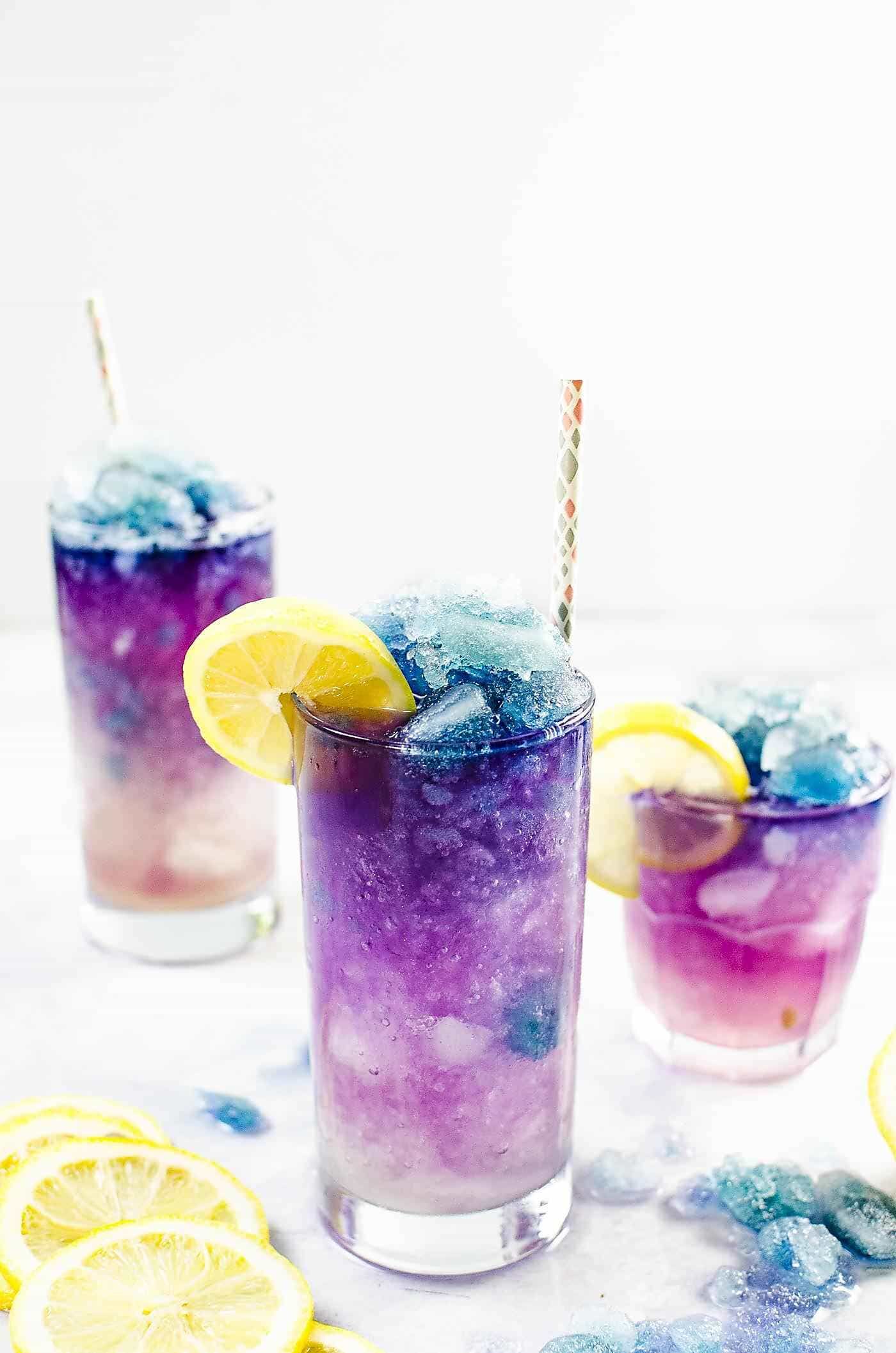 Photo: Flavor Bender
Everyone loves a slushie, and the little extraterrestrials at your party will love the color-changing lemonade slushie. There are tons of recipes online (like this recipe from Flavor Bender) to show you how to make your beverage look like a swirling solar system. 
You could always hire a mobile bartender to come in and make them for you – this way, you know the kids are getting something equally beautiful and delicious. They can also craft some fun cocktails for the adults too.
Galaxy Milkshakes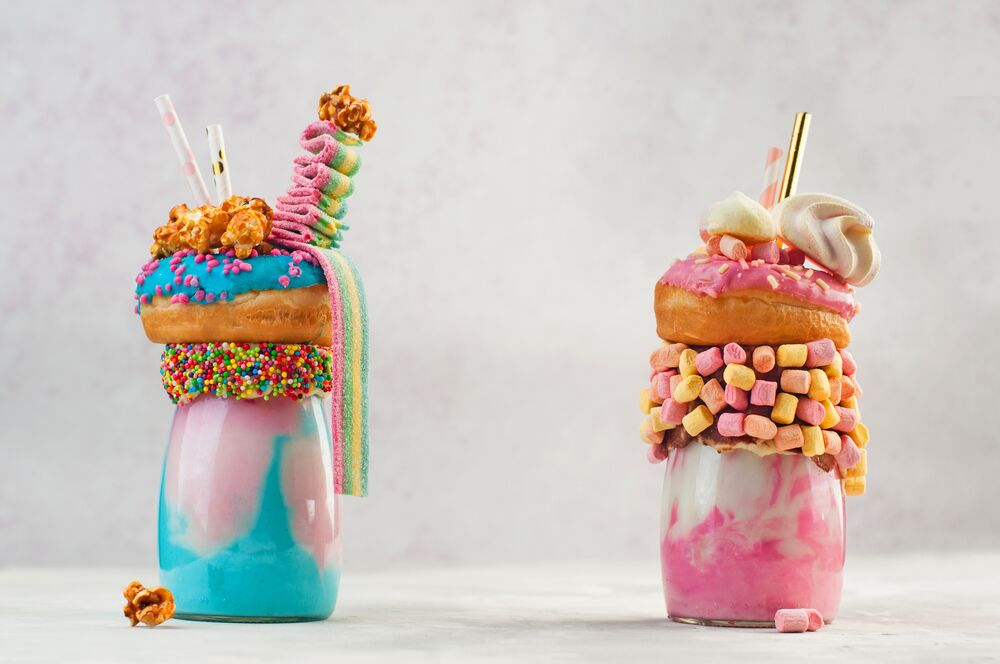 Photo: Lithiumphoto/shutterstock.com
For your party, you can quench the thirst of every guest with a visually captivating and tantalizing milkshake. These beverages are simple to make and easy to decorate due to their thick density. Add fun straws and other treats, different food colorings, and sprinkle space-inspired sweets over the top to give each one a unique look.
Find more themed party ideas here on The Bash.