Everything You Need for a Hallmark Christmas Movie Themed Party
What's more feel good than a Hallmark Christmas movie?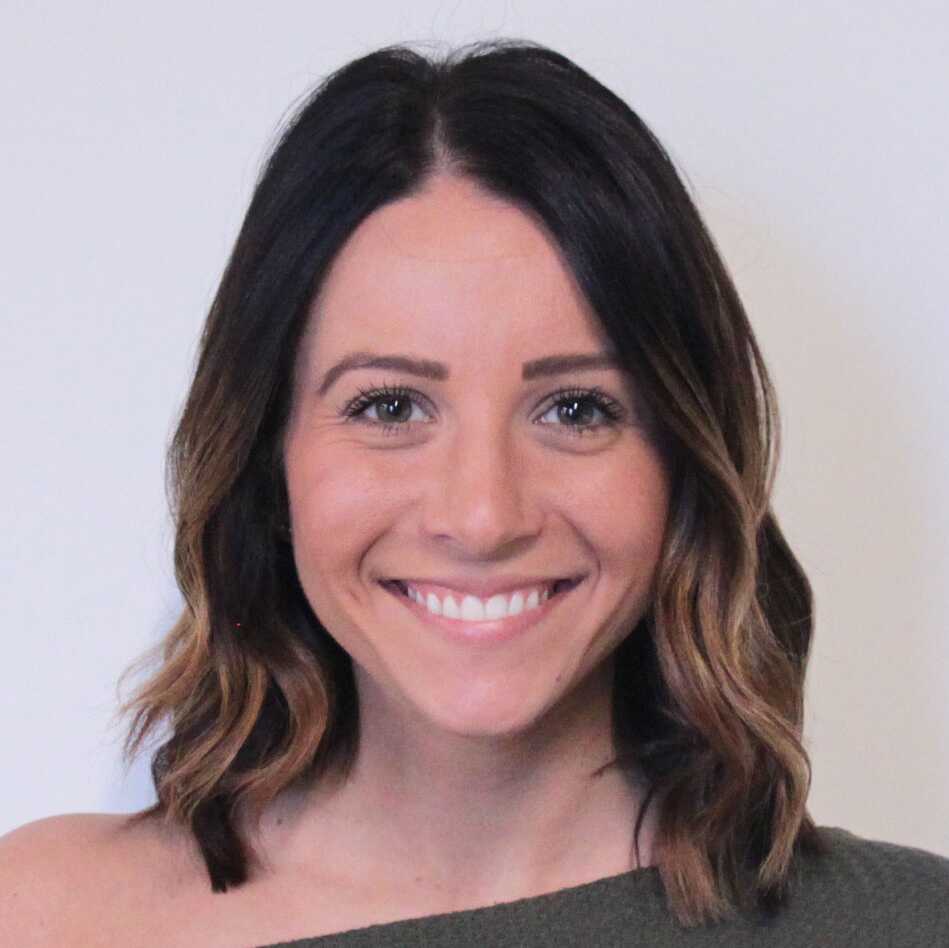 'Tis the season for binge watching the feel good favorite Hallmark Christmas movies with the Countdown to Christmas. Rather than watching at home alone, this year you can host a Hallmark Christmas movie themed party with friends and family to kick off the holiday season.
Here's everything you need to host a Hallmark Christmas movie themed party:
Hallmark Christmas Movie Marathon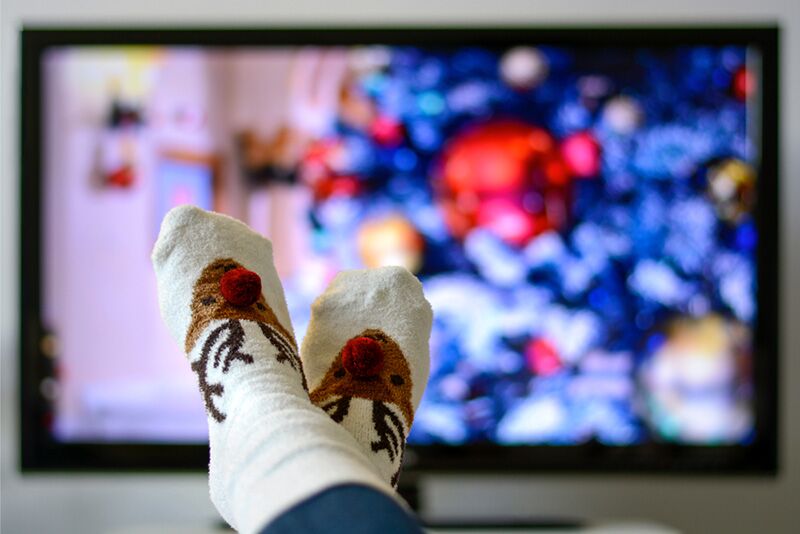 Photo: Ellyy/shutterstock.com
This is obviously a must have for a Hallmark Christmas movie themed party. Choose a selection of your favorite Hallmark Christmas movies or just put on the Hallmark channel and let them play throughout the party. 
Cozy Viewing Area & 
Festive Decorations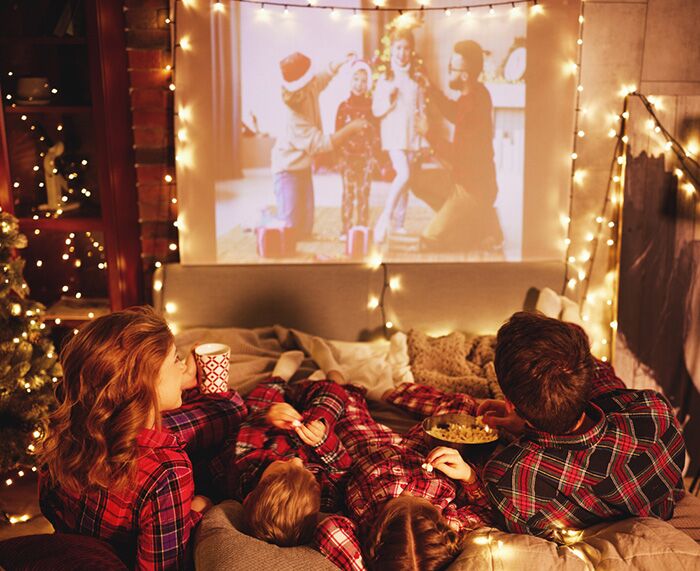 Photo: Evgeny Atamanenko/shutterstock.com
Whether it's your couch or another area at home, you'll want it to feel as cozy as possible. Set up lots of blankets and pillows, and light some Christmas scented candles. Deck out your home with key Christmas decorations like string lights and wreaths, and of course, your own decorated Christmas tree.
Holiday Photo Booth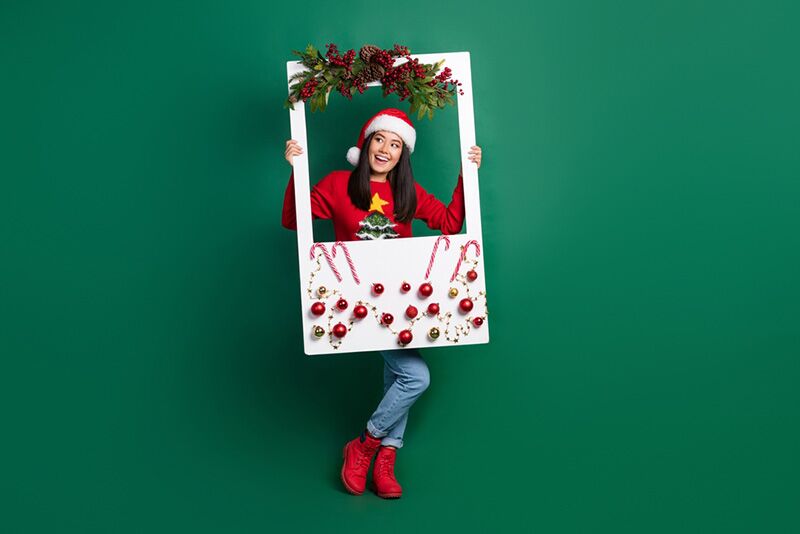 Photo: Roman Samborskyi/shutterstock.com
Create a photo booth area with Christmas-themed props and a backdrop for guests to take festive pictures. You can use a Polaroid camera to have prints real time or share the photos digitally with your guests in a shared photo album. 
Pro Tip: Kick it up a notch and book a photo booth vendor who can bring Christmas props.
Hot Cocoa Bar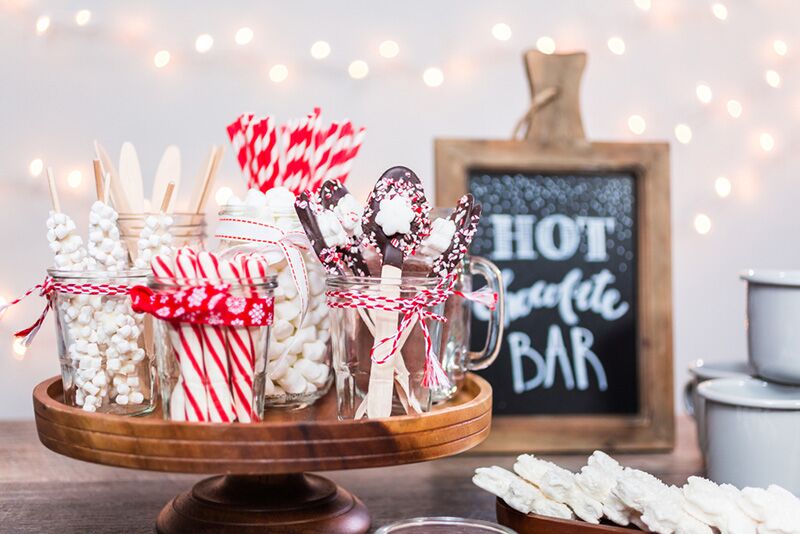 Photo: Arina P Habich/shutterstock.com
Nothing screams Hallmark Christmas movies like hot chocolate. Set up a hot cocoa bar with a variety of toppings like whipped cream, marshmallows, chocolate chips, and candy canes.
You can also offer different types of hot chocolate flavors like caramel, white chocolate and peppermint. Make some adult friendly hot cocoa and offer mix-ins like Baileys, Kahlua, or brandy.
Christmas Cookies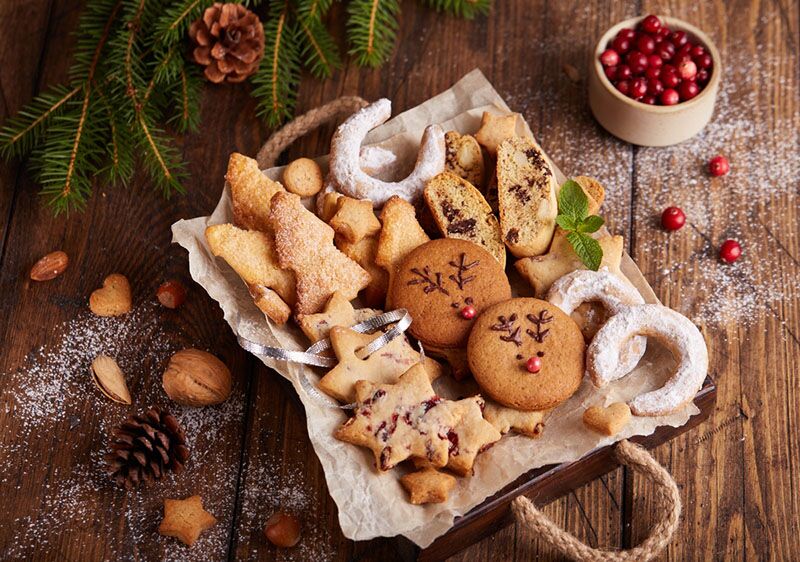 Photo: natkinzu/shutterstock.com
It's not Christmas without cookies. You can provide some classics or make it more of a cookie exchange and ask guests to bring a batch of their favorite homemade Christmas cookies. Not only can guests snack while watching movies, but they can also take some home as a party favor.
Christmas Carols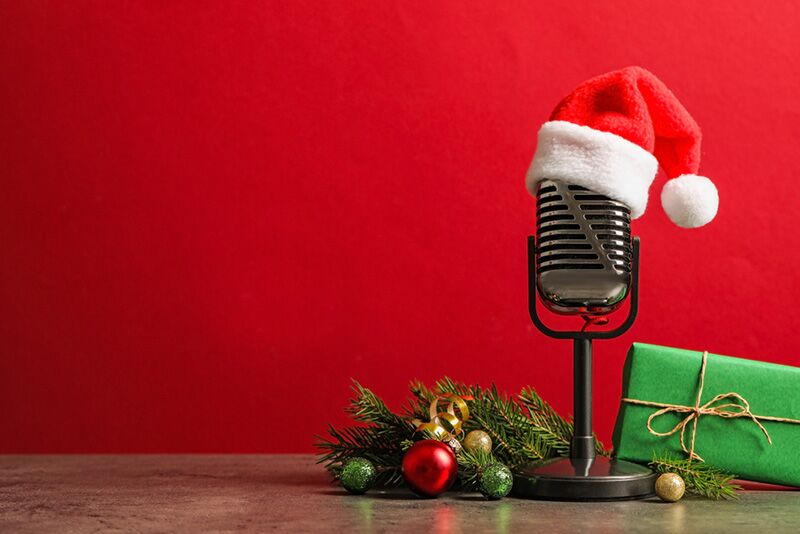 Photo: New Africa/shutterstock.com
Queue up a Christmas playlist and encourage your guests to sing along to their favorite carols. You can also book a visit from Christmas Carolers or hire a local musician to perform some Christmas hits.
Ugly Christmas Sweaters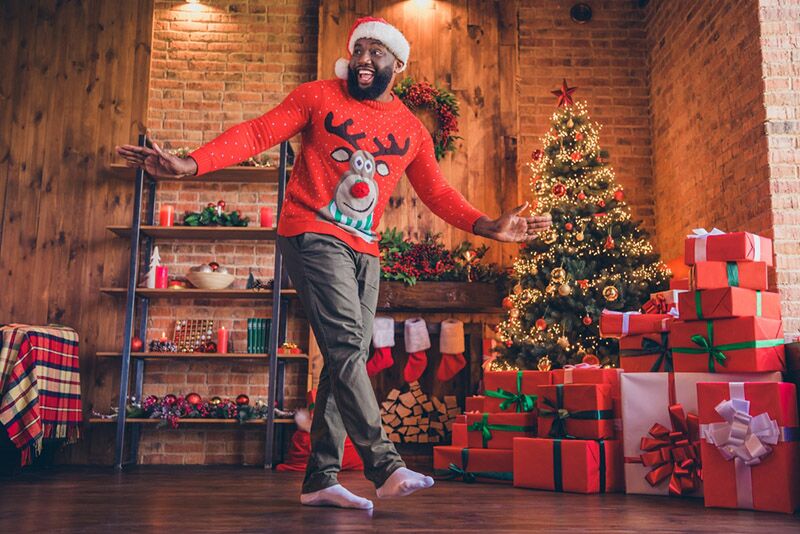 Photo: Roman Samborskyi/shutterstock.com
Encourage your guests to wear their most festive and fun ugly Christmas sweaters. You can have a contest with prizes for the ugliest, most creative, or funniest (or any categories you can think of!) sweaters. 
Christmas Pajamas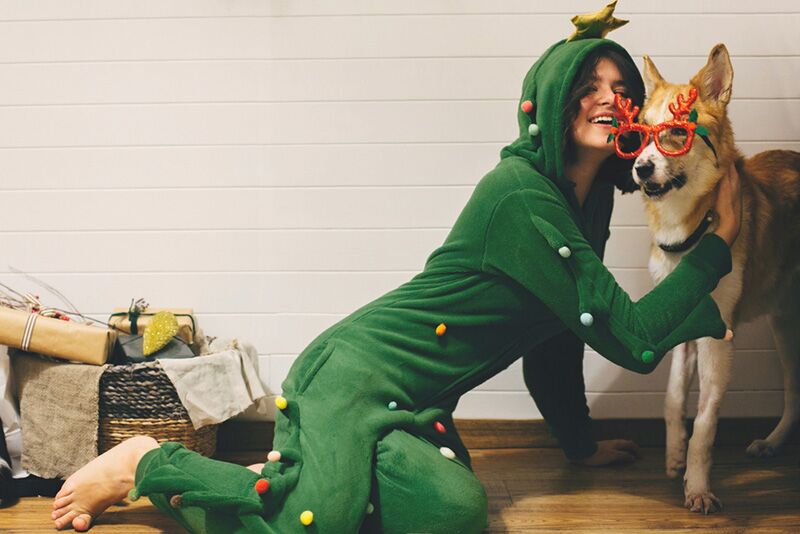 Photo: Bogdan Sonjachnyj/shutterstock.com
Encourage your guests to come in their coziest holiday-themed pajamas or onesies. When it comes to watching Hallmark Christmas movies, comfort is definitely key. Bonus points if they wear something totally over the top.
Peppermint Espresso Martinis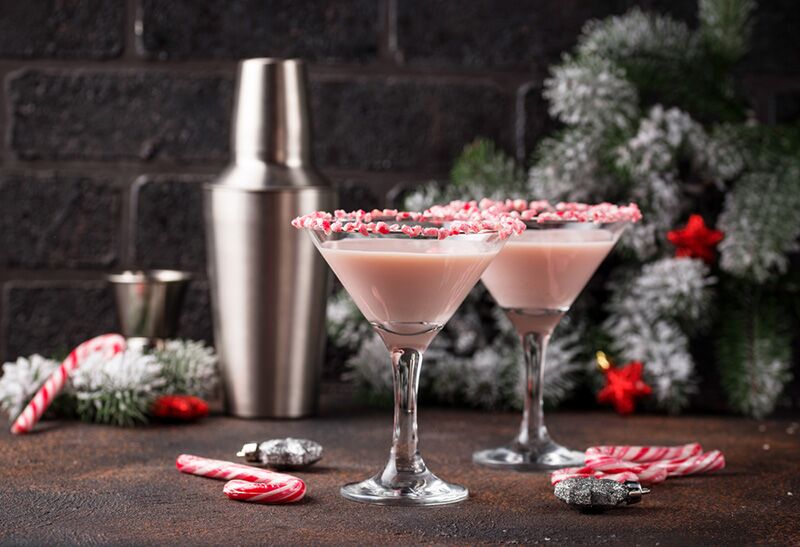 Photo: Yulia Furman/shutterstock.com
It's a holiday twist on a classic martini. For a peppermint espresso martini, you can either use peppermint Kahlua or a peppermint Vodka, and mix with some Baileys and fresh Espresso. You can also use the traditional ingredients and add a little peppermint extract. Outline the rim with chocolate syrup and some candy cane and you're ready to go!
Hallmark Christmas Movie Themed Bingo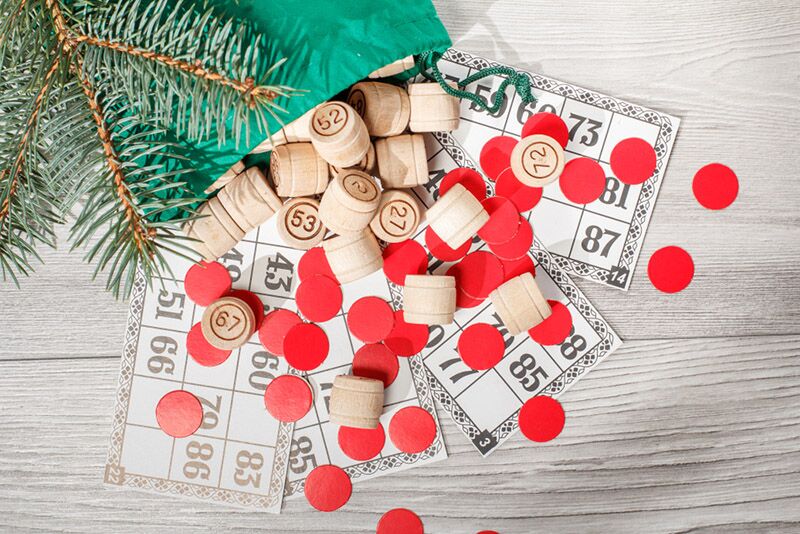 Photo: Vitalii M/shutterstock.com
Create Hallmark movie bingo cards with common clichés and scenes found in Hallmark Christmas movies (e.g., mistletoe kiss, small-town setting, cookies, gift wrapping). Have guests play the bingo game while watching the movies, and have some small holiday themed prizes ready for winners.
DIY Ornament Decorating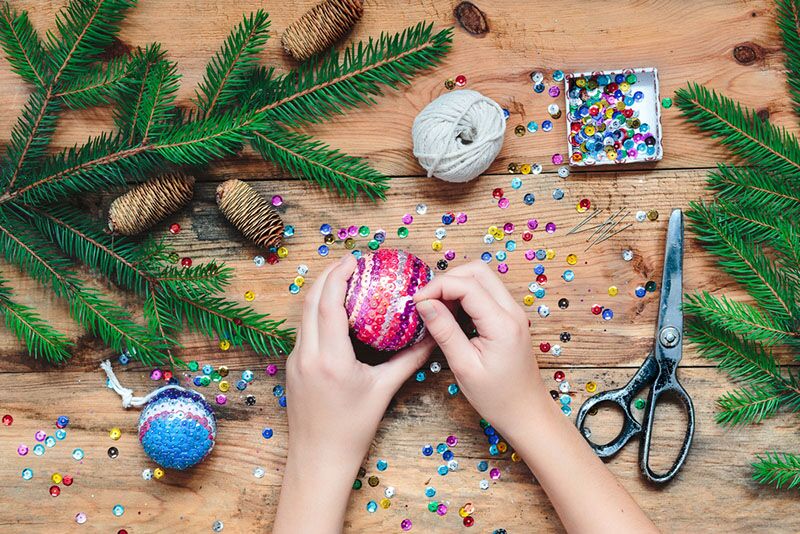 Photo: Przemek Klos/shutterstock.com
Ornament decorating is a fun activity that can double as a party favor. This activity is easy to set up with a small table, clear glass ornaments, paint, glitter, and ribbon.
Gingerbread House Decorating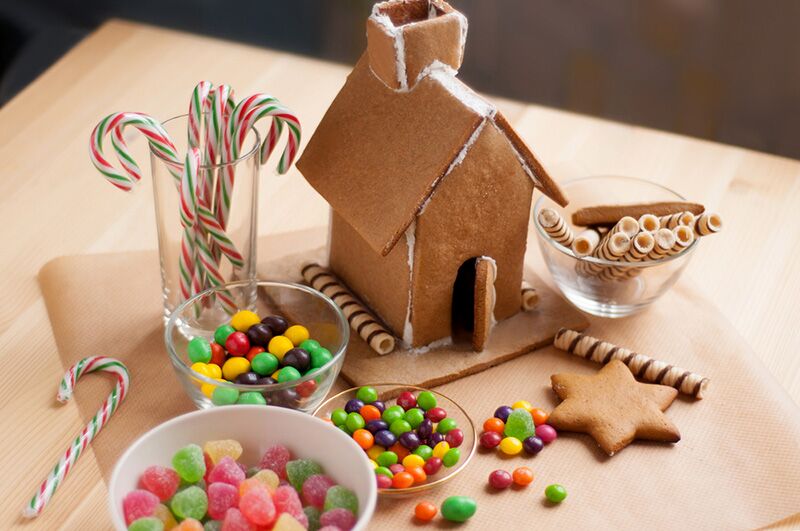 Photo: lesyamik/shutterstock.com
Buy a few gingerbread house kits and various decorating supplies for a gingerbread house decorating contest. You can buy mini houses for each guest or buy 2 or 3 and split into teams.
A Hallmark Themed Gift Exchange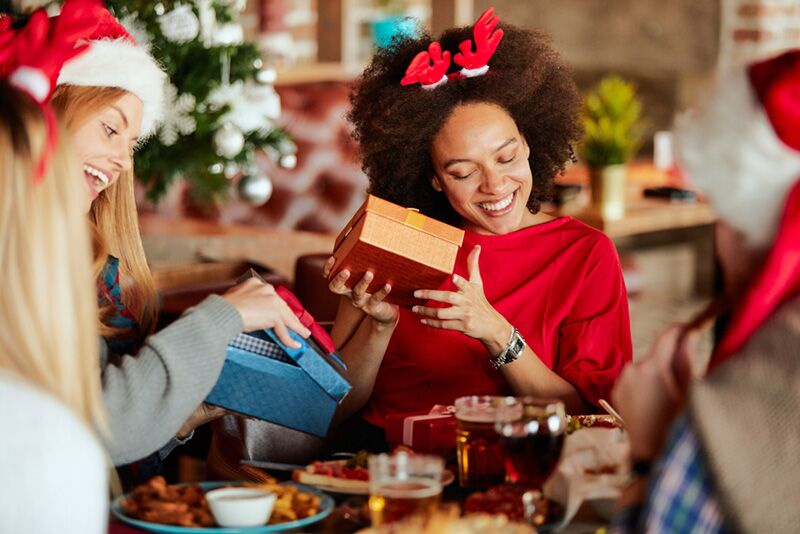 Photo: Milan Ilic Photographer/shutterstock.com
Organize a Secret Santa or White Elephant gift exchange. Make it a rule that the gifts should be related to Hallmark movies, like cozy blankets, scented candles, or personalized ornaments. Don't forget to set a budget for gifts ahead of time.
Find more Christmas party ideas and inspiration here on The Bash.